Creamy Curry Hummus Recipe to satisfy all your hummus cravings! Vegan, Gluten-free, Oil-Free and deliciously healthy!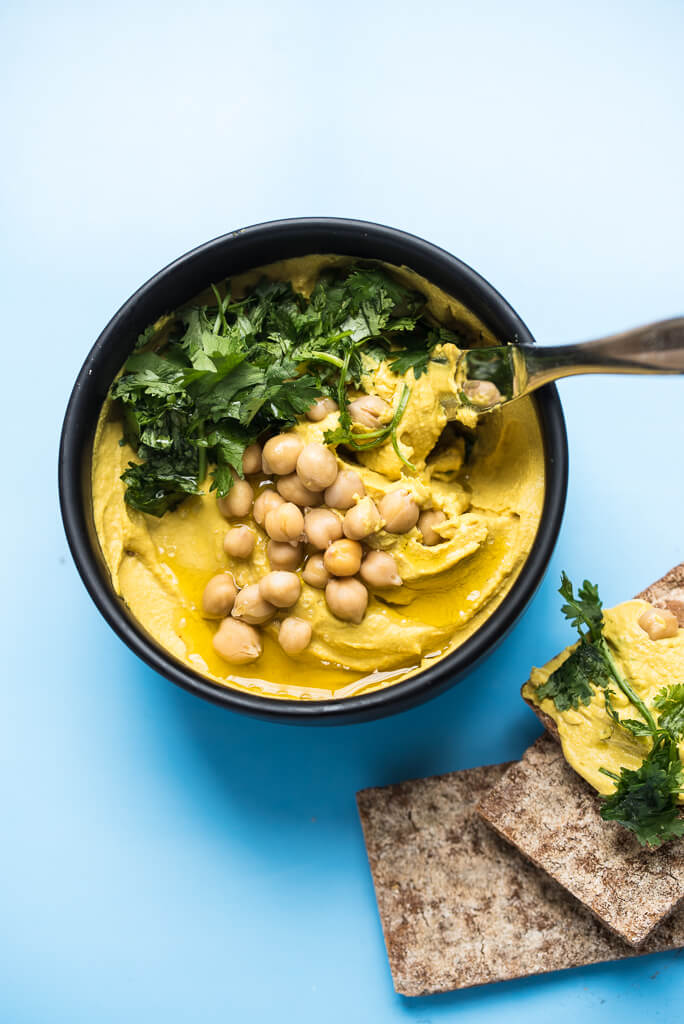 I'm at it again! I just can't help myself.
One delicious hummus recipe after another :D
I guess there are worse things for me to be doing though!
However, I have received one nasty complaint a while back about how I can't just mix my hummus with other ingredients and still call it hummus. Shame, shame, shame on me! Or rather, shame, shame, shame on you because if you limit yourself to only making authentic, traditional hummus, you are missing out!
This curry hummus came about somewhat by accident. I usually enjoy a healthy squeeze of lemon in my hummus but I only had limes left. Sure, I could have made my Jalapeno Cilantro, Cilantro Lime or Avocado Hummus instead but my pantry was seriously lacking lots of ingredients.
So naturally, I rummaged through my spice rack and found some curry powder. Curry powder is just a spice blend that usually consists of some combination of turmeric, pepper, fenugreek, fennel, cumin, coriander and salt. Those are all ingredients I have in my overpopulated spice drawer so I could have made my own spice blend.
However, I also had a bottle of pre-made curry powder which works just as well and requires ZERO effort on my part. If you are using a store-bought curry powder make sure it doesn't have any added sugar or sweeteners. Don't ask me why some companies choose to add sugar to their spice blends but just steer clear of them and get curry powder blend like this one.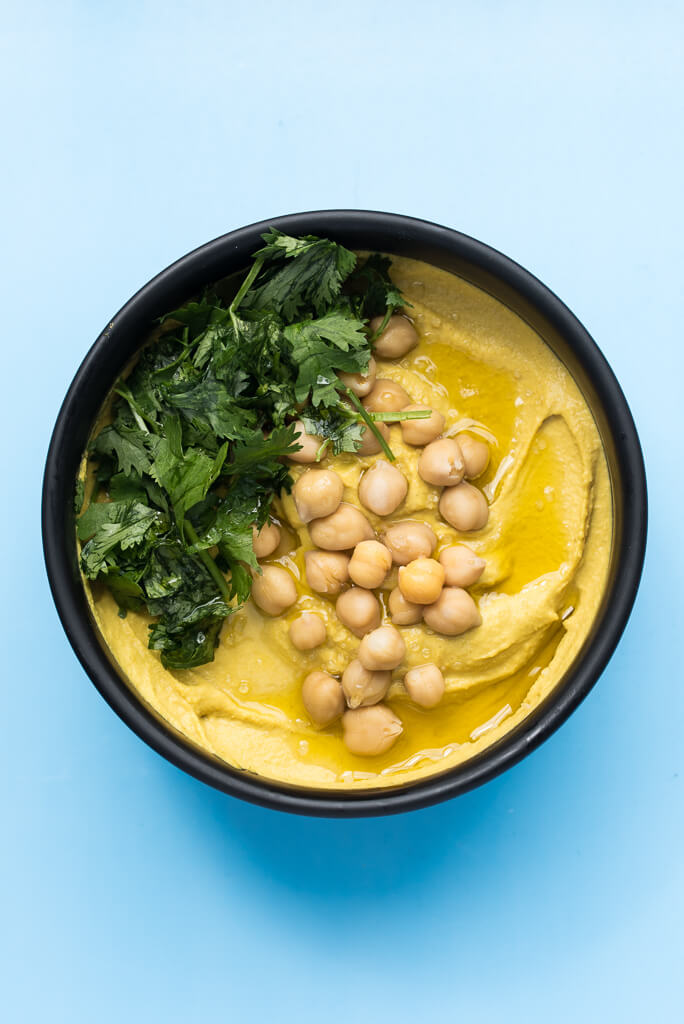 Once you've sorted out if you'll be a lazy mom like me and use a store-bought curry powder or if you want to (takes 3 minutes of your valuable time!) make your own spice blend (recipe is in the notes section below), you are ready to whip this curry hummus up!
Like all hummus recipes, it is BEYOND easy to make. Toss all you ingredients into a food processor, blend and slowly add water until it is perfectly creamy!


Then top it all off with some fresh cilantro and some extra chickpeas and voila! You just made the best curry hummus for a tiny amount of money!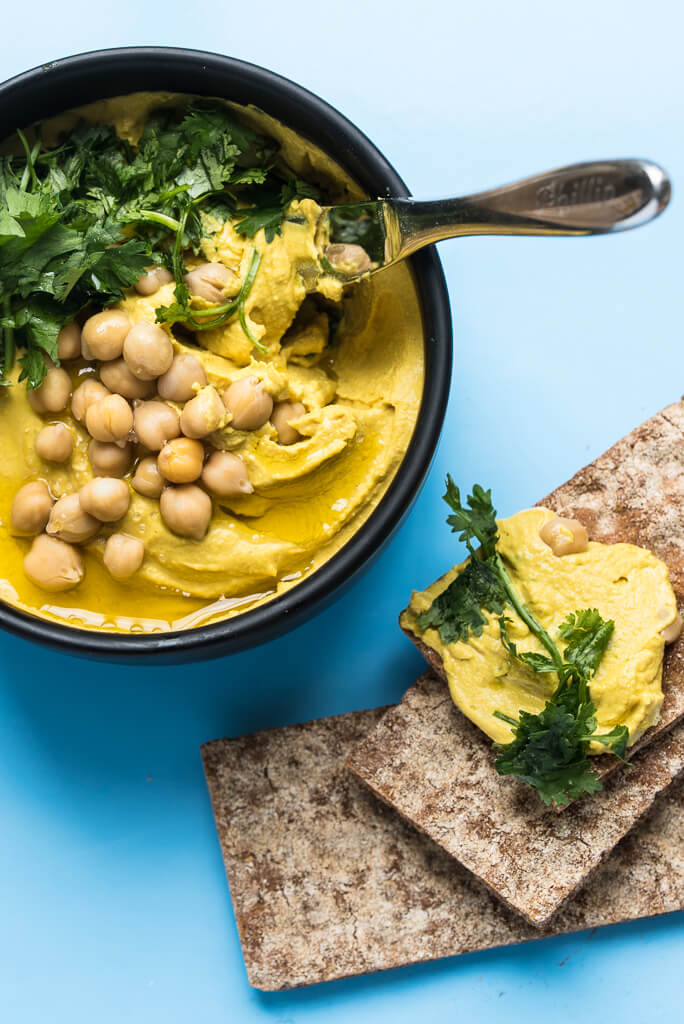 Permission to gobble it all up: GRANTED!
Confused on how you should eat it?!? Try any of these :D
with pita bread
with crackers
as a veggie dip
spread for your favorite wrap
instead of a salad dressing (use this Hummus Salad Recipe for inspo!)
as a topping for a veggie burger
or my favorite: WITH A SPOON AND NOTHING ELSE!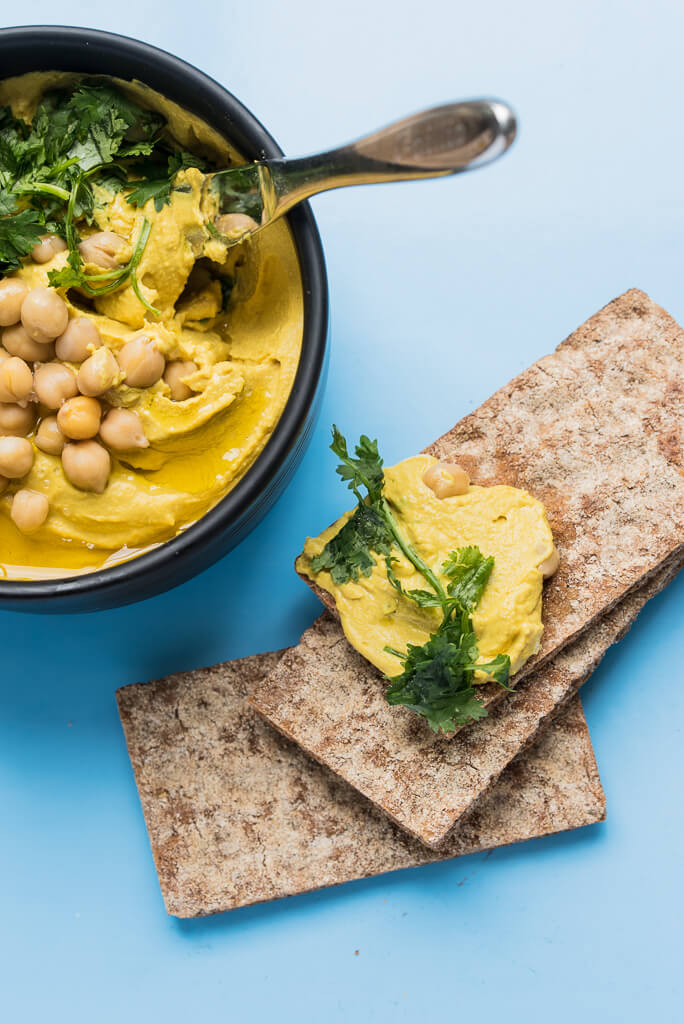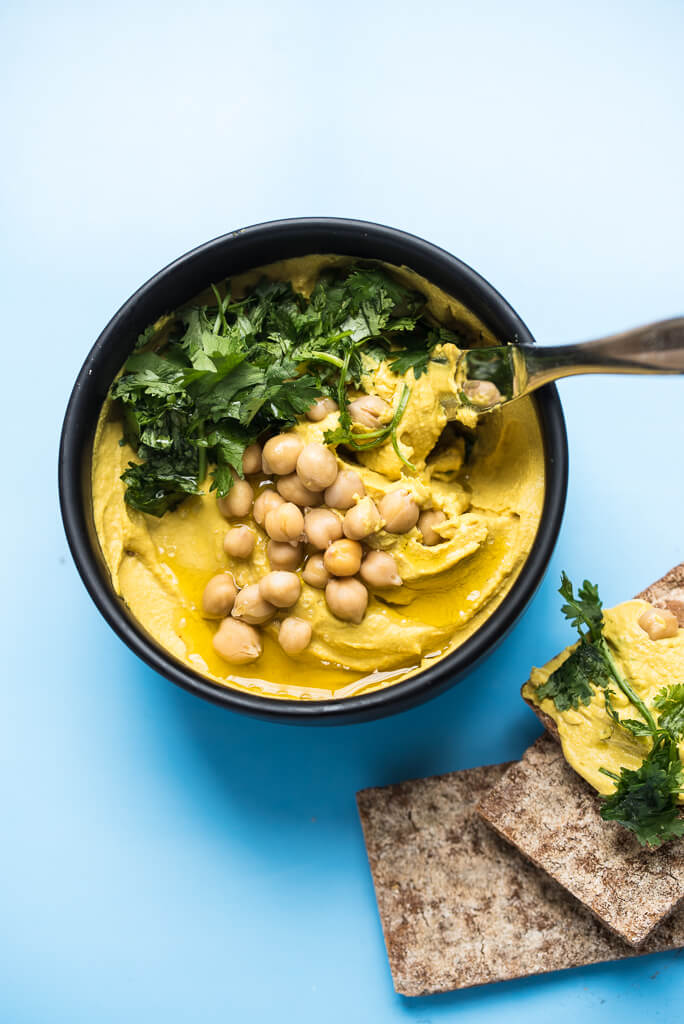 Print
Curry Hummus
Yield 2 cups
Creamy, Homemade Curry Hummus Recipe that will make all your cut up veggies disappear in a flash! Super delicious, healthy and oil-free!
Ingredients
1 and 1/2 cups (240 g) Chickpeas or Garbanzo Beans, soaked and cooked or rinsed and drained from a can
1/2 of a cup (125 g) Tahini
1 small clove of Garlic
1/2 of a teaspoon Salt (see notes)
1 and 1/2 tablespoons Curry Powder (or you can make your own! - see notes) 
3 tablespoons Fresh Lime Juice (from roughly 1 lime)
1/2 of a cup (120 ml) Water
Fresh Cilantro, for garnish
Instructions
Add all the ingredients, except for 1/4 of a cup of the chickpeas and the water, into a food processor. Add half of the water and blend until smooth, adding more water as needed. Add more salt to taste.
Place the finished hummus in a bowl for serving and top with the remaining chickpeas and fresh cilantro.
Notes
If you store bought curry powder already contains salt then don't add any)
If you don't have any curry powder, you can still make this curry hummus by making your own curry spice blend with the following ingredients:

2 tablespoons Turmeric
1 teaspoon Black Pepper
1 tablespoon Fenugreek
1 teaspoon ground Fennel seeds
1 teaspoon Cumin
1 teaspoon Coriander
1 teaspoon Salt (can be omitted)

Note that this will make more than the 1 and 1/2 tablespoons of curry powder you'll need for the recipe
Courses Appetizer, Dip, Spread
Cuisine Indian-inspired, Mediterranean
Nutrition Facts
Serving Size 2 tablespoons
Amount Per Serving

Calories 103

% Daily Value

Total Fat 5.2 g

8%

Saturated Fat 0.7 g

4%

Total Carbohydrates 11.2 g

4%

Dietary Fiber 3.5 g

14%

Sugars 1.7 g

Protein 4.3 g

9%
* Percent Daily Values are based on a 2,000 calorie diet. Your daily values may be higher or lower depending on your calorie needs.
For more hummus inspiration check out these lovely recipes :)