Update: MyWifeMakes can be found at Crazy Vegan Kitchen now!
Today, I have a slightly different blog post for you. When you dive into the world of food blogging you come across a lot, and I mean A LOT, of different people. Some I envy, lots I admire, some I find just plain strange, and then there are those that just captivate you. The husband-wife blogging duo at My Wife Makes fall into the latter.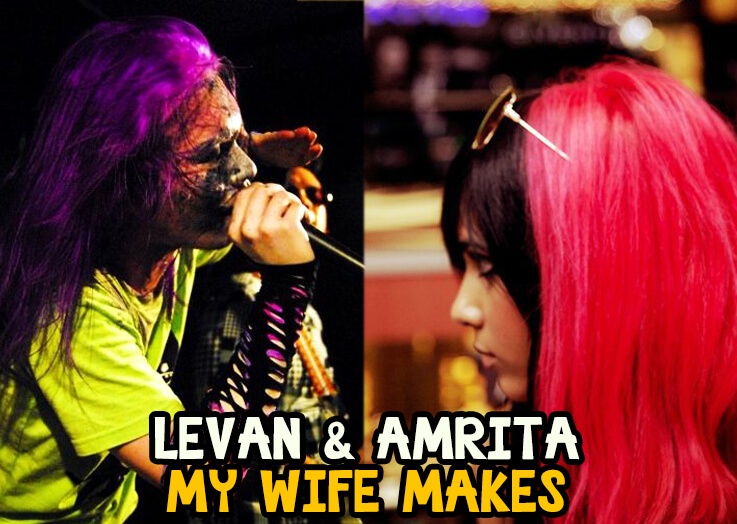 I mean, check out that hair? Don't tell me you are not captivated!! I'm still staring at it, trying to figure out if it would look good on me :)
Though their hair is really cool, it's definitely not the only impressive trait that Levan and Amrita have.  Amrita can cook and bake her vegan ass off, and Levan might be the closest thing to a social media god I've had the pleasure "meeting".
Oh, and did I mention they have cats (their children)? Who doesn't love cats? OK, I actually know quite a few that don't but we'll just pretend like you don't exist for this moment. Their three cats also aren't ordinary cats. For one, they pose like this…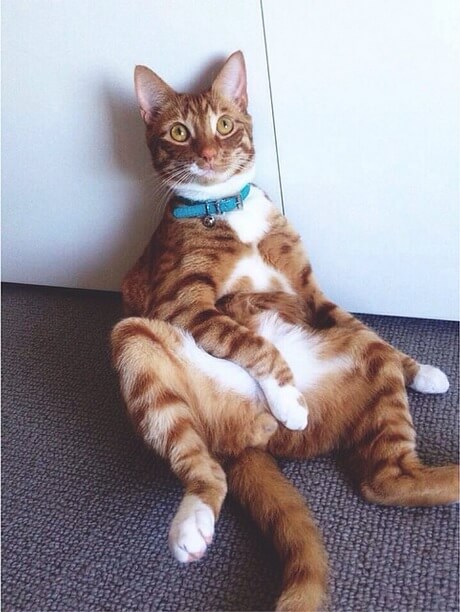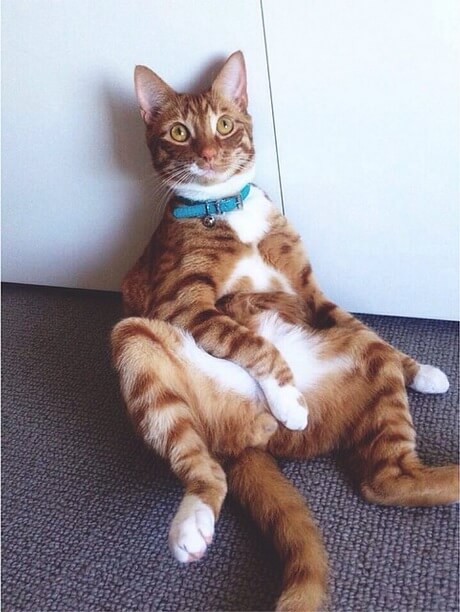 …and one of them,Richard Parker, is even a very talented writer. (pictured above)
Naturally, I had to ask this amazing duo (or quint if you count the cats) some questions to find out all their dirty little food blogging secrets. Check it out…
PS: See those mouthwatering pictures below? Just click on the one that catches your fancy and learn how to make it!
Q) Why should people visit your site? What makes it stand out?
Levan: Hmm… I'd say that it's our somewhat 'out-of-nowhere' personalities that make us stand out the most. We don't take ourselves too seriously and try to completely avoid pretentious, fluffy food blog writing (i.e. no happy, picket fence, 'sunshine-smile-for-the-audience' nonsense!). We're self-depreciative too and love to inject random humour in our posts in the form of memes or utterly weird comments. For example, we once wrote an entire post from the perspective of our cat, Richard Parker! The whole thing made no sense whatsoever. We also love describing our food in socially awkward ways, like saying "you can mold this vegan chickpea patty into the shape of your mother's thigh". We are stupid like that, so it all translates into the blog!
Amrita: At the same time, we're also genuinely humble because we know we've got such a long way to go and so much to learn. You'll never see us boasting or being arrogant – partly because we're our own worst critics. Levan is also very keen on sharing everything he's learnt about blogging in the past few months with fellow bloggers. We share everything we know – we don't hold back. There're no 'blogging secrets' with us – we're here to share and learn and succeed together.
Q) What takes up more of your time these days? Your cats or blogging?
Amrita: I would say it's 50/50… We make sure to keep the cats away when we're busy cooking/photographing and posting because they try to eat EVERYTHING! But to make up for it, they get their cuddle and play time after 8pm every night :) They get annoyed if we spend too long blogging!!! For real!
Levan: Yeah, our cats actually start screaming for our attention and love whenever we're taking too long to draft a post or edit photos or do social media stuff. In many ways they always serve as a reminder to stop blogging for the day.
Q) Do your cats ever get in the way of blogging? 
Amrita: Always! I have to be so careful with the fur getting into stuff sometimes. I clean the house like a crazy woman every single morning without fail… but somehow their little hairs always find a secret hiding spot to hide out in. They're always kept away when we cook/photograph which makes us feel bad because our littlest cat Pudding always cries for our attention. We're hoping to move to a bigger house one day where they can have their own play room and (hopefully) not want to get in the way of our cooking/photography. As it is, most of what we earn is happily spent on pampering them!
Q) Have there been any marital disagreements regarding your blog?
Levan: No, we work in perfect harmony — not! Sure, there's been plenty of times where we bump heads, heh. Fun times.
Amrita: Definitely! I tend to be really hard-headed when it comes to how I want our photos to look, to the point where sometimes I get stuck in a creative rut and am quick to give up. Levan tries to suggest changes here or there, which often annoys me and I'll start snapping at him and giving him serious A-T-T-I-T-U-D-E. Nonetheless, he perseveres in rearranging the food set-ups and, most of the times, it always turns out much better than my initial ideas :) I actually think that 'healthy arguing' is good and a crucial ingredient for always trying to improve our food blog.
Levan: Arguing shows that we both really, really care about what we're doing. In many ways, this food blog has been a great bonding experience for the two of us. It's taught us how to communicate better with each other.
Q) What are your 3 favorite recipes you have posted so far?
Amrita: It would have to be our One Pan Mexican Quinoa, Vegan Margherita Pizza, and Vegan Black Pepper Burgers! Levan still has a soft spot for one of our earlier creations – our Cold-Pressed Rainbow Juice collection.
Q) What was the most difficult recipe to make and why?
Amrita: Most of our recipes are really quite easy to follow: it's all quick and simple stuff. But the most difficulty we've ever experienced was not about the recipe itself but in the photographing of it. Our Vegan Oreo Cheesecake was one of THE hardest things to get a decent shot of because everything was black and white, creating many harsh shadows and overexposed bits. That entire shoot took 3 hours and 300 photo shots. It made me feel like throwing in the towel and slamming a couple of doors.
Q) Since when have you been vegan, Amrita? 
Amrita: I've always been a Vegetarian ever since I could make my own food choices (I did have a bit of meat as a child, but I remember always finding it rather putrid tasting). When I was in culinary school, I was still vegetarian which made it a little easier since we worked with SO MUCH butter, chocolate and cream. The very thought of it makes me shudder. I remember having to make croissants, gateaus and puff pastry with literally BLOCKS of butter and dozens of eggs. After more research on how animals were abused even in dairy and egg farms (I'm a huge animal lover), I went Vegan cold turkey in 2012 – but quickly fell off the wagon because I wasn't used to suddenly not having my staples like Greek yoghurt etc. I tried again in 2013, but this time did it the more sensible way through a process of gradual elimination. I'm glad to say I don't miss Greek yoghurt anymore and am fully vegan! ;)
Q) Levan, what makes going vegan hard for you?
Levan: I'm still transitioning to veganism. The road has been slow but steady – baby steps! I'd say the hardest part of becoming vegan is due to me spending most of my life growing up on a traditional Asian meat-diet in Singapore. But, thanks to Amrita's cooking, the switch has been getting easier and easier. I really love animals as well, and I find it difficult to live with the hypocrisy of claiming to love them whilst eating them. So, the good news these days is that I go literally months at a time without having any meat whatsoever! However, what gets me still is the full cream milk (which I love having with coffee) – but I'm happy to say I'm cutting back a lot as I switch over to soy.
Q) Fill in the blank. When I'm not working on my blog, I'm most likely _____ or _____ .
Levan: Writing my PhD thesis like a slug or listening to U2 – over and over and over and over again!
Amrita: At the gym or flirting with boys at the gym. (Just kidding!)
If those incredible pictures of delicious goodness haven't MyWifeMakes believers, then you are not human nor a cat. For those with a soul, connect with this inspiring pair at any (or all) of these social media platforms :)