Print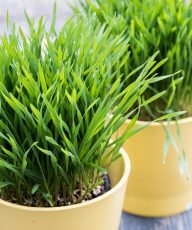 Wheatgrass Juice
Use this recipe to quickly make your own wheatgrass juice/shots to use in smoothies or drink as is. Reap all the health benefits of wheatgrass!
Makes
177
ml (3/4 of a cup)
0.5

cup

chopped, fresh Wheatgrass

chopped, fresh Wheatgrass

1

cup

Water
Pulverize the chopped wheatgrass with the water in a high powered blender or food processor for at least one minute.

Strain the wheatgrass juice through cheesecloth or kitchen towel.

Wheatgrass juice is best used immediately or within 24 hours. If you can't use it within a day, it is best to freeze the juice in an ice cube tray.
1.) I find this to be the easiest way to make wheatgrass juice. If you have a juicer that allows you to use leafy greens then you can use that as well. Some people swear by using manual juicers specific for juicing wheatgrass, parsley and other greens.