Print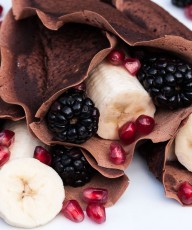 Chocolate Crepes from The Make Ahead Vegan
With a small pan and a twist of the wrist, you will have chocolate crepes. Roll them up all by themselves for a snack or top with your favorite jam for a decadent treat.
In a large bowl, combine all of the ingredients, except the coconut oil.

Mix with an electric mixer on low speed until the mixture is completely blended.

Put in the refrigerator to rest for an hour. When ready to make your crepes, take the batter out of the refrigerator and stir by hand.

Heat a drop of coconut oil in small skillet over medium high heat. Pour a scant ¼ cup of the batter. Lift the pan and swirl and tilt to cause the batter to cover the bottom.

Cook for about 2 minutes, until golden brown, then flip and cook for a minute more. Remove from the pan and continue with the rest of the batter, adding a drop of coconut oil to the pan every once in a while.

They cook best without much oil.

Serve folded over, filled with strawberry or blueberry jam. A chocolate hazelnut spread is great, too.
Storing in the refrigerator:Will keep in the refrigerator for up to 1 week.Freezing:Freeze in freezer bags and just take out a few when you want. They defrost almost immediately. Will keep in the freezer for 3 to 4 months.
Nutrition Facts
Chocolate Crepes from The Make Ahead Vegan
Amount Per Serving (1 crepe)
Calories 61
Calories from Fat 5
% Daily Value*
Fat 0.5g1%
Sodium 47mg2%
Carbohydrates 13.5g5%
Protein 1.5g3%
* Percent Daily Values are based on a 2000 calorie diet.