Print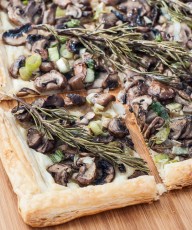 Rosemary Mushroom Tart
This mushroom tart recipe comes together so quickly and is perfect as a meal or as an appetizer. Play around with the addition of different herbs for a unique taste each time!
Preheat oven to 390 F (200 C) with a baking sheet inside.

Add chopped mushrooms and olive oil to a fry pan and cook for roughly 3-4 minutes over medium heat until mushrooms have softened. Add salt, garlic and scallions and cook for 2 more minutes. Remove pan from heat and set aside.

Roll out your puff pastry sheet on a piece of parchment paper and score a 1 inch border. (See notes)

Place your mushrooms evenly within the border of your puff pastry sheet. Try to not add to much of the extra mushroom liquid in the pan. Top with 3 rosemary springs and brush with small amount of olive oil.

Carefully slide puff pastry onto the now hot baking sheet in the oven. Cook for 20 minutes or until puff pastry is golden brown.
1.) Scoring a border just means to slightly make a border around the outside of the puff pastry. Use a knife and cut half way into the puff pastry, and inch from the edge. Be careful not to cut through the puff pastry.