Print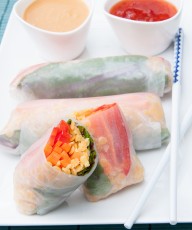 Lentil Sommer Rolls
A quick iron-rich Lentil Sommer Rolls made with rice paper, red lentils, and fresh vegetables. Perfect for a healthy lunch or appetizer.
5

Rice Papers

or 10 for easier rolling

1/2

of a cup Uncooked Red Lentils

cooked for 7 minutes in boiling water

1

Carrot

julienned

1/2

of a Red Bell Pepper

julienned

1

cup

Lettuce of choice

I used baby chard

Peanut Sauce or Sriracha Sauce for dipping
Soak one rich paper (or 2 on top of each other for easier rolling) with lukewarm water in a shallow dish or plate. Soak for roughly 30 seconds until rice paper becomes slimy. Carefully place on a clean plate or cutting board.

Add roughly 2 heaping tablespoons of red lentils, 5 carrot slices, 5 bell pepper slices, and a small handful of lettuce to the bottom edge of the rice paper circle. Gently but tightly roll up the spring rolls up the way you would a burrito. (Check step by step rolling directions above.) Repeat steps until all ingredients or rice papers are used up.

Serve immediately with your favorite dipping sauces.
1) Loosely adapted from Crazy Vegan Kitchen's [Vegan Rice Paper Rolls]2) If you are new to making rice paper rolls then I suggest you use 2 rice papers on top of each other. They rice paper rolls won't break as easily. It's also great if you are making these for kids to double to papers as well. This allows kids to hold on to them easier without them falling apart of tearing.3) There are a couple of different ways to soak your rice paper. The way described above is how I like to do. It takes a bit of experimenting until you find the way that works best for you. Others like to soak their rice paper in hot water for a few seconds. I find that my rice paper tears to easily when done that way.