Print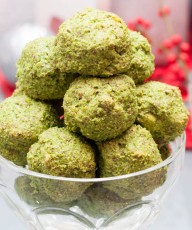 Vegan Spinach Balls
Delicious and easy to make Vegan Spinach Balls! They're the perfect healthy appetizer for any party or even great as a snack!
Preheat oven to 350F and line a cookie sheet with parchment paper.

Place all ingredients in a food processor and pulse until nuts are slightly ground. If too much for food processor, process ingredients in batches. and mix together in a bowl.

Scoop tablespoon sized balls of the spinach mixture out of the food processor or bowl and place on cookie sheet.

Bake in oven for 15-20 minutes until bottoms of the spinach balls have browned.

Remove from oven and allow to cool for a minute on a cookie rack. Serve warm.
1) Prepare Flax or Chia eggs by mixing 1 tablespoon ground Chia or Flax Seeds with 3 tablespoons of water. Allow to sit for 15 minutes until a thick gel forms. This is your egg replacement!2) Spinach balls can be eaten cold as well but taste best when warm and fresh out of the oven. If this is not an option pop them in the microwave for a few seconds to warm up before serving.3) You may use frozen spinach if needed. Allow the spinach to thaw completely and drain it of any excess water before using.4.) If your mixture is too wet to form balls, add more oats or almonds. If your mixture is too dry, add a bit more olive oil or a bit of water.