Print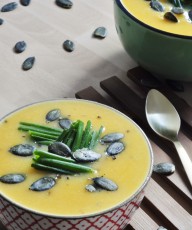 Sweet Potato Cauliflower Soup
makes 8.5 cups (2 Liters)
Heat olive oil in a medium sized stock pot. Saute onions until glossy. Add garlic and continue cooking, stirring often, until garlic becomes fragrant ( about 3 minutes).

Add sweet potato and cauliflower, cook for 1 - 2 minutes, and then add broth. Cover stock pot Reduce to low heat, uncover, and let simmer for 15 to 20 minutes until sweet potato can easily be pierced with a fork.

Puree with an immersion blender until smooth.

Stir in 2 tablespoons of apple cider vinegar, bring to another quick boil, and again simmer for an additional 3 minutes.

Serve hot and garnish with favorite toppings such as pumpkin seeds, chives, pine nuts, parsley, croutons, vegan sour cream or yogurt.
1) Soak cauliflower florets in a large bowl of cold water for at least 5 minutes or longer before using. This not only removes dirt and debris that might be stuck in it but also helps draw out any bitter flavors from it. Drain and shake off excess water before cooking. Soaking cauliflower is optional but I highly recommend it.2) If you are fond of garlic, feel free to add 3 cloves for extra flavor.3) Feel free to add as much or little broth to the soup until desired texture is achieved. Amount of broth may also vary a bit due to size of sweet potato and cauliflower being used.4) Slowly add apple cider vinegar to soup according to taste. Apple cider vinegar can also be substituted with lemon juice or sherry vinegar.
Nutrition Facts
Sweet Potato Cauliflower Soup
Amount Per Serving (1 cup)
Calories 43
Calories from Fat 5
% Daily Value*
Fat 0.6g1%
Carbohydrates 8.9g3%
Protein 1g2%
* Percent Daily Values are based on a 2000 calorie diet.