Print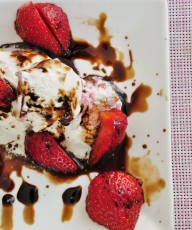 Ice Cream with Strawberries and Balsamic Reduction Glaze
mkes 1/3 cup Balsamic Reduction Glaze
1/2

cup

Vanilla Ice Cream

2

large Strawberries

quartered

1

cup

Balsamic Vinegar

3

tablespoons

Raw cane Sugar
Caramelize sugar in a dry and small stock pot over low-medium heat.

Add balsamic vinegar and simmer over lowest heat setting until reduced to 1/3 the amount of liquid (about 15 minutes).

Remove balsamic reduction glaze from heat and fill into a glass container. Allow to cool.

Place ice cream on a dish.

Top ice cream with strawberries and drizzle with balsamic reduction glaze.
1) The glaze will thicken once it is cooled. If it gets too hard, add a bit of water to it. If it is too thin, return it to the stock pot and cook for a few more minutes. 2) Allow it to cool with no lid on the container or bottle. Once it has cooled store covered.3) Caramelized sugar may get hard when you add the vinegar to it. This is OK. It will dissolve into the vinegar again. 4) Be careful not to burn the vinegar or it will taste horrid and have your kitchen smelling for days. Don't be tempted to turn up the heat to make it reduce faster. It is extremely important that it is over low heat. 5) The time it will take to reduce the balsamic vinegar will vary depending on the size of the pot or pan you are using.