Print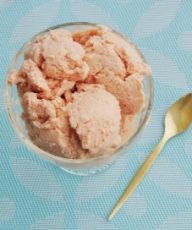 Peach Coconut Ice Cream
Ready in 3 to 4 hours or faster if using ice cream maker
Heat diced peaches (with skin on) in a small saucepan over medium heat. Once they start to bubble, reduce to low heat. Stir occasionally (every 2 minutes) for 15 minutes.

Using an immersion blender, food processor, or blender puree peaches until smooth.

Add coconut milk and maple syrup to 3/4 cup pureed peaches. Blend well.

Add mixture to ice cream maker and use manufacturers instructions or place in a stainless steel bowl and place in freezer.

Using a spoon or immersion blender mix every 30 - 45 minutes, making sure to scrape sides, until desired ice cream consistency has been reached (about 3 - 4 hours).
1)I recommend eating this ice cream up once it reaches the right consistency. However, ice cream will keep in freezer. If it gets to hard, thaw at room temperature for 10-15 minutes or if too hard defrost in microwave.