Print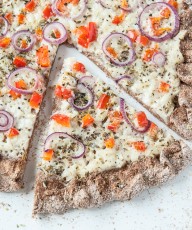 Coconut and Garlic White Pizza
makes 2 x 10" or 25cm pizzas
Pizza Dough

1/2

a cube of Fresh Active Yeast

21g or .75 ounces or 1 Packet Dry Yeast

1/2

cup

Water

warm

2

cups

250g Whole Wheat Flour

3/4

teaspoon

Salt

1

teaspoon

Whole Cane Sugar

Coconut Garlic Sauce

1/2

cup

full fat Coconut Milk

6

cloves

of Garlic

crushed

2

teaspoons

Olive Oil

1/2

teaspoon

Salt

Pizza Topping

1

medium sized Shallot or Red Onion

diced, or in small rings

1/2

Red Bell Pepper

finely diced

1

teaspoon

dried Oregano

Fresh cracked Pepper

optional
Combine Yeast, 1/2 Cup (125ml) warm Water, and 2 tablespoons of the flour. Let stand for 10 minutes. Mix with a dough hook or knead with your hands while slowly adding salt and the rest of the flour. Knead until the dough is no longer sticking to the side of the bowl. The dough should not be sticking to your hands but still be soft and moist. (See notes if it is not) Cover dough with plastic wrap and let rise in a warm place for 20-40 minutes until it has doubled in size.

Preheat oven to 450F.

Meanwhile get started on the coconut garlic sauce. Heat olive oil in a saucepan. Add garlic and saute over medium-low heat until garlic becomes fragrant.

Add coconut milk and salt to saucepan and bring to a boil. Reduce heat and simmer for 3-5 minutes. Set aside.

Take half of the risen dough and ,using a rolling pin, roll each half into a pizza base/crust. Using your thumb and index finger fold small sections of dough over to form a raised crust.

Lay on parchment paper lined sheet pan or pizza stone and cover to let rise for another 10 minutes. Repeat with remaining dough to make second pizza base.

Slowly add half of the coconut garlic sauce to the base being careful not to have it overflow.

Top with bell peppers, shallots and oregano.

Bake in oven for 10 minutes.

Serve hot and top with fresh cracked pepper (optional).
1) Due to different types and brands of flour, the amount of flour and water needed to reach the right dough consistency may vary. Is the dough to tough and dry, please add more water. Is it to runny and sticky, add more flour. 2) The pizza base can be shaped into any form and thickness. Note that the bake times may vary then. However it does need to have a raised edge or the coconut sauce will spill over.