Print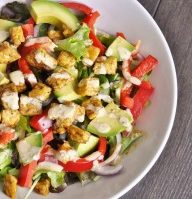 Mixed Greens Salad with Tempeh Croutons and Tahini Mint Dressing
makes 2 large or 4 smaller Salads
Tempeh Croutons:
4

ounces

Tempeh

diced

1

teaspoon

Olive Oil
Pinch of:
Salt

Pepper

Paprika

Cayenne Pepper

optional
Wash mint leaves and add to food processor along with all other ingredients listed for salad dressing. Blend until smooth.

Wash and dry greens and divide between two bowls or plates. Top with red onion slices, diced avocado, and diced bell pepper. Set aside.

Dice tempeh into 1/2'' to 1'' cubes.

Heat olive oil in fry pan over med-high heat. Fry tempeh for 2-4 minutes until browned adding a bit more olive oil if needed.

Remove from heat and toss in spices.

Add tempeh croutons to salad.

Drizzle Salad with Tahini Mint Dressing and enjoy!
1) Tahini salad dressing is an acquired taste. Tahini tastes very earthy and if that is not something you enjoy I suggest trying the Maple Dijon Dressing with this salad. However, this tahini dressing does grow on you. Give it a try and see!2) Tempeh soaks up olive oil like a sponge. If you add a bit of salt to the olive oil before adding the tempeh it can help prevent the tempeh from burning. Instead of having to add more olive oil you can also use a tiny bit of water.