Print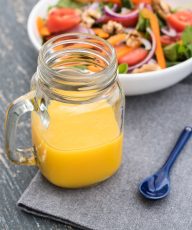 Mango Salad Dressing
A sweet n' tangy Mango Salad Dressing to perk up your next salad!
Cut and dice a ripe mango.

Add the diced mango, water, vinegar, salt and lemon juice to a food processor or blender.

Blend until the mango salad dressing is smooth.

Taste the salad dressing. If it isn't sweet enough to your liking you can add some maple syrup and blend again.

Add more water if the salad dressing is too thick for your liking or if too watery, add a bit more mango.

Store the salad dressing in an air tight container or bottle and refrigerate. Use within 3 days.
1.) Adding maple syrup to the mango salad dressing is completely optional and really only needed if the mangoes you are using aren't very sweet. Start off with a small amount and add more if needed. if you don't have any maple syrup then a small amount of sugar can be used instead.
Nutrition Facts
Mango Salad Dressing
Amount Per Serving (2 tablespoons)
Calories 44
Calories from Fat 3
% Daily Value*
Fat 0.3g0%
Sodium 36mg2%
Carbohydrates 10.7g4%
Protein 0.6g1%
* Percent Daily Values are based on a 2000 calorie diet.