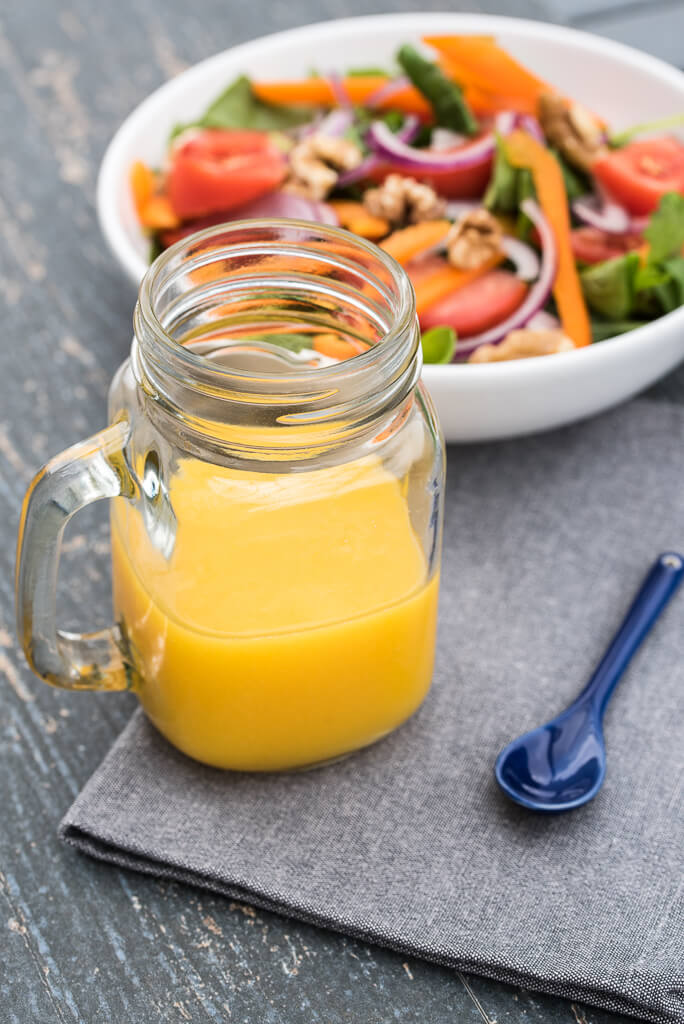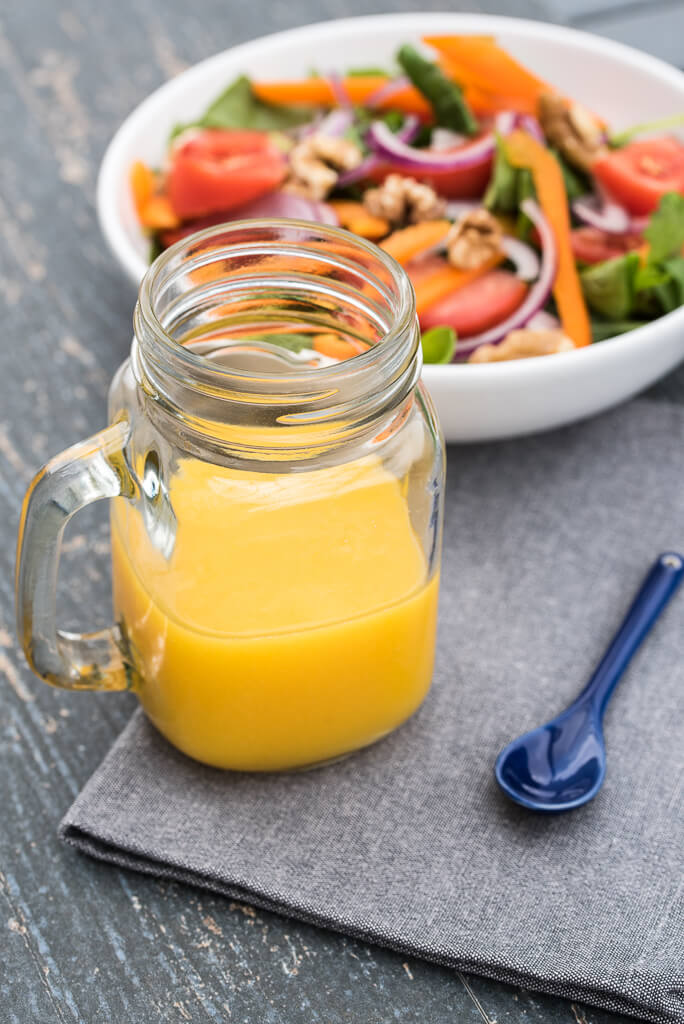 If you've been looking for a new salad dressing to obsess over, then this Mango Salad Dressing is IT!
My usually go-to salad dressing a very basic balsamic vinaigrette. This mango salad dressing definitely took some inspiration from that but with a slightly healthier twist ;)
What makes this Mango Salad Dressing so great?
It's oil-free and you can't even tell! Yes, I also just slashed those salad dressing calories in half! Not that I'm counting though :D
White balsamic vinegar takes this salad dressing from "meh" to "ohhh yeah!" White balsamic vinegar is not just lighter in color than it's dark counterpart but also in flavor. It's also not as sweet and since we're getting lots of natural sweetness from the mangoes, it's not necessary. I also opted for the white balsamic vinegar for the obvious color reason. A brownish salad dressing doesn't quite look as nice as this bright, vibrant orangeish/yellow dressing ;)
Naturally sweet!
Deliciously tangy!
It's definitely a salad dressing to whip out when you want to impress guests or family.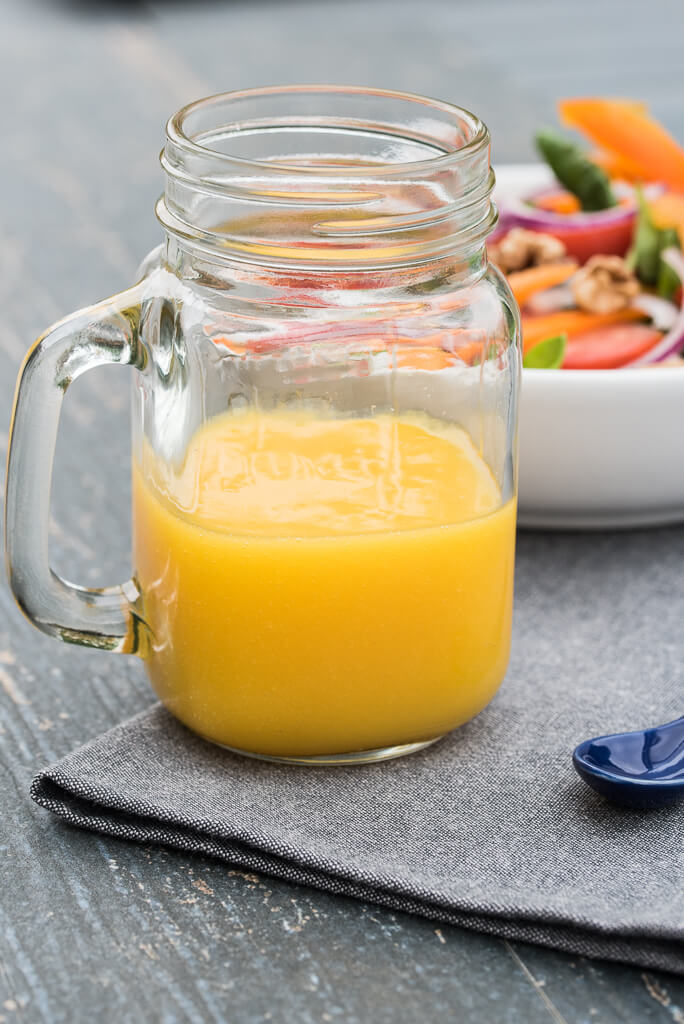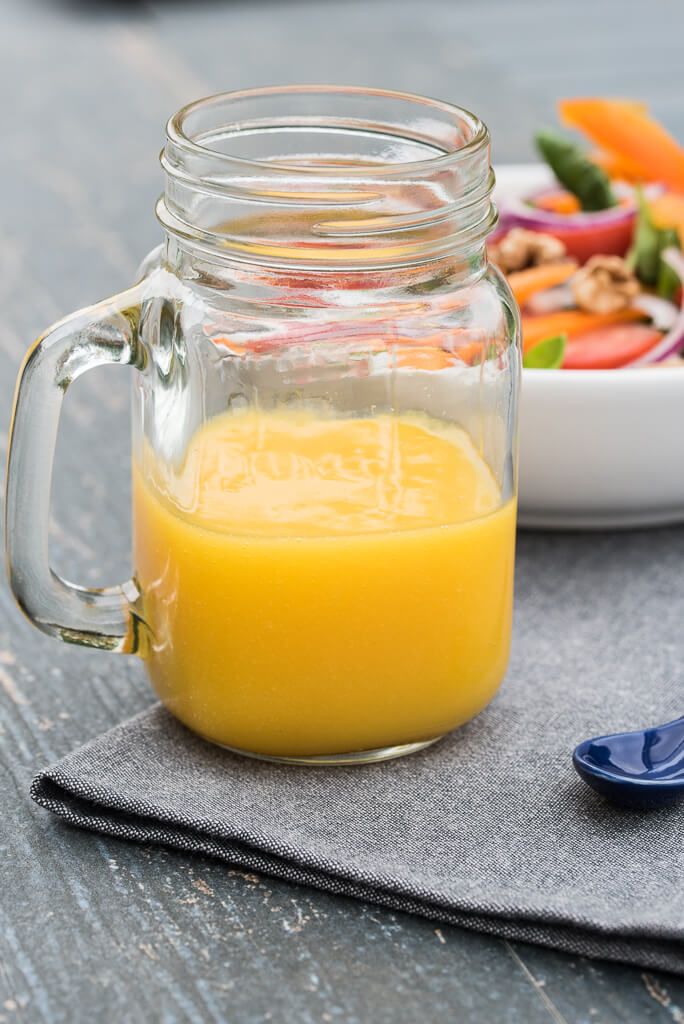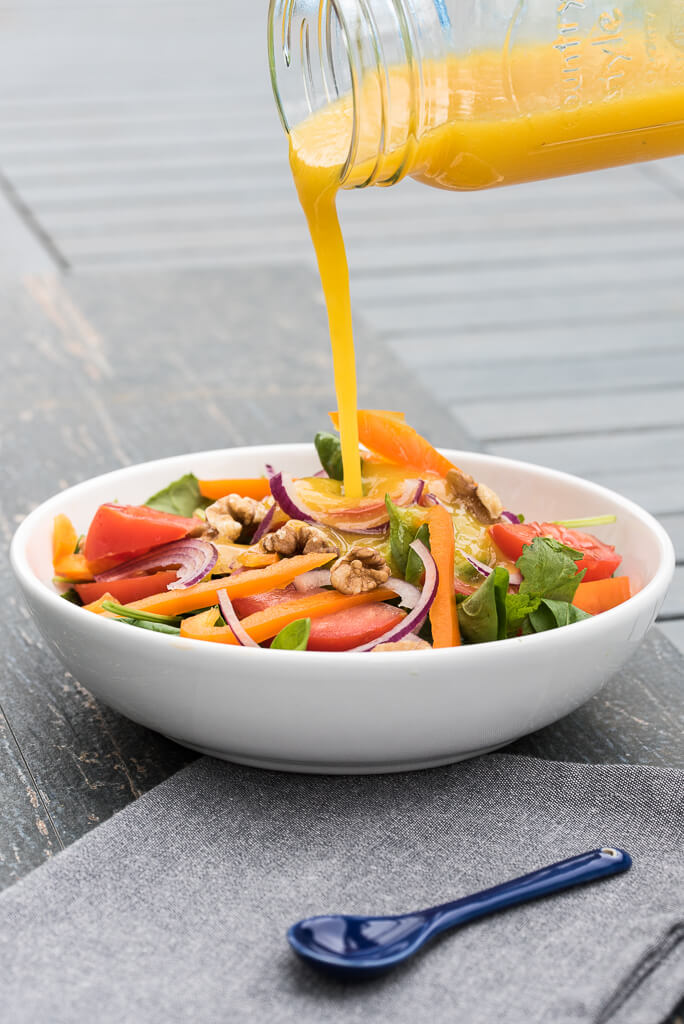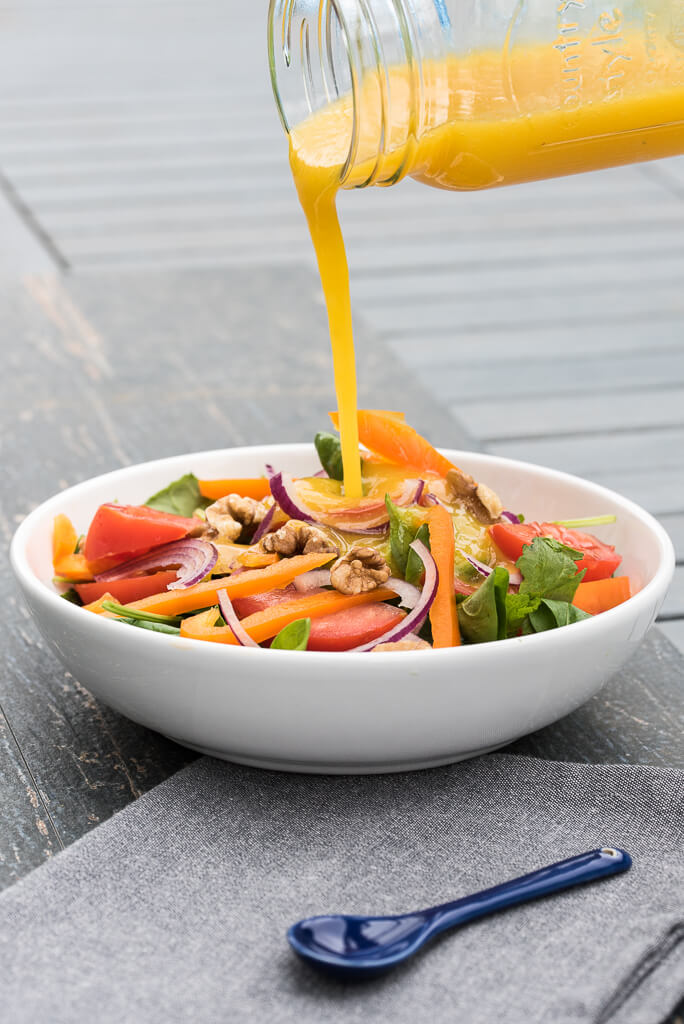 Yeah, you'll definitely want to pour this golden goodness ALL over you salad.
The best part is...wait for it...wait, wait, wait...it's totally EASY to make. I mean like my 6 year old son can make this, easy.
Guess what else...no not that...It's even cheaper and much healthier than store bought dressing.
Want to know a little mango salad dressing secret? 
I didn't just use this mango salad dressing for salad. I even used it as a sauce for a veggie burger and then dipped some fries into it *gasp!  Don't ask why. I think it's just something about that sweet n' tangy flavor that makes everything taste better with it.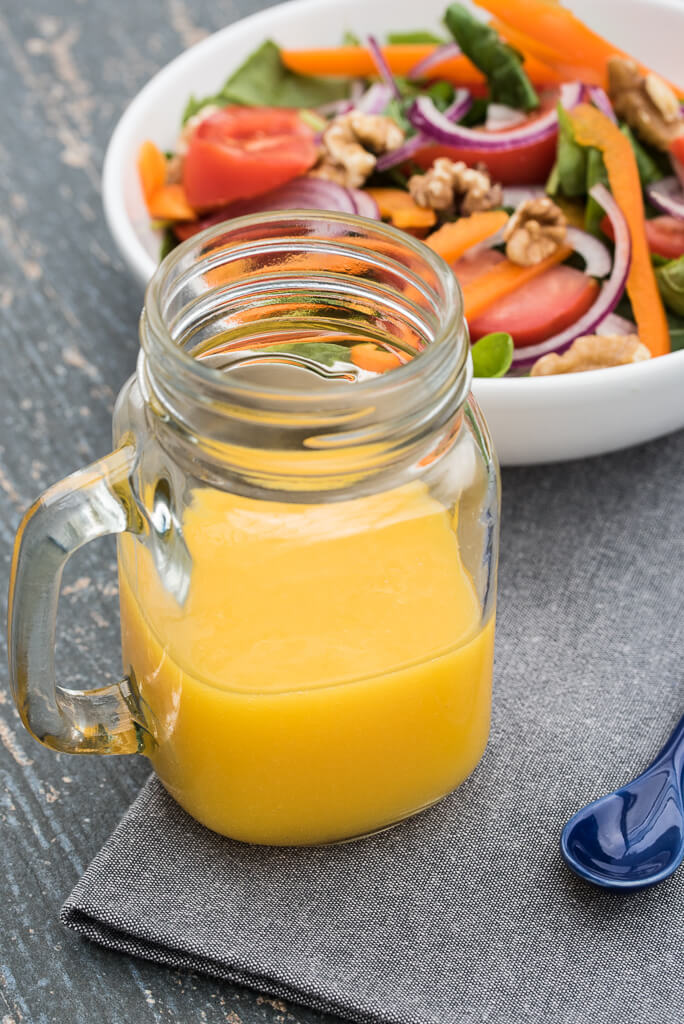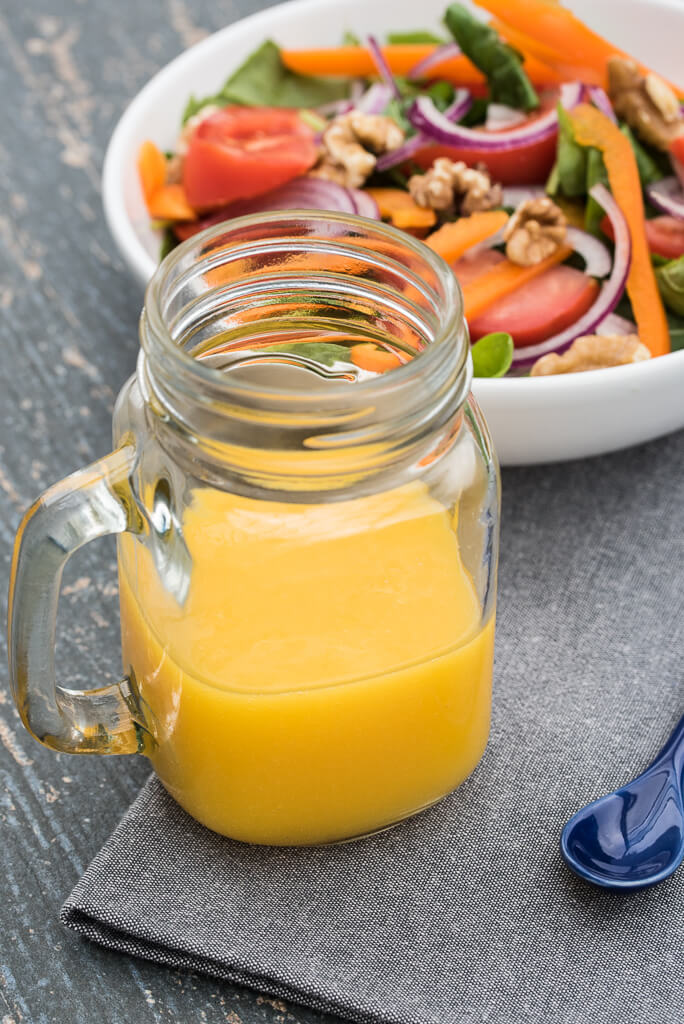 Let me know in the comments below how you like using it! ;)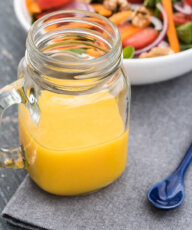 Mango Salad Dressing
A sweet n' tangy Mango Salad Dressing to perk up your next salad!
Ingredients
1

cup

diced Mango

roughly half of a mango, will depend on size

0.25

cup

Water

⅛

cup

White Balsamic Vinegar

⅛

teaspoon

Salt

1

teaspoon

Lemon Juice

0.5

teaspoon

Pure Maple Syrup

optional - see notes
Instructions
Cut and dice a ripe mango.

Add the diced mango, water, vinegar, salt and lemon juice to a food processor or blender.

Blend until the mango salad dressing is smooth.

Taste the salad dressing. If it isn't sweet enough to your liking you can add some maple syrup and blend again.

Add more water if the salad dressing is too thick for your liking or if too watery, add a bit more mango.

Store the salad dressing in an air tight container or bottle and refrigerate. Use within 3 days.
Recipe Notes
1.) Adding maple syrup to the mango salad dressing is completely optional and really only needed if the mangoes you are using aren't very sweet. Start off with a small amount and add more if needed. if you don't have any maple syrup then a small amount of sugar can be used instead.
Want more?
Once it becomes more difficult to find fresh, seasonal mangoes then try making my scrumptious Maple Dijon Salad Dressing ;)