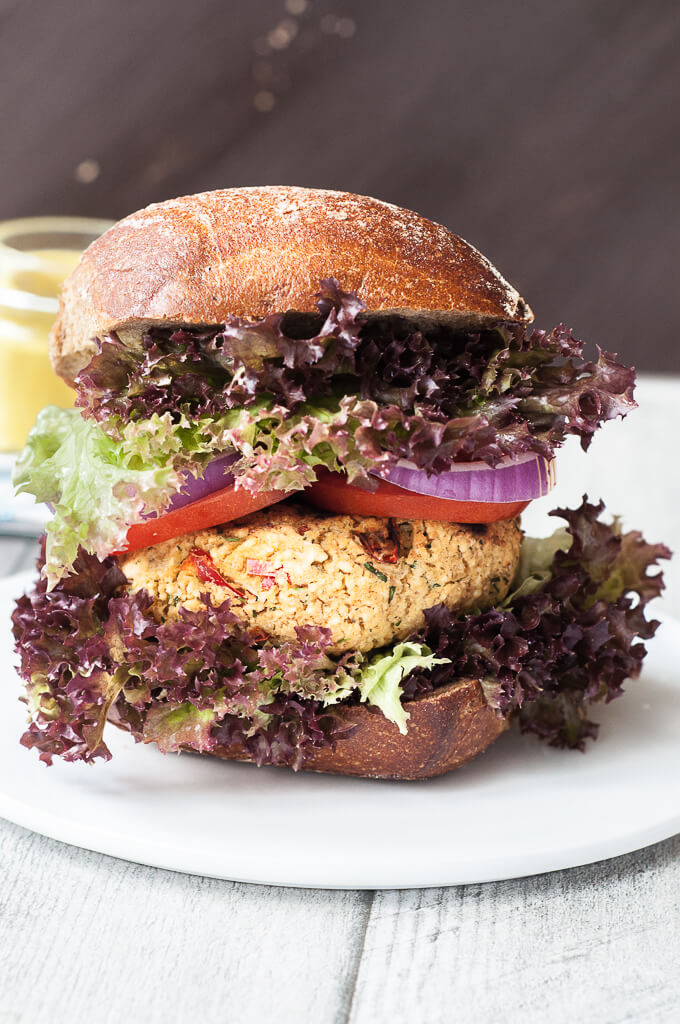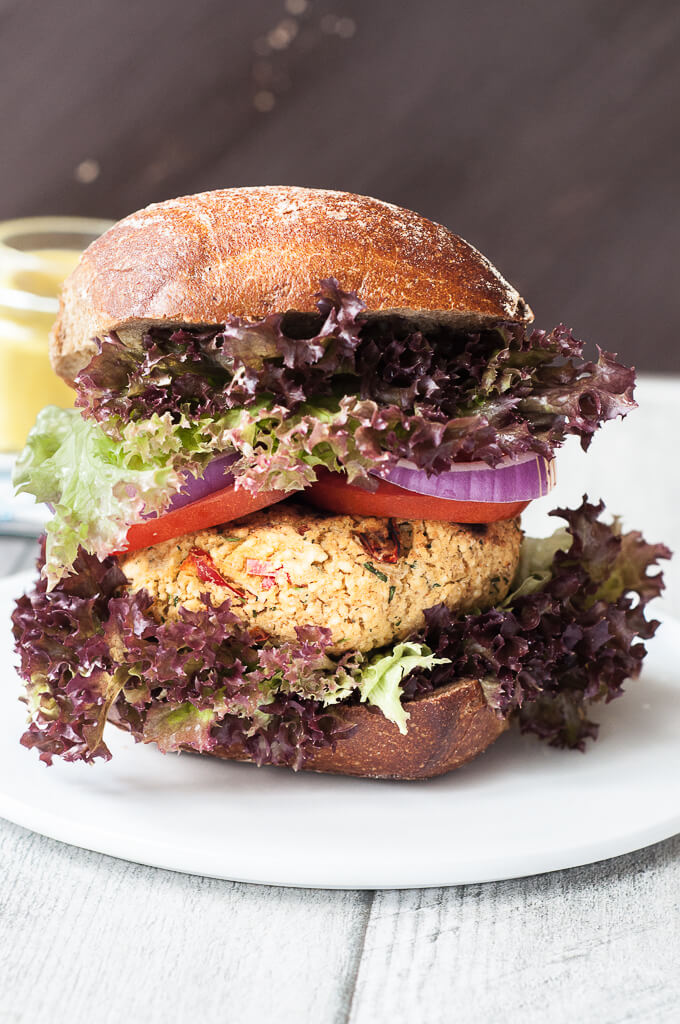 I have an absolute veggie burger obsession. Not just with this Couscous Burger recipe I'm sharing with you today but just in general.
Usually a food blogger who has an obsession tends to make lots of posts about that types of dish. Remember that hummus phase I went I'm going through? (Hummus, Hummus, Hummus, Hummus & a ton of hummus).
Hummus I make in LARGE batches. Veggies burgers I usually don't. With veggies burgers, I make and eat them so quickly that I generally have no time/willpower to actually turn them into a post and recipe. If I'm feeling very generous, then I'll post the recipe on Instagram.
However, that really doesn't happen too often. You'll notice that that post was a year ago...oops. Guess I'm not as generous as I thought I was.
I've decided to change my lazy veggie burger ways and to actually start posting more of them. The first one I'm sharing with you is my Chickpea Couscous Burger. Couscous is such an easy grain to work with. Just pour hot water over it, cover and let it steam for 3 minutes.
So easy!
It gives this couscous burger a really nice consistency. I like to already add the onion and garlic to the uncooked couscous before steaming it. This lets the garlic and onion flavor really seep into the couscous giving it an even flavor throughout the whole burger.
The chickpeas are super important for this recipe and this is what you need to know! The chickpeas shouldn't be smooth when you pulse them in your food processor. Here's a quick reference picture that you'll be looking at after you read through the instructions ;)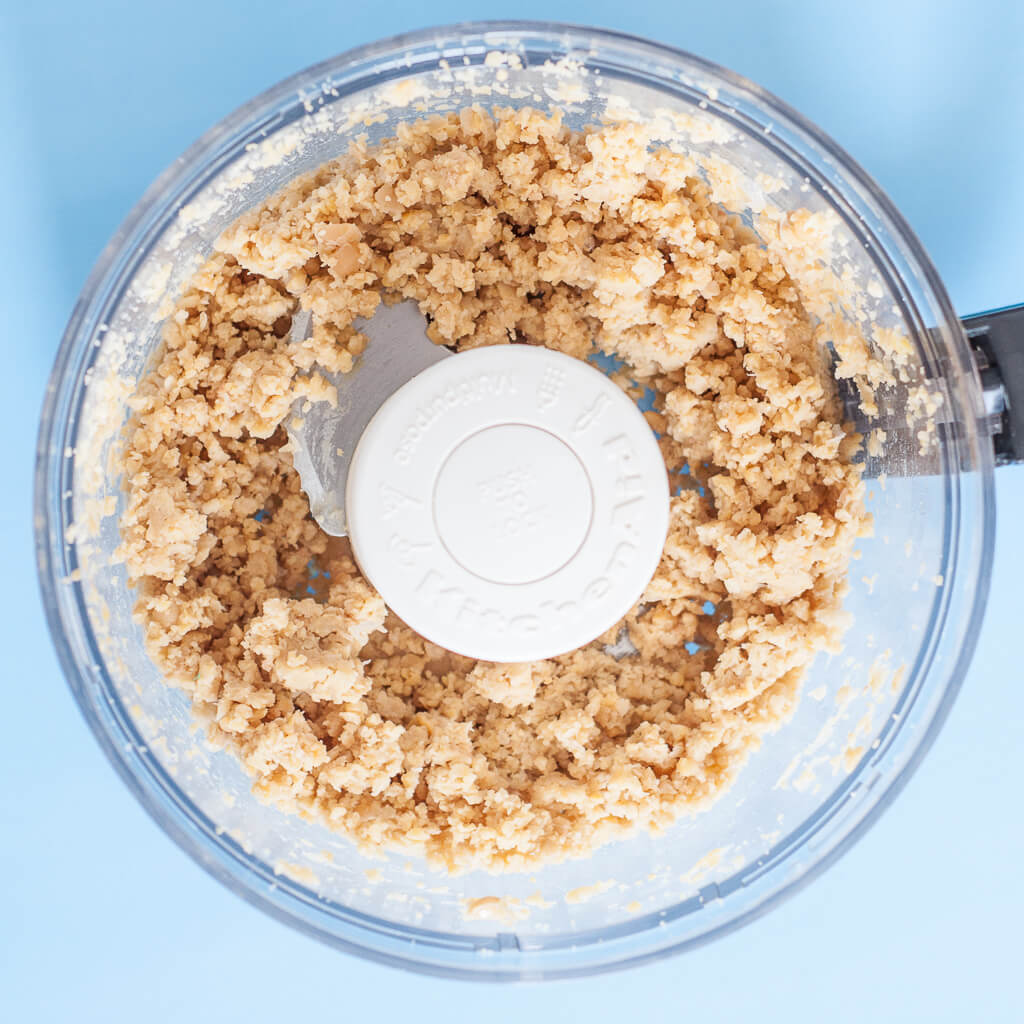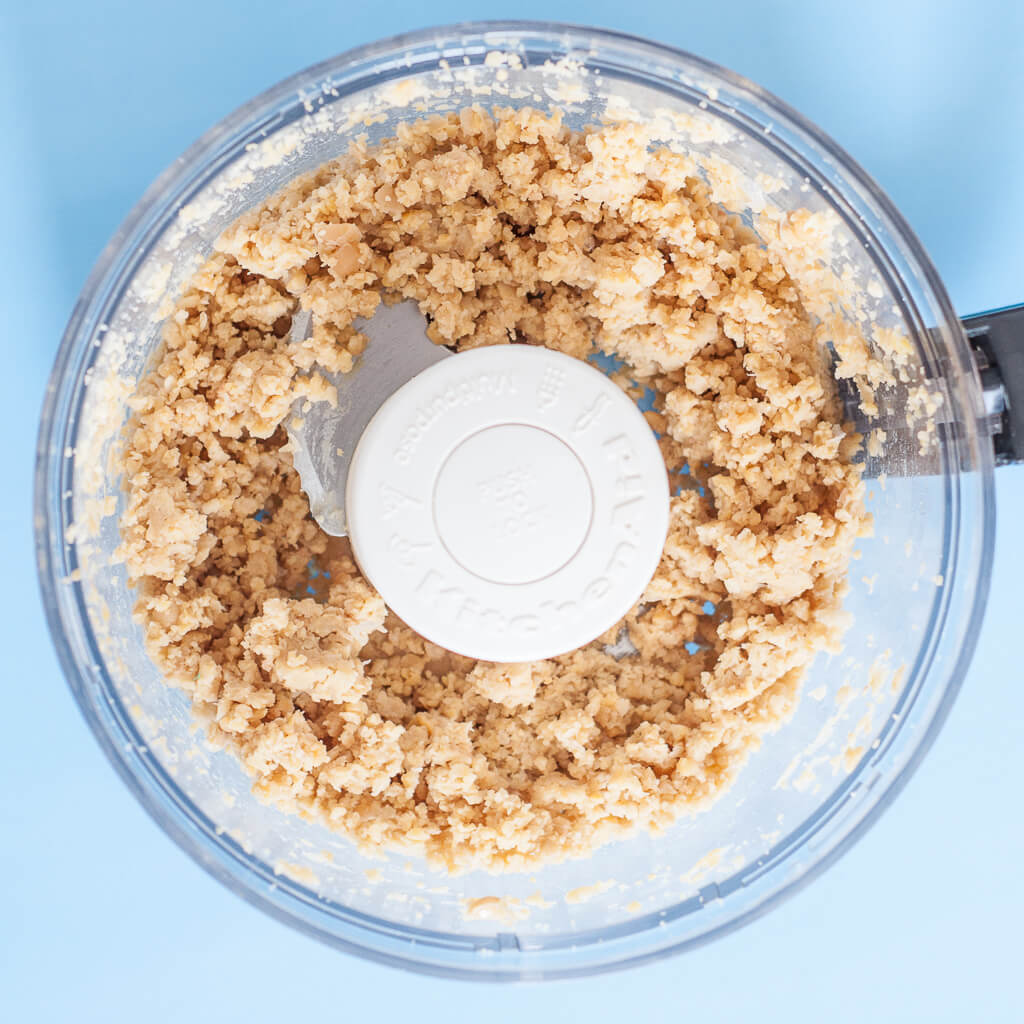 Not whole chickpeas but also not completely smooth. We're NOT trying to make hummus burgers here...wait that does sound delicious though!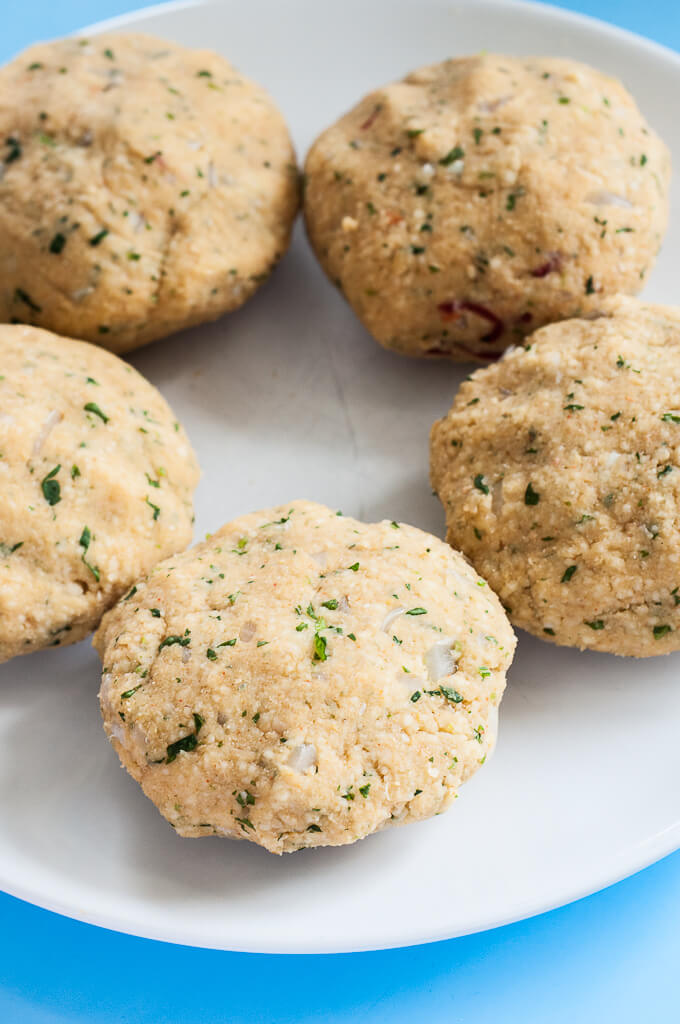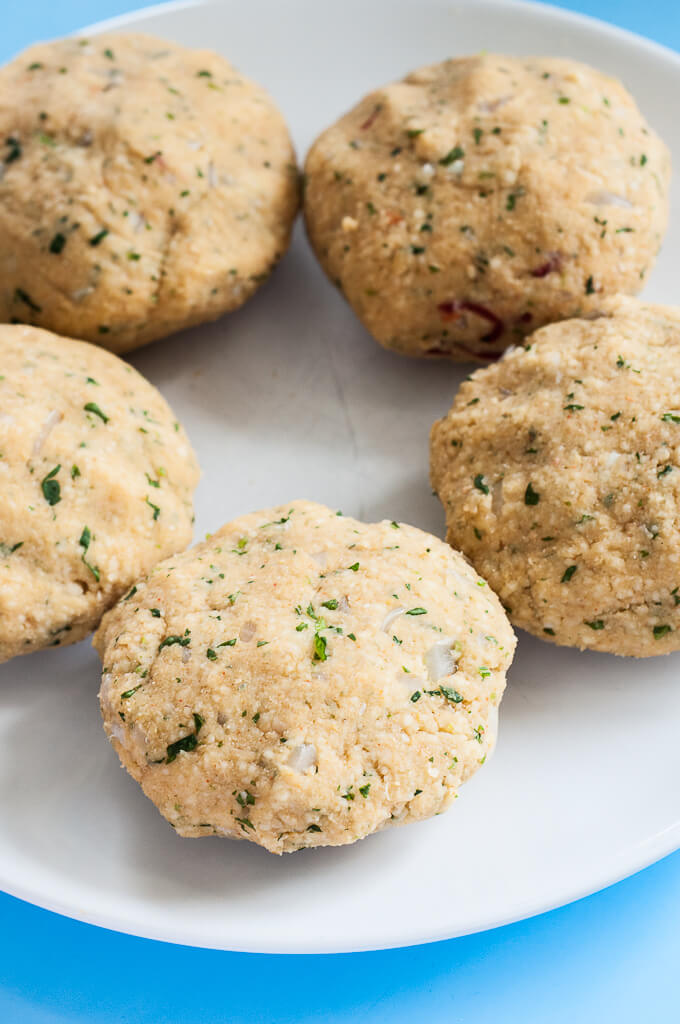 The chickpeas hold everything together so well that you can fry, bake or grill this burger. I  actually prefer to grill these chickpea couscous burgers on the weekend with some fresh corn and veggies on the grill as well. The leftover burgers, I like to fry in a pan the next day for a crispy, quick lunch.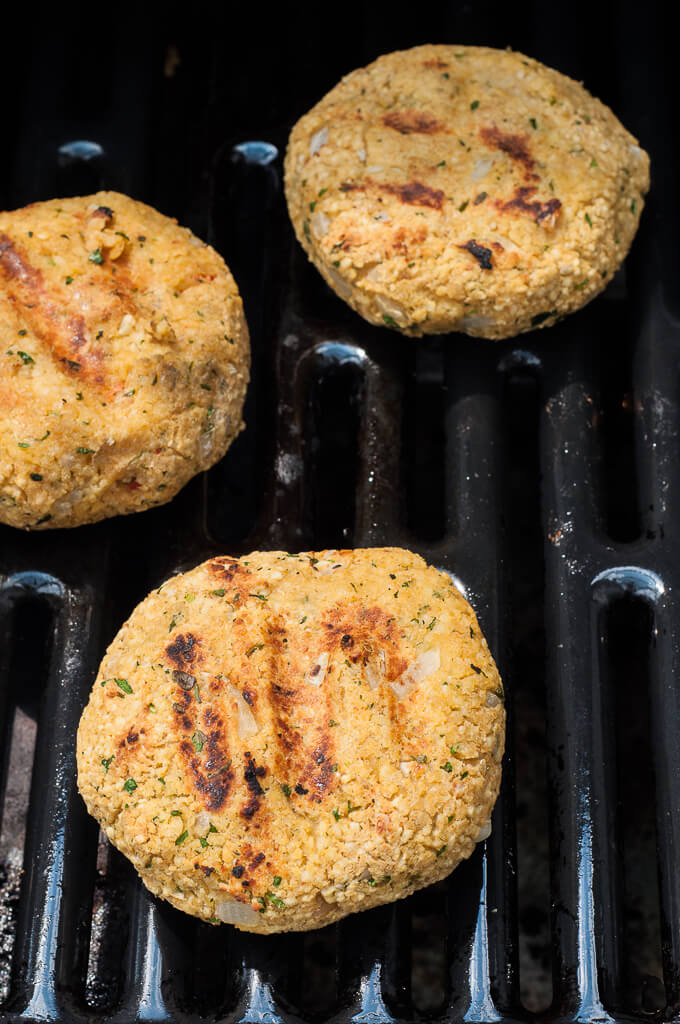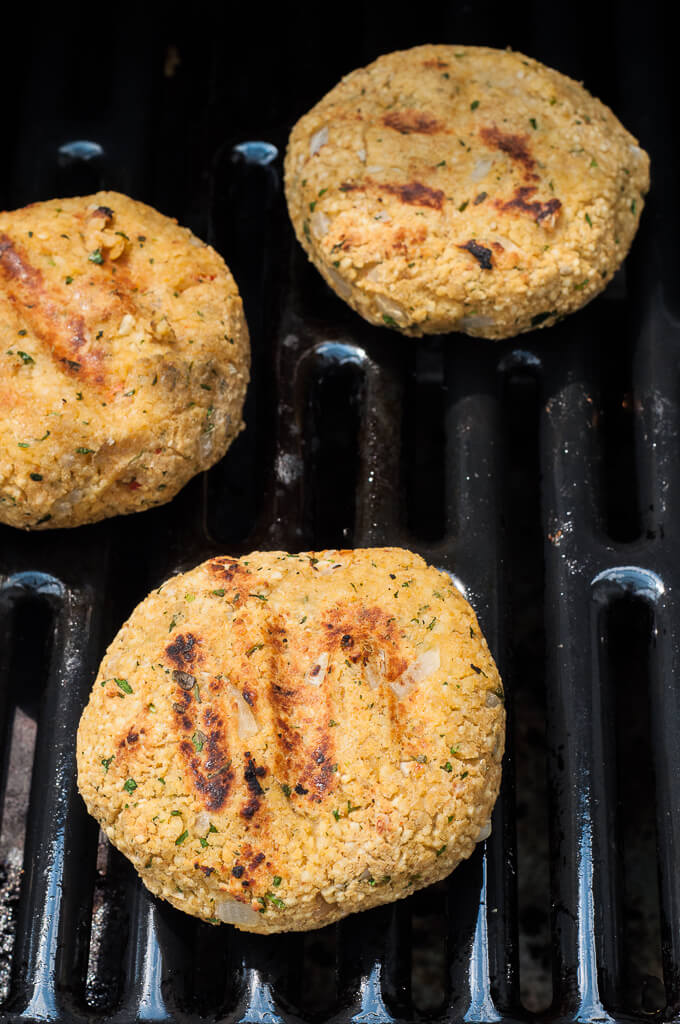 The real star of this burger is the golden Coconut-Garlic Sauce with turmeric. It is so deliciously creamy, I make it in bulk and spread it on toast. The cool thing about the sauce is that when you keep it in the fridge it hardens to the same consistency of butter because of the coconut milk in it. Which makes it great to spread on anything.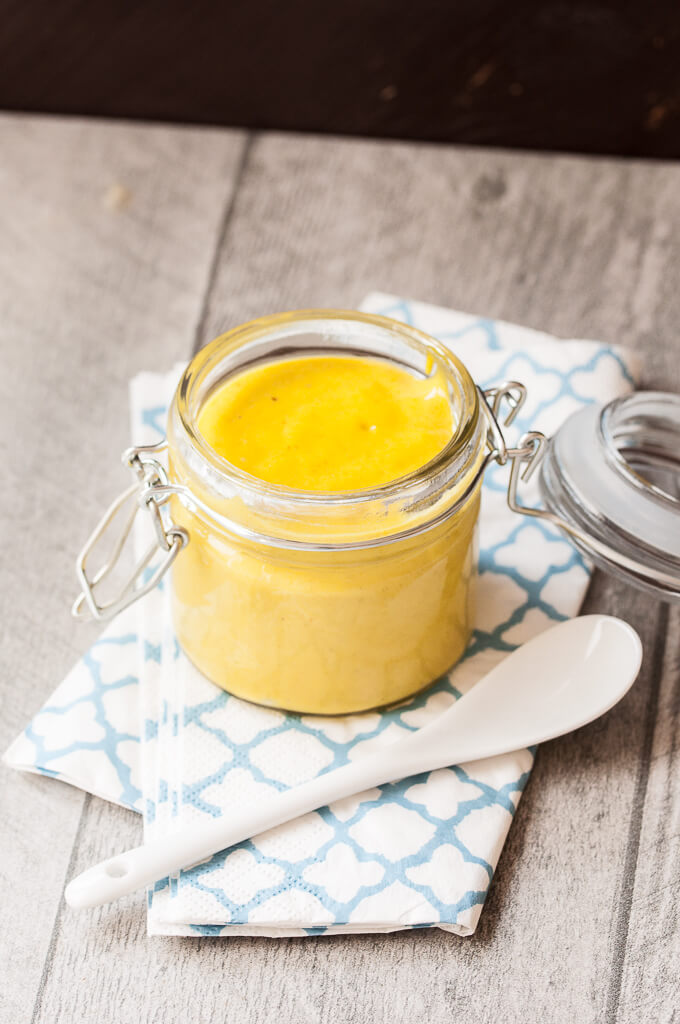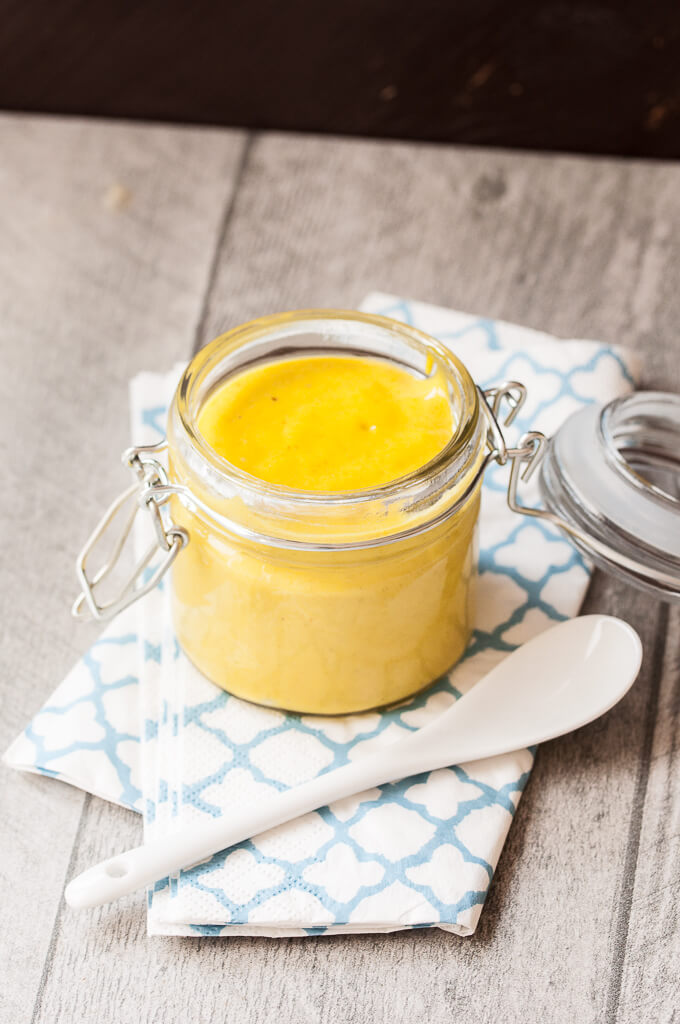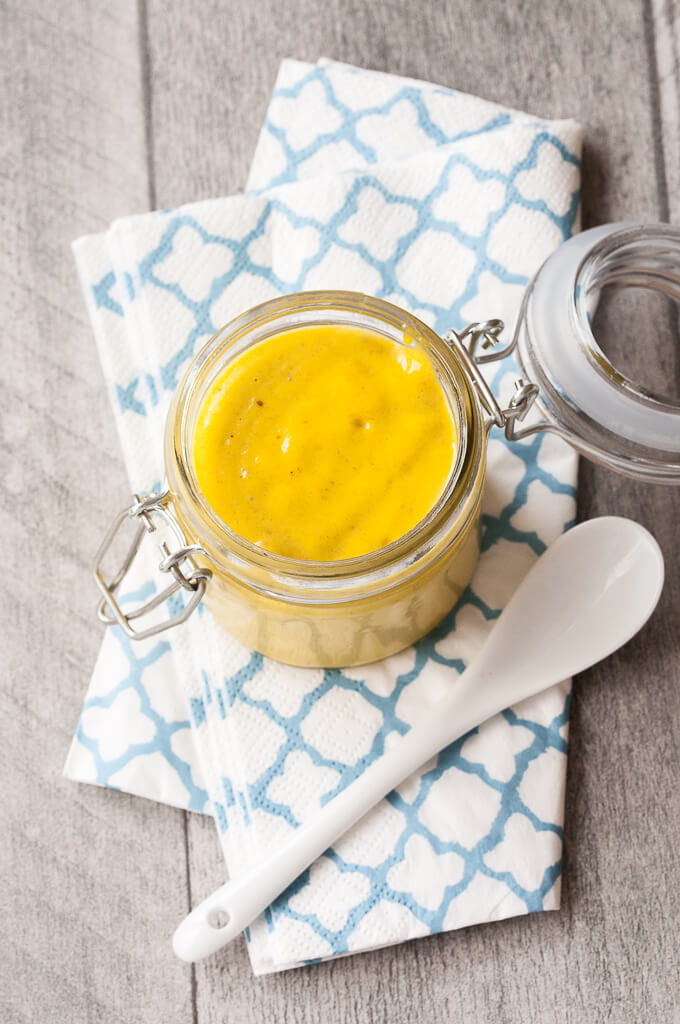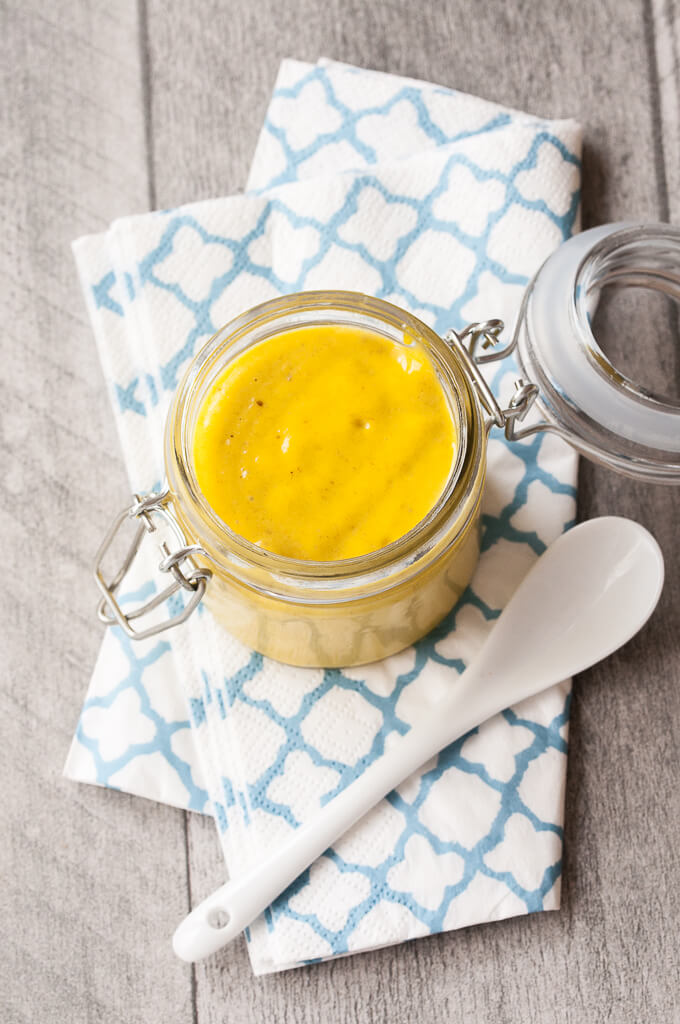 If that something is hot, like this couscous burger, it will start to melt over it. Soooo soooo good!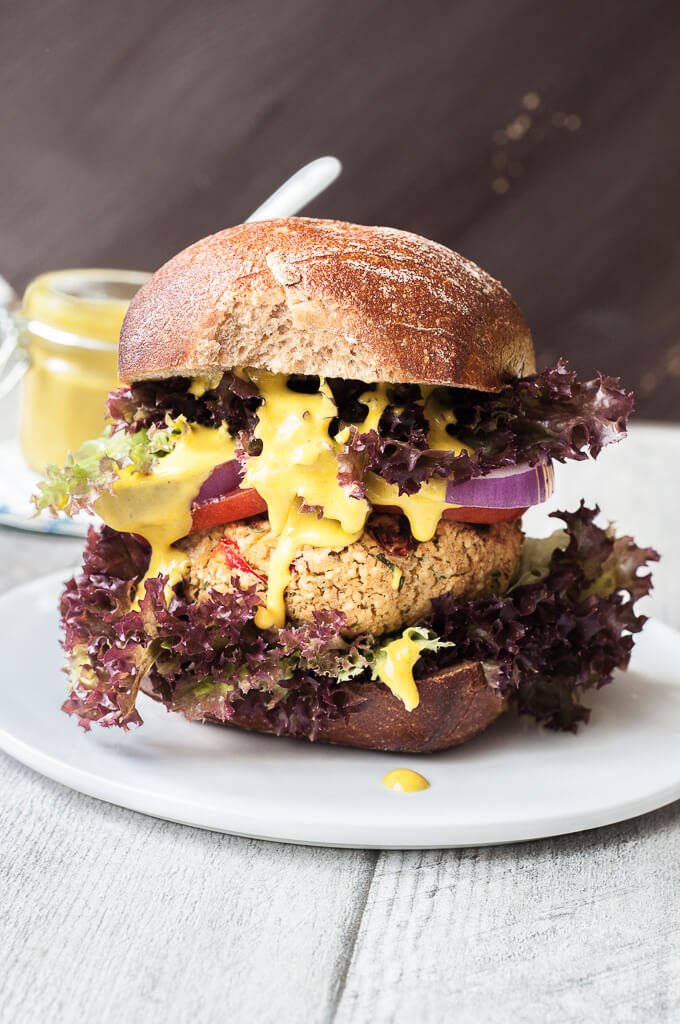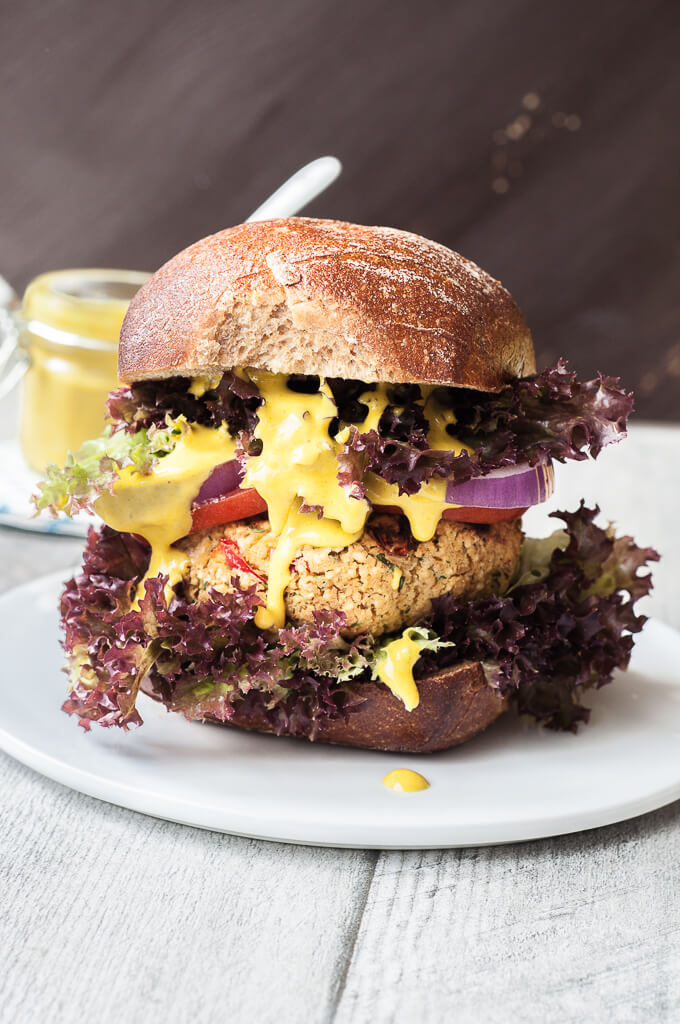 If you don't like coconut or the many health benefits turmeric has to offer the. Try pairing this burger with a vegan mayo that I posted with my eggplant burger recipe. You don't have to make your own sauce. A good ketchup or BBQ sauce works too ;)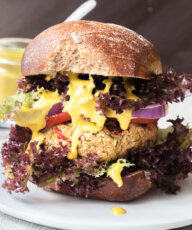 Couscous Burger w/ Garlic-Coconut Sauce (V)
A quick and easy Couscous Burger that can be grilled, baked or fried in a pan. Topped with an incredibly delicious Garlic Coconut Sauce.
Makes
5
large Couscous Burgers
Ingredients
Couscous Burger
1

cup

200g Couscous

1

teaspoon

Salt

1

teaspoon

Paprika

1

and ½ teaspoons Cumin

½

teaspoon

Cayenne Pepper Powder

optional

2

Garlic Cloves

minced

1

small Yellow Onion

finely diced

1

and ½ cups

375ml Hot Water (just below boiling)

1

and ¾ of a cup

315g Chickpeas (soaked & cooked or rinsed & drained from a can)

1

large handful of Fresh Parsley and/or Cilantro

recommended but not necessary

Salt & Pepper to taste

Cayenne Pepper

optional
Garlic-Coconut Sauce
1

Clove

of Garlic

or more if you are REALLY ambitious

½

of a cup

140g Tahini

1

Medjool Date

pit removed

1

and ½ teaspoon ground Turmeric

1

cup

250ml Full fat Coconut Milk

1

tablespoon

Fresh Lemon Juice

Salt to taste
Extras
Buns

also taste great without a bun!

Lettuce

Tomato

Onion

Ketchup

BBQ sauce or other favorite sauce
Instructions
Put couscous, salt, paprika, cumin, cayenne pepper, minced garlic, and diced onion in a large bowl and mix together. Pour the hot water over the couscous, cover the bowl with a kitchen towel for 3 minutes. Fluff couscous with a fork.

Pulse chickpeas in a food processor until slightly chunky or mash with a fork. Check picture above in the post to see the texture my chickpeas had. You don't want to over-process your chickpeas until smooth.

Put couscous, chickpeas and chopped parsley and/or cilantro in a large bowl and knead together with your hands. Add salt, pepper and cayenne pepper to taste. Divide and form into 5 (6oz (170g)) large burgers.

Make the Garlic-Coconut Sauce before cooking the burgers. Add the garlic, tahini, turmeric and ¼ of a cup of the coconut milk to a food processor or blender. Blend until the garlic and date is smooth. Add the remaining coconut milk and lemon juice. Add salt to taste. Pour into a a small bowl or glass (preferably with a lid or cover with saran wrap). See notes on more info about the sauce.

The burgers can be grilled, baked or fried. See instructions for each.

Grill:

Brush burgers with a little bit of oil (I used

coconut oil

) and grill on each side for 5 to 10 minutes over medium-high heat until lightly browned on each side.

Oven: Preheat oven to 435F (225C). Line a tray with parchment paper. Brush a little bit of oil and both sides of each burger and bake for 15 minutes on one side, flip and bake for an additional 8 minutes.

Stovetop: Drizzle a bit of oil in a frying pan and fry each burger for 3-5 minutes on each side until golden brown. Keep a lid on the frying pan to insure the center of the burger gets hot. Use more oil if needed.

Serve burgers on buns with all your favorite fixing (lettuce, tomato, onion, etc.)
Recipe Notes
1.) The Coconut-Garlic Sauce will thicken once refrigerated. It will harden and have a similar consistency like butter. It can be spread easily then and will melt when heated or spread on something warm/hot. The sauce should be kept covered in a fridge and eaten within 7 days.
If this Couscous Burger reminds you too much of summertime BBQ'S and you're dying to get into some Autumn recipes then...fine....Here are some to get you started ;)
A Savory Pumpkin Tart, Cranberry Pear Crisp, and Whole Wheat Apple Pie to warm those chilly days to come.