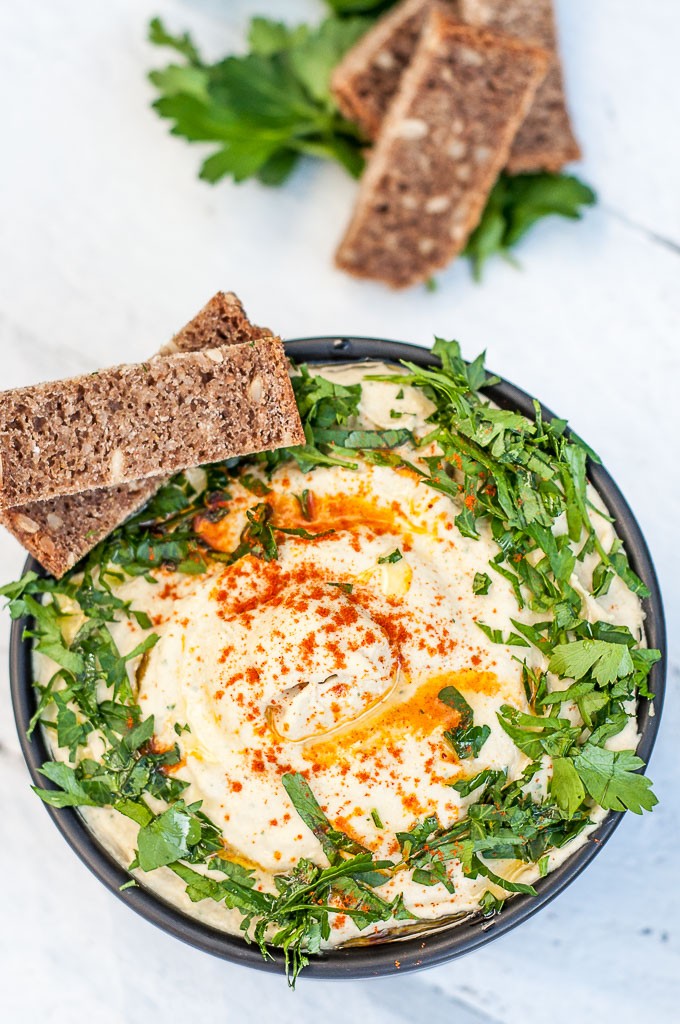 I could eat hummus all day, especially this Creamy Mustard Hummus, and Hubby will confirm that I do. Some might think that I would get bored of all that delicious creamy hummus goodness, but no. The key is to switch it up.
Hummus should never be boring and if you've browsed through these 28 Hummus Recipes then you'll know the options are endless.
My favorite hummus recipes are the ones where I take a basic hummus recipe and add some form of vegetable to it. My cucumber hummus went viral and my avocado hummus is still one of the most sought-after recipes on my blog.
Before you get to the actual mustard hummus recipe though, let's answer a major homemade hummus dilemma most have.
How do I make my hummus creamy?
Start with a good food processor. Don't try making hummus in a blender or by smashing the chickpeas with a fork. That will only bring you to tears. You don't need a super-expensive food processor to make your own creamy hummus. I find smaller food processors work best. I love my 9-cup one. It's the perfect size for almost all the recipes I make and it even comes with a 3-cup work bowl for extra small batches.
Water, water, and more water. Believe me, water is your ultimate best friend in the world of homemade hummus. Water will make your hummus creamy and fluffy. You won't need a lot. Usually, somewhere between ¼ and ⅔ of a cup will be plenty.
Add the water slowly. Don't stress if it becomes too runny. Add more chickpeas or tahini to thicken it back up.
More time eating, less time peeling. Some swear by peeling the skin off of each chickpea, to make your hummus extra creamy. I've tried this and while it does make it slightly creamier, I find it isn't a must and is more of an extra waste of time. Try it out, if you like. The easiest way to peel chickpeas is to use uncooked chickpeas, soak them overnight, and boil them. Then run the cooked chickpeas under cold water and rub them to remove the skin. If you try this with canned chickpeas, it will take twice as long.
Isn't olive oil what makes hummus creamy and smooth?
This is a common misconception. It's definitely a mistake that I've also made in the past. Let me be loud and clear on this: DO NOT USE OIL! Adding olive oil to your hummus is a hummus rookie mistake. Not only are you adding a ton of extra unneeded calories, but oil will actually thicken up your hummus.
Instead, drizzle olive oil over your finished hummus. The oil will actually give the hummus a great flavor boost and you'll be able to control just how much you add.
Good thing we cleared that up. Now, let's get back to that scrumptious creamy mustard hummus :)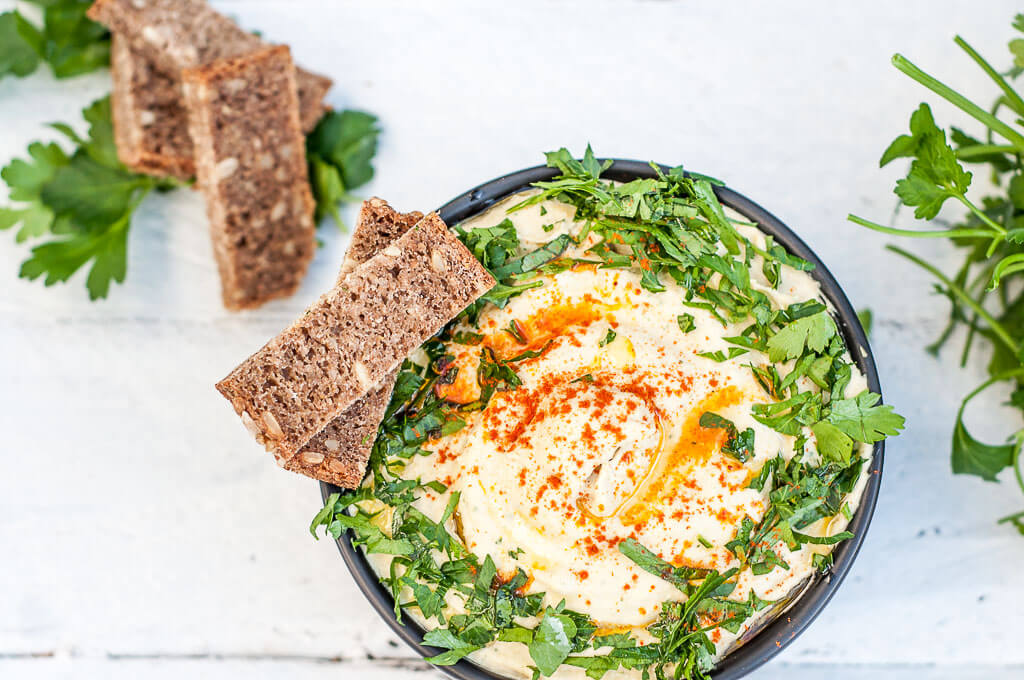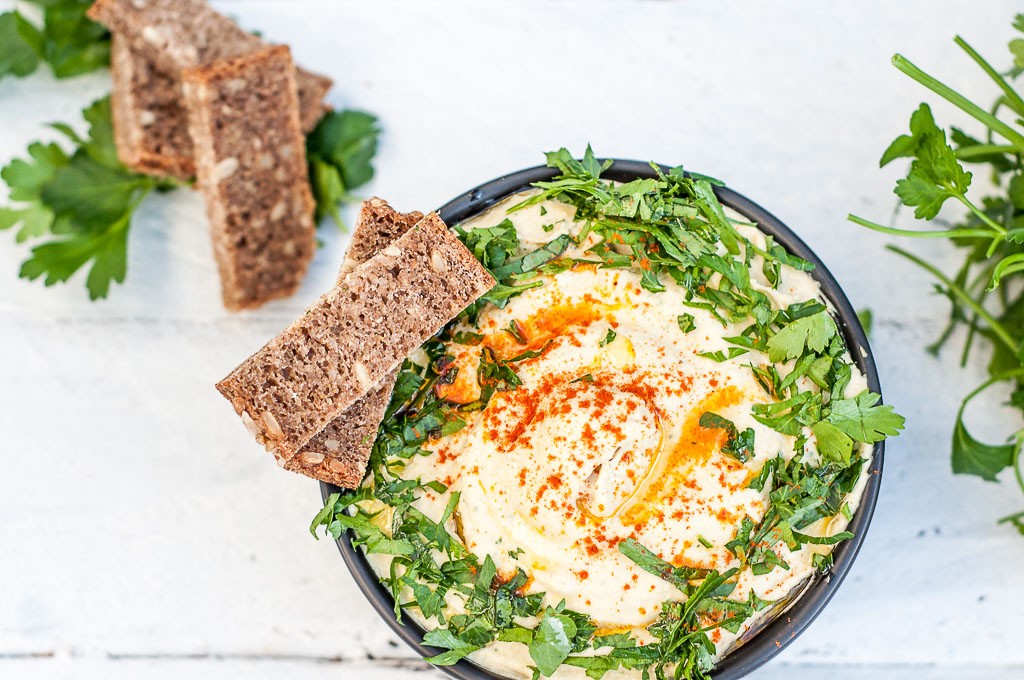 I was in the kitchen a few weeks back and was a little annoyed at the fact of just making plain hummus. I hadn't gone grocery shopping and only had fruit and a handful of potatoes left.
Fruity hummus sounds really gross to me. So obviously that didn't happen. I was also too lazy to cook a potato and add it to hummus. Plus, white potatoes don't have much flavor so I don't think they would have added much pizzazz to my hummus.
Instead, I started going through my pantry. There on the top shelf was a cute little glass of dijon mustard. So what the hell, why not try it out?
Dijon mustard and parsley are an easy pairing so I added some of that to my food processor as well. Lemon juice, tahini, and a bit of salt were a must as well.
I was pleasantly surprised when it actually tasted good. Something was missing because the dijon mustard was just a tad too overwhelming for my taste. I like mustard but I'm sure there are a lot of people that have much more love for it than I do.
I added some maple syrup to the hummus to cut through some of the sharpness. The mustard hummus ended up perfectly balanced, smooth, creamy, and ready to be slathered on my next sandwich.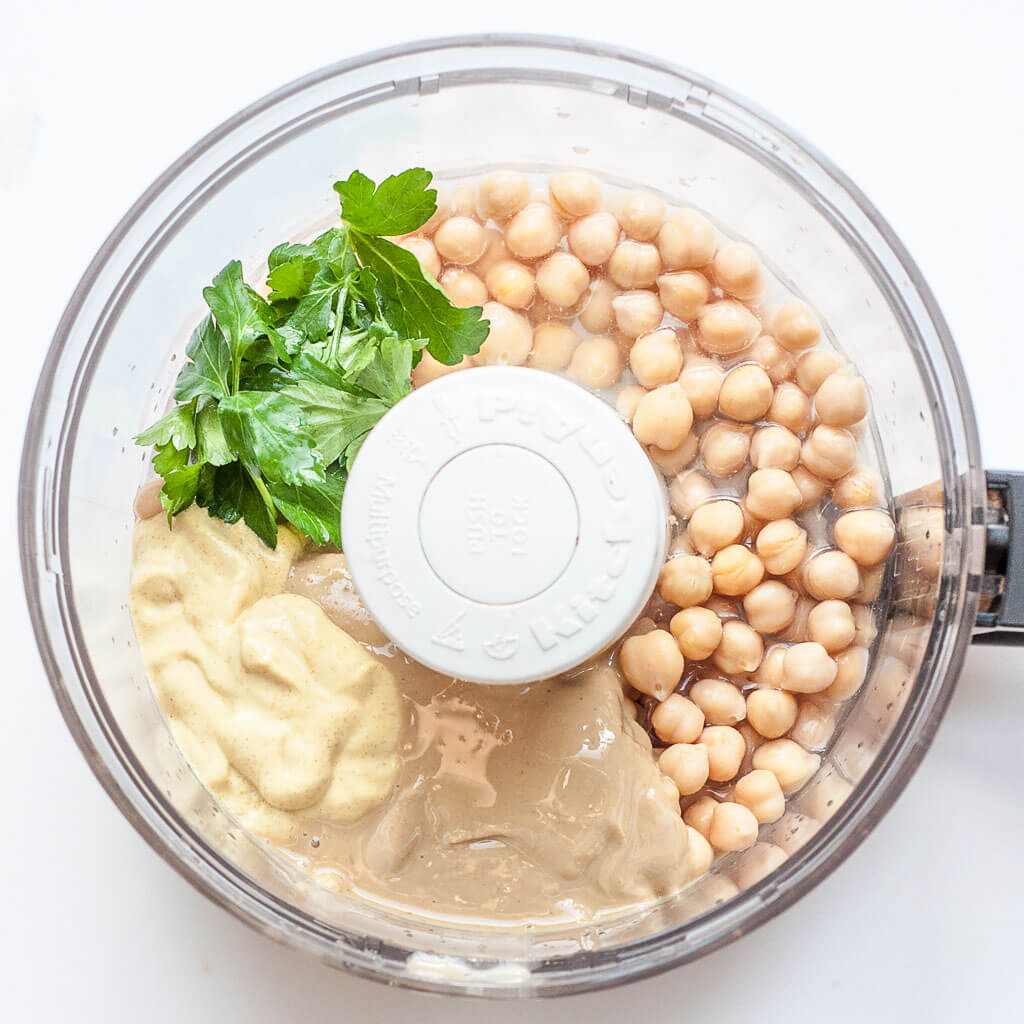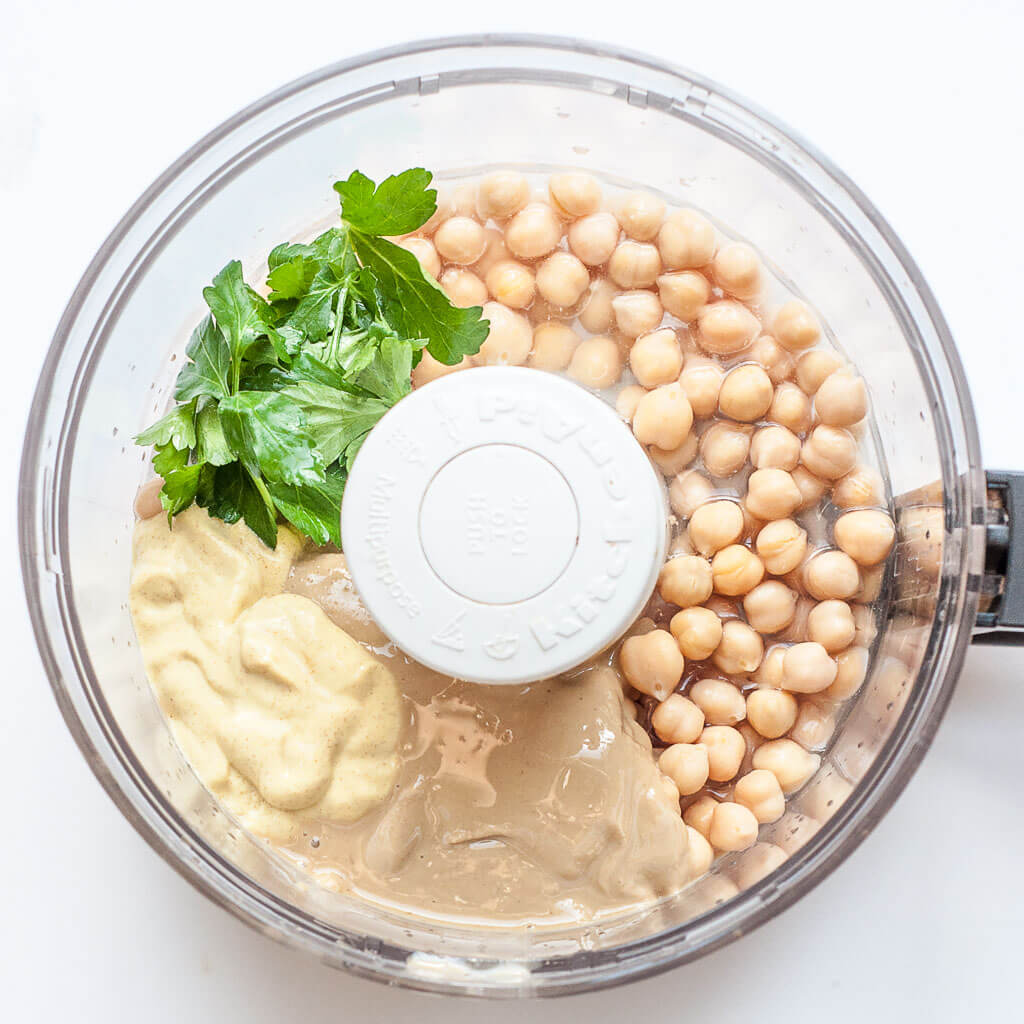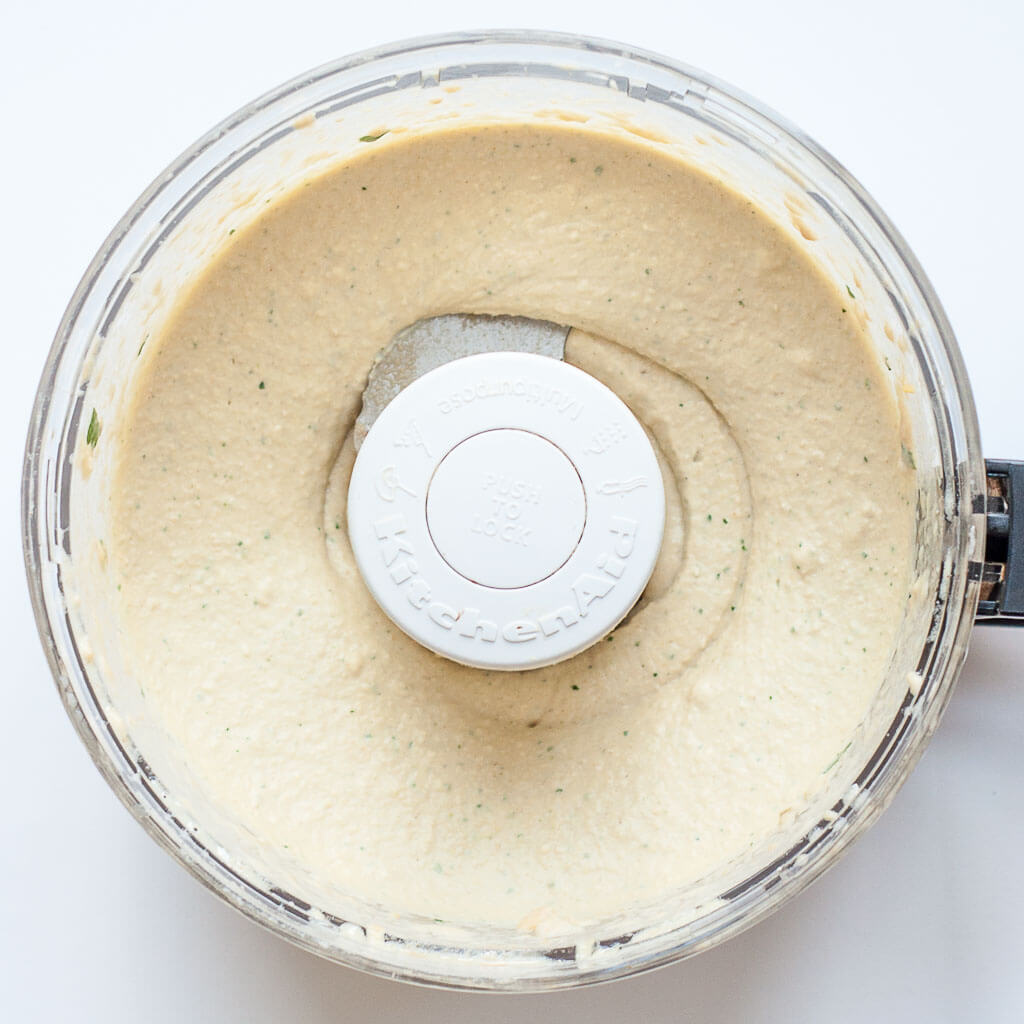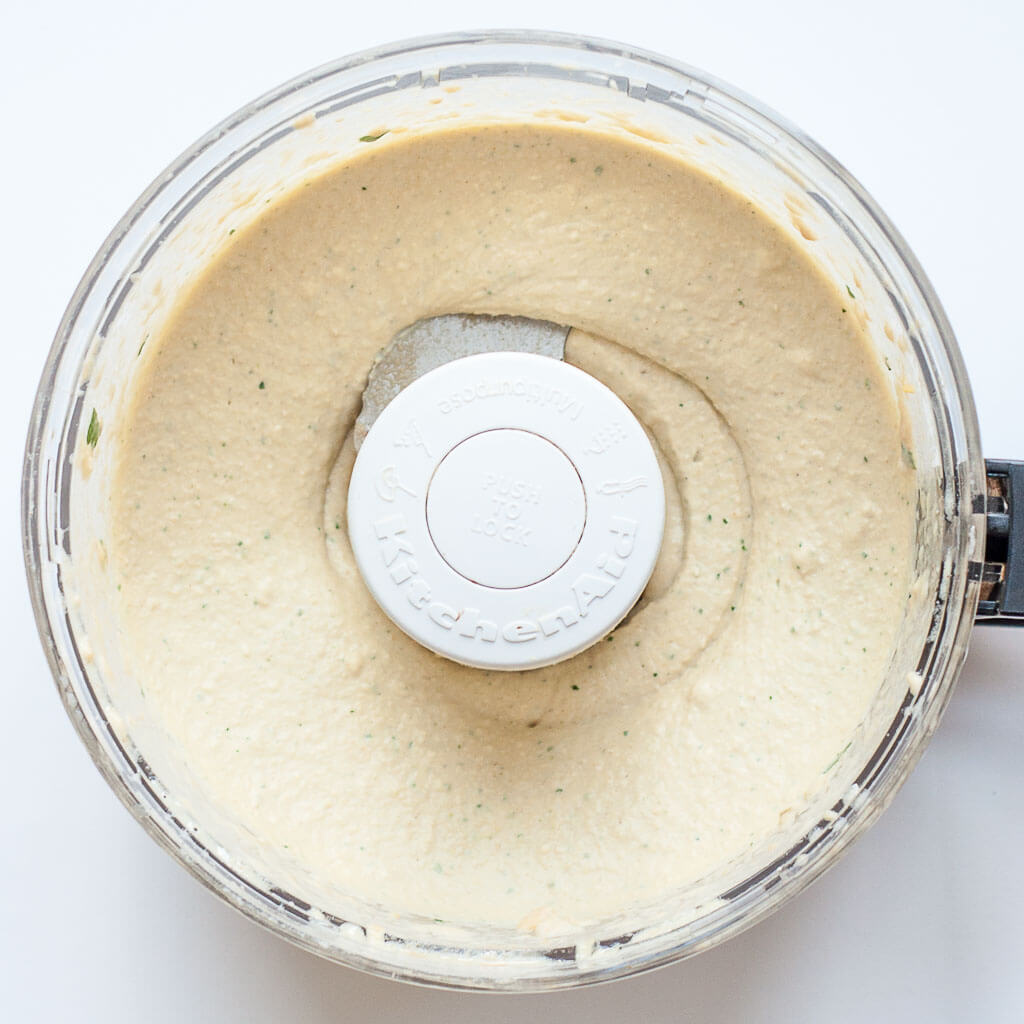 Yum! Creamy Mustard Hummus! Just what the doctor ordered ;)


So what exactly do you do with Mustard Hummus?
More like, what do you not eat mustard hummus with? To be honest, mustard hummus tastes best on sandwiches, with cooked veggies, and warm soft pretzels.
However, one of my favorite ways to use it is in casseroles. It really doesn't matter what kind of casserole. Just stir a few tablespoons into your casserole and bake it. This will give your otherwise meh-tasting casserole the flavor boost it deserves. I used this in my tempeh casserole and wanted to hoard it from everyone else. It was THAT good!
Tell me more ways to use mustard hummus!
If you've got a bowl of homemade mustard hummus in your fridge, it's time to get creative! Here are some fun and tasty ways to put this versatile condiment to use:
Sandwich and wrap magic: Spread mustard hummus on your sandwiches and wraps in place of mayo or other spreads for a flavor boost.

Veggie dip central: Serve mustard hummus as a dip for veggies, crackers, or chips – it's a delicious and healthy snack option.

Grilled veggie marinade: Mix a little mustard hummus with olive oil and use it to marinate grilled veggies or tofu for added flavor.

Baked potato heaven: Top your baked potatoes or sweet potatoes with a generous spoonful of mustard hummus for a tasty twist.

Avocado toast deluxe: Spread mustard hummus on toast, top with sliced avocado and a sprinkle of paprika, and enjoy a tasty breakfast or snack.

Grain-tastic: Mix mustard hummus into cooked grains like quinoa or couscous for added flavor and protein.
With so many tasty ways to use mustard hummus, you'll never get tired of this versatile condiment!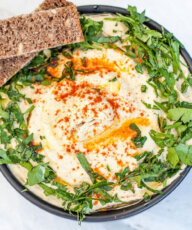 Creamy Mustard Hummus
A creamy mustard hummus perfect for anyone who loves mustard and hummus equally. Slather mustard hummus on your favorite sandwich, as a dip for soft prezels, or with steamed vegetables.
Ingredients
1 ½

cups

Chickpeas or Garbanzo Beans

soaked and cooked or rinsed and drained from a can

½

of a cup Tahini

Sesame paste

⅛

of a cup Dijon Mustard

2

tablespoons

Lemon Juice

½

teaspoon

Salt

½

cup

of Water

or more if needed

1

tablespoon

Pure Maple Syrup

can be omitted, see notes

Small handful Fresh Parsley + more for garnish

Olive Oil

optional

Paprika

optional
Instructions
Place all ingredients except olive oil, paprika, and extra parsley in a food processor. Pulse until hummus is smooth, adding more water if needed.

Add hummus to a large bowl and drizzle with a tablespoon or two of olive oil, sprinkle with paprika, and garnish with fresh chopped parsley.
Recipe Notes
1.) The maple syrup balances out the sharpness from the dijon mustard very well. However, if you would like to omit it, then add about two teaspoons less dijon mustard to the hummus. 2.) Don't be afraid to add water to your hummus. Water actually makes hummus creamy and very fluffy. Start off adding ½ a cup of water and then see if more is needed. If you add to much, your hummus will eventually turn watery. If this accidentally happens, add more chickpeas or tahini.3.) Make sure to use tahini that has no salt added or any other ingredients. Tahini should be made of only sesame seeds. Click on the tahini link in the ingredient list to see the one I like best.
Need more hummus inspiration? Try these flavor combos :)