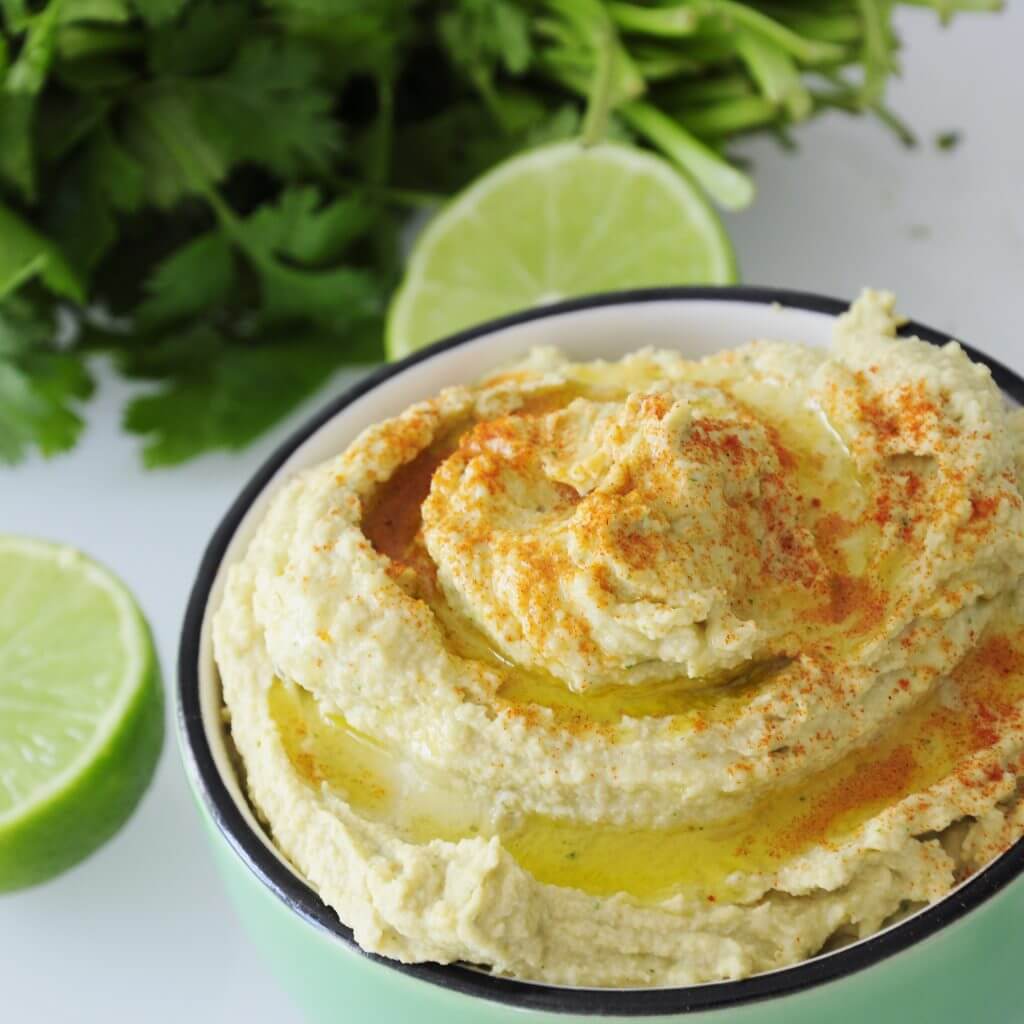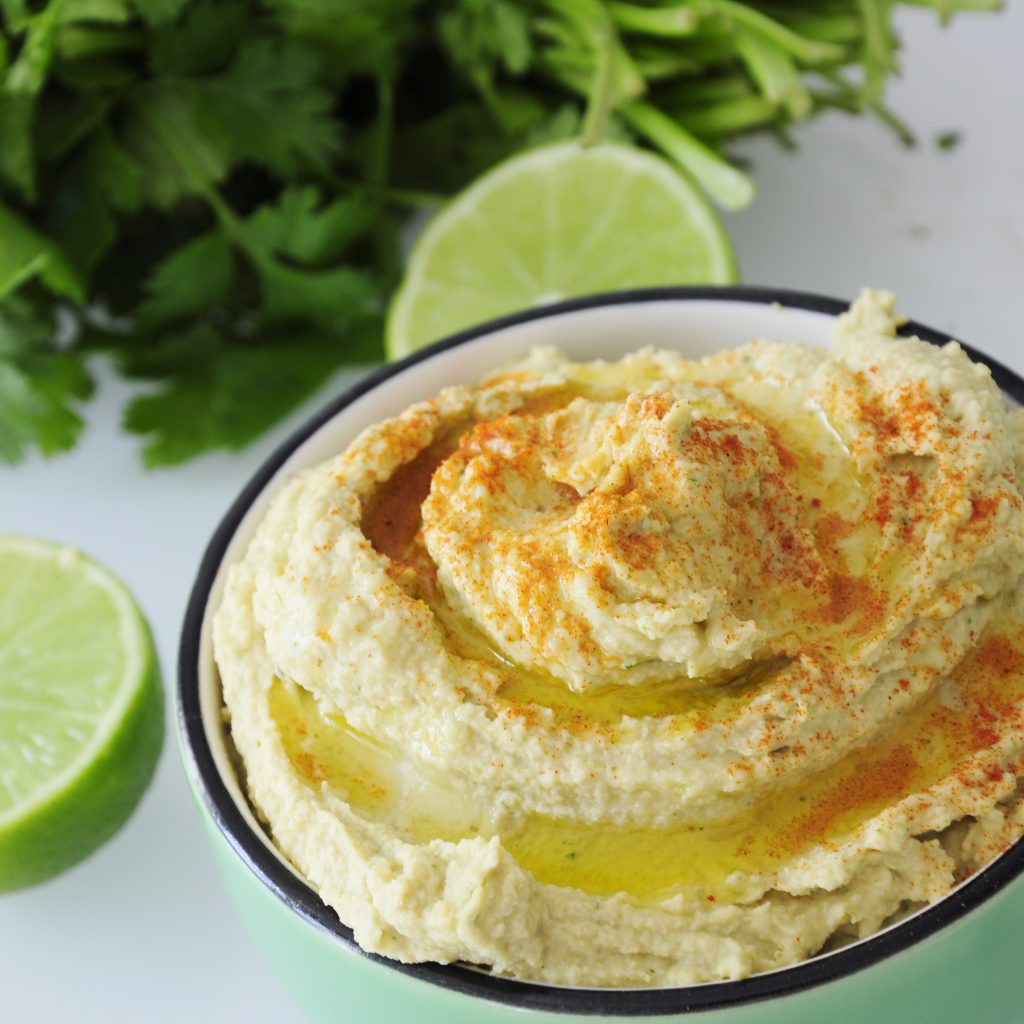 There is no denying that I am a lover of chickpeas. As crazy as it might sound to some, I would probably choose chickpeas over chocolate. They are so versatile. Chickpea soup, chickpea salad, chickpea this, chickpea that and let's dare not forget our beloved hummus.
Store bought hummus tastes delicious but if that is the only hummus you consume then you are definitely limiting yourself. I prefer to make my own hummus mainly because it's cheaper, it tastes better, I know exactly what is in it, and I can make any hummus type I want. I usually tend to stick to a classic hummus with just chickpeas, tahini, olive oil, garlic, lemon juice and salt. However, sometimes it's nice to switch it up like with this delicious lime cilantro hummus like this Fresh and Easy Cilantro Lime Hummus!
First off, it's super easy to make. Like all hummus recipes, just put everything into a food processor at once and pulse or blend until smooth and creamy. Done. For this recipe I used fresh cilantro leaves and lime juice to create a different flavor profile.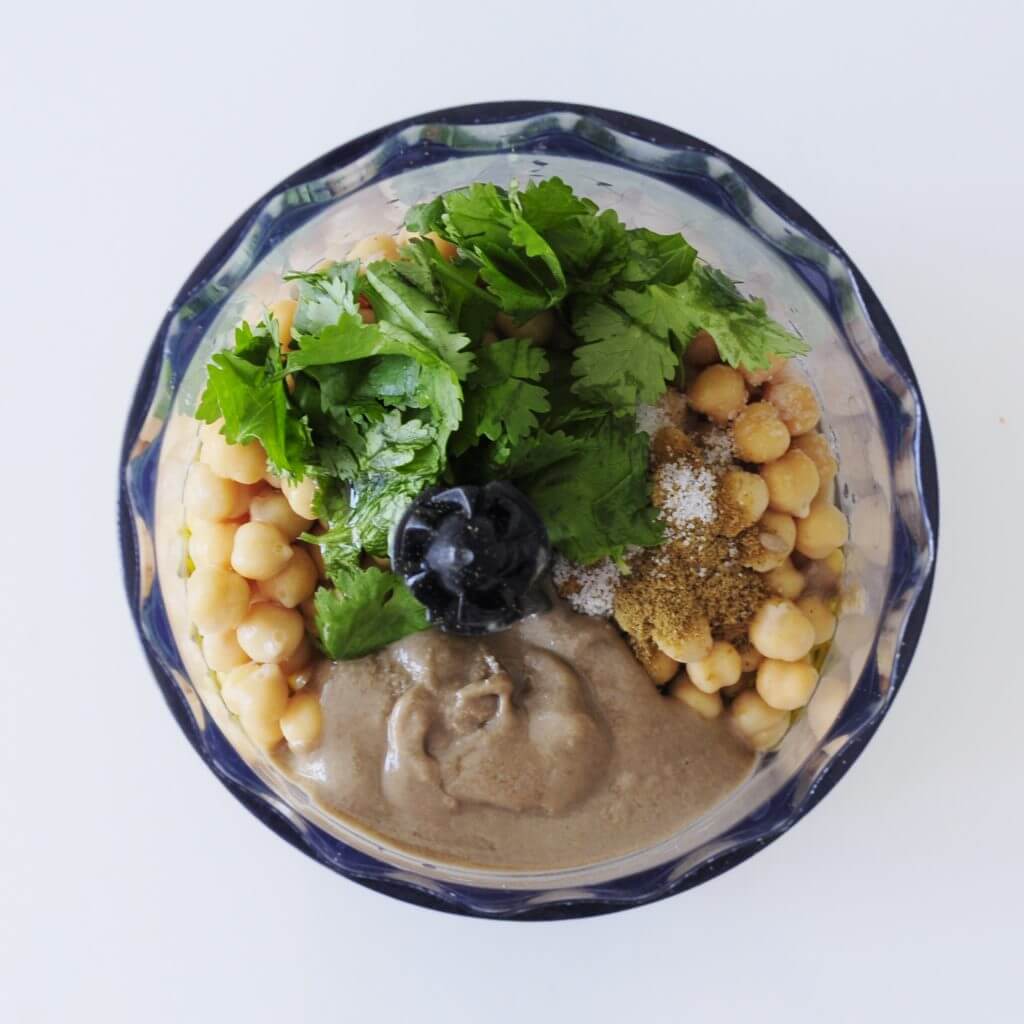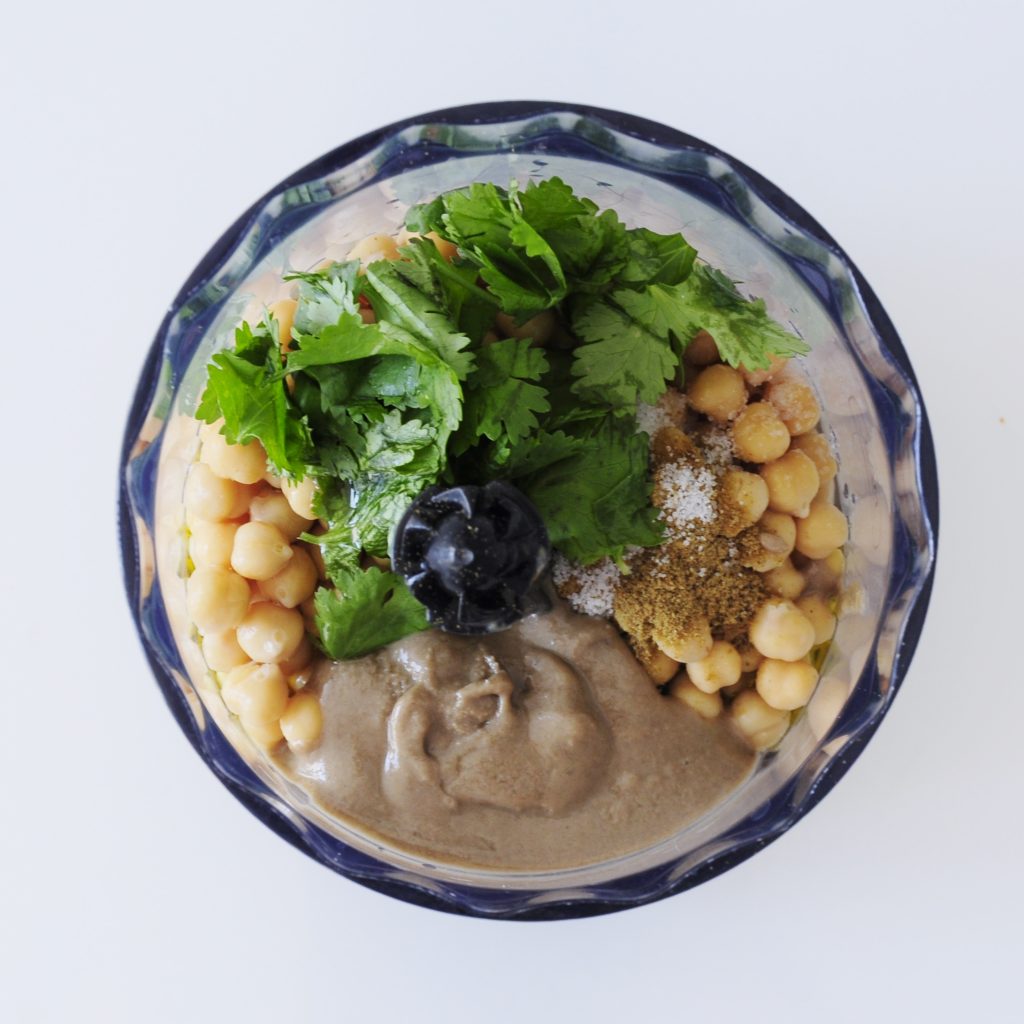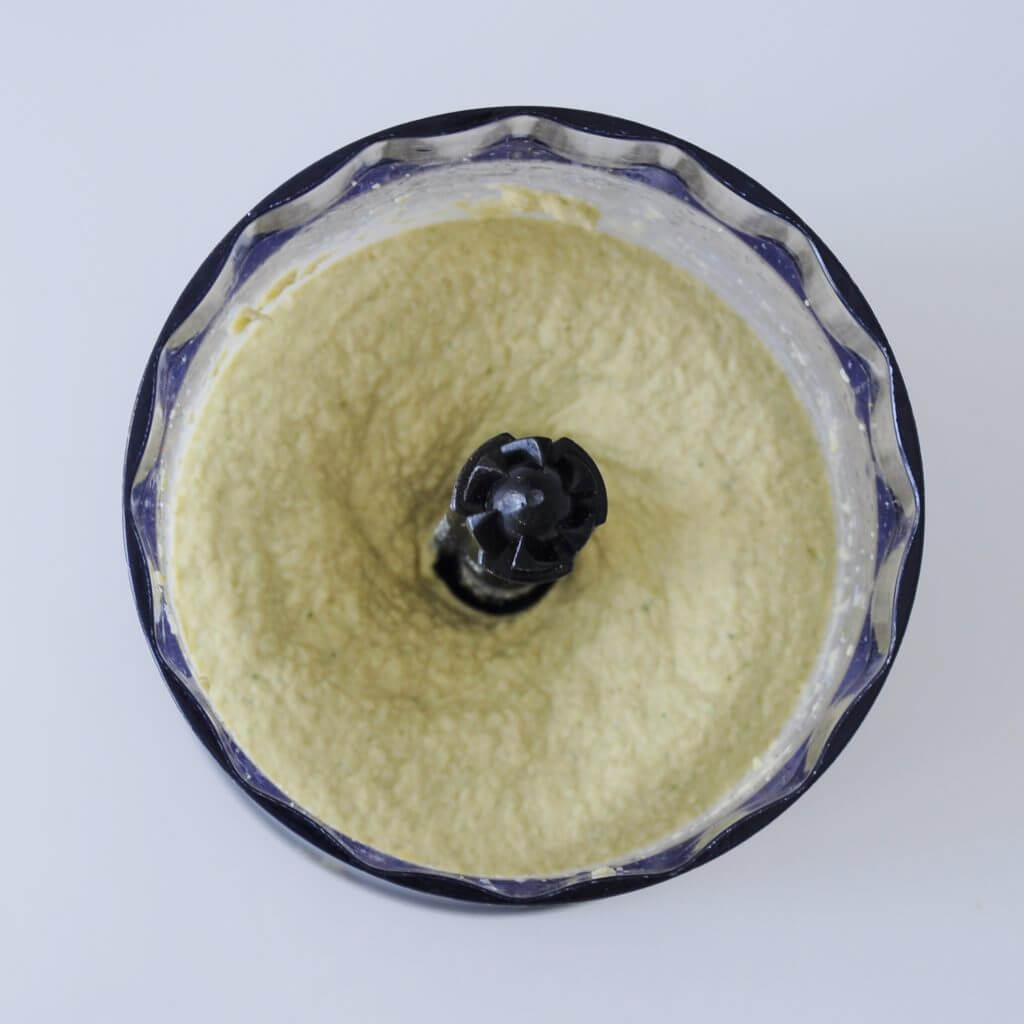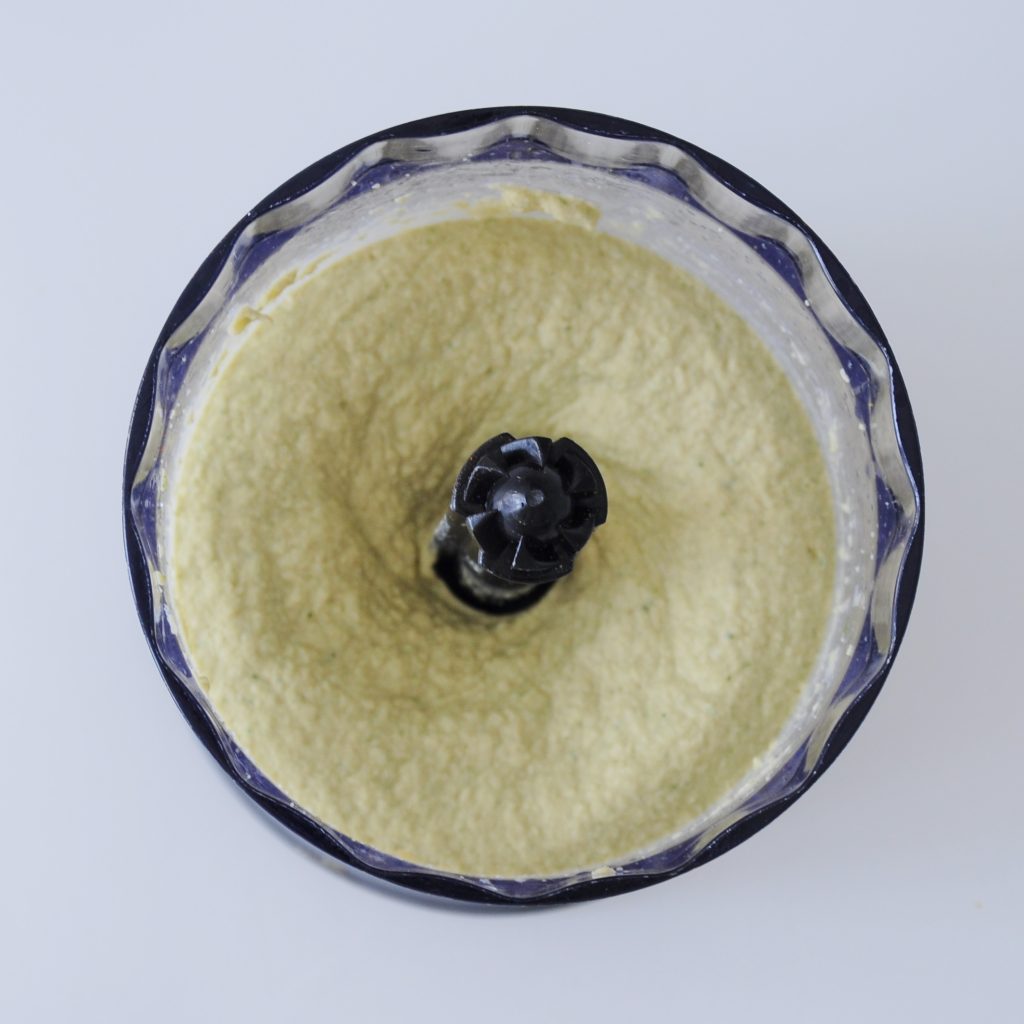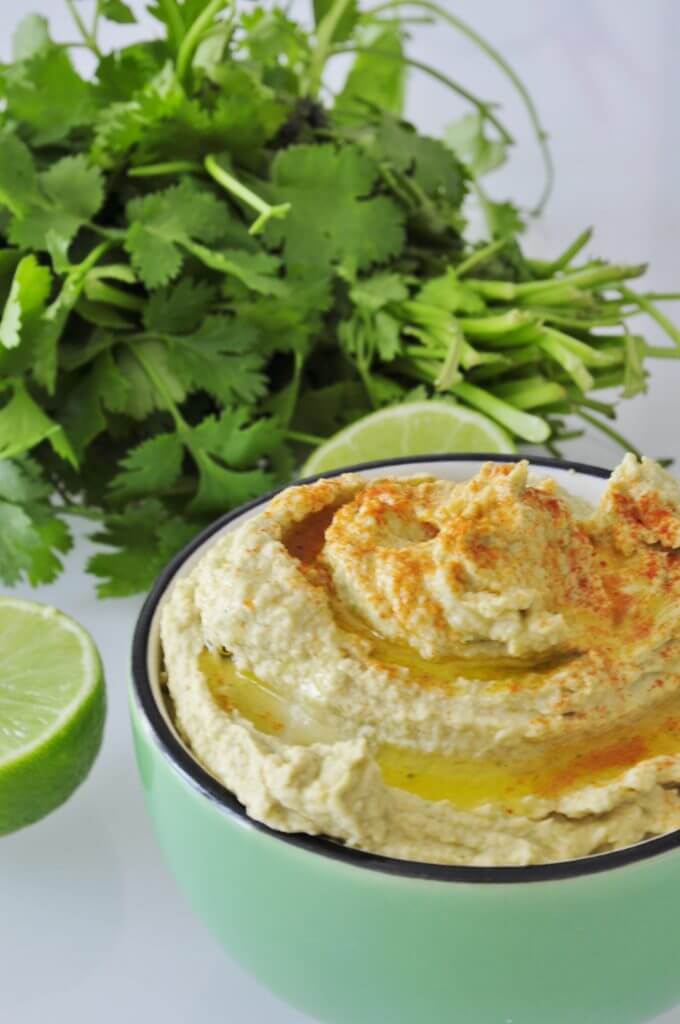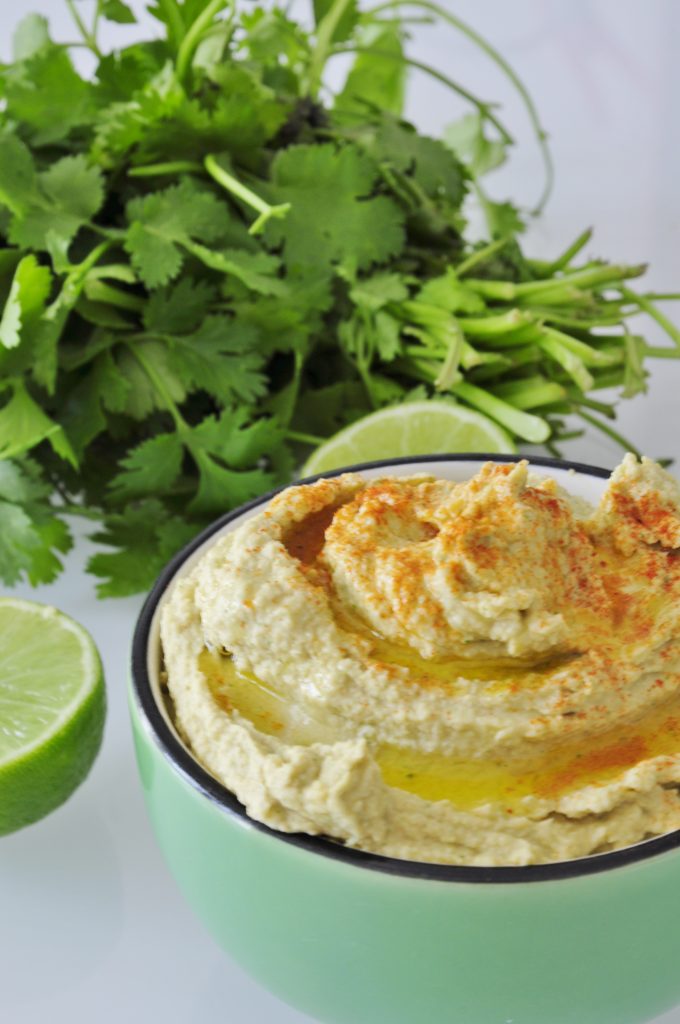 Simple as that. Shhh...don't tell but I ate all of this in one day. Nearly half of this cilantro lime hummus was gone by the time I had put my camera away. I ate it with sliced carrots and cucumbers but you also need to try it on a sandwich or wrap. Yum!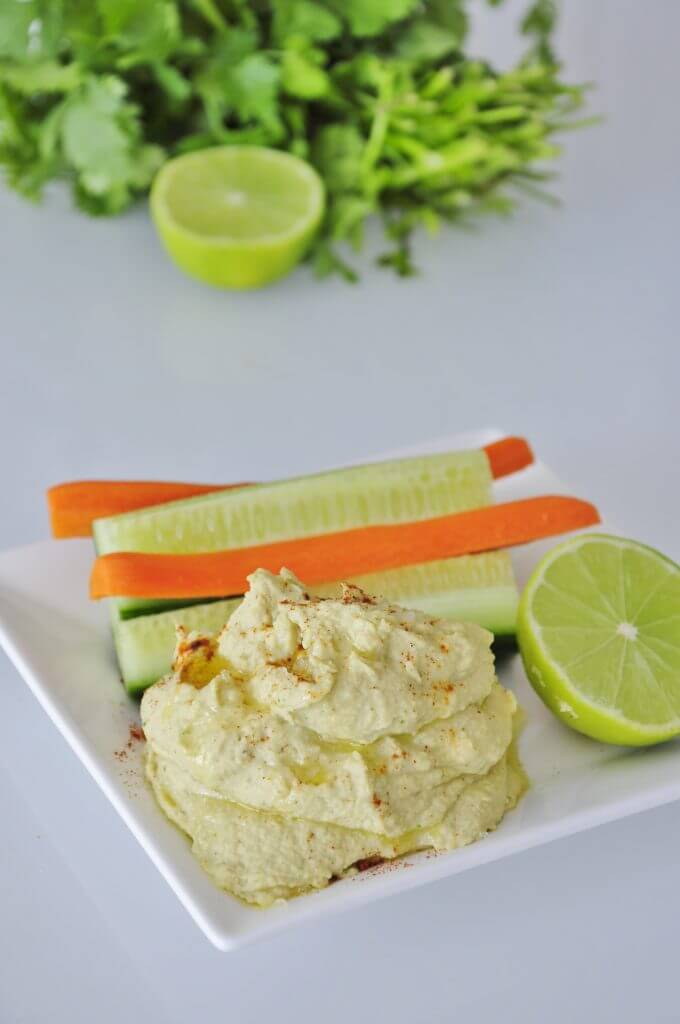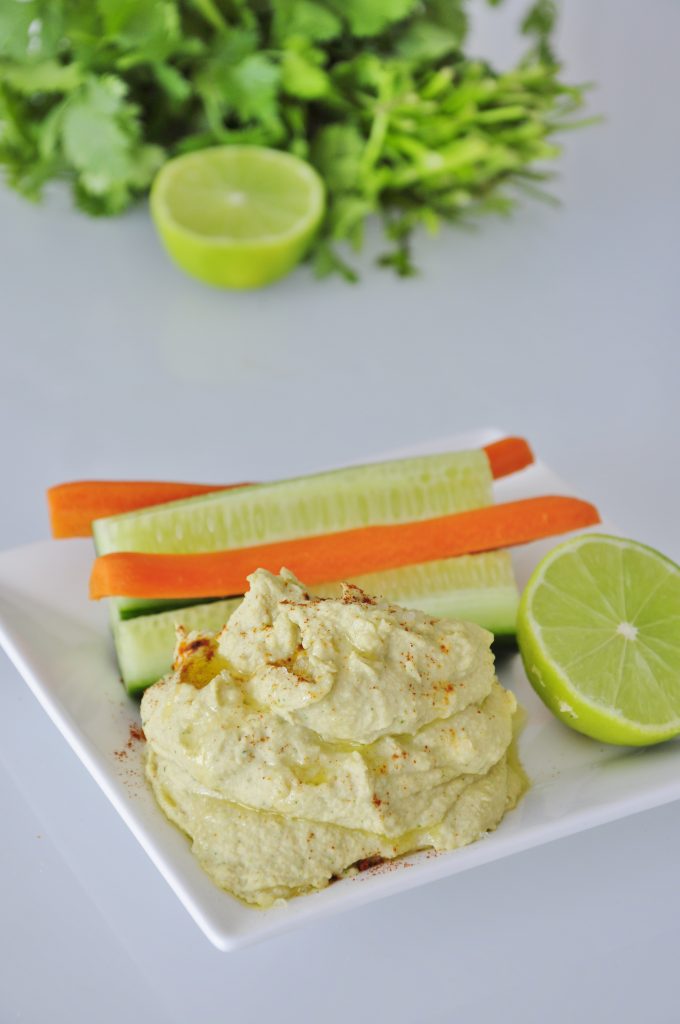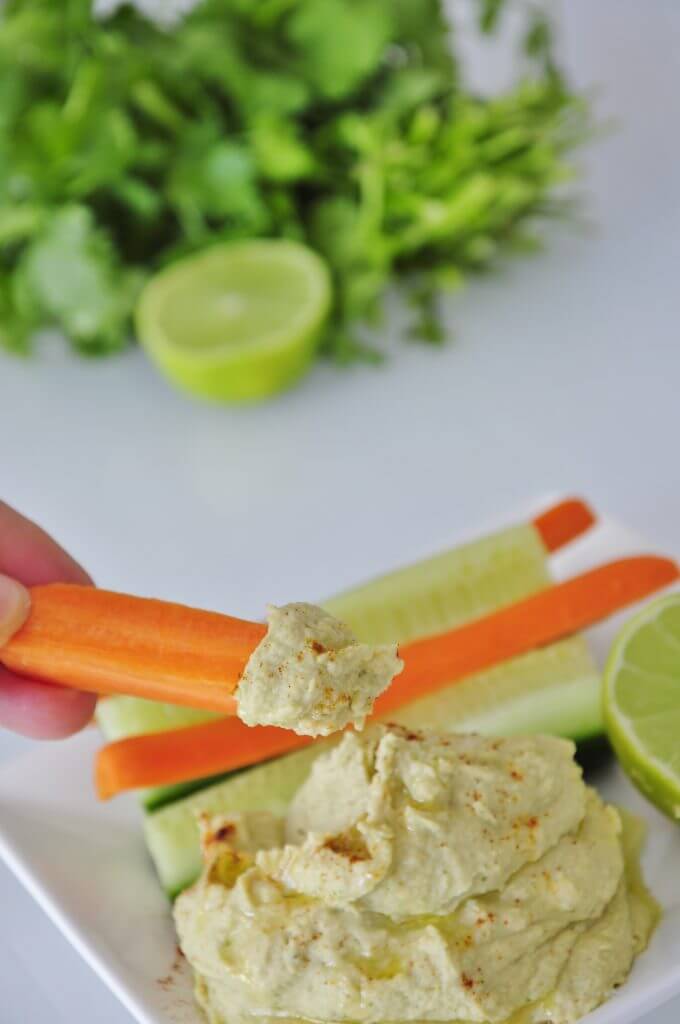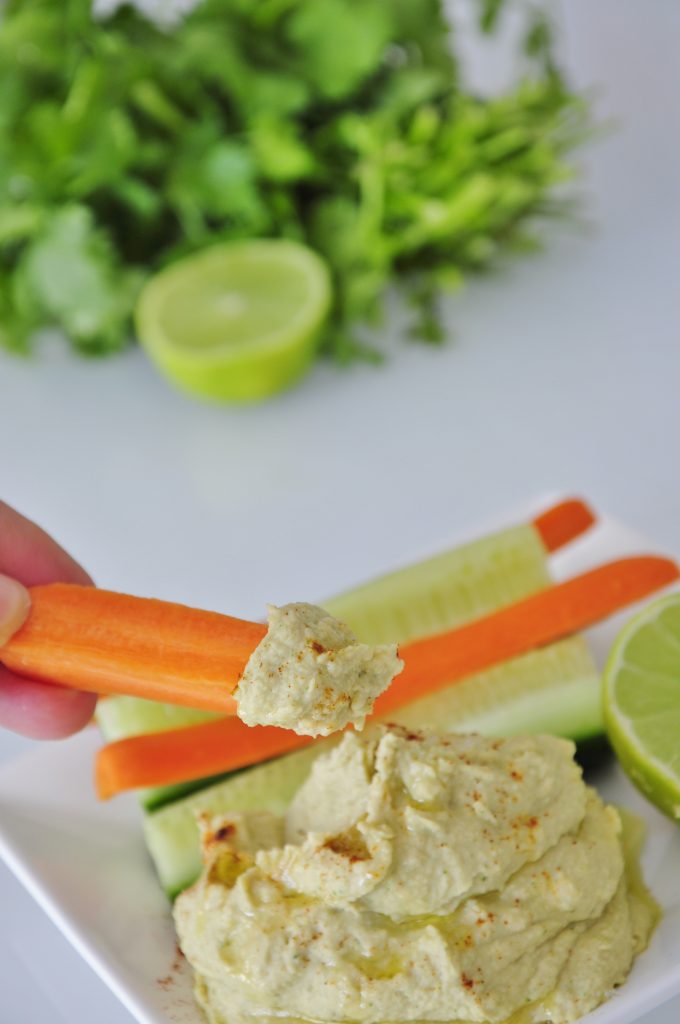 Lime Cilantro Hummus
Fresh n' Easy Lime Cilantro Hummus Recipe made with Tahini! Perfect for dipping veggies, on sandwiches and with crackers!
Ingredients
Hummus
1 ½

cup

Chickpeas or Garbanzo Beans

rinsed and drained from can or soaked and cooked dried Chickpeas

2

tablespoon

Lime Juice

1

teaspoon

Cumin

ground

¼

teaspoon

Salt

small handful fresh Cilantro

roughly 30 leaves and stems

2

tablespoon

Tahini

3 - 4

tablespoon

Water

(plus more if needed)
For Serving (optional ingredients)
1

tablespoon

Olive Oil

¼ - ½

teaspoons

Cayenne Pepper
Instructions
Place all the ingredients into a food processor or blender. Blend the ingredients until creamy, adding more water if needed.

Drizzle the hummus with Olive oil and sprinkle with cayenne pepper (optional).

Serve hummus with pita bread, veggies, or crackers.
Recipe Notes
I like to add water to hummus. This gives it a nice fluffy consistency. Feel free to adjust the amount of water or olive oil to taste. 
*Nutrition Information is carefully calculated but still a rough estimate depending on the exact ingredients you use. Please to talk to a nutritionist or your doctor for more nutritional information and advice. 
****Don't know what tahini is? It may sound like some bizarre ingredient but all it is, is hulled sesame seeds that are ground until a paste forms. You can easily make you own the same way you would any nut butter. If you're lazy like me though, just buy it here.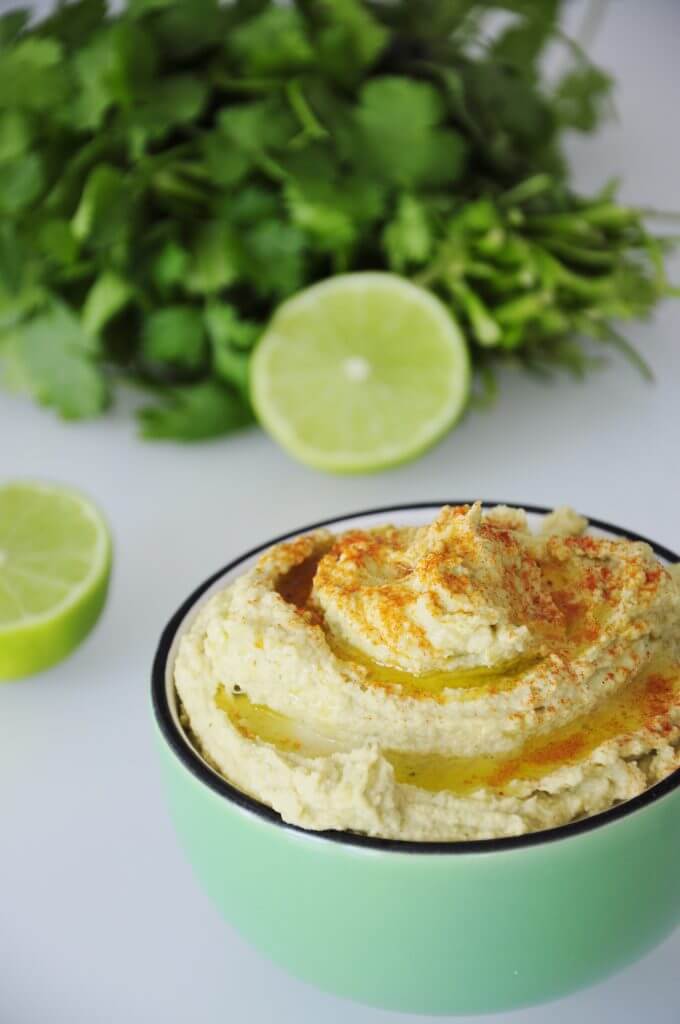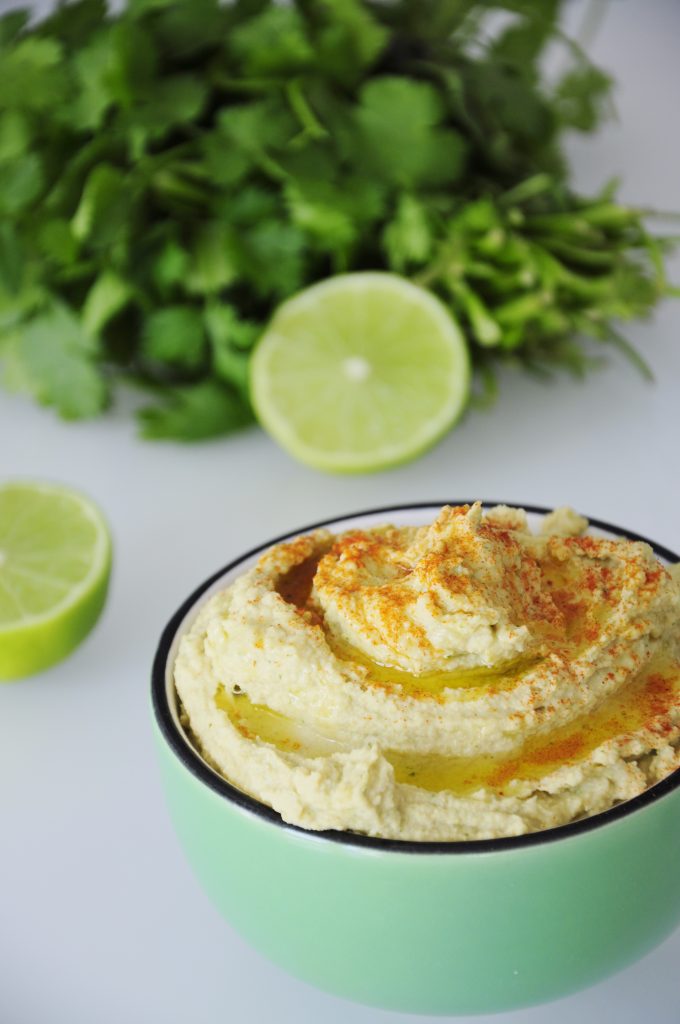 Hummus is your THANG? Then check out these Must-Try Hummus Recipes! My guess is, you won't be able to only choose one!