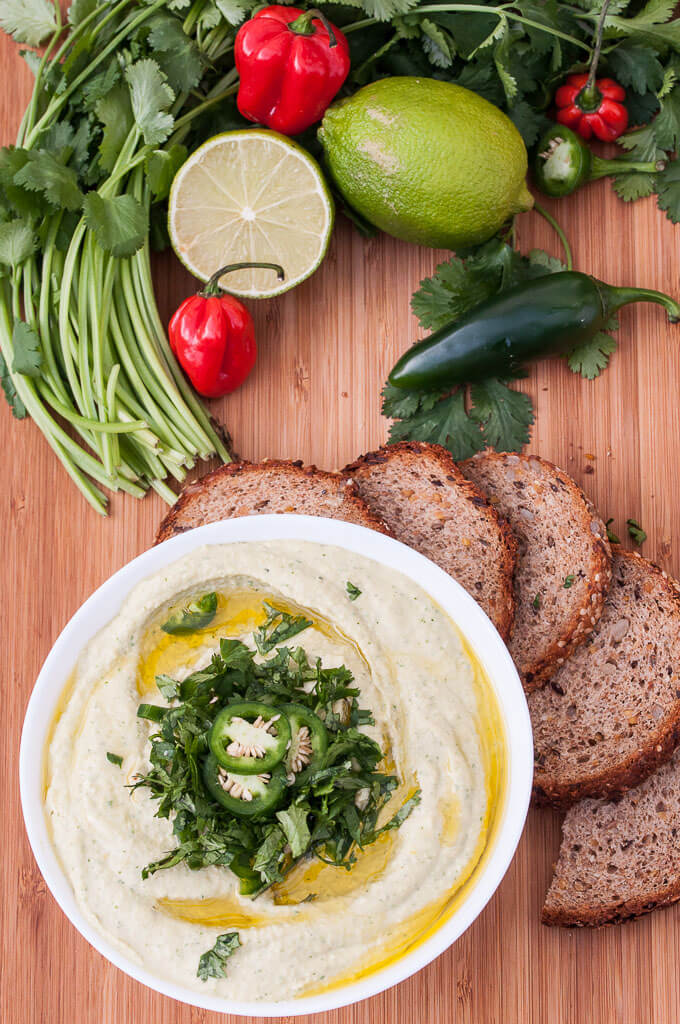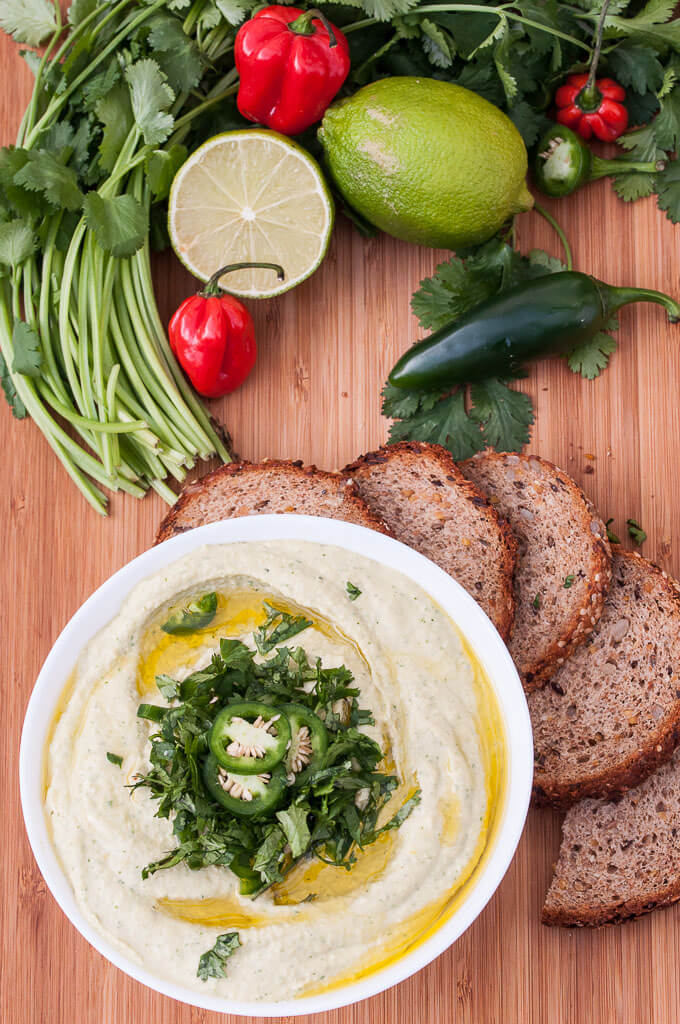 I think after making my good share of hummus recipes I would get bored but I really don't. There is nothing quite as satisfying as creating a new hummus recipe that you consider to be the best one. Sure, after perfecting my cucumber hummus recipe, I thought that I couldn't possibly create a better one but lo and behold I made a super tasty avocado hummus.
Now though, I found my new addiction with this Jalapeno Cilantro Hummus and it couldn't be easier to make.
Toss everything into your food processor…process the bejeebers out of it until nice and smooth!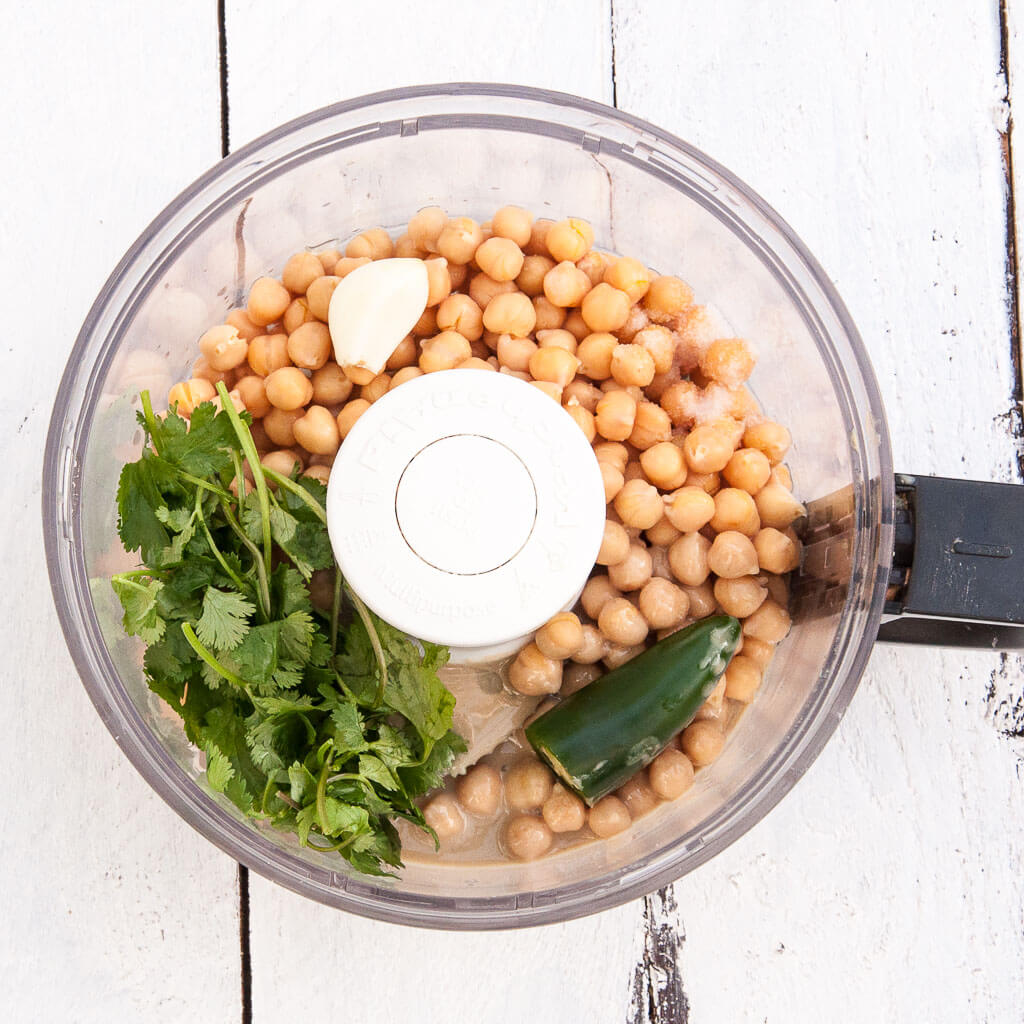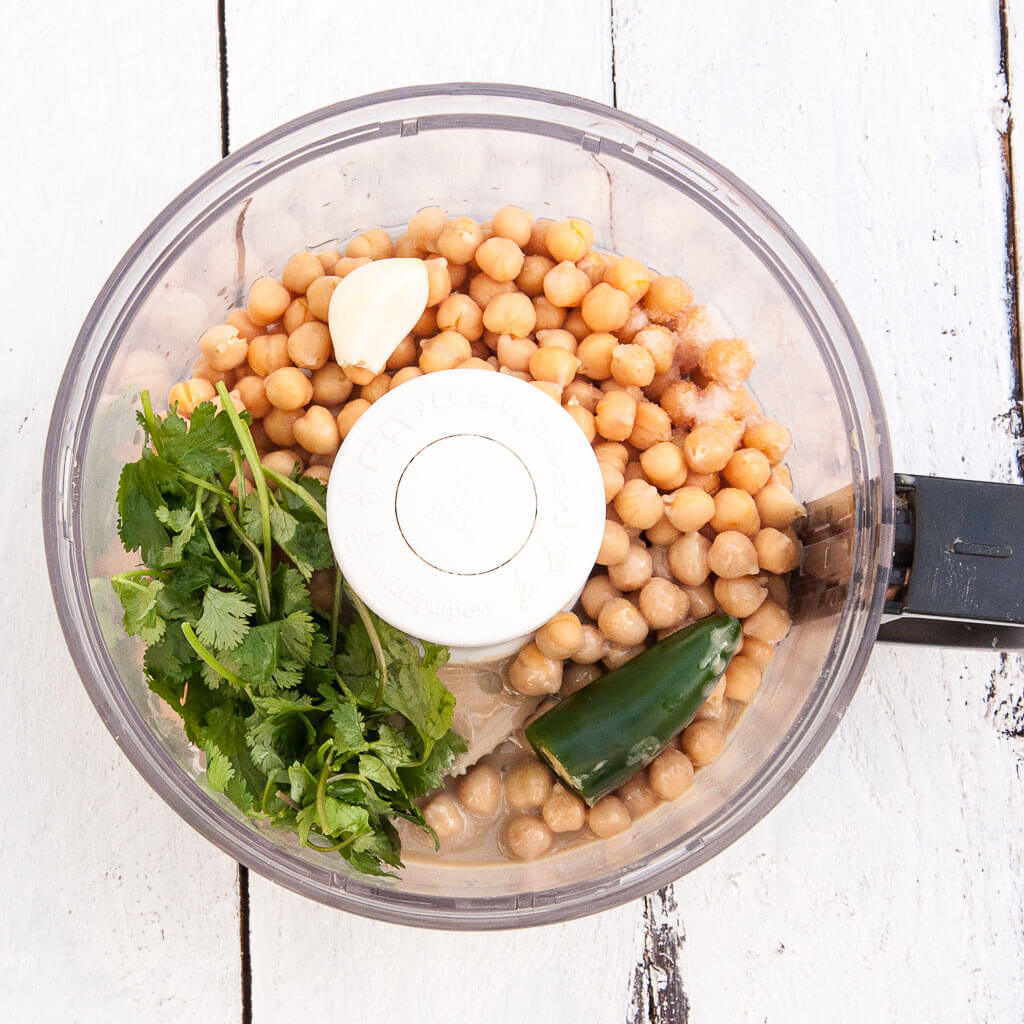 I feel like all my steps are getting to be repetitive. Example 1, 2, & 3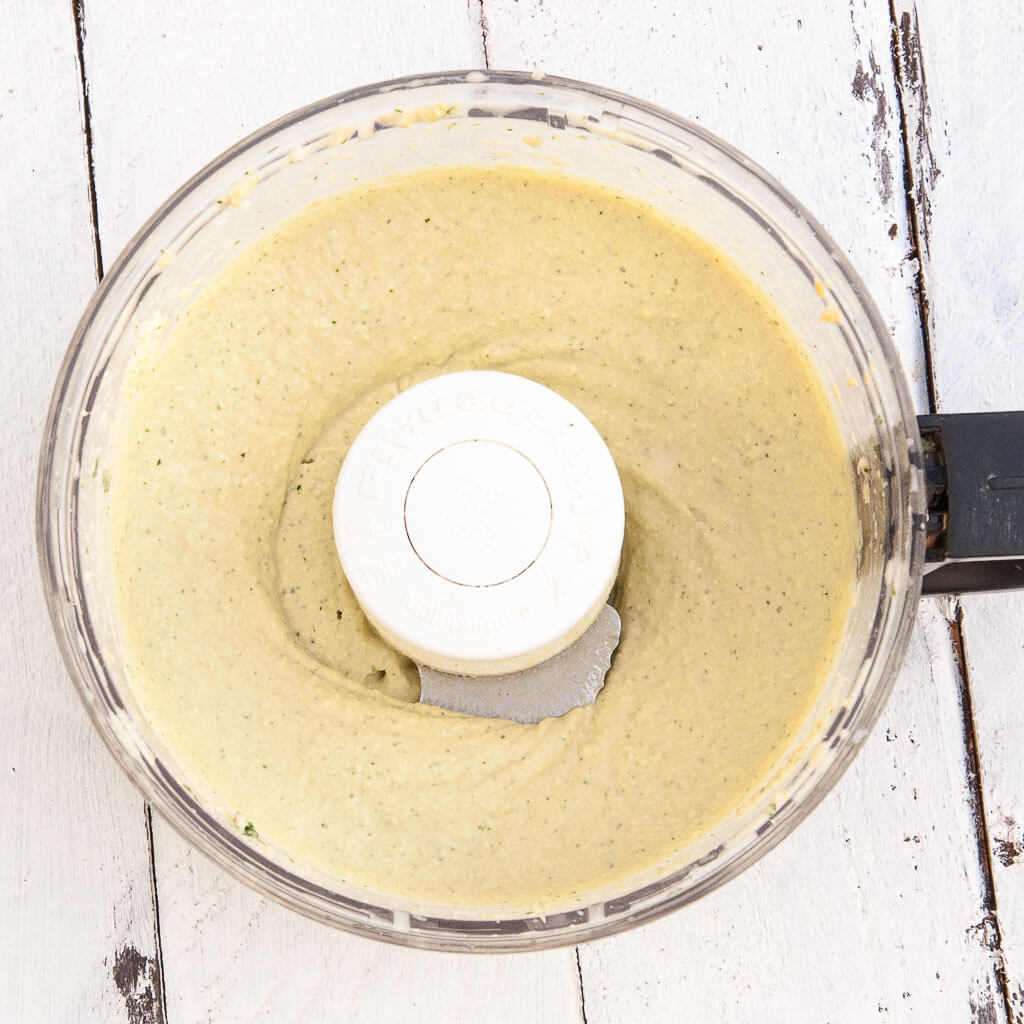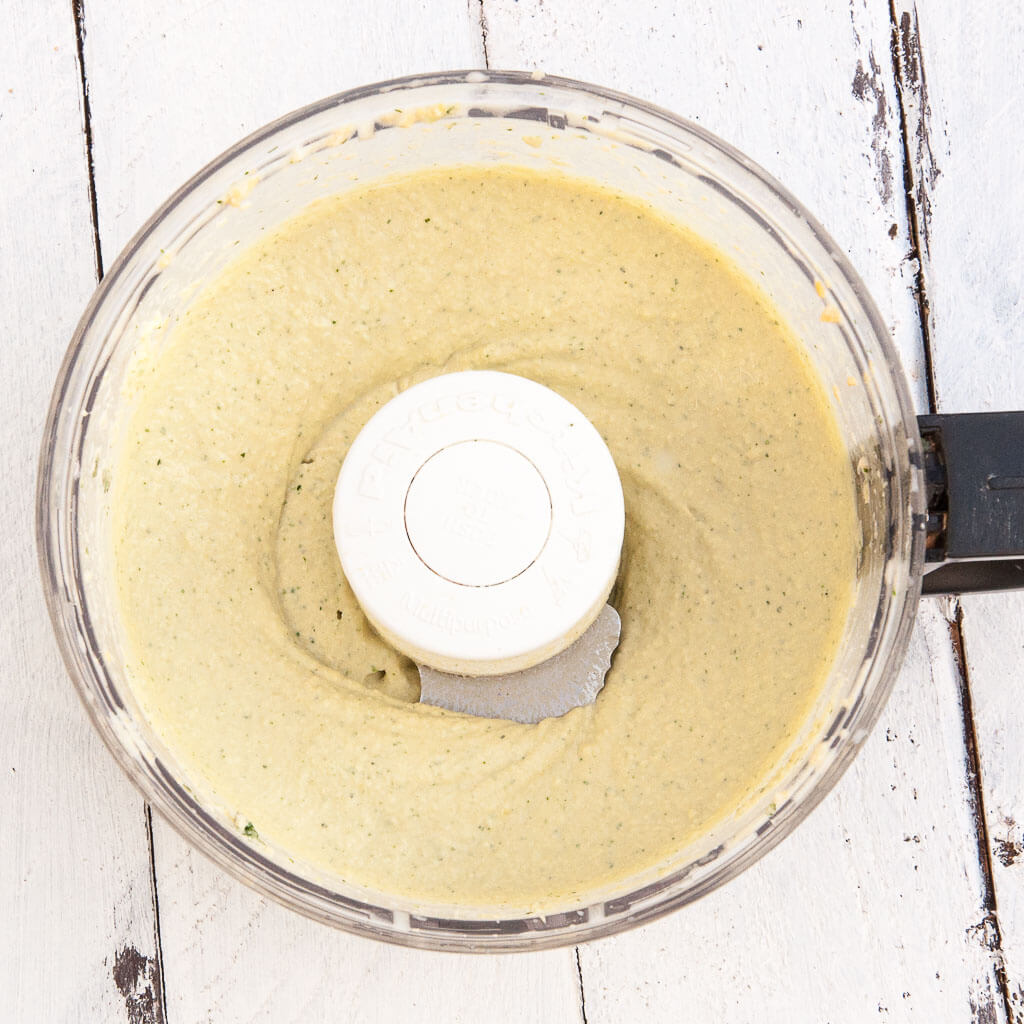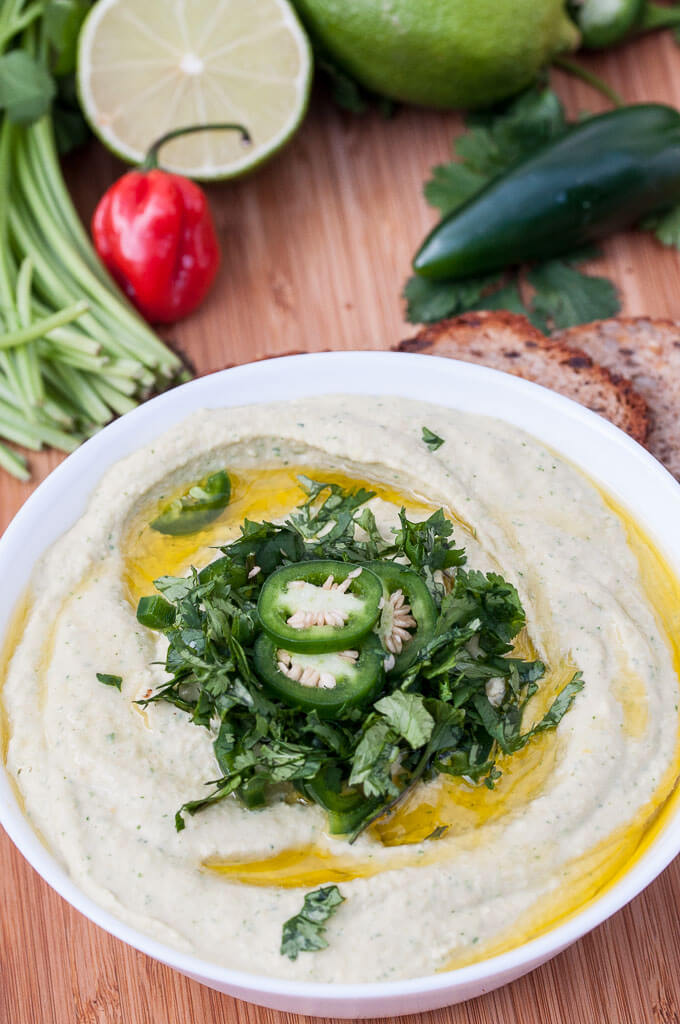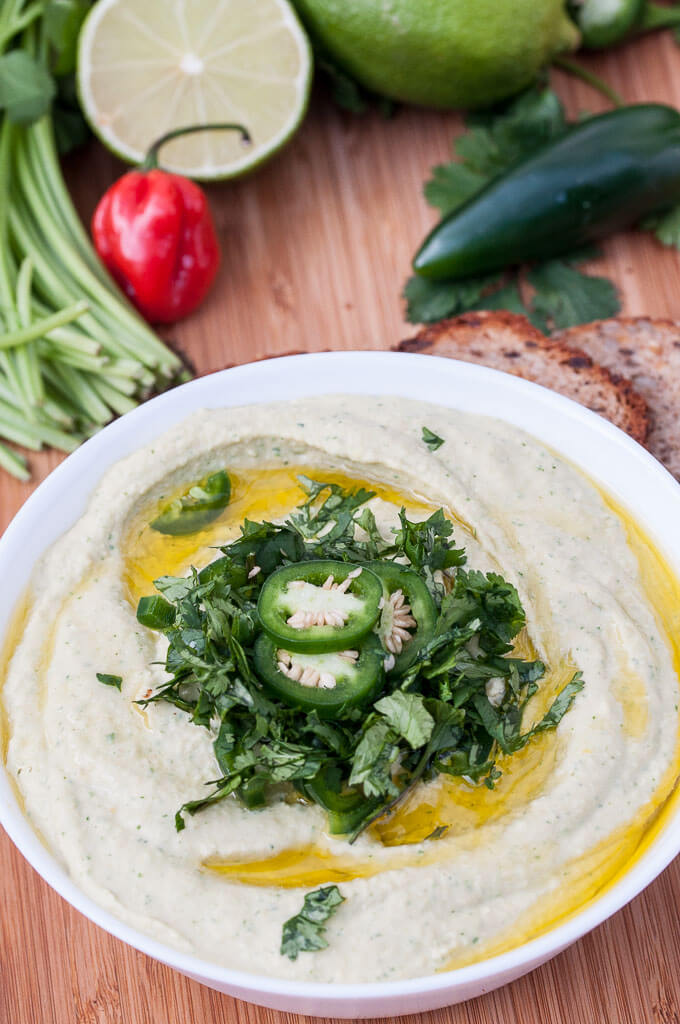 Jalapeno is the perfect chili pepper to add for just the right amount of spice or pep to your hummus or even other recipes. But fear not, if it's just not quite enough for you. I've substituted the jalapeno in the recipe for anything from banana peppers to cayenne peppers to my absolute favorite habenero peppers.
I know, habaneros can't be handled by everyone. Hubbs thinks that I'm absolutely insane for eating them and I know if I add it to hummus that I will be the only one enjoying it….which isn't exactly a bad thing. Nevertheless, this is a Jalepeno Cilantro Hummus not a Habanero Cilantro one.
Jalapenos are actually quite healthy. Here is just a tiny overview of the health benefits of both. All the more reason to eat this hummus!
Jalapeno Health Benefits
• Just one jalapeno covers your daily dose of Vitamin C
• Jalapenos, like other peppers, has capsaicin which can aid in weight loss, promote healthy blood flow, and act as an anti-inflammatory.
• Jalapenos are a great source of B vitamins, such as folic acid and folate. All the more reason for pregnant ladies to indulge in this hummus ;)
• For more info see these (1, 2, 3)
Now that we have some sense of justification for eating all the Jalepeno Cilantro Hummus at once, let's get to it!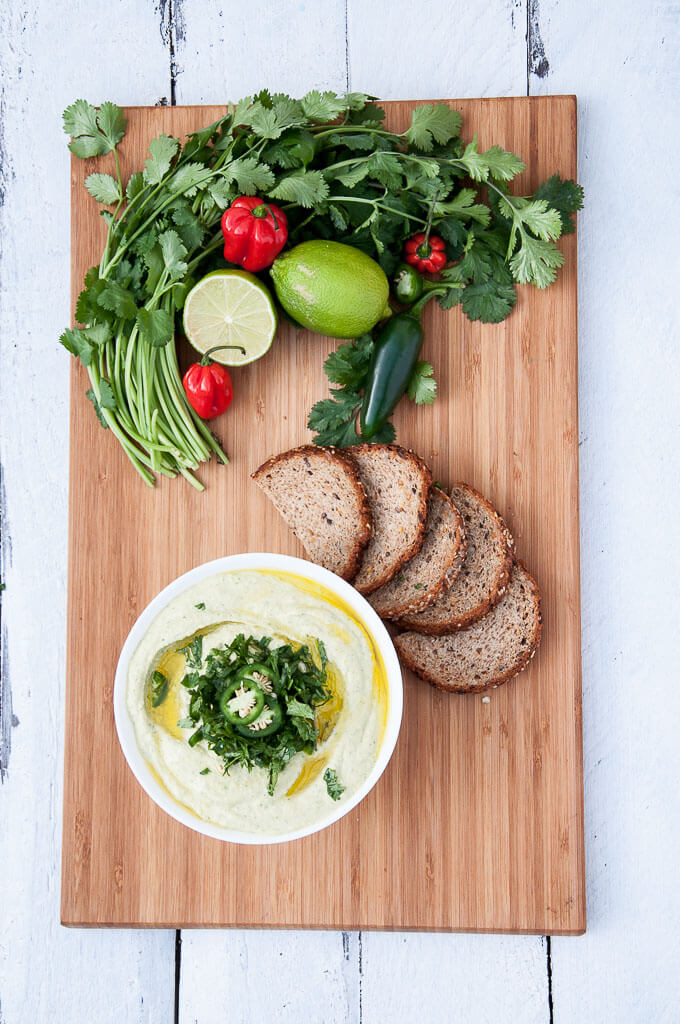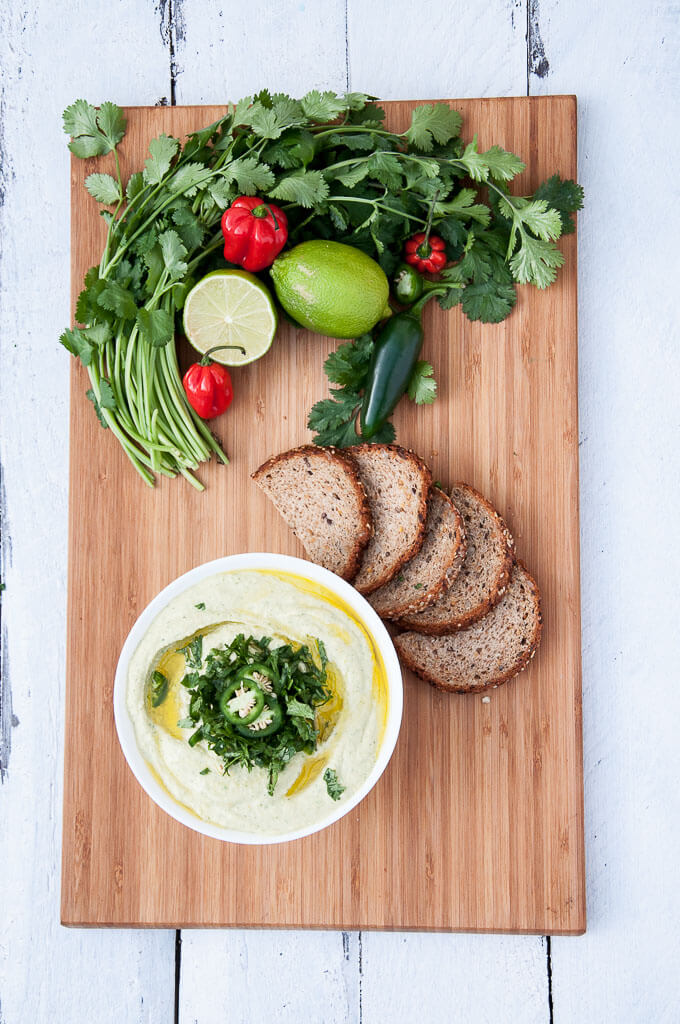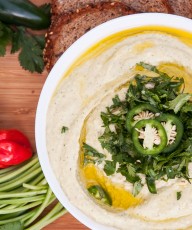 Jalapeno Cilantro Hummus
A healthy, high protein hummus recipe with just the right amount of heat.
Ingredients
1 1/2

cups

of Chickpeas

soaked and cooked or rinsed and drained from a can

1/4

of a cup

60 ml Tahini

small handful of Cilantro

leaves and stems

1/2

of a Jalapeno

or more if desired

1

clove

of Garlic

1/2

of a teaspoon Salt

1

tablespoon

fresh Lime Juice

1/4 to 1/2

of a cup

60 - 125 ml Water (adjust depending on desired thickness)

Chopped Fresh Cilantro

optional

Olive Oil

optional
Instructions
Place all ingredients except the optional ingredients in a food processor. Process until smooth, adding more water if needed.

Add jalapeno cilantro hummus to a serving bowl and garnish with fresh chopped cilantro, a drizzle of olive oil and jalapeno slices.

Serve hummus with pita bread, crackers and fresh veggies.

Store hummus in an airtight container and eat within 4 days.
There's actually a question that I've been meaning to ask my readers for a long time. What is your favorite way to eat hummus? I personally love it with fresh veggies, slathered on bread or mixed into a salad. Are there any unique ways you like to eat hummus?
If you are still in a hummus slump, then give any of these a try :)