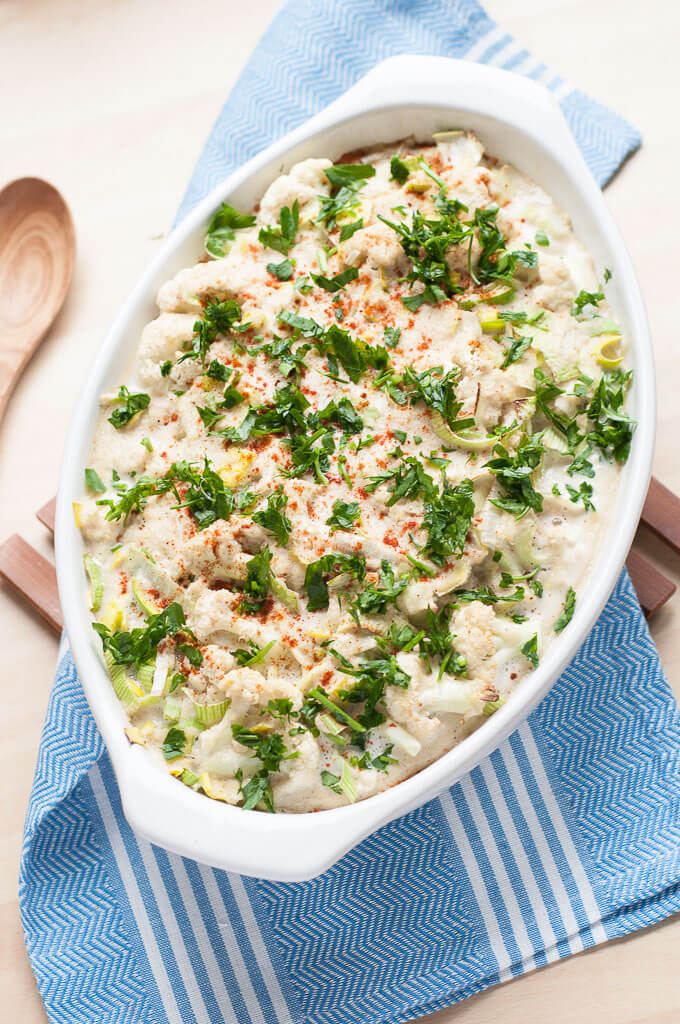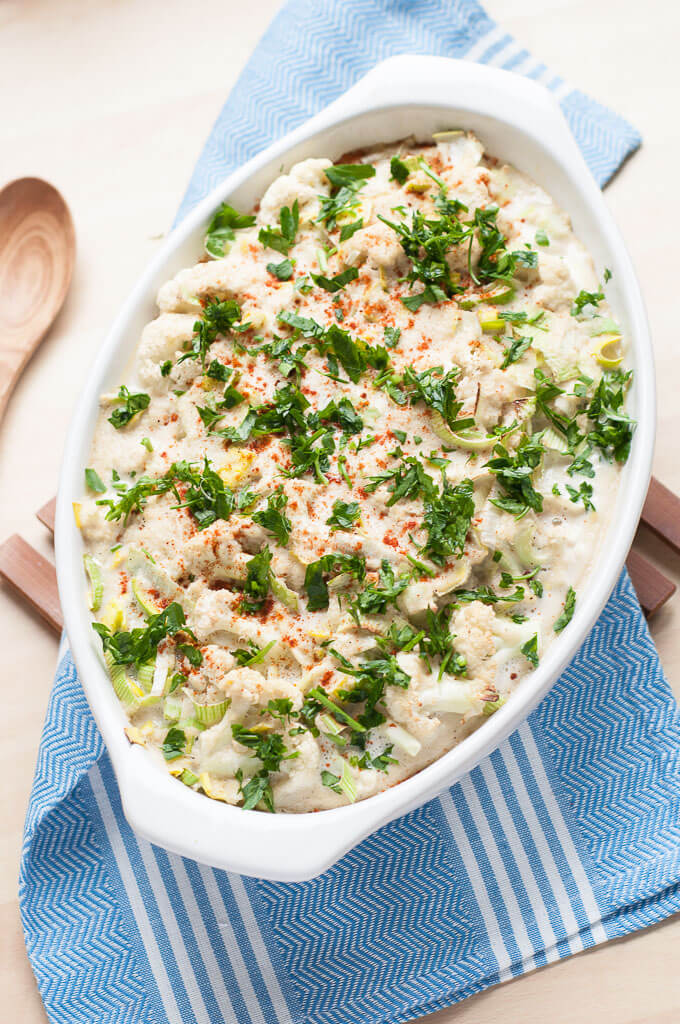 This right here, my friends, is my ultimate vegan comfort food! A super creamy, comforting Vegan Cauliflower Leek Casserole ;)
Yeah, I just can't seem to let go of the leeks. Thankfully, cauliflower is available all year around but those delicious leeks are usually only around until May. Therefore, I'm taking full advantage of them until then.
For those of you who are already enjoying 80° weather...please leave. Just kidding ;) This casserole is just not right for you right now. You'd probably fare much better with some yummy Coconut Raspberry Ice cream or maybe even a yummy Strawberry Ice Cream Cake!
For those of you just hanging around the mid 50's (I'm talking temperature here, NOT age!), you're in MAJOR need of some comfort food. I definitely do after seeing how some people already get to prance around in shorts! Darn you!
Then again, I still get to enjoy this vegan cauliflower leek casserole without getting a heat stroke. So who's really winning right now?
What's the best part of this yummy casserole? Maybe it's the fact that it's super simple to make and only has a 15 min prep time.
All you need is some cauliflower and leeks.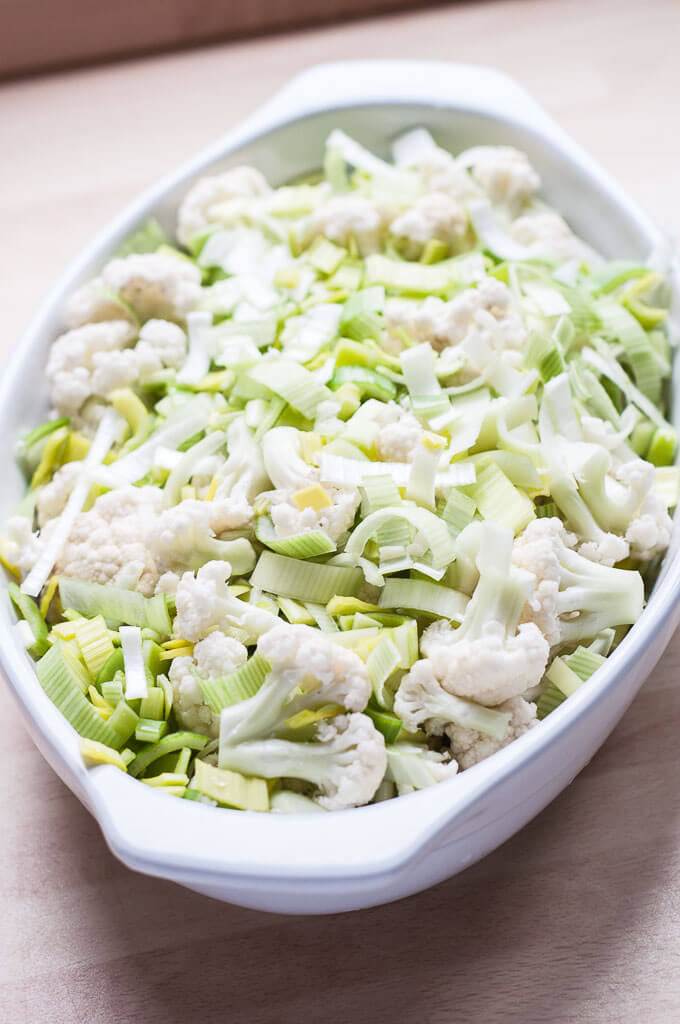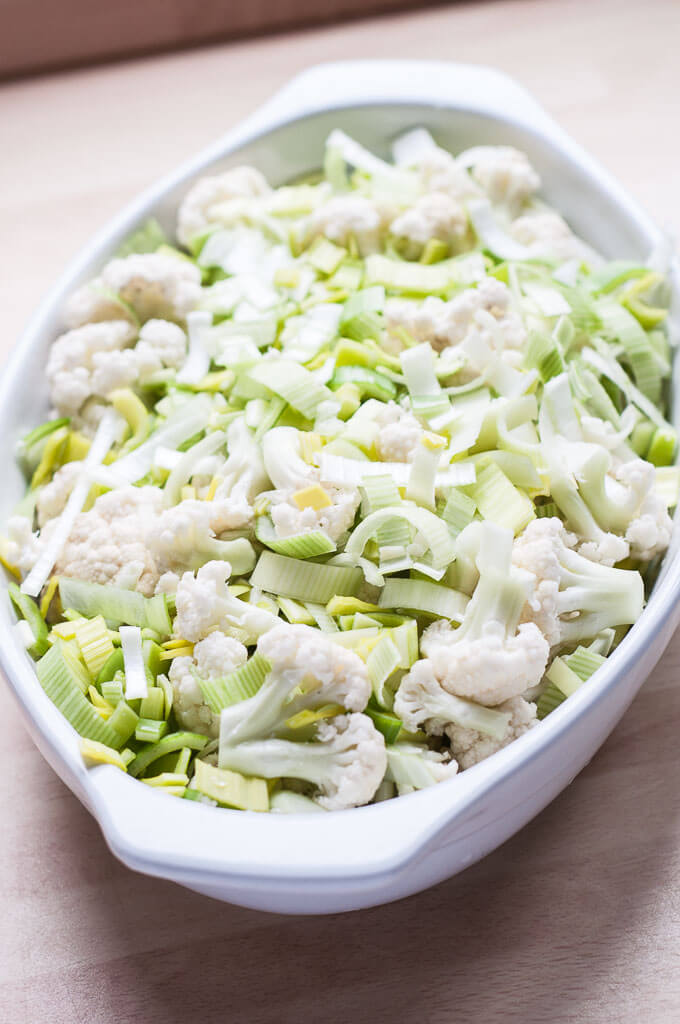 Just those two ingredients are super yummy but we need some delicious creaminess to take those veggies to a whole different level.
Let me introduce my Garlic-Cashew Sauce. Done in 5 minutes and just pour it over your veggies.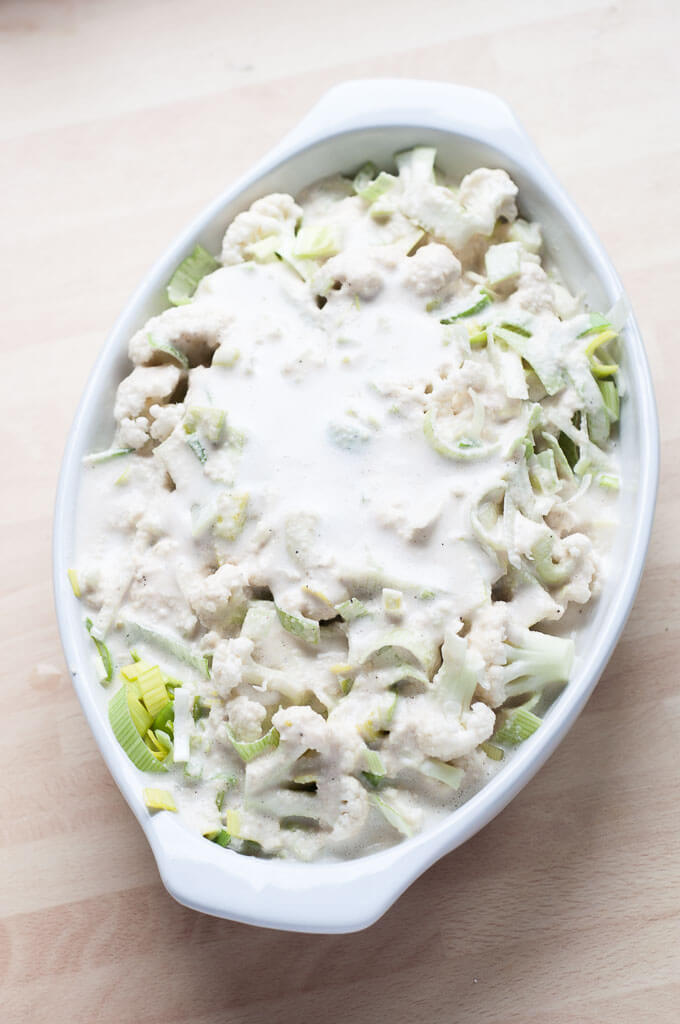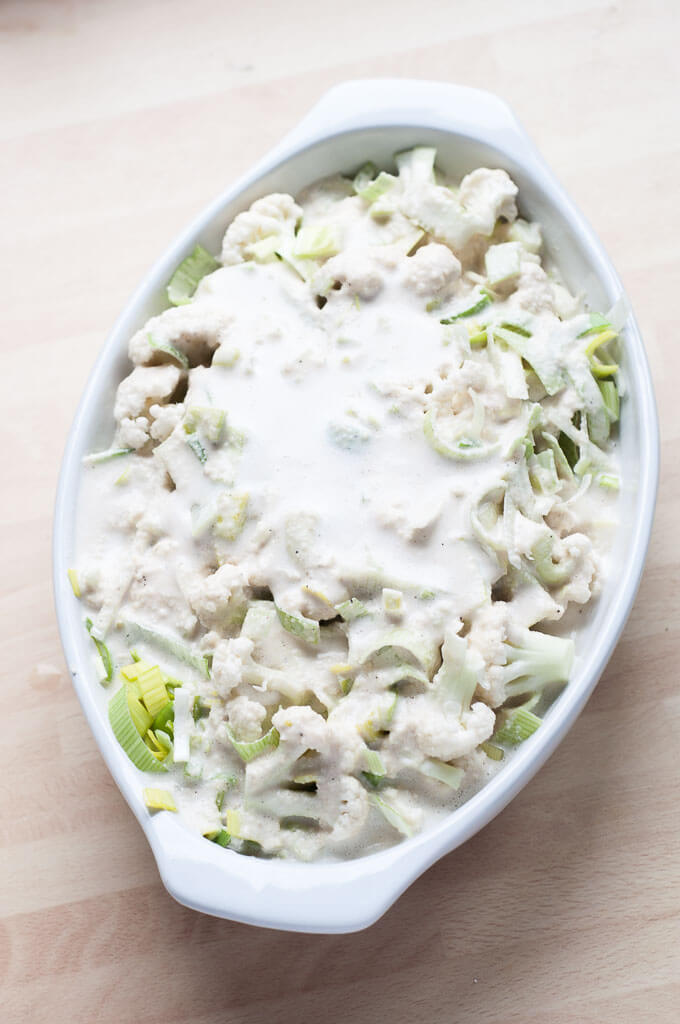 Easy, huh? Now just bake it.
The sauce will thicken up nicely and the leeks will cook. After about 40 minutes you'll get my absolute favorite Vegan Cauliflower Leek Casserole! Just add a sprinkle of paprika (cayenne pepper for heat) and some fresh chopped parsley.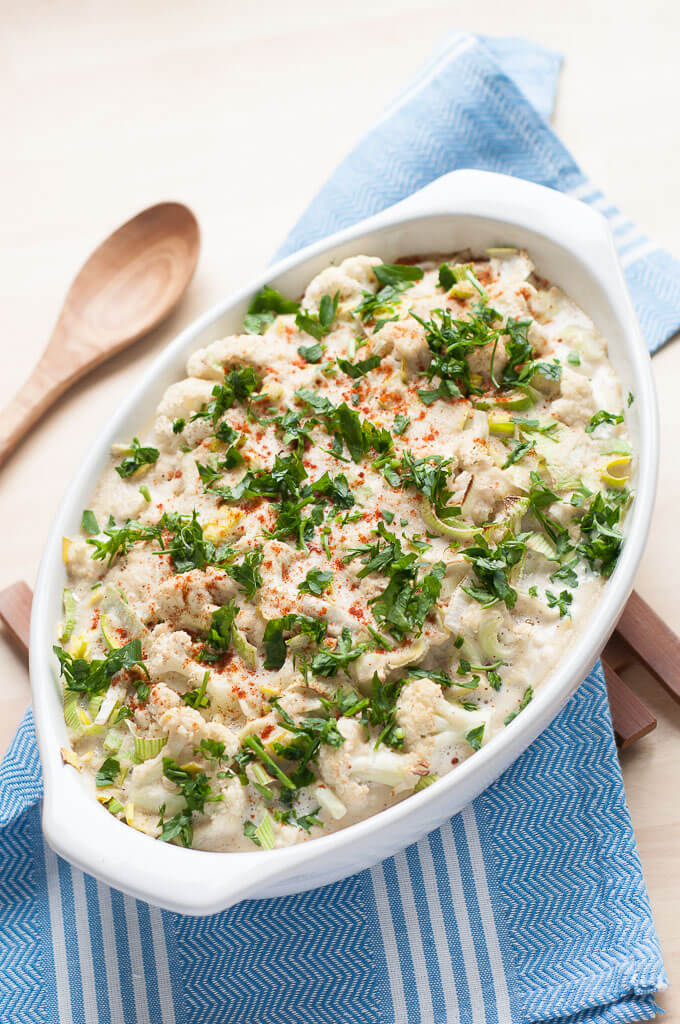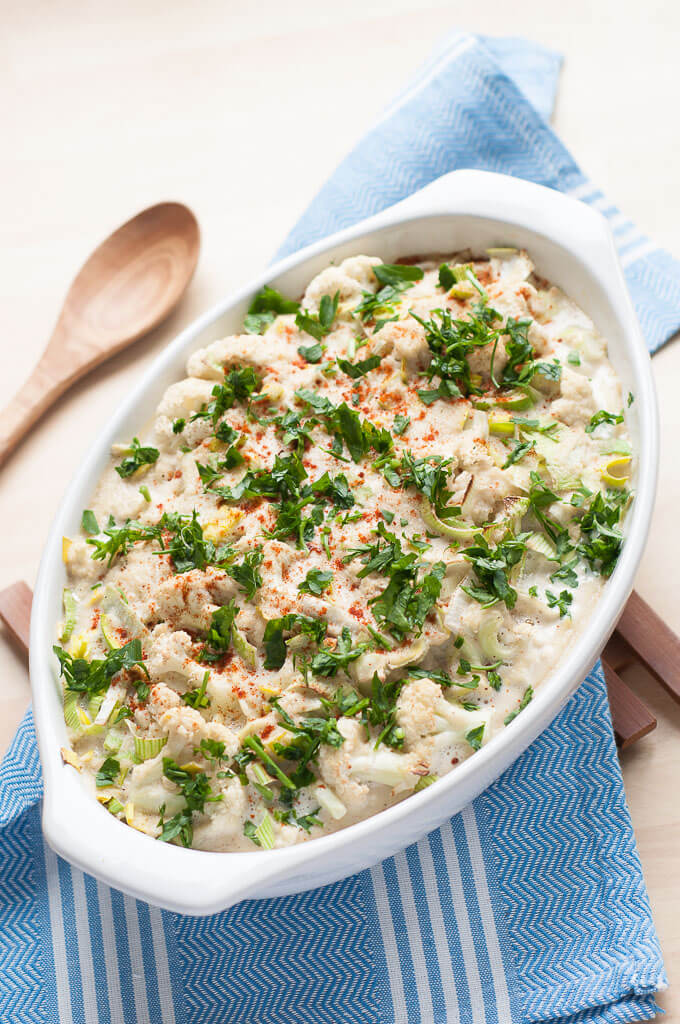 Now, you can dig in! You know you want to!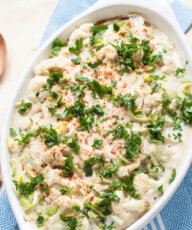 Vegan Cauliflower Leek Casserole
A hearty and vegan comfort food dish that is incredibly simple to make.
Ingredients
½

head of medium Cauliflower

3 ½ cups of cauliflower florets or 280g

3

cups

225g chopped Leeks (about 2 Leeks - white and light green parts only and cleaned - See how to here)
Garlic Cashew Sauce
1

cup

170g raw Cashews (soaked for at least 4 hours if you want an extra smooth sauce)

2

cloves

of Garlic

2

cup

500ml of Water

⅔

of a cup

30g Nutritional Yeast

¾

of a teaspoon Salt

½

of a teaspoon Pepper

optional or more fresh cracked pepper
Optional Extras
¼

of a teaspoon Paprika

¼

of a teaspoon Cayenne Pepper

Fresh Parsley

chopped
Instructions
Note that this recipe was made for a small two quart casserole dish. See NOTES if making a larger casserole.

Preheat oven to 390°F (200°C).

Chop cauliflower into florets and steam in a steamer for 5 -7 minutes until cauliflower is tender. Alternatively, cauliflower can be boiled in a pot for 5-7 minutes. Toss cauliflower and leeks together and place in casserole dish.

Prepare garlic cashew sauce by blending all sauce ingredients in a food processor or blender until smooth.

Pour sauce of cauliflower and leeks until well covered. The sauce will thicken while baking.

Place casserole dish in oven and bake for 40 minutes until sauce has thickened and leeks have softened and wilted.

Remove casserole dish from oven. Sprinkle with paprika, cayenne pepper and chopped fresh parsley, if desired. Allow casserole to cool for 5 to 10 minutes before eating.
Recipe Notes
1.) This recipe was made for a 2 quart (1.9L) casserole dish. Feel free to double or triple the recipe if needed but be aware that the baking time may vary slightly. When doubling the recipe add roughly 10 minutes extra baking time. If tripling around 15 to 20 minutes.2.) Feel free to play around with the flavors and ingredients. Add some steamed potatoes, red onion, or even add a teaspoon of dijon mustard to the sauce for a little extra something.
Not digging on this Vegan Cauliflower Leek Casserole as much as I am?
That's alright. Why don't you give one of these recipes a try ;)
Potato Leek Soup, Tempeh Casserole, or Healthy Mushroom Tacos!