A Lemon Asparagus Tart made with a healthy lemon cashew sauce on 
puff pastry. Tastes how spring feels! (The sunny days...not the rainy, 
gray ones!)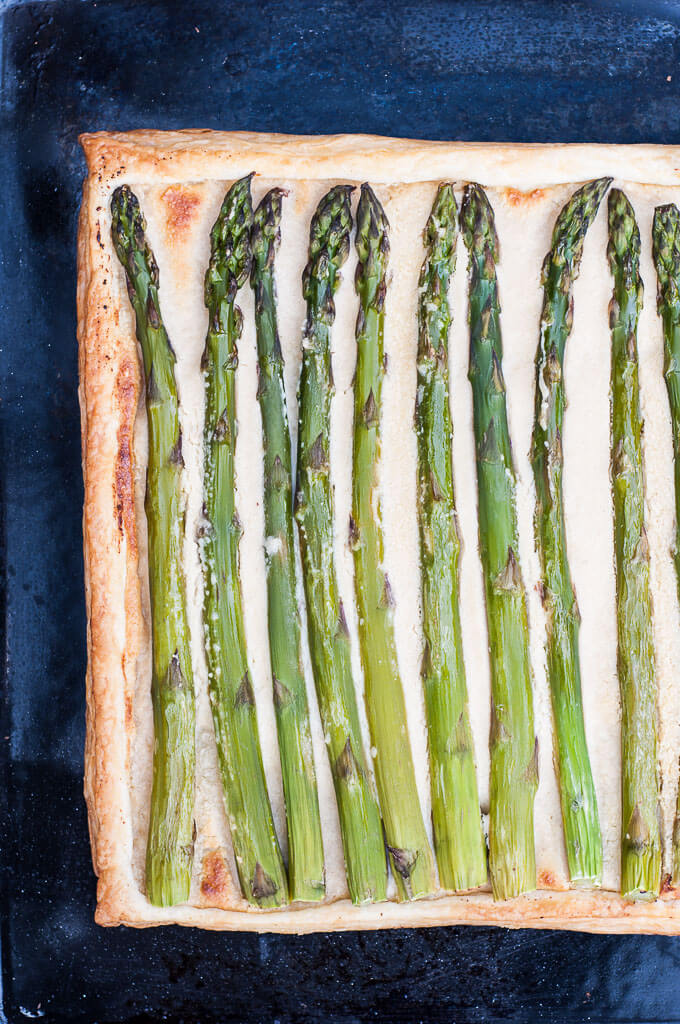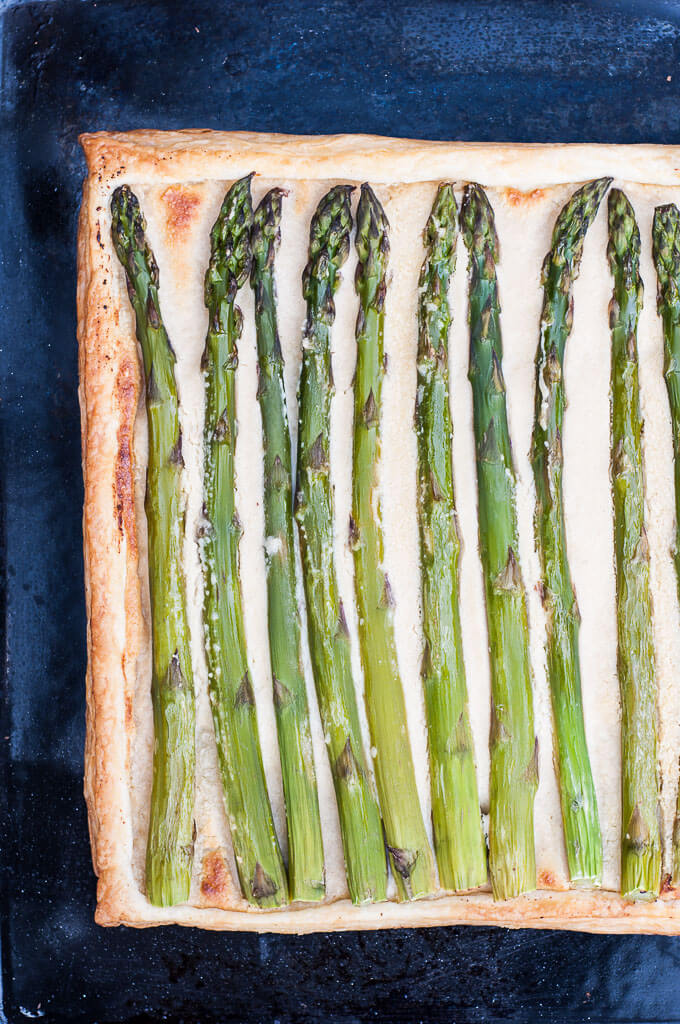 Lemon and asparagus is such a well known combo and the flavors work together so well. It's all about balance here though. Asparagus, when cooked right, tastes delicious. Just add a bit of salt to grilled or steamed asparagus and it will taste perfect.
That's why there is nothing worse than making an asparagus dish where the asparagus is overpowered by other flavors. This can easily happen if you add too much lemon in this instance.
The lemon-cashew sauce adds just the right amount of pep to this Lemon Asparagus Tart so that the asparagus can really shine. After all, that's what actually want. We don't get perfect, freshly harvested, farmer's market asparagus all year around, so when we do we want to actually taste the asparagus and not hide it.
The ingredients you need to make the Lemon Asparagus Tart are super simple. If you are vegan then you probably already have all these ingredients on hand.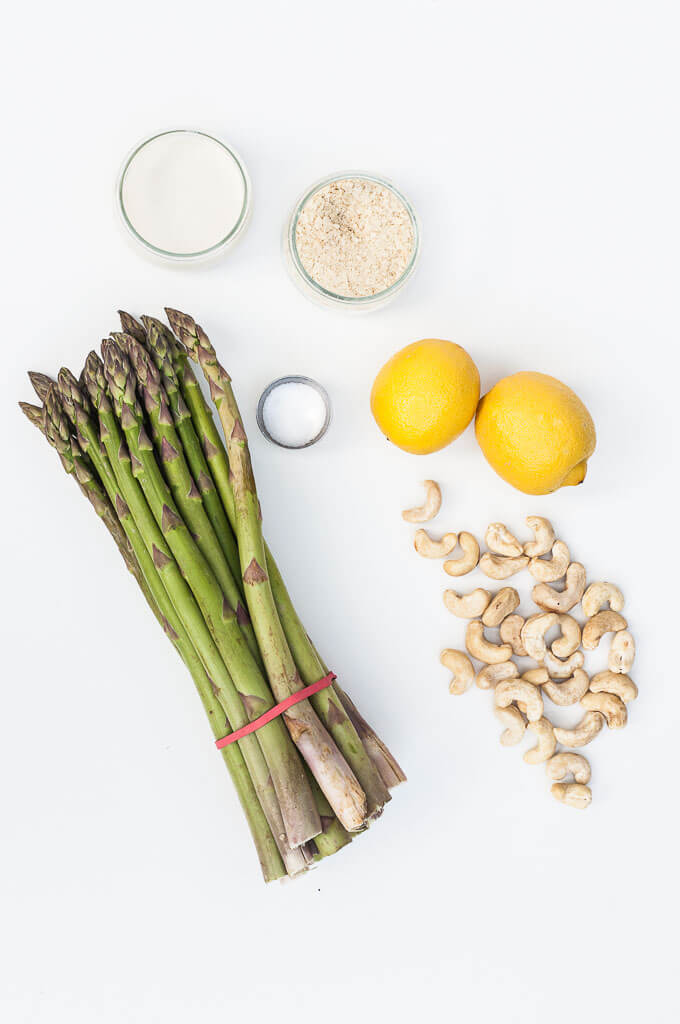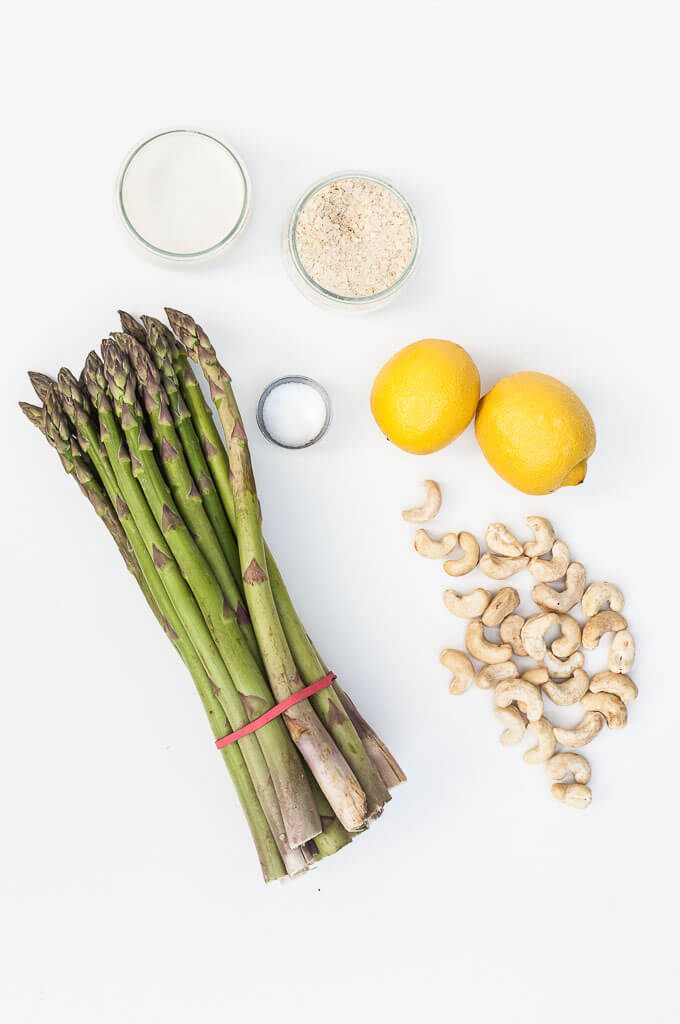 Ok...I have to admit that I am missing one ingredient on that picture above. Any guesses? Yeah maybe some puff pastry, huh?
Other than that, it really is just asparagus, cashews, lemon, salt, nutritional yeast, and some plant-based milk.
Then, of course, spread all that goodness over your puff pastry and...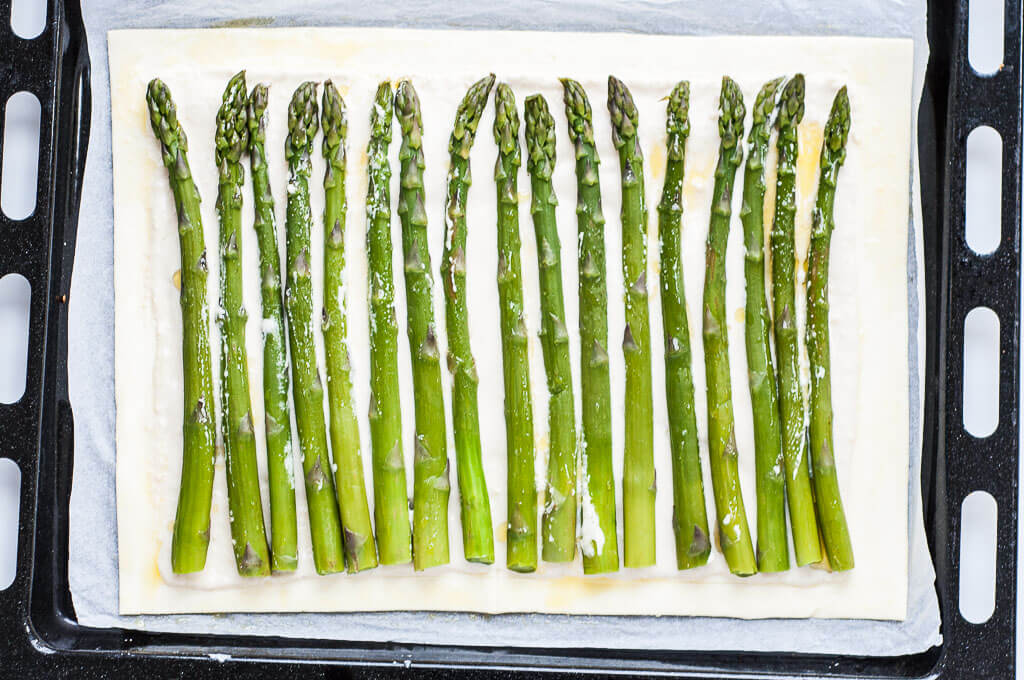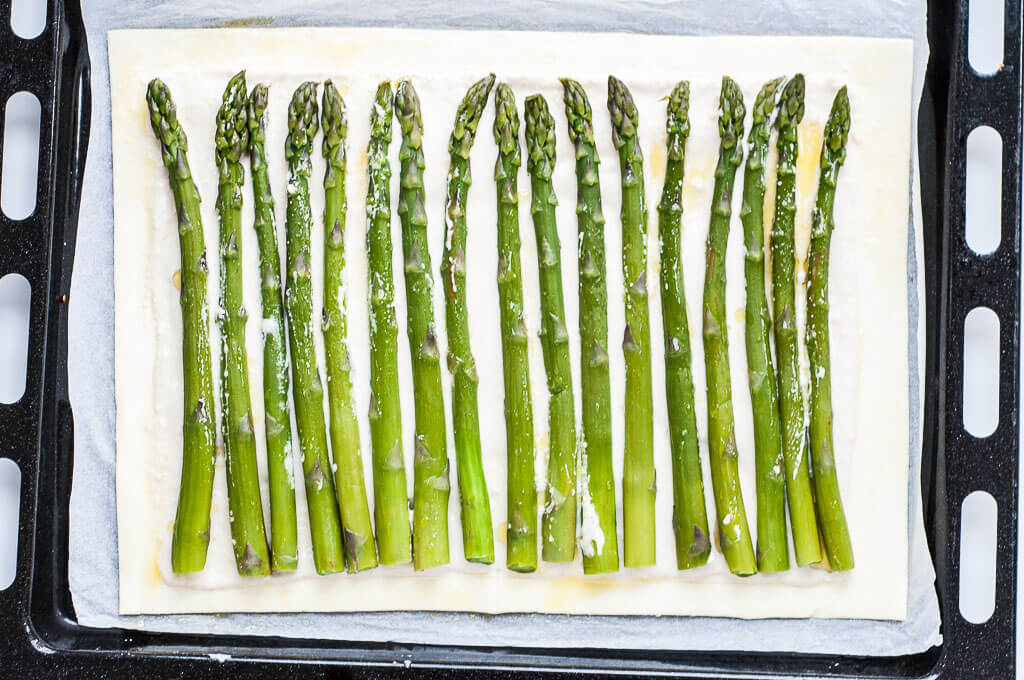 BAKE IT! Who would have guessed that? Anyone? Beuller? Beuller?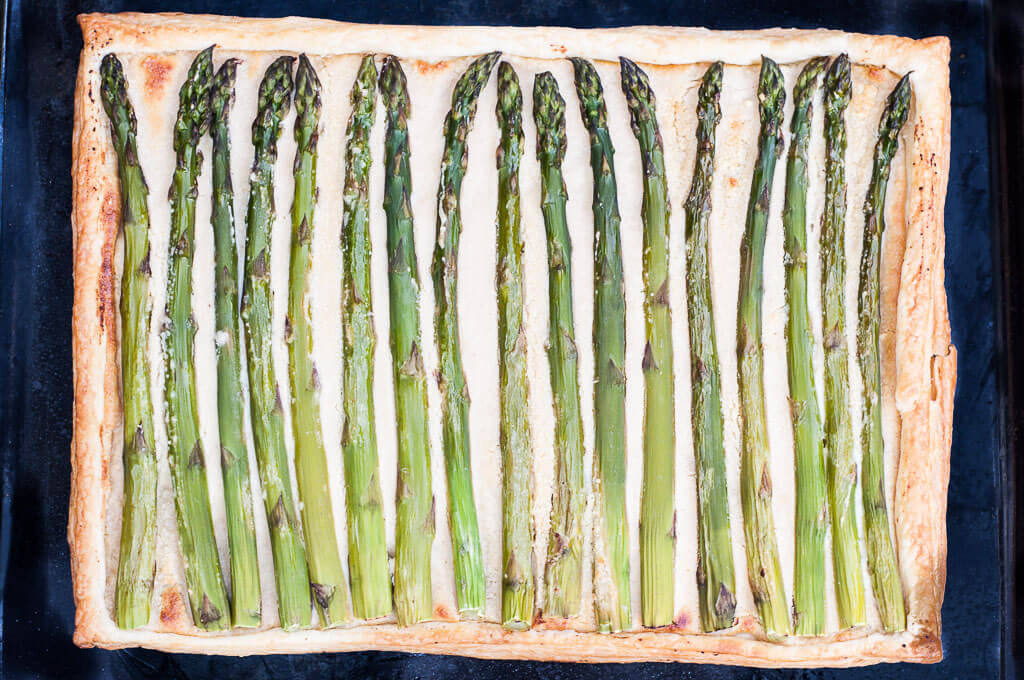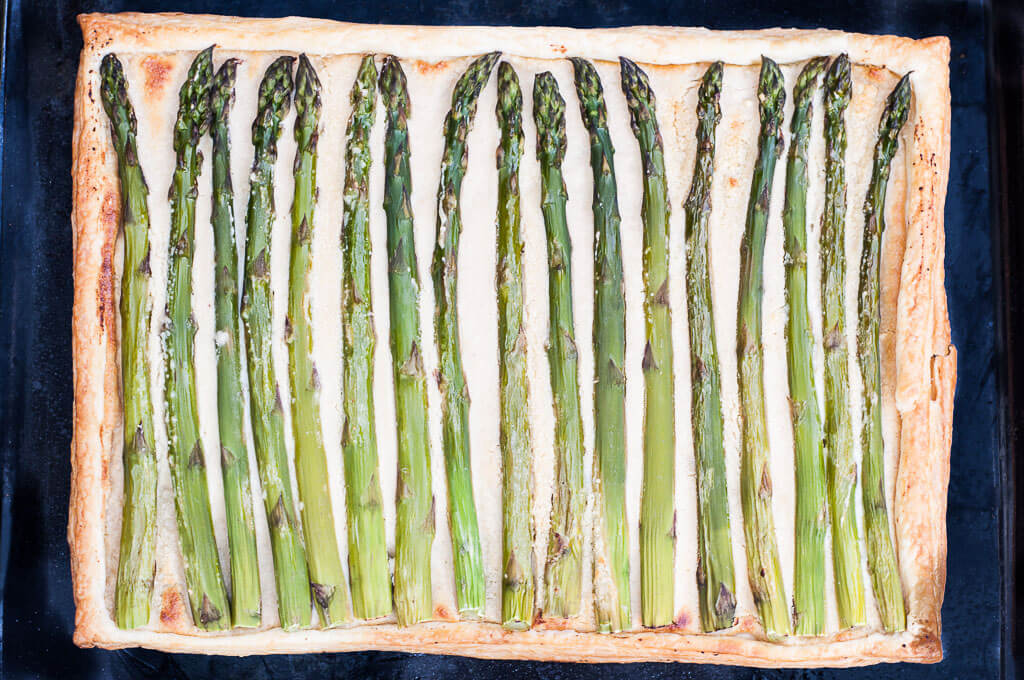 Easy Peasy Lemon Asparagusy!
If you love fresh asparagus, then you'll immediately fall in love with this Lemon Asparagus Tart Recipe!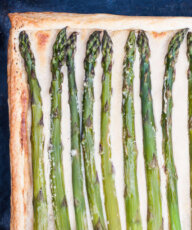 Lemon Asparagus Tart
Ingredients
1

sheet of Puff Pastry

check to make sure it is vegan

16 to 18

stalks of Green Asparagus

steamed or cooked - see notes
Lemon Cashew Sauce
½

of a cup soaked Cashews

or ¼ of a cup cashew butter

¼

of a cup Fresh Lemon Juice

½

of a teaspoon Salt

⅓

of a cup Unsweetened Plant-based Milk

almond, oat, hazelnut etc. - I prefer not to use coconut, soy or rice milk for this

¼

of a cup Nutritional Yeast
Optional Extras
Olive Oil

Fresh Cracked Pepper
Instructions
Preheat oven to 390°F (200°C).

Cook or steam asparagus. See notes on how to do so.

Roll out puff pastry and score a 1" border (See Notes). Prick bottom of puff pastry tart all over with a fork but not the border.

Prepare lemon cashew sauce by adding all sauce ingredients into a food processor and pulsing until smooth.

Spread sauce across the bottom of the puff pastry but not on the scored border.

Line cooked asparagus stalks across puff pastry. Lightly brush with olive oil, if desired.

Bake lemon asparagus tart in oven for 20 minutes until puff pastry is golden brown.

Serve tart hot and with fresh cracked pepper (optional).
Recipe Notes
1.) Before you cook or steam your asparagus snap off the woody root end of each asparagus stalk at its natural breaking point or cut off roughly 2 inches and discard.How to steam asparagus: Steam asparagus in a steamer for 5 to 7 minutes until tender. Remove asparagus from steamer and rinse under cold water.How to cook asparagus: Bring a large stock pot filled with water and 1 teaspoon of salt to a boil and cook asparagus for 3 to 5 minutes until bright green and tender. Remove asparagus from heat and rinse under cold water.2.) Scoring a border just means to slightly make a border around the outside of your puff pastry. Using a knife and cut half way into the puff pastry, an inch from the edge. Be careful not to cut through the puff pastry.
Want to give a different tart recipe a go? Try either my Rosemary Mushroom or Savory Pumpkin Tart ;) If you're feeling a little sweet today then go for my Chocolate Mousse Tart ;)