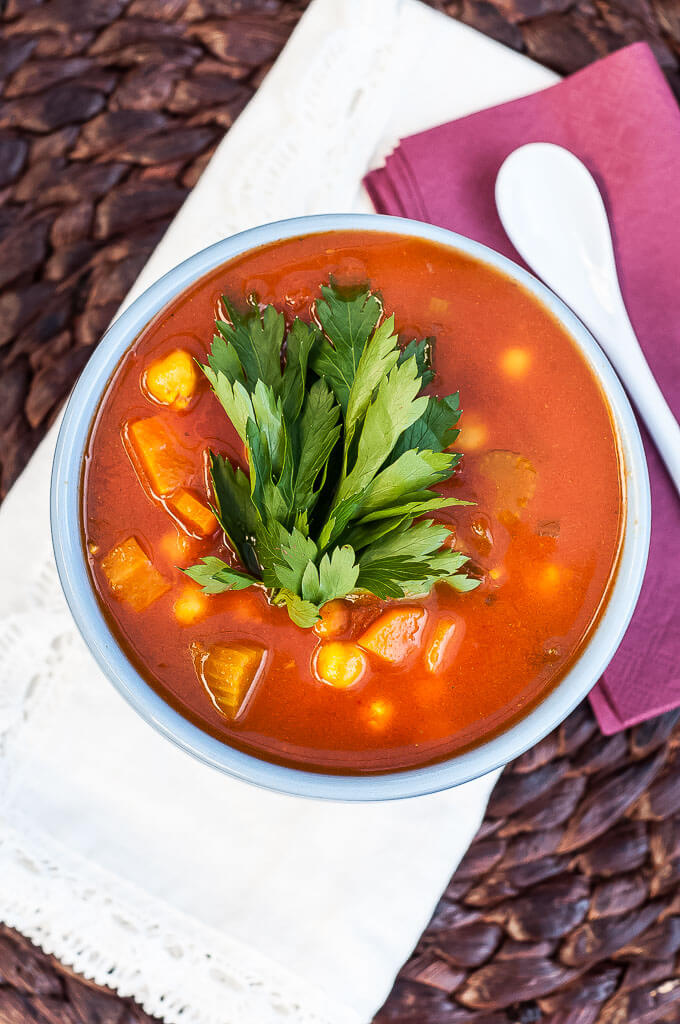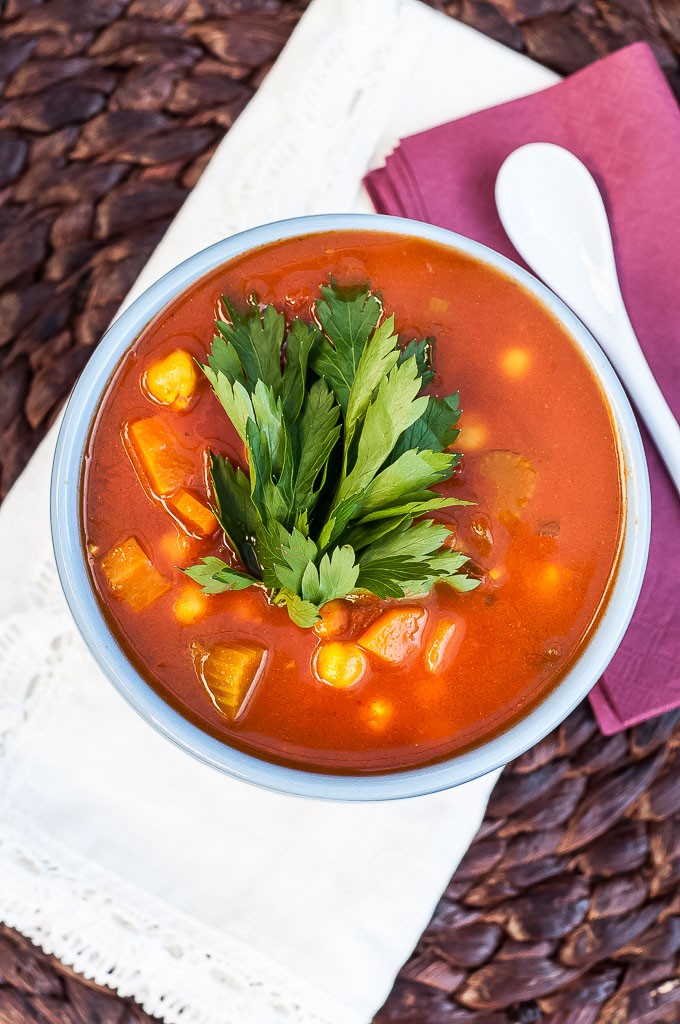 I first fell in love with Moroccan Harira Soup at this small Moroccan restaurant in Frankfurt. What really fascinated me about Moroccan harira soup is that is packs such an immense amount of flavor with such simple ingredients.
So, What exactly is a Moroccan Harira Soup?
Harira is a tomato based soup that is found mainly in Morocco and Algeria. There, it is often eaten for breakfast and during Ramadan to break fasting.
 Traditionally Moroccan harira is made with beef sometimes lamb, chickpeas or lentils, celery and tomatoes. Some recipes even include noodles. Spices are the real key though to this soup. Often times a combination of ginger, turmeric, cinnamon, saffron, cumin, and coriander are used.
Harira is served with a wide array of garnishes. Almost always, lemon juice is added to the soup before serving or with lemon wedges so that guests can add the amount they would like. Fresh parsley or cilantro are a must. Sometimes cooked eggs are added or even dates for some sweetness.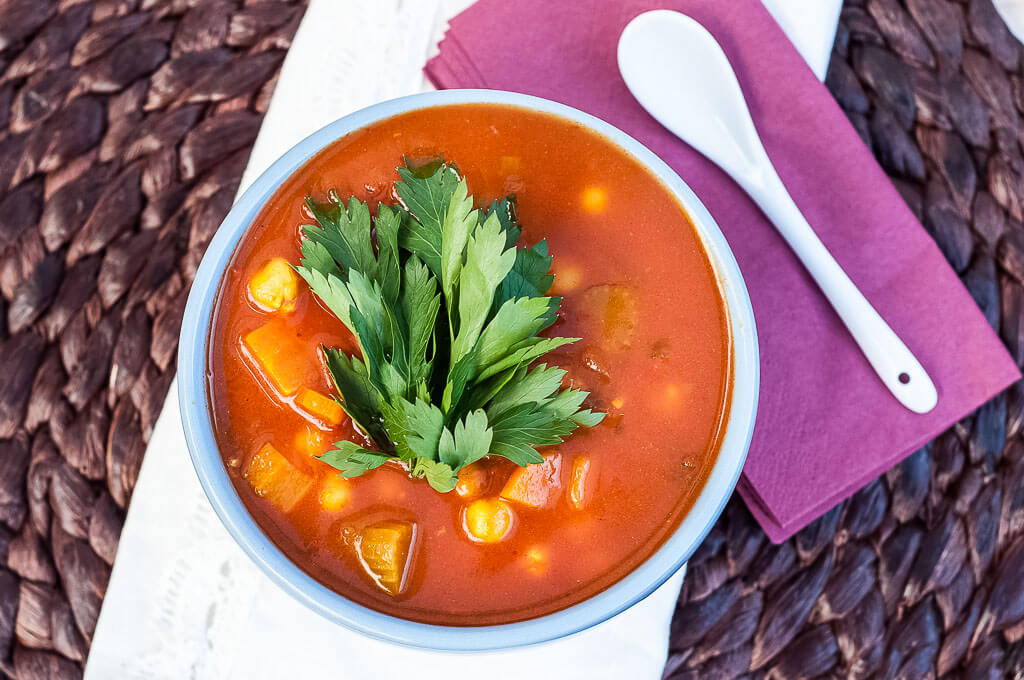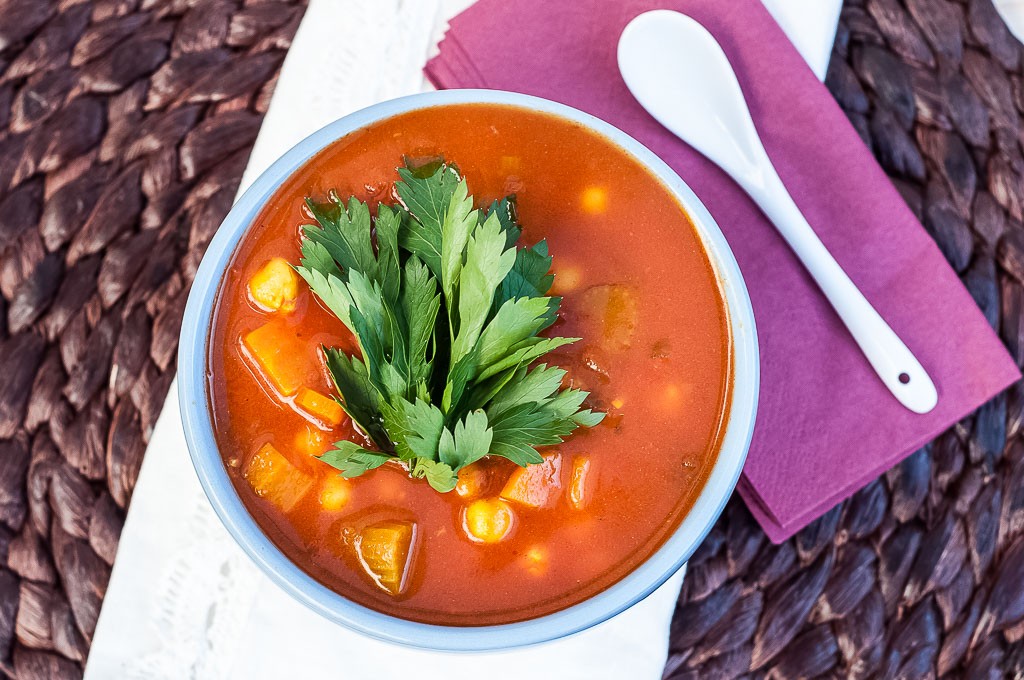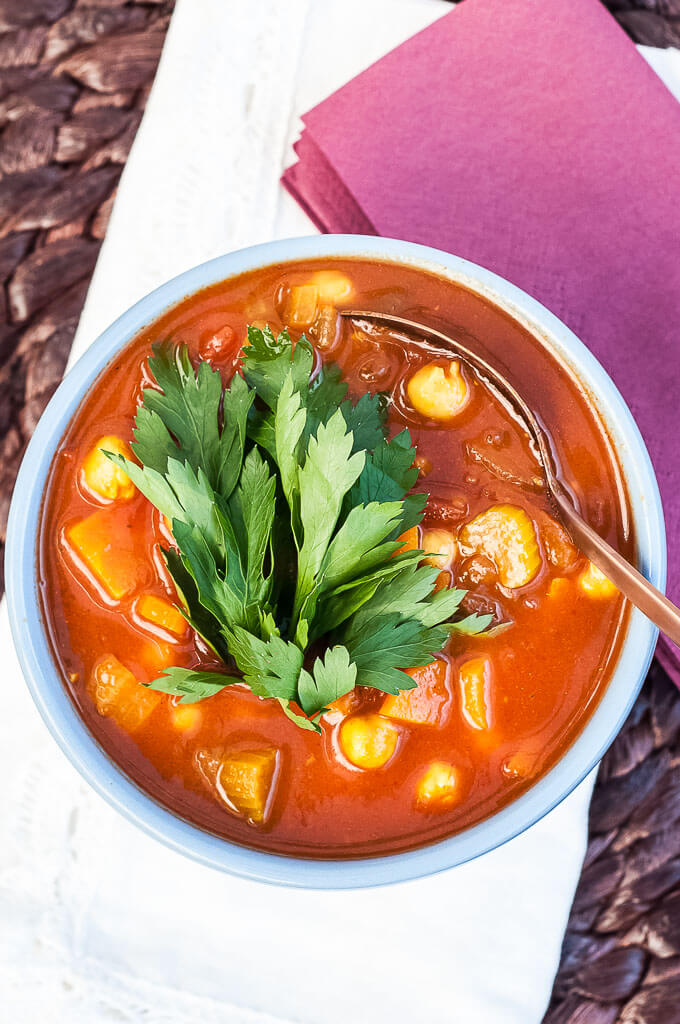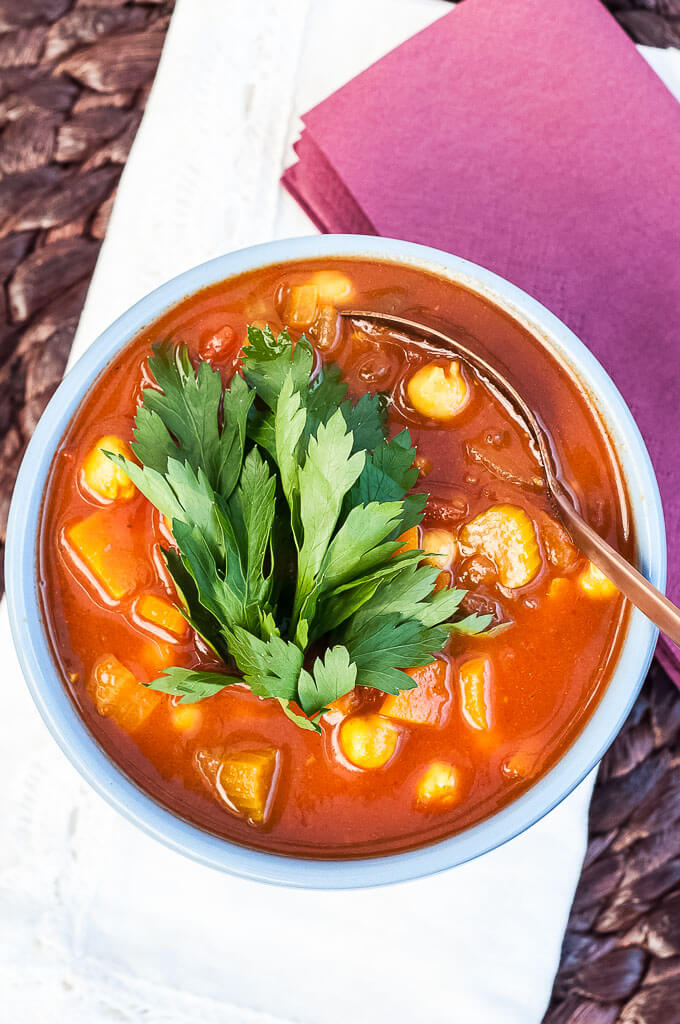 For my interpreted and vegan version of a Moroccan Harira Soup, I added ingredients that I thought would work together the best. I also wanted a really easy recipe to make and a family friendly one. I might be biased but I think I nailed it.
My boys loved it but mainly because they'll eat anything with chickpeas. Like this, and this, and this too :D My 4 year old (turning 5 this week!) also made sure to note that without adding lemon juice at the end, it just wouldn't taste right. I love how he's turning into a little food snob!
Either way, this soup is loaded with a lot of fiber and protein thanks to all the chickpeas! We could all use some more of that ;)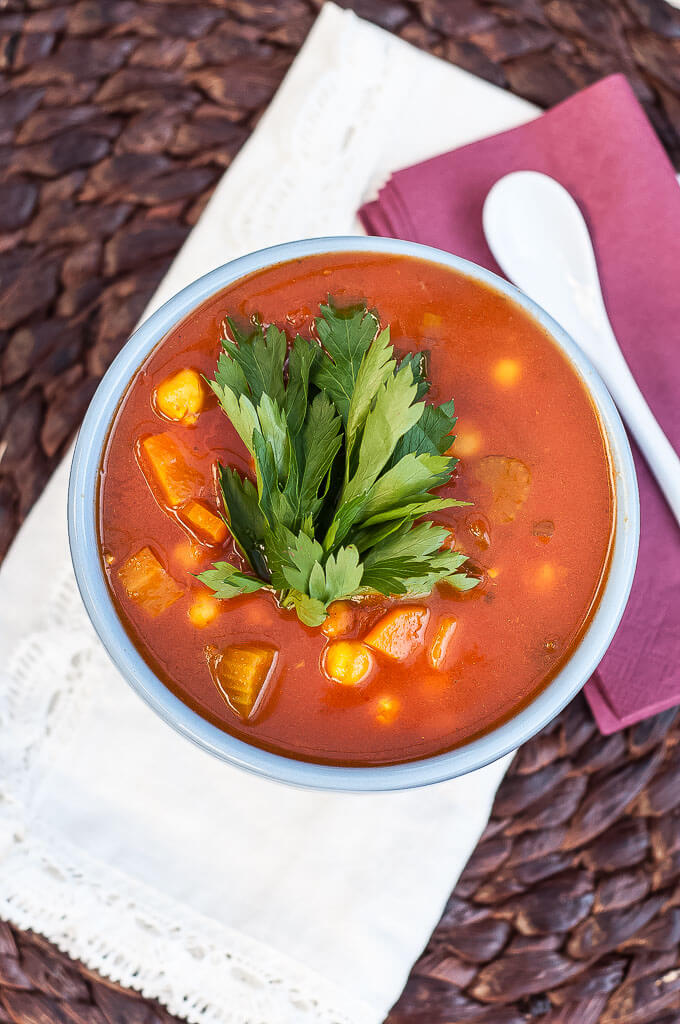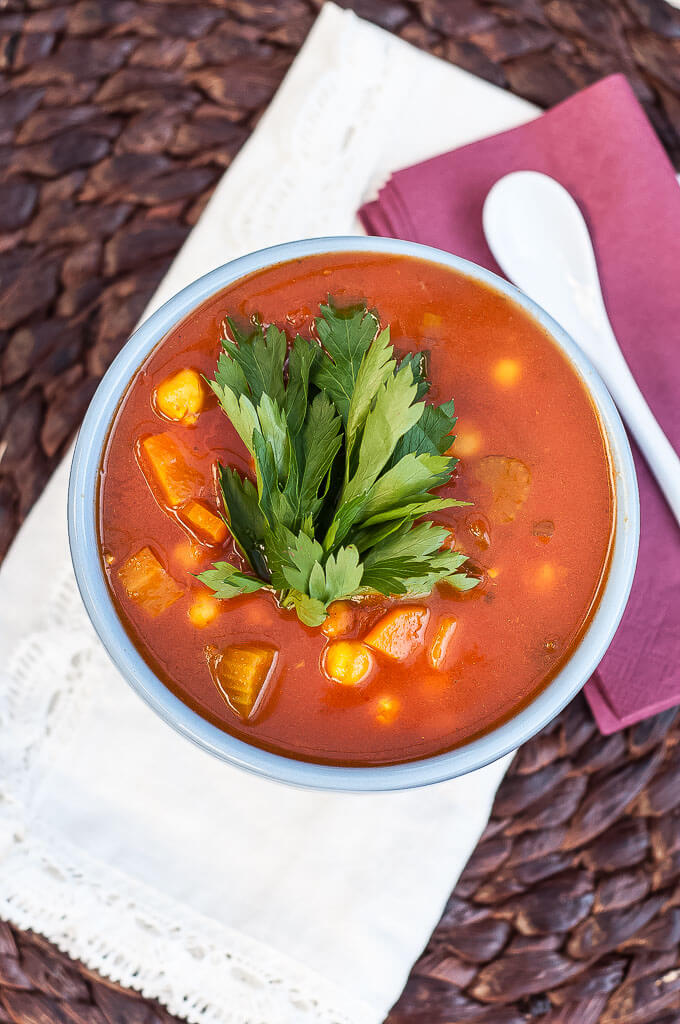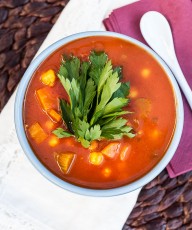 Moroccan Harira Soup
Harira soup is a traditional tomato based soup from Morocco and Algeria. I've adapted this soup to make it vegan, easy to make and kid friendly.
Ingredients
1

tablespoon

Olive Oil

2

Onions

diced

4

cloves

of Garlic

minced

4

Carrots

peeled, diced

3

large Celery Stalks

sliced

2

tablespoons

Ground Ginger

2

tablespoons

Paprika

2

tablespoons

Turmeric

2

tablespoons

Cumin

10

Saffron Threads

ground - Optional (See notes!)

1/4

of a cup Tomato Paste

1

cup

Tomato Puree

8

cups

2 L Low Sodium Vegetable Broth

8

Roma Tomatoes

roughly diced

3

cups

Chickpeas

soaked and cooked or rinsed and drained from a can

Juice of 1 Lemon

Salt and Pepper to taste

Parsley
Instructions
Heat olive oil in a large stock pot and add onions, garlic, carrots and celery, Cook for roughly 6 minutes, stirring occasionally. Add ginger, parprika, turmeric, cumin and saffron to pot and cook for one more minute.

Stir in tomato paste and puree, broth, and tomatoes. Bring to a boil then reduce heat and simmer for 30 minutes.

Add cooked chickpeas to stock pot and cook for 5 more minutes. Add fresh lemon juice and season with salt and pepper to taste.

Serve soup hot with fresh parsley.
Recipe Notes
1.) Saffron can be expensive and sometimes hard to find. If you have some at home, then I encourage you to use it. Never add whole saffron threads when cooking. Grind the threads with a mortar and pestle first to allow the spices to come out. If you don't have any saffron, you can make the recipe without too. The taste will vary slightly but still be very delicious!
Looking for a few other vegan soup recipes? Try these :)