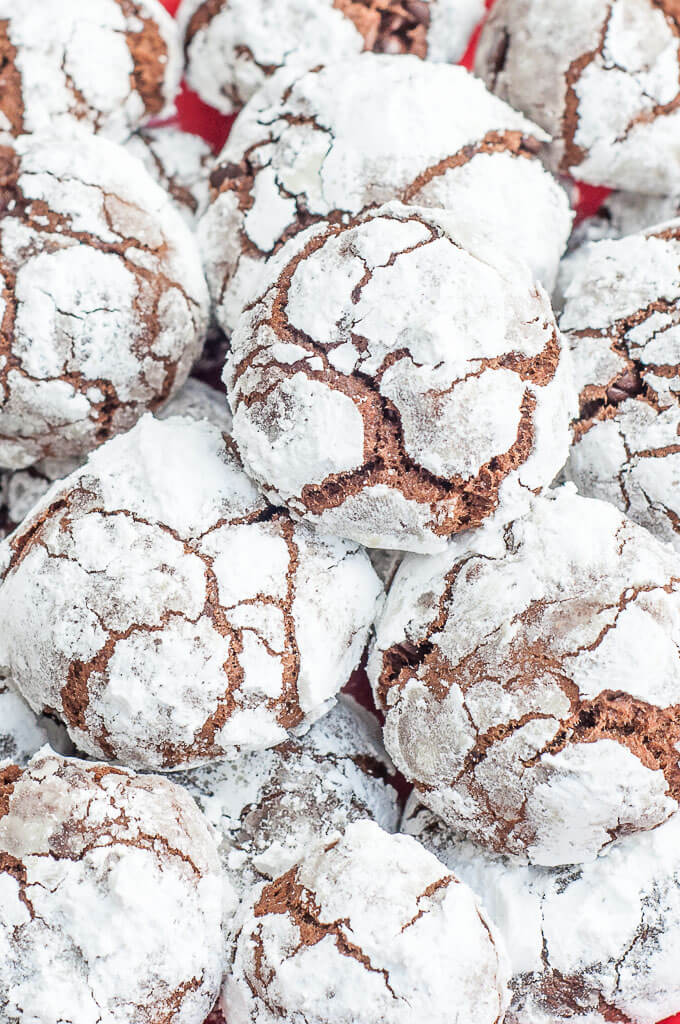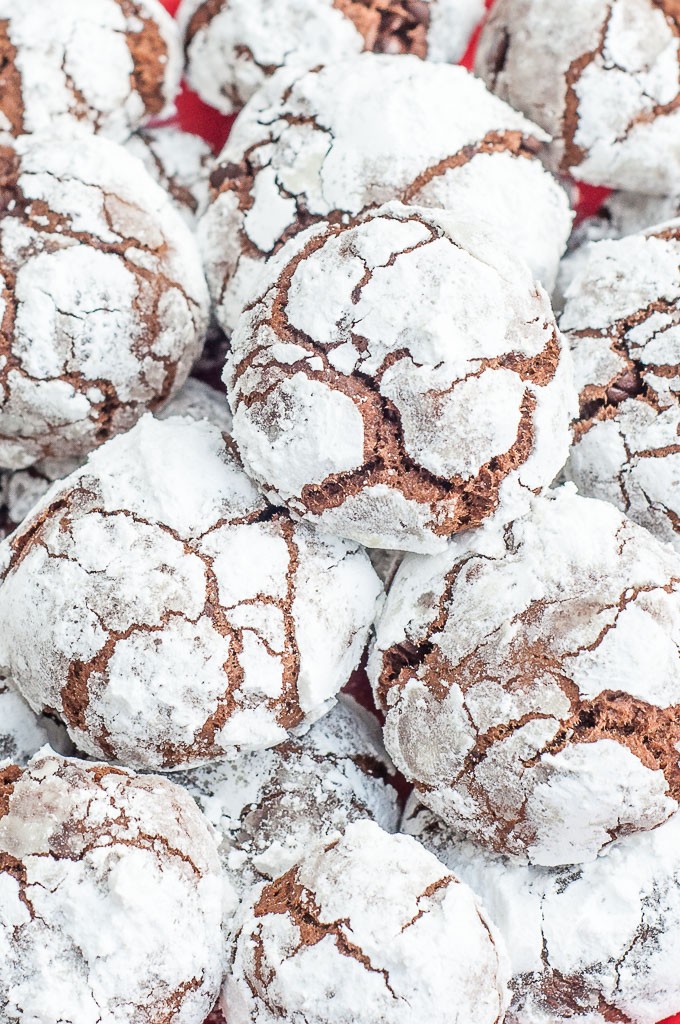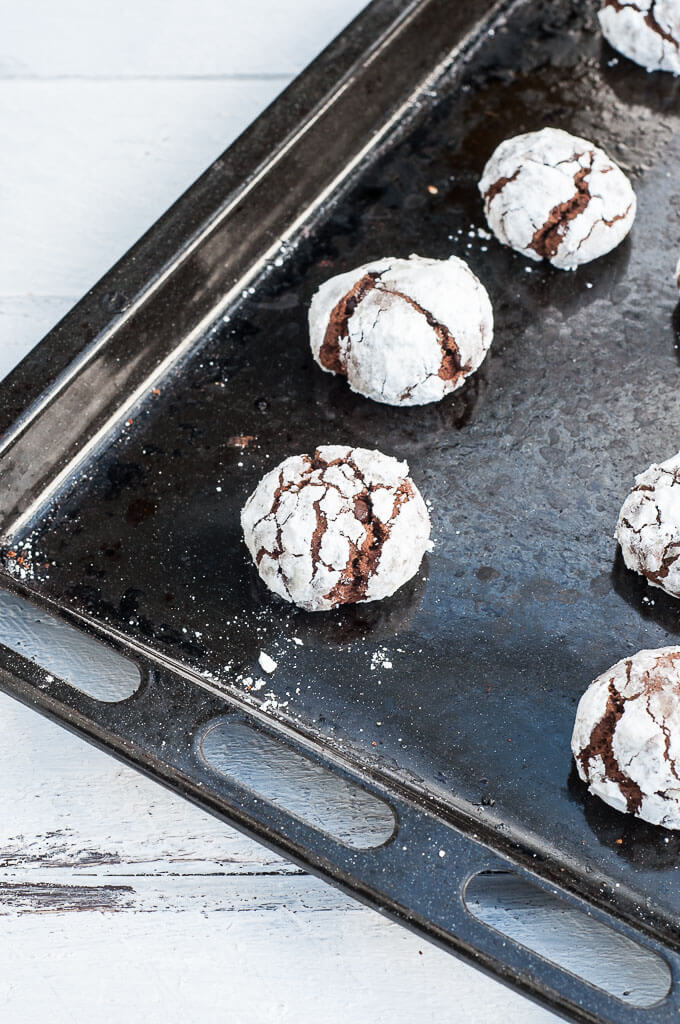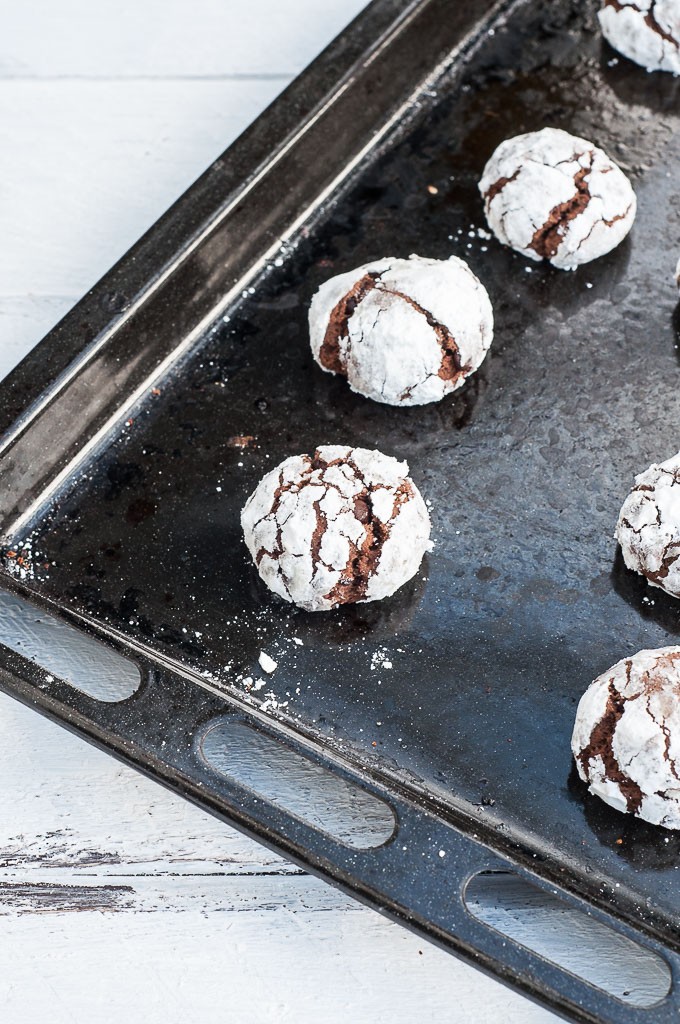 Mint and chocolate are an obvious winning combo. When I added those flavors to this gooey, soft cookie I basically hit the cookie jackpot. These Vegan Mint Chocolate Crinkle Cookies definitely hit the holiday sweet spot for me!
They are super chocolaty cookies with just the right amount of mint (or peppermint, your choice!) added to them. It will definitely be hard to share these chocolate crinkle cookies. Double this batch of cookies!  That might make it easier for you to cope with giving your kids one. No guarantees though!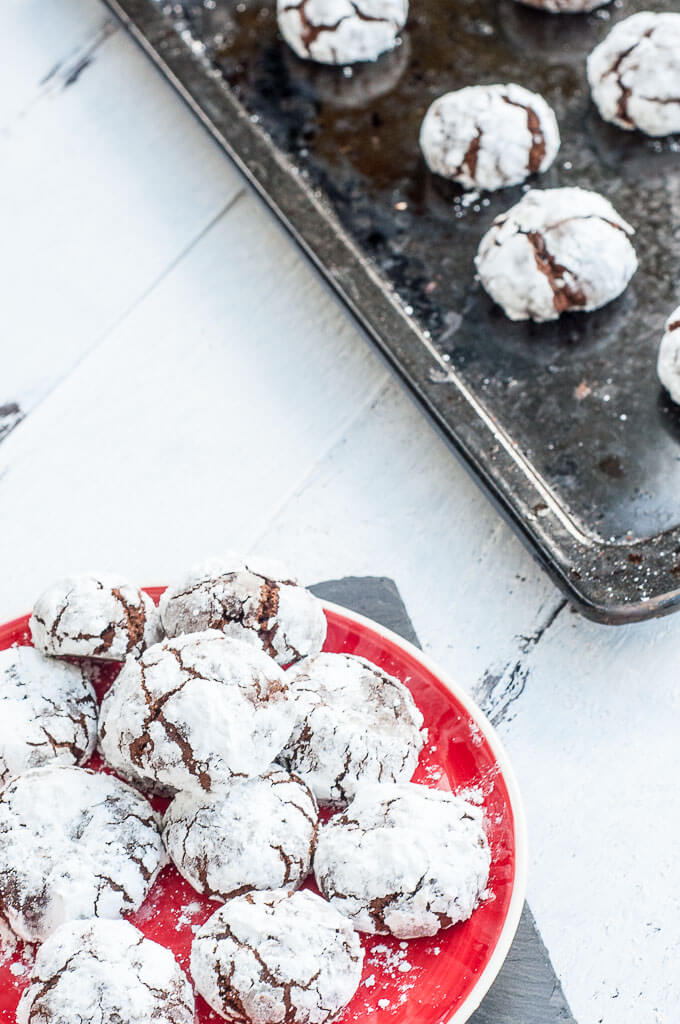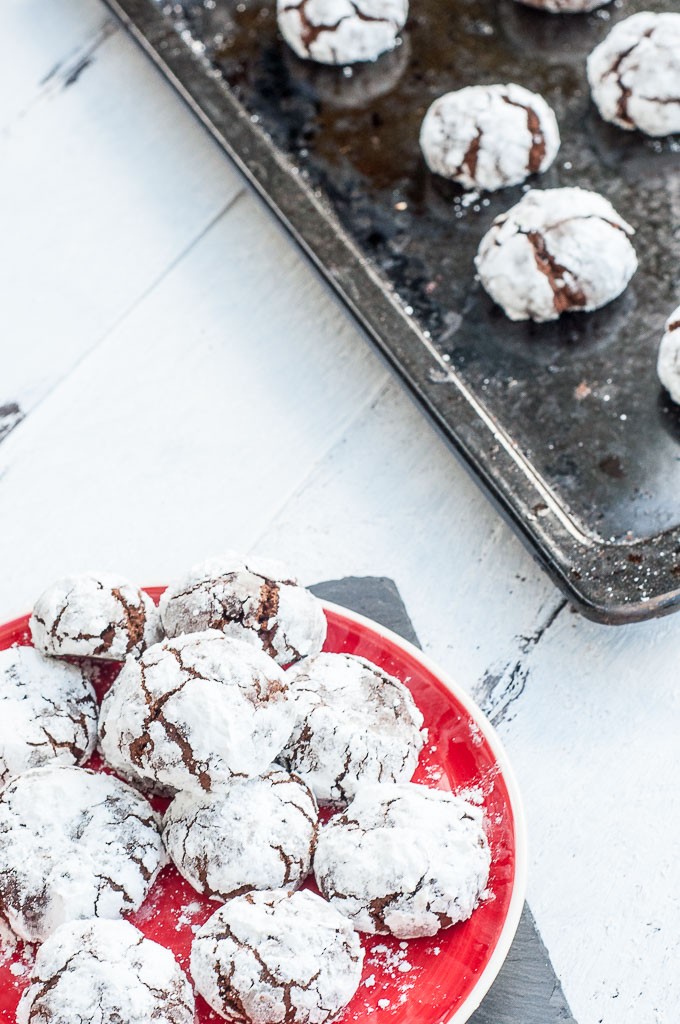 To be honest, I've had a somewhat difficult relationship with mint chocolate crinkle cookies. One of my older sisters started making these cookies around the holidays when she was in High School. I'm four years younger than her and being the good little sister I was, I hated everything she made, wore, or looked at.
My sister ended up making these crinkle cookies every year and every year I grew to hate them more and more. Now that we have gotten older, we don't see each other for Christmas every year. The strong, teenage anger/hate I had for my sister also disappeared. Lucky, huh?
I realized that I also had to make amends with those mint chocolate crinkle cookies of hers. Her recipe was definitely not vegan. So I had to adapt. The results: absolutely amazing!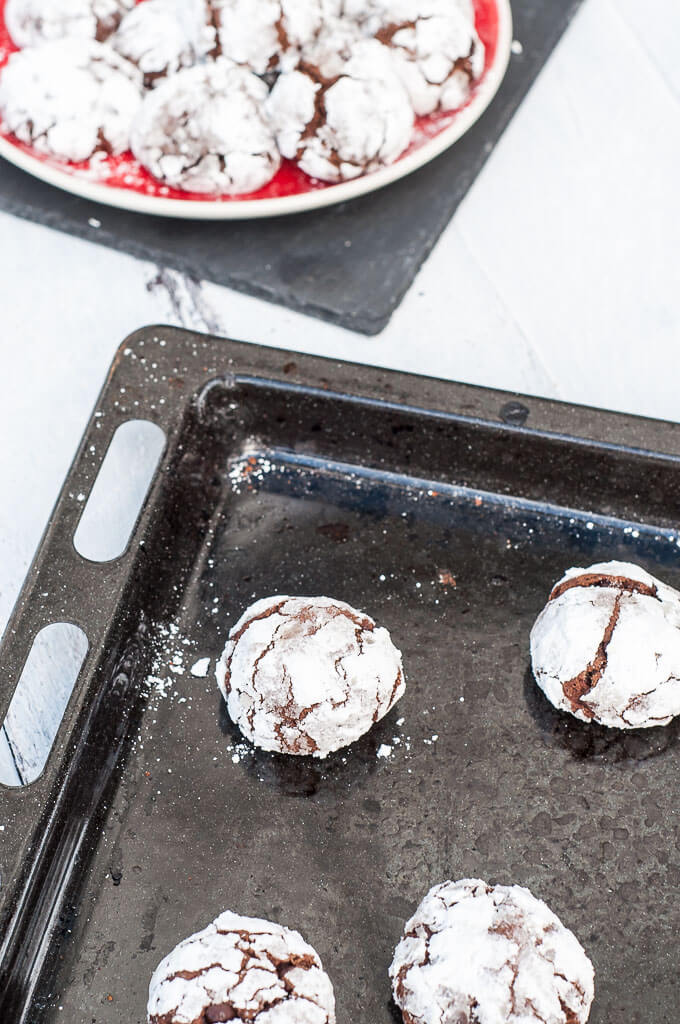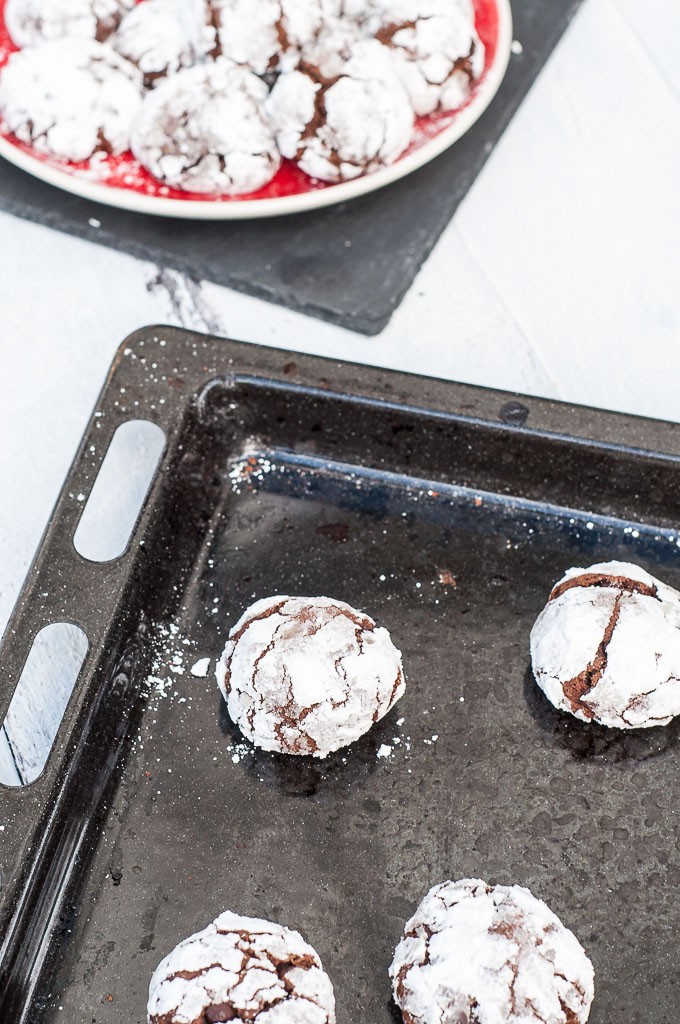 Do you know how sometimes veganized recipes taste horrendous? Well, this vegan mint chocolate crinkle cookie recipe actually tastes better than the refined sugar, refined flour, dairy, and egg cookie recipe. You're very welcome ;)
It also doesn't matter what you call them. Crinkle, crackle, snow-topped...as long as they end up in your mouth :)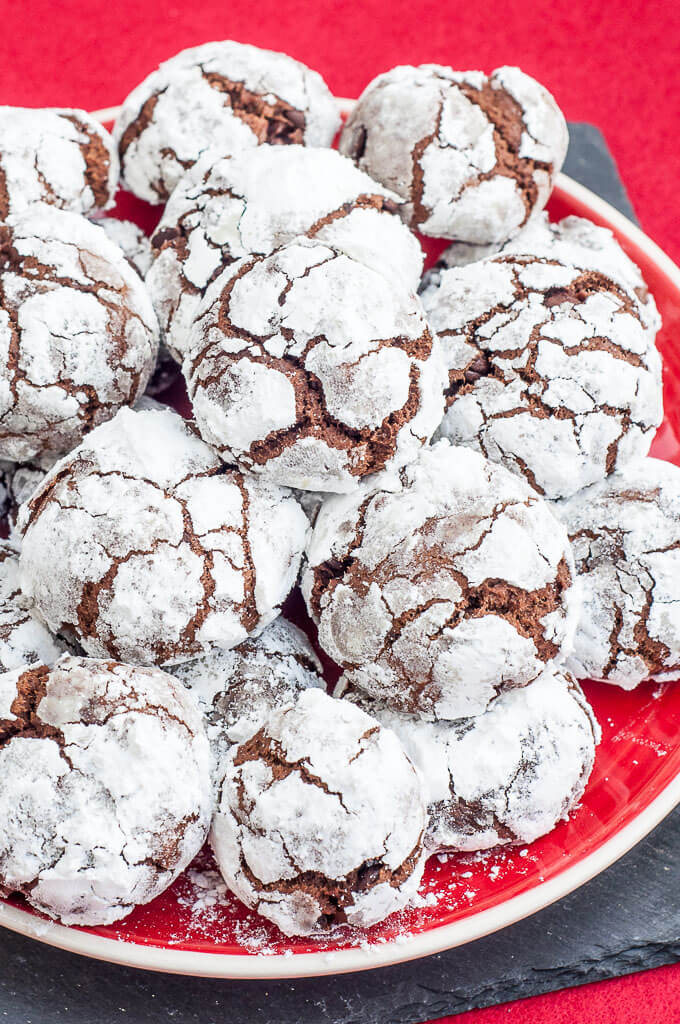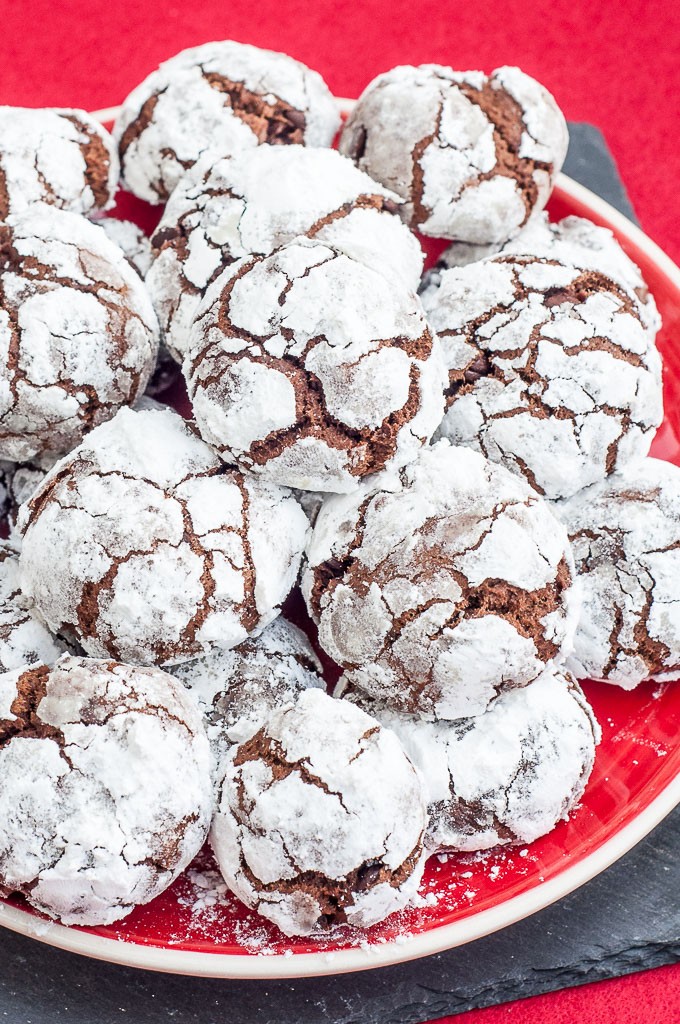 Vegan Mint Chocolate Crinkle Cookies
Deliciously soft, chocolaty cookies with a hint of mint. Sometimes called chocolate mint snow top cookies, these mint chocolate crinkle cookies are sure to be a hit during the holidays!
Ingredients
2

Bananas

pureed

1 ½

cups

300g Vegan Chocolate Chips

¾ of a cup (150g of those chocolate chips melted)

1

teaspoon

Vanilla Extract

¾

of a teaspoon Mint or Peppermint extract

6

tablespoons

Vegan Butter or Coconut Oil

melted 80 g

1 ½

cups

190g Whole Wheat Flour or All-Purpose Flour

¼

teaspoon

Salt

⅔

of a cup Whole Cane Sugar or Sucanat

120g (alternatively use 1 cup granulated sugar)

1 ½

teaspoons

baking powder

Powdered sugar

Not all powdered sugars are vegan. This is!
Instructions
Puree Banana and mix together with melted chocolate chips, vanilla extract, melted butter, and peppermint extract.

Sift together flour, sugar, salt, and baking powder. Using a wooden spoon, stir together with chocolate banana mixture. Mix in remaining (not melted!) chocolate chips, wrap in plastic wrap and chill in fridge for at least an hour.

Preheat oven to 350 F (175 C).

Roll dough into tablespoon sized balls, roll in powdered sugar, and place on a cookie sheet.

Bake for 10 to 12 minutes.Cookies should be slightly underbaked.

Remove cookies from the oven and allow them to cool for 5 minutes on the cookie sheet before transferring them to a cooling rack.
Recipe Notes
1.) The longer you let the dough chill the better. Don't attempt to make these cookies without chilling. You won't get that crinkle cookie effect. I like letting the dough chill overnight but an hour will work too if you refrigerator is cold.
Once you've eaten all the vegan crinkle cookies, make some other treats fitting for the holidays :) Here are a few of my favorites!