Vegan Easter Cookies for the whole family!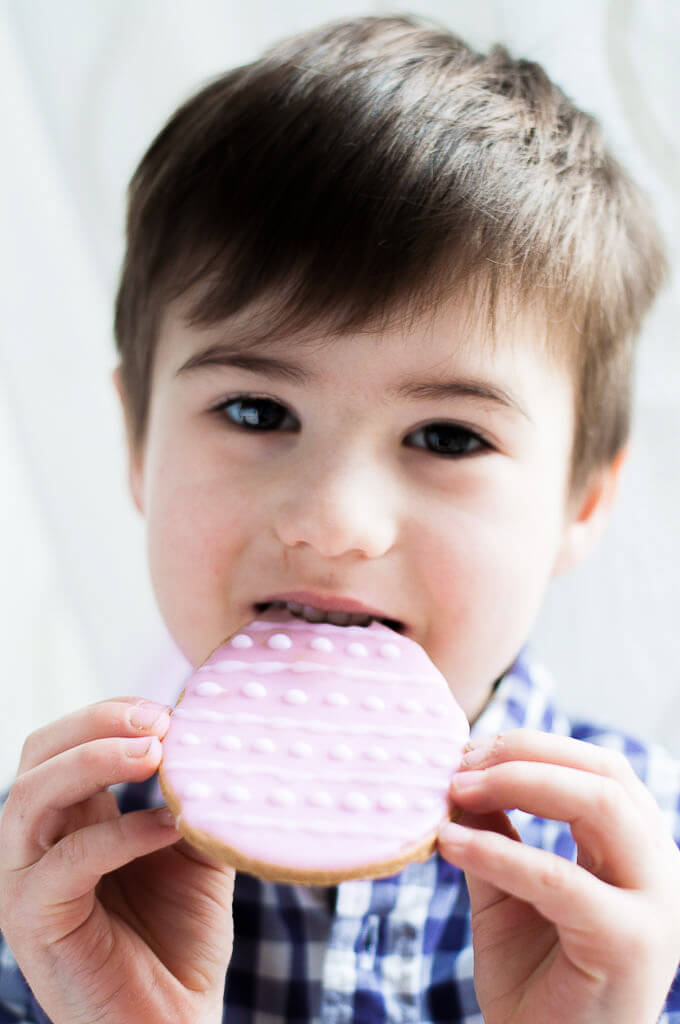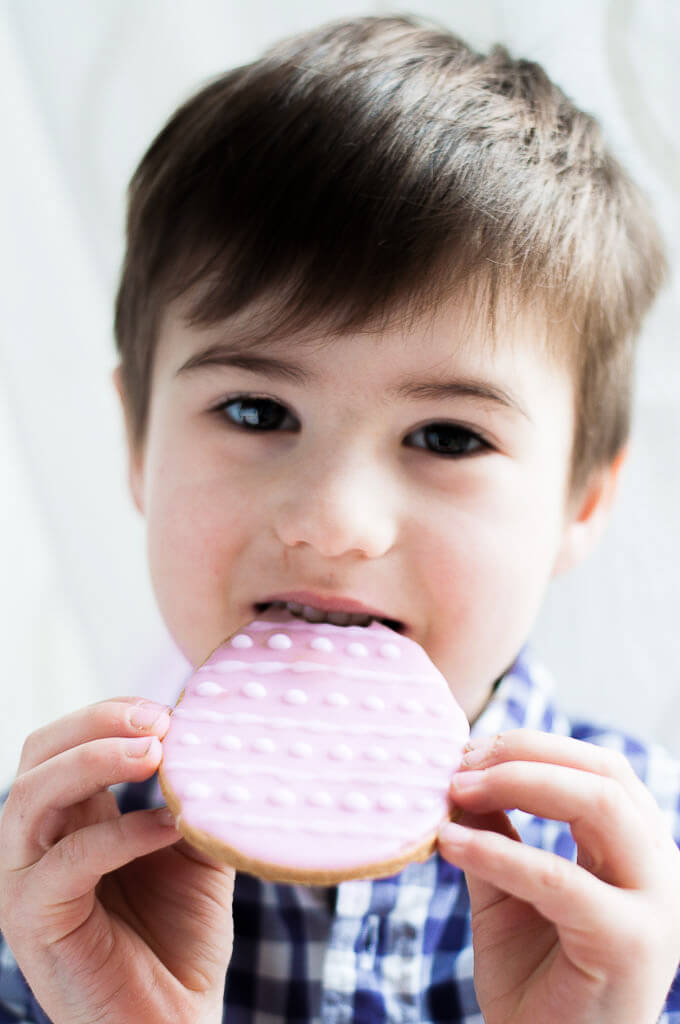 If there is one thing I learned from making these Vegan Easter Cookies, it's that thankfully I am no surgeon. While there are some people who have a knack for tiny details and keeping their hands steady. I am definitely not one of them.
Reasons being:
1. I have no patience
2. I'm always hungry so I'd rather just finish these Easter cookies and eat them.
3. Having a toddler constantly 6 "accidentally" bump into your elbows doesn't make frosting cookies any easier.
Now, I'm just getting ahead of myself. Before you can even frost these vegan Easter cookies, you need to...wait for it...MAKE THE COOKIES FIRST!
Frosted cookies really don't need a fancy cookie dough. I opted for making simple vegan butter cookies made with a whole wheat flour. The whole wheat flour doesn't miraculously turn these cookies healthy. However, whole grains do keep you feeling full and satiated for longer. So hopefully (fingers crossed!) you'll only eat one of these cookies or two and not the entire batch at once. Oh who am I kidding? They're really good! If it wasn't for my kids being around, I would have probably eaten all of them.
That being said, you can use regular all-purpose flour to make these instead as well.
Just make the dough, roll it out and cut it out with an Easter Egg Cookie Cutter. I used a 5" one but you can also go for smaller Easter eggs or different cookie cutter shapes. If you're feeling extra confident, use a sharp knife to cut out Easter egg shapes out the the dough.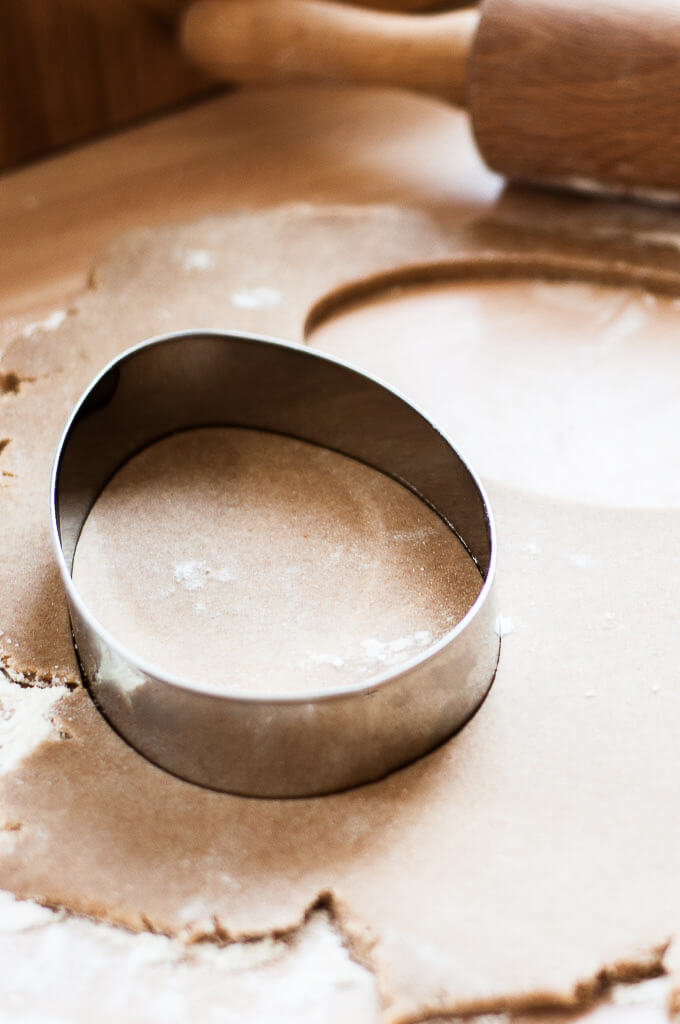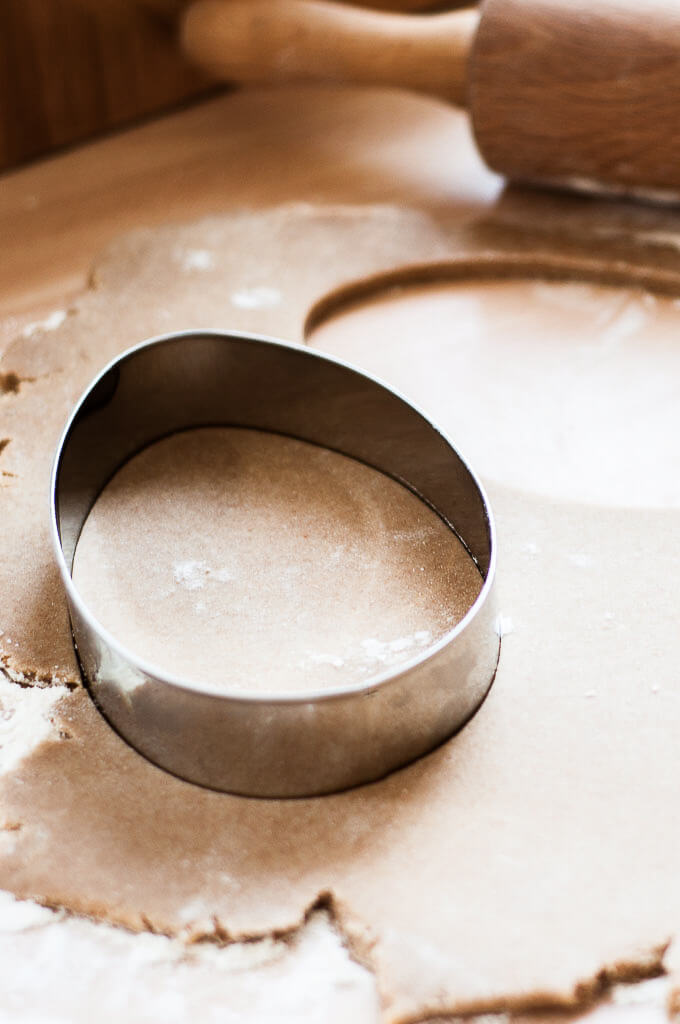 The cookie dough doesn't spread when baked. It will only puff up a little bit. So, now that you have you cookies, you need your frosting AKA the good part ;)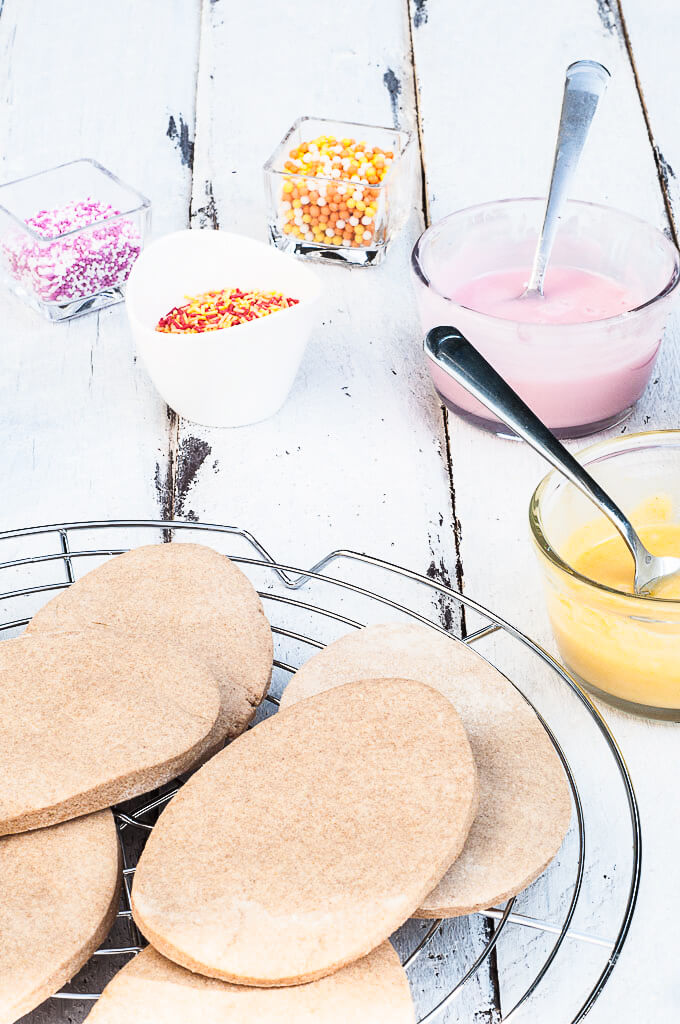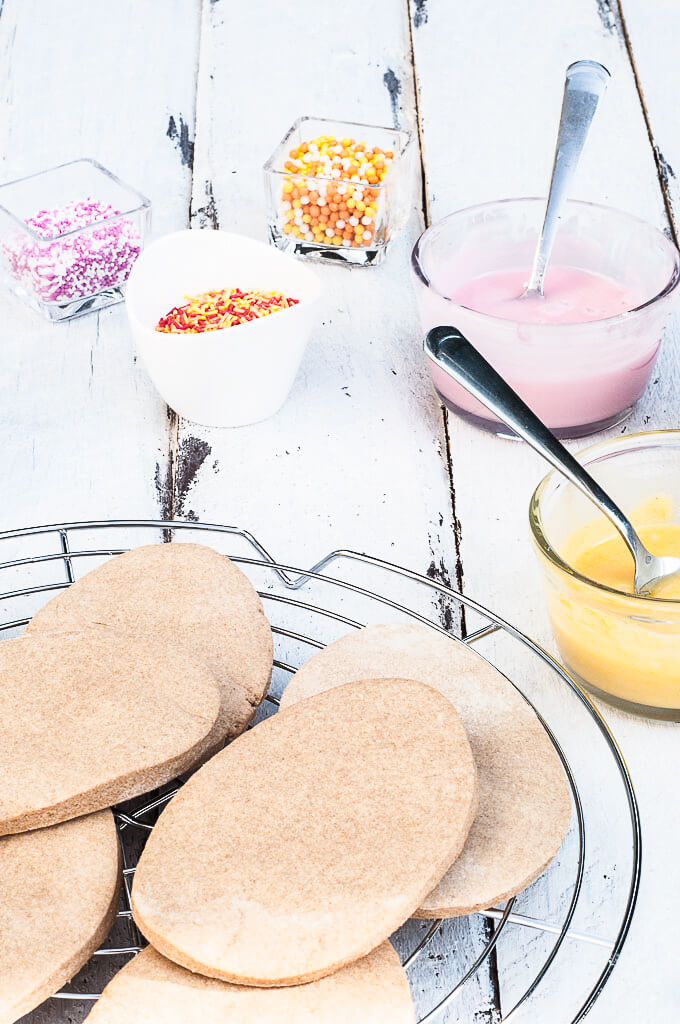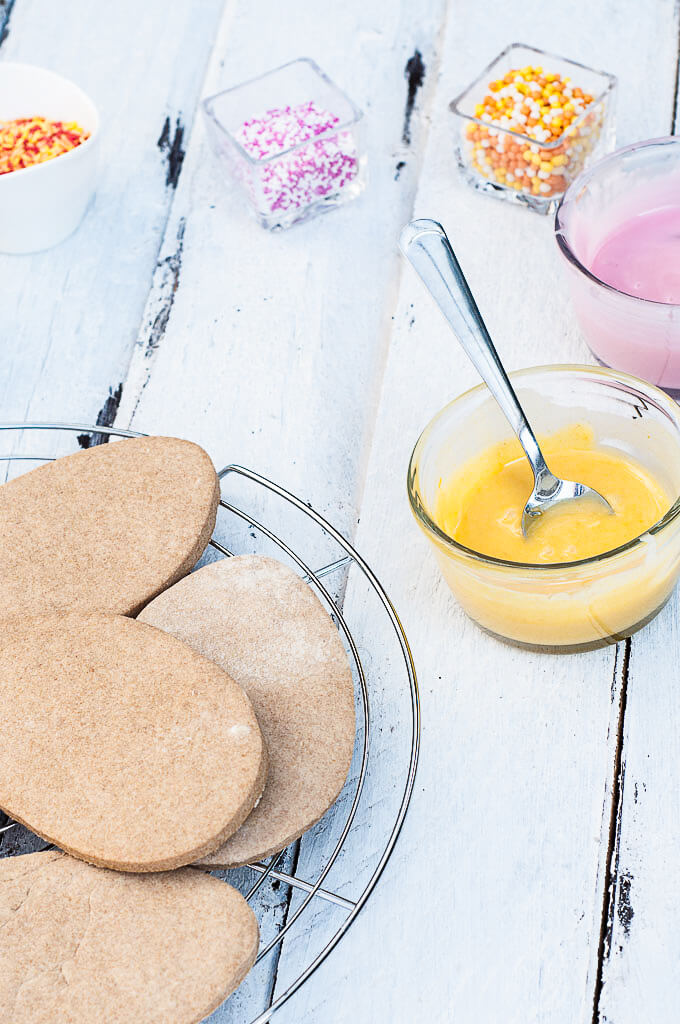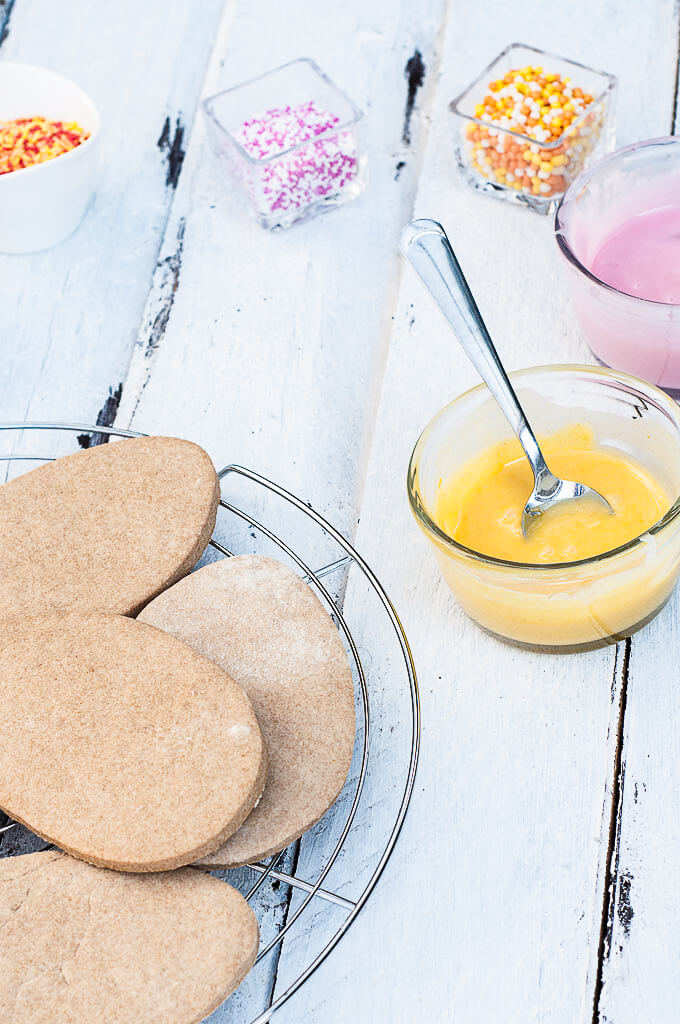 I don't own any food coloring nor do I ever plan on using it. Instead, I decided to make naturally colored icing for these cookies using ingredients I always have at home.
These are the three colored icings I made and used:
Green

= Matcha powder

Yellow

/

Orange

= ground Turmeric

Pink

= Beet Juice 
Those are just the ones that I used. You have lots of options though on how to dye your icing/frosting naturally.
Here are just a few ideas:
Pink /

Red

= Beet Powder or Juice, Raspberries, Pomegranate, 

Yellow

= Turmeric , Saffron, Mango

Orange

= Carrots, lots of Turmeric, Paprika

Green

= Matcha, Liquid Chlorophyll, Spinach Powder, Parsley Juice

Blue

/

Purple

= Blueberries, Blackberries, Red Cabbage, Purple Sweet Potatoes, Purple Carrots

Brown

= Espresso, Cocoa Powder, Cinnamon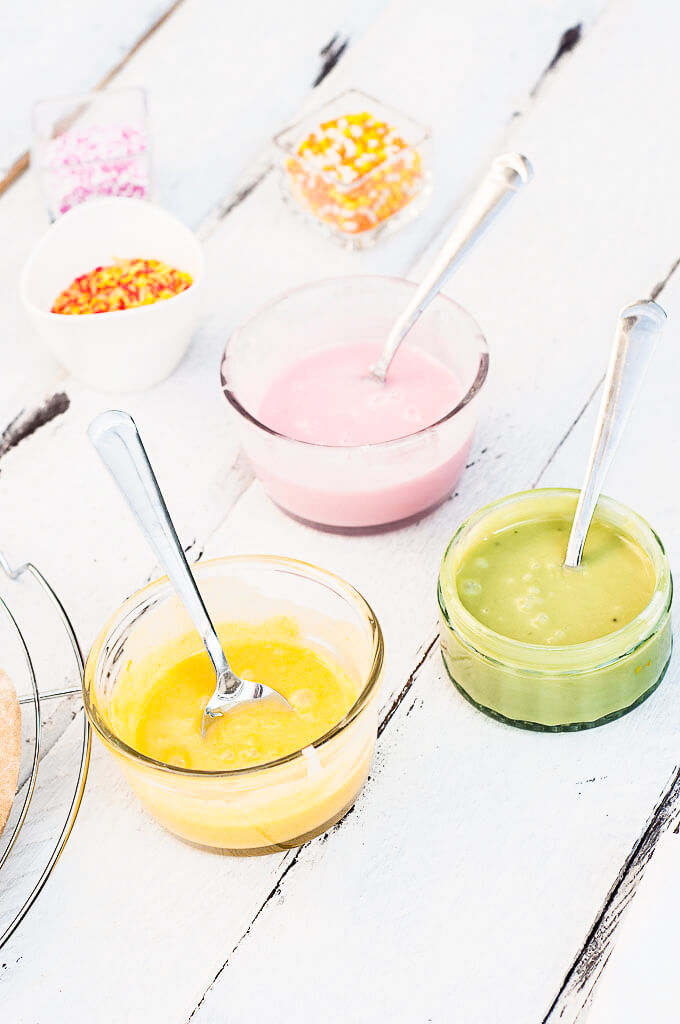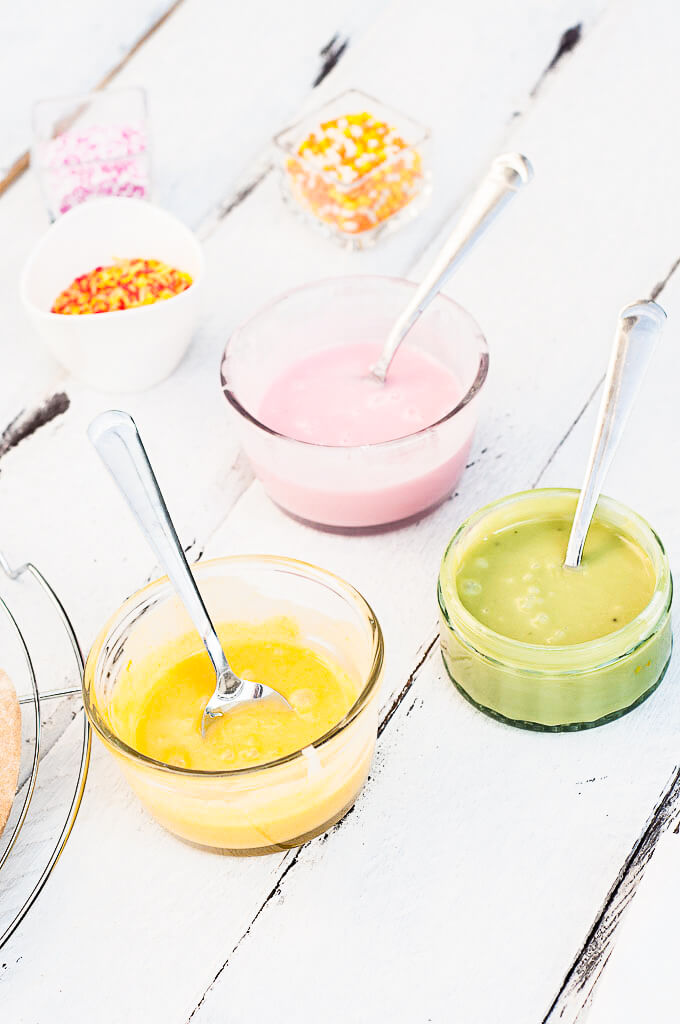 So now that you've made your frosting, it's time to put it to work! Remember to allow your cookies to cool COMPLETELY before you even attempt to frost them.
You'll also want to make sure that you have two different types of frosting; one for flooding and one for piping. Flooding icing should be the consistency of honey and it's used to flood your cookies (the base color). Piping icing should have the consistency of toothpaste and that's what you'll want to use to add small details to your cookies. To get the different consistencies you'll have to add more or less powdered sugar or more or less liquid (lemon juice, beet juice, etc.).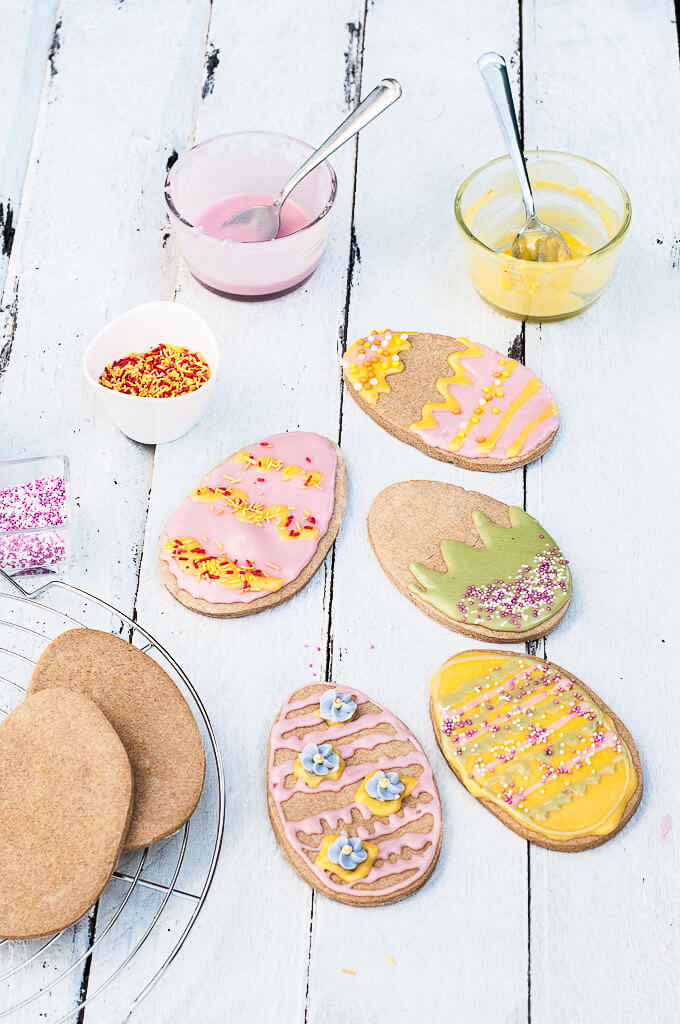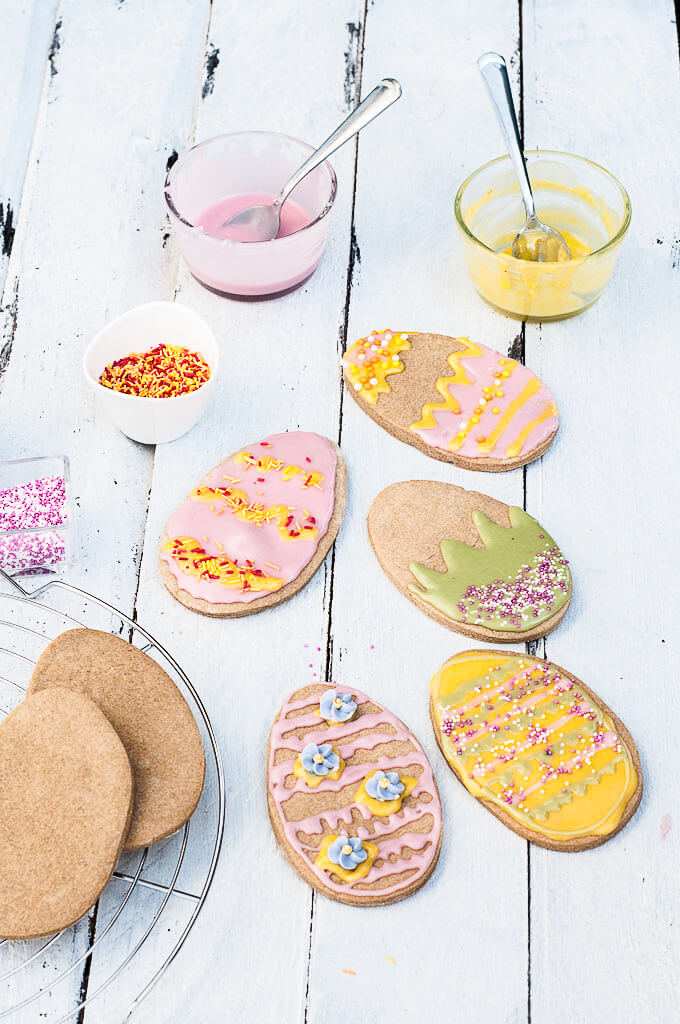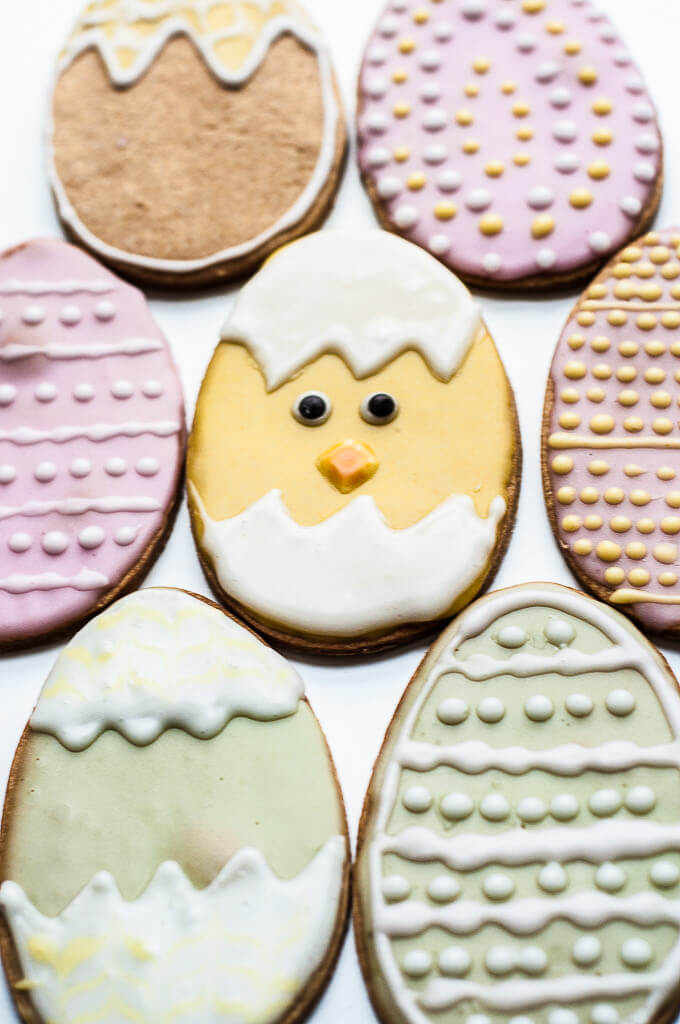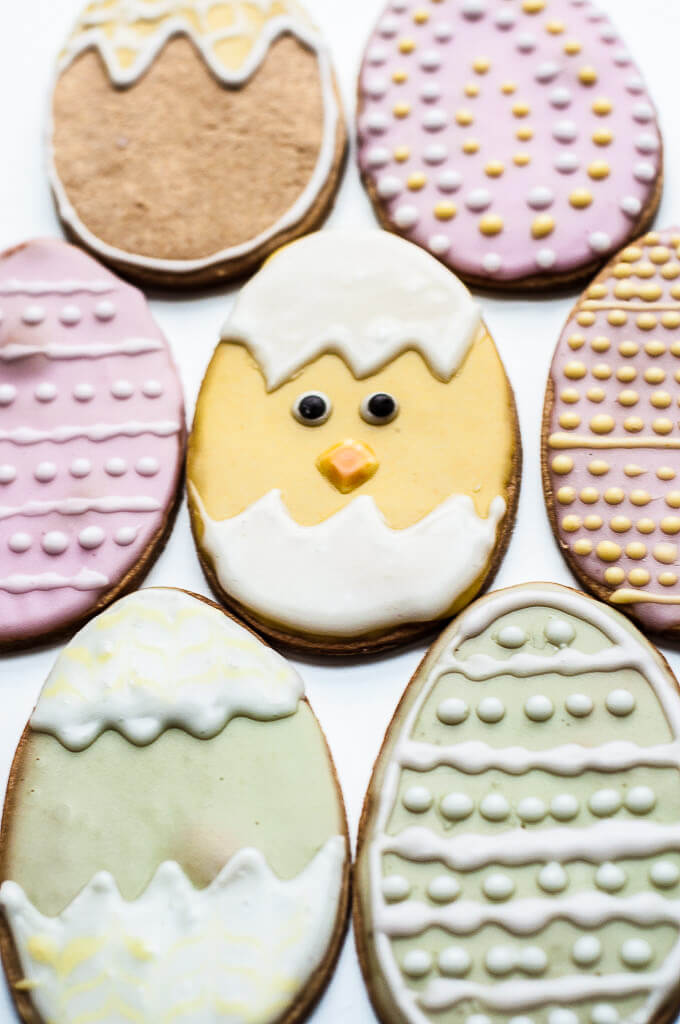 It took a lot of tears and frustration to finally figure out that I wasn't born to decorate cookies. I was only placed on this earth to eat them and I'm not ashamed to admit it.
Neither are my boys ;)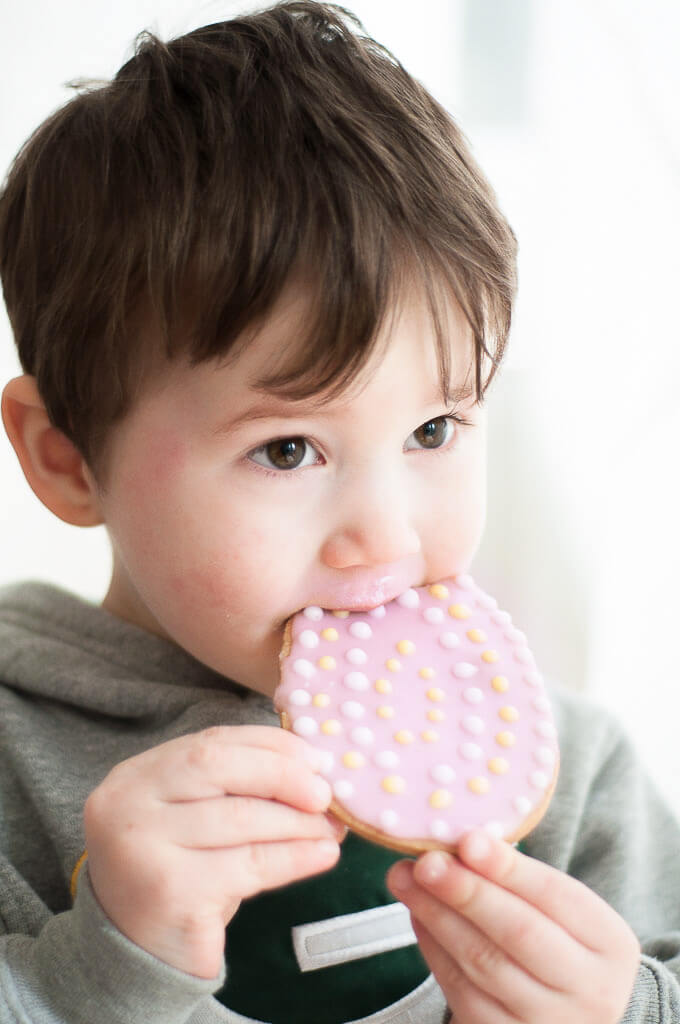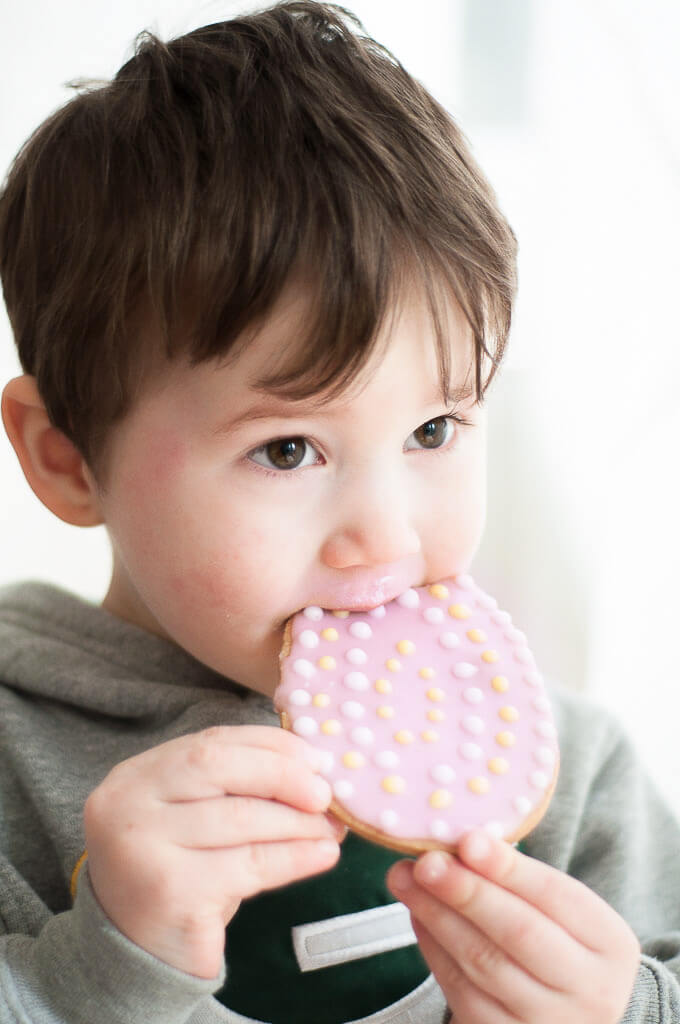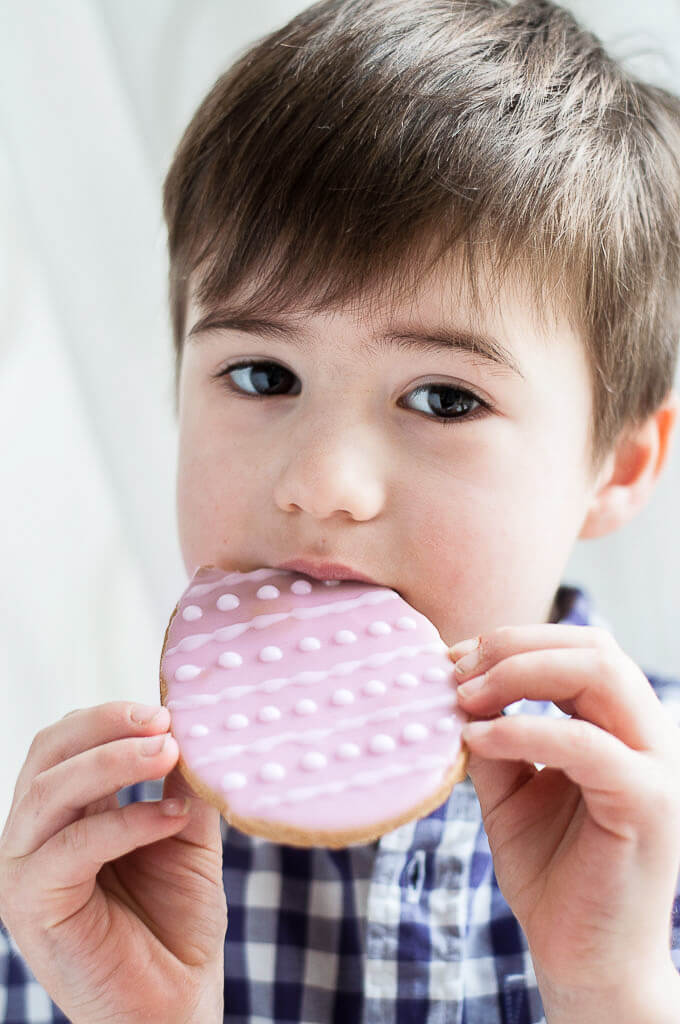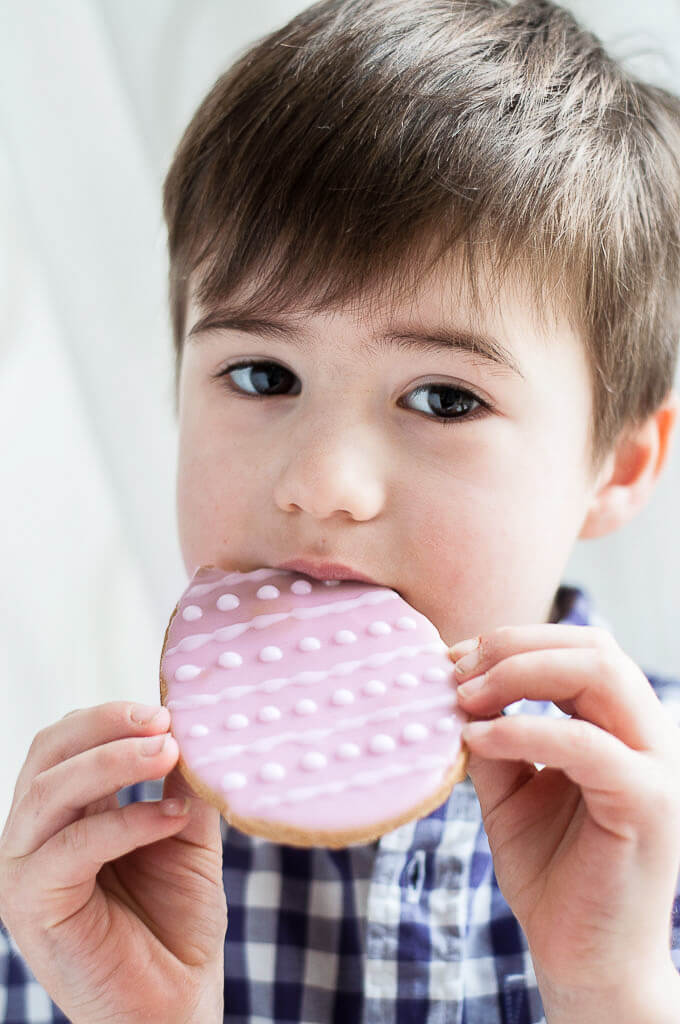 Be sure to let me see your Vegan Easter Cookie creations by using #VeganFamilyRecipes on Instagram!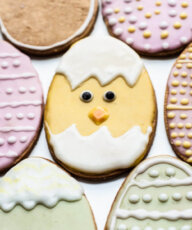 Vegan Easter Cookies w/ Naturally Colored Icing
Cute and delicious Vegan Easter Cookies that are great to make with your kids!
Makes
8
large 5" Easter Egg cookies
Ingredients
1.25

cup

Whole Wheat Flour

sifted (can be substituted with equal amount of All-Purpose Flour or Spelt Flour)

⅓

cup

Whole Cane Sugar

or equal amount of white sugar

¼

teaspoon

Salt

4

ounces

cold Vegan Butter

2

tablespoons

of cold Water
Toppings
Sprinkles, ground or chopped nuts, etc.
Instructions
Sift together flour, sugar and salt.

Cut butter into small chunks and add to flour along with the water. Use a dough hook or knead with your hands until the cookie dough comes together. Wrap dough in plastic wrap and chill in the refrigerator for at least an hour.

Preheat oven to 400 F (200C) and line a cookie sheet with parchment paper.

Roll out dough on a lightly floured surface and cut out using a

5" easter egg cookie cutter

. If you don't have a easter egg cookie cutter then feel free to use a sharp knife to cut out oval shapes. Place cut out cookies on parchment paper and bake for 10 to 12 minutes. If your cookies are smaller than the large 5" cookies I made, then the bake time will be shorter (roughly 8 minutes).

Remove cookies from oven and transfer to a cooling rack.

While cookies are cooling, prepare the icing.

Sift powdered sugar and add lemon juice slowly to it until desired consistency is reached. Add a pinch of matcha powder for a green icing, a teaspoon of beet juice for a pink icing, and a pinch of turmeric for a yellow icing. (Note. the more turmeric you add to the icing the more orange it will appear). The consistency of the icing will depend on what you want to do with it. The consistency of a piping icing should be similar to toothpaste while an icing for flooding cookies should be similar to honey.

Decorate cookies with icing, allowing plenty of time to dry before stacking.
If you're looking for some more wonderful Easter recipes to try, check these out!