You get Vegan Chocolate Chip Oatmeal Cookies! You get Vegan Chocolate Chip Oatmeal Cookies! EVERYONE gets Vegan Chocolate Chip Oatmeal Cookies!!!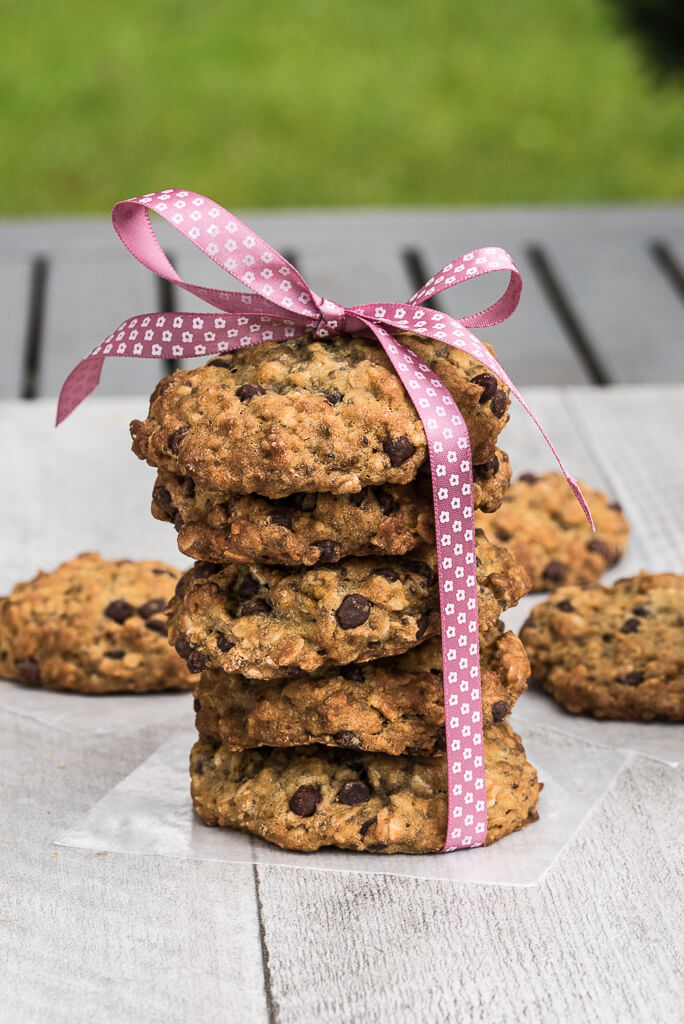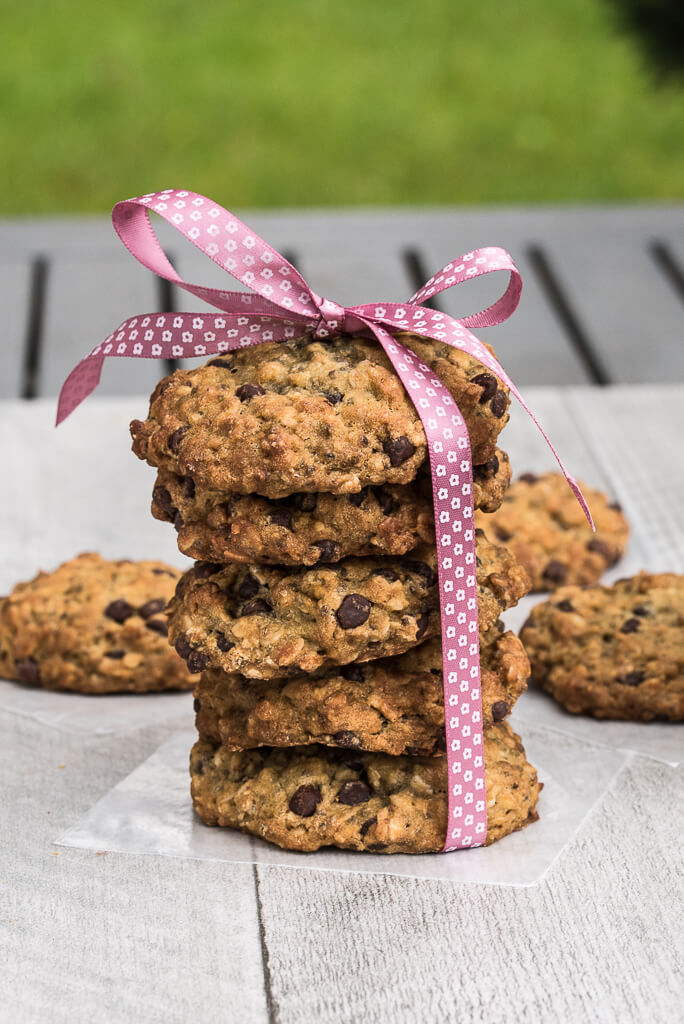 I've been stressed (more on why later). What do I do when I'm stressed? I crave chocolate like so many women. It seems so stereotypical but I can't help it, if it's true. Well to be exact, I've been craving a lot of chocolate & hummus....A LOT of hummus.
If you put the hummus aside, you'll find me snacking on these Vegan Chocolate Chip Oatmeal Cookies. They're seriously amazing, addicting and I basically eat them as a meal.
They might not be the healthiest vegan chocolate chip oatmeal cookies but I like to pretend by adding things like chia seeds, coconut oil, and whole grain flour to the recipe.
They're not overly sweet but crisp outside and soft inside. So basically the perfect cookie!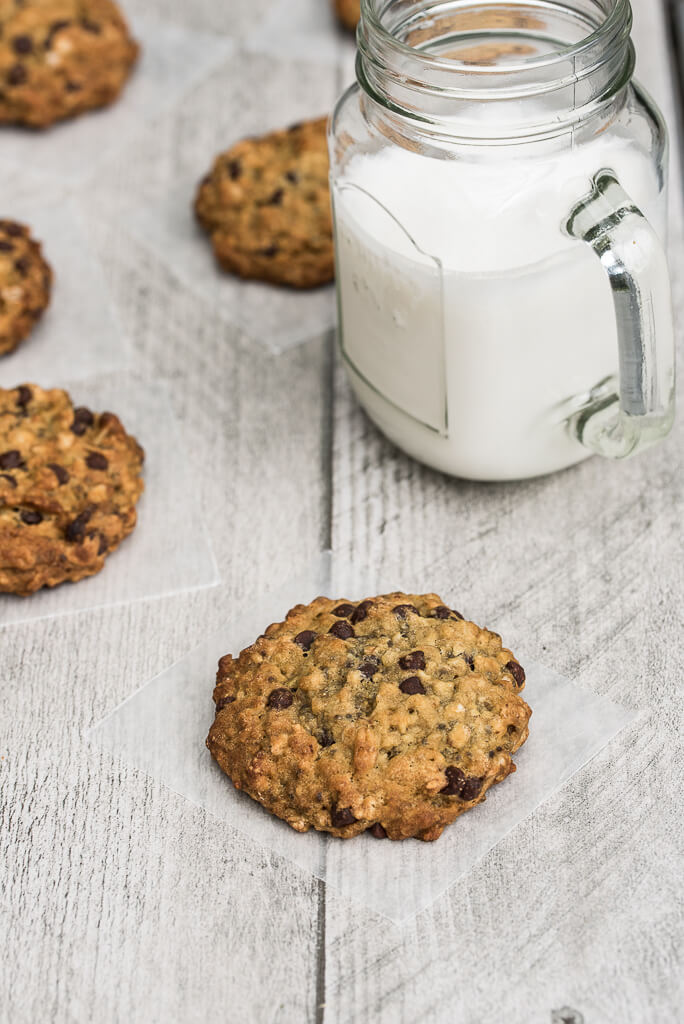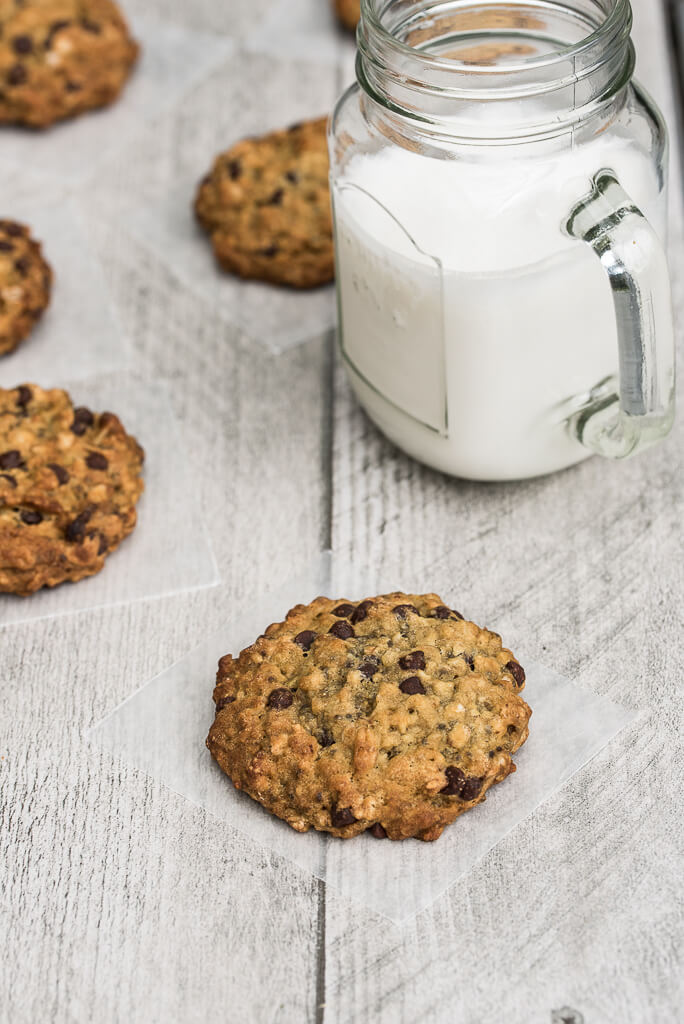 Thankfully, I have kids who help me eat these. The recipe makes 30 and even though I probably could have eaten them all at once. I didn't because I was afraid to submit my boys to the horrific scene of watching their mother consume a mountain of cookies. Plus I'm sure I would have been rolled into a ball on my floor if I had eaten more than 8 of them.
So why all this Vegan Chocolate Chip Oatmeal Cookie stress-eating?
Well, I've been working hard on a cookbook that is set to come out in November. Super exciting but LOTS of work at the same time.
I had family visit over the holidays and since I don't see them very often, my brain needs A LOOOOONNGGG time to recover from them. Am I the only one who is like that?
Oh and it just wouldn't have been the same if my kids weren't sick what felt like ALL THE TIME! Who knew that scarlet fever was still a thing? Yeah, that illness you learned about in school that all the 19th century kids died from still exists. It's actually not a big deal anymore since penicillin gets rid of it very easily. Still, I had no idea.
To top it all off, I blessed my body with the experience of having pneumonia. Misssss-erable is all I can say to that!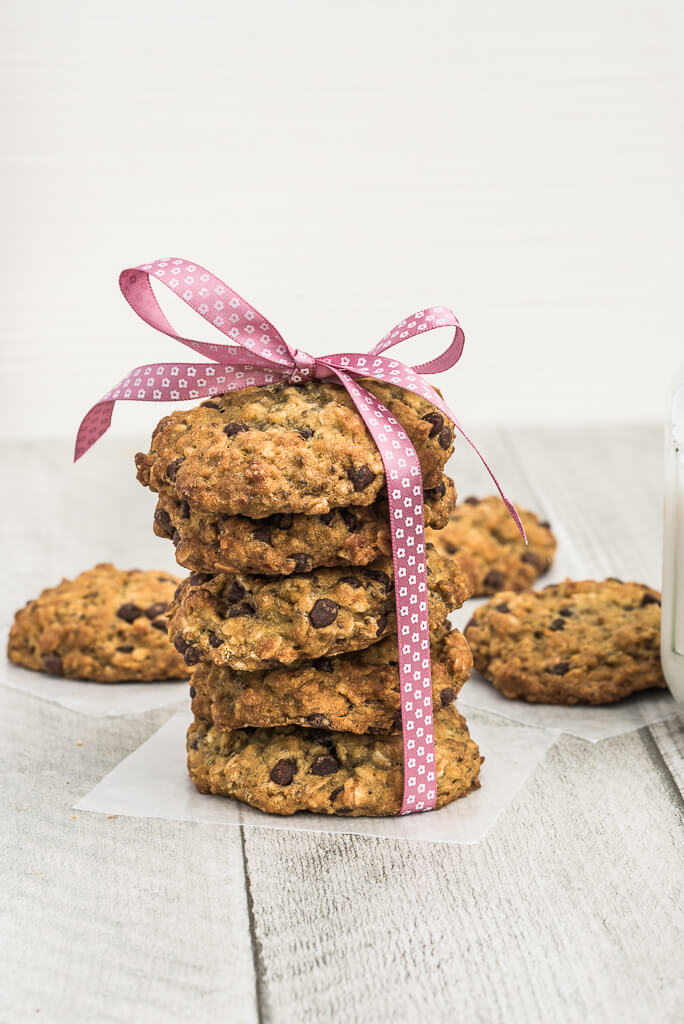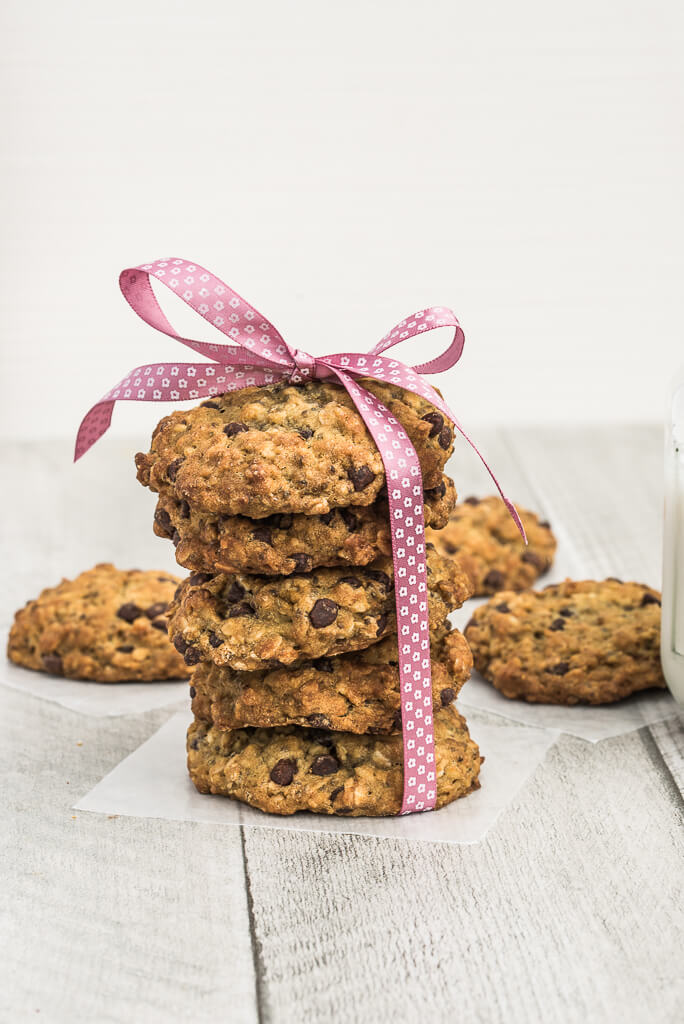 Ok, ok. Let me clear this up. Though these cookies were consumed a lot in the form of stress-eating. There was also a whole lot of "OMG! These cookies are so damn good! I can't stop eating them!" going on.
So, if you need these vegan chocolate chip oatmeal cookies to overcome stress (I swear it helps!) or just because you want to make a batch of cookies like a normal person, by all means GO FOR IT!
You'll love them.
I love them.
My kids adore them.
I'd like to say that my hubby does too but honestly I'm not quite sure he's ever had the chance to try them. It's first come, first serve. You snooze, you lose! ;)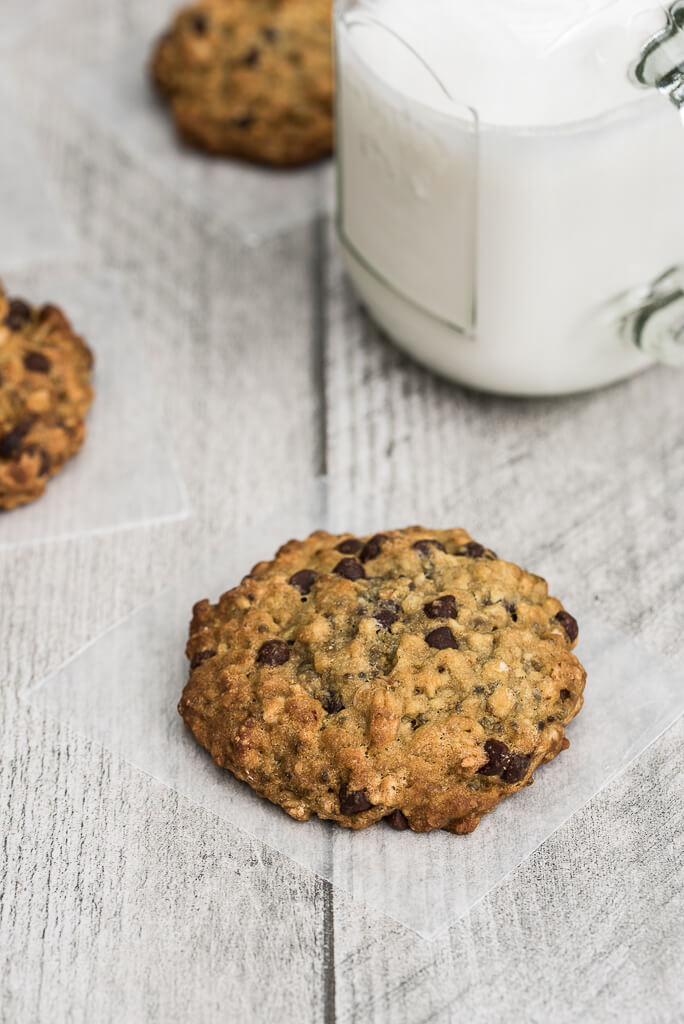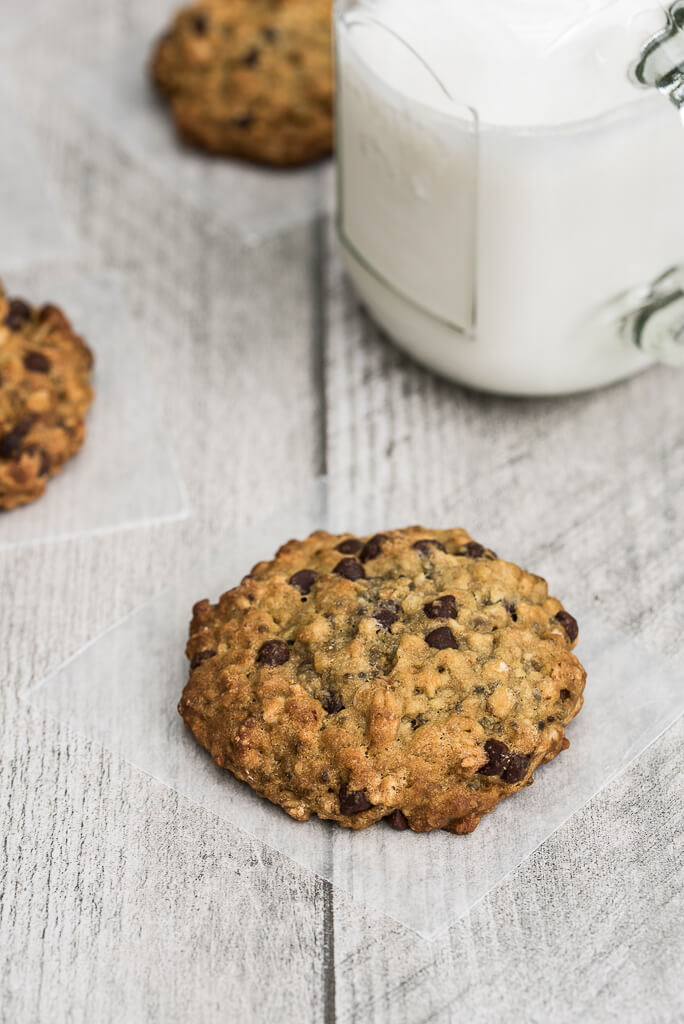 Be sure to let me know how you liked them by commenting below or letting me know on Instagram! While you are at it take a pic and use #veganfamilyrecipes so I can find it ;)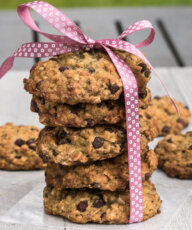 Vegan Chocolate Chip Oatmeal Cookies
Vegan Chocolate Chip Oatmeal Cookies are always a family favorite! These ones are crisp on the outside, soft inside and not overly sweet A.K.A. just perfect!
Ingredients
2

Chia or Flax Eggs

See Notes on how to make

1

cup

Coconut Oil

not melted

¾

cup

Whole Cane Sugar

you can use granulated sugar as well

½

teaspoon

Salt

2

cups

Spelt Flour All-purpose Flour, Whole Wheat Flour or Gluten-Free Flour mix

1

teaspoon

Baking Soda

1

cup

Vegan Chocolate Chips

2

cups

Rolled Oats

1

cup

Unsweetened Oat Milk

or other unsweetened plant-based milk of choice
Instructions
If you don't have any chia eggs prepared, do so now (check notes for instructions).

Preheat oven to 375F (190C) and line a cookie tray with parchment paper.

Cream coconut oil, sugar and salt together. Stir the chia eggs into the coconut oil-sugar mixture. Sift the flour over the mixture and add baking soda, chocolate chips, rolled oats, and milk to the it as well. Stir well with a wooden spoon.

Drop tablespoon sized balls of the dough onto the cookie tray and bake in the oven for 8 to 12 minutes until cookies are slightly brown.

Cool the cookies on a wire rack.
Recipe Notes
1.) Prepare one chia egg by adding 1 tablespoon of chia seeds with 3 tablespoons of water. Let them sit for at least 15 minutes until a gel forms. This is your chia egg! This recipe calls for 2 chia eggs so you'll need 2 tablespoons of chia seeds and 6 tablespoons of water. Flax eggs are prepared the same way. However, make sure you are using ground flax seeds. 2.) The cookie dough may seem very wet. This is normal since the oats soak up a lot of the liquid in the baking process.
If you are still looking for a different vegan cookie recipe, try one of these two: Peanut Butter Chia Seed Cookies or Chocolate Chip Chia Cookies. (Can you tell I have a thing for chia seeds? Cookies are by far the easiest way to get your kids to eat a dose of chia seeds. So why not?)