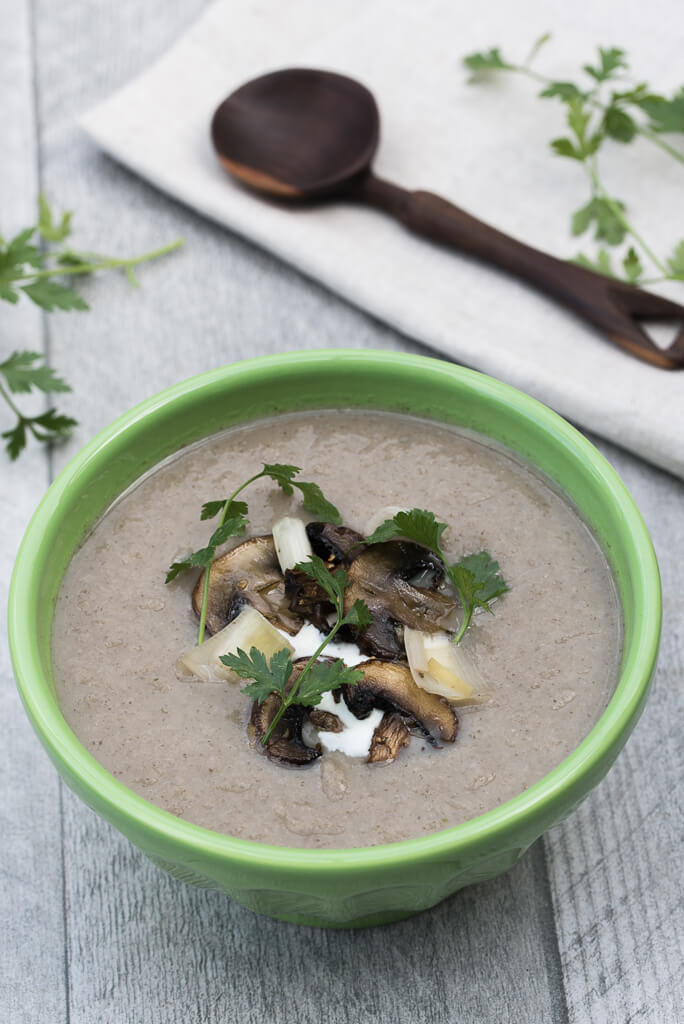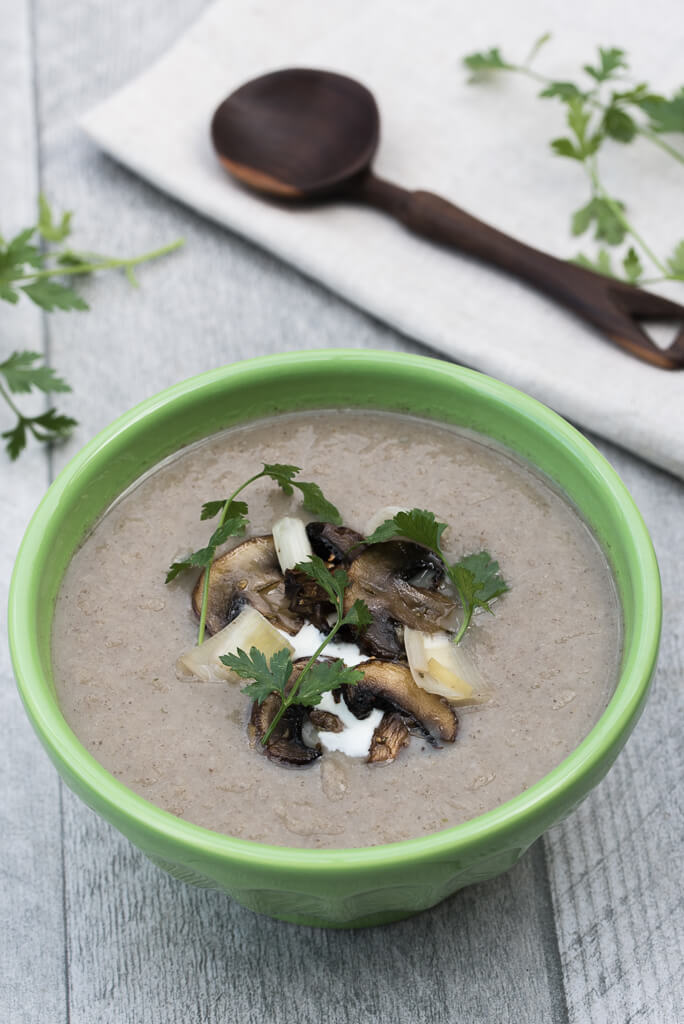 If it still cold outside? You bet it is! You would think that after making what felt like a GAZILLION soups for my cookbook, Awesome Vegan Soups, I'd be done with them forever. Yea...not so much! I still need to share with you a few recipes from my cookbook but this Vegan Mushroom Leek Soup is actually one that never made it into the cookbook.
I've made it several times over the past months. It's actually a mushroom soup that my kids enjoy. Best part? It's completely guilt-free! Not that I ever keep track of calories but I know many of my readers do.  One cup of this vegan mushroom leek soup on has 58 calories! How's that for a healthy, satisfying yet light lunch (or dinner)?
So how exactly did I turn a mushroom leek soup that's traditionally made with heavy cream and loads of butter into something healthy?
Simple.
Take all those lovely mushrooms.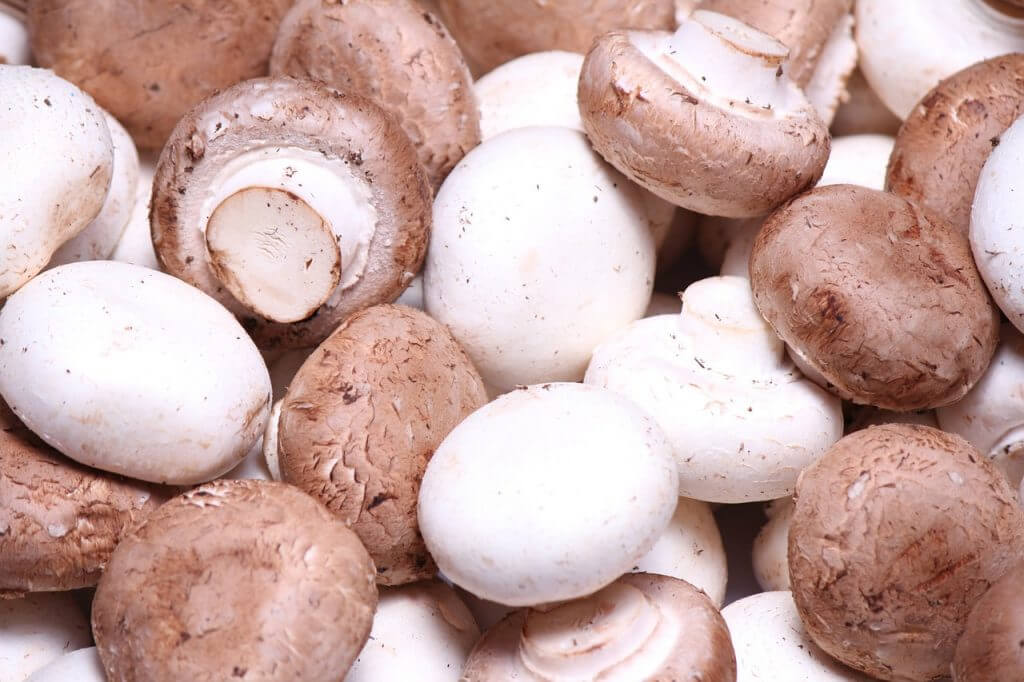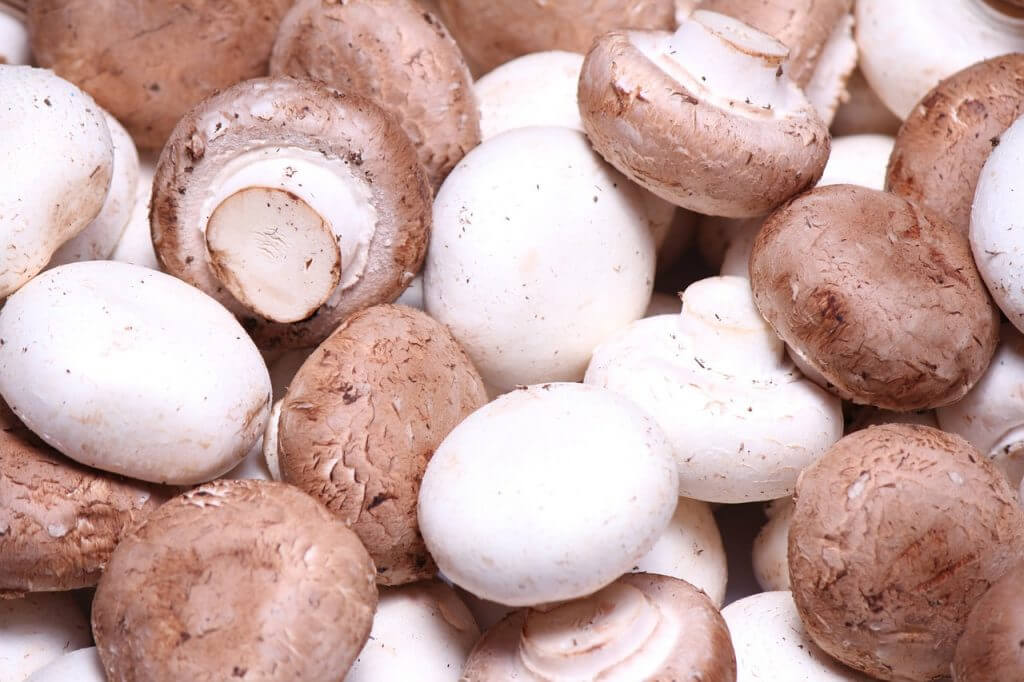 Yep! Those yummy ones!!
Slice your mushrooms and leeks and cook them with just a tad bit of olive oil. If you prefer to cook without oil, you can always just use some water instead. That takes care of your buttery problem.
Now for how to replace all that heavy cream...
This is where I love to use cauliflower instead. I've used cauliflower to make creamy soups lots of times because it really does work wonders. I used it in my vegan potato leek soup, curried red lentil and pumpkin soup, and sweet potato cauliflower soup.  It's important to just give the cauliflower enough time to cook or your soup will be grainy.
I also added some unsweetened almond milk to the vegan mushroom leek soup just for some extra creaminess.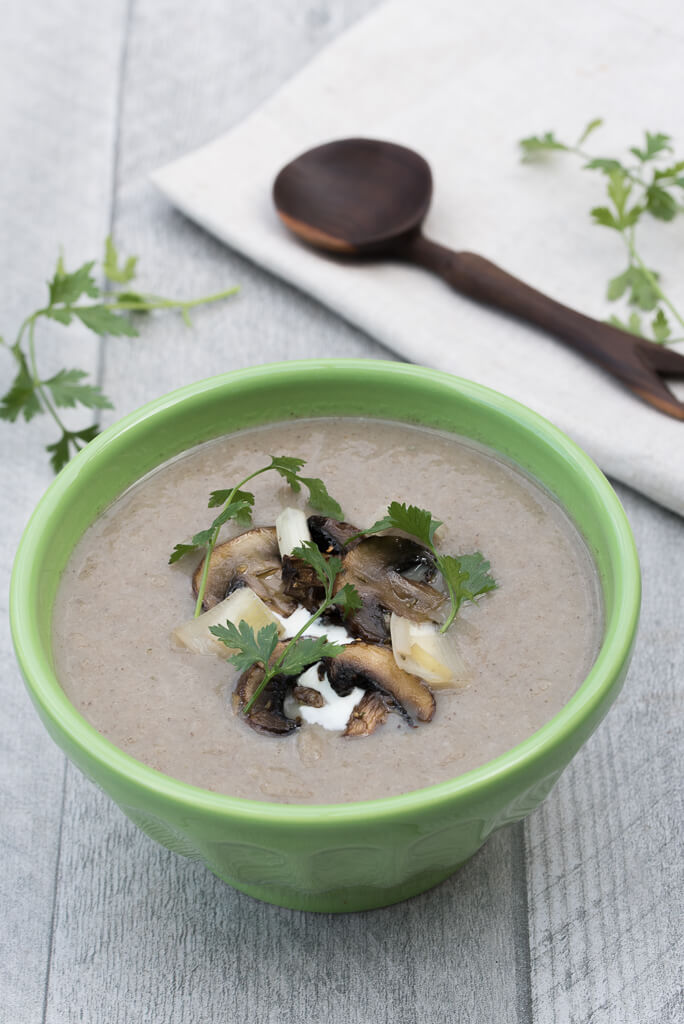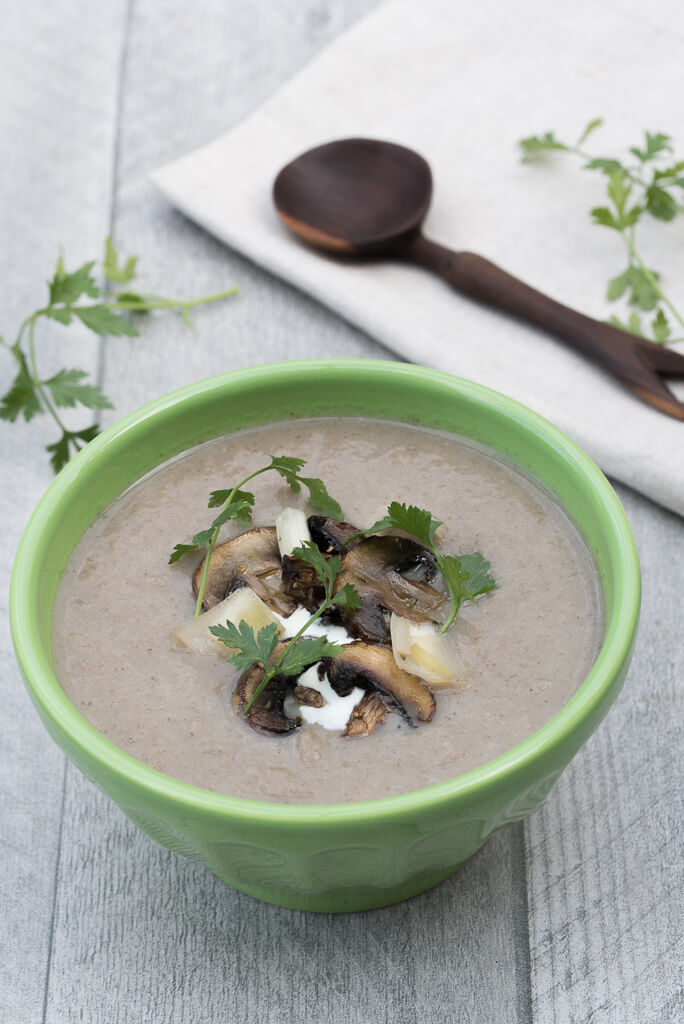 Top off your finished soup with some vegan sour cream, some of the cooked mushrooms and leeks (you hopefully reserved while you were cooking!!), and some fresh parsley. Voila! That's one easy, healthy, vegan mushroom leek soup!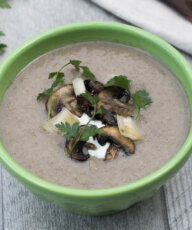 Vegan Mushroom Leek Soup
A low calorie version of a classic soup made vegan and healthy. Add some white wine to enhance the flavor of the soup with acidity and sweetness.
Ingredients
2

teaspoons

Olive Oil

0.5

teaspoon

Salt

0.5

lb

Cremini Mushrooms

sliced

0.25

cup

Dry White Wine

like a Sauvignon Blanc (optional)

2

leeks

only light green and white parts, rinsed and sliced crosswise

2

cloves

Garlic

minced

1

teaspoon

fresh Thyme or dried

10

ounces

Cauliflower florets

4

cups

Low-sodium Vegetable Broth

0.5

cup

Unsweetened Almond Milk

Salt and Pepper to taste

Fresh Parsley for garnish

optional

Vegan Sour Cream for garnish

optional
Instructions
Slice the mushrooms and leeks and cut the cauliflower into small florets and set aside.

Heat the olive oil in a large stock over medium-high heat. Add the salt and mushrooms and cook for 10 minutes, stirring occasionally. The mushrooms will release their water during this time and the pot should slowly start drying out again after the 10 minutes. Add the leeks, garlic and thyme and cook for 3 minutes (adding the white wine is completely optional but if you ARE using it, add it now as well!). If you'd like, you can take a spoonful of the sauteed mushrooms and leeks and set it aside for garnish later at this time.

Add the cauliflower and vegetable stock to the pot and bring to a boil, reduce heat, cover and simmer for 15 to 20 minutes until cauliflower is cooked.

Add the almond milk and puree the soup using an immersion blender or in batches in a blender until smooth. Season the soup with salt and pepper to taste.

Ladle the soup into bowls and serve with a dollop of vegan sour cream, the reserved sauteed mushrooms and leeks, and some fresh parsley.