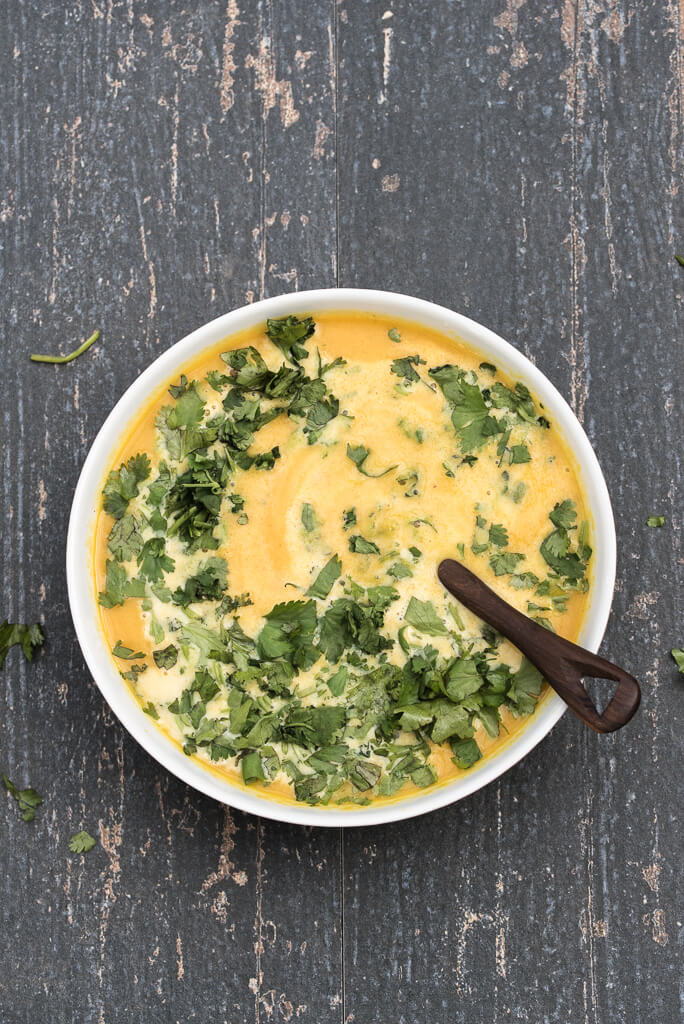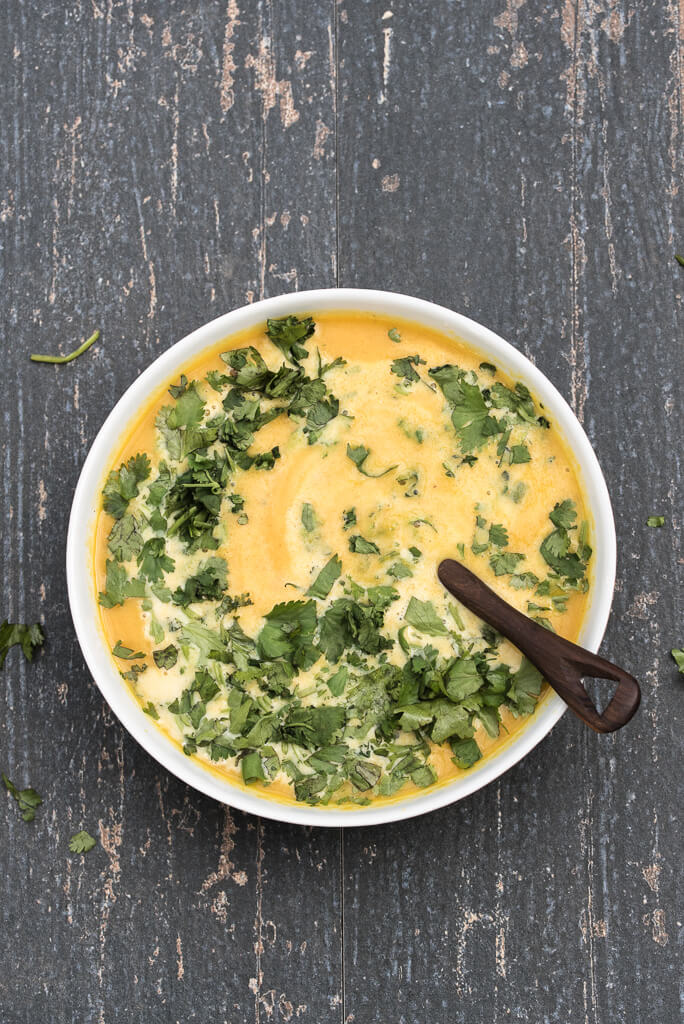 The weather has definitely cooled down and I can't think of a better way to warm myself up than with a large bowl of this Coriander Carrot Soup.
Before I continue with this post, I think it's important for me to do this:
WARNING! WARNING! The blogger behind this recipe may have gone a bit (ok...maybe WAYYY) overboard with the fresh cilantro. If this looks more like a bowl of cilantro with a little bit of coriander carrot sauce...then maybe that's what it actually is :/
Phew! Glad I got that off my chest.
I swear the recipe for this coriander carrot soup started off quite innocent.
All I really wanted to do was capture the fragrance, warmth and depth from the coriander and carrots. I also added just a smidgen of cinnamon to bring out another level of flavor. Plus cinnamon is cinnamon and it wasn't just put on this earth for you to add to your oatmeal. :D
I achieved what I wanted in this fragrant, creamy Coriander Carrot Soup with just a bit of fresh cilantro.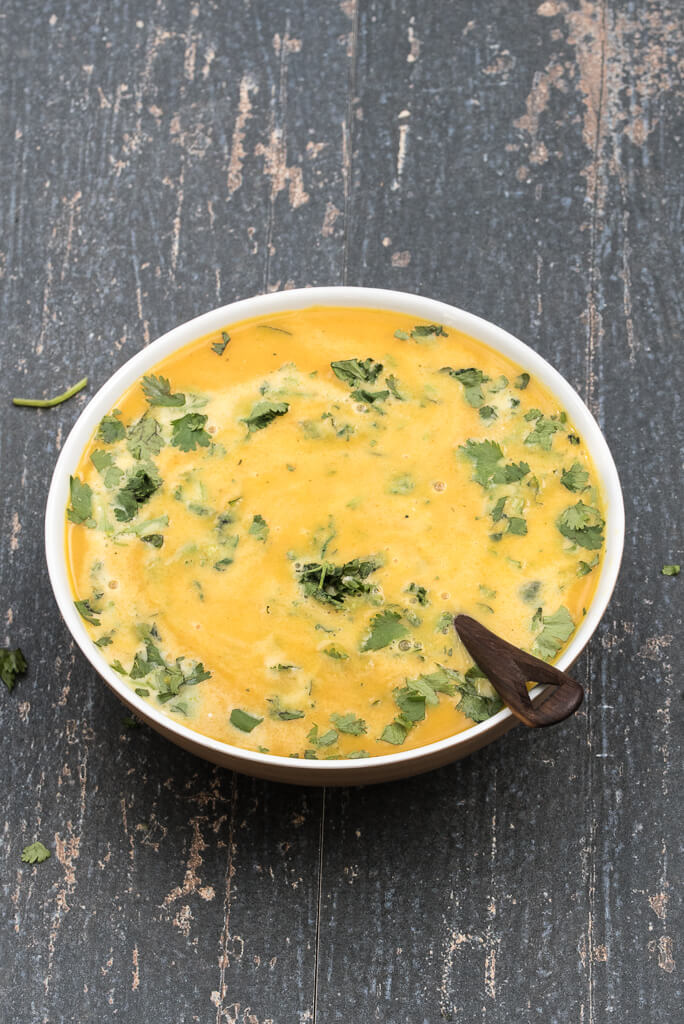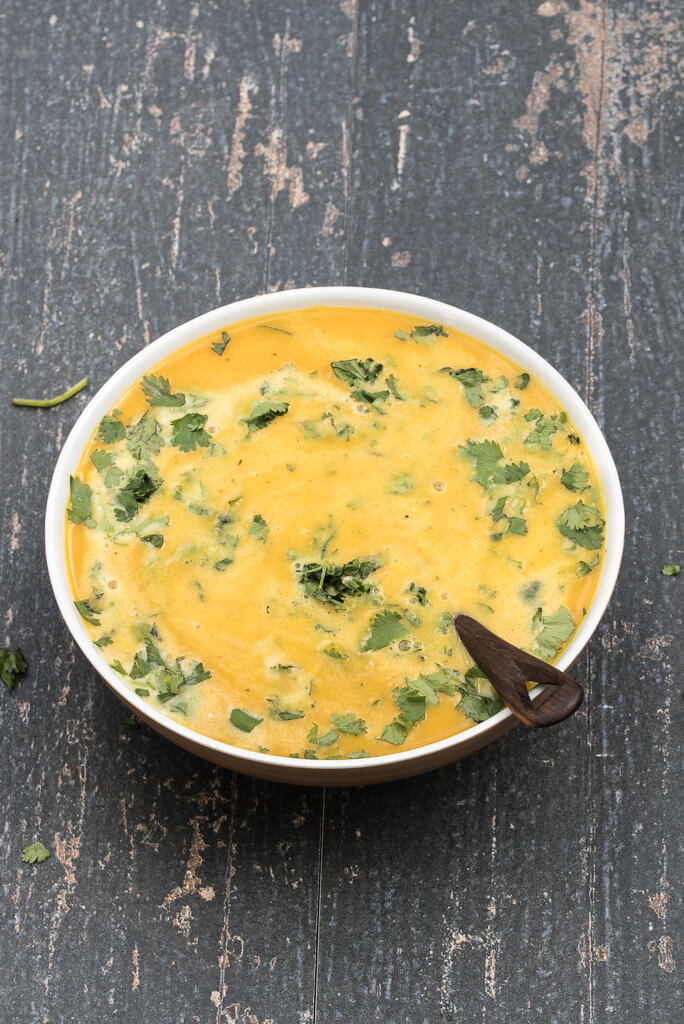 However...then THIS happened!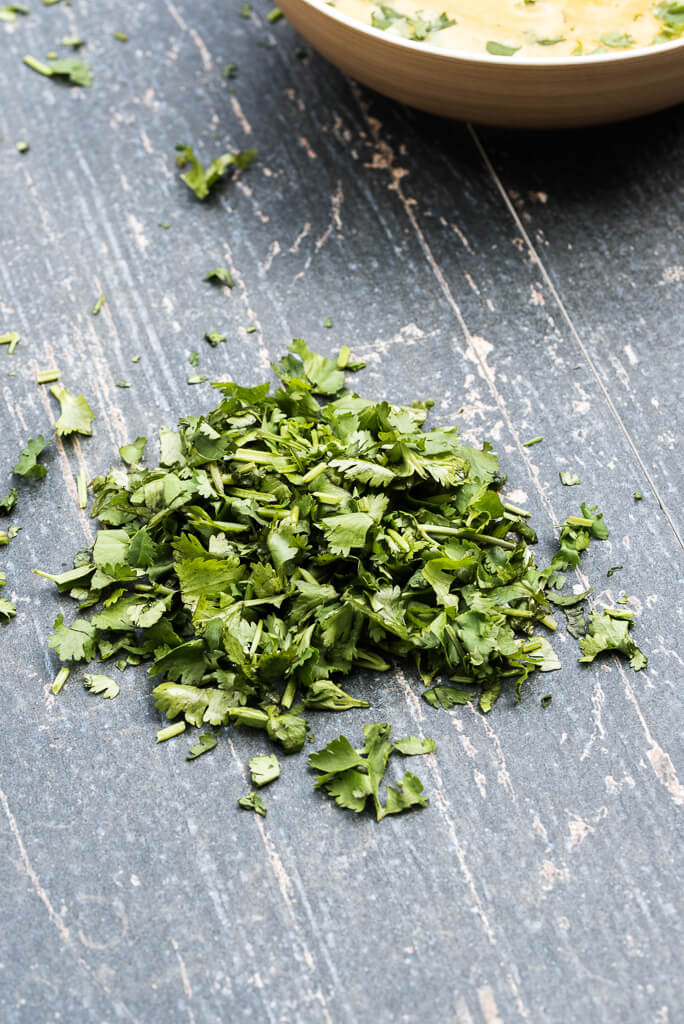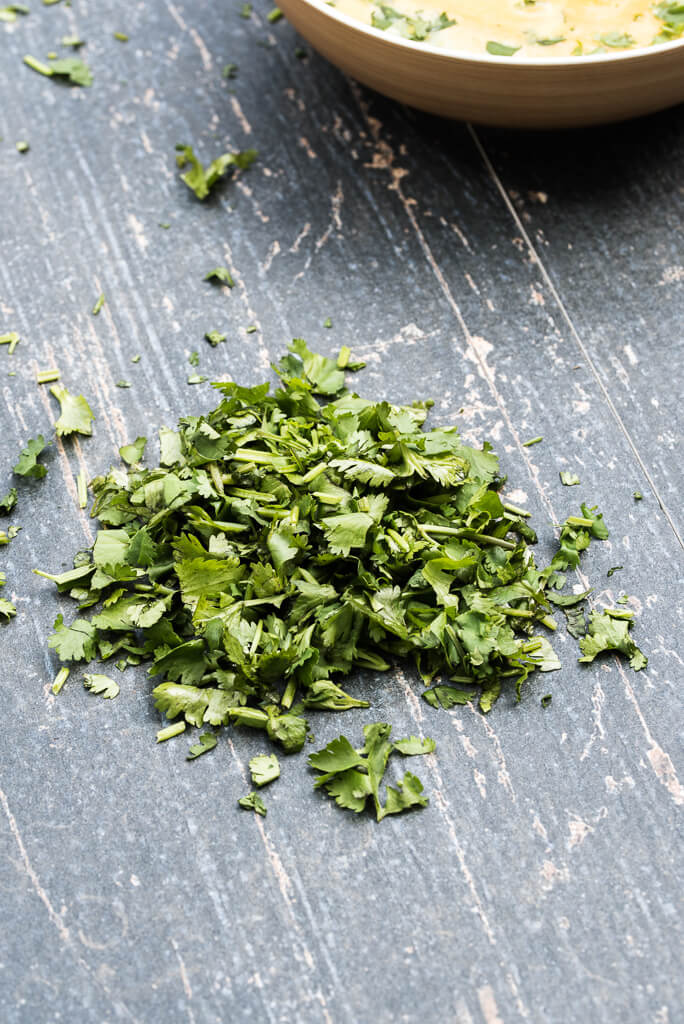 THAT cilantro pile HAD to go somewhere...You can't just leave pile of fresh, delicious cilantro laying around. That's NOT allowed!
So THAT...led to THIS!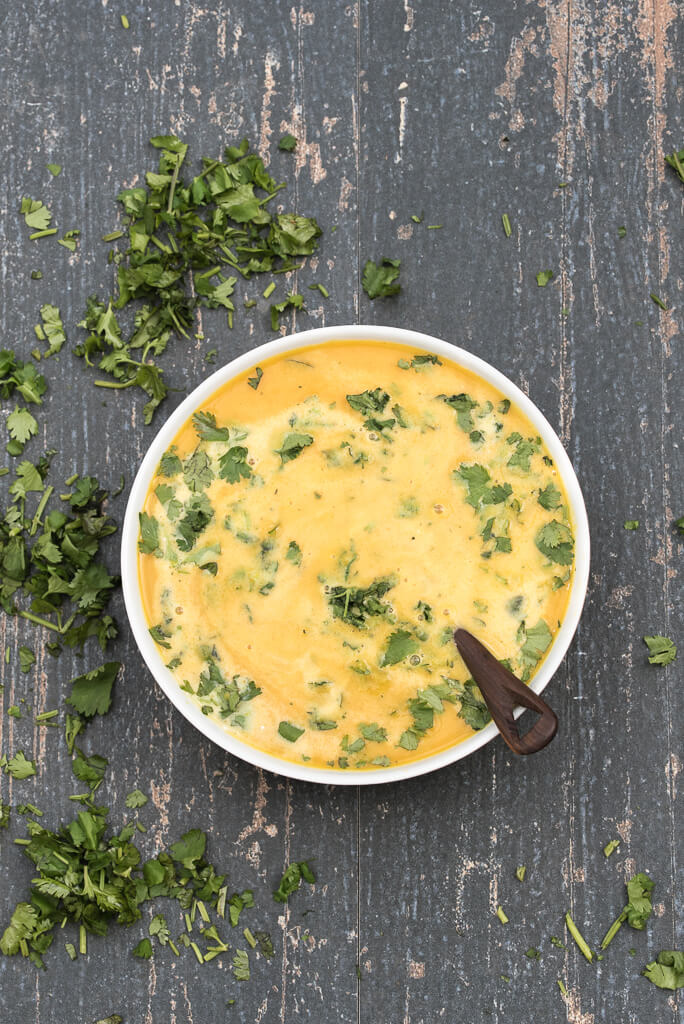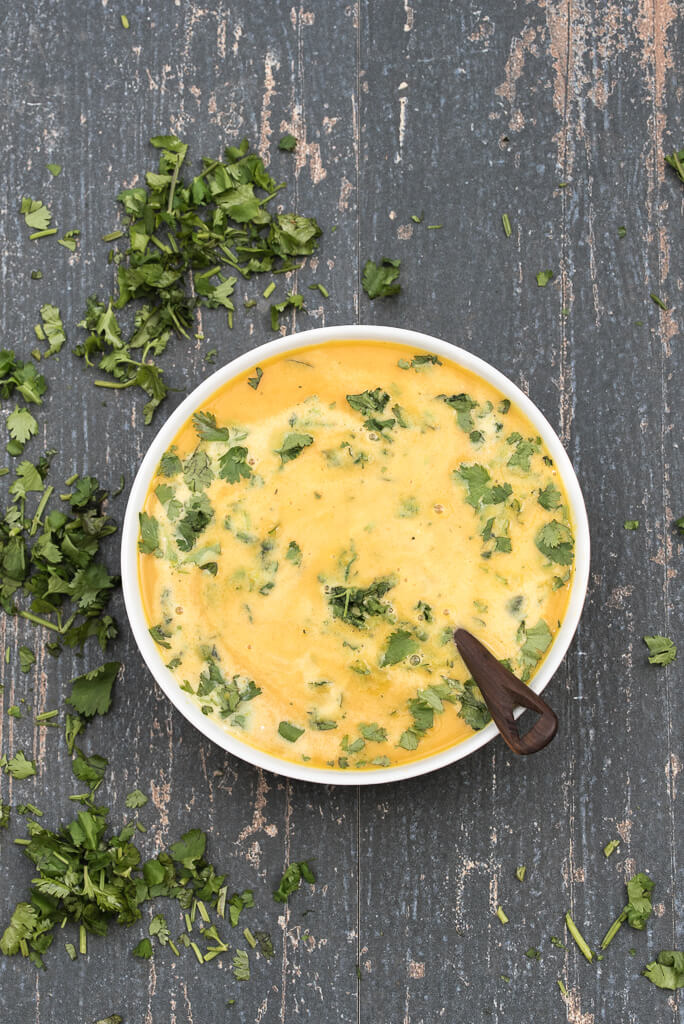 Sure, I could have just left it at that and kept the remaining cilantro to the side for the rest of my family to enjoy in this soup...but...NO!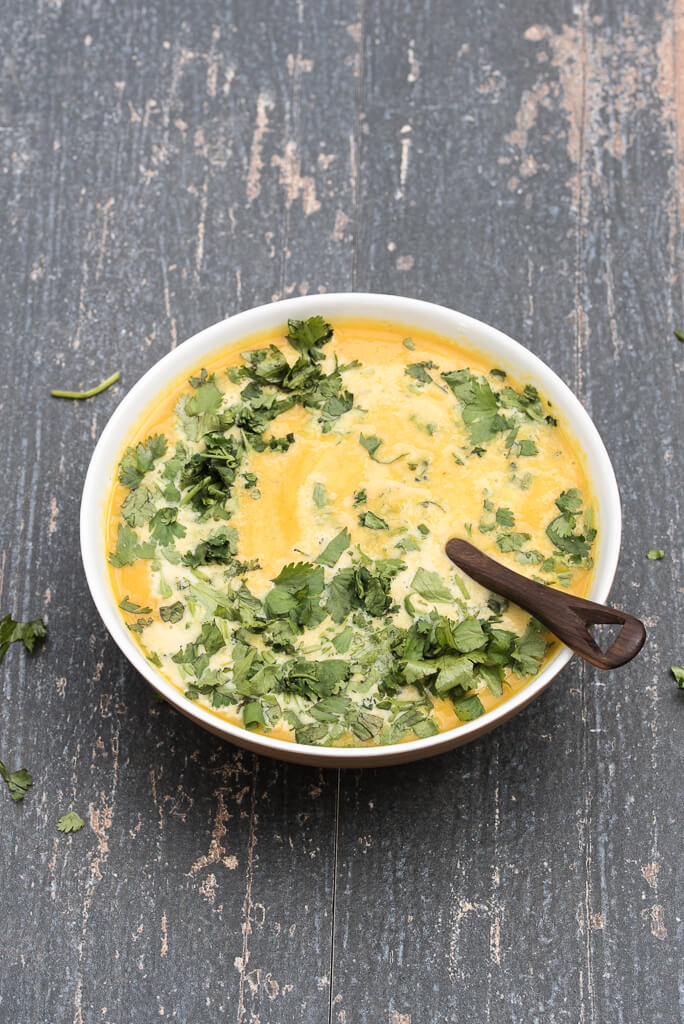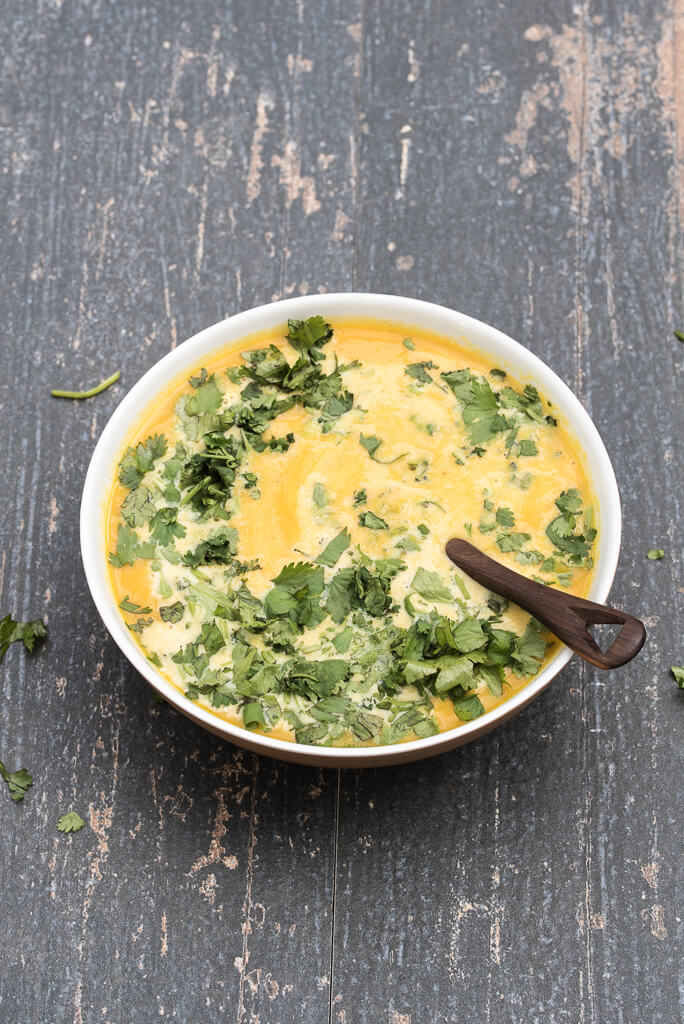 I just couldn't resist.
The coriander carrot soup is delicious but seriously...cilantro makes EVERYTHING taste better. Well, unless you are one of those people to whom cilantro tastes like soap. Then, you'll want to ignore to whole "The more cilantro, the better!" portion of this post. Which I just realized basically was the ENTIRE post :D
ENJOY!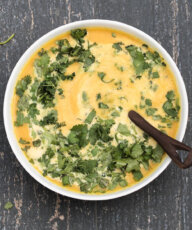 Coriander Carrot Soup - Vegan & GF
A deliciously fragrant Coriander Carrot Soup to warm all the senses. Serve with as much cilantro as you wish!
Ingredients
1

tablespoon

Olive Oil

1

Yellow Onion

diced

2

cloves

Garlic

minced

2

teaspoons

Coriander

ground

1

teaspoon

Turmeric

ground

⅛

teaspoon

Cinnamon

ground

1.5

lbs

Carrots

peeled and diced

5

cups

low sodium Vegetable Broth

make sure it is gluten-free broth, if necessary

2

cups

unsweetened Almond Milk

or coconut milk for an even creamier consistency

Fresh, chopped Cilantro

for garnish
Instructions
Heat the olive oil over medium-high heat in a large stock pot. Add the onion and cook for 5 to 7 minutes.

Add the garlic, ground coriander, turmeric, cinnamon and carrots to the stock pot. Reduce heat to medium heat and cook for 5 minutes until garlic and spices become fragrant.

Add the broth, cover the pot and bring to a boil. Once the soup is boiling, reduce heat, stir the soup and let simmer, uncovered, for 20 to 30 minutes. Simmer the soup until the carrots are tender. The time it takes for the carrots to be cooked will vary slightly depending on the size of the diced carrots.

Using an immersion blender, blend the soup until smooth. If you don't have an immersion blender, allow the soup to cool slightly before adding it to a blender in batches.

Add the almond milk to the soup and allow it to simmer, uncovered, for 10 more minutes before serving. If you want to puree the soup one more time, you can do so (optional!).

Serve the soup with lots of fresh cilantro.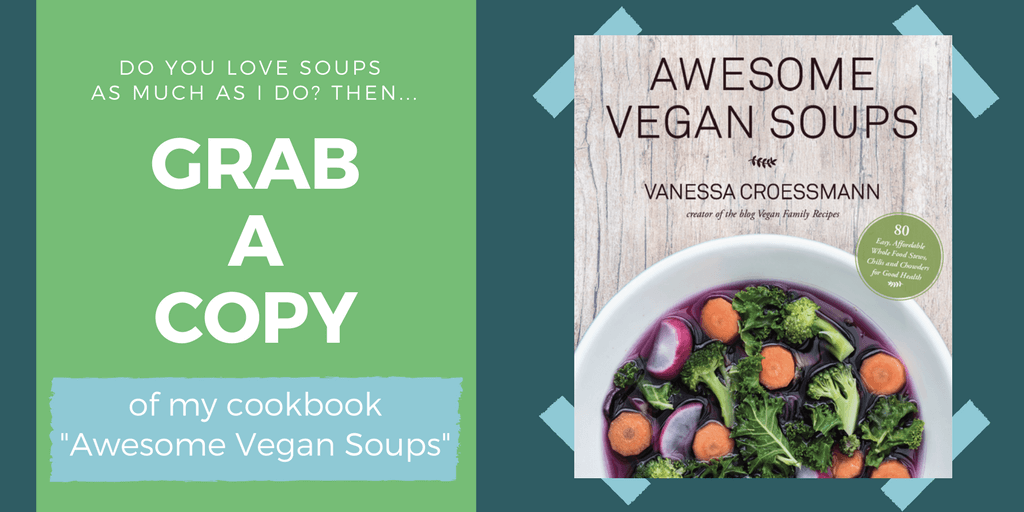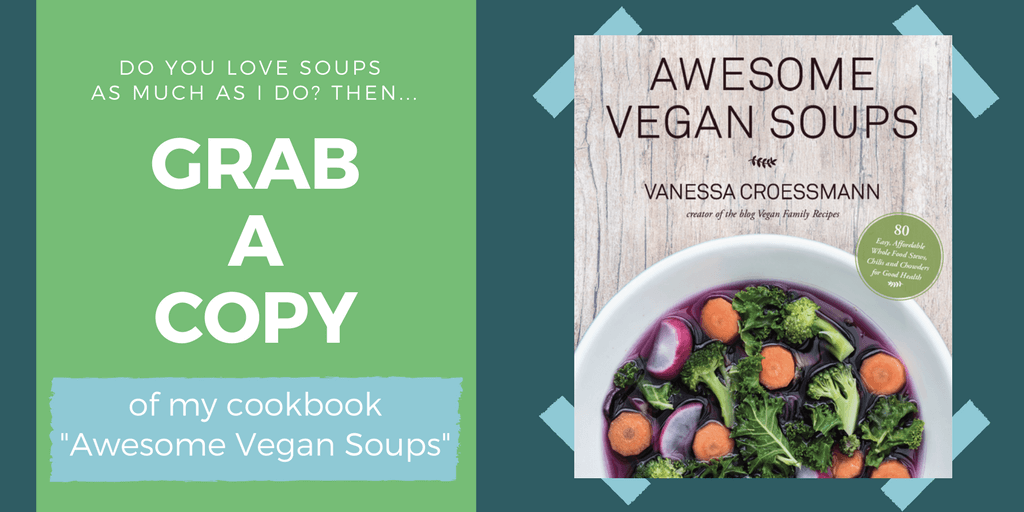 For more healthy, vegan soup recipes, grab a copy of my cookbook, Awesome Vegan Soups!
You can also check out some of my other favorite carrots soups below!