I've done quite a few desserts back to back lately so it is definitely time to get back to some healthy recipes again. So what better way to change that than with this delicious Vegan Carrot Soup?
Carrots are one of my favorite vegetables. My family and I snack on carrots on most days and this easy carrots soup with ginger is one of my go-to recipes.
This soup is so easy and quick to make that I never actually considered writing down the amounts of each ingredient I use to post here. How selfish of me! Simple recipes tend to be the best and once you've made this vegan carrot soup once, you'll be able to make it again without needing to look at the recipe.
Oh, and if you aren't vegan. Don't worry. This doesn't taste like rabbit food. It's incredibly healthy, creamy, and great for anyone. A major plus for this carrot soup is also being gluten-free and paleo ;) Oh, and kids (at least mine) LOVE it!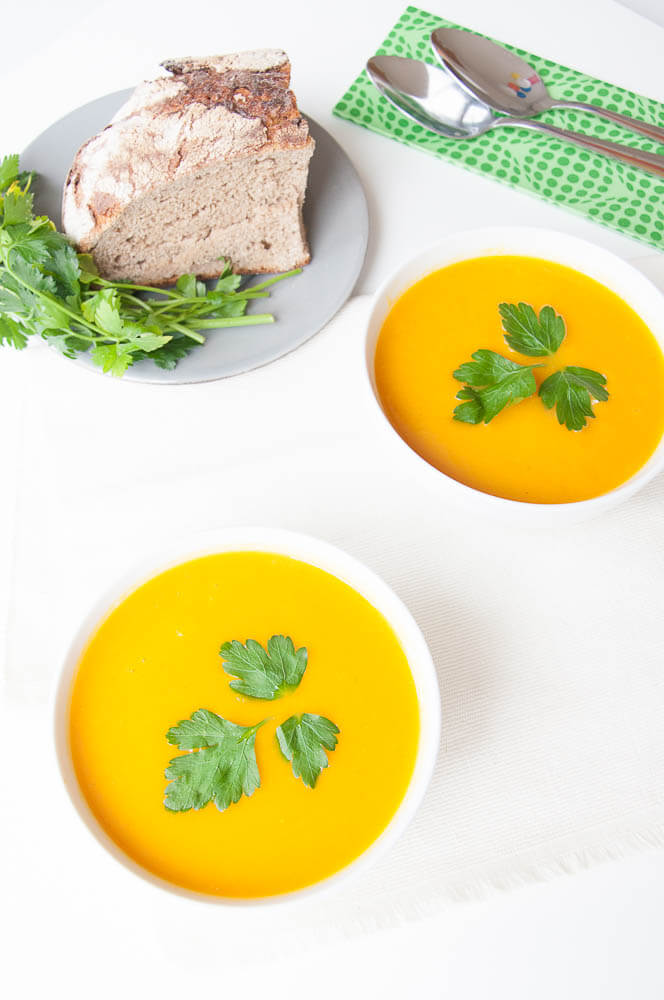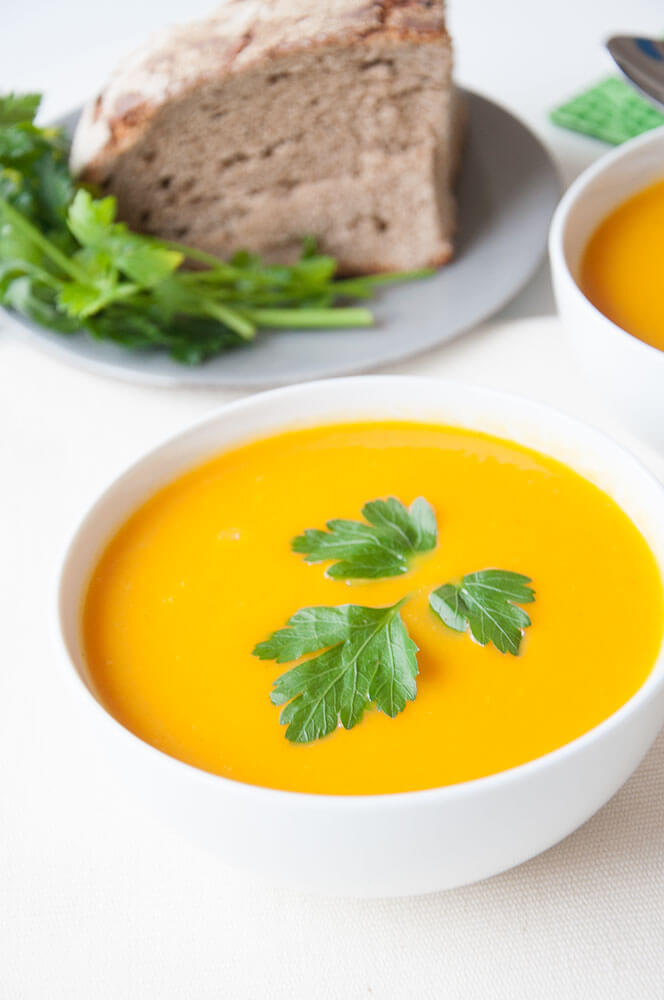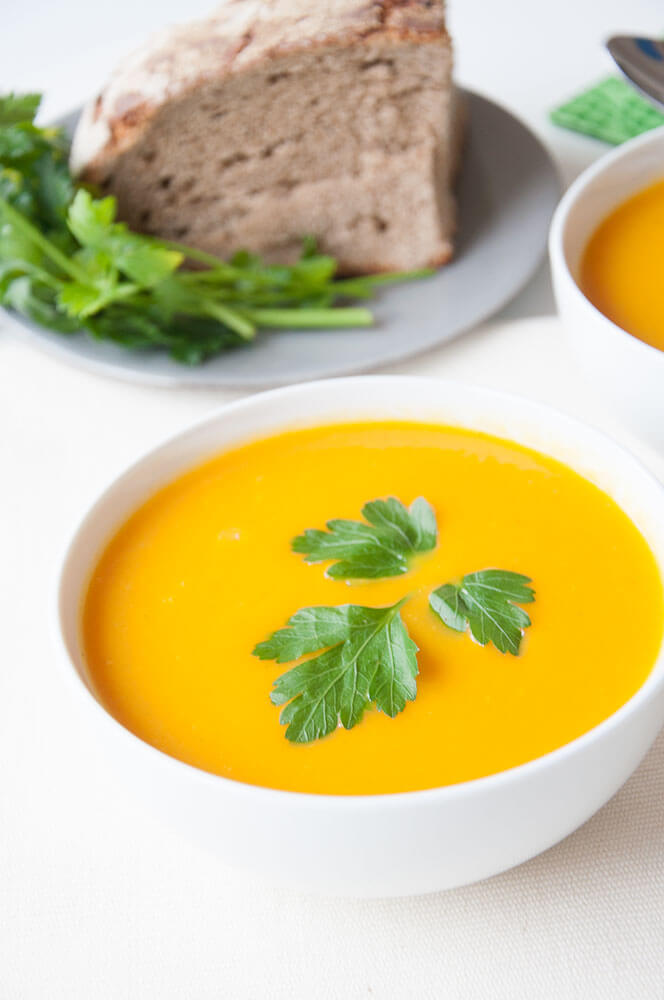 My favorite part of this soup isn't the color. Yes, I know it's so pretty :) It's actually the fact that my kids gobble up this soup like they haven't eaten in months. Anytime my kids ask for seconds or thirds of a healthy recipe, I shout in my head, "Yes! I'm totally winning at this parenting thing!". The same thing happened when my recently turned 4-year-old started thinking that smushed avocado on bread tastes better than butter. Mmmhm yum!! Avocado! Wait...we were talking about soup, right?
The fact that this soup is nutrient dense and low in calories is an added bonus. 1 cup of this easy ginger soup has only 95 calories. 95 calories that actually have you feeling full! It's not like those horrendous 100-calorie snack packs where you would need to eat 10 of them to feel full. If you don't count calories, as I do, then eat the soup with some nice crusty bread.
Did you know that Panera's bread bowls are vegan? Definitely need to figure out a way to make my own or just make these! *Honey isn't vegan for the bread bowl recipe from Veggie on a Penny but I'm sure you can easily substitute it with maple syrup, agave, or another vegan sweetener.
Just a little side note: I only used a small teaspoon of fresh ginger in this soup because I know most kids, including my own, don't like a strong ginger taste. If I was making this easy ginger carrot soup for myself though, I would add 3x the amount of ginger :)
Oh, also don't forget to garnish with the parsley on top. I added far more than what is pictured because it tastes so good. You wouldn't have been able to see the soup though if I took a picture of that :)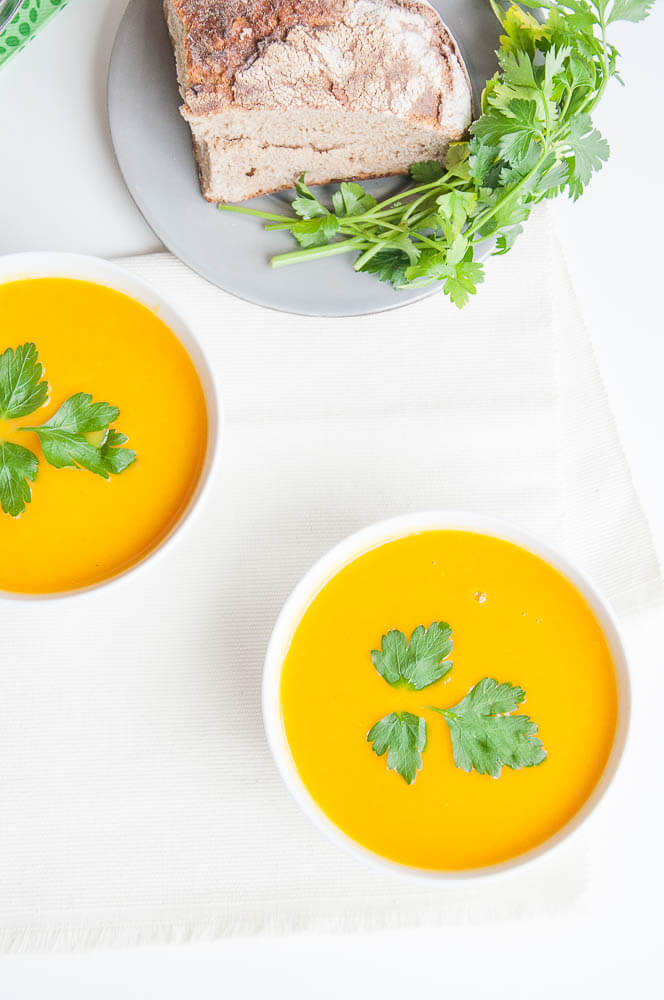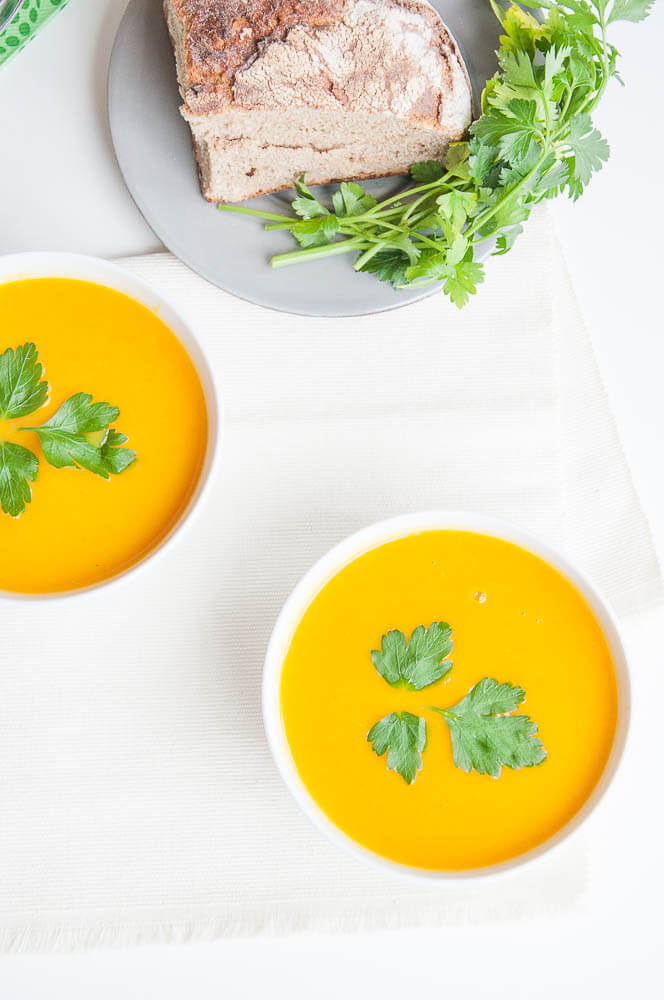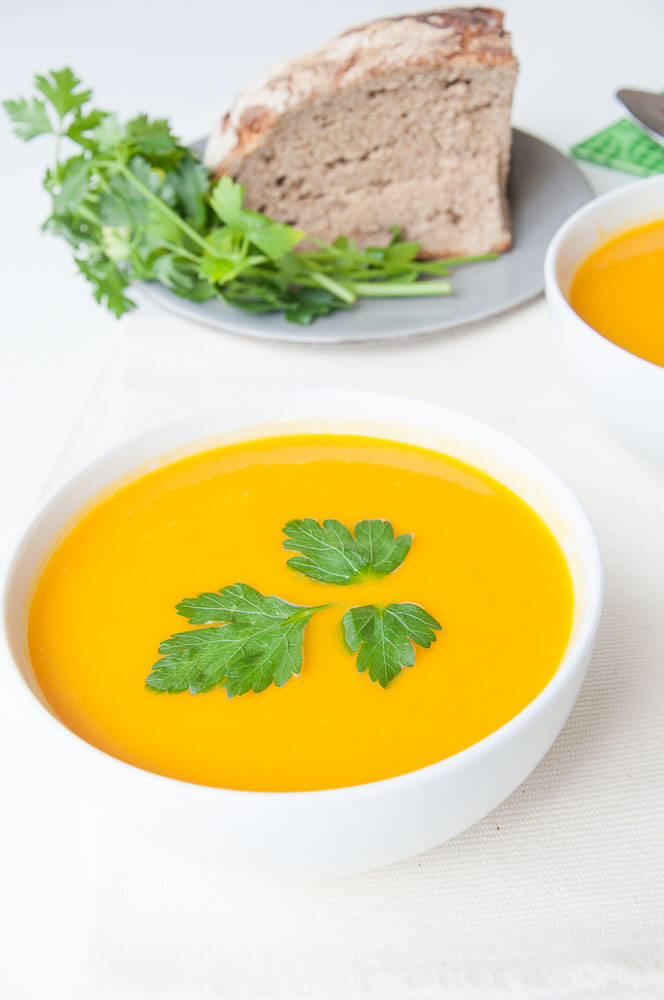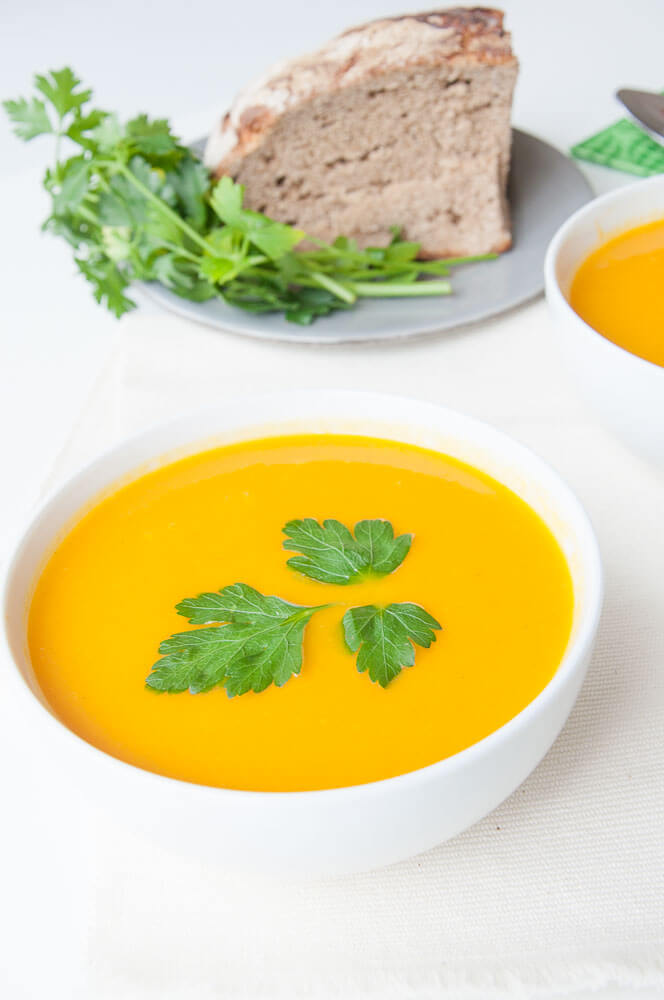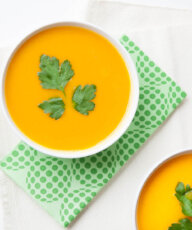 Healthy Vegan Carrot Soup with Ginger
An easy vegan carrot soup recipe with ginger that is healthy, vegan, gluten free, paleo and an all around family pleaser!
Makes
8
.5 cups (2 Liters)
Ingredients
2

tablespoon

Olive Oil

1

medium

Yellow Onion

chopped

4

cloves

Garlic

minced

1

tsp sized chunk of

Ginger

minced or grated

2

lbs

Carrots

900g (peeled, diced into ½ inch slices)

6

cups

Vegetable Broth

low-sodium, 1200ml

Fresh

Parsley

optional
Instructions
In a large stockpot, heat olive oil and sauté onions until translucent. Add garlic and ginger and sauté for 1- 2 minutes until garlic becomes fragrant.

Add carrots and broth and bring to a boil. Reduce to low heat and cover. Cook for 10 to 15 minutes , stirring every 5 minutes to prevent from boiling over. Continue to cook until carrots can easily be pierced with a fork.

Blend soup with an immersion blender or transfer to a blender to purée in there.

Garnish with fresh parsley and serve with bread.
Recipe Notes
1) This soup is great for toddlers and kids. 2) Soup will keep in the fridge for at least up to 4 days and can easily be frozen.
If you're not feeling the whole ginger in your carrot soup then try these instead :) Sweet Potato-Carrot Soup or Red Lentil Carrot Soup!
Otherwise, try some of my other Vegan Soup Recipes on the site!