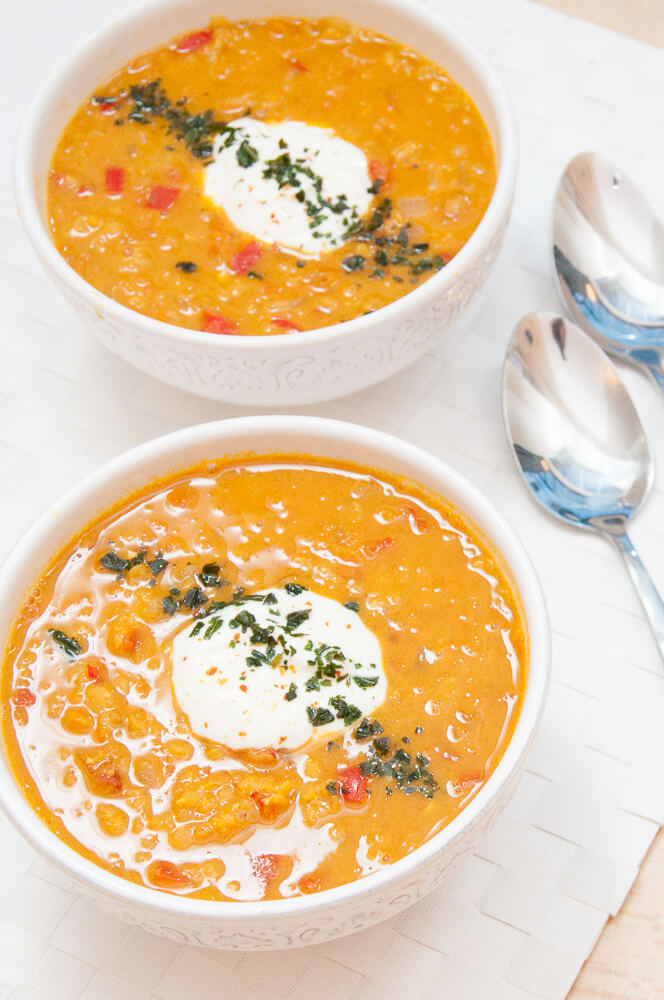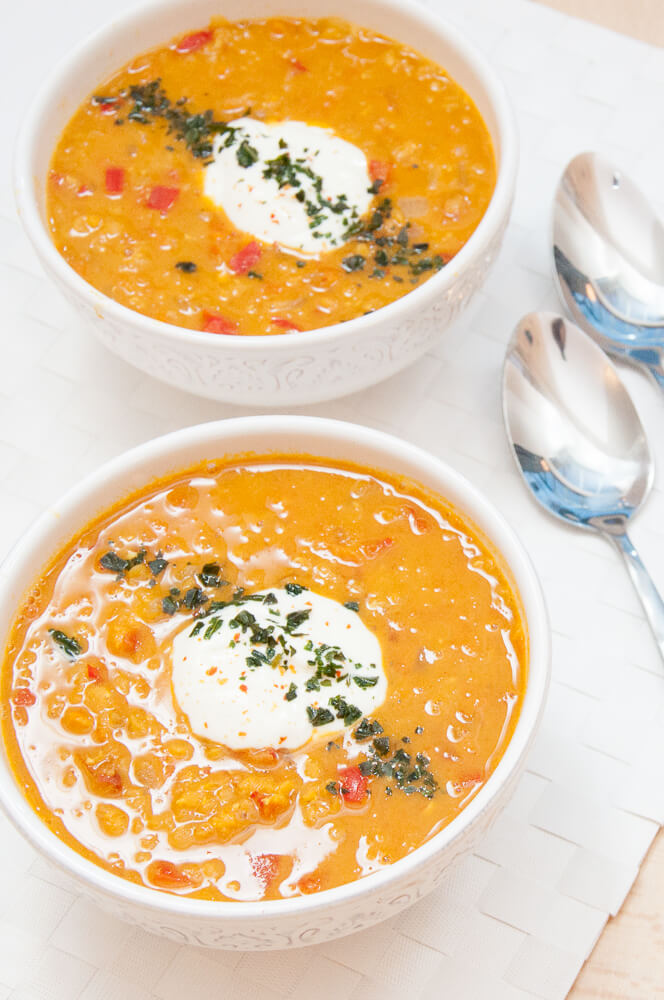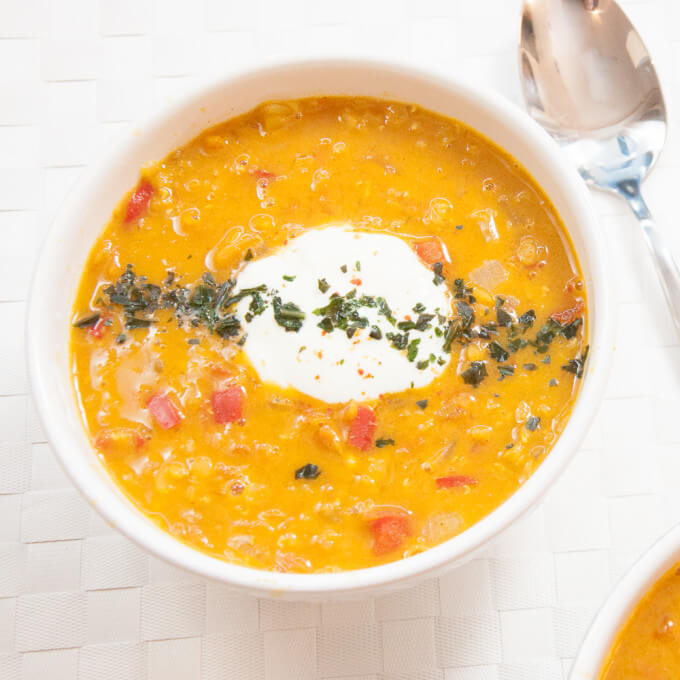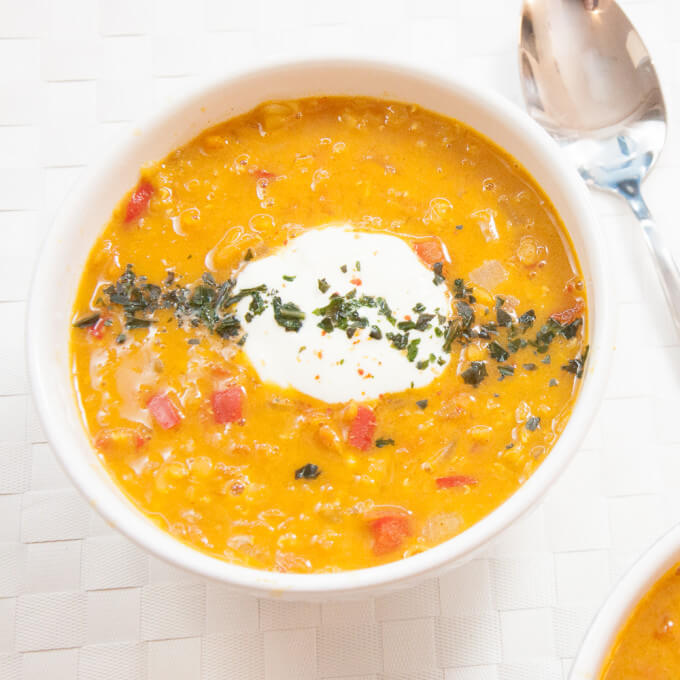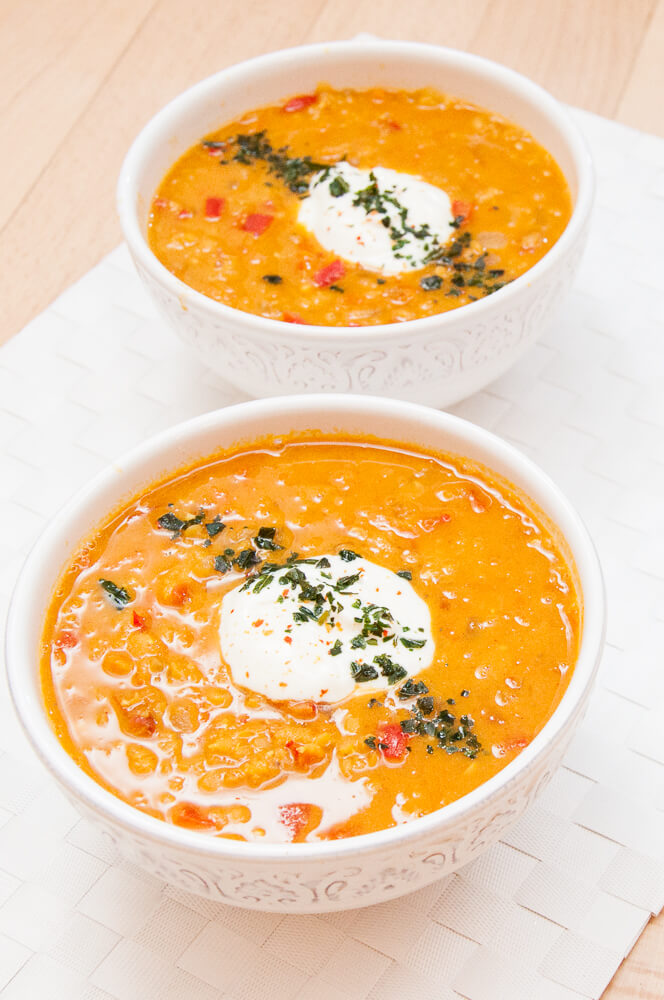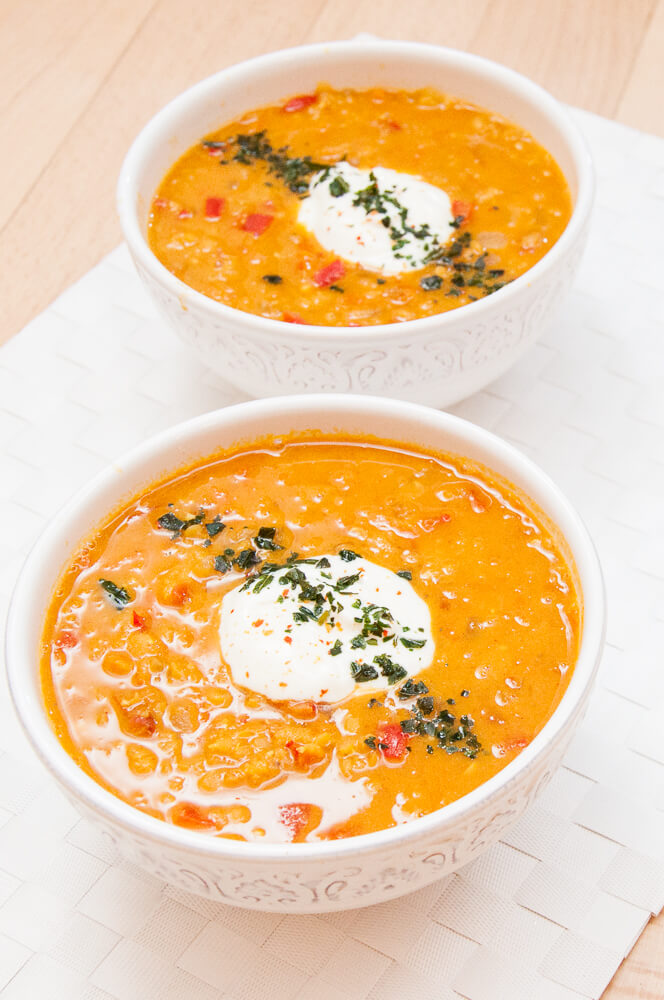 I kind of have a thing for lentils. They're super rich in fiber, protein, and iron aka perfect for anyone following a plant-based diet or just want to stay healthy. Often times lentils or legumes have a bad reputation. Mainly in part because people can get really gassy from them...happens to the best of us :D I think the people that are affected by them in that way just don't have a fiber-rich diet, to begin with. For most people following a vegan diet though, you are used to eating a lot of fiber, thanks to all the fruits, veggies, and enormous amounts of hummus you eat a day! So having lentils should only affect you in a positive way!
Check out those little red pellets of health. So good! Oh, excuse my super wrinkly
hands. I went hand washing OCD while making this soup so afterwards my hands looked...well...OLD!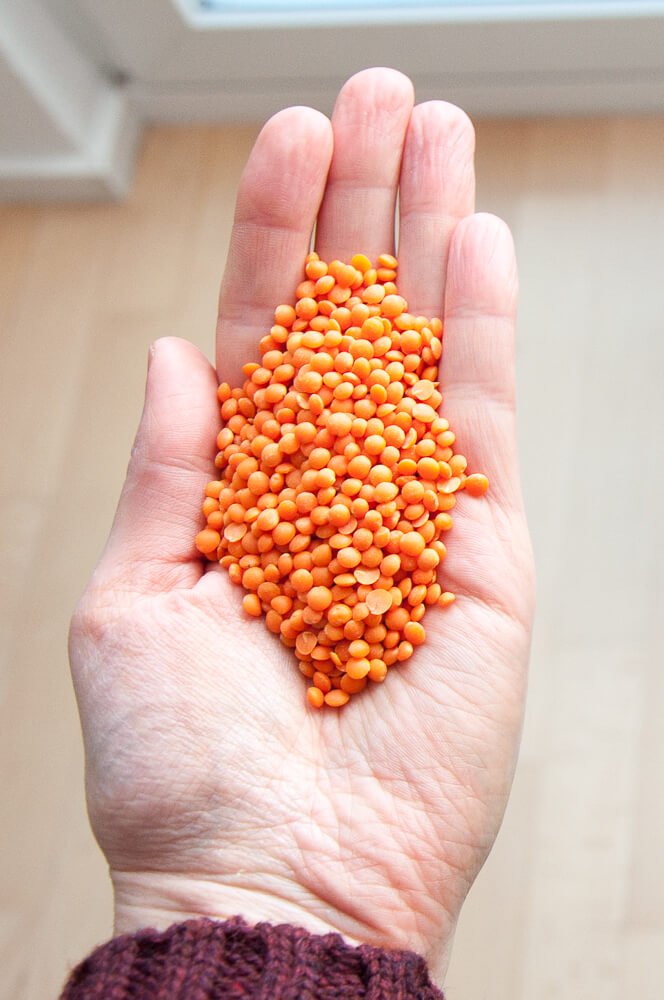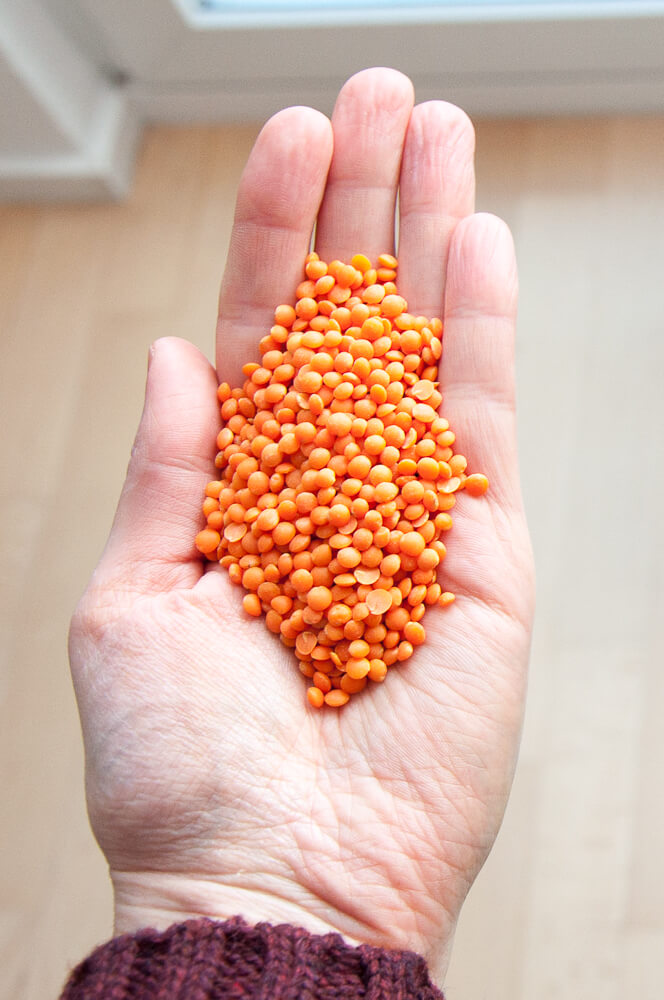 Enough talk about gas, fiber, and old hands though. Let's get to what we are really here for. I was sick of boring red lentil soups. So I decided to make a red lentil carrot soup with a spicy red curry kick.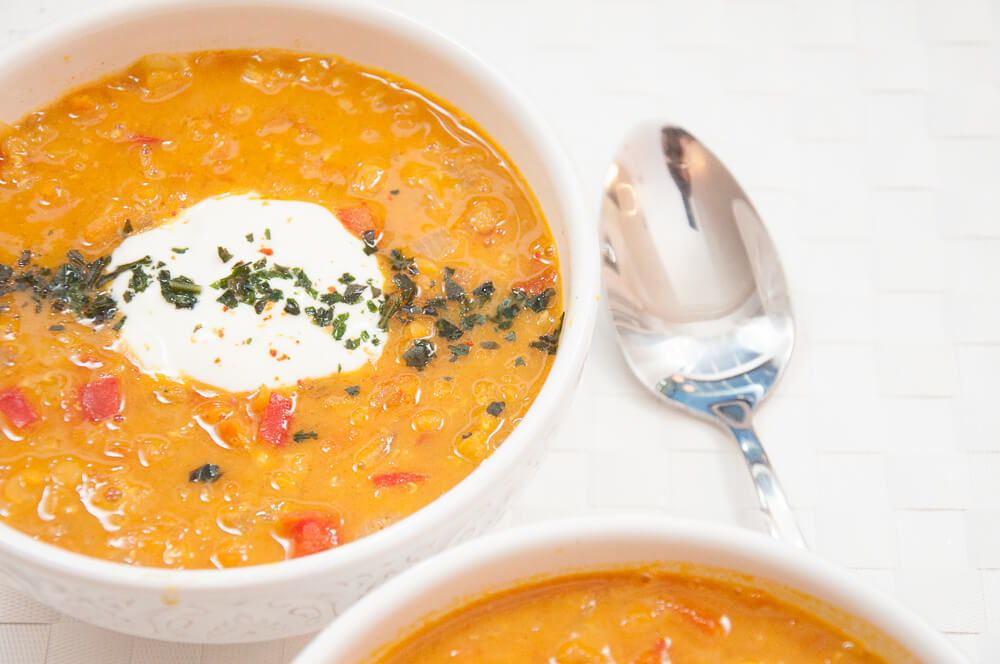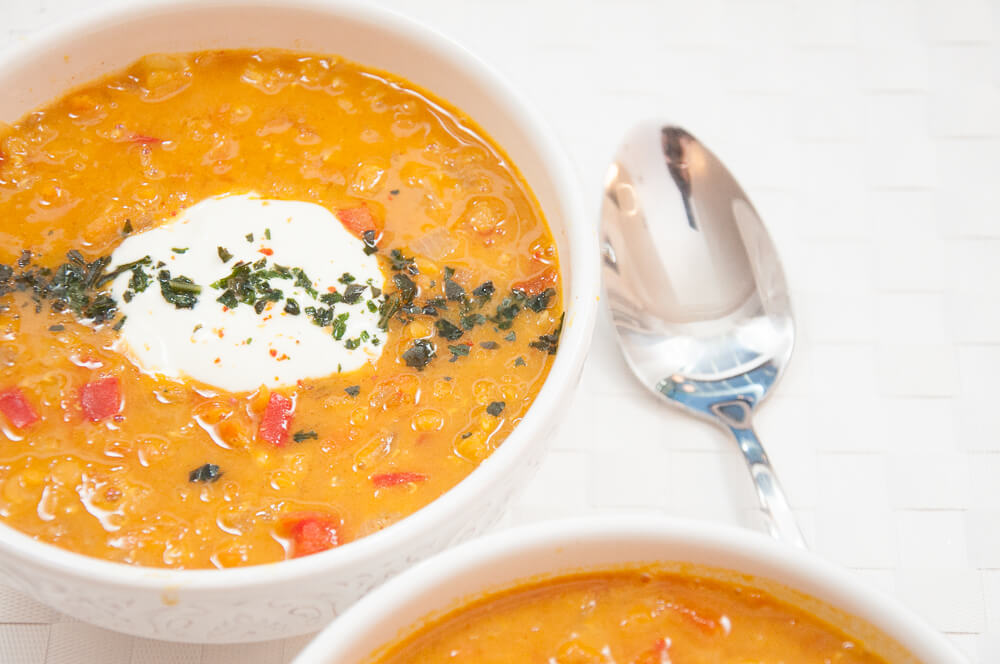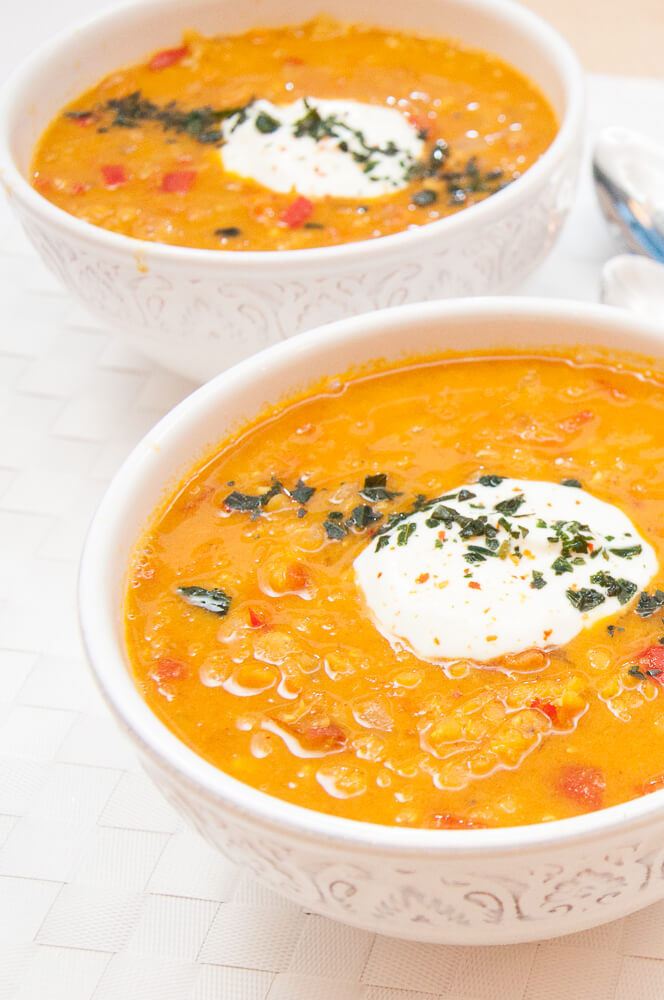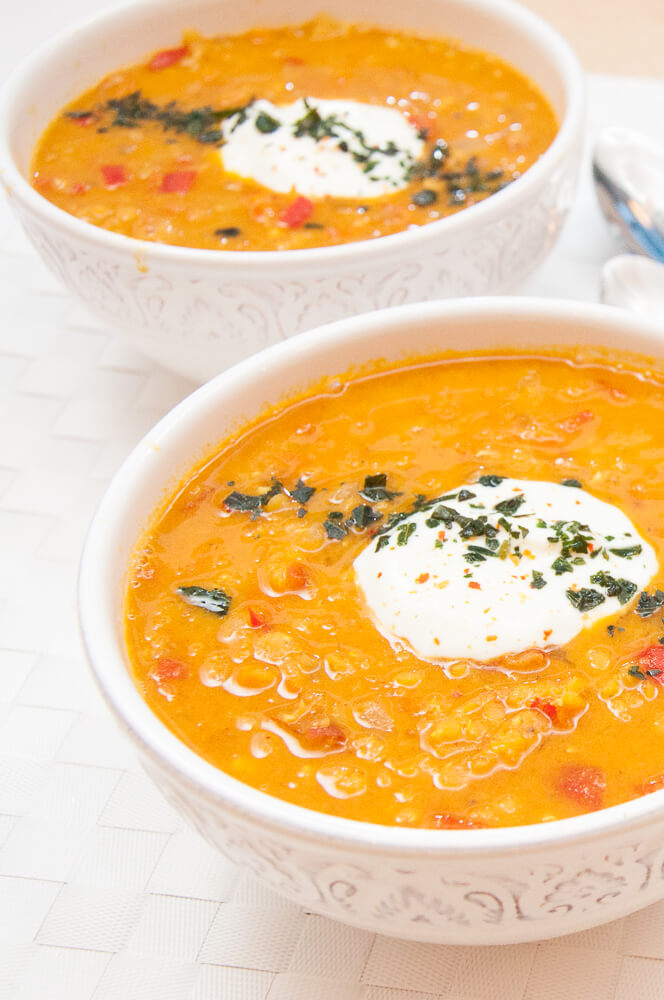 It has some Thai inspiration, though I'm 99% sure this is not an authentic Thai soup :) That's OK though, we can pretend we're in Thailand on the beach sipping this hot red lentil soup...yeah, I don't want soup on a beach. I'll take anything fruity with a lot of alcohol instead!
OK. WAKE UP! We're not in Thailand...we're not on a beach.
Let's be real. It's freezing outside, so this warming red lentil carrot soup will have to do.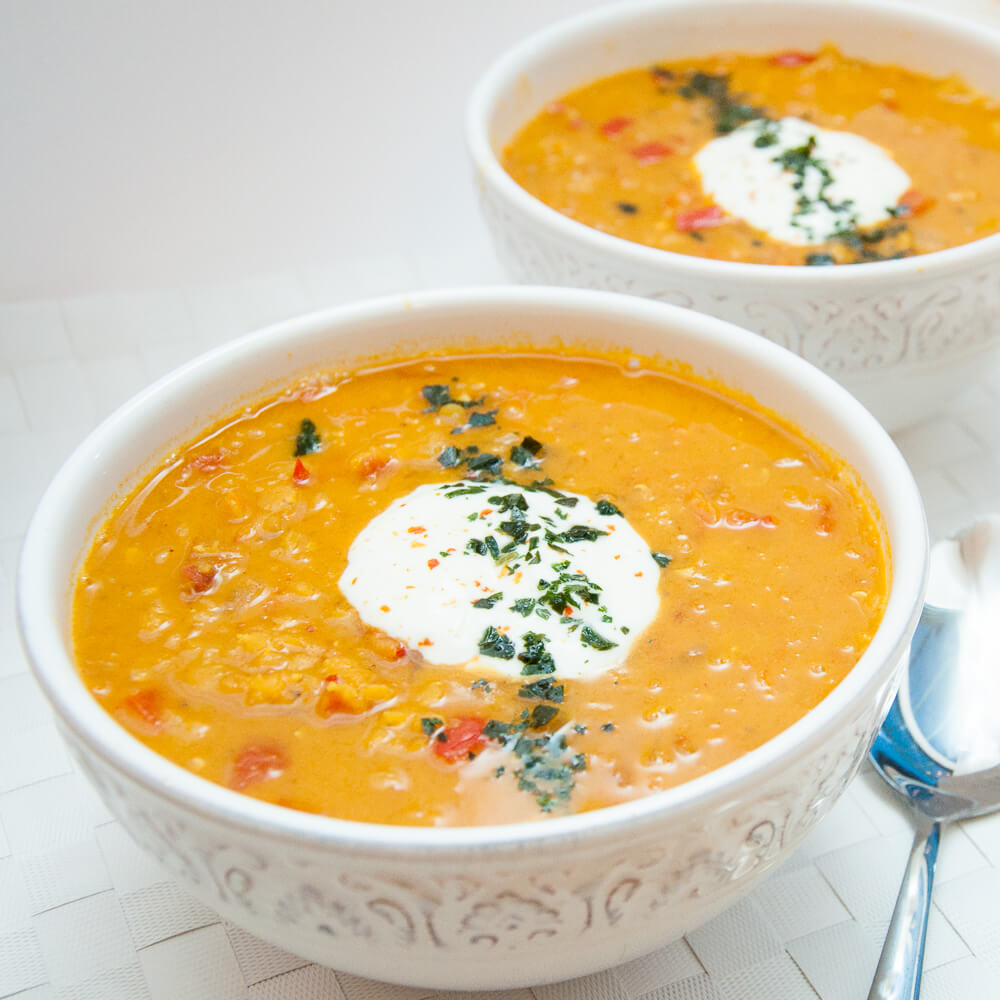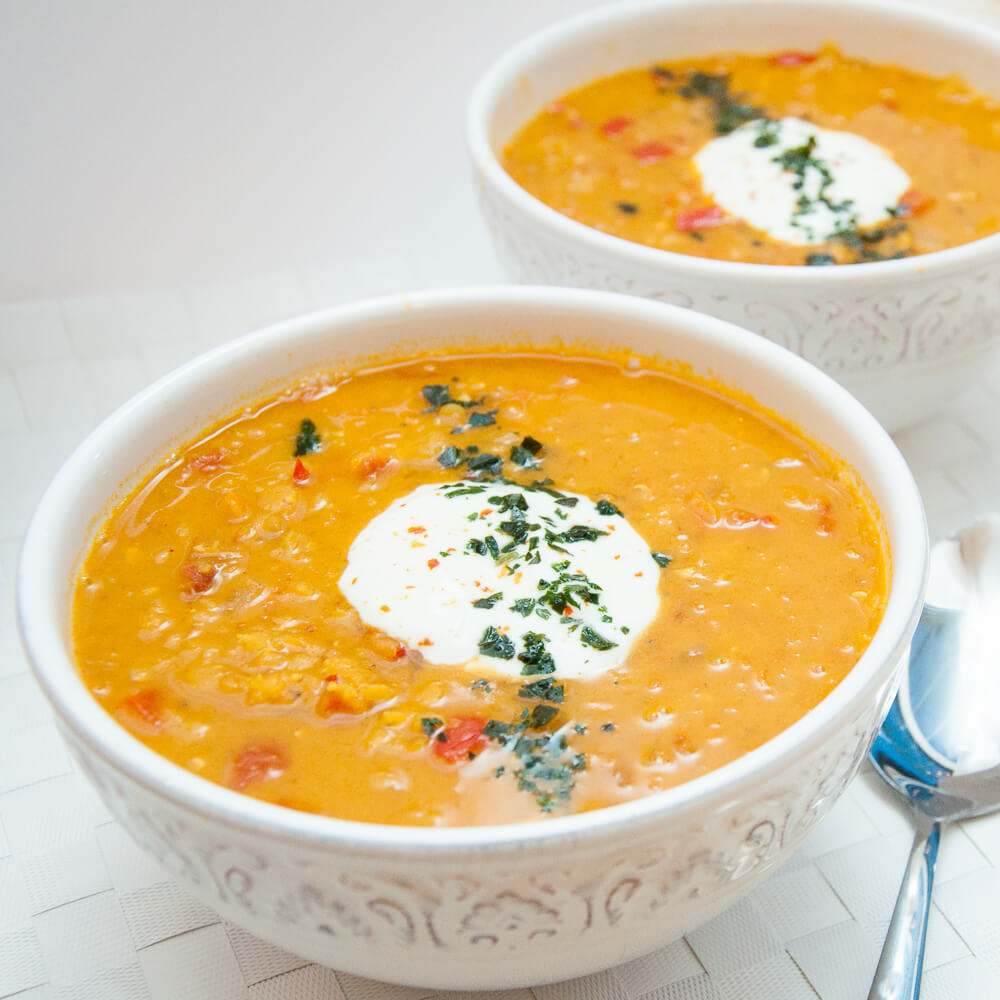 This soup has some of my favorite flavors in it. Fresh ginger, lime juice, and garlic, and top it off with coconut milk. Yum! Because I used red curry paste in this red lentil soup, lets us not have to use any broth. Red curry paste is pretty salty, to begin with and can get a bit spicy so goes easy with it if you can't handle the heat :D Thankfully there are low-sodium red curry pastes out there so that we won't all be bloated the next day.
Surprisingly, this red lentil carrot soup is also pretty easy to make. Maybe not be as easy as making your own coconut butter but as far as soups go..it's pretty simple. I left this soup nice and chunky which kept me full nearly the whole day or it might have been because I ate 3 bowls of this within 20 minutes. If you're more into creamy soups though, then you can easily use an immersion blender to puree all the ingredients once they are cooked.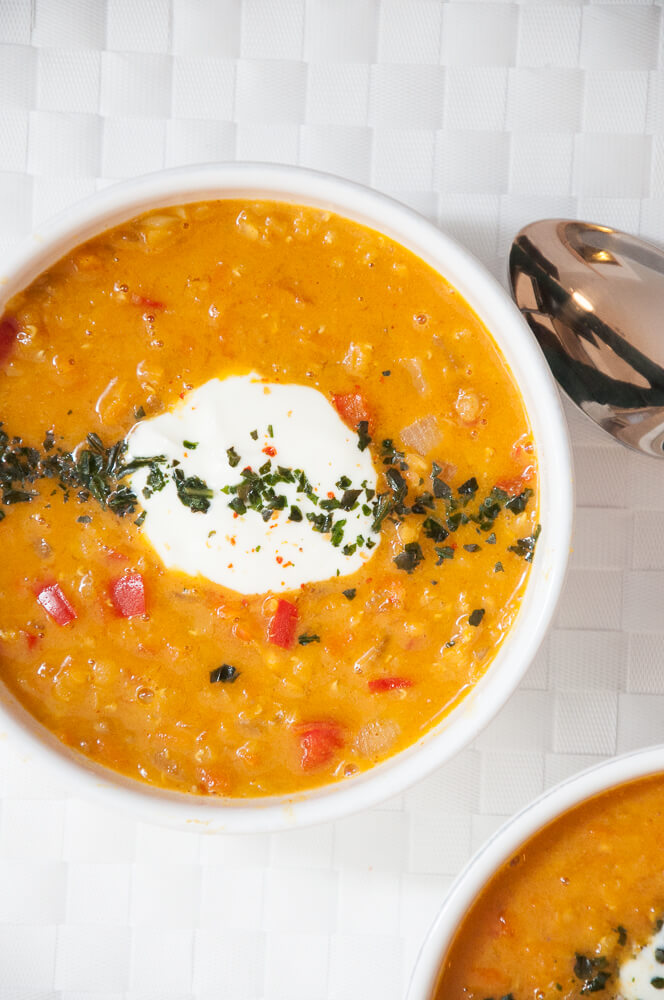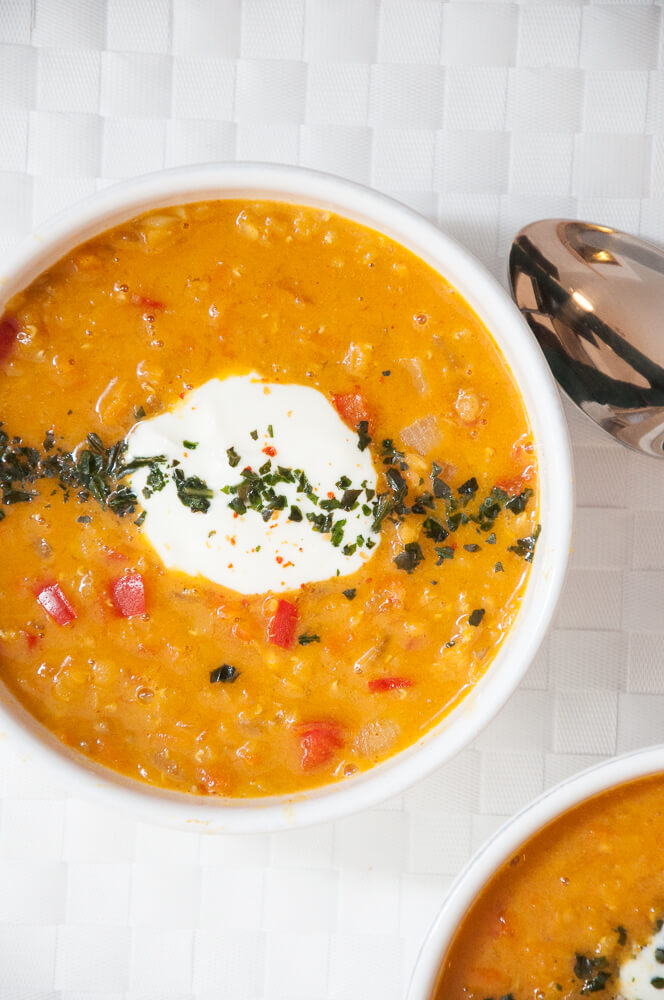 Also, don't forget the toppings! No soup is complete without toppings or garnishes or whatever you want to call it. I topped mine with a bit of coconut cream, red pepper flakes, and chopped basil. Be creative though. Add whatever your heart desires...even if it's chocolate chips. OK, that's a little bit weird...but hey, there are some weird people out there, right?
Alright, forget the chocolate...just DIG IN!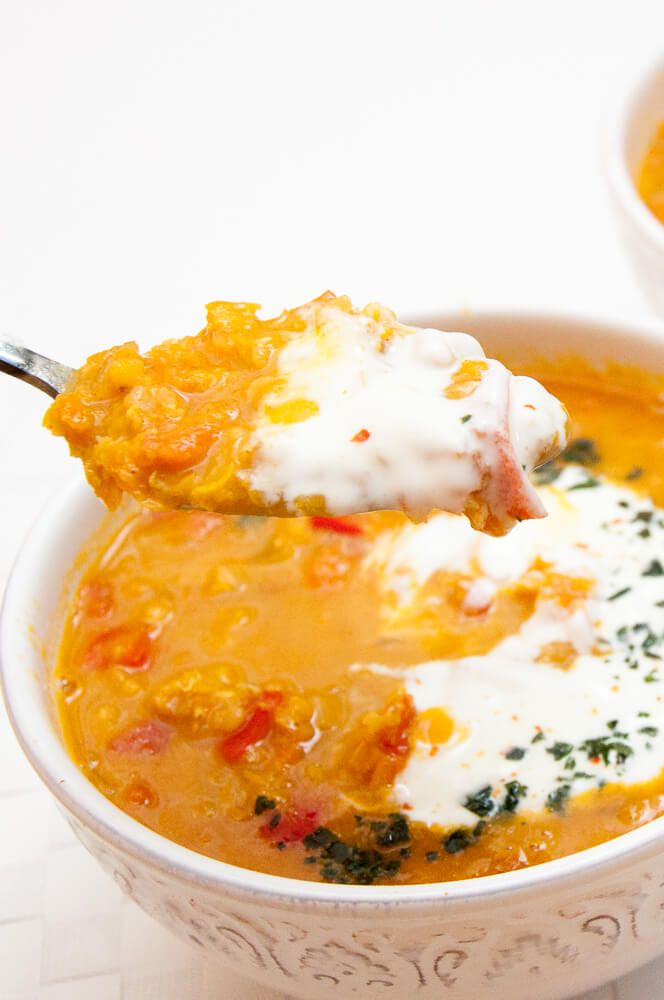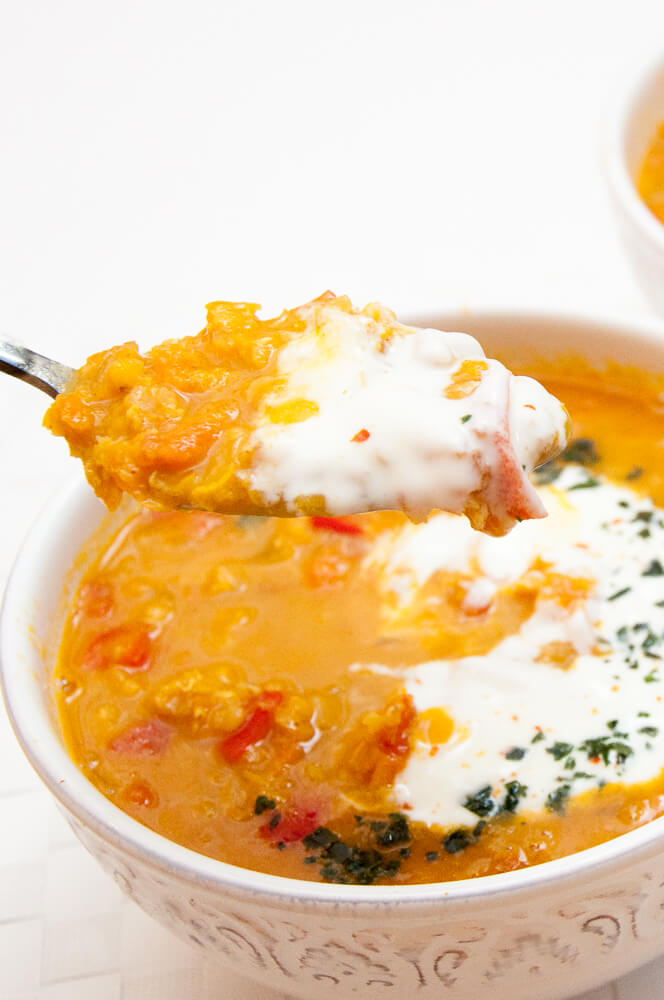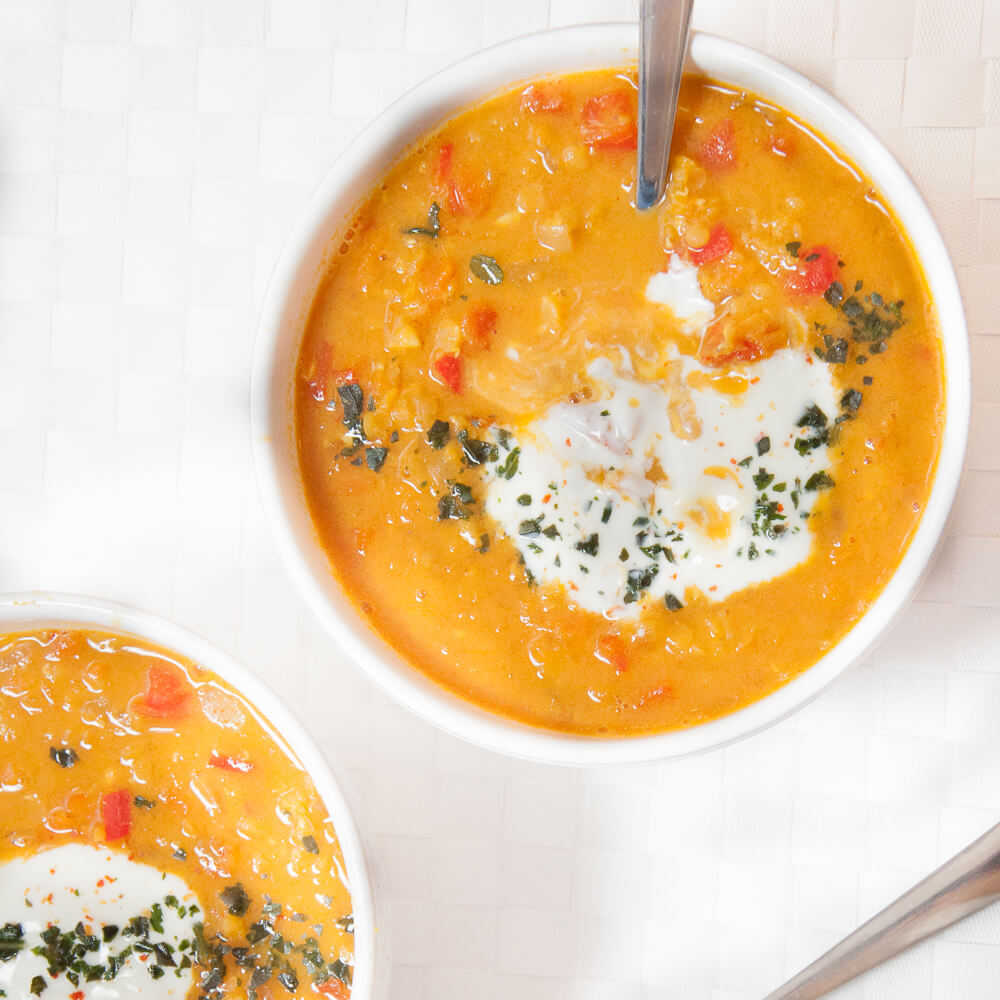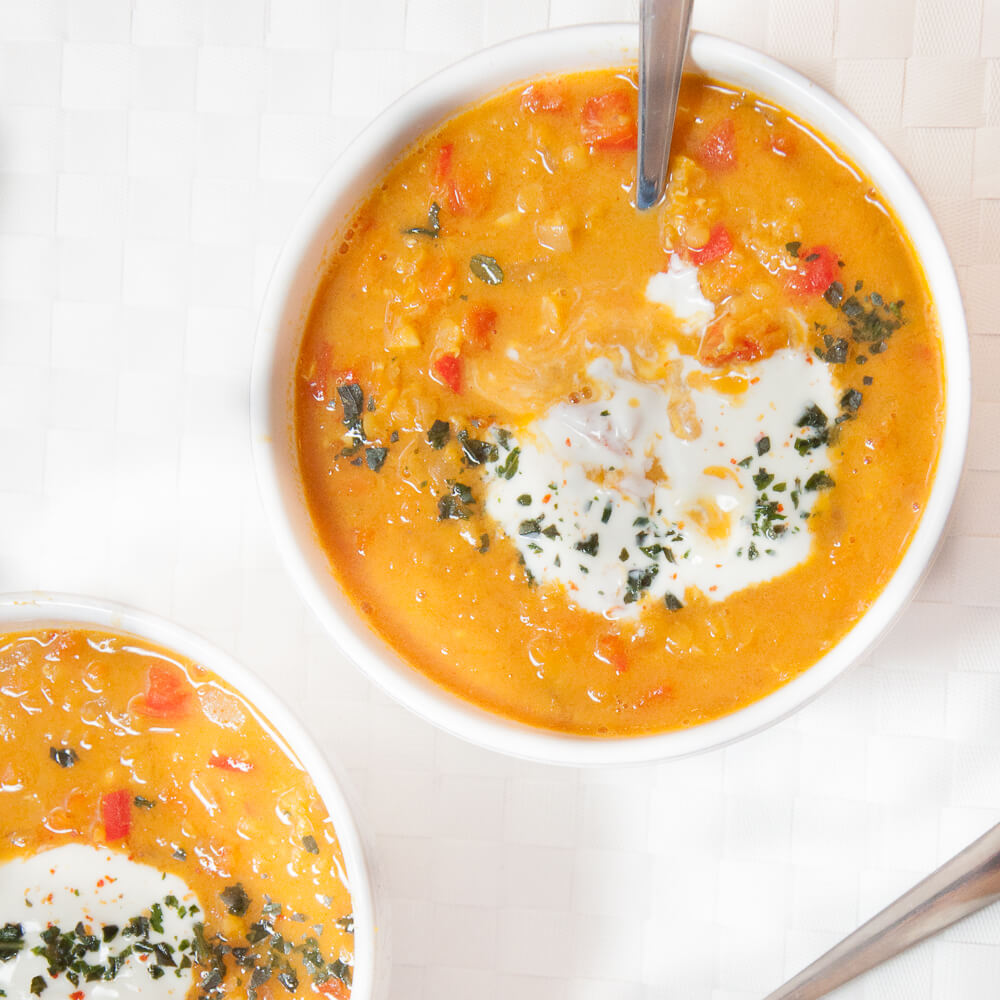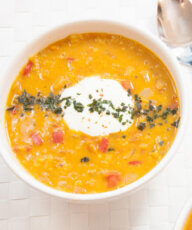 Red Lentil Carrot Soup
Ingredients
2

tablespoon

Oil

Olive, Sesame, Canola, etc.

1

White Onion

finely diced

1

teaspoon

Ginger

fresh, grated

2

cloves

Garlic

minced

4

tablespoon

Red Curry Paste

preferably low sodium

1 ½

cups

Carrots

roughly 1 large carrot or 2 smaller, grated

1

Red Bell Pepper

diced

2 to

Tomatoes

diced

1

cup

Red Lentils

uncooked, rinsed with cold water

4

cups

Water

1

tablespoon

Lime Juice

¾

cups

Coconut Milk
Instructions
Heat oil over medium heat in a large stock pot.

Add onion and ginger and cook for 2-3 minutes.

Add garlic and red curry paste and cook 2-3 minutes until garlic becomes fragrant.

Stir in grated carrot, bell pepper, and tomatoes. Cover and cook over medium heat for 5-10 minutes, stirring occasionally.

Add lentils and water to pot and bring to a boil. Reduce heat and simmer for 15 minutes until lentils become tender.

Stir in coconut milk and lime juice. Bring to a quick boil and serve.

Garnish with chopped basil, vegan yogurt, whipped coconut cream, and/or red pepper flakes.
Feel a little lost with these ingredients? Let me help :D
Red Curry Paste - low-sodium, vegan & gluten-free! -> Note that not all curry pastes are vegan. In fact, most aren't. Most of them contain fish sauce or shrimp paste so make sure to always red the label!