Print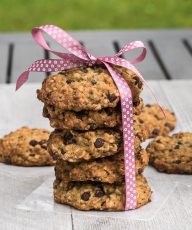 Vegan Chocolate Chip Oatmeal Cookies
Vegan Chocolate Chip Oatmeal Cookies are always a family favorite! These ones are crisp on the outside, soft inside and not overly sweet A.K.A. just perfect!
If you don't have any chia eggs prepared, do so now (check notes for instructions).

Preheat oven to 375F (190C) and line a cookie tray with parchment paper.

Cream coconut oil, sugar and salt together. Stir the chia eggs into the coconut oil-sugar mixture. Sift the flour over the mixture and add baking soda, chocolate chips, rolled oats, and milk to the it as well. Stir well with a wooden spoon.

Drop tablespoon sized balls of the dough onto the cookie tray and bake in the oven for 8 to 12 minutes until cookies are slightly brown.

Cool the cookies on a wire rack.
1.) Prepare one chia egg by adding 1 tablespoon of chia seeds with 3 tablespoons of water. Let them sit for at least 15 minutes until a gel forms. This is your chia egg! This recipe calls for 2 chia eggs so you'll need 2 tablespoons of chia seeds and 6 tablespoons of water. Flax eggs are prepared the same way. However, make sure you are using ground flax seeds. 2.) The cookie dough may seem very wet. This is normal since the oats soak up a lot of the liquid in the baking process.
Nutrition Facts
Vegan Chocolate Chip Oatmeal Cookies
Amount Per Serving (1 cookie)
Calories 158
Calories from Fat 76
% Daily Value*
Fat 8.4g13%
Carbohydrates 19.3g6%
Protein 2.6g5%
* Percent Daily Values are based on a 2000 calorie diet.