I've been going a bit crazy making nut butters lately. Nothing wrong with turning an entire pound of almonds into almond butter…until you don't know what to do with all of it. Same goes for coconut butter which I recently made so much of just so I could keep taking pictures.
So what do you do with so much nut butter? Like with everything else in life…If you don't know what to do, make cookies! No one will ever complain, or go hungry if you stick to that motto :D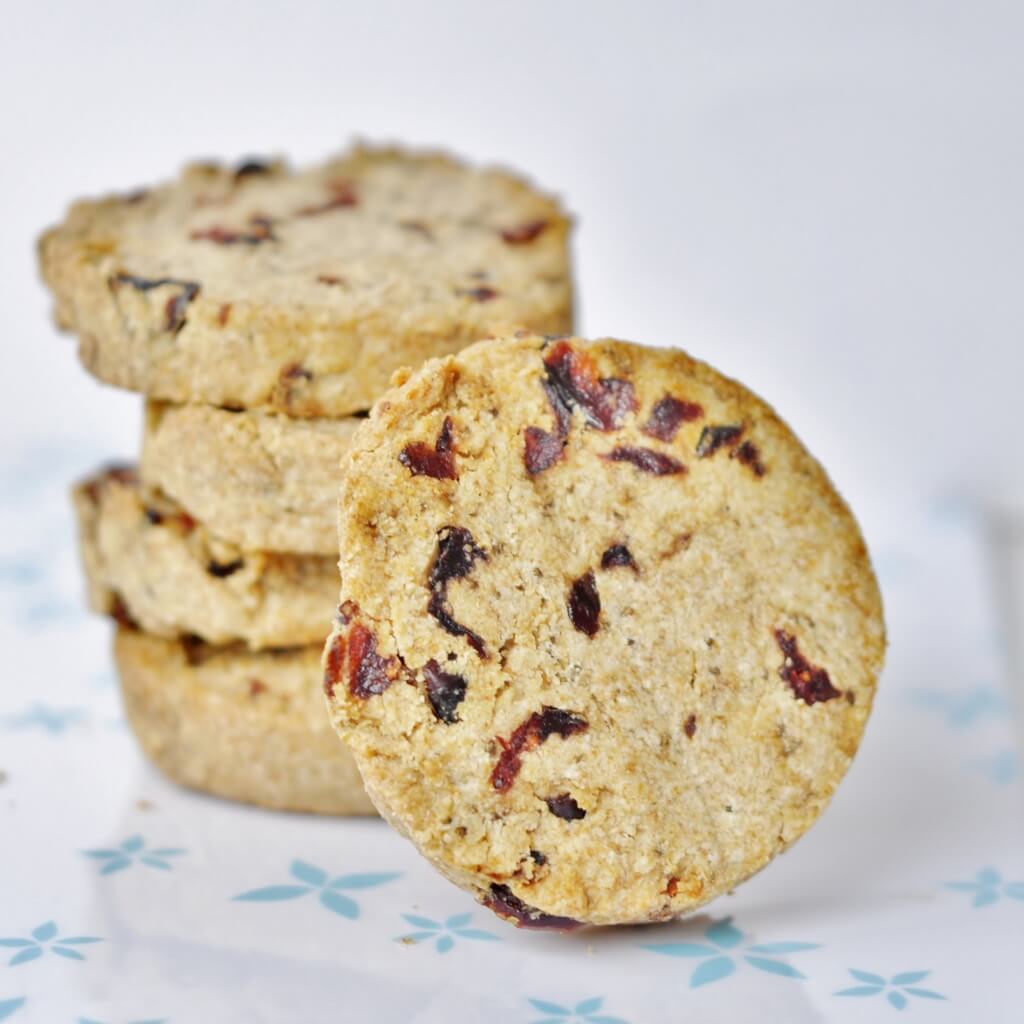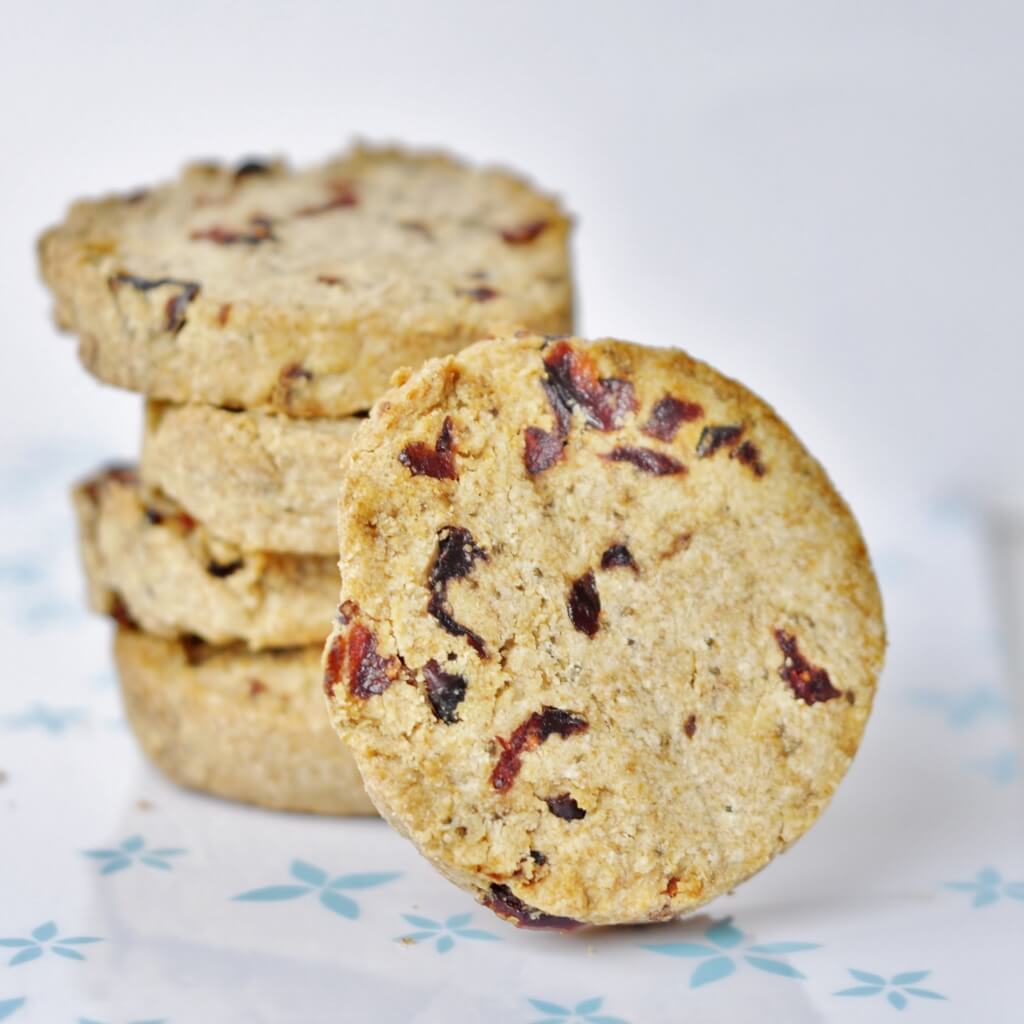 These nut butter cranberry cookies are super delicious. They really taste delicious with any type of butter (almond, sunflower, coconut, peanut, vegan butter). They actually somewhat remind me of healthier shortbread cookies. As with shortbread, these aren't drop cookies and they don't change shape. I like these cookies in big circles where it'll take me 6 bites to eat one. If I tried to form them in my hand, they would all be misshapen so I used my log technique (not sure it's a technique at all but I'll pretend).
I like to roll the dough tighly on the countertop, banging it on the ends so they are flat, and wrapping it in plastic wrap. After it's been in the fridge for a while the dough gets hard and you can cut it into perfect slices.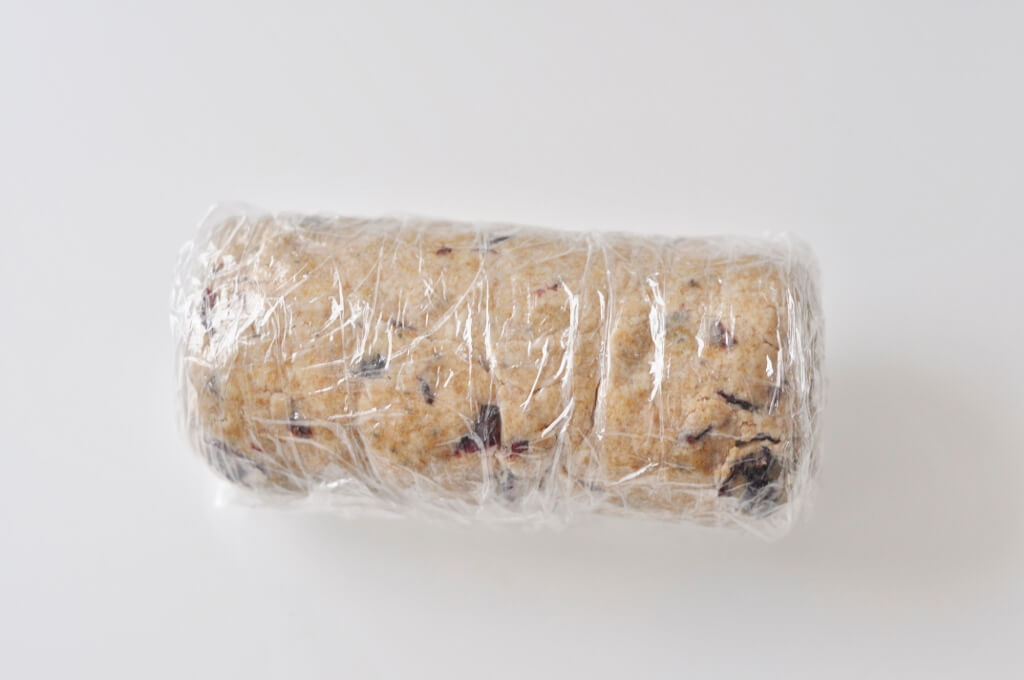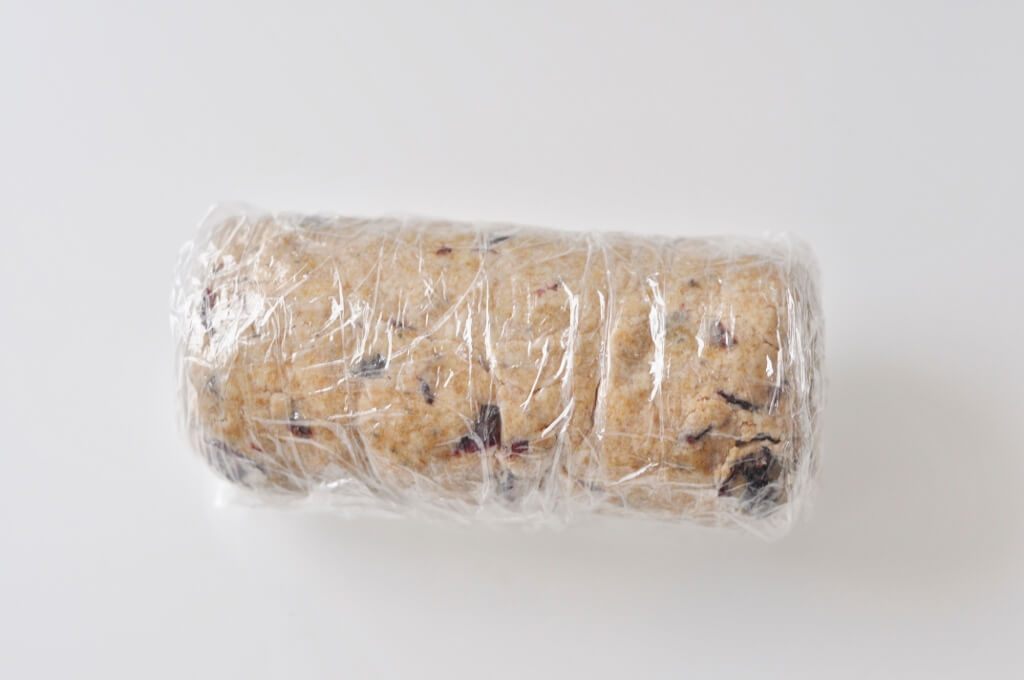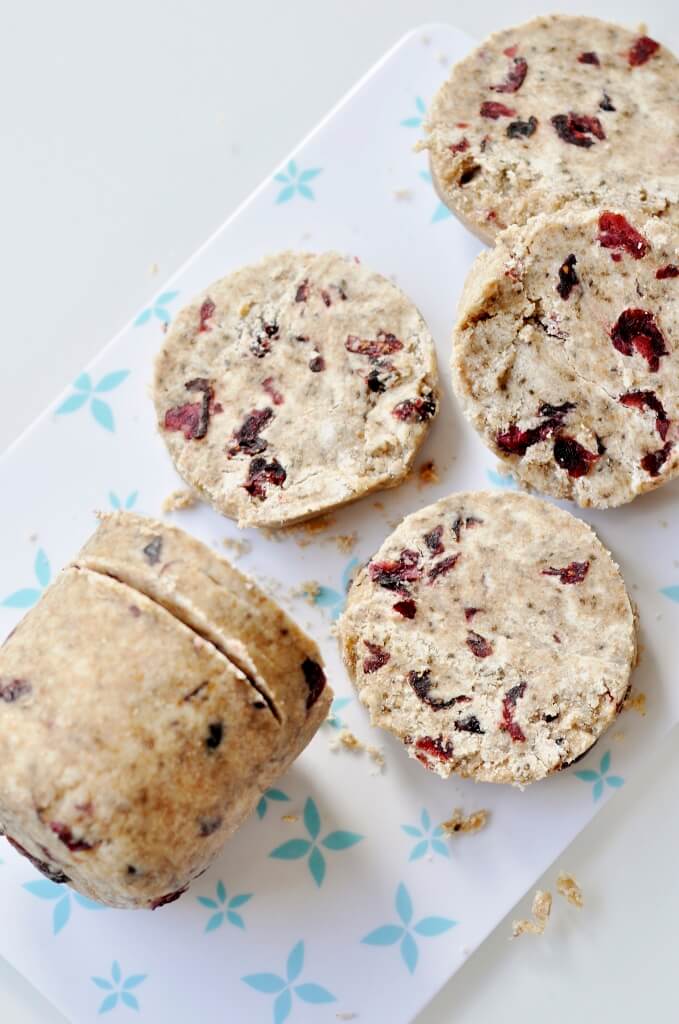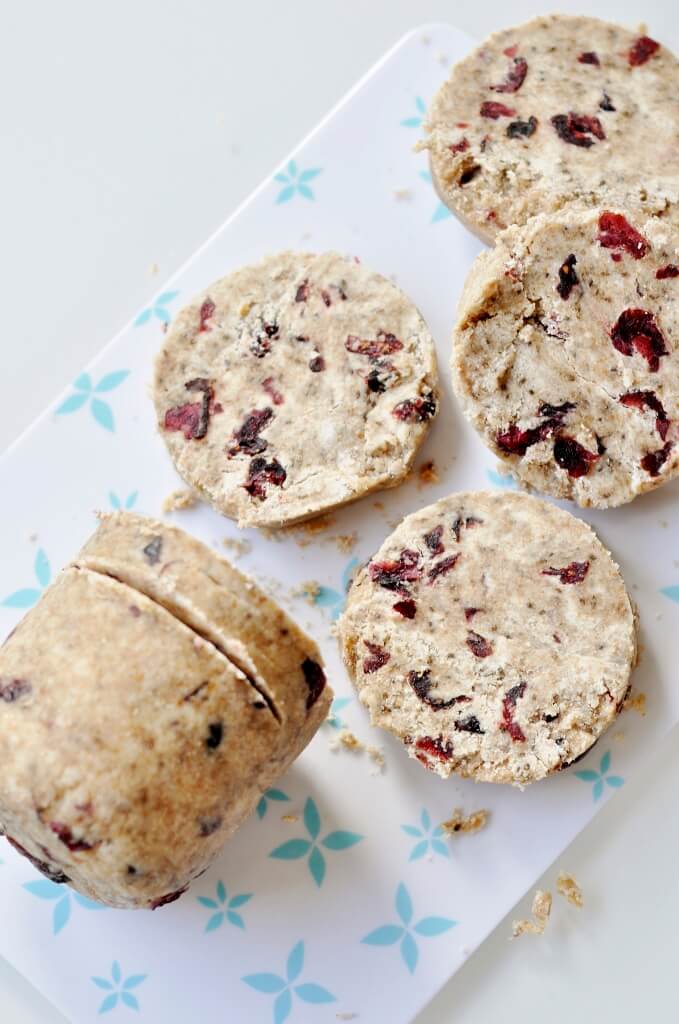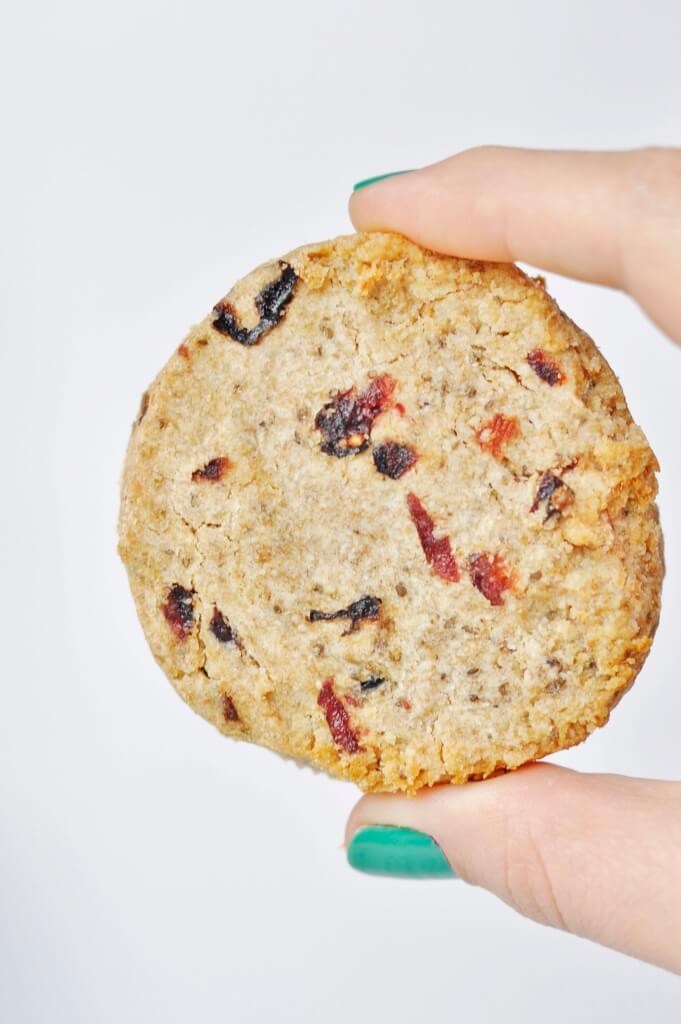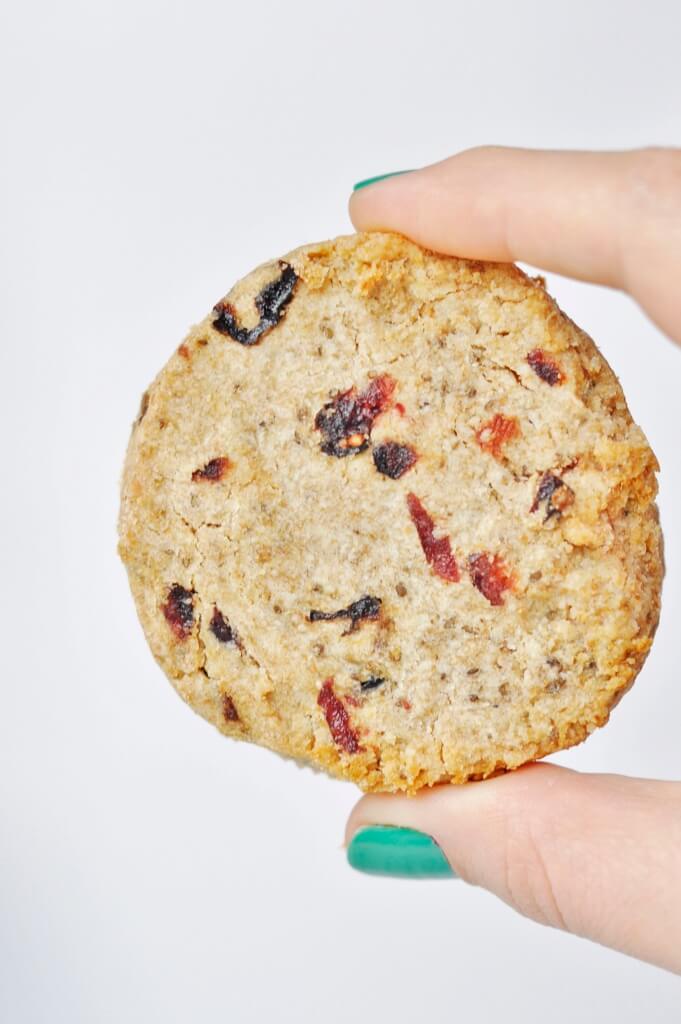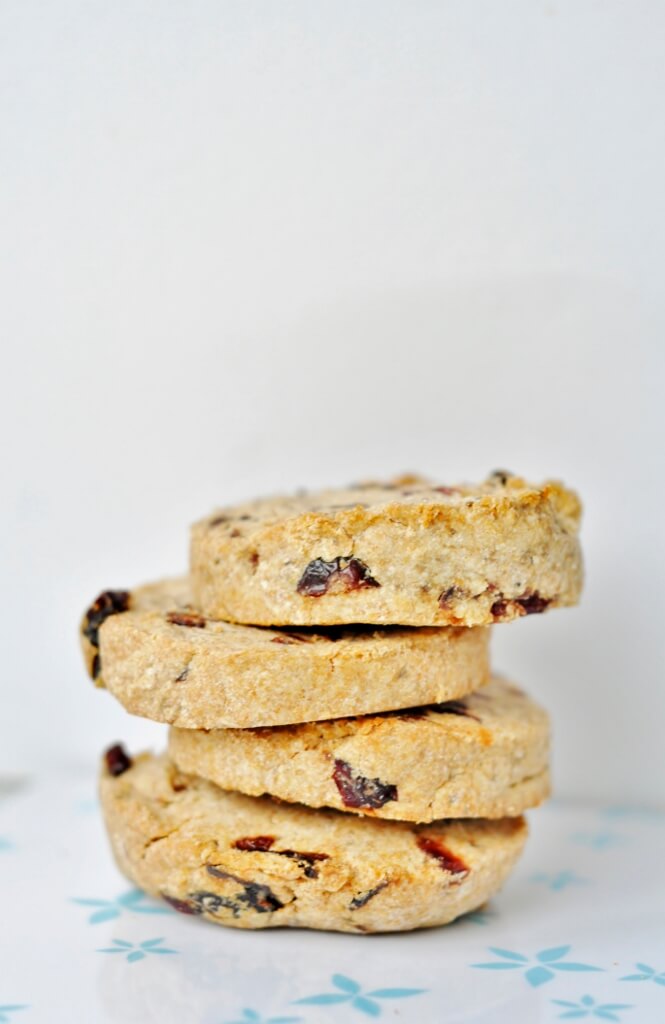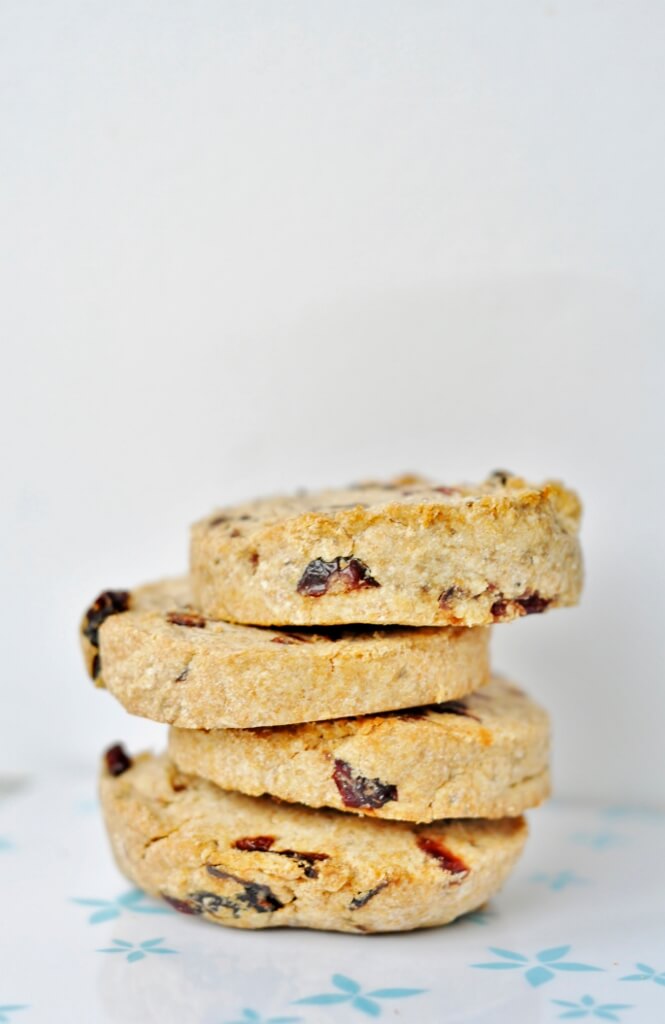 I have to add that I don't really like the taste of peanut butter and cranberries together but my kids do. It tastes delicious if you make these with almond butter and coconut butter.  You don't like dried cranberries then just omit them or substitute them for  raisins.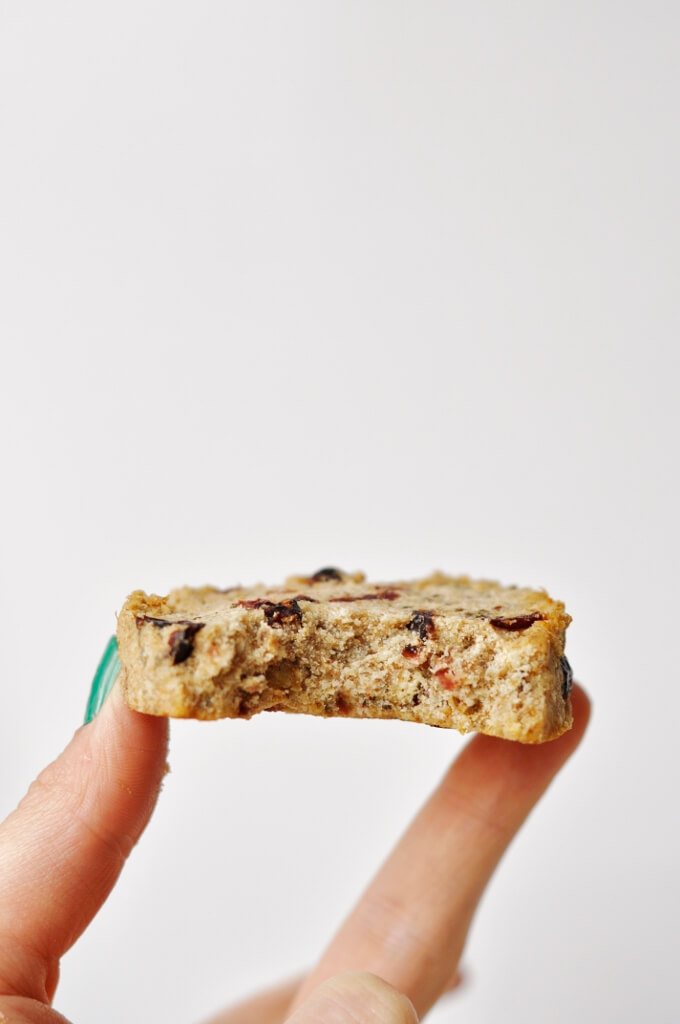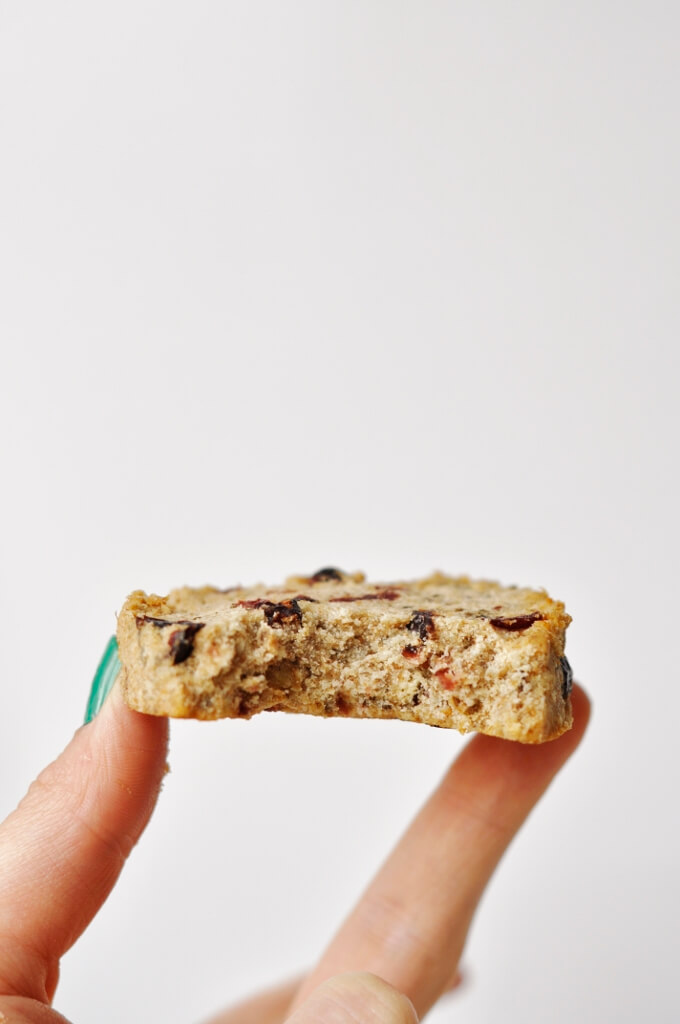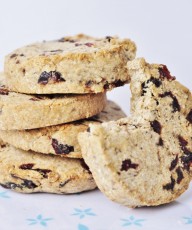 Nut Butter Cranberry Cookies
Ingredients
1/2

cup

Nut Butter

Almond Butter, Coconut Butter, Peanut Butter, etc.

1/2

cup

Raw Cane Sugar

2

tablespoons

Coconut Oil

1

Chia Egg

1

cup

Whole Wheat Flour

2/3

cup

Dried Cranberries

chopped
Instructions
Preheat oven to 300F (150C).

Cream nut butter, sugar, coconut oil, and chia egg together in a medium mixing bowl.

Stir in whole wheat flour and cranberries into dough.

Roll dough on counter top into a log. This should be 2 inches in diameter and 5 inches long. Wrap tightly in plastic wrap and refrigerate for at least 45 minutes until log is hard.

Using a sharp knife, cut log into 10 cookie slices.

Place cookies on a cookie sheet and bake for 18 to 20 minutes. Nut butter cookies are done when edges turn golden brown.

Cool on a cookie rack and store in an air tight container.
Recipe Notes
1) Knife needs to be very sharp when cutting these cookies. If cookies crumble a bit while cutting into slices, carefully press them together again. 2) Cranberries can be substituted with raisins too.3) Easily make a chia egg by mixing 1 tablespoon chia seeds with 3 tablespoons water. Let sit for roughly 10 - 15 minutes until a gel forms.
You can easily buy nut butter online but you can also make your own plus it's cheaper.
Need help finding any of the other ingredients? Here are some that I like and use:
Bob's Red Mill Whole Wheat Flour
Not the kind of cookies you might like? Try my Chocolate Chip Chia Cookies or some gluten-free Protein cookies