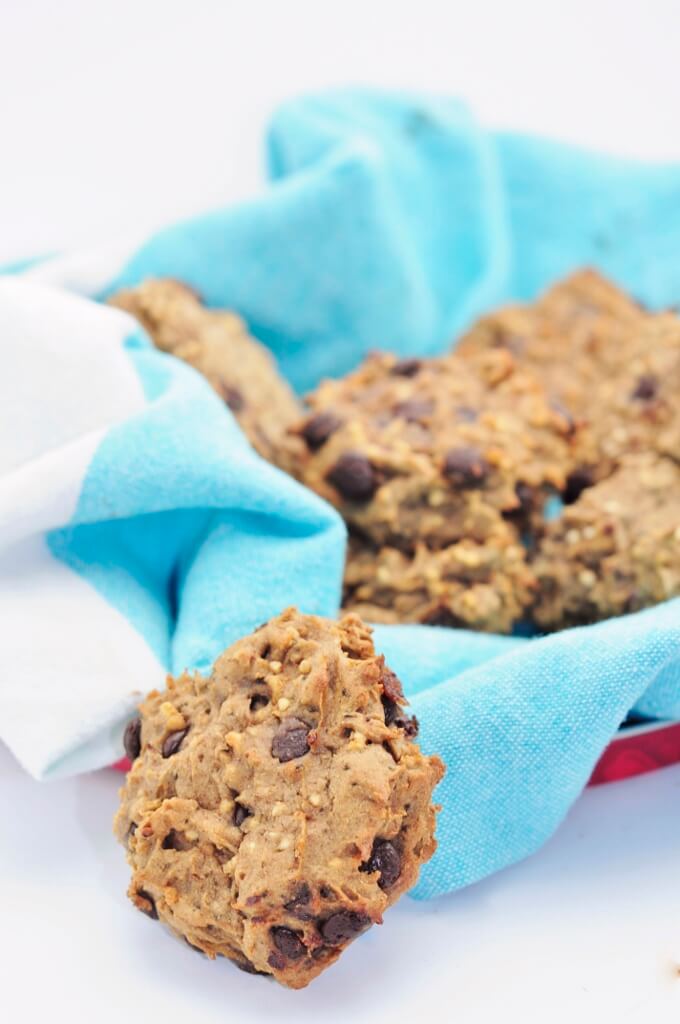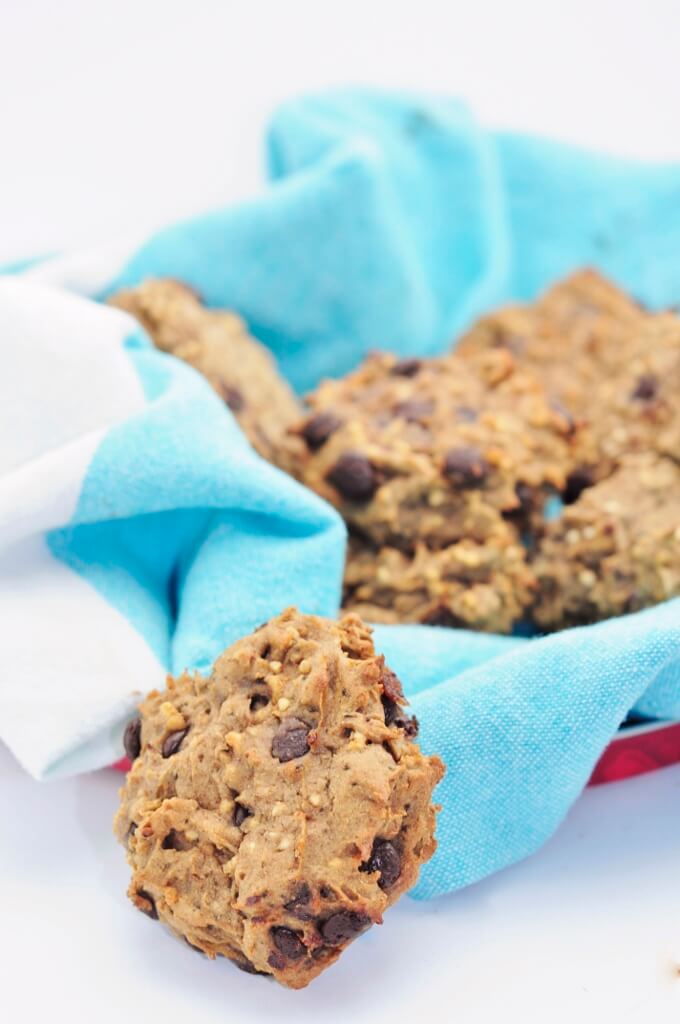 These puffed quinoa protein cookies have quickly become my favorite post workout snack. OK...I'll admit I even have them when I don't work out. Who cares? They are good and good for you :)
I made to sure to cover all the bases with these cookies. Here is a quick breakdown of the most important ingredients I used:
Chia seeds - For fiber and a long list of other amazing health benefits.
Protein powder - Well, this is a no brainer.... I used Sunwarrior Warrior Blend Raw Vegan Protein Powder (natural flavor). I recommend using it for this recipe but if you have a different protein powder you like better then use it! You can even play around with vanilla or chocolate flavored protein powders.
Puffed Quinoa - puffed quinoa is just as nutritious as regular quinoa. Super healthy because it is a complete protein (all 8 amino acids) and great source of magnesium, phosphorous, and manganese (important minerals post work-out).
Don't really know what puffed quinoa looks like? It's like rice puffs but smaller..or just check out the picture below :D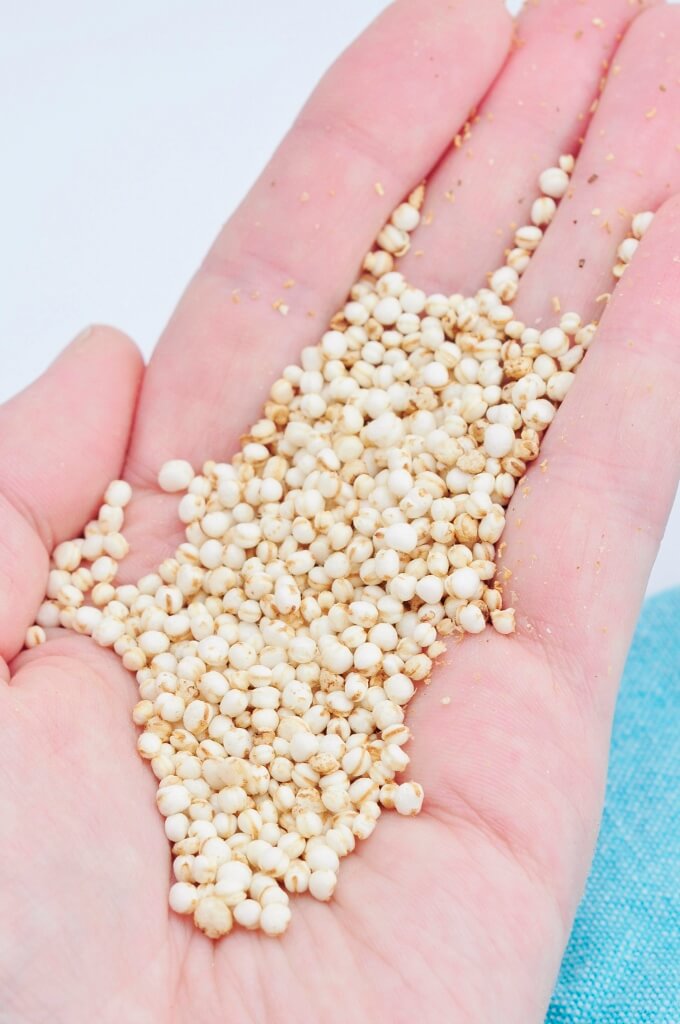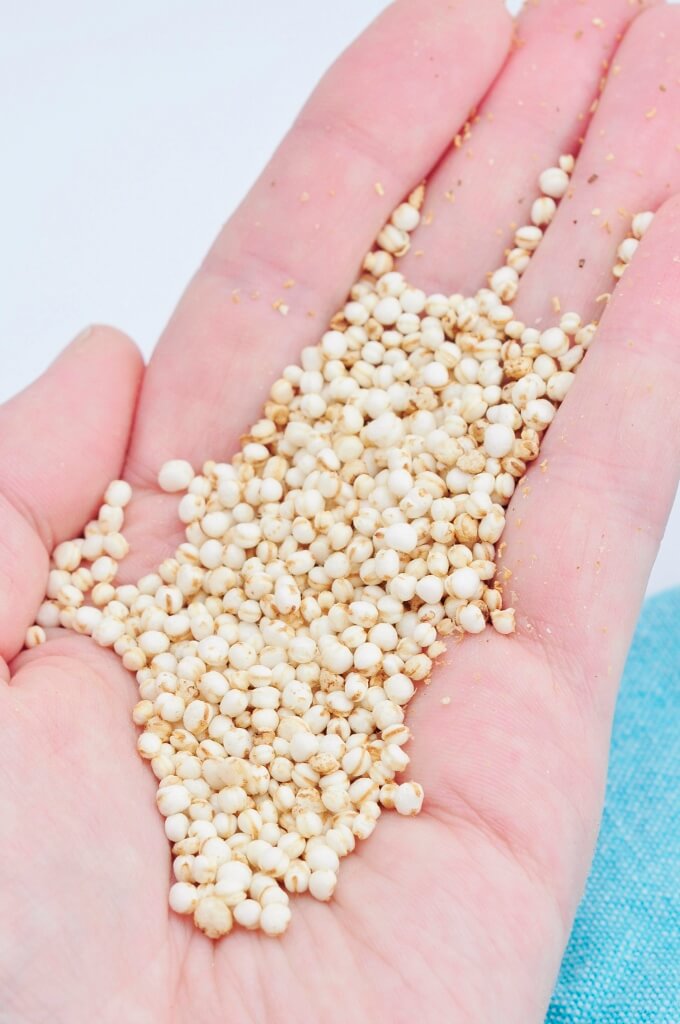 Did I mention that these were also gluten free? I used buckwheat flour instead of my usual whole wheat flour. That being said, if gluten isn't an issue for you then you can definitely make these using whole wheat or even all-purpose flour.
Funny side note about these cookies: They don't change their shape. You can make whatever shape or form you want with them (ball, cube, or your face) and it won't change one bit when baking. The dough is very sticky though and can be a bit difficult to work with. I found that if I formed little balls and then pressed down on them with a fork dipped in flour, that it was much easier to get a somewhat rounded shape.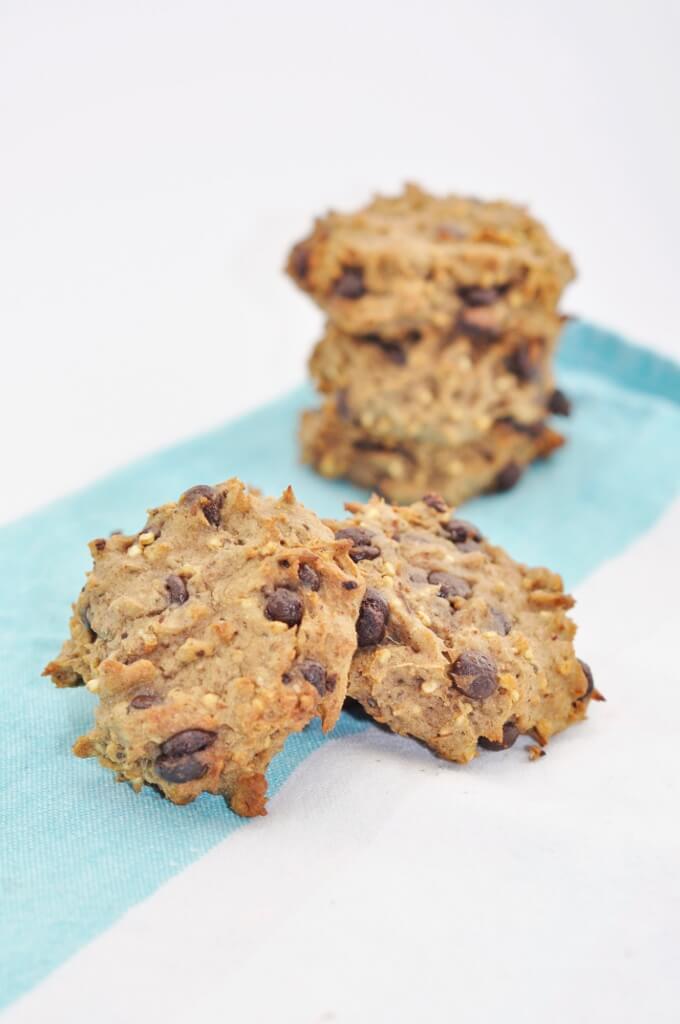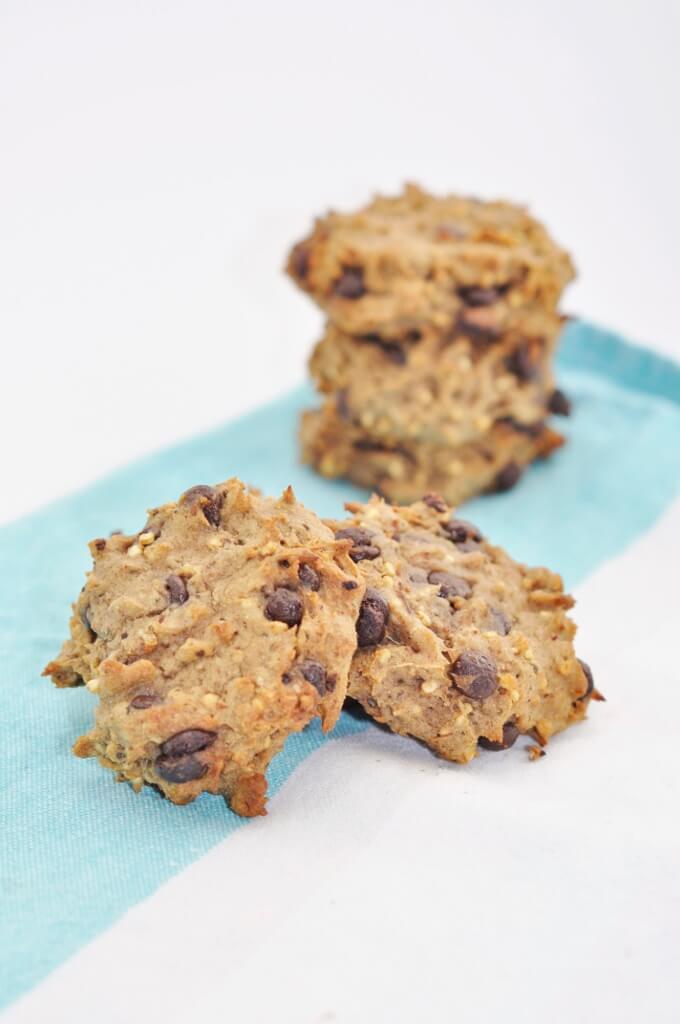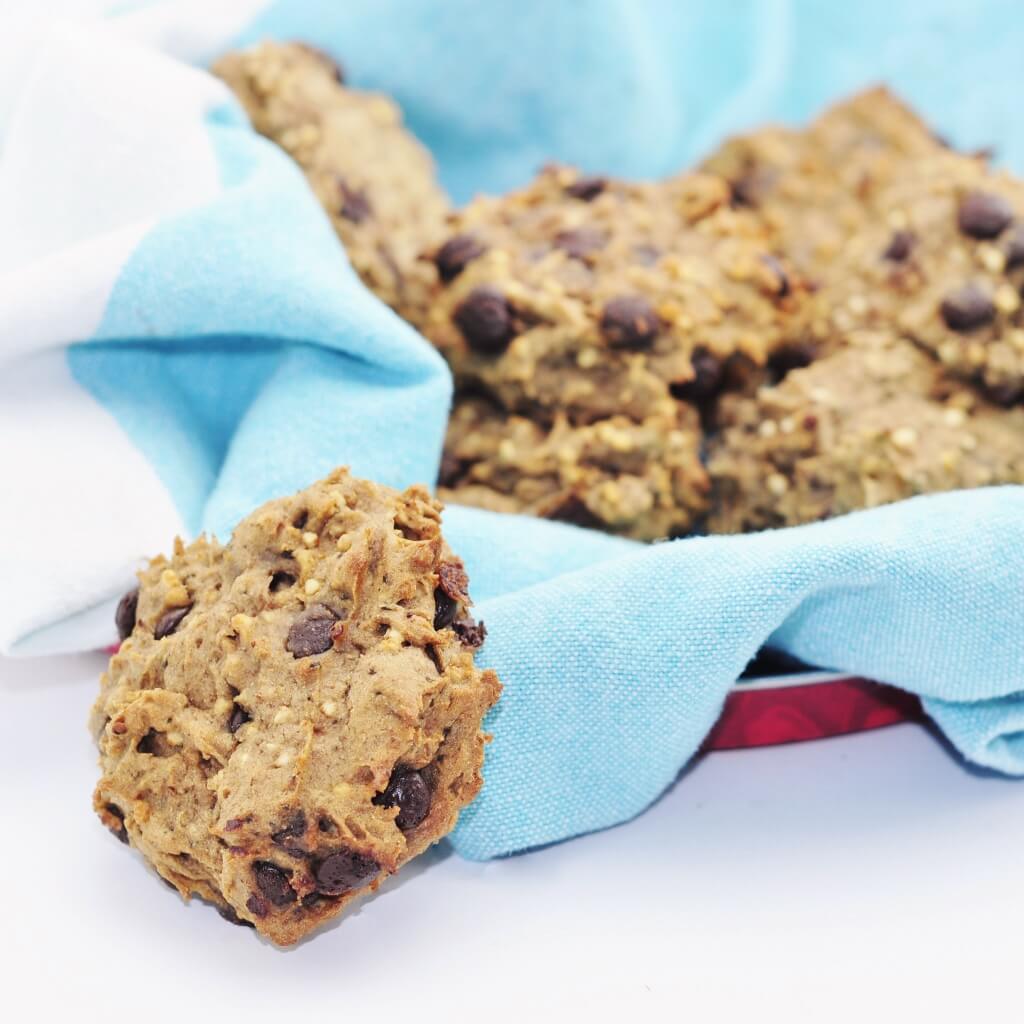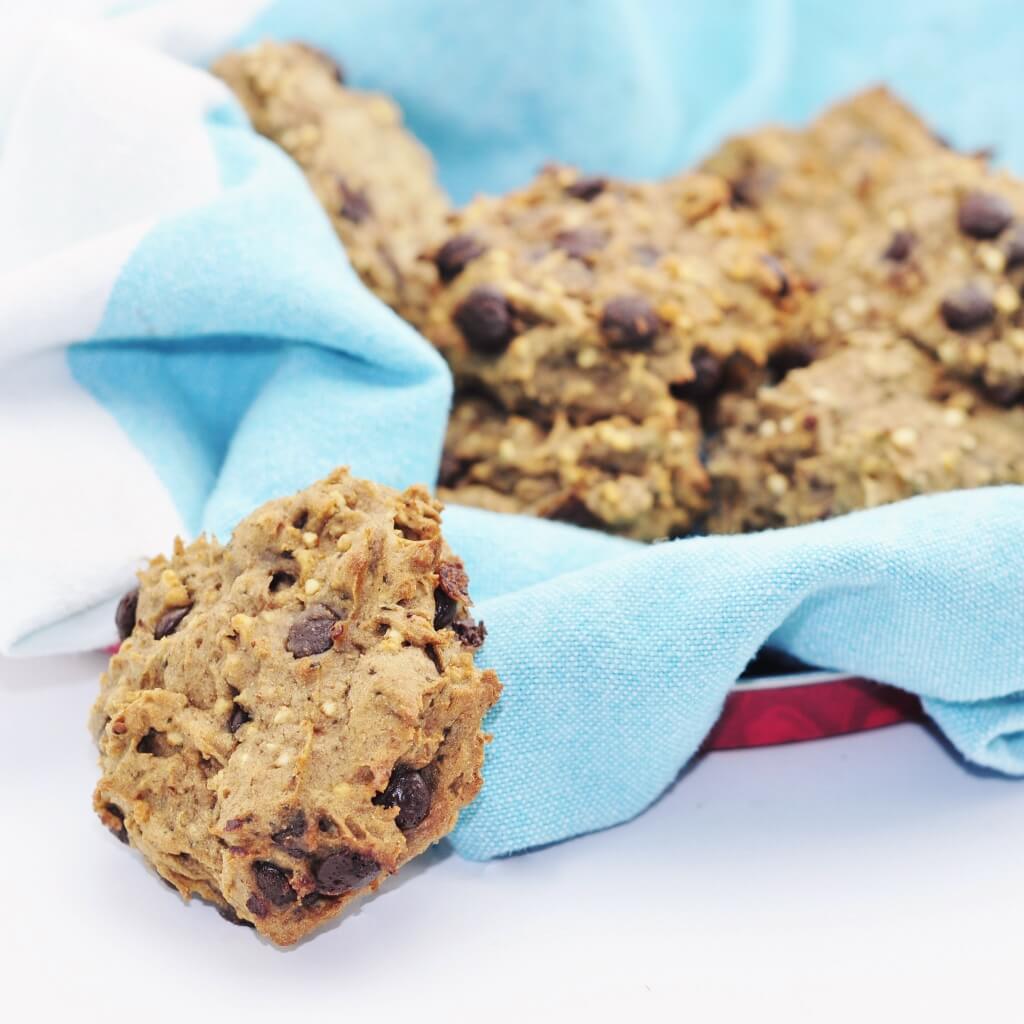 I also have to mention that these are protein powder cookies. If you can't stand the taste of your protein powder then you won't like these cookies a whole lot either.
Alright now get to making these cookies, jump up and down and spin in a circle a few times while the puffed quinoa cookies are in the oven and eat your well deserved post workout cookie! :D
Puffed Quinoa Protein Cookies
Ingredients
2

Chia Eggs

2

scoops

50 grams Unsweetened Protein Powder

½

cup

Buckwheat Flour

2

tablespoons

Raw Cane Sugar

pinch

of Salt

½

teaspoon

Baking Soda

½

cup

Puffed Quinoa

1

cup

Almond Milk

½

cup

Vegan Semi-Sweet Chocolate Chips
Instructions
Preheat oven to 390F (200C) and line a cookie sheet with parchment paper.

Prepare chia eggs by mixing 2 tablespoons chia seeds with 6 tablespoons water. Let sit for 15 minutes until it becomes gooey.

Mix dry ingredients (protein powder, flour, sugar, salt, baking soda, and puffed quinoa) together in a large mixing bowl. Stir in chia eggs.

Stir in almond milk to make a sticky cookie dough and then add chocolate chips.

Drop or form 1 tablespoon of cookie dough into desired shape and place on cookie sheet.

Bake for 8 to 10 minutes until golden.

Remove from oven and let cool on a cookie rack.
Recipe Notes
1) Cookie do not change shape when in the oven. Use this to play around with the cookie dough. 2) Feel free to substitute buckwheat flour for whole wheat or all purpose flour if gluten is not an issue for you. 3) Chia seeds do not need to be ground to make chia eggs. 4) Recipe can also be made with flax eggs.
Need some help finding some of the ingredients? Here are the ones I like:
Sunwarrior Warrior Blend Raw Vegan Protein Powder
Puffed Quinoa or learn how to make your own here
Enjoy Life Semi-Sweet Mini Chocolate Chips (Vegan and Gluten free)
Bob's Red Mill Organic Buckwheat Flour
Looking for other recipes using puffed quinoa? Try my Puffed Quinoa Protein Balls or Chocolate Puffed Quinoa Bars