How to do you make a cookie healthy? Add some vegan protein powder.
How do you make one of the best protein cookies taste even better? By adding chocolate.
How can you make these chocolate protein cookies even healthier? By adding flax seed and almonds for a high dose of fiber.
OK, so now we have chocolate protein cookies with flax. Why not add some chocolate drizzle? My grandma does always say, "the more chocolate the better" and I really can't disagree with that.
Each cookie is packed with 4.8 grams of (vegan) protein and has 86 calories. Let's not forget that these cookies aren't tiny. It's a mouthful, in a good way. It took me a good 4 bites to eat one cookie making it a great sweet snack for in between. The chocolate protein cookies themselves aren't too sweet. They almost taste like a breakfast cookie but when I added the chocolate drizzle on top they turned into a healthy sweet snack that also great post-workout:) Plus they taste great with a cup of coffee or, during this time of year, iced coffee.
This protein cookie recipe makes 12 cookies but somehow , the last time I made them, I only got to eat 2 of them. Turns out my #1 (my 3 year old) discovered that these cookies taste good. I was pretty sure that he wouldn't like them since they had flaxseed in them. Boy, was I wrong. This is such a great example of how you can sneak healthy ingredients into children's food. So I really didn't mind. They have 3.2g of sugar each (much of that from the banana as well) which I think he will be able to handle.
In order to make great vegan protein cookies you need to find a good vegan protein powder. I've found that the best vegan protein powder (natural flavor) for baking or using in fruit/green smoothies is the Sunwarrior raw vegan protein powder. I always have the natural kind at home since that way I can adjust the sweetness to my liking. I do have to point out though that this isn't the protein powder you want to use the way you would a vegan chocolate protein powder. Natural protein powders have a horrific taste when you just mix them with some almond milk. This is why I usually have both on hand.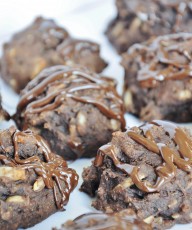 Chocolate Protein Cookies with Flax
makes 12 cookies
Ingredients
1

scoop Vegan Protein Powder

natural flavor

2

tablespoons

ground Flaxseeds

1

tablespoon

unsweetened Cocoa powder

pinch

of Salt

1

Banana

pureed about ⅓ cup

2

tablespoon

Raw Cane Sugar

½

cup

Almond milk

or other plant-based milk

⅓

cup

plus 2 tablespoons Whole Wheat flour

½

teaspoon

Coconut Oil

½

cup

Slivered Almonds

½

teaspoon

Baking Soda

¼

teaspoon

Cinnamon

Vegan Chocolate Chips

melted and optional
Instructions
Preheat oven to 390F(200C) and line a baking sheet with parchment paper.

Combine protein powder, flax, cocoa, salt, sugar, flour, baking soda, and cinnamon in a medium sized bowl and mix with a wooden spoon.

Mix in pureed banana, coconut oil, and almond milk.

Stir in slivered almonds.

Place 1 ½ to 2 tablespoons of cookie dough onto a baking sheet.

Bake in center rack for 7-9 minutes.

Remove from oven and cool on cooling rack.

Melt chocolate chips in microwave or double boiler. drizzle melted chocolate over cookies. Allow chocolate to cool.
Recipe Notes
1) Make sure banana is pureed smoothly (No chunks!) Banana chunks will lead to raw cookies. 2) Dough will be fairly sticky. This is normal.3) If you do not have ground flax on hand you can also just grind whole flax seeds until they are slightly cracked. I think this actually adds a nice texture.4) These cookies also taste great warm. Give them a try once they come out of the oven!
Here are some of the ingredients I used for this recipe:
Sunwarrior raw vegan protein powder
Enjoy Life Semi-Sweet Chocolate Chips (Vegan & Gluten-free)