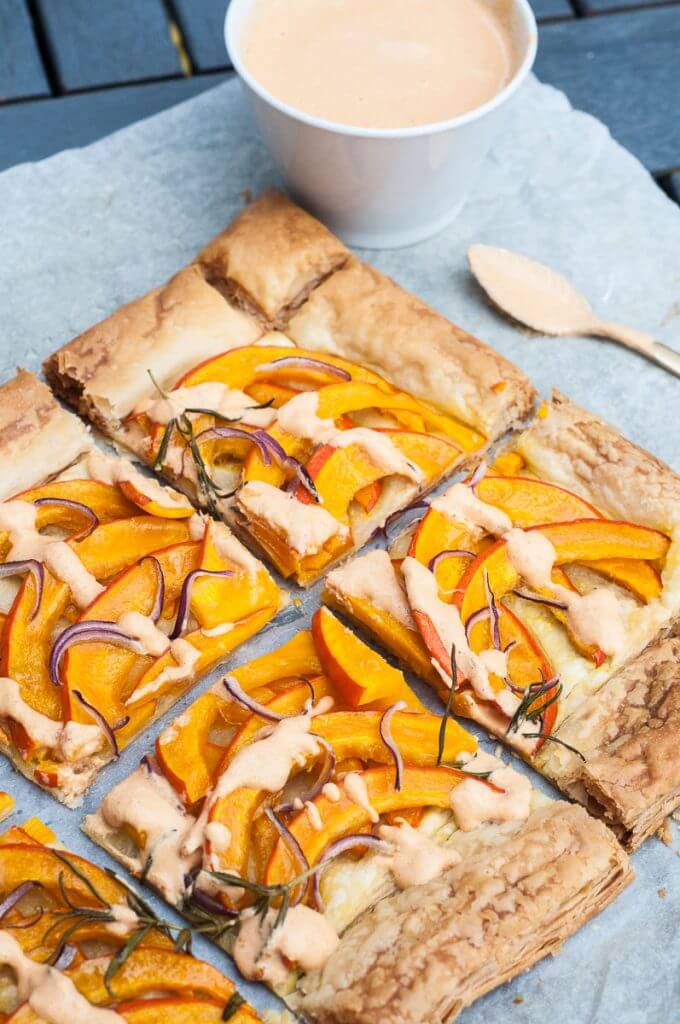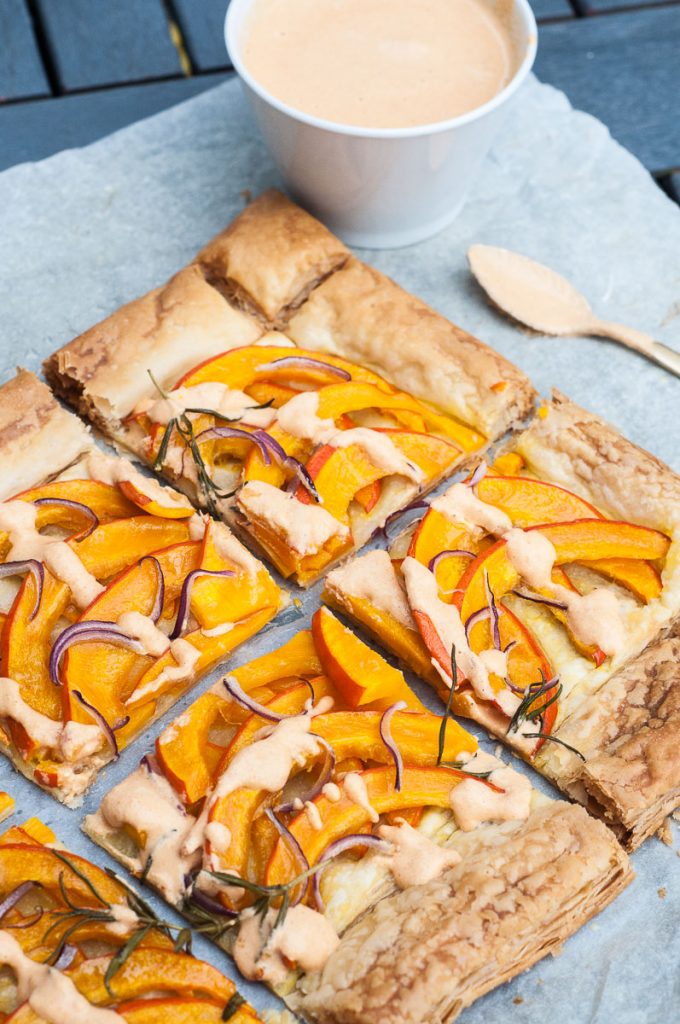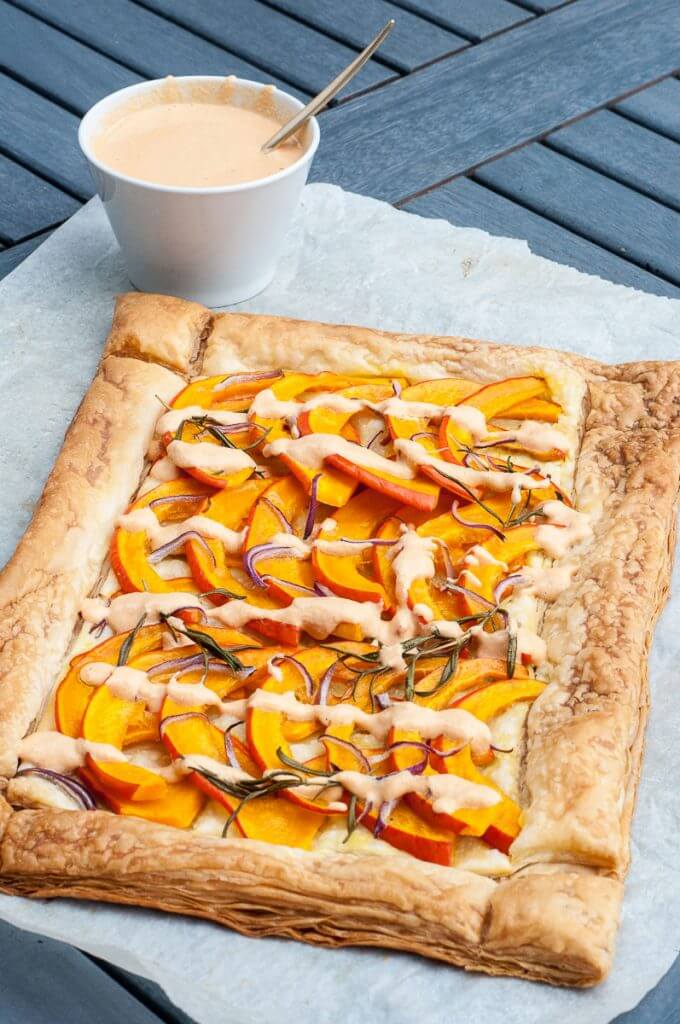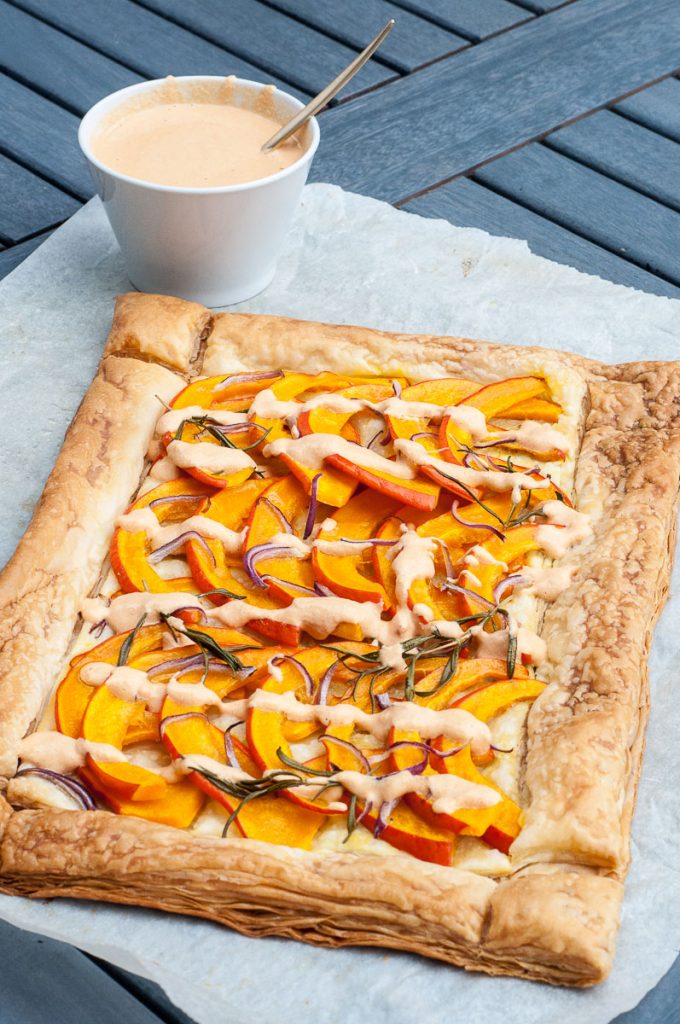 There are an overwhelming amount of sweet pumpkin recipes. Pumpkin pie, pumpkin cookies, pumpkin brownies, pumpkins covered in sugar, pumpkin sugar this, and pumpkin sugar that. Frankly, I'm getting sick of it. Sure, I enjoy a good pumpkin dessert every now and then but I usually have more cravings for savory things.
Pumpkin tastes so good on its own. You've probably already had pumpkin soup before. If not, get on that!!
Pumpkin tastes really good roasted and put on a salad or even on things like this tart. What I really love about this pumpkin tart is that it's much easier to make than you might think. The hardest part is probably slicing the pumpkin but if you have decent, sharp knife that shouldn't be an issue either.
You don't even have to cook the pumpkin before putting it on the puff pastry. Just make sure you slice it thin enough.
You do have to note that I used a Hokkaido pumpkin for this recipe. You'll sometimes find them at farmer's markets or health food stores under the French name, potimarron, or even called Kuri squash.
The Hokkaido is much smaller than your typical sugar or small pie pumpkins.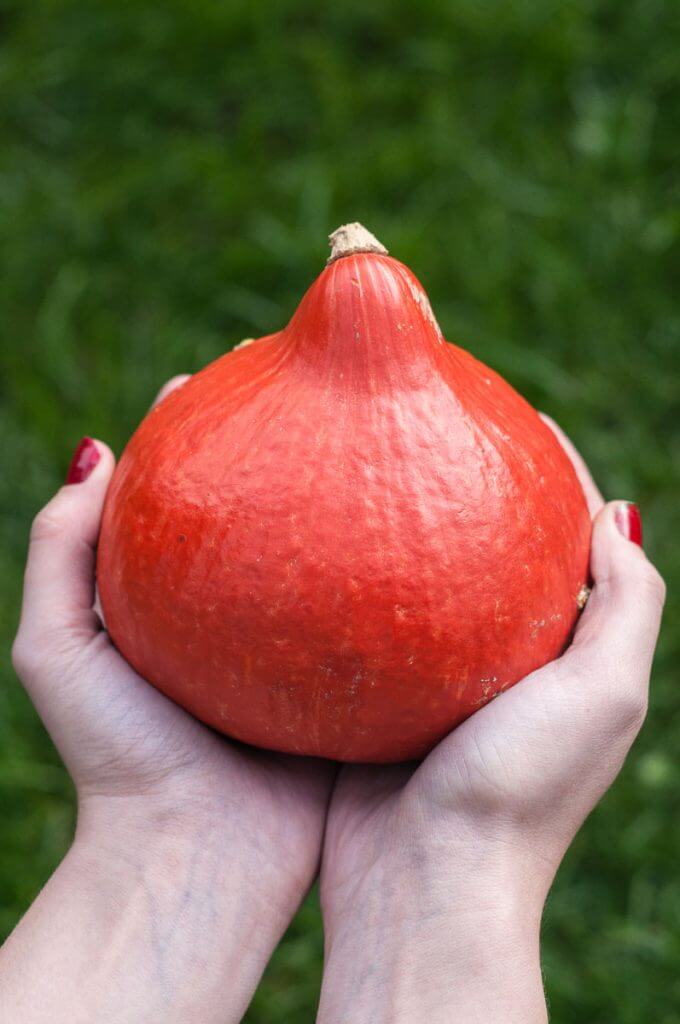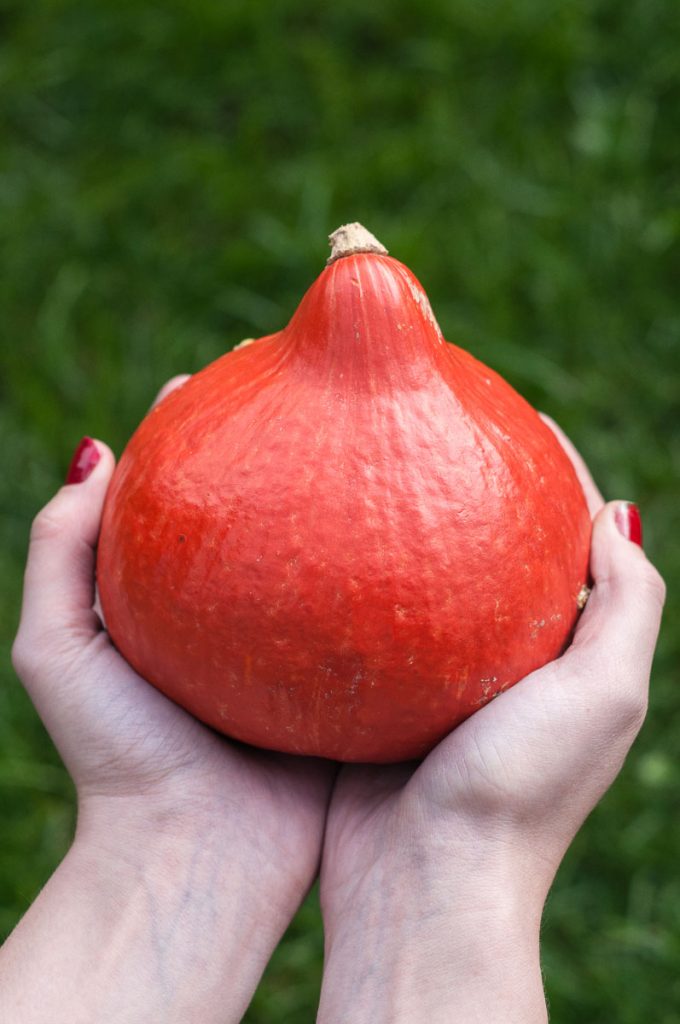 Unlike sugar pumpkins, the skin of Hokkaido pumpkins is edible and the flesh is smooth and velvety. However, the seeds aren't good for roasting. The shell is too hard. Stick to using pie pumpkins if you want to roast your seeds.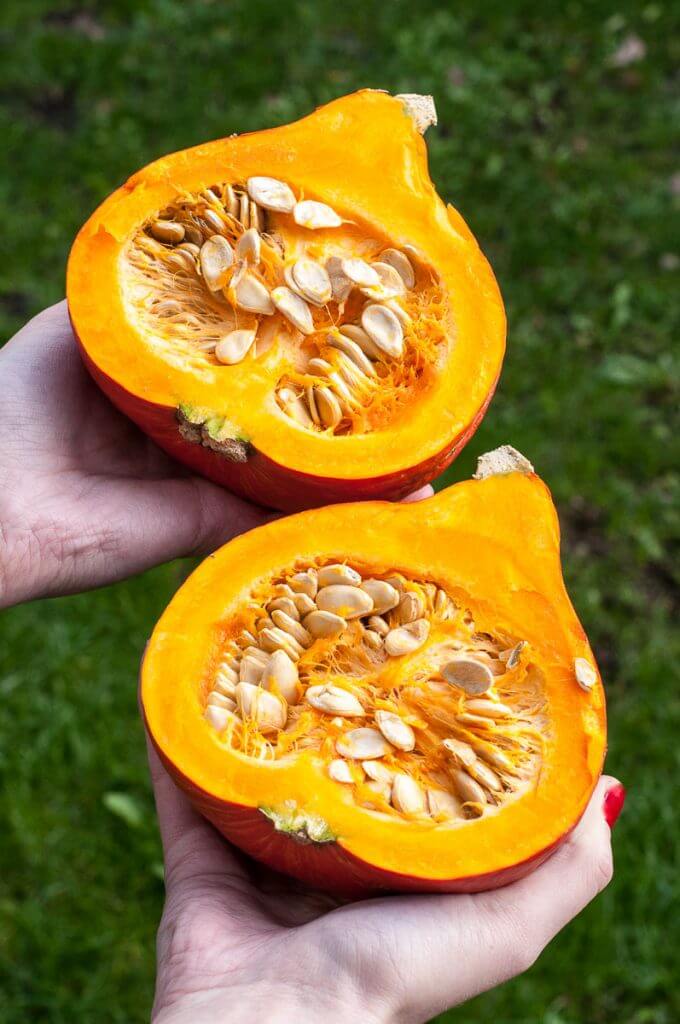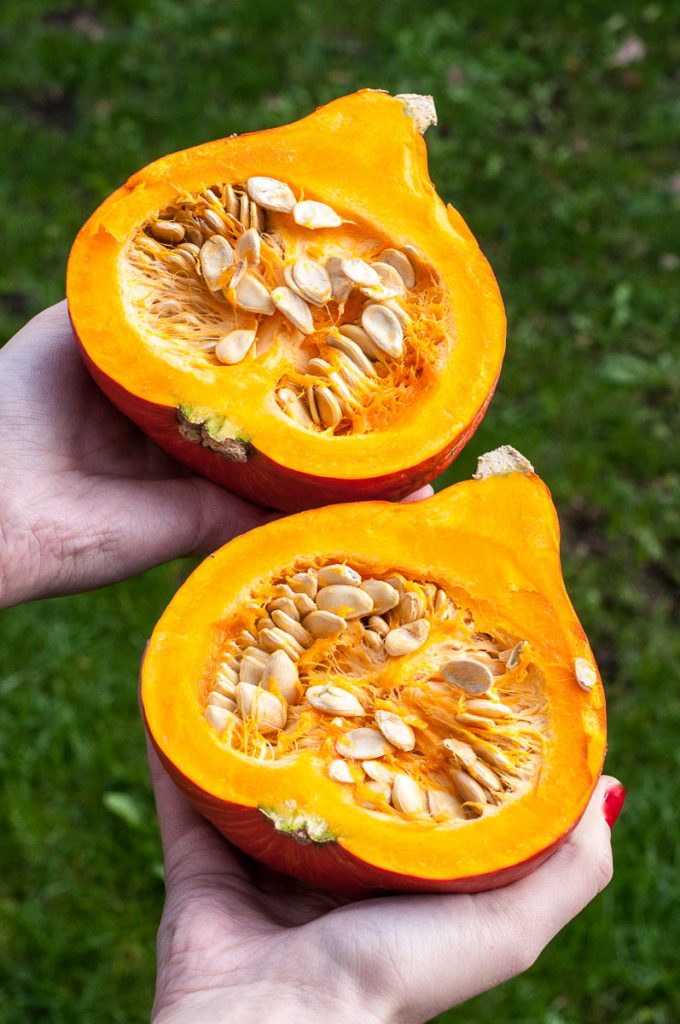 If you can't find a Hokkaido at any local market or store, then you can also use a sugar or small pie pumpkin. Check out the notes in the recipe for how to use it then.
So you've got a pumpkin, some puff pastry, a red onion, and some rosemary...well, then you can get started. Add your pumpkin slices onto the puff pastry, along with some red onion and rosemary, and bake it. While the tart is baking, make the scrumptious garlic-cashew sauce.
Take the pumpkin tart out of the oven and...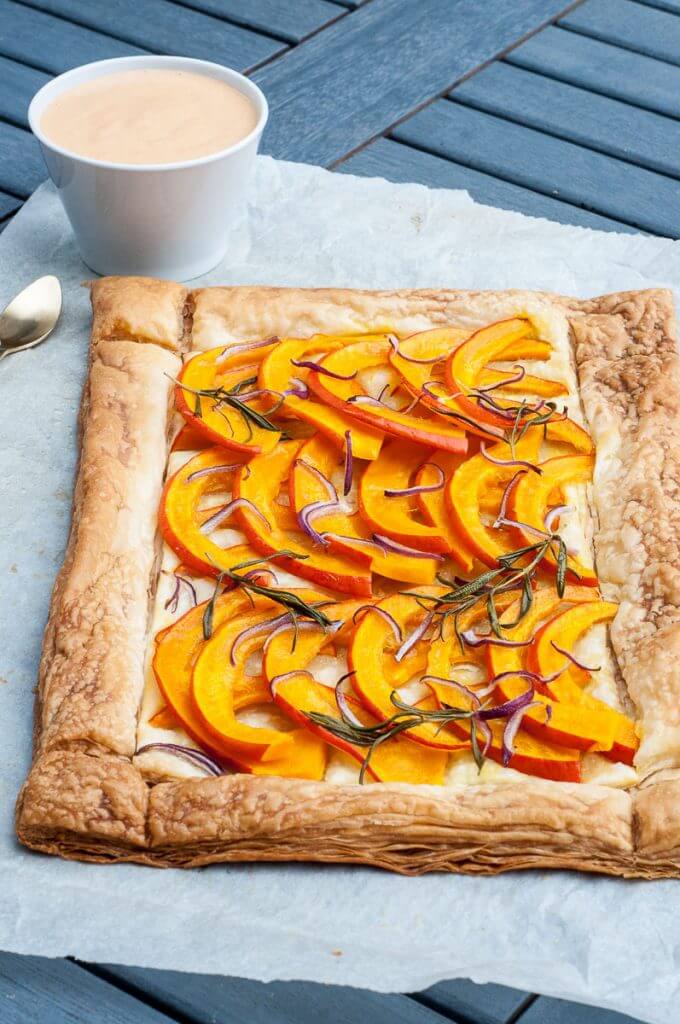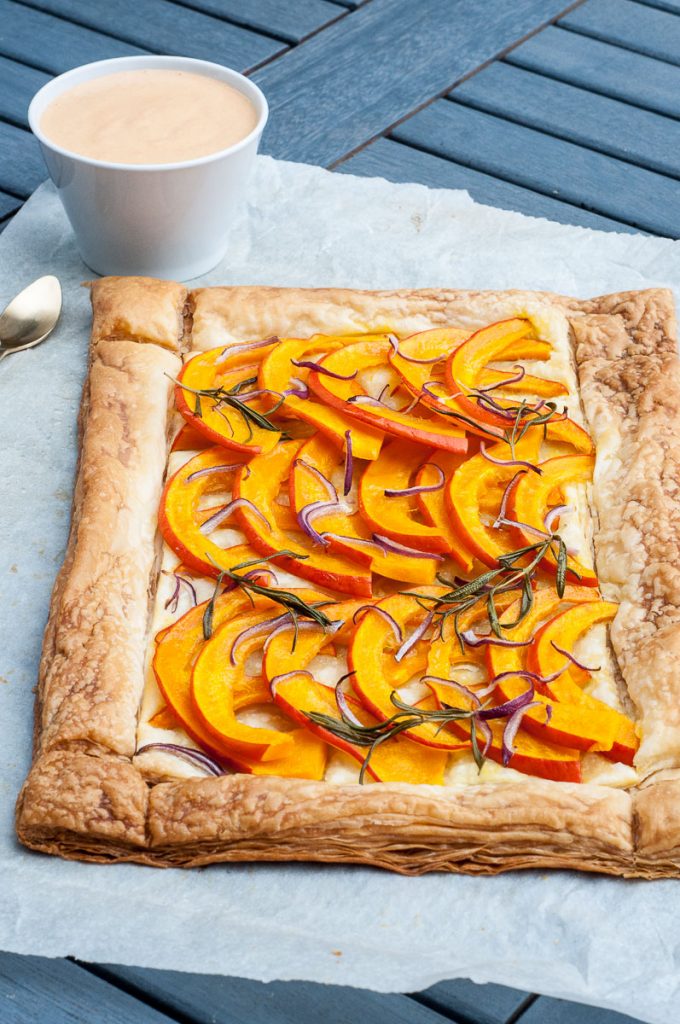 drizzle with the sauce! Dinner has never been easier :)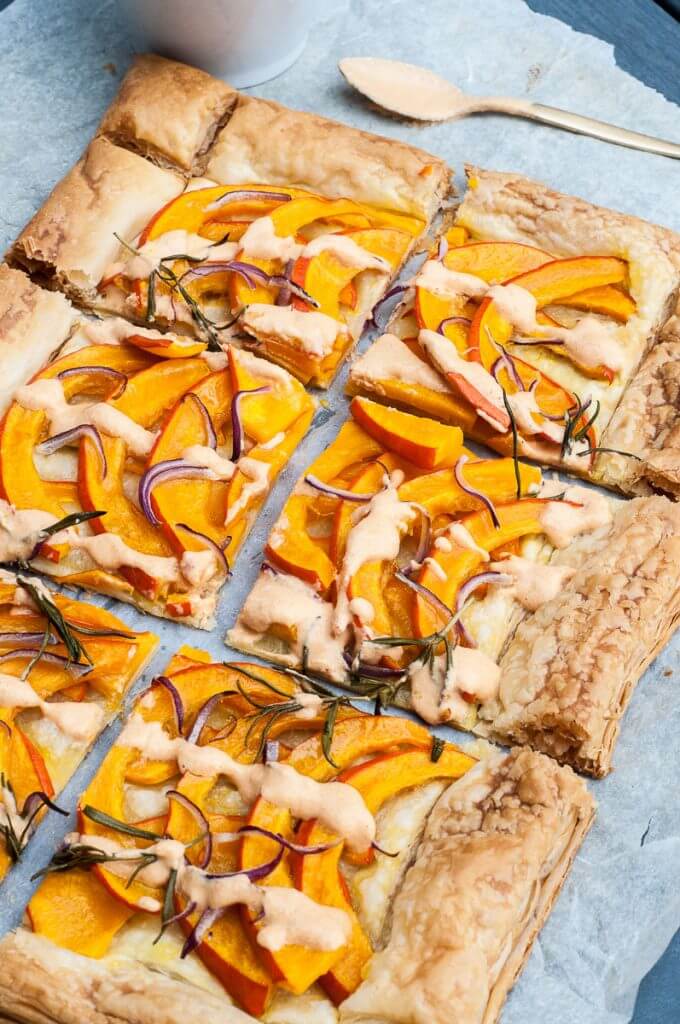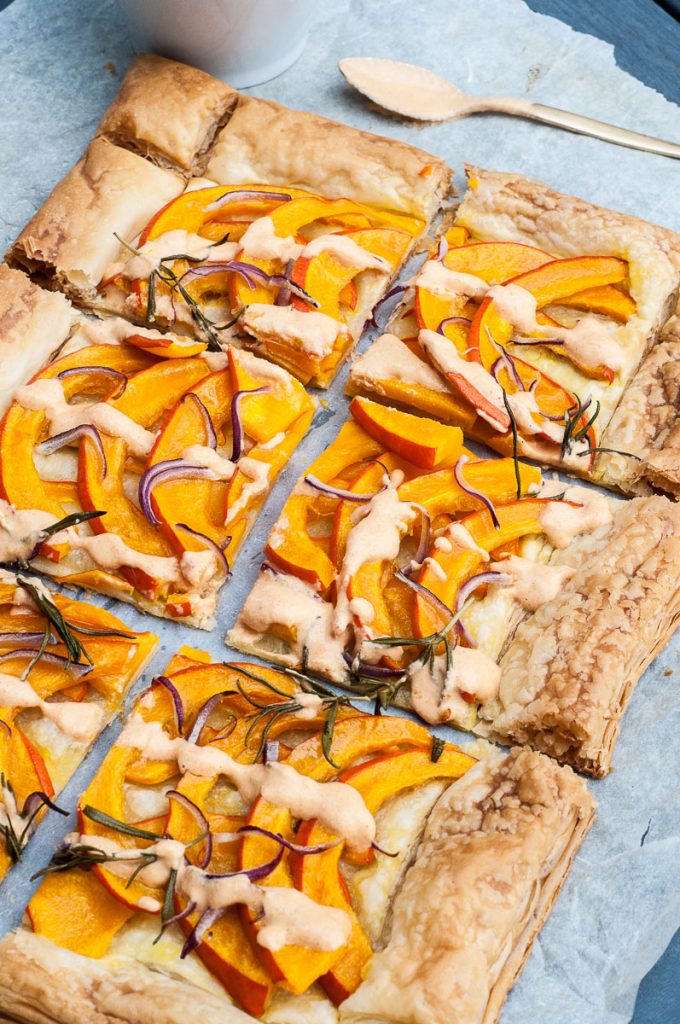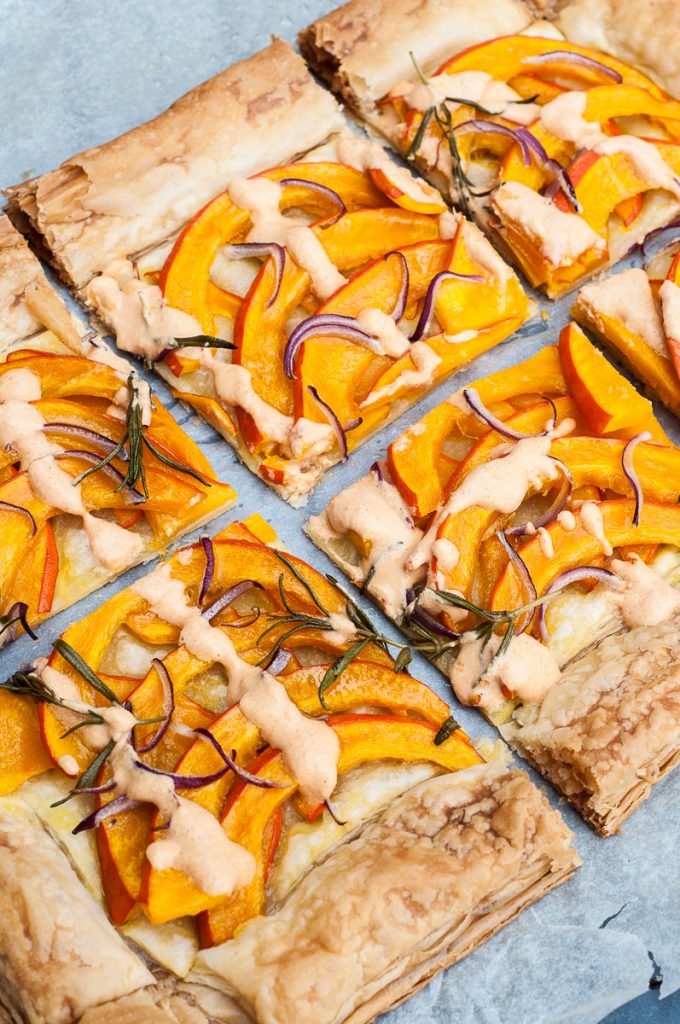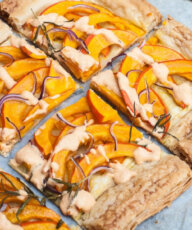 Savory Pumpkin Tart
A quick savory pumpkin recipe made with puff pastry. Easy to make and stunning to look at! Perfect for Thanksgiving!
Makes
1
large rectangular tart
Ingredients
Tart
1

sheet of Puff Pastry

½

of a small Hokkaido Pumpkin

if using a small pie or sugar pumpkin see notes

1

small red onion

sliced

Olive Oil

2

springs of Fresh Rosemary

Fresh Cracked Pepper

optional
Garlic - Cashew Sauce
⅓

of a cup Cashews

1

or 2 small cloves of Garlic

1

teaspoon

Lemon Juice

1

teaspoon

Apple Cider Vinegar

¼

of a teaspoon Salt

1

teaspoon

Paprika

½

of a cup Water
Instructions
Preheat oven to 395F (200C)with a baking sheet inside.

Remove your puff pastry from the refridgerator and score a 1 ½ inch border. (See notes)

Wash the pumpkin and slice in half. Scoop out the seeds and toss. Slice your pumpkin as thinly as you can. Place the sliced pumpkin on the puff pastry, keeping it within the border. Add sliced red onion on top of the pumpkin and fresh rosemary. Brush with olive oil.

Bake for 20 minutes on lower rack. After 20 minutes, increase heat to 450F (230C) and bake for an additional 5 minutes.

While the tart is in the oven make the garlic-cashew sauce by blending all ingredients together in a food processor, blender, or with an immersion blender until smooth.

Remove pumpkin tart from oven, drizzle with sauce, top with fresh cracked pepper (optional), and serve hot.
Recipe Notes
1.) The great thing about Hokkaido pumpkins is that their skin is edible. However, if you can't find them around you and need to use a small pie pumpkin this is still doable. The skin on small pie or sugar pumpkins isn't edible and will need to be peeled off before slicing and putting it on the puff pastry. Peeling pie pumpkins isn't an easy task as the peel is fairly thick. Some people will microwave their pumpkin for a few minutes to soften the skin and then peel it. If all else fails, slice the pumpkin, cook it on the tart, and remove the peel before eating. Alternatively, you can make this with butternut squash instead. The peel of a butternut squash is thin and can easily be taken off with a peeler before cooking. 2.) Not sure how to score a border? Lay out your puff pastry sheet and using a yardstick or ruler measure out 1 ½ inch border around the edge of the puff pastry. Only cut halfway into the puff pastry. Do this while trying not to touch the puff pastry with your hands. Puff pastry needs to stay cold to rise. The warmth from your hands will cause the puff pastry to easily tear. If you think your puff pastry is starting to stretch after making your border, place it back in the fridge or freezer for a few minutes.
Looking for some other fall recipes? Check out these!