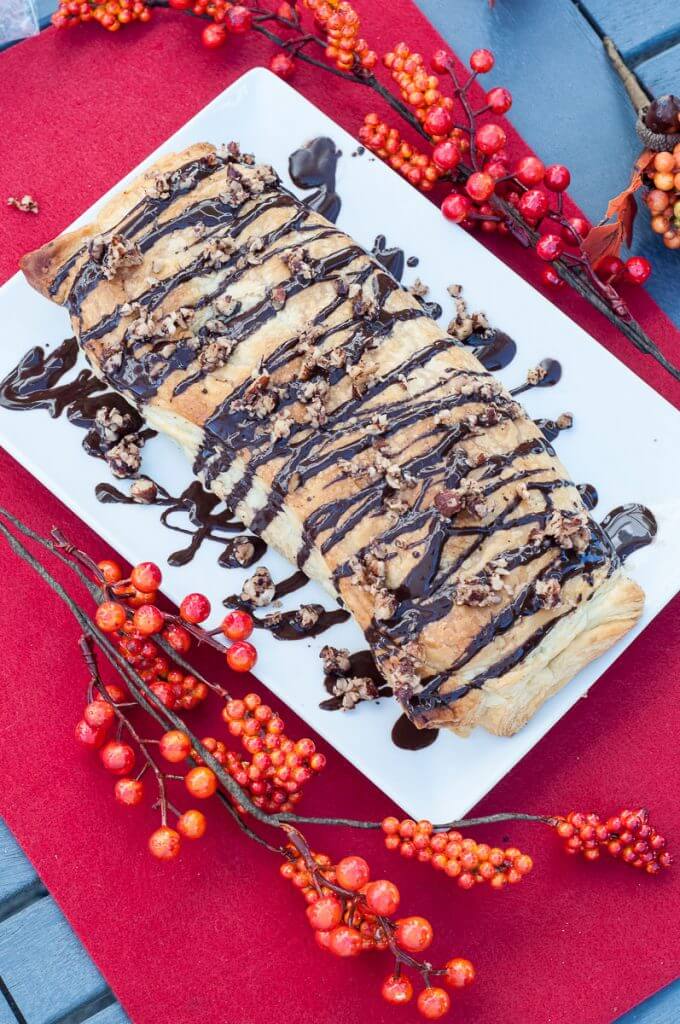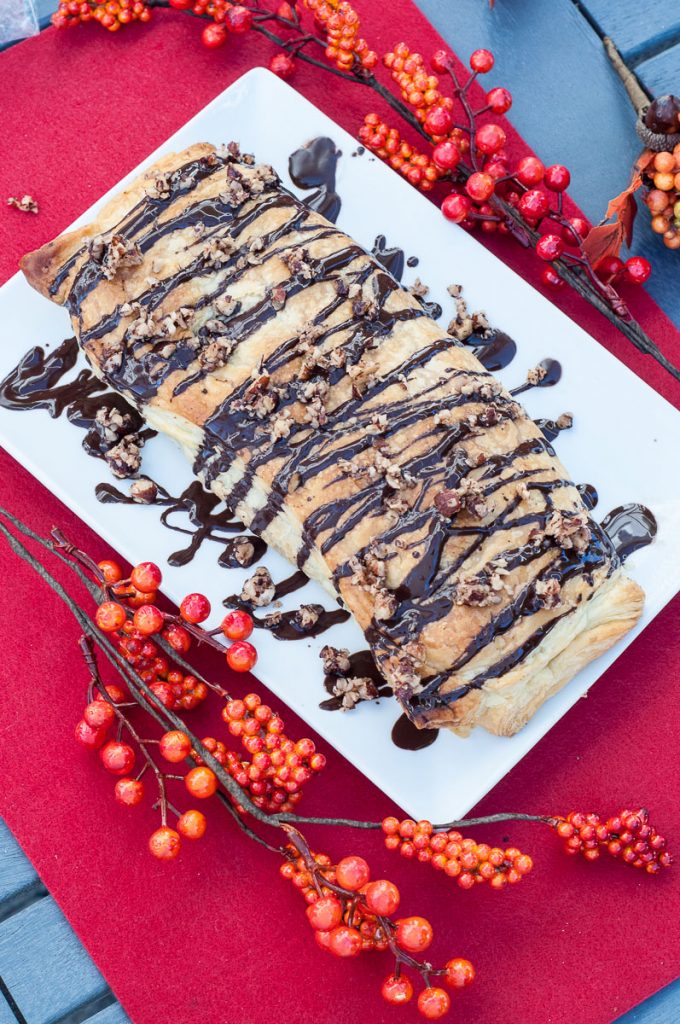 For those of you that can't seem to get enough pumpkin recipes this time of year, here is one more way to enjoy. This pumpkin-hazelnut strudel is actually very simple to make and tastes similar to pumpkin pie. It's a unique and different way to enjoy pumpkin though and is perfect for those that are sick of the same pumpkin pie over and over again.
We will be celebrating Thanksgiving in Germany this year so I thought it would be fitting to make strudel. Strudel needs to be eaten straight out of the oven and very hot. You can, however, make it several days ahead and then bake it in the oven right before you need it. You can even freeze it until you need it.
I've made this strudel a lot. Sometimes I use sugar pumpkins and other times butternut squash, depending on which of the two I have on hand. I find both flavors work really well and are perfect for this time of year.
The pumpkin strudel is surprisingly easy to make. All you need to do is cook the pumpkin, mash it and spread it across the puff pastry.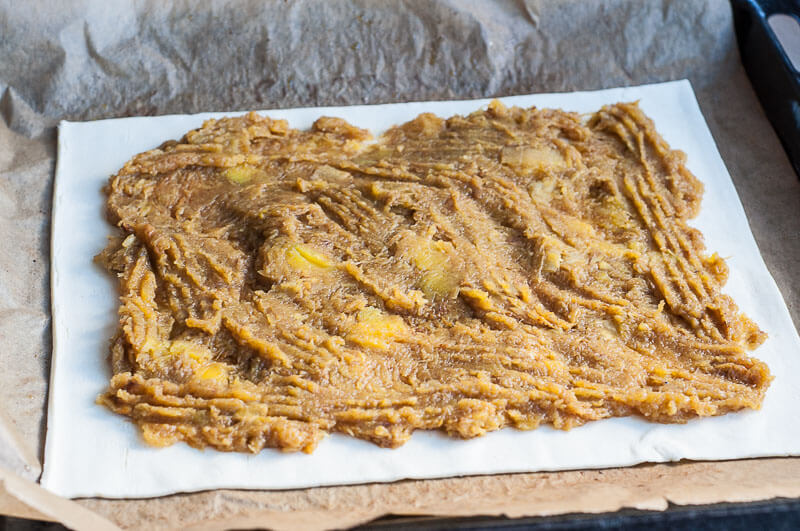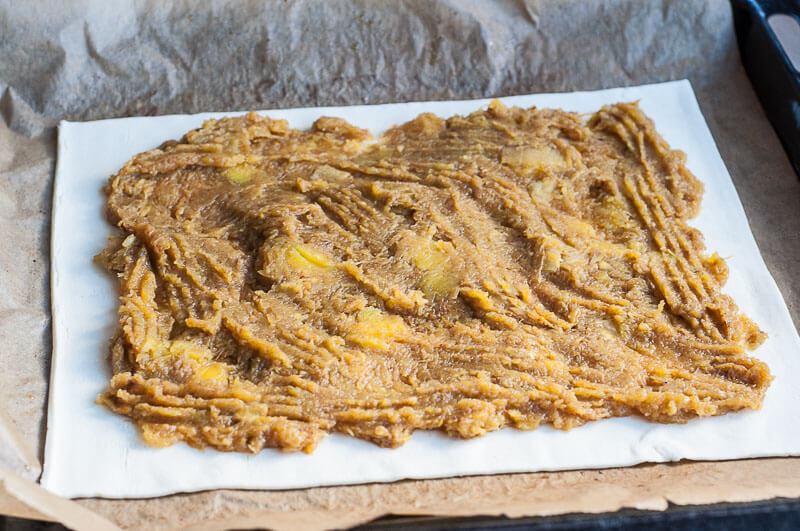 Then, caramelize the chopped hazelnuts and spread ⅔ of them over the mashed pumpkin.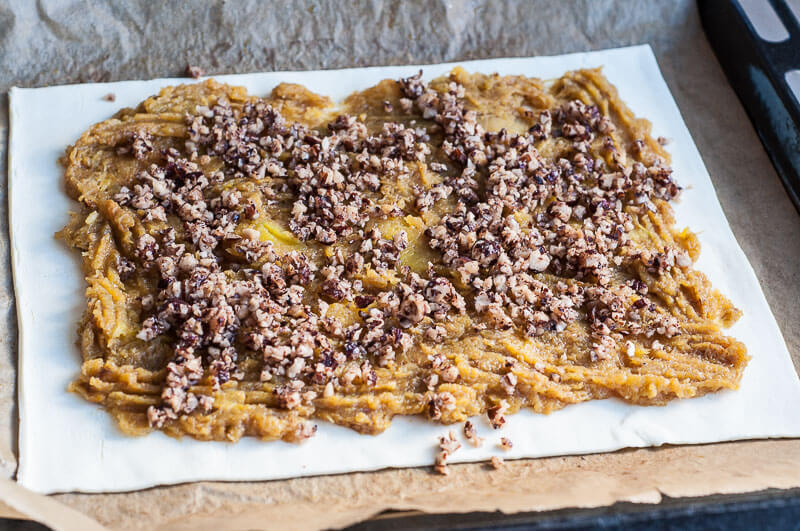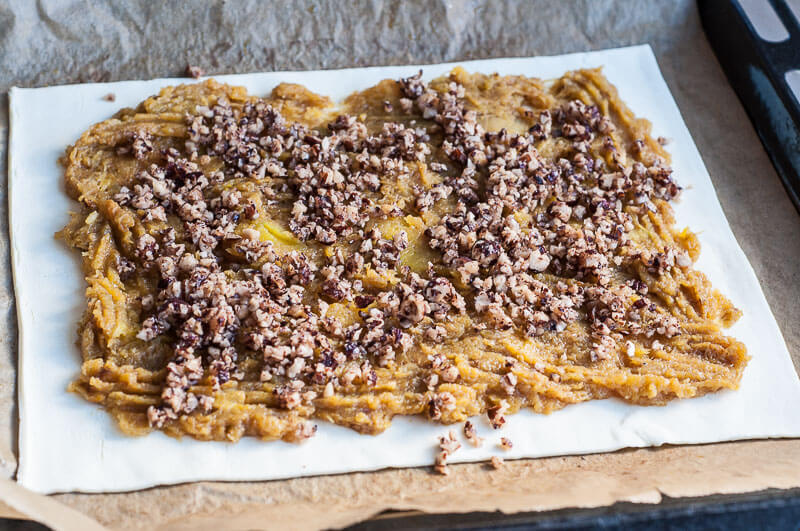 Fold it up, seal the sides and bake it in the oven until crisp and golden-brown. Add some melted chocolate drizzle and sprinkle the remaining hazelnuts on top. Voila! A totally delicious and new way to enjoy pumpkin this season :)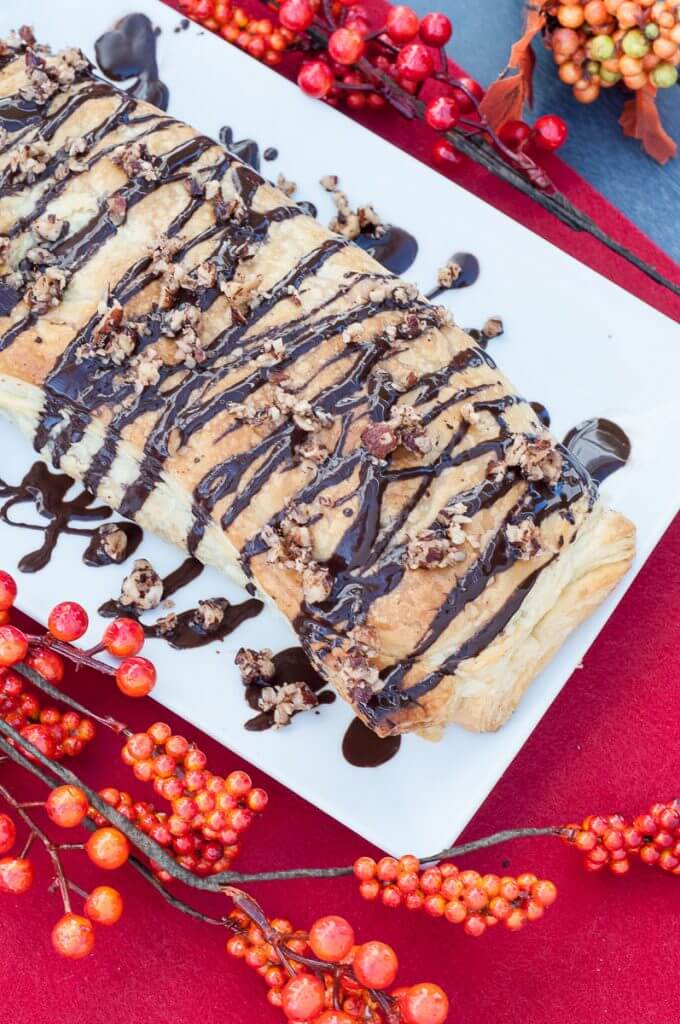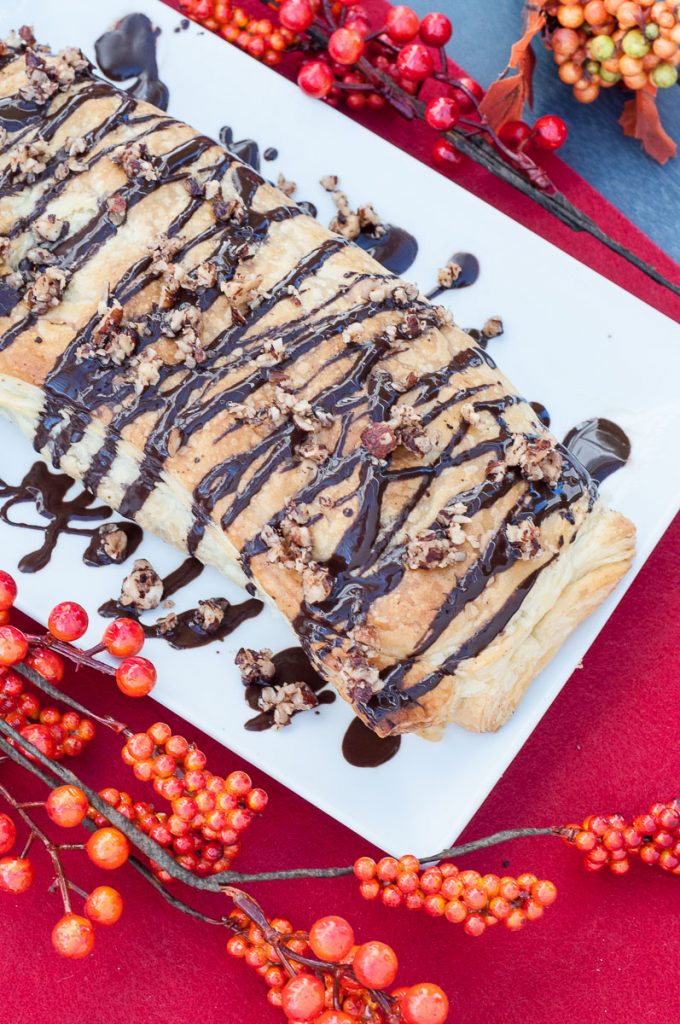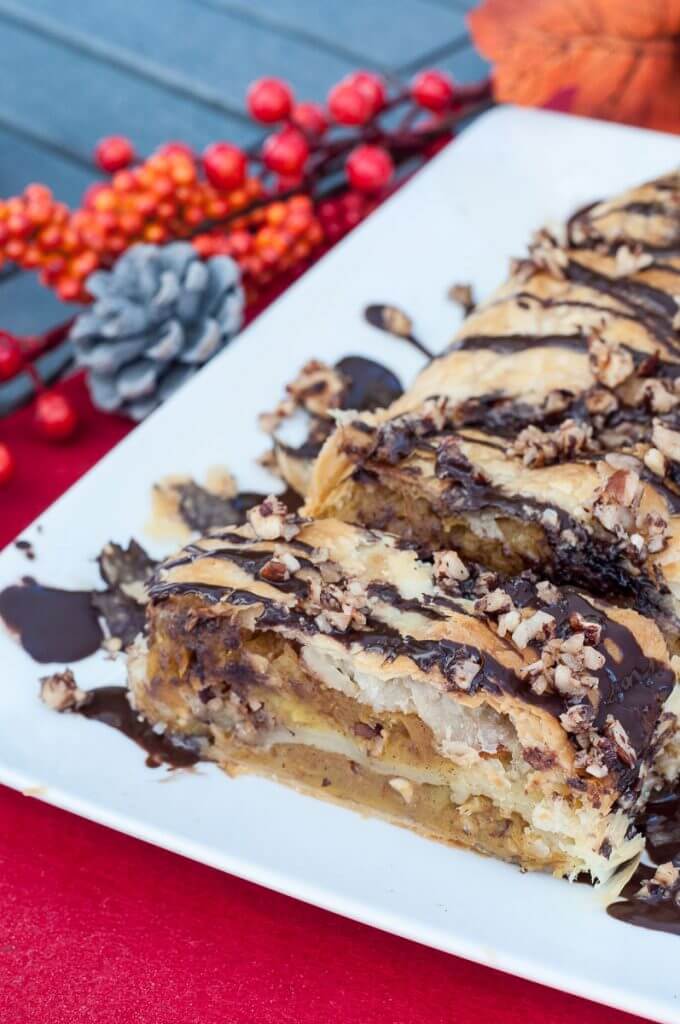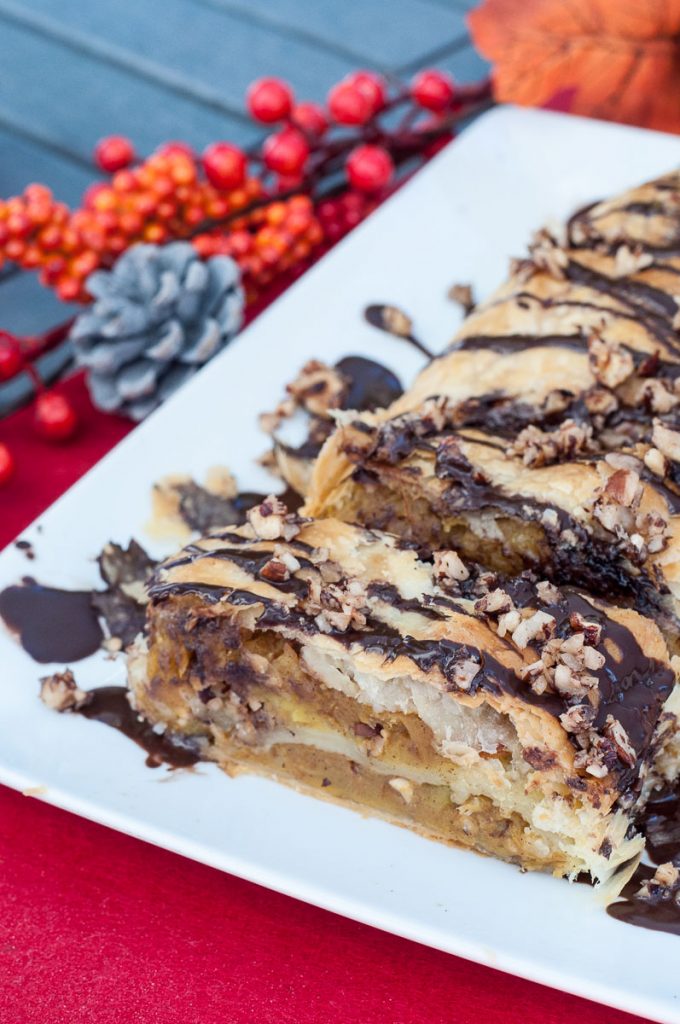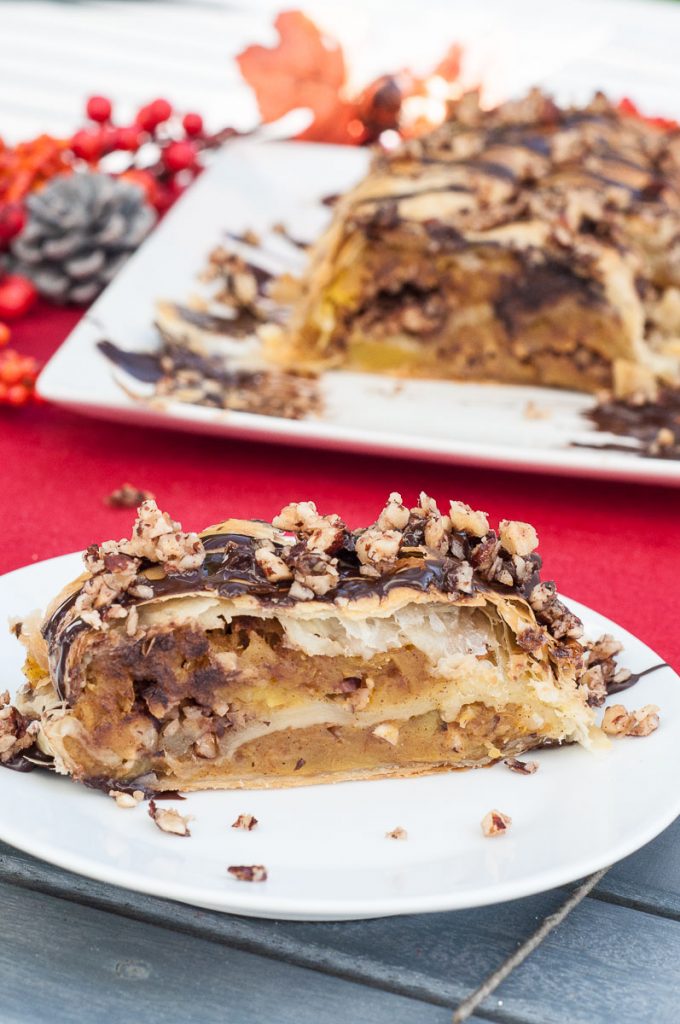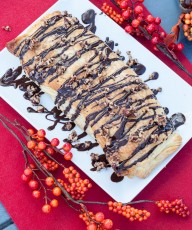 Pumpkin Hazelnut Strudel
An exciting new alternative to pumpkin pie this Thanksgiving! A pumpkin strudel with a toasted hazelnut crunch and drizzled with melted chocolate. Can also easily be made with butternut squash!
Total Time
1
hour
15
minutes
Ingredients
Filling
½

Butternut Squash/small Sugar Pumpkin

peeled, seeds removed, diced

1

tablespoon

Olive Oil

½

teaspoon

Nutmeg

½

teaspoon

Cinnamon

½

teaspoon

All-spice
Hazelnut Topping
3.5

ounces

Hazelnuts about 1 cup chopped Hazelnuts

2

tablespoons

Pure Maple Syrup

1

tablespoon

Water

pinch

of Salt

½

tablespoon

Vegan Butter or Vegetable Oil
Other
Sheet of Puff Pastry

Pepperidge Farm is vegan

½

cup

Dark Chocolate

melted
Instructions
Preheat oven to 400F (200C)

Peel, deseed and dice Pumpkin into 1 to 2 inch cubes. Toss together with other filling ingredients and place in a baking dish or on a sheet pan. Bake in oven for 20 - 30 minutes. Depending on the size of your cubes the faster they will cook.

Meanwhile, place all ingredients listed under hazelnut topping in a medium sized saucepan. Stir frequently over low-medium heat. Do not let the hazelnuts burn. Remove saucepan from heat once hazelnuts have absorbed all of the liquid and are golden brown. This should take about 15-20 minutes.

Remove Pumpkin from Oven when it is soft. Peel of skin and mash pumpkin flesh with a fork. If Pumpkin is too hard, return to oven for another 5 minutes. Allow pumpkin to slightly cool.

Spread pumpkin mixture on the puff pastry sheet with a 1 inch border and top with ⅔ of hazelnut topping. Working quickly and touching the puff pastry as little as possible.

Fold dough over (like a brochure) and seal the ends. Brush with vegetable oil and bake in oven for 20 - 30 minutes until puff pastry is golden brown.

While strudel in baking, melt the chocolate in a double boiler or microwave.

Remove strudel from oven. Drizzle with melted chocolate and top with remaining hazelnut topping. Serve hot.
Recipe Notes
1.) In a pinch, you can use canned pumpkin instead of fresh. Make sure there are minimal additives in the canned pumpkin and no added sugar.2.) If you are not familiar with using puff pastry, there are a few things to keep in mind. Puff pastry needs to be cold. Don't take the puff pastry out of the refrigerator until you are ready to use it. Allow the pumpkin to cool down a bit before spreading it on the puff pastry. If the pumpkin is still very hot, the puff pastry will tear and make it very hard to work with.3.) Hazelnuts can be substituted with pecans or almonds.
Looking for a few other pumpkin recipes? Check out these options :)