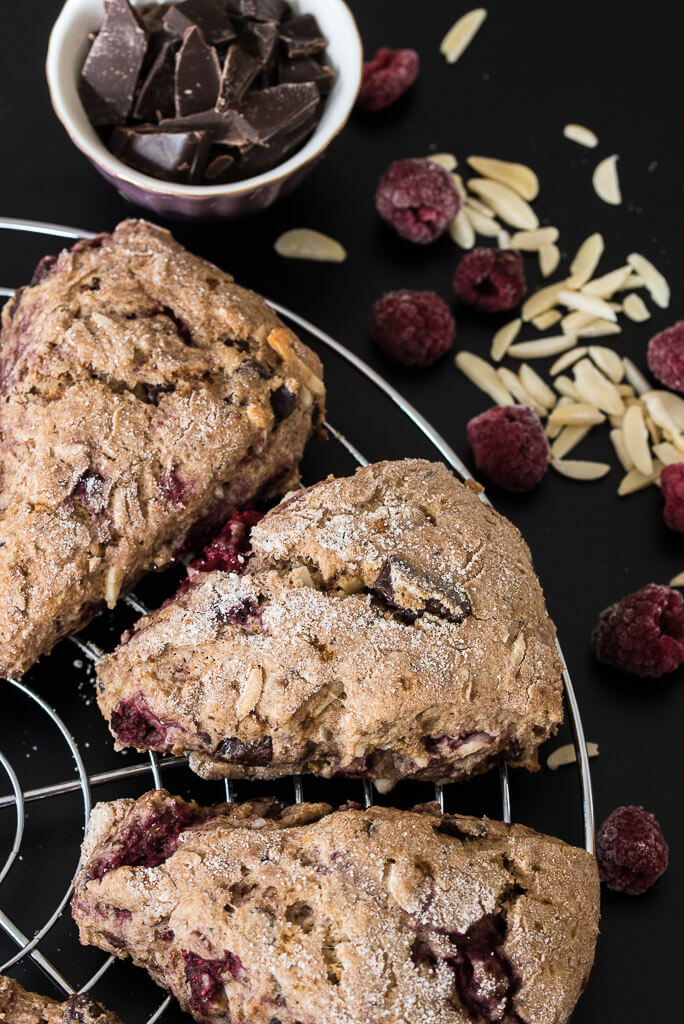 There's nothing quite as good as a perfectly baked batch of vegan scones on the weekend. These decadent Vegan Raspberry Chocolate Almond Scones are the perfect slightly-healthier weekend indulgence.
This scone recipe is one that I have been making for about 5 years now and it never gets old or ceases to impress. We usually like to make either pancakes or waffles (my favorite!) on the weekend. Don't get me wrong, pancakes and waffles are amazing. The only problem with them is that we fail to eat those together as a family.
Usually, I'm standing over the stove or waffle iron making them, while my kids run in asking for the next one. If I'm lucky, I'll have one pancake left over to enjoy by myself. Which is fine, sometimes. Other times I'd like the weekend to start off with all of sitting together. If anyone has a tip for how to make big stacks of pancakes or waffles warm and not soggy for 30 minutes, I'm all ears!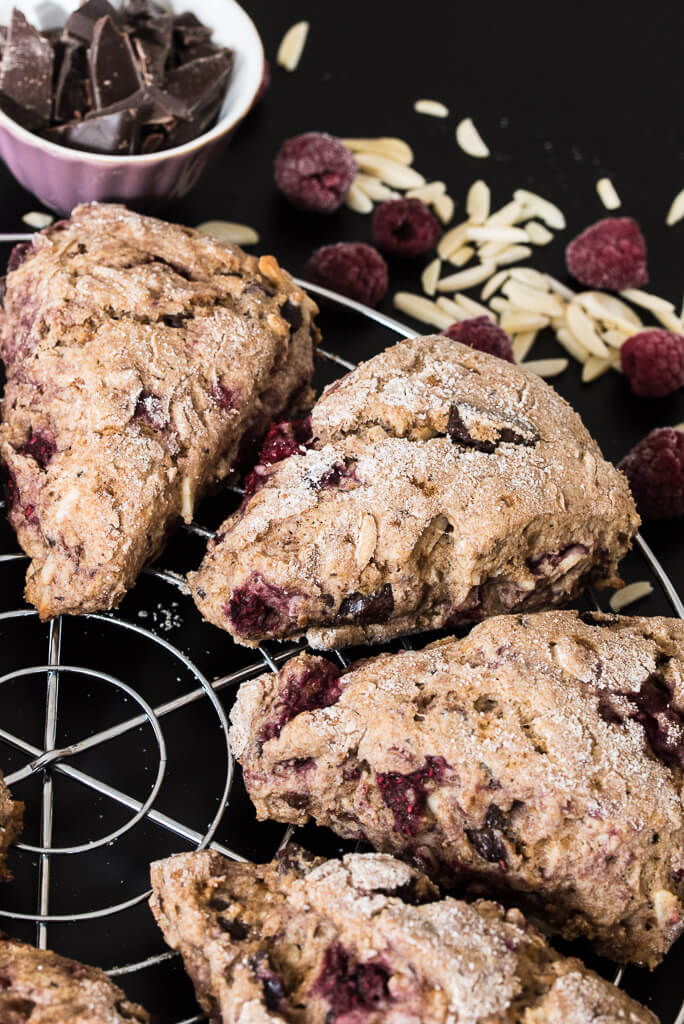 Until I've learned that secret, I've found that the best way to get my kids to wait to eat as a family is to either make cinnamon rolls (These are seriously amazing!) or some vegan scones!
These Raspberry Chocolate Almond Scones are easy. They need 20 minutes to prep and then another 20 minutes in the oven. Those 20 minutes is the perfect amount of time needed to set the table, make coffee and tell your kids 23546894634164 times to wash their hands before sitting down at the table. Oh, and to feed the baby! Very important for that uninterrupted scone-eating-time!
The dough is really simple and you can shape your scones whichever way you'd like. I prefer the "pizza" style. I'm pretty sure that's not what it is called but that's how I remember it.
I like to shape my dough into a thick circle and then cut it "pizza" style. Right now, cutting it into 8 perfect slices works out great. Everyone gets two scones. Once Emilie is old enough eat, I'll have to get a bit more creative.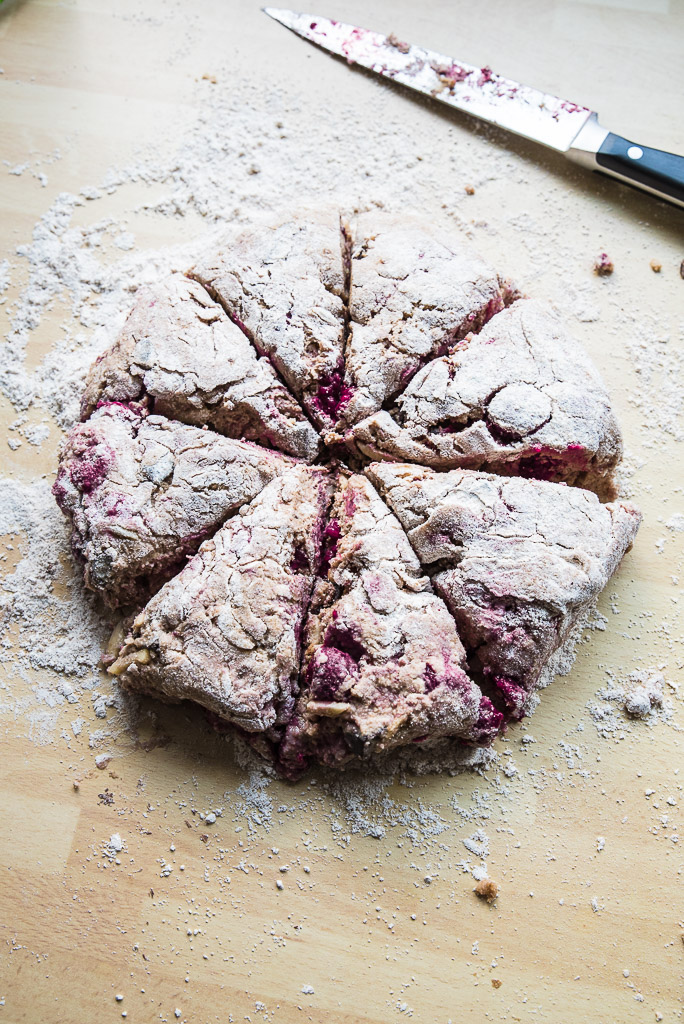 Next, all you'll need to do is pop those doughy triangles onto a baking sheet (spread them out a bit, because they'll get bigger!) and bake them!
Get those Raspberry Chocolate Almond Scones out of the oven and allow them to cool a bit.
Then comes the best part...

Chocolaty. Nutty. Berry-filled. Vegan Scone Perfection!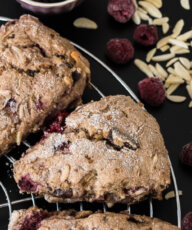 Vegan Raspberry Chocolate Almond Scones
These scones are the perfect addition to your vegan brunch! Made with healthy whole grains and balanced perfectly with raspberries, almonds and just the right amount of chocolate.
Ingredients
Dry:
2

cups

Whole Wheat Flour

or all-purpose or spelt flour

2

tablespoon

Whole Cane Sugar

packed, or brown sugar

1

tablespoon

Baking Powder

½

teaspoon

Salt

4 ½

tablespoon

Vegan Butter or Margarine

cold
Wet:
½

cup

unsweetened Plant-based Milk

(soy, almond, oat, spelt etc.)

1

tablespoon

Apple Cider Vinegar

1

Banana

pureed

1

tablespoon

Pure Maple Syrup
Other:
3.5

oz

Vegan Semi-Sweet Chocolate

(chopped or chocolate chips

⅔

cup

Slivered Almonds

¾

cup

Frozen Raspberries

Sugar

(optional)
Instructions
Preheat oven to 375F (190C). Line baking sheet with parchment paper and set aside.

Make vegan "buttermilk" by whisking any plant-based milk with apple cider vinegar. Let stand for 5 minutes.

Mix all dry ingredients in a large bowl. Add small chunks of margarine/vegan butter to the bowl. Use your hands to rub butter into flour mixture until crumbs form.

Mix the "vegan buttermilk", pureed banana and maple syrup. Add it to the dry ingredients and combine with a wooden spoon. Don't overdo it!

Carefully mix in chocolate, almonds, and frozen raspberries. Again, be careful not to overmix the dough.

The dough should be sticky, see notes if it is too wet. Place entire dough onto a floured counter top. Form a circle out of the dough about 10 Inches in diameter.

Cut the circle into and frozen even slices (the way you would cut a pizza). Place the scones 2 inches apart on the prepared baking sheet and dust the top of each scone with sugar (optional).

Bake for 16-18 minutes. until a toothpick inserted in the middle of a scone comes out clean. Remove the scones from the oven and allow them to cool for 10 minutes on a cooling rack before eating. Enjoy!
Recipe Notes
1) The dough should be slightly sticky but should be workable on a floured surface. Depending on how much water transfer you have from your raspberries your dough could be wet and not sticky. If this is the case add more flour. Up to half a cup if necessary.
2)Apple cider vinegar can also be substituted with lemon juice.
Another favorite scone recipe we love to make and eat are these Vegan Blueberry Scones! Try them out!