These
Vegan Blueberry Scones

will brighten any breakfast or brunch. Made with whole wheat flour, fresh blueberries and refined sugar-free!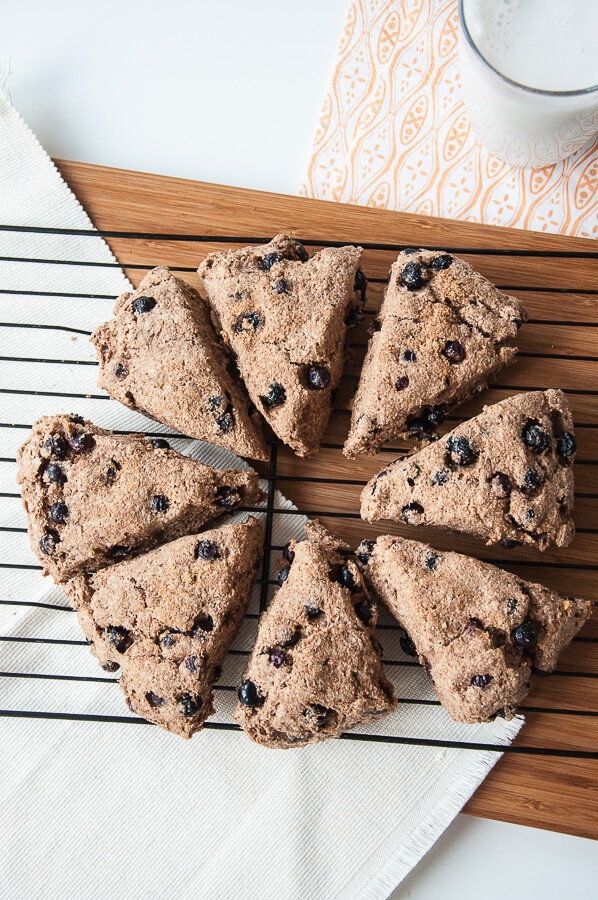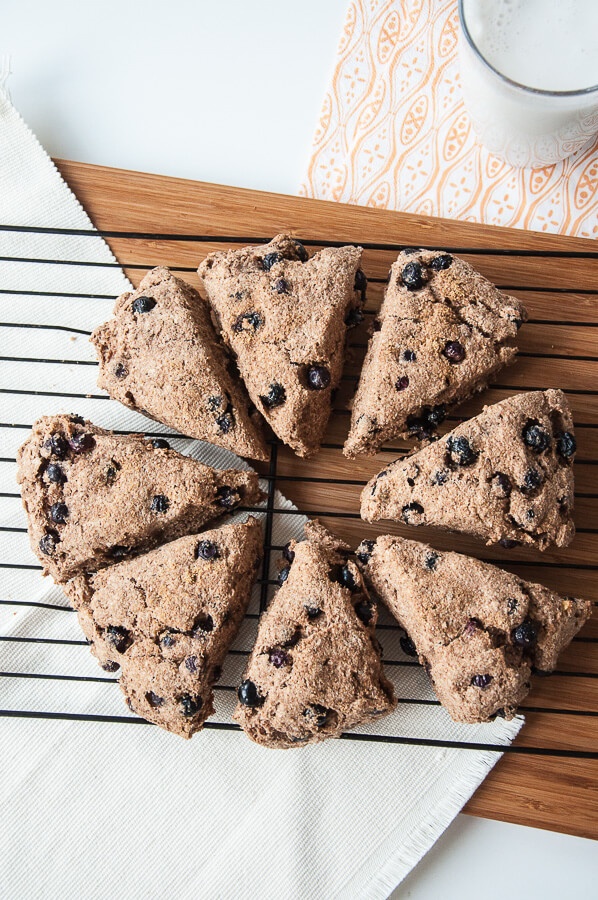 Blueberry season is starting and I can't wait to get my hands on some more juicy berries to make these vegan blueberry scones.
For me, scones are such a delicious Sunday morning breakfast. I love these vegan blueberry scones with a fresh cup of coffee. There is something about a fresh baked scone and a cup of steaming hot coffee that fits so nicely together. Then again, I could drink coffee all day with anything.
These scones are also a great alternative to a blueberry muffin. Especially for those people who eat blueberry muffins almost every morning (I won't name names).
I made these scones with whole wheat flour because I think it is so important to start your day off right with something filling and that will also help keep your blood sugar levels in check for the remainder of the day. I've made a few other scone recipes but these blueberry scones are by far my favorite right now. It might also just be because I am so excited to finally get my hands on some decent blueberries.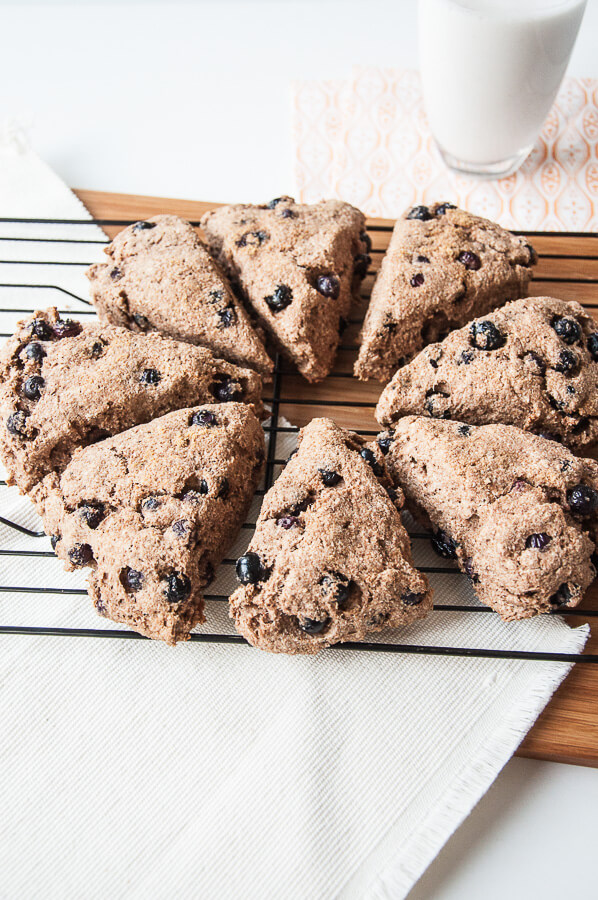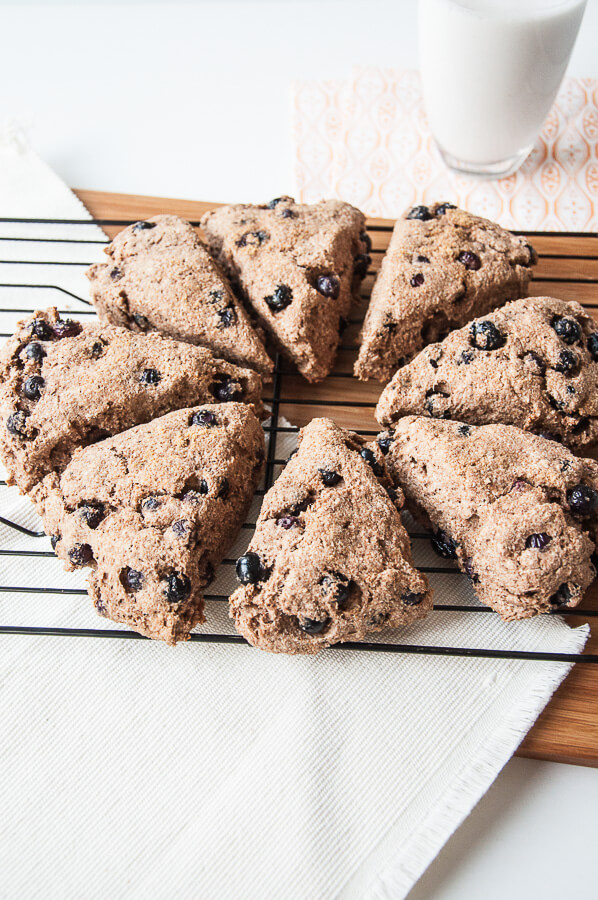 While these vegan blueberry scones taste delicious on their own. They are SOOOOOO delicious when you drizzle a lemon-coconut glaze over them.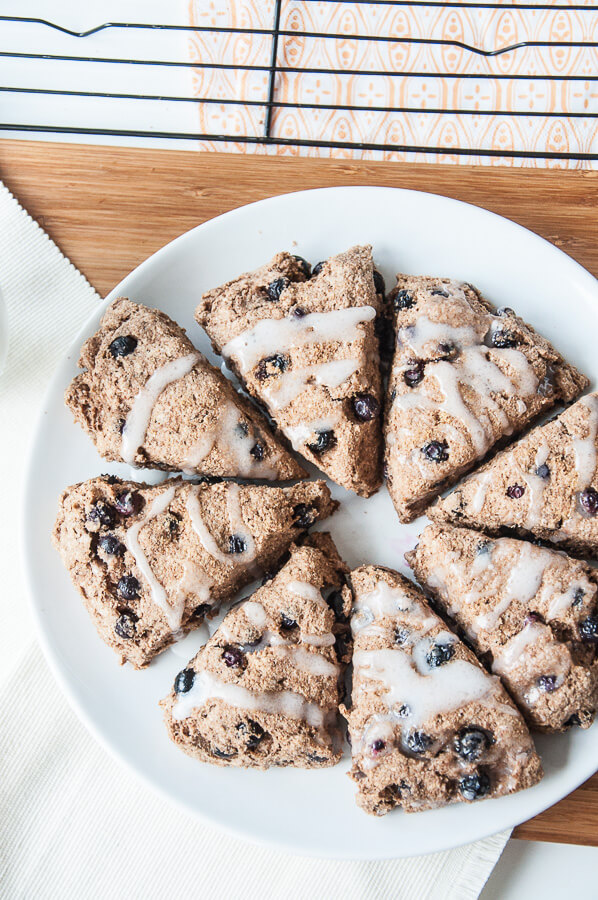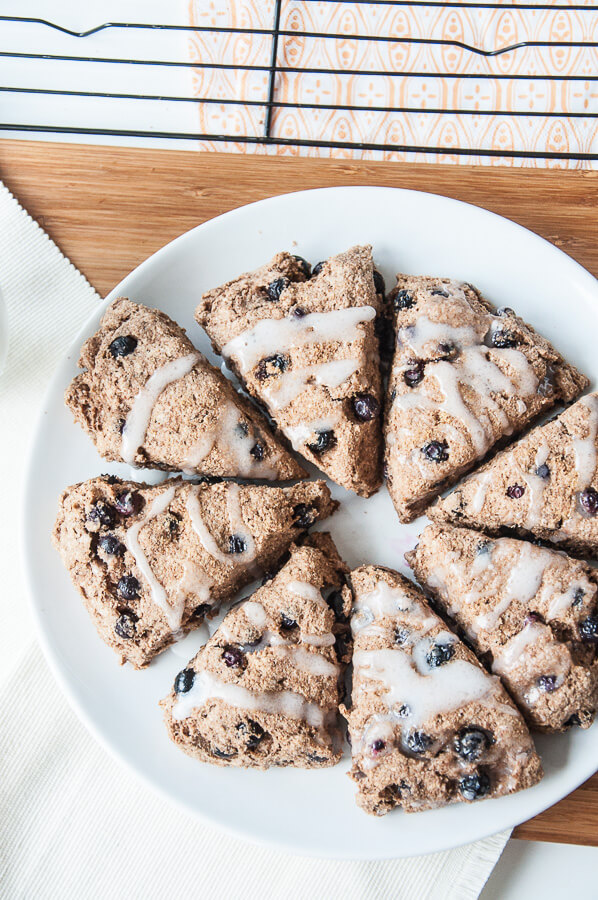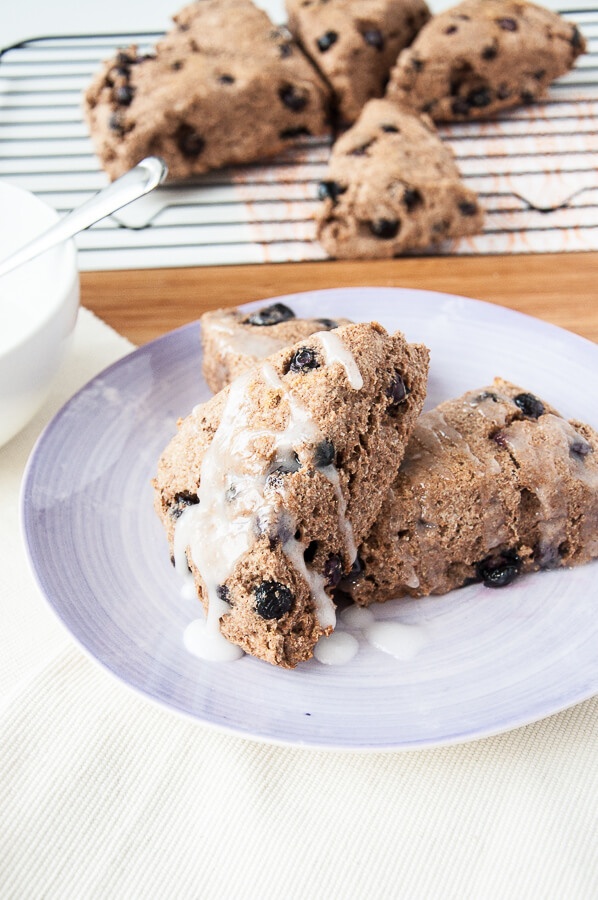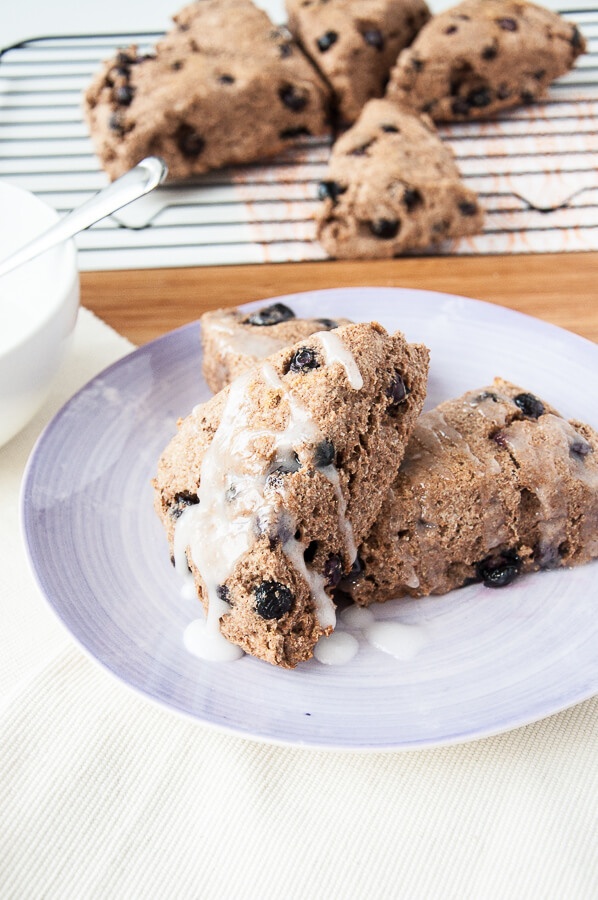 Sooo Soo Yummy!! I could eat these ALL DAY!
Now, YOU can too! Enjoy the recipe ;)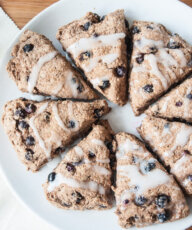 Vegan Blueberry Scones
A healthy, vegan blueberry scone recipe with whole wheat flour and a lemon-coconut glaze.Perfect as a healthier, sweet breakfast or for brunch.
Ingredients
Vegan Buttermilk
½

of a cup

120ml Unsweetened Almond Milk (or other plant-based milk of choice)

1

tablespoon

Apple Cider Vinegar
Scones
2

cups

260g Whole Wheat Flour

3

tablespoons

Whole Cane Sugar

or 4 tablespoons White Sugar

1

tablespoon

Baking Powder

½

of a teaspoon Salt

¾

of a teaspoon Cinnamon

4

oz

or ½ of a cup

113g of chilled Vegan Butter (grated or chopped)

1

pureed Banana

2

teaspoons

Vanilla Extract

1

cup

fresh Blueberries

or frozen blueberries- See Notes
Instructions
Preheat oven to 375F (190C). Line a cookie sheet with parchment paper and set aside.

Prepare vegan "buttermilk" by whisking together almond milk with apple cider vinegar. Let stand for 5 minutes.

Mix together all dry ingredients (flour, sugar, baking powder, salt and cinnamon) in a large bowl. Add small chunks of vegan butter to bowl. Use your hands to rub butter into flour mixture, until crumbs form.

Mix "vegan buttermilk", banana, vanilla extract and add to flour mixture. Combine with a wooden spoon. Don't overdo it!

Carefully mix in blueberries.

Dough should be sticky, see notes if it is too wet. Place entire dough onto floured counter top. Form a circle out of the dough about 10 Inches in diameter.

Cut the circle into 8 even slices (the way you would cut a pizza).

Bake for 16-18 minutes. Let cool for 10 minutes on a wire rack.

Prepare lemon coconut glaze by whisking together powdered sugar, coconut oil and lemon juice together. Drizzle glaze over cooled scones and enjoy!
Recipe Notes
1) Adapted from my Raspberry Chocolate Almond Scones.2.) If you want to use frozen blueberries to make these scones then allow the frozen blueberries to thaw in a sieve before adding to scone dough. 3) Dough should be slightly sticky but should be workable on floured surface. If too much extra water (i.e. from washed blueberries) is working into the dough then your dough will be wet and not sticky. If this happens, add more flour (up to ½ of a cup flour if necessary) 4)Apple cider vinegar can also be substituted with lemon juice.
Be sure to follow me on INSTAGRAM and use #VeganFamilyRecipes of any recipes you have made ;)
If you are looking for some other healthy vegan breakfast ideas then try some of these ;) Vegan Banana Waffles , Whole Wheat Waffles or some Chocolate Crepes ;)