Welcome to my vegan whole-wheat waffle recipe! These waffles are the perfect combination of health and deliciousness. Made with whole wheat flour, they are a tasty and guilt-free breakfast or snack option. Plus, they're completely vegan, so everyone can enjoy them. So let's get cooking and whip up a batch of these amazing waffles!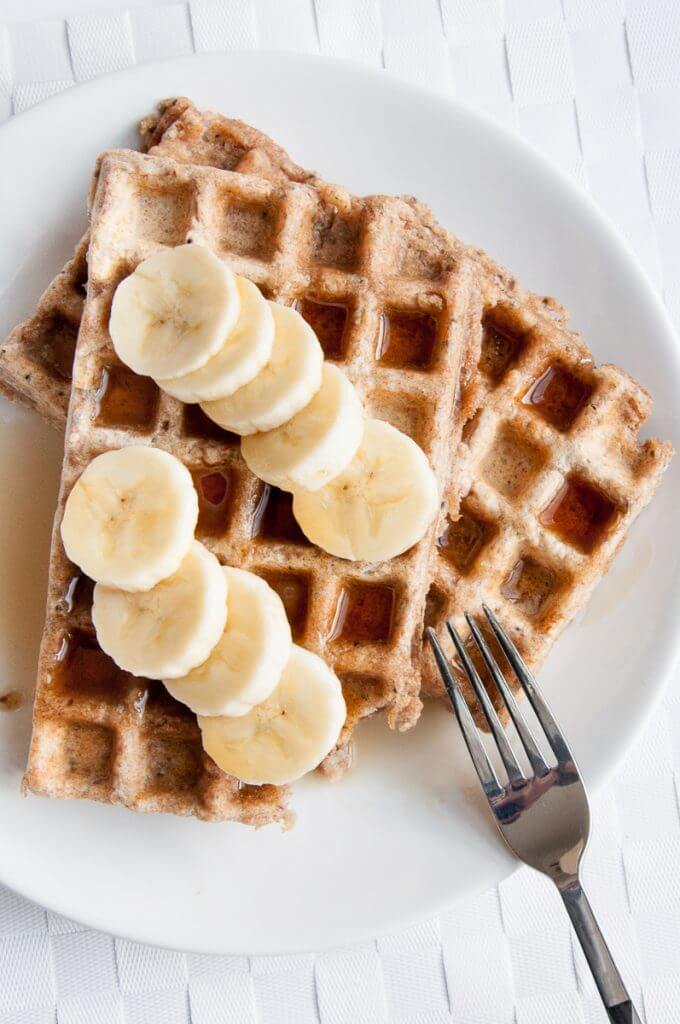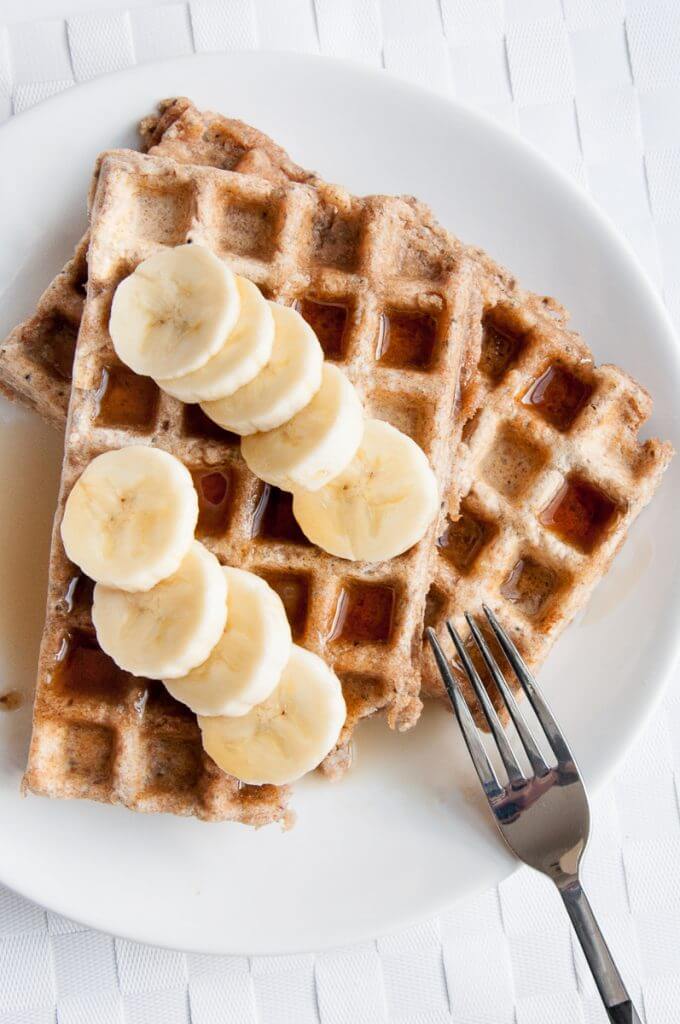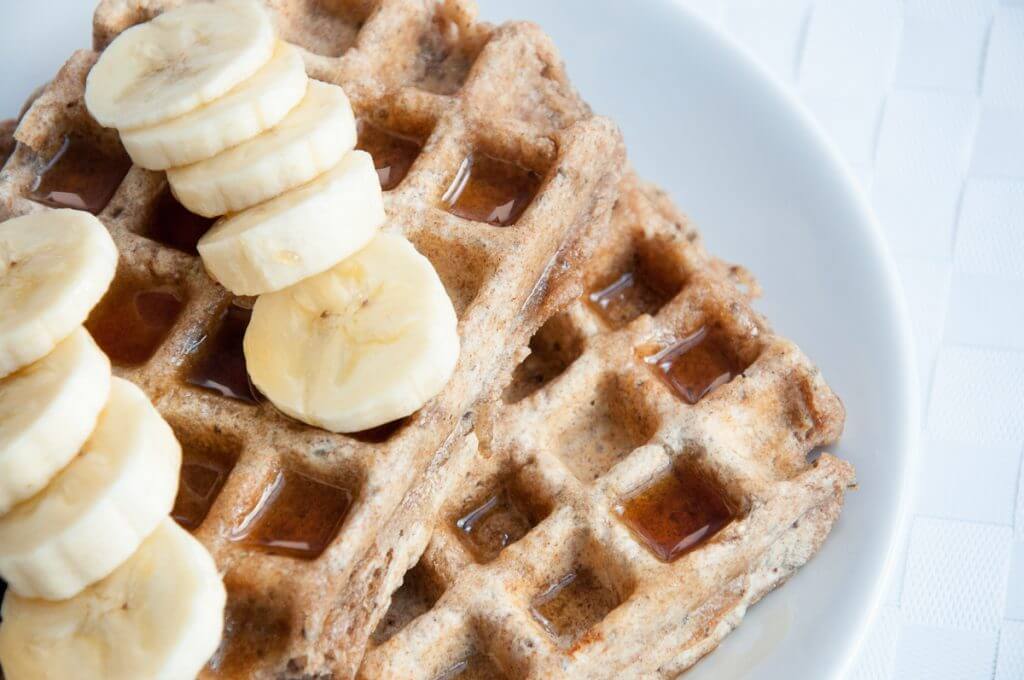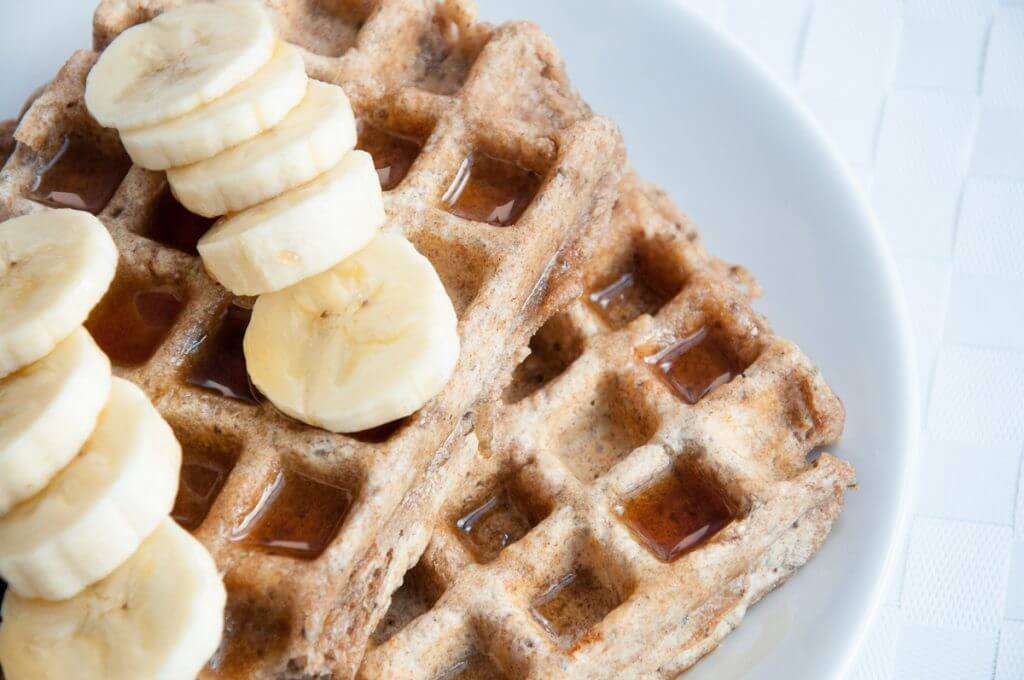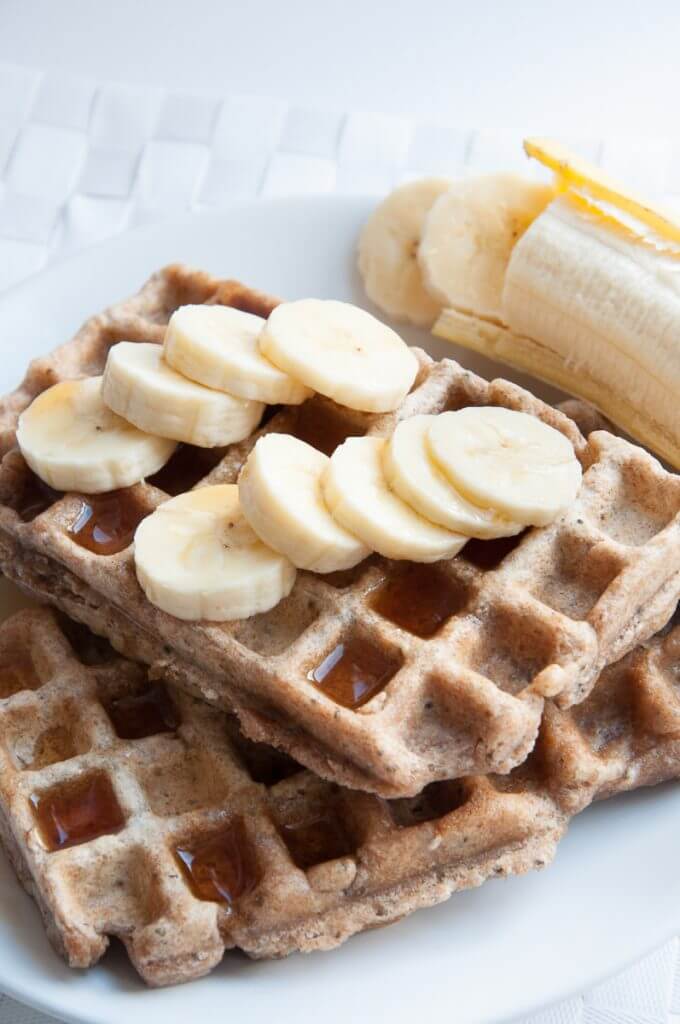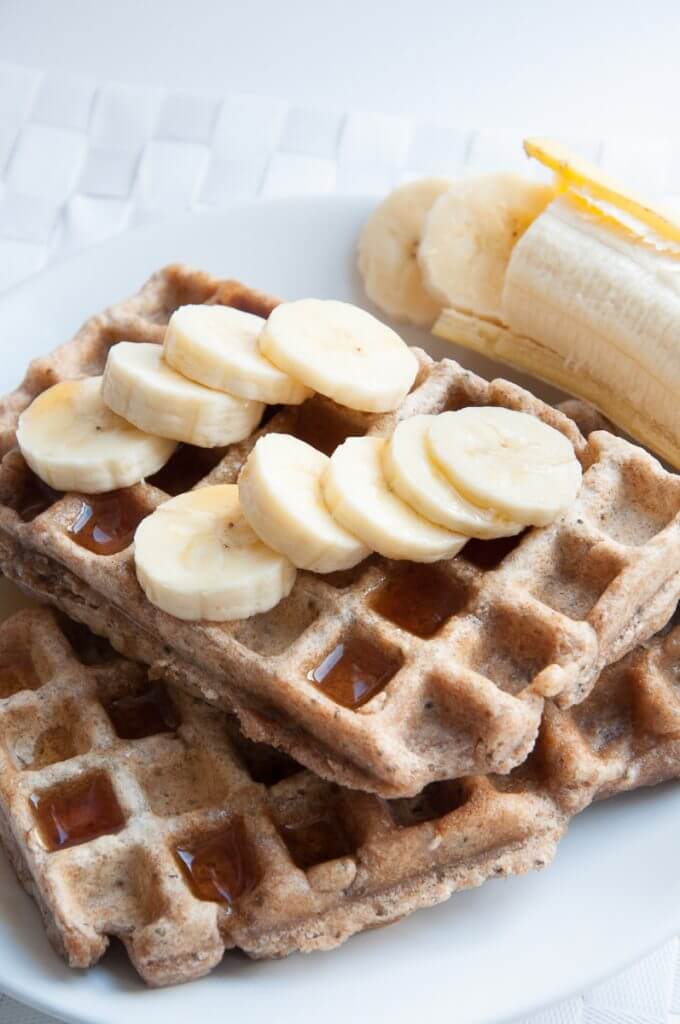 I'm no breakfast food lover. When I think of breakfast I automatically think eggs, bacon, sausage, and what my dad is probably eating right now :) (Hi Dad, Love you!) Most of the time I'm so cranky when I wake up in the morning that all I can manage to do is make some oatmeal/cereal for my boys and rub my eyes while I down a gallon of coffee.
So when my boys ask me for waffles nearly every day, I usually just say no because I'm crazy lazy in the morning. Horrible mother, I know. Though I'm really not sure why considering these vegan whole wheat waffles take 15 minutes total (if you've made your chia eggs in advance, otherwise 30min). That is why, when I do make them, I jam-pack my waffles with only the healthiest of healthy ingredients. 100% Whole wheat flour, coconut oil, chia seeds, and some yummy plant-based milk (almond is my favorite :).
Plus there are no weird complicated waffle-making steps like in some non-vegan waffle recipes where you have to beat the life out of egg whites to form them into peaks just to "fold" them together with all the other ingredients. Pure nonsense that I have no time for.
Want to know how I make my easy whole-wheat waffles? Simply put all your dry ingredients in a bowl and give them a quick mix.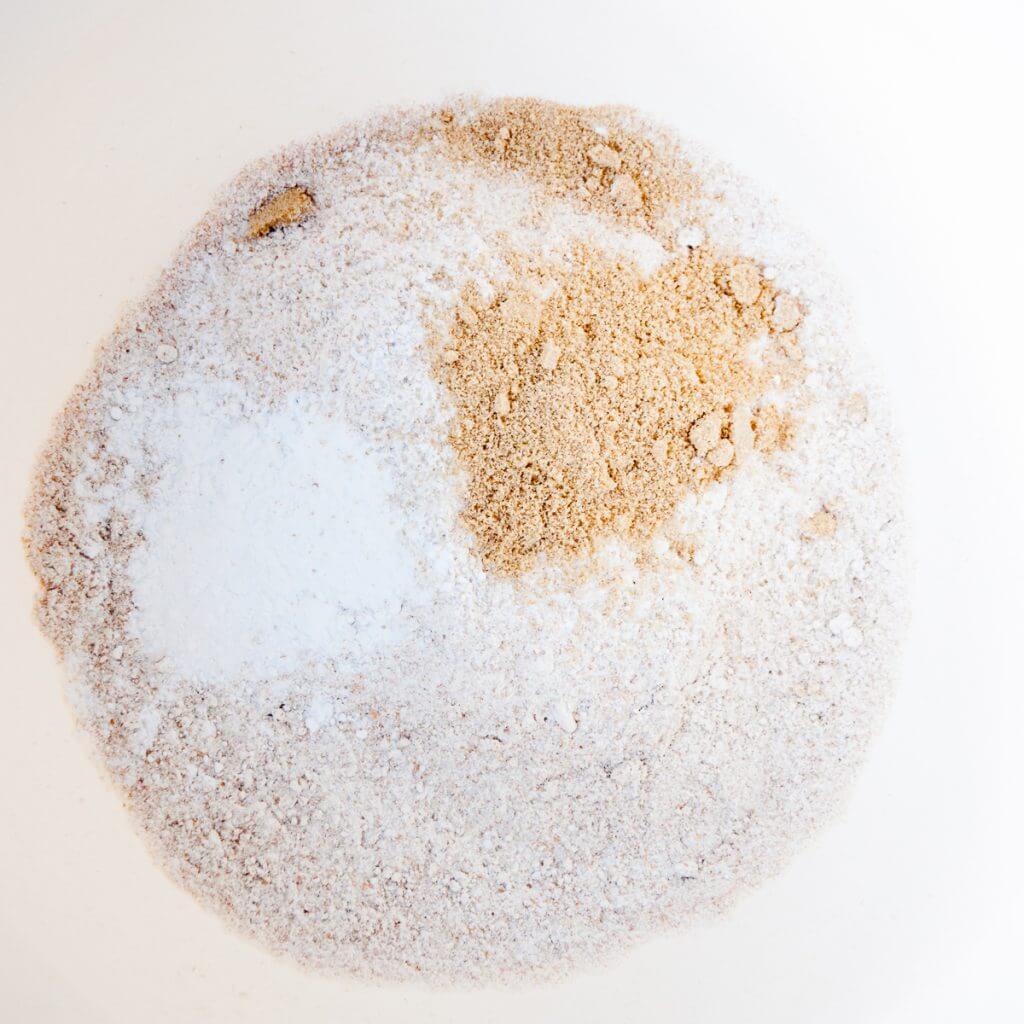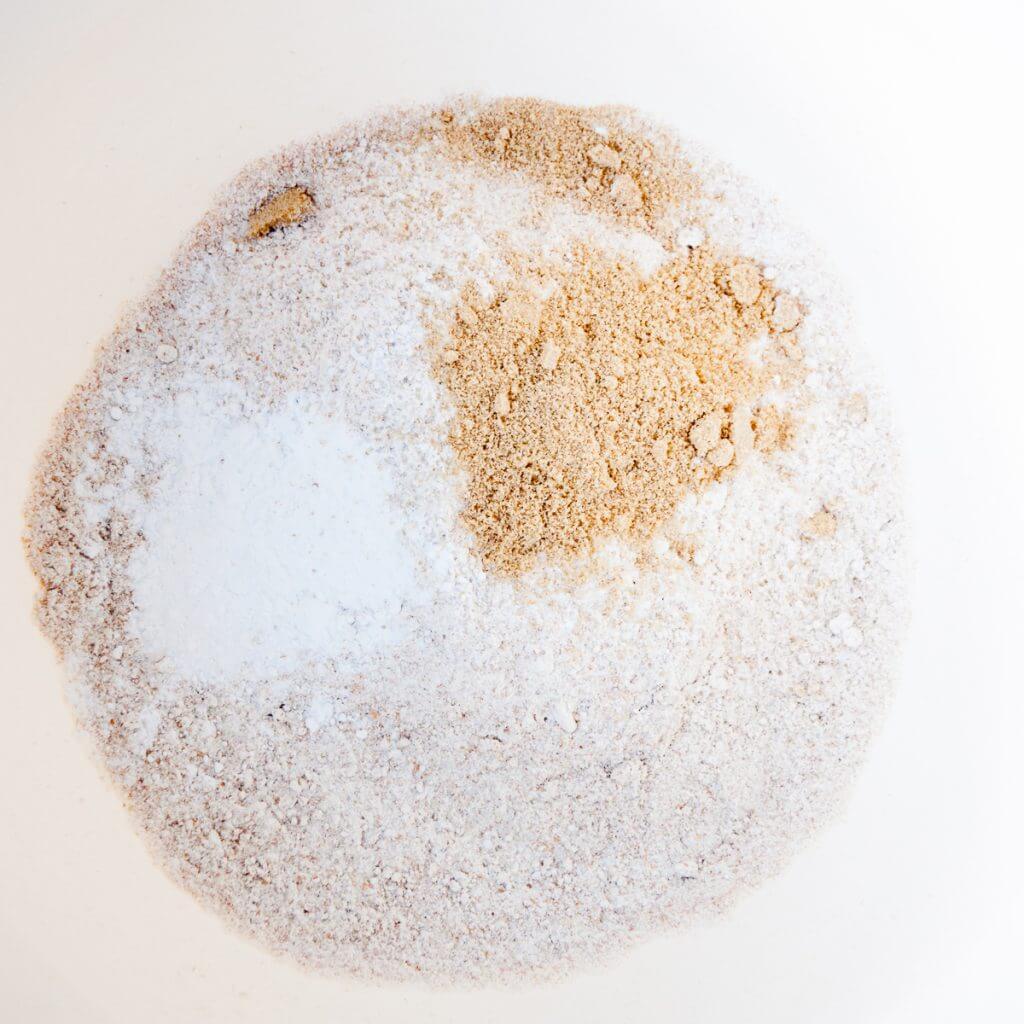 Add all the wet ingredients.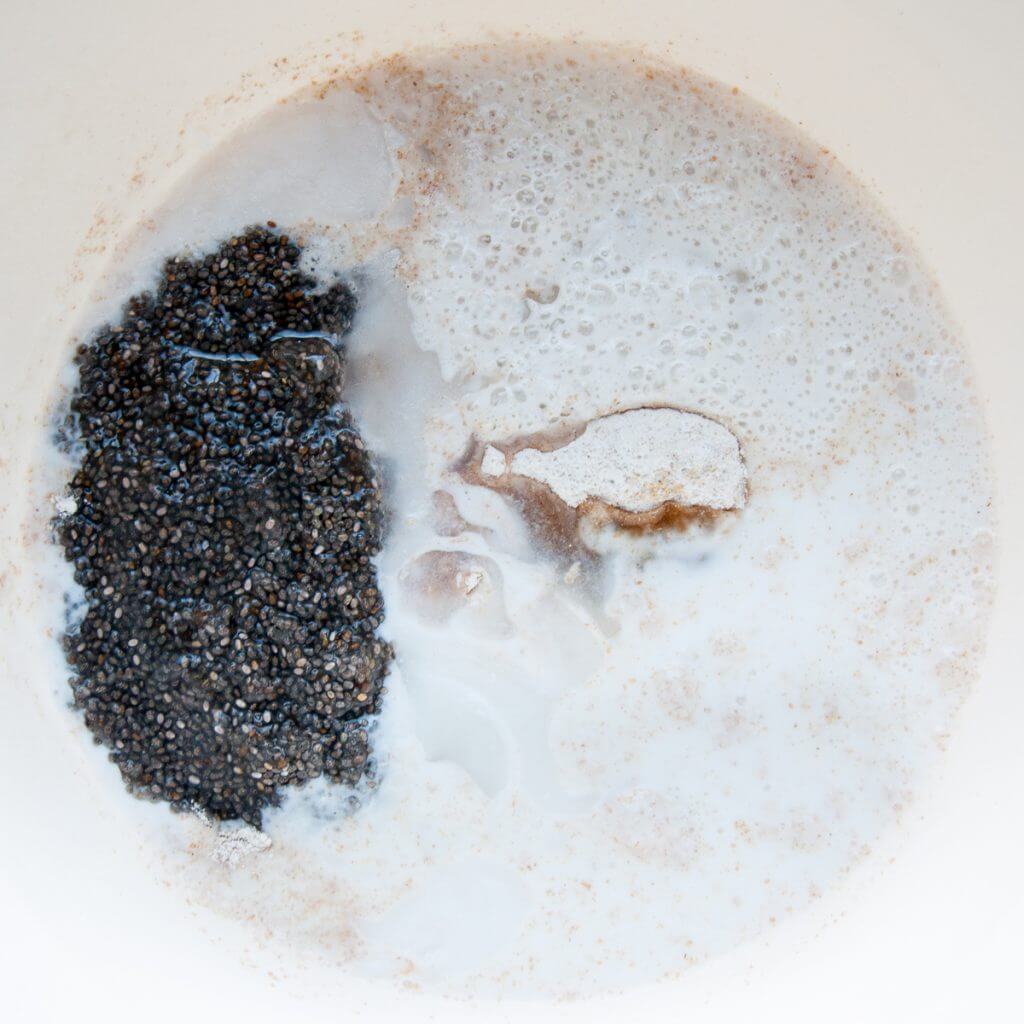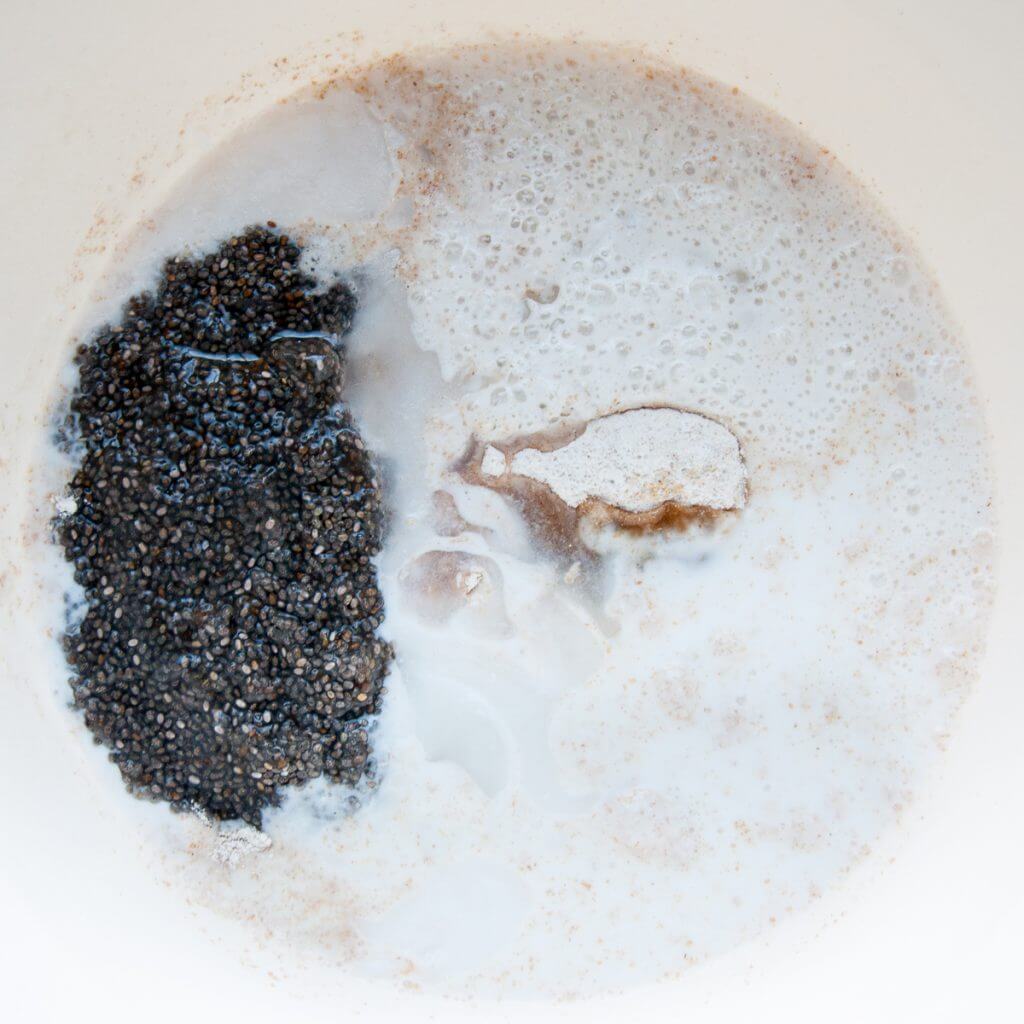 Stir.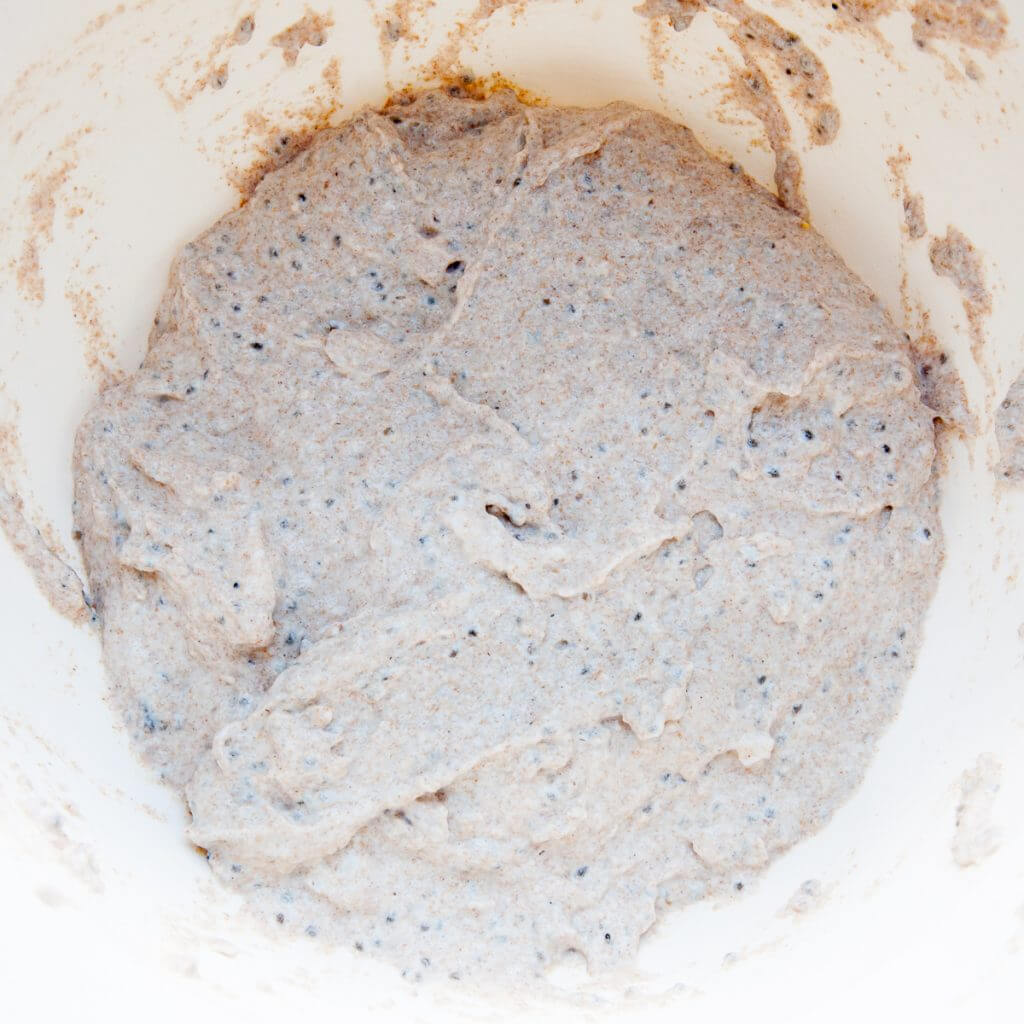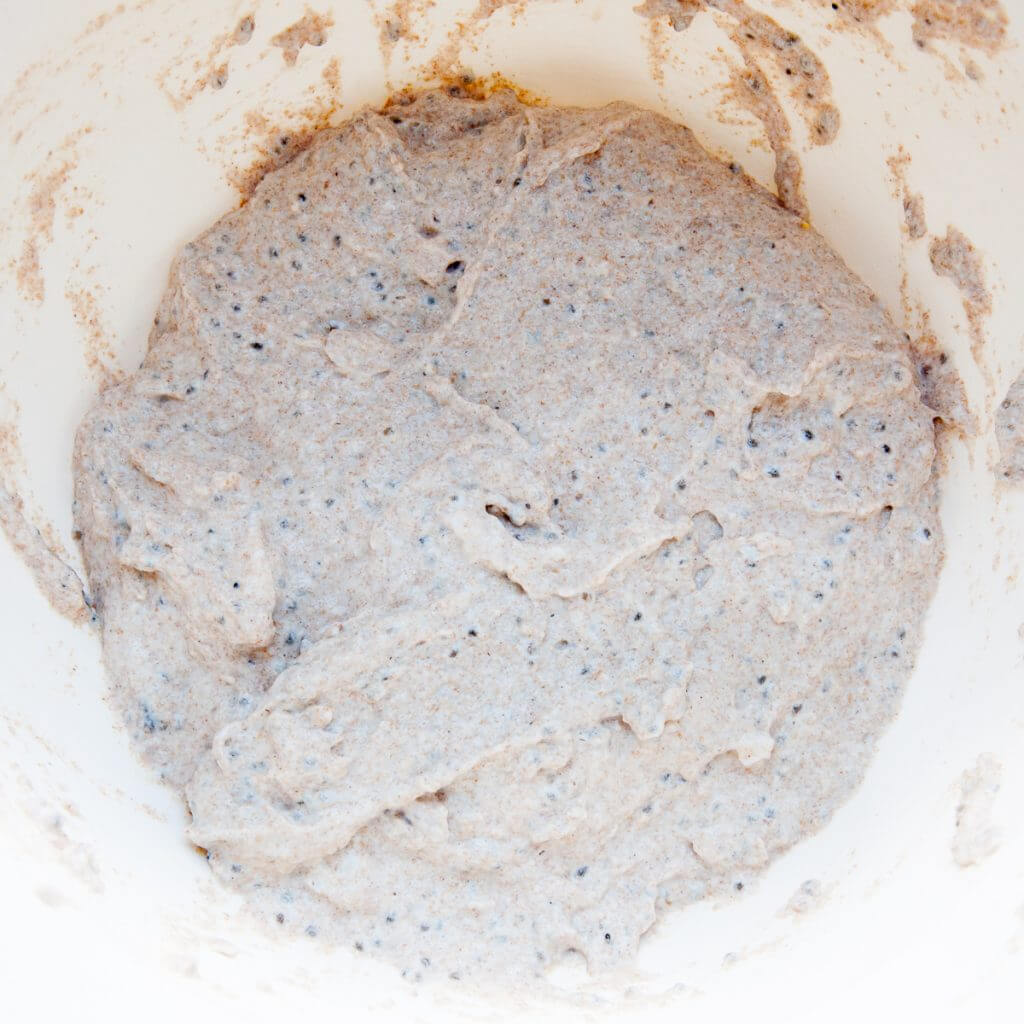 Pop them on your waffle iron. Bake the waffles and be done! Not too hard right? Even my nearly recipe-illiterate hubby could make these (love you too). :) :)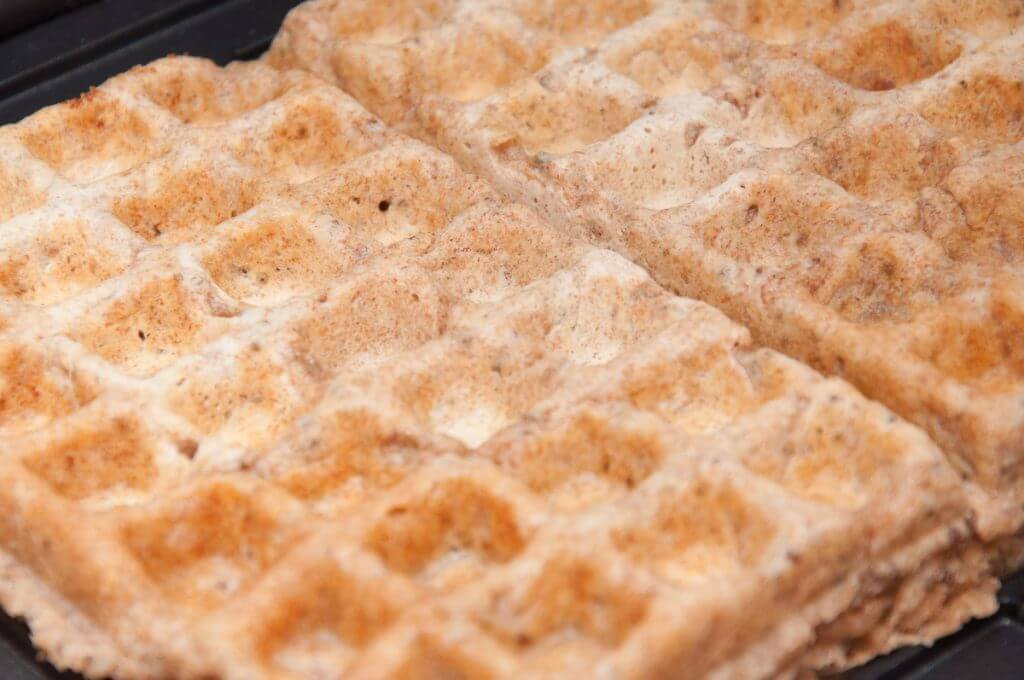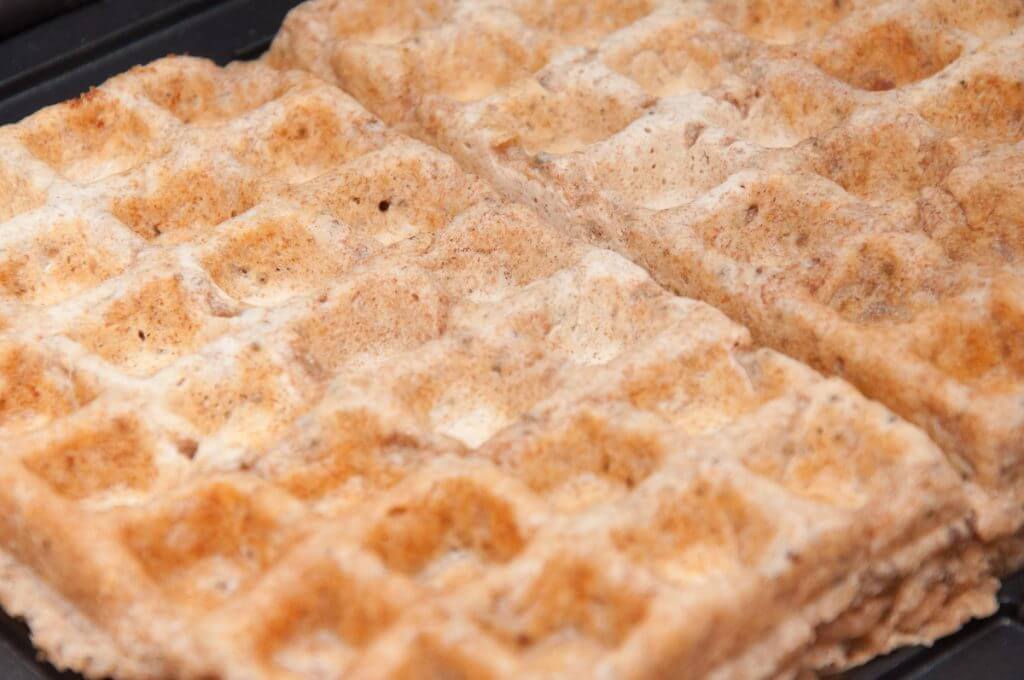 Now you get to add whatever toppings you want. I'm a sucker for pure maple syrup and fruit. I really wanted to make these with mango on top but somehow 2 ripe mangos in the kitchen disappeared incredibly fast (looking at you Hubbs!). I was left with bananas which were equally delicious :)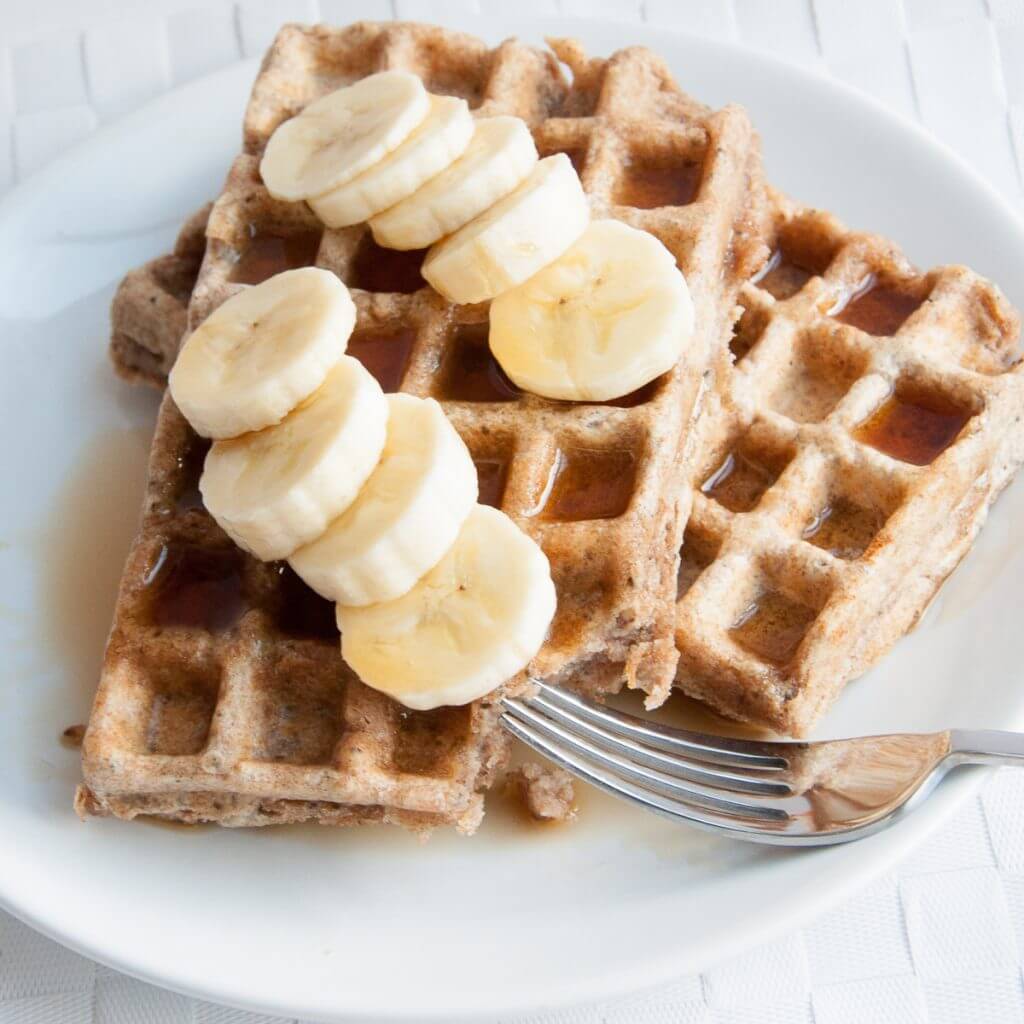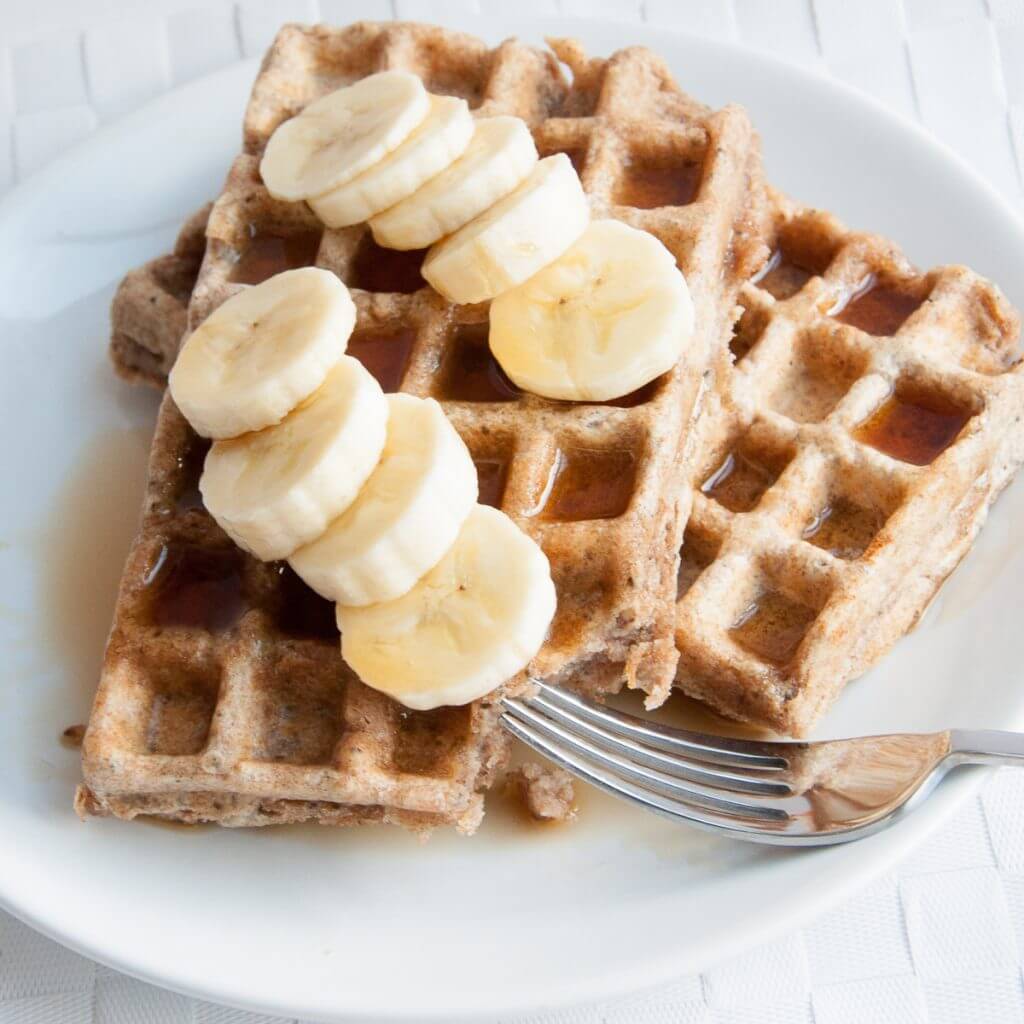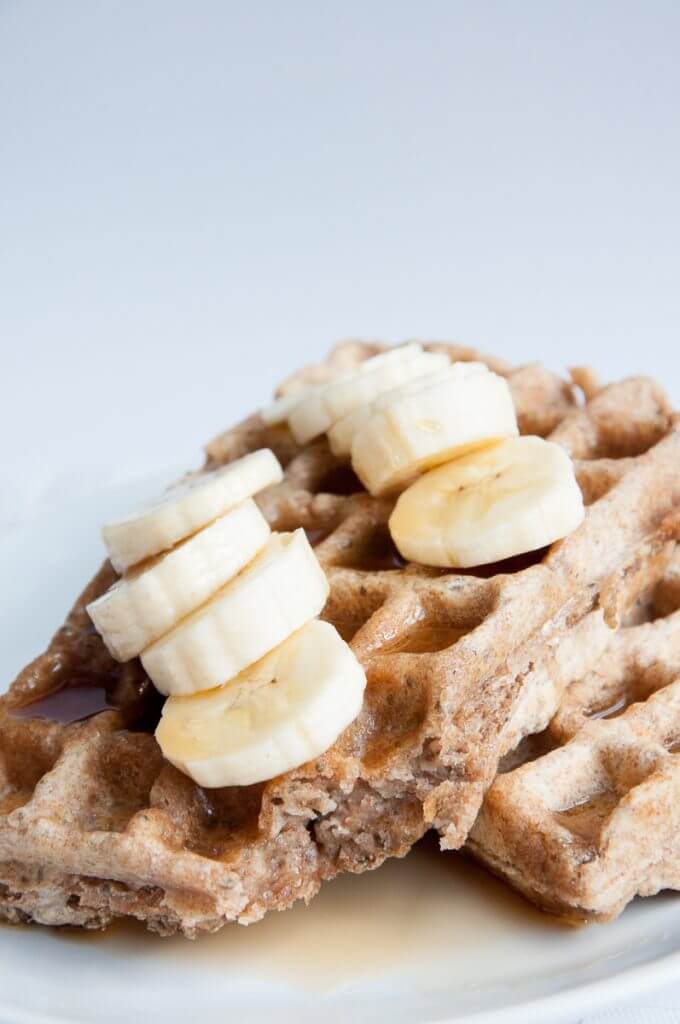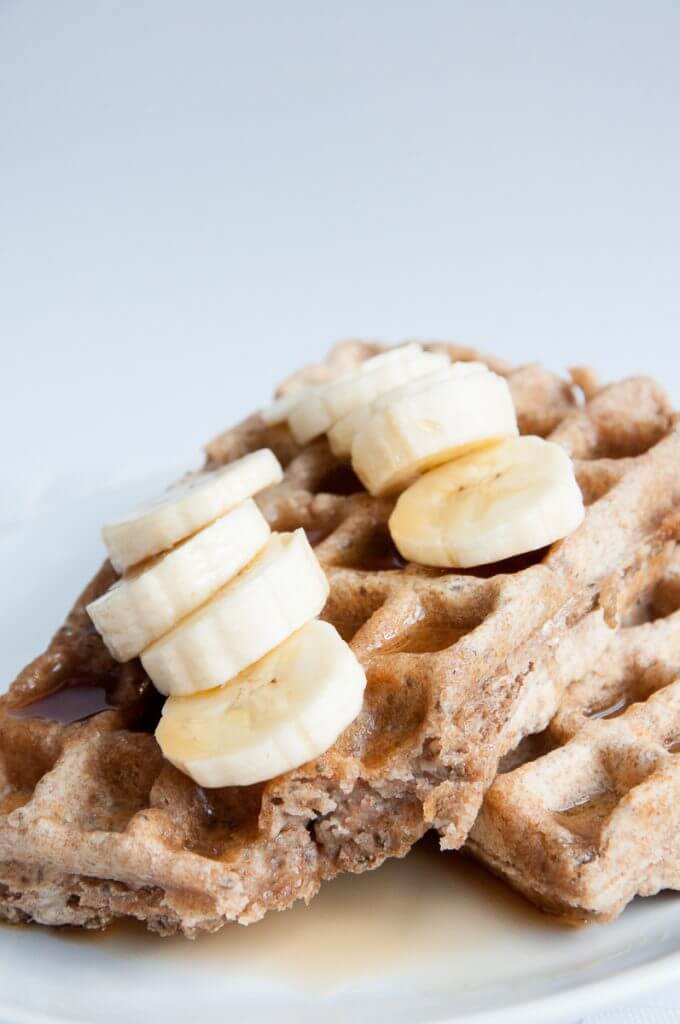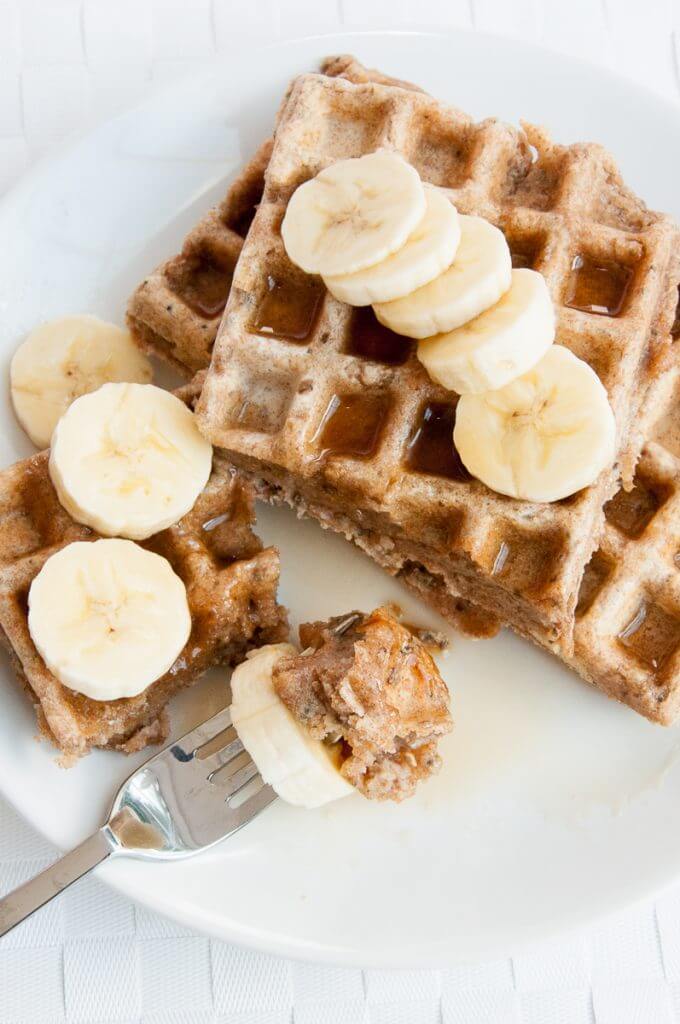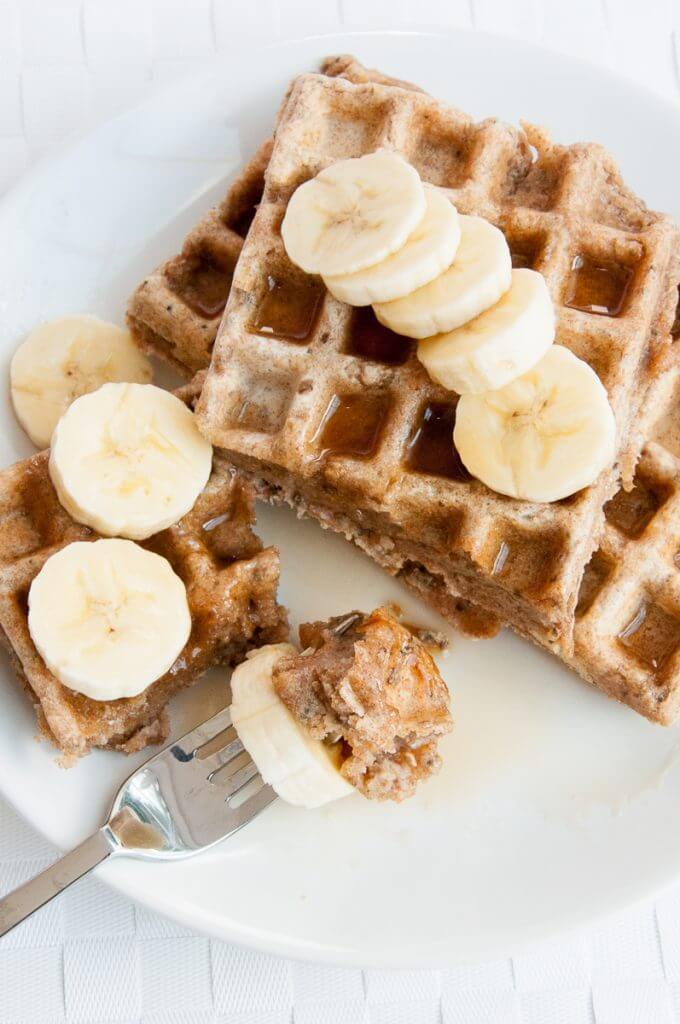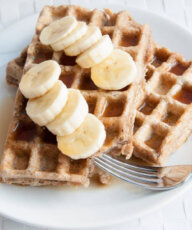 Vegan Whole Wheat Waffles
Recipe makes enough for 4 large whole wheat Belgian waffles.
Ingredients
1 ¾

cup

Whole Wheat Flour

1

tablespoon

Baking Powder

1

tablespoon

Raw Cane Sugar

Pinch

Salt

1 ½

cup

Almond Milk

or other plant-based milk, soy, oat, etc.

2

Chia Eggs

see notes for how to make

3

tablespoon

Coconut Oil

melted
Instructions
Combine dry ingredients in a mixing bowl.

Add remaining wet ingredients to mixing bowl. Stir until well combined.

Pour waffle dough onto waffle iron and bake according to manufacturers instructions.

Serve with maple syrup, fresh fruit, and/or whipped coconut cream.
Recipe Notes
1) To make a chia egg, combine 1 tablespoon of chia seeds with 3 tablespoons of water. Let sit for 10-15 minutes until a gel forms. This is ONE chia egg. This recipe calls for two so use 2 tablespoons of chia seeds with 6 tablespoons of water.2) Note that melted coconut oil will quickly harden again if it comes in contact with something cold i.e. straight-from-the-fridge milk. If this is an issue, try mixing in the melted coconut oil after the other wet ingredients have already been mixed in. 3) If you are not used to eating foods with 100% whole wheat on a regular basis then I suggest you first use ½ whole wheat flour and ½ all-purpose flour. Alternatively, these whole wheat waffles can also be made just with all-purpose flour. 4) If you don't have chia seeds you can substitute the chia seeds for flax seeds. Make flax eggs using the same seed-to-water ratio as with chia seeds (see above). Alternatively, use 2 pureed bananas in place of the chia eggs.5) Coconut oil can easily be replaced with olive oil, melted margarine, or canola oil.
Need some help finding some of these ingredients? Here are the ones I like:
Bob's Red Mill Whole Wheat Flour (Organic)
Now after looking over how truly easy these vegan whole-wheat waffles are, I feel bad. I really should make an effort to make these more for my boys to be as healthy as they are :) Plus, if it makes them happy then keep doing it. Right?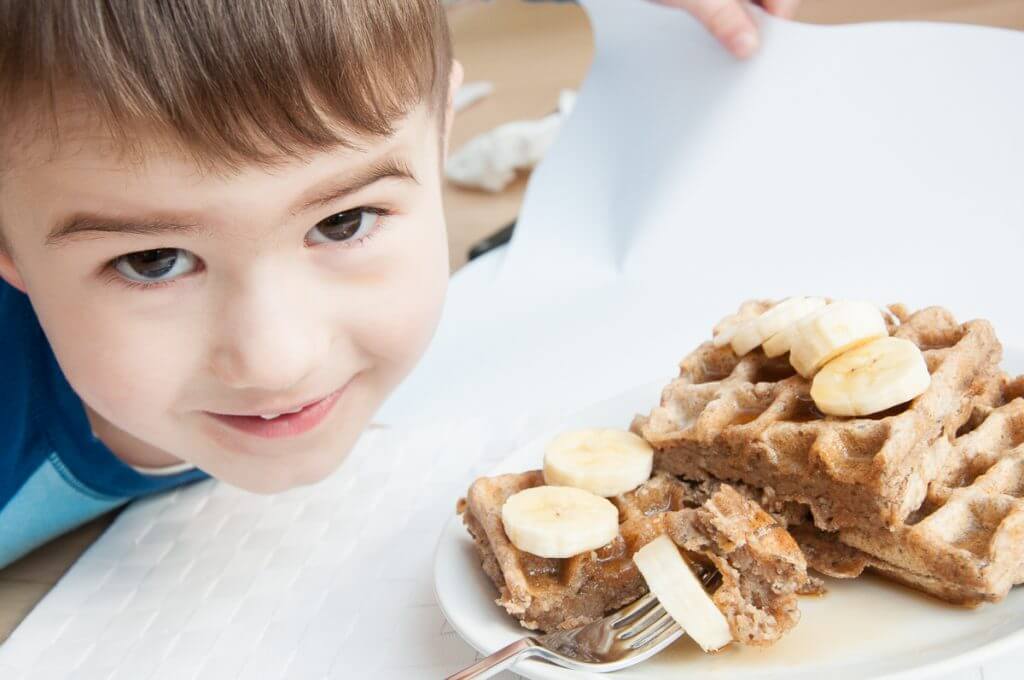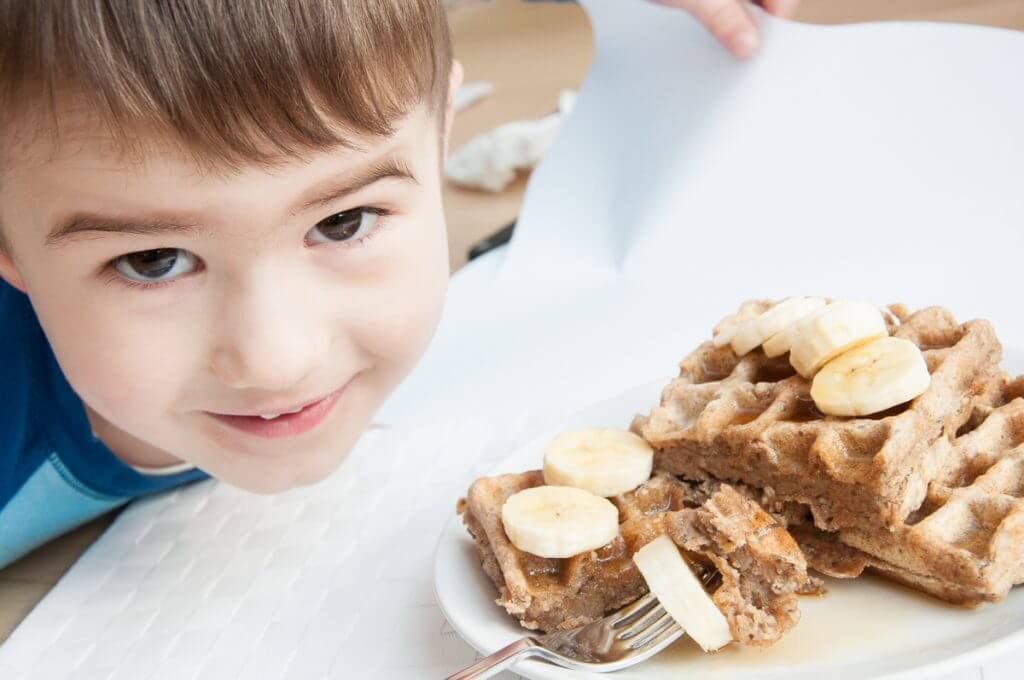 Don't like waffles? How did you even make it to the bottom of this page then :) Anyways, then I suggest you try some Raspberry Chocolate Scones or Healthy Apple Streusel Muffins!
Otherwise, be sure to check out some of my other Vegan Breakfast Recipes!