Get 'em while they're hot! Extra crispy, Baked Curry Fries straight out of the oven and seasoned to perfection!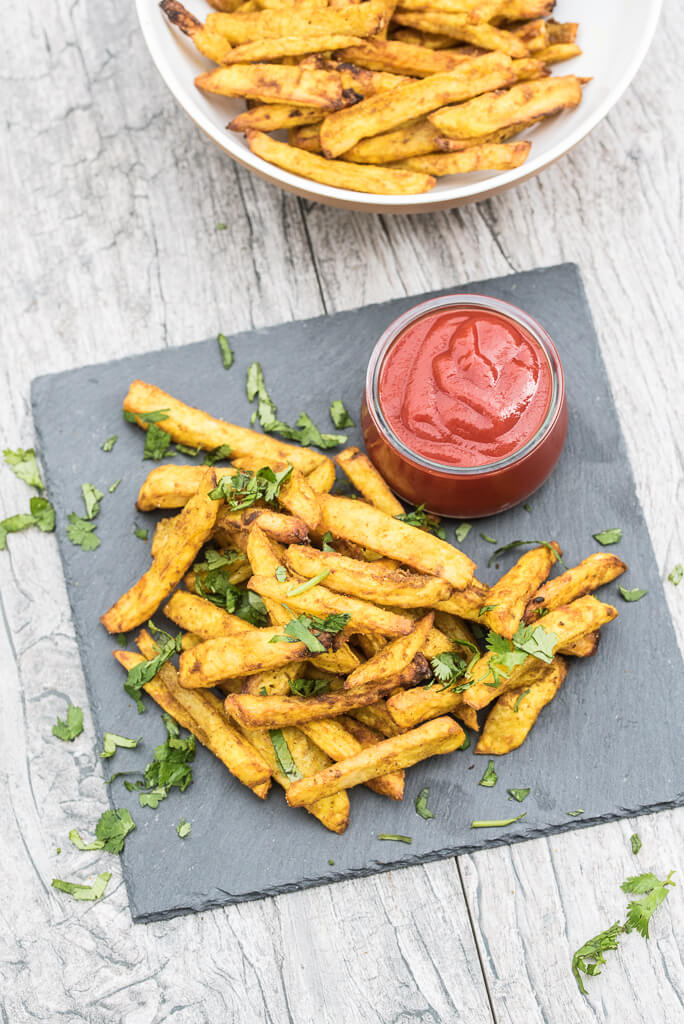 What kid doesn't like fries? I guess that there must be some kid out there that despises them but we'll just ignore him/her for now. They're ruining my point!
My boys are obsessed with fries and ask for them ALL THE TIME! However, they won't just eat any fries. They are definitely fry snobs. They prefer perfectly crisp, fresh out of the oven, seasoned to perfection fries. Fine by me. I prefer those kind too over cheap, made for the masses, fried french fries.
We've been experimenting a lot with different herbs and spices. Sometimes, definitely not always, I let my kids take control of the cooking. I let them go wild with the spice drawer and pick what to add to what. Daniel, my oldest, is into slight Indian flavors right now. He's not into full on, heavily-spiced curries...yet. However, he likes the yellowness turmeric adds to food and he's always been fond of coriander and cumin.
I can't say that my 7 year old "came up" with this recipe because I did have to take a bit of control. If I hadn't done that, we would have curry fries with liquid smoke, herbs de Provence and ancho chili powder. YUMMMM.
Instead of that disaster of a flavor profile...I "kindly" in my stern mom voice "guided" my son into creating these delicious baked curry fries.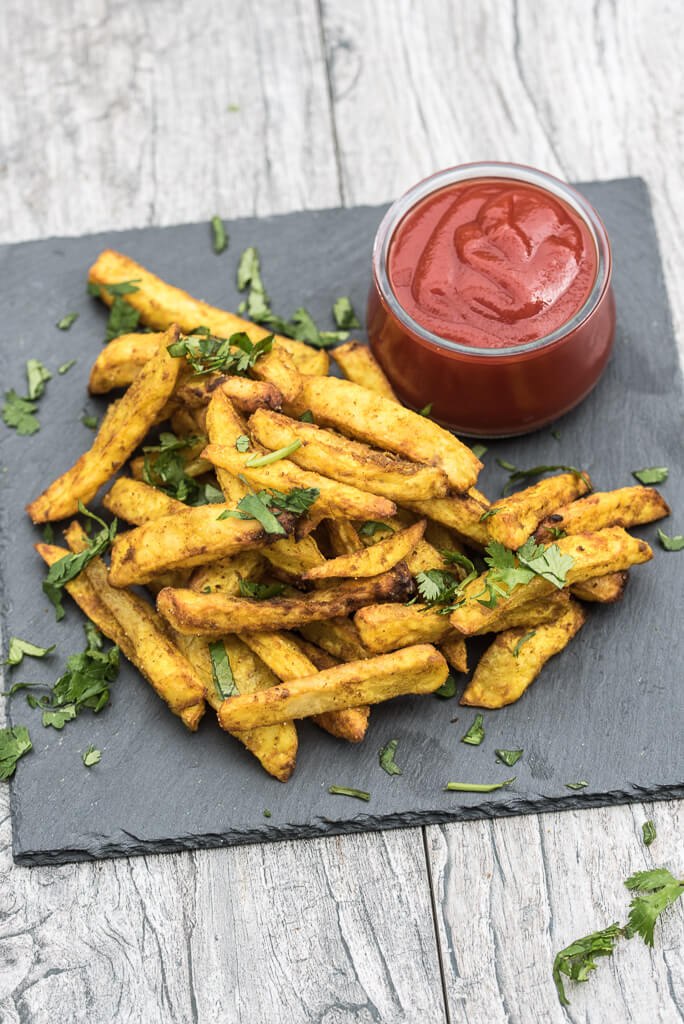 Turmeric, coriander, cumin, mustard powder, and fenugreek give these curry fries the right amount of curry flavor.
Makes you want to just jump right in and eat a whole bowl...right?

These Baked Curry Fries weirdly remind me of...
Currywurst. If you haven't been to Germany then you'll be like, "WTF is that!?" For starters, it's definitely NOT VEGAN.
Curry = Curry and Wurst = Sausage
Most people would assume, that the sausage is curried flavored but that's not the case. It's basically a regular sausage with a glorified ketchup sauce that has curry powder sprinkled on top. It does NOT look appetizing. However, being vegan, no sausage does.
Either way, most of the time it's served with fries which ultimately, I'm guessing, are also eaten with the same ketchup-curry sauce.
These fries just prove that they are wayyy better because
You most definitely don't need sausage...not even vegan sausage, to enjoy it
You don't need any special ketchup to enjoy it. Regular ketchup will do! Kudos to those who make their own!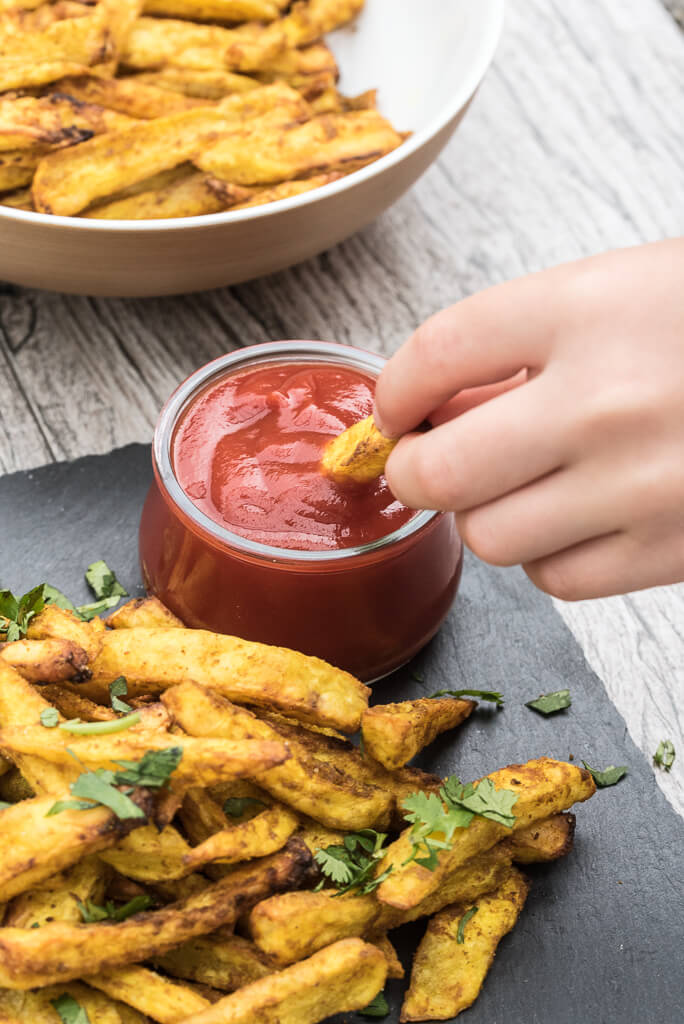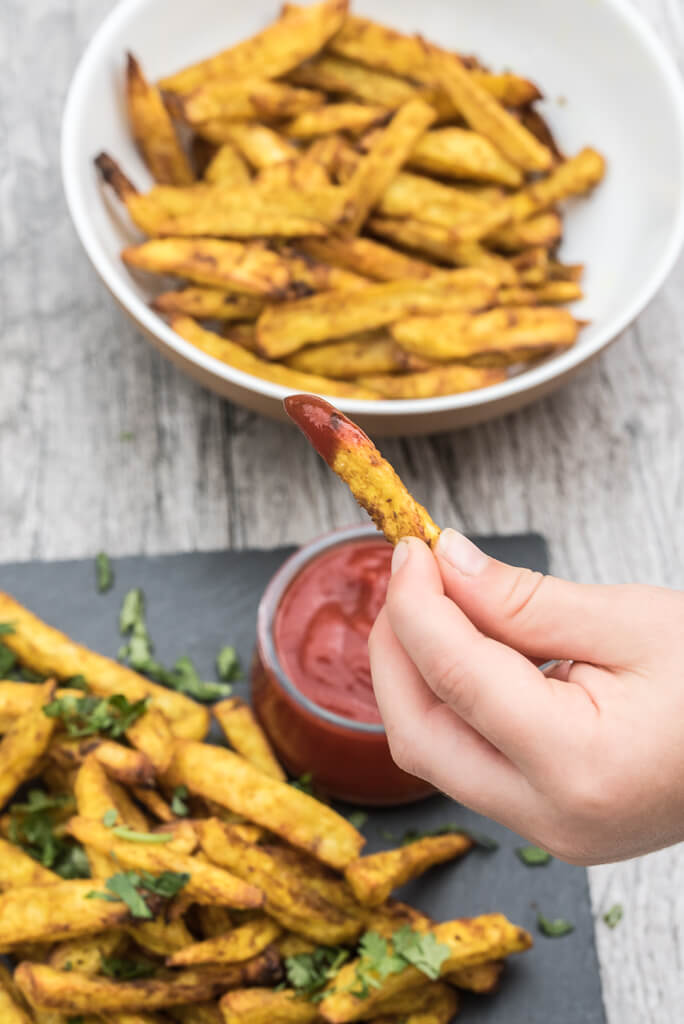 ***Look at that 7 year old, hand-modeling like a professional hand model! Mad skills!

2 Golden Rules of Crispy, Baked French Fries
Last thing before I go off on another tangent. I'll mention this like I mention it for all my french fry recipes:
If you want extra crispy fries that are baked in the oven, you need to SOAK those potatoes.
Soaking the potatoes removes a lot of the starch in potatoes and will ultimately allow them to crisp up better in the oven.
DON'T FORGET to pat those soaked potatoes dry again with a paper towel. Even if you've soaked your potatoes but then forget to pat them dry, you'll end up with limp, sad, soggy curry fries that no one wants to eat :(
So...what did we learn?
Soak
Dry
Perfect! Now...Go grab that recipe and make those crispy, baked, curry fries!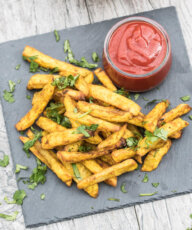 Baked Curry Fries
When regular seasoned fries just won't cut it! These crispy, curry spiced fries are mild enough for kids but flavorful enough for adults to enjoy every single bite!
Ingredients
1.3

lbs

Potatoes

peeled and cut into ¼ inch (6 mm) strips

3

tablespoon

Olive Oil

1

teaspoon

Turmeric

ground

½

teaspoon

Coriander

ground

1

teaspoon

Cumin

ground

¼

teaspoon

Mustard Powder

¼

teaspoon

Fenugreek

ground

½

teaspoon

Salt

plus more to taste after baking

Fresh, chopped Cilantro

for garnish (optional)
Instructions
Soaking: Ideally you would soak your cut potatoes in water overnight. However, if that is not possible then at least soak them for a few hours, or one hour or the very least, 15 minutes. Even a short soak time will remove some the starch from the potatoes, allowing them to get nice and crispy in the oven.

Preheat your oven to 410F (210C) and line a baking sheet with parchment paper.

The trick to crispy potatoes is drying off the soaked potatoes with a paper towel. Just gently pat them dry to remove any excess water. This will allow you to get crispy fries instead of just steamed potatoes.

Place the dried off potato strips in a large bowl and toss with olive oil, turmeric, coriander, cumin, mustard powder, fenugreek and salt until well coated.

Bake the fries for 30 to 45 minutes, flipping them twice while baking, until fries reach desired crispiness.

Remove fries from the oven, season with more salt to taste and sprinkle with a bit of fresh, chopped cilantro before serving them with your favorite ketchup or sauce.
Bored of these fries? Try my Rosemary Garlic Fries or Spicy Cajun Fries.