These easy to make, crispy Rosemary Garlic Fries might just be the best homemade fries EVER! Kids love them too ;)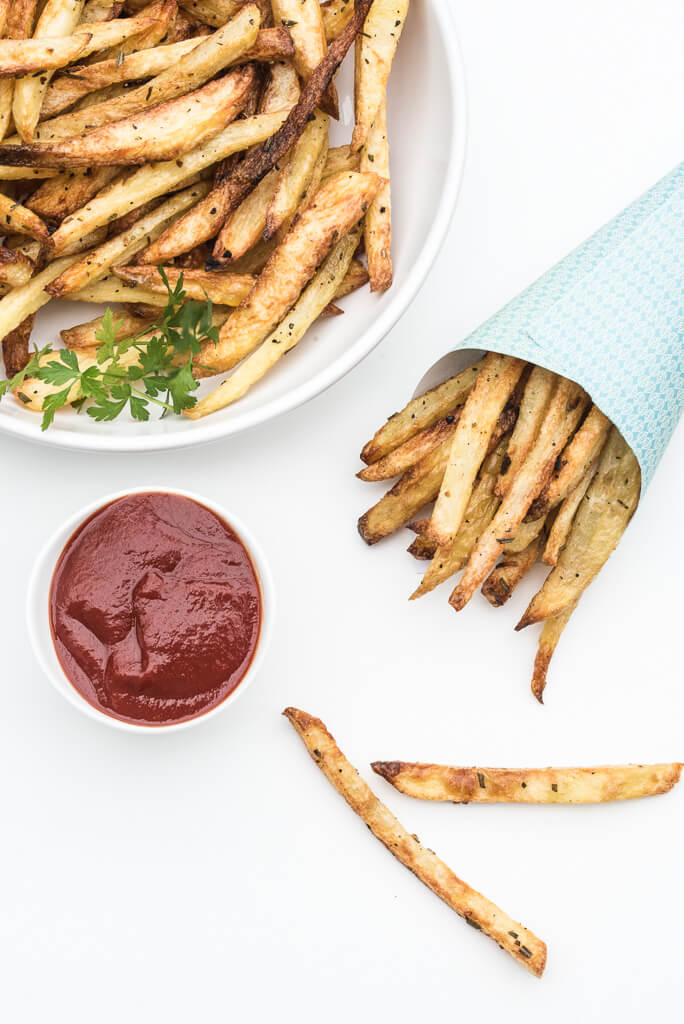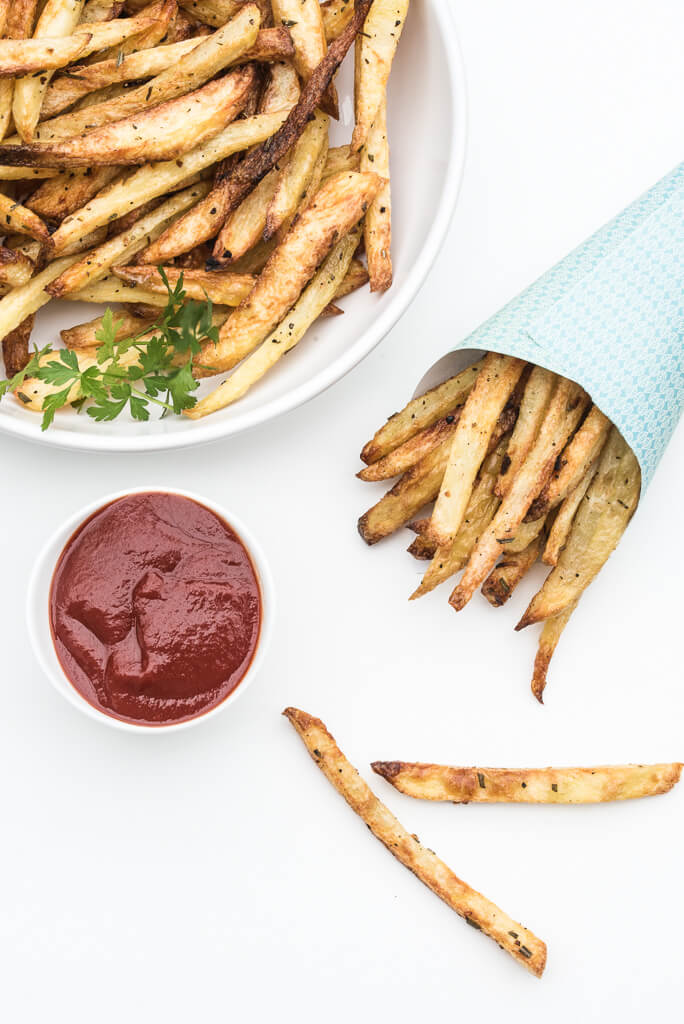 I find that the best french fries are homemade. My latest fry obsession are these Rosemary Garlic Fries. They're crisp, have just the right amount of seasoning and are incredibly addicting.
The best thing about making fries at home is that you can, if done right, make perfectly crispy fries without frying them in a gallon of oil.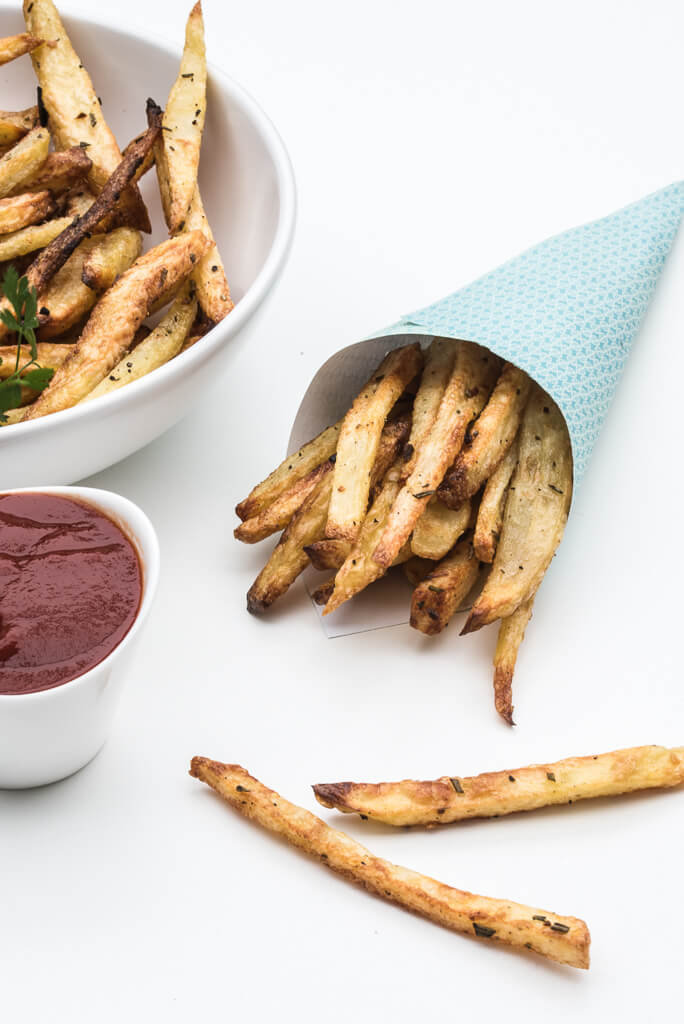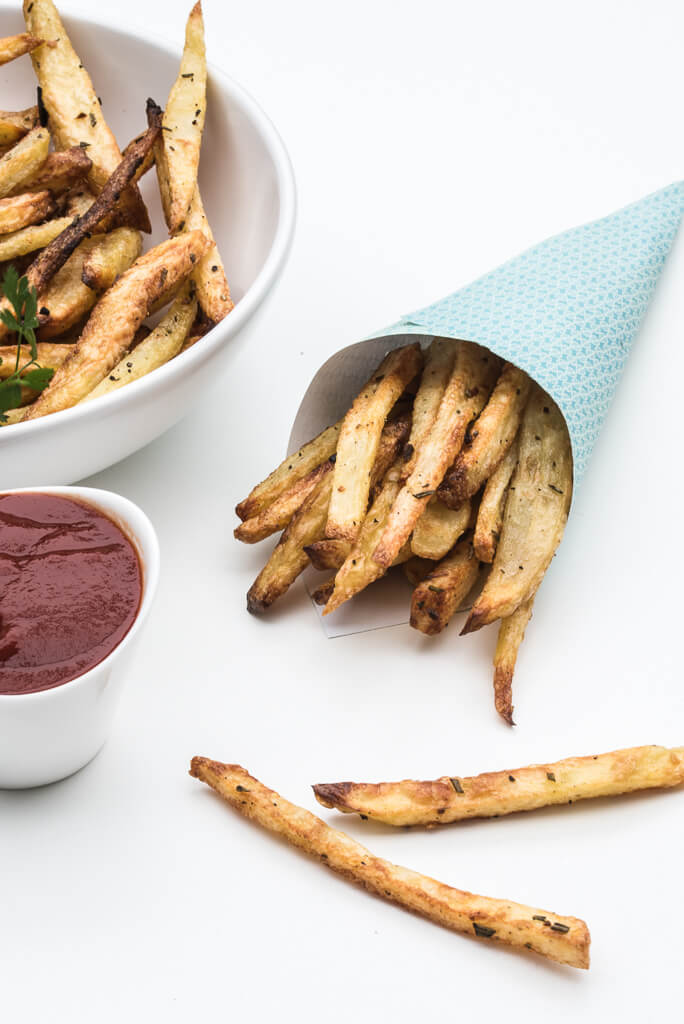 What's even better is that with these Rosemary Garlic Fries you're eating real ingredients. Let's just take a second to compare them to McDonald's fries...
Let's have a look at the ingredients first:
Rosemary Garlic Fries: Potatoes, Olive Oil, Rosemary, Salt, Garlic, Pepper
McDonald's Fries: Potatoes, Vegetable Oil (Canola Oil, Corn Oil, Soybean Oil, Hydrogenated Soybean Oil, Natural Beef Flavor [including hydrolyzed wheat and hydrolyzed milk]*), Dextrose, Sodium Acid Pyrophosphate (Maintain Color), Salt. *Source
Mmm...I think I know which I'd rather give my kids. The fact that McDonald's fries also have nearly twice the amount of calories and quite frankly don't taste like anything other than salt doesn't even make this a hard decision.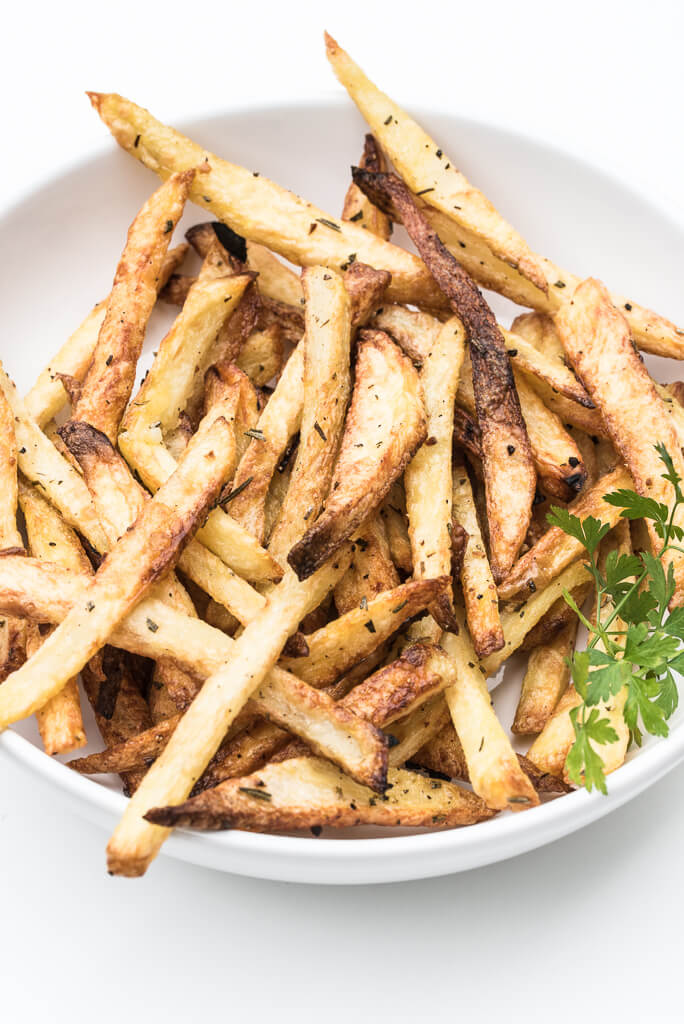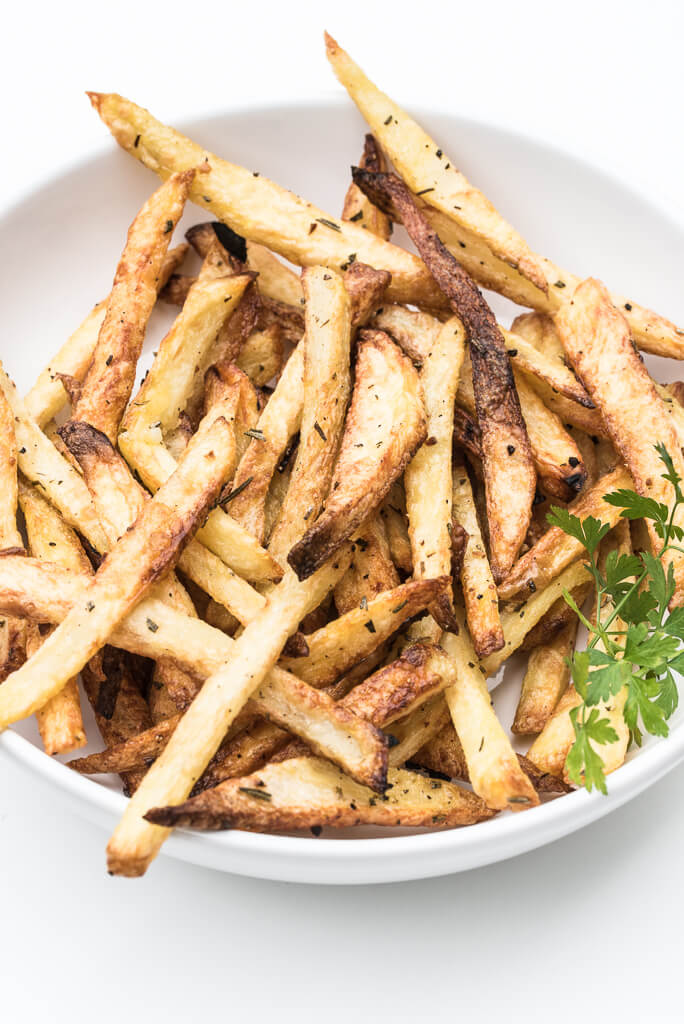 I think a lot of people shy away from making homemade fries because they can't figure out how to make them crispy. They also usually had bad experiences with limp and mushy fries.
There is only one simple and easy trick to making perfectly crispy fries at home.
Soak 'em!
Potatoes have a lot of starch and for extra crispy french fries you need to remove some of that starch. The easiest way to do so is by soaking the cut potatoes in water. Even if you can only find a couple of minutes to soak your potatoes, it's much better than not doing so at all. 
After they have soaked, make sure you pat them dry. There is nothing worse than have soaked potatoes and then forgetting to dry them off. The excess water on the potatoes will result in your potatoes just getting steamed in the oven. That's NOT what we want here.
Soak 'em -- Dry them off -- Toss with other ingredients -- Bake -- Eat!
Easy Peasy ;)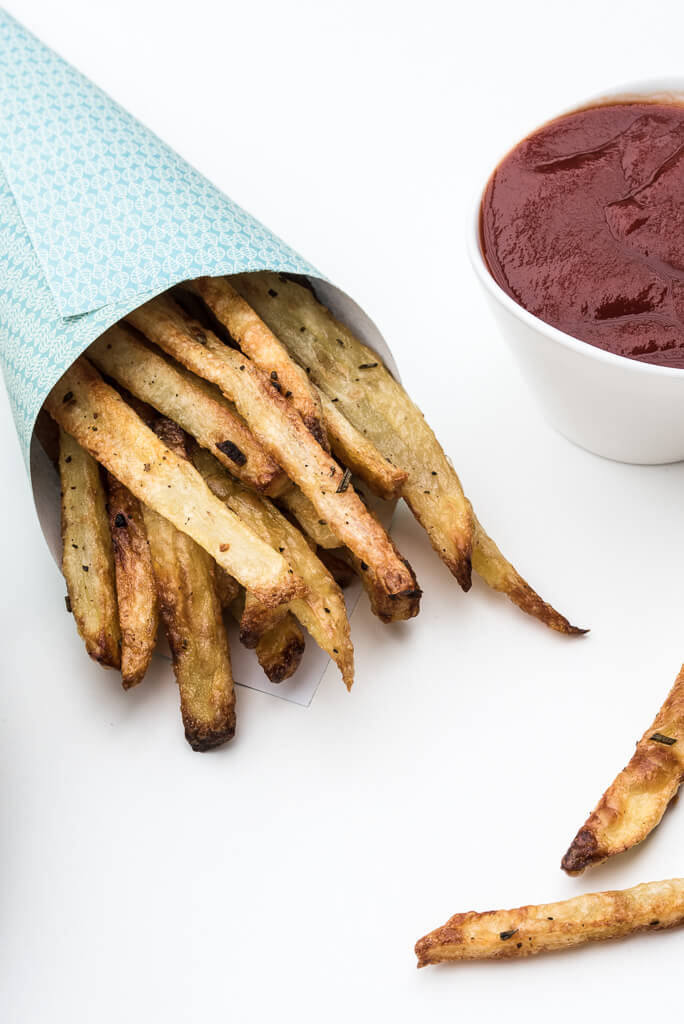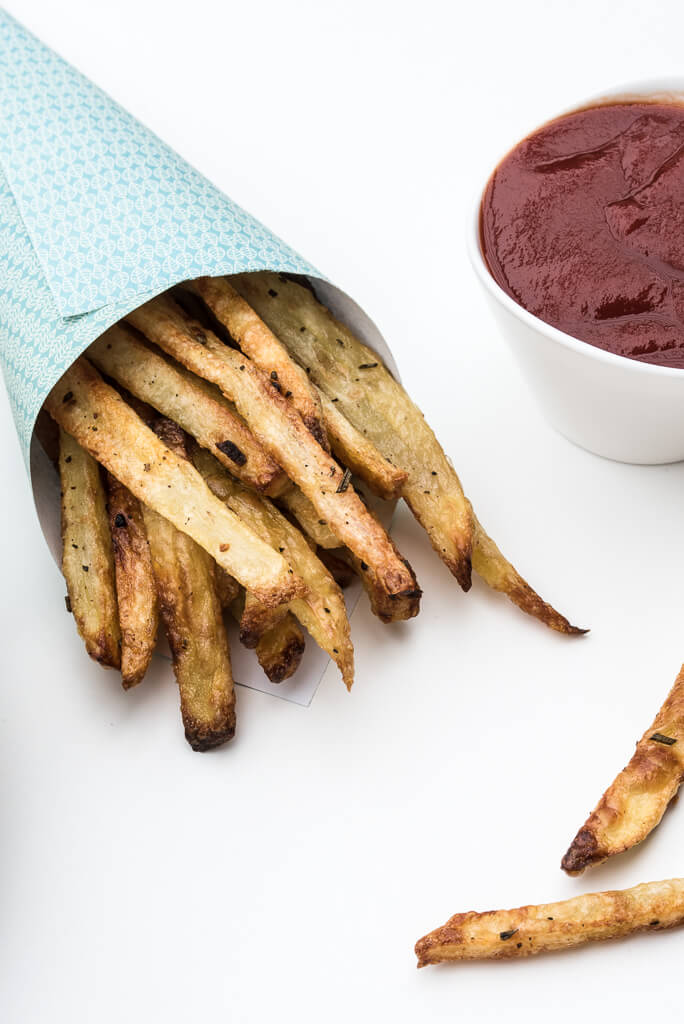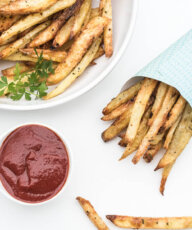 Rosemary Garlic Fries
Extra crispy and brilliantly easy to make Rosemary Garlic Fries that are baked not fried!
Makes
1
lb (450g) French Fries
Ingredients
1.3

lbs

Potatoes

peeled and cut into ¼ inch (6 mm) strips

3

tablespoons

Olive Oil

1 to 2

teaspoons

fresh, chopped Rosemary

can use dried rosemary as well

¼

teaspoon

Salt

2

cloves

Garlic

minced (can always use more if you'd like)

¼

teaspoon

Fresh Cracked Pepper
Instructions
Soaking: If possible, soak your peeled and cut potato strips in a bowl of water for as long as possible. If you can soak them overnight, that's awesome! If you can only soak them for an hour or two, that's great! Even just soaking them for just 15 minutes is better than not soaking them at all!

Preheat your oven to 410F (210C) and line a baking sheet with parchment paper.

Remove your soaked potatoes from the water and pat them dry using paper towels. If you forget to pat them dry, you'll end up with steamed potatoes and not deliciously, crispy ones.

Place the dried off potato strips in a large bowl and toss with olive oil, rosemary, salt, garlic, and pepper until coated well.

Bake the fries for 30 to 45 minutes, flipping them twice while baking, until fries reach desired crispiness.

Remove fries from the oven, season with more salt and pepper to taste before serving them with your favorite ketchup or sauce.
Recipe Notes
This recipe makes about 1lb (450g) cooked french fries. This is equal to about three large McDonalds french fry serving sizes.
Try some of my other favorite Baked Fries Recipes!
Serve these Rosemary Garlic Fries with your favorite veggie burger!