Crispy. Spicy. Delicious. Baked Cajun Fries are exactly what you have been craving!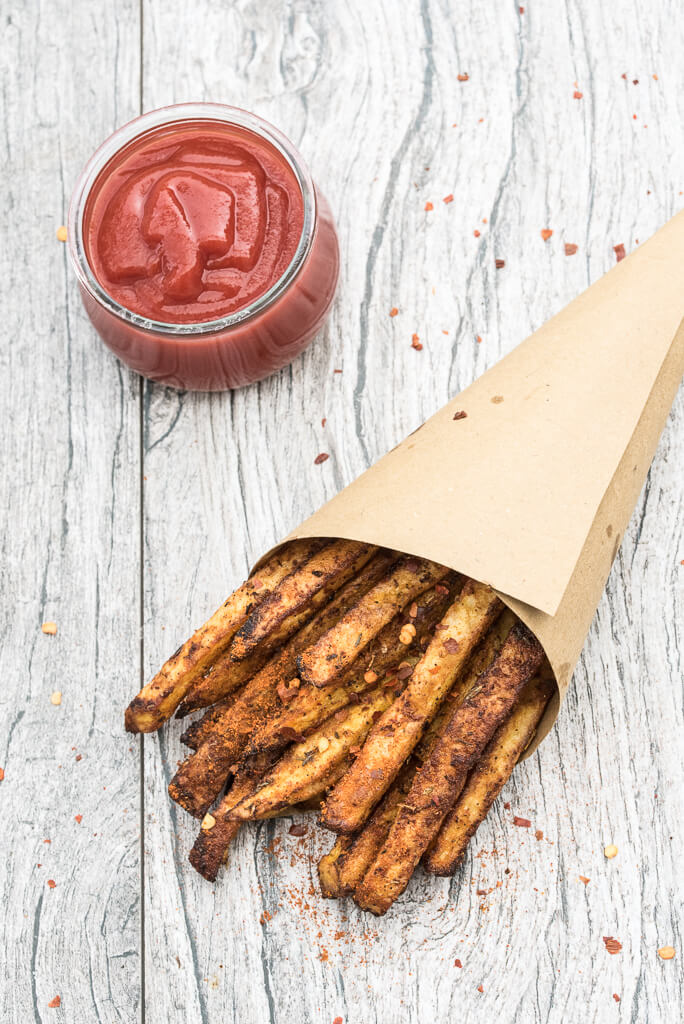 Before you dive right into a big batch of these Baked Cajun Fries, I need to give you a little (probably VERY obvious!) warning!Don't eat these fries and then touch your eyes...or your kids eyes for that matter! Learned that the hard way...oops.Looks like mommy-brain is catching up to me now that I'm 27 weeks pregnant with my 3rd! Agh where has the time gone!
Needless to say, pregnancy cravings are a real thing and for me that's anything super spicy. :D
So now that we are all aware we shouldn't be touching our faces or those of others after eating these, we can focus on actually making these crispy oven fries instead!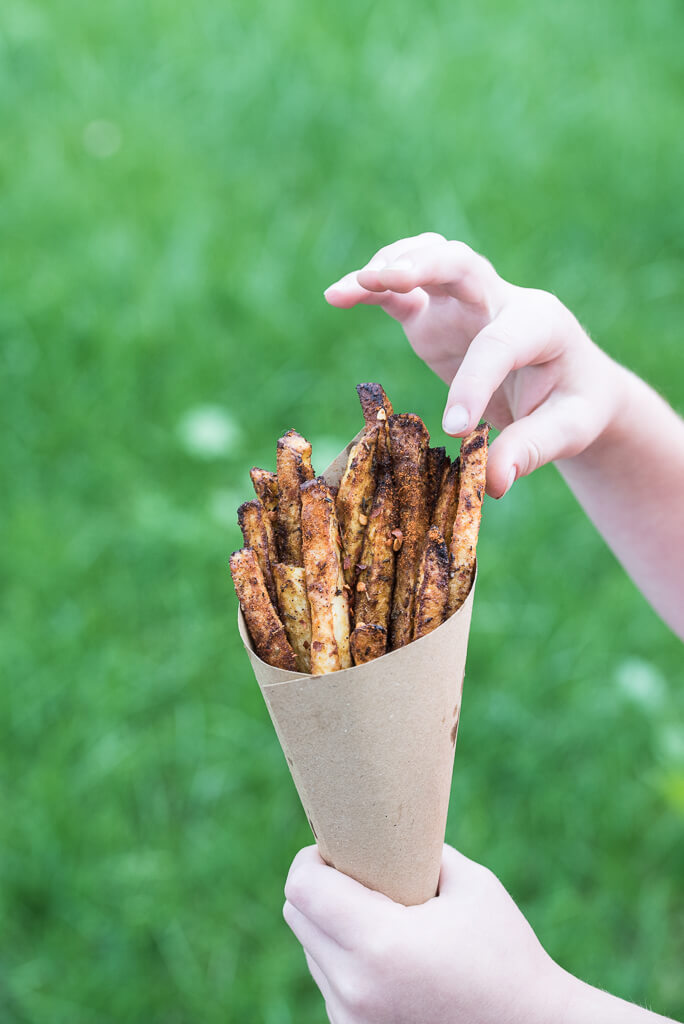 As with my Rosemary Garlic Fries Recipe, you need to soak the potatoes first. Soaking the potatoes gets rid of all that extra starch hiding in your potatoes. That's really the one and only trick to getting super crispy fries in your oven.
Oh, and please DON'T forget to pat those potatoes dry before adding the herbs, spices and olive oil. No one has ever mentioned that they wanted mushy, steamed potatoes sticks. Everyone wants perfectly crisp fries.
So why should you even bother making these Cajun-seasoned Fries? and what about if you have kids?
I rarely EVER make ANYTHING that my kids don't eat or can't eat. These fries aren't any different.
Trick to making any spicy food kid-friendly is to just hold off on the spices until the very end. Even my husband doesn't eat food as spicy as I like to which is why when I make a batch of these, I put about a quarter to the side for me. This way, I can add the cayenne pepper and red pepper flakes (THE BEST PART!) to my share at the very end without "contaminating" the other fries with unwanted spiciness. Win-Win situation for everyone :)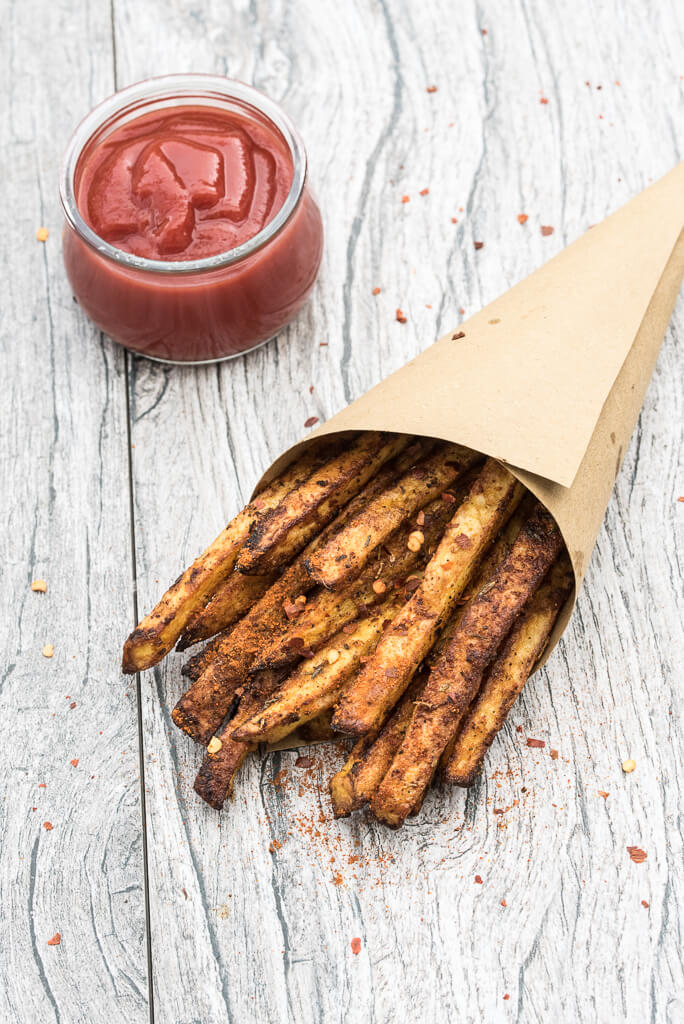 Now quickly, go and make your own Baked Cajun Fries instead of staring at these pictures, wishing you had some :)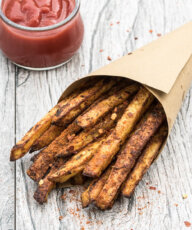 Baked Cajun Fries
These Baked Cajun Fries are a spice-fiends dream! Crispy, spicy, delicious and packed with lots of cajun flavor!
Ingredients
1.3

lbs

Potatoes

peeled and cut into ¼ inch (6 mm) strips

2

tablespoons

Olive Oil

½

teaspoon

dried Oregano

1

teaspoon

Garlic Powder

1

teaspoon

Onion Powder

optional

2

teaspoons

Paprika

½

teaspoon

Salt

plus more to taste after baking

1

teaspoon

Thyme

dried

¼

teaspoon

ground Black Pepper

1

teaspoon

ground Cayenne Pepper

optional - see notes

Red Pepper Flakes

optional - see notes
Instructions
Soak you potatoes! If you can, soak your potatoes in a bowl of water overnight or at least an hour. If that isn't possible, even 15 minutes of soak time will help and is much better than not soaking them at all.

Preheat your oven to 410F (210C) and line a baking sheet with parchment paper.

To prevent steamed, mushy potatoes, remove your potatoes from the water and pat them dry with a paper towel. This may take a few extra minutes but is definitely worth it!

Place the dried off potato strips in a large bowl and toss with olive oil, oregano, garlic powder, onion powder, paprika, salt, thyme and ground pepper until coated well. Add the cayenne pepper and red pepper flakes now or see notes on when to add them. 

Bake the fries for 30 to 45 minutes, flipping them twice while baking, until fries reach desired crispiness.

Remove fries from the oven, season with more salt and pepper to taste before serving them with your favorite ketchup or sauce.
Recipe Notes
The cayenne pepper and red pepper flakes don't need to be added to these cajun fries but I strongly recommend it. If you have kids, you can add the cayenne pepper and red pepper flakes to some of the fries (those NOT for the kids!) after they have finished baking. 
I love seeing your creations and results from my recipes. Be sure to share them with my on Facebook and Instagram and use #VeganFamilyRecipes so I don't miss it :)