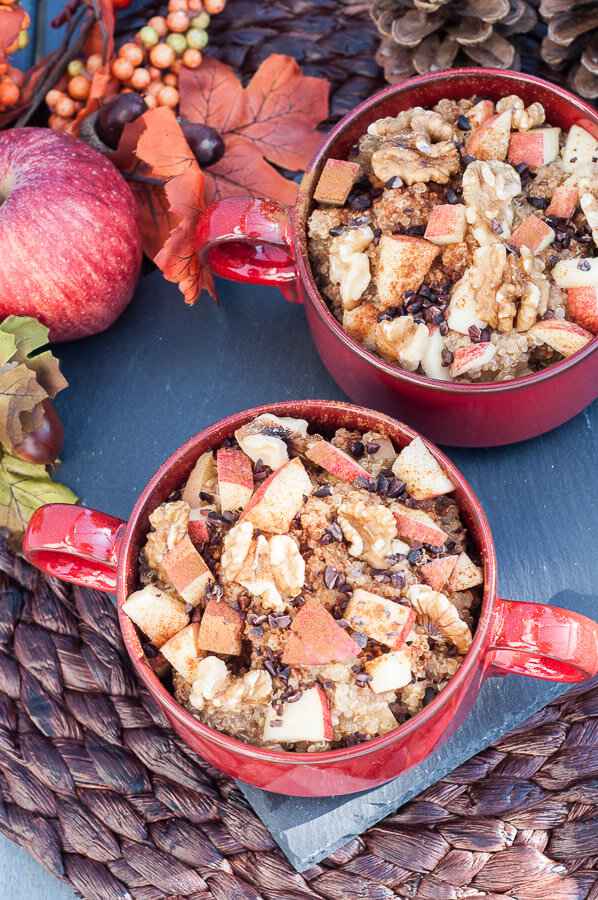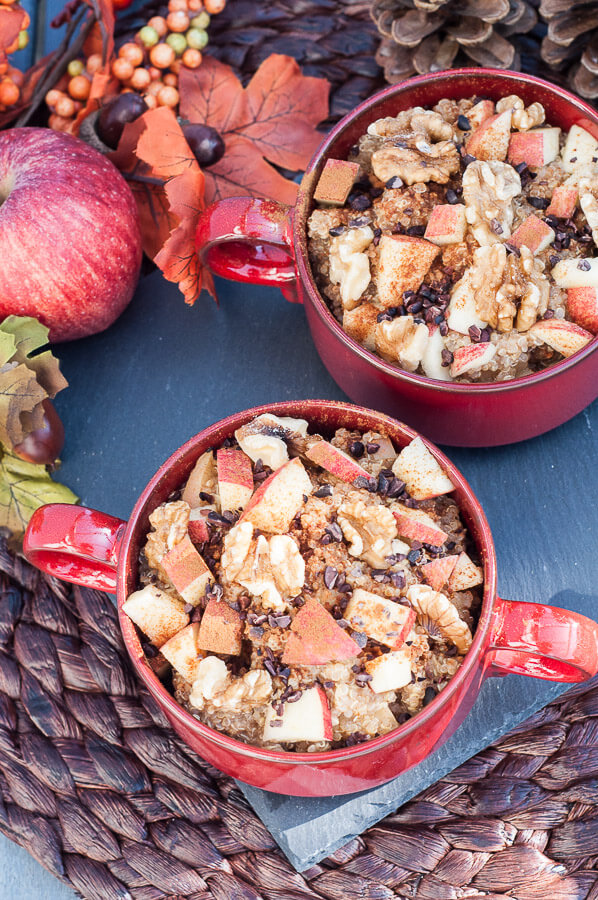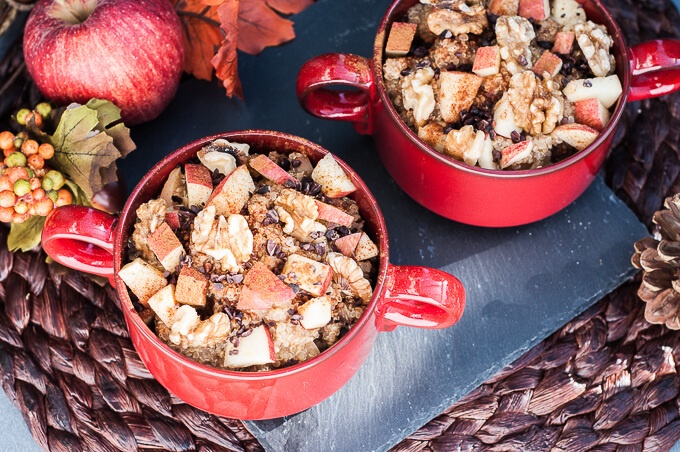 My family and I have been in a habit of making oatmeal nearly every morning for breakfast. It's fast, filling, and perfect for fresh fall days. When I ran into a mom that I know from preschool, she told me that she eats quinoa for breakfast. She's from Peru. Considering that that's where quinoa originated and is mainly imported from, you know she probably has a good idea of how to use it.
Sure, I've added puffed quinoa to sweet recipes but never have I thought of it as an oatmeal alternative. It's really just as easy to cook as oatmeal and only takes a few more minutes. Those extra 5 minutes are worth it!!
Like with oatmeal there are endless possibilities but I thought it would be good to put all those fresh apples to good use. Any apple will do for this recipe. I used a gala apple because they are on the sweeter side and are pretty easy to find organic.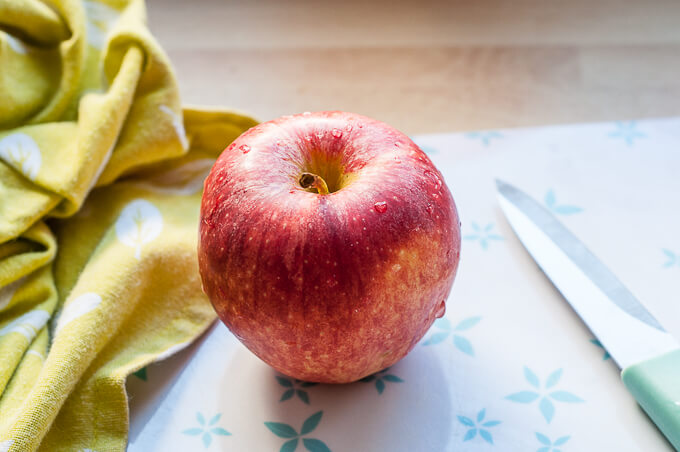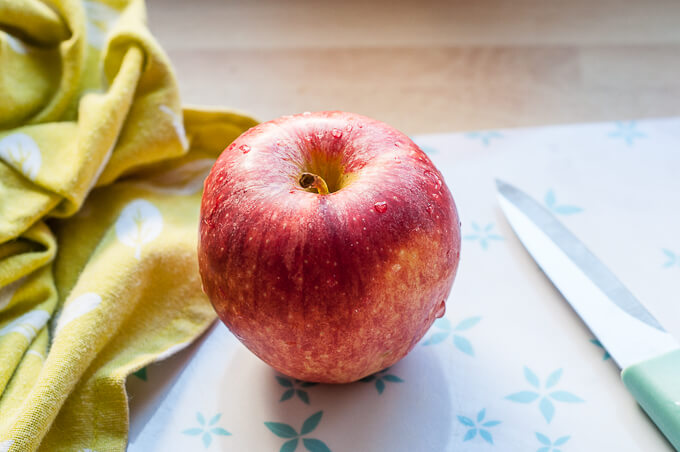 Use whatever you have on hand or use this nifty apple chart. I've shared it before on my Apple-Banana Muffin Recipe but I often look back on it as a reference.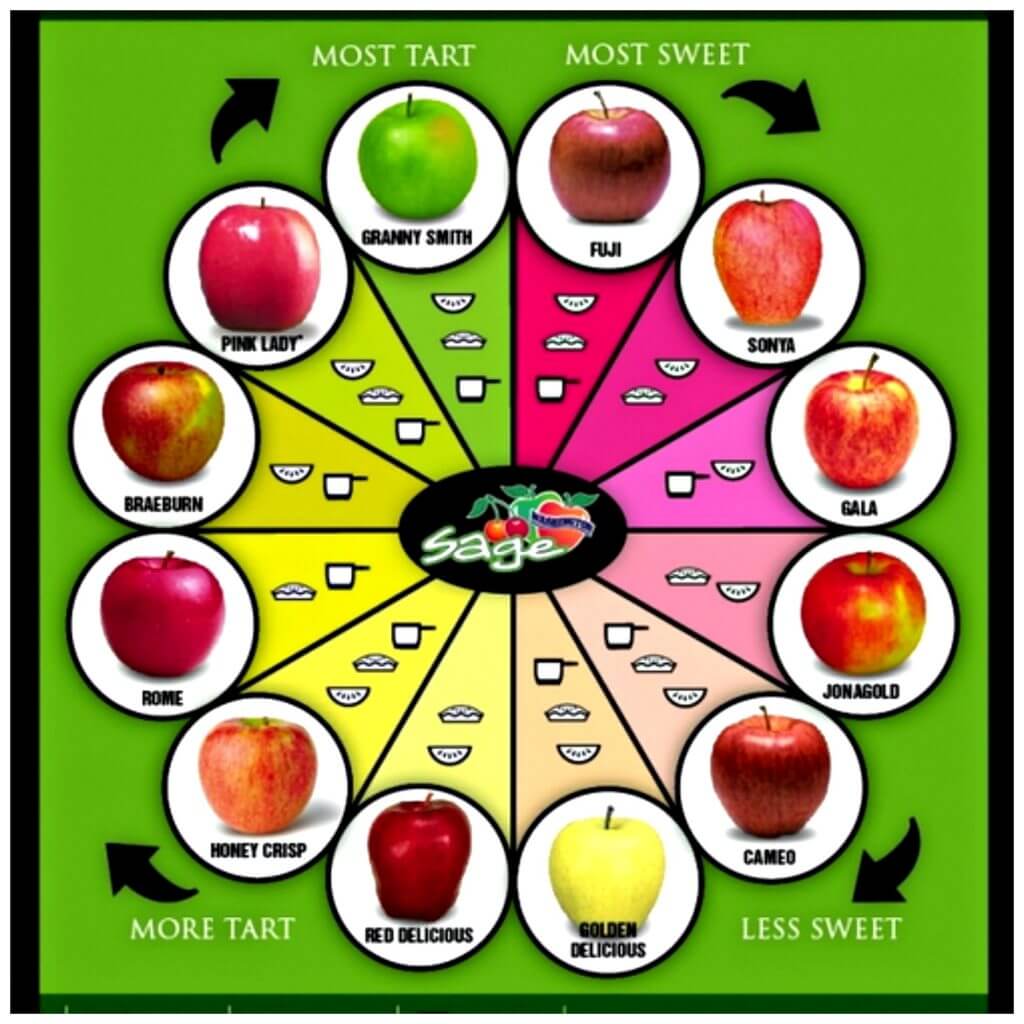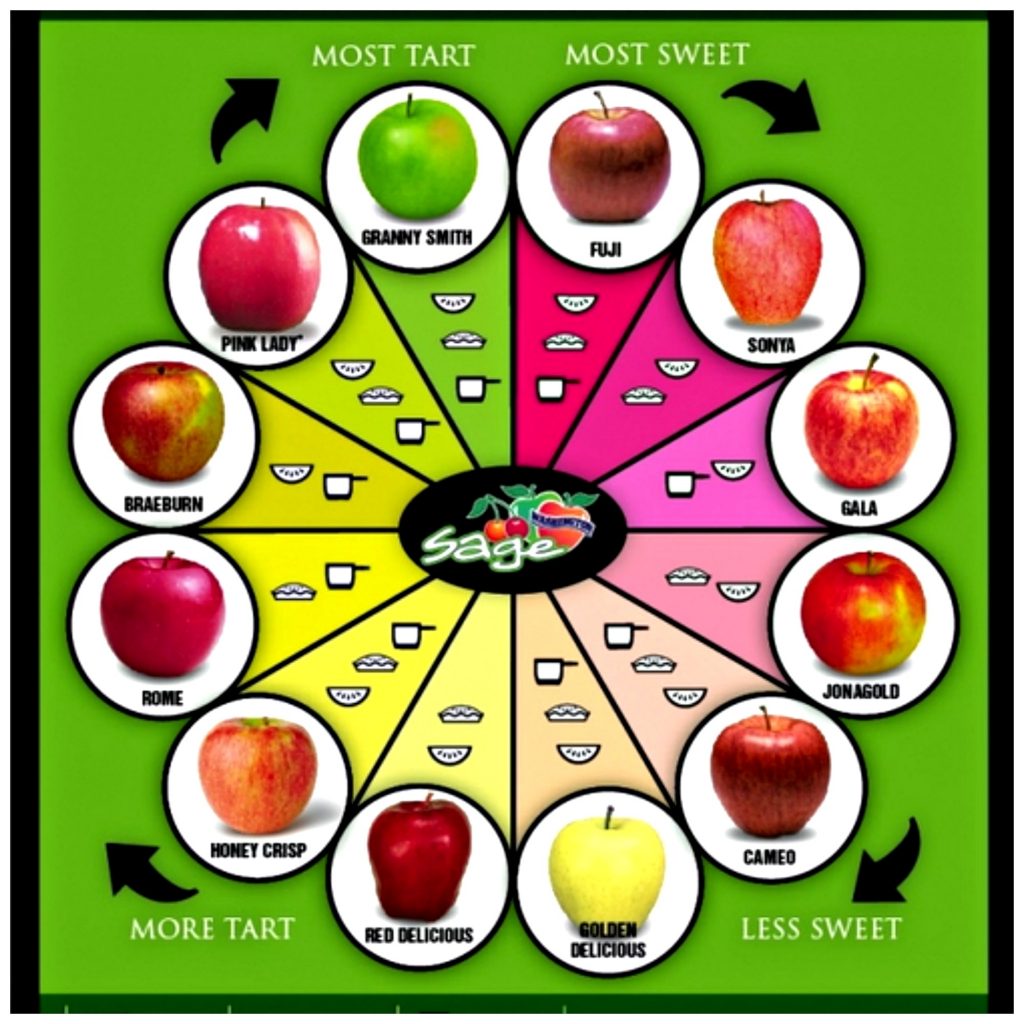 Once you've got that apple situation handled you can get around to actually making this quinoa breakfast bowl :) I could have just chopped up apples and put them on top of the cooked quinoa but I wanted to make sure there was plenty of that seasonal apple flavor infused into it. What I did was chop the entire apple then I added half of it to the quinoa and cooked the quinoa, saving the remaining apple to add on top.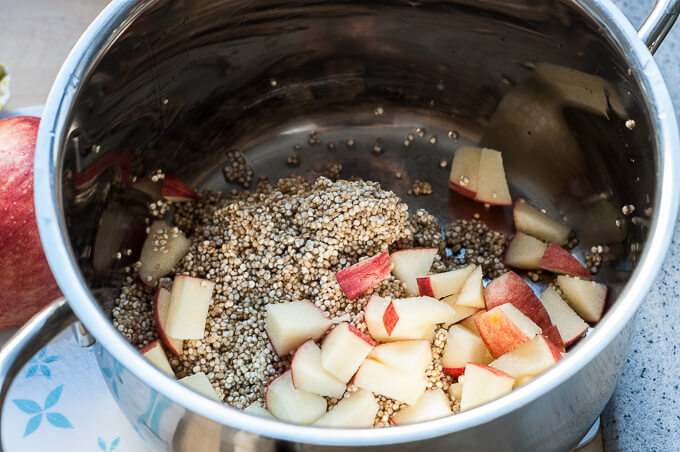 Once your quinoa is cooked you can top it with apples, cinnamon, maple syrup, walnuts and cacao nibs. Feel free to omit or add any other ingredients to your liking :)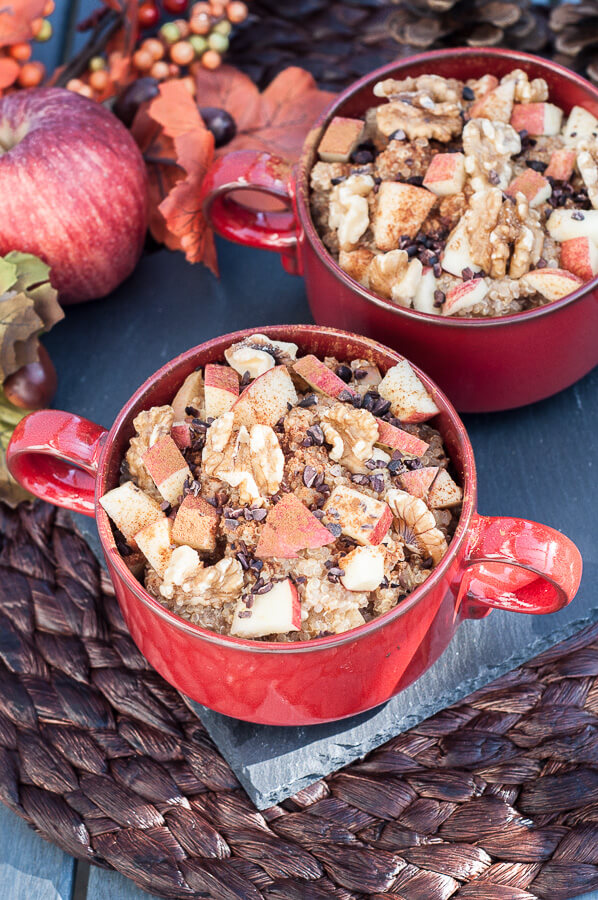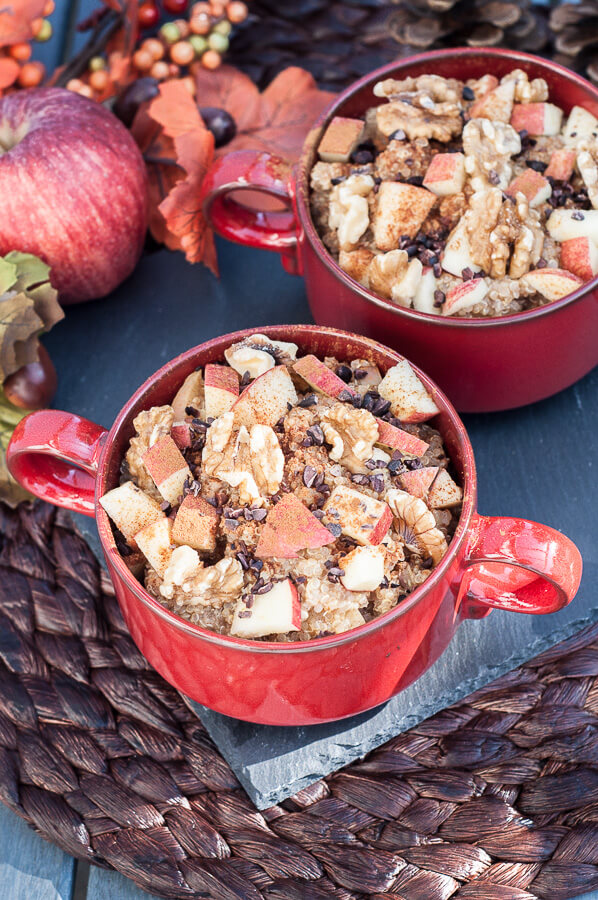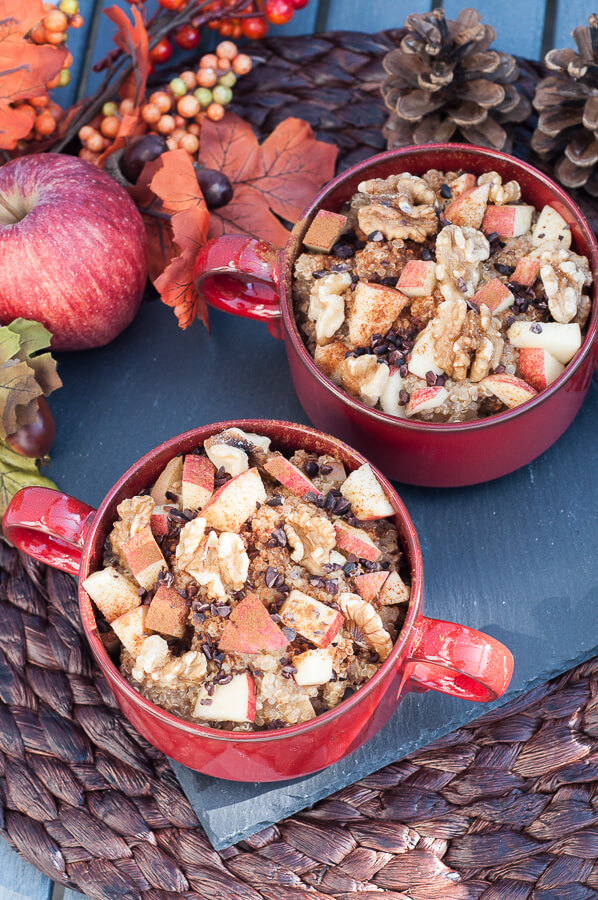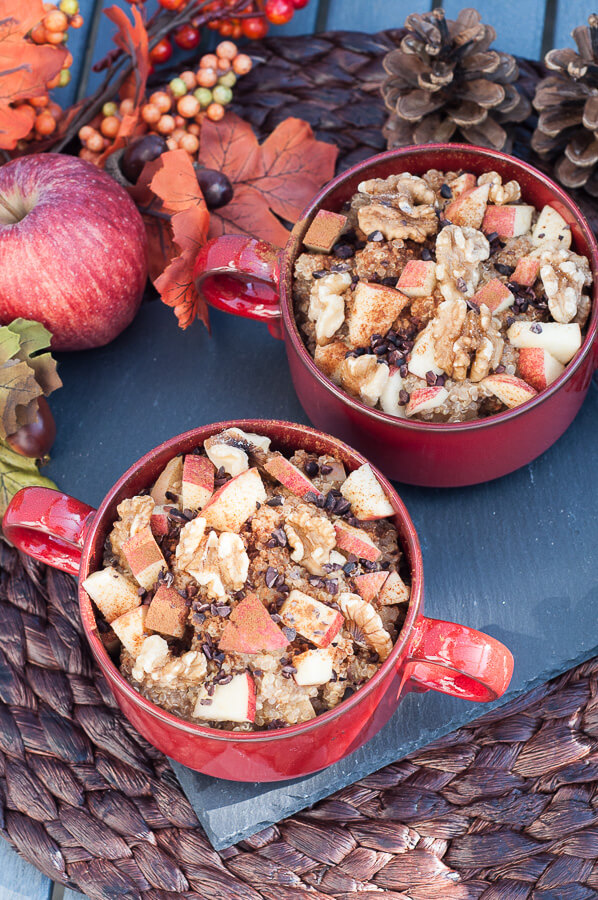 My boys love this and you can even add a splash of almond milk to it for some extra creaminess. I love this quinoa breakfast bowl since it's not a sugar filled breakfast that will have them me and my kids bouncing off the walls all day ;)
What's you favorite "sweet" way to eat quinoa?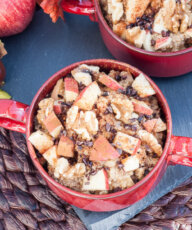 Apple Walnut Quinoa Breakfast Bowl
Healthy quinoa for breakfast with fresh & cooked apples, cinnamon, and apples. A perfect alternative to oatmeal.
Ingredients
½

of a cup uncooked Quinoa

1

Apple of choice

cored and diced

2 ½

cups

of Water

2

teaspoons

Maple Syrup or more to taste

1

teaspoon

Cinnamon

⅓

of a cup Walnut Halves

optional

1

teaspoon

Raw Cacao Nibs

optional
Instructions
Rinse quinoa with hot water to remove any dirt and bitter taste.

Dice an apple of choice.

In a small saucepan add quinoa, ½ of a cup of the diced apples, and water. Bring to boil, uncovered, over medium-high heat. Reduce heat and simmer for 15-20 minutes, stirring occasionally, until nearly all the water has been absorbed. Remove saucepan from heat.

Stir maple syrup and cinnamon into the cooked quinoa.

Divide quinoa between two bowls and top with remaining fresh diced apples, walnuts, and cacao nibs.

Enjoy hot.
Recipe Notes
1) For a creamier quinoa use 1 cup water and 1 ¼ cup unsweetened almond milk instead of the 2 ¼ cups of water. You can use other plant based milks as well. Coconut milk will give you the creamiest consistency. 2.) If you don't like the chunkiness of quinoa then add the cooked quinoa (before adding the maple syrup and cinnamon) to a mixer or food processor and blend until the consistency is reached that you prefer. I find that toddlers and babies like it better when the quinoa is pureed.
Be sure to share the recipes you make with me on Instagram using #VeganFamilyRecipes. My feed moves really fast so that way I'll be sure to see it! If you aren't following me on Instagram make sure you do! Otherwise, you'll miss awesome posts like this video below :)