Continuing on with some healthy, spring-time recipes like this easy One Pot Lemon Asparagus Quinoa Dish with a Vegan Rocket Pesto!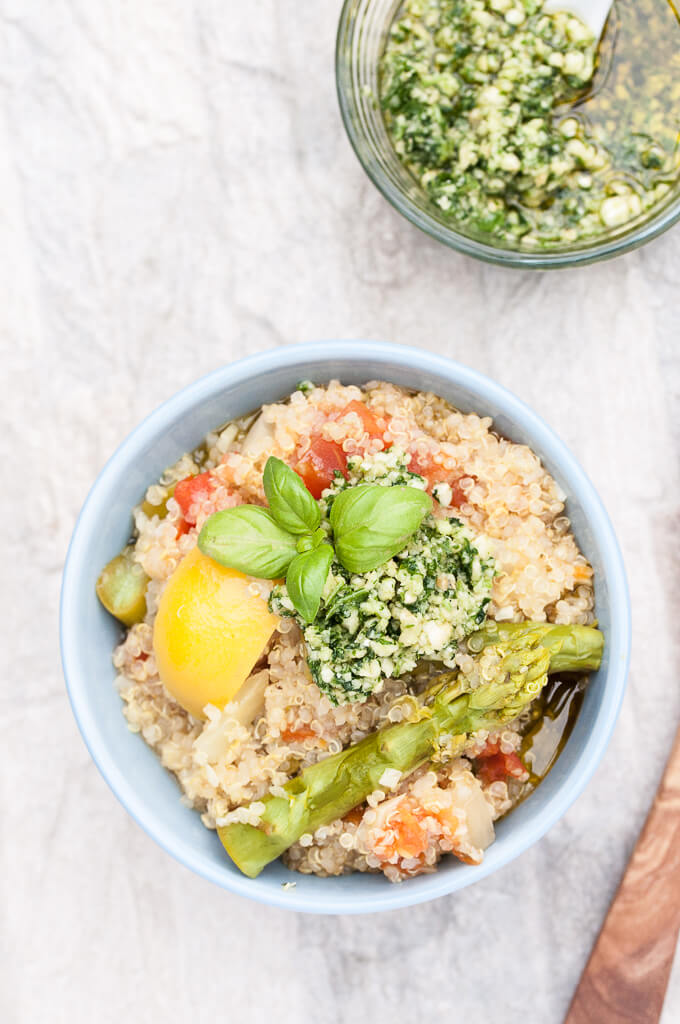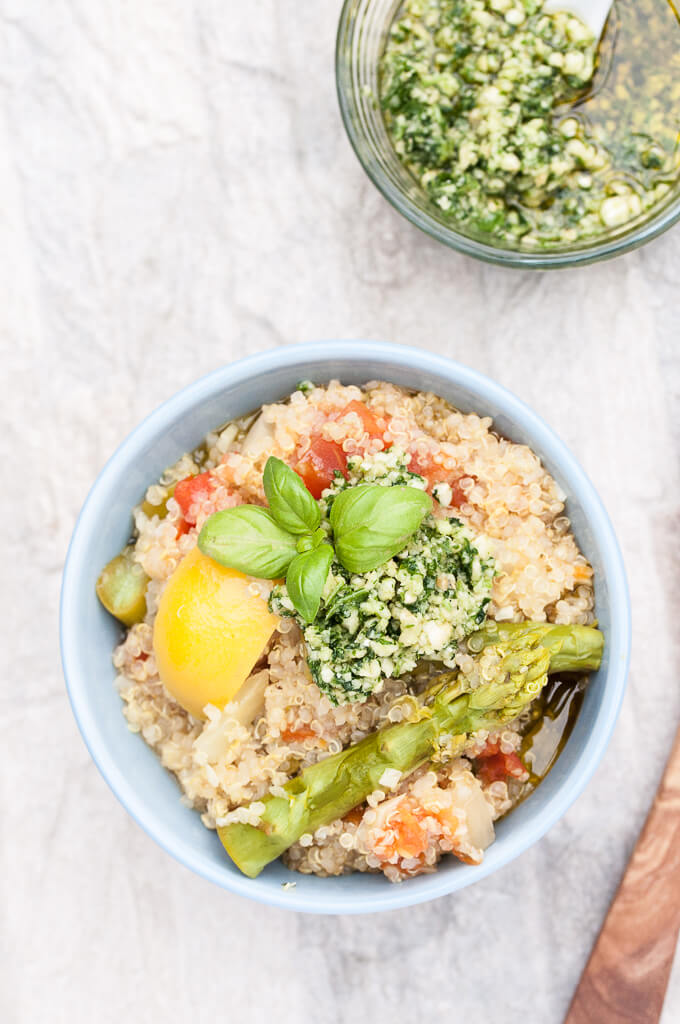 Asparagus season is quickly slipping away and I absolutely can't stand it. I used to not be too fond of asparagus mainly because I didn't really grow up with it. I can't remember my parents every buying or cooking it. :::SOB SOB::: Horrible childhood..I know ;)
In recent years though I've come to have somewhat of an asparagus obsession. It doesn't matter if it's green asparagus or white asparagus, cheap asparagus or crazy overpriced asparagus. I just know I want it.
I'm not kidding here. I get REALLY excited when asparagus is in season which is why I tend to buy way more than I actually need. Every time I go grocery shopping, I think, "Oh, yeah...I totally need to buy some asparagus." Even though somewhere in the back of my mind I know that I already have about 10 lbs waiting for me at home.
I think it might be my deep fear of going to the store the next day and there not being any fresh, organic asparagus. It's painful and depressing when that happens. Even worse is when they do still have asparagus but it's droopy, somewhat slimy and stinks. Yuck!
Good thing most people should still be able to get their hands on some crisp asparagus and that's where this One Pot Asparagus Quinoa Recipe comes in handy.
One pot meals aren't something new. I make them all the time and other moms will know exactly why. They're simple, taste delicious and even make for some healthy lunch leftovers the next day.
This One Pot Asparagus Quinoa doesn't require a whole lot of ingredients. Want to know why? It's definitely because every time I make a one pot meal it's when I don't have a whole lot of time, my pantry is nearly empty and I just want to get rid of some vegetables aka that mountain of asparagus in my kitchen.
So what exactly do you need to make this Lemon Asparagus Quinoa and how do you make it?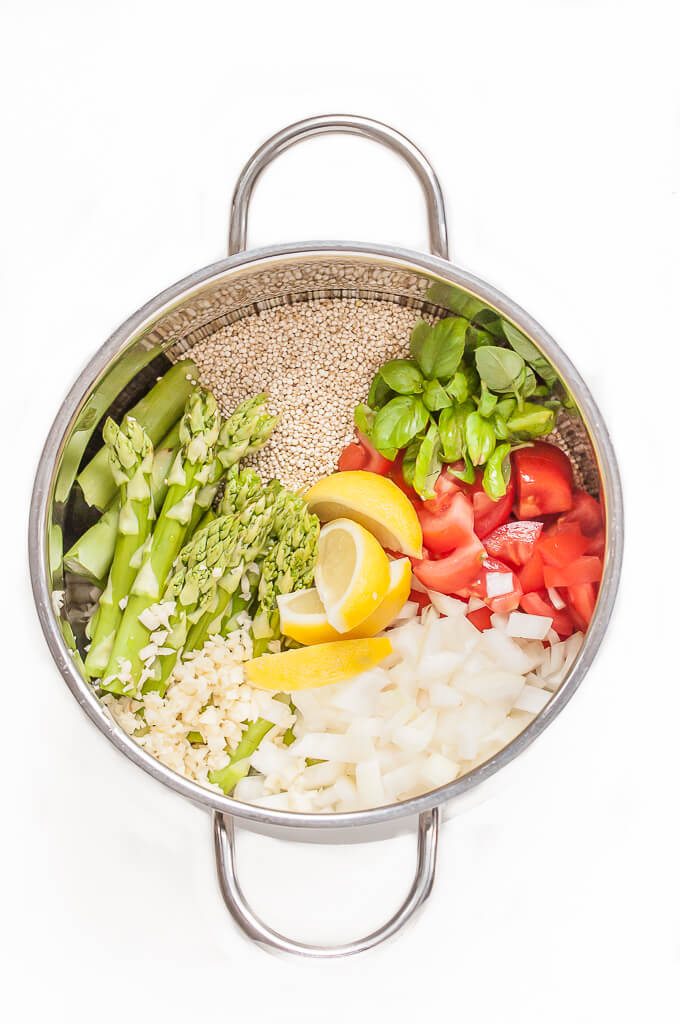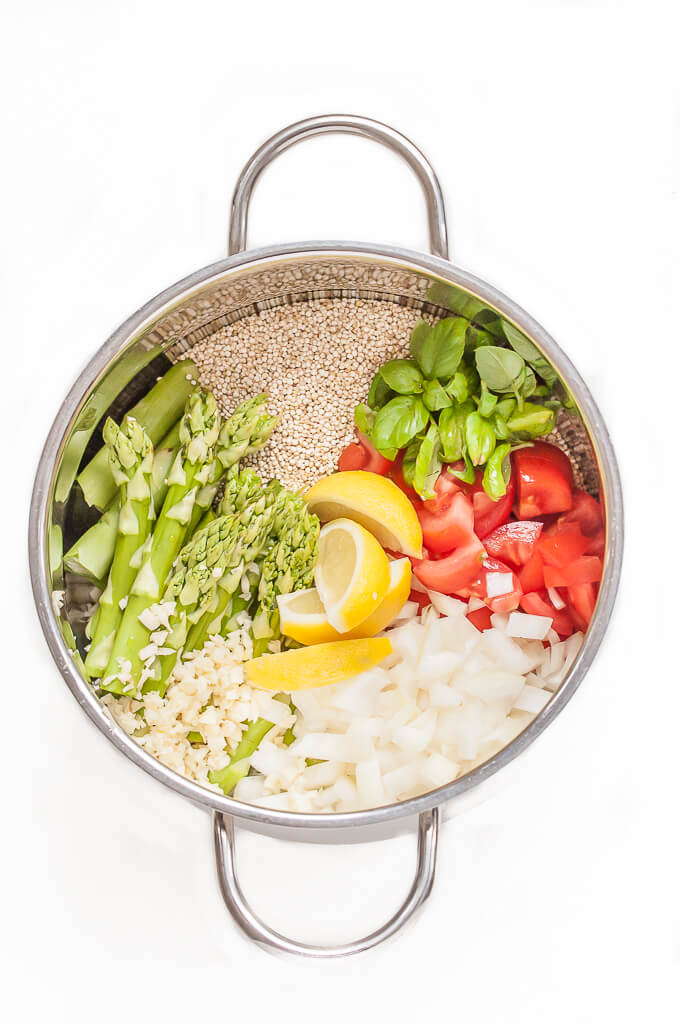 See that pot up there? That's all you need. Asparagus, lemon wedges, garlic, onion, quinoa, fresh basil, and tomatoes. You'll cover all that with some low sodium vegetable broth. Cook it, forget it on the stove for nearly 20 minutes and then eat it. Dinner is done.
Well almost.
You can eat this Lemon Asparagus Quinoa dish on its own OR you can make it even yummier by adding a delicious rocket pesto to it.
The reason I call it rocket pesto and not arugula pesto is because...wait do I really have to explain this?
Well first things first. Rocket and Arugula are in fact the exact same thing. Arugula is usually used by Americans and Rocket is used in British English. I, as an American, can't understand why anyone would rather call it Arugula vs. Rocket.
There is something so amazing about saying, "I just put rocket on my quinoa, it was amazing, and it basically took me to the moon!" BAM!
You could also tell your kids, "That's rocket you are eating. If you eat too much, you'll break through the earth's atmosphere." If you have boys, they'll see that as a dare and shove that lettuce into their mouths like you won't believe.
Arugula just can't compete with that.
I'l let you call this pesto whatever you want but just know that it's darn good.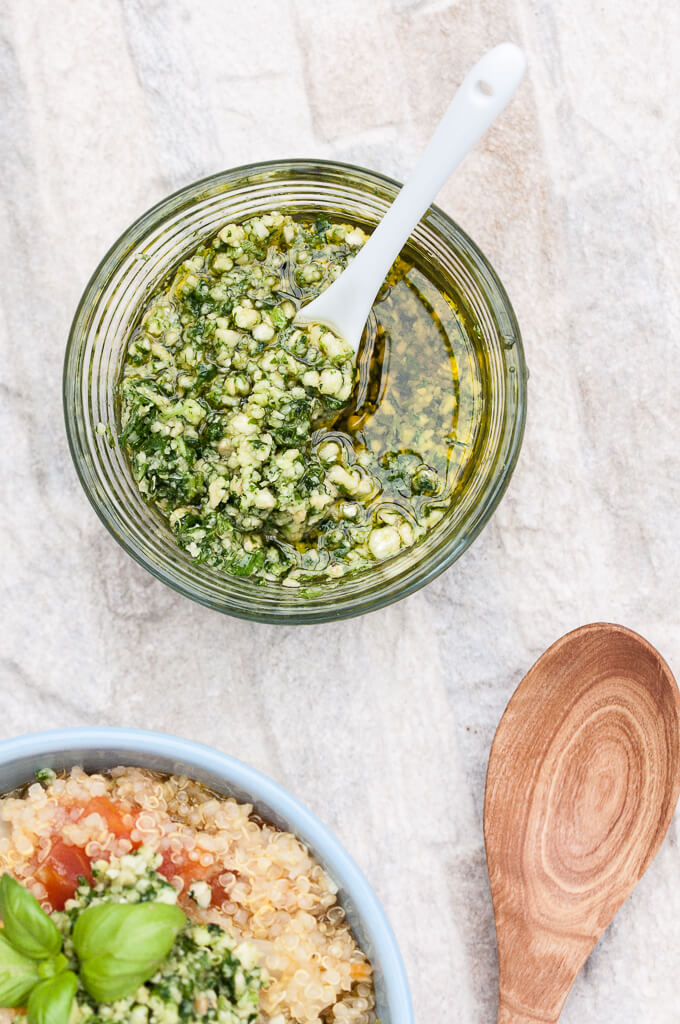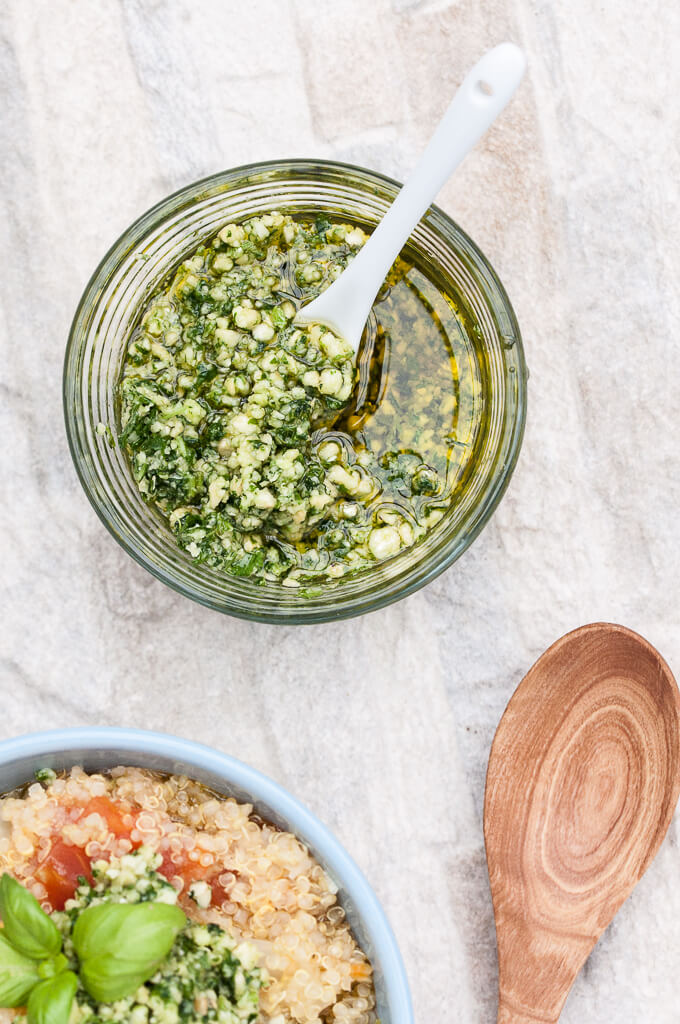 You don't have to limit yourself to using the pesto on top of this asparagus quinoa. If you have leftovers add it pasta, on sandwiches, etc. So good!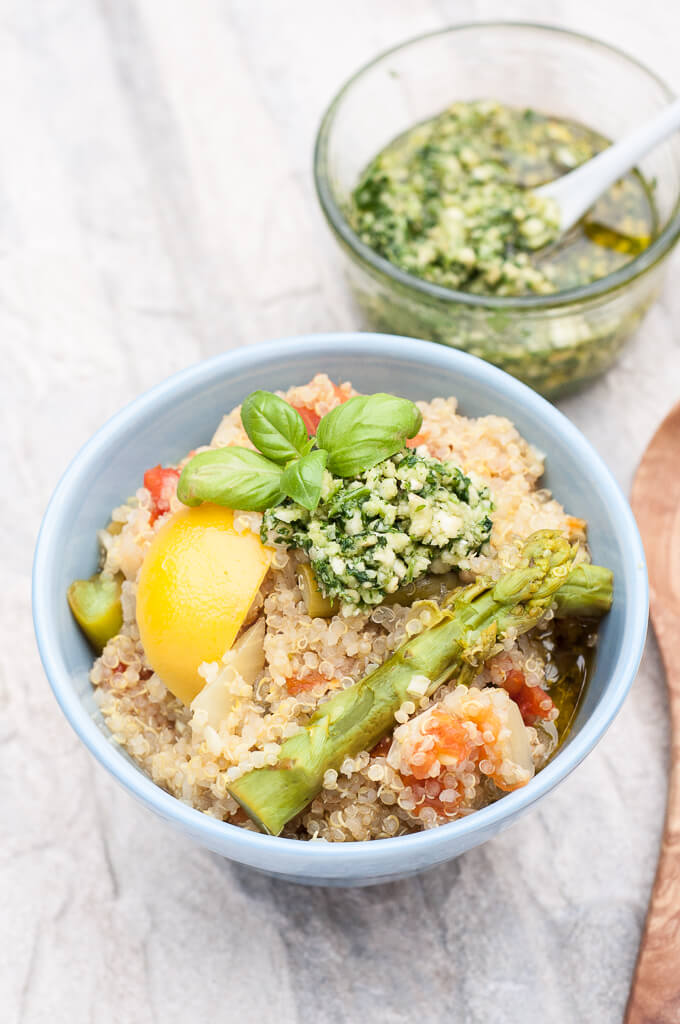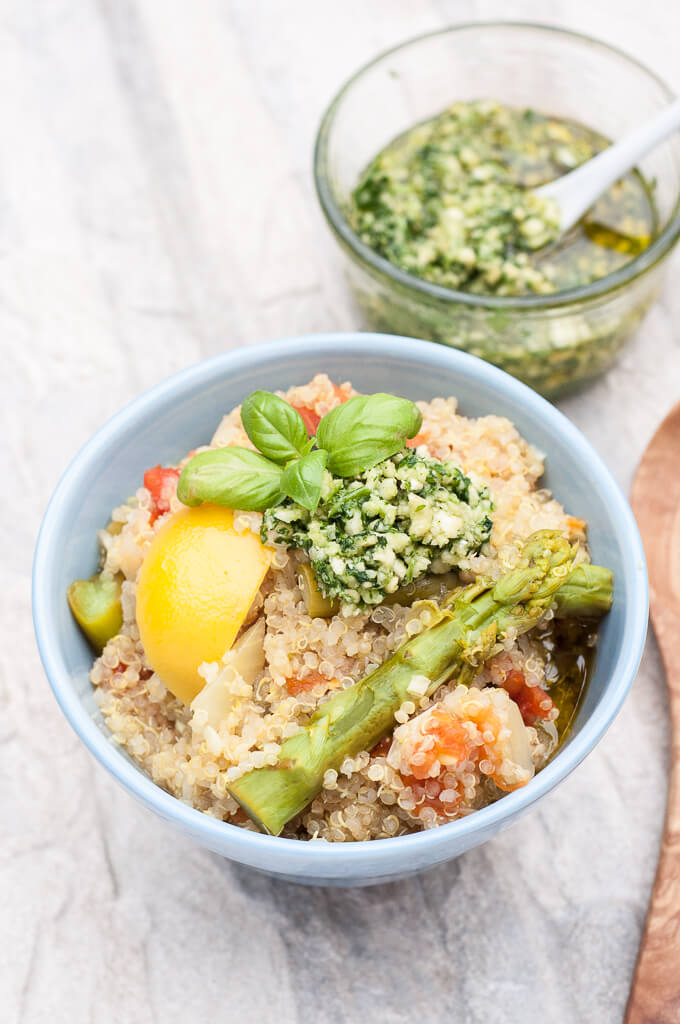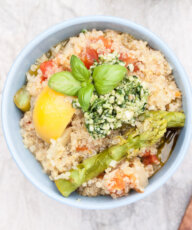 One Pot Lemon Asparagus Quinoa w/ Rocket Pesto
One pot asparagus quinoa with lemon is easy to make, healthy and incredibly delicious! Enjoy it with the super delicious rocket/arugula pesto or without!
Ingredients
12

Asparagus Spears

woody ends removed, cut in half

1

cup

180g Quinoa (rinsed)

4

Lemon Wedges

ensure the skin is untreated and not waxed & seeds removed

Small handful Fresh Basil

3

small Tomatoes

diced

1

medium-sized Yellow Onion

diced

3

cloves

of Garlic

minced

3

cups

750 ml Low Sodium Vegetable Broth
Rocket Pesto aka Arugula Pesto
⅓

of a cup bunched Arugula/Rocket

washed, ⅓ of a cup is equal to a small handful

⅓

of a cup

50 g Raw Cashews

¼

teaspoon

Salt

clove

of Garlic

¼

cup

of Extra Virgin Olive Oil
Instructions
Add asparagus, quinoa, lemon wedges, basil, tomatoes, onion, and garlic to a large stock pot. If your asparagus spears are very thin, consider adding them to the pot about 5-8 minutes later to prevent them from getting too droopy and overcooked.

Cover all ingredients with vegetable broth and bring to a boil over medium-high heat. Once boiling, reduce heat to low-medium and simmer for 15 minutes, stirring occasionally, until quinoa is cooked. Don't cover the pot at any time while cooking.

While the Asparagus Quinoa is cooking prepare the rocket pesto. Add rocket (arugula), cashews, salt, and garlic to a food processor and pulse. Don't blend! The pesto should be slightly chunky, not smooth. Put finished pesto in a small bowl and cover with olive oil.

Serve Lemon Asparagus Quinoa hot with a dollop of rocket pesto. Season with more salt & pepper to taste.
Recipe Notes
1.) This recipe can easily be modified. Don't have basil? Use parsley, cilantro, or dill instead. Want to toss in some carrots? Go for it!
This Lemon Asparagus Quinoa dish isn't for you? That's alright. Try some other healthy, asparagus dishes ;) 
This Lemon-Asparagus Tart and White Asparagus Risotto are dying to be made by you!