Hooray!  The season for

Coconut Water Popsicles

is HERE! 
I've had this recipe for Coconut Water Popsicles sitting on my blog drafts for nearly a year. When I wanted to post it last year it was already September and I figured I'd wait to share it until this Summer when we all have an abundance of fresh fruits (hellooo gorgeous berries!) waiting to be used.
This Coconut Water Popsicle recipe is so simple, it doesn't even feel like a real recipe.
I suggest using it more as a rough guideline and then enhancing it to your needs and desires. Play around with different fruits, sweeteners or even add chia seeds for a little extra boost. (You could also just make these insanely tasty Creamy Raspberry Chia Popsicles instead ;))
We're here to talk about coconut water popsicles right now though ;)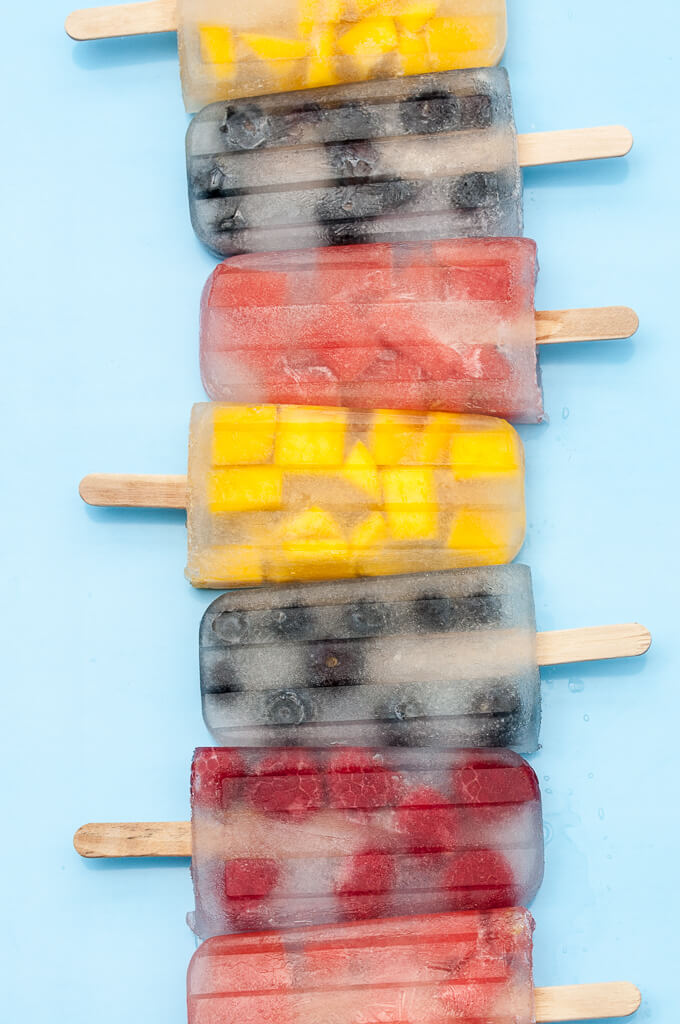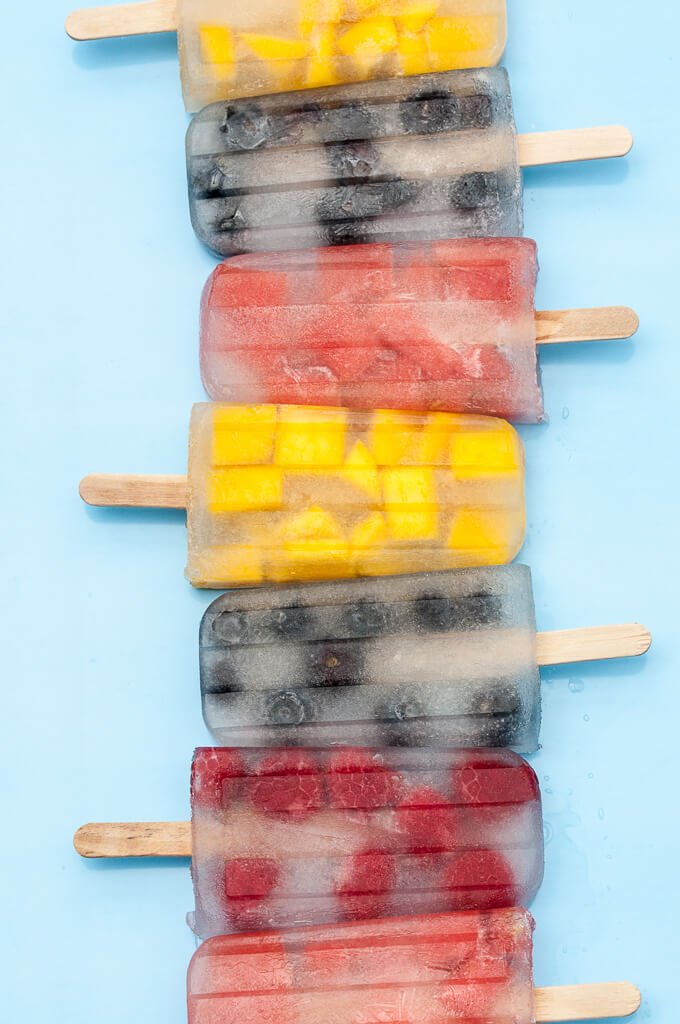 Now the big question remains....
How do I make Coconut Water Popsicles?!?
They really are as simple to make as they look and you might not even need to scroll down to the recipe card...THAT EASY!
Just fill up your popsicle molds (I use these popsicle molds) with diced fruit of your choice.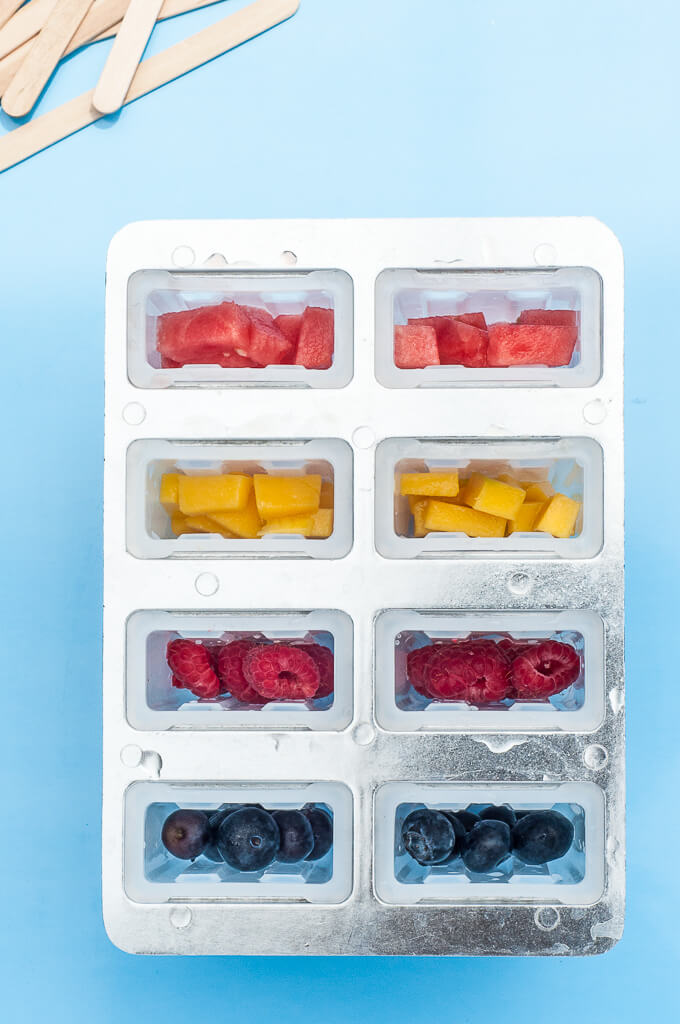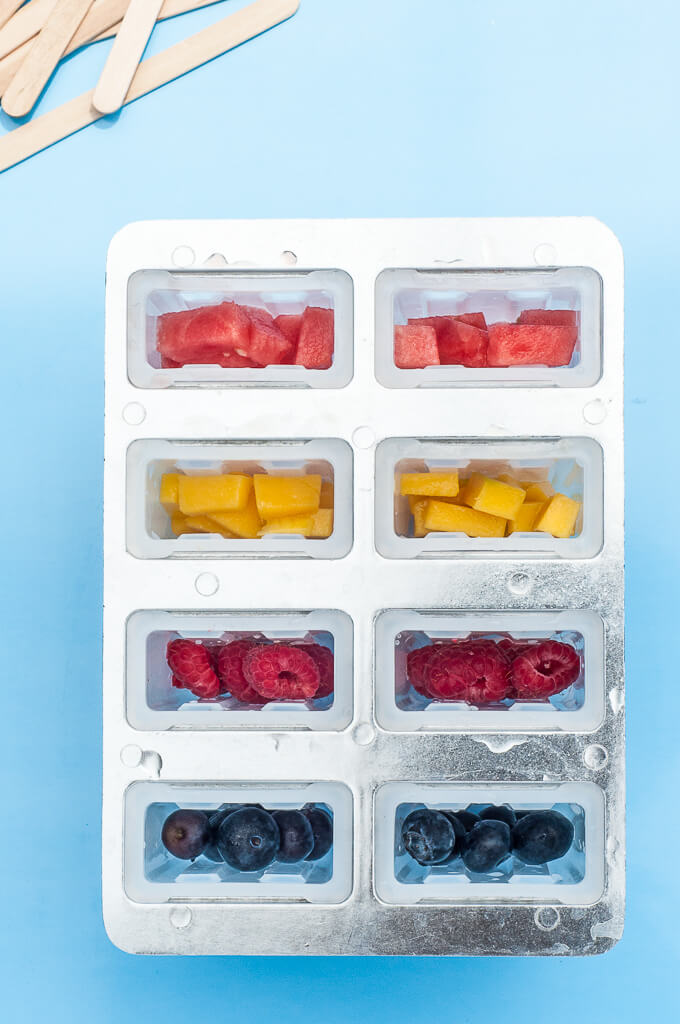 Got it! Great!
Now either just pour the coconut water into each mold directly or mix the coconut water with your sweetener of choice first. I find that fresh, organic summer fruit is already naturally sweet enough that you don't need any added sugar but that is completely up for you to decide.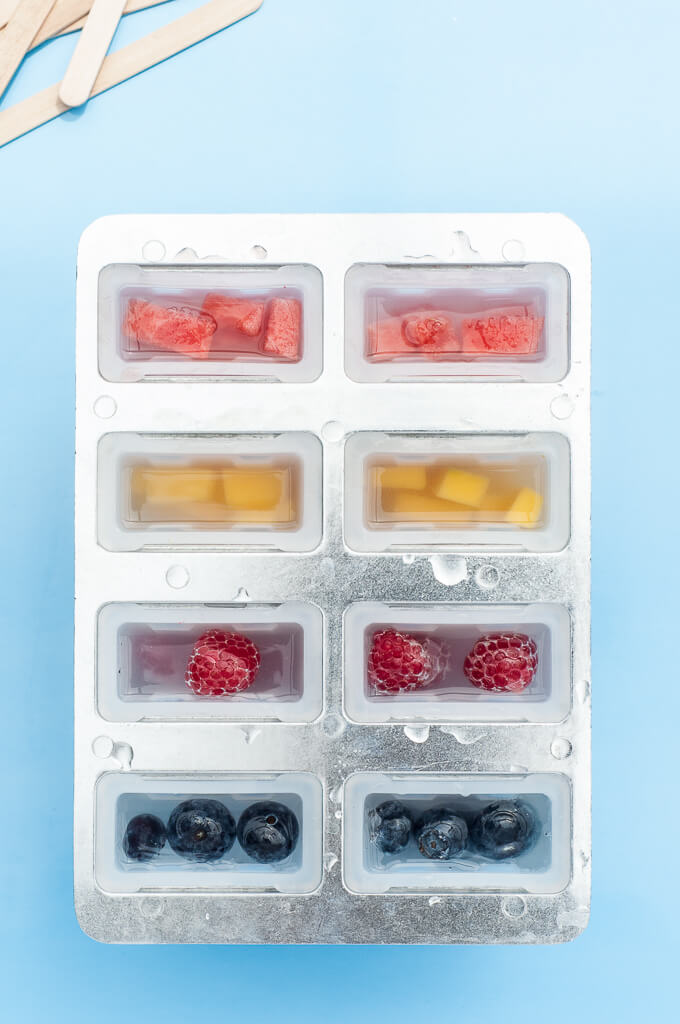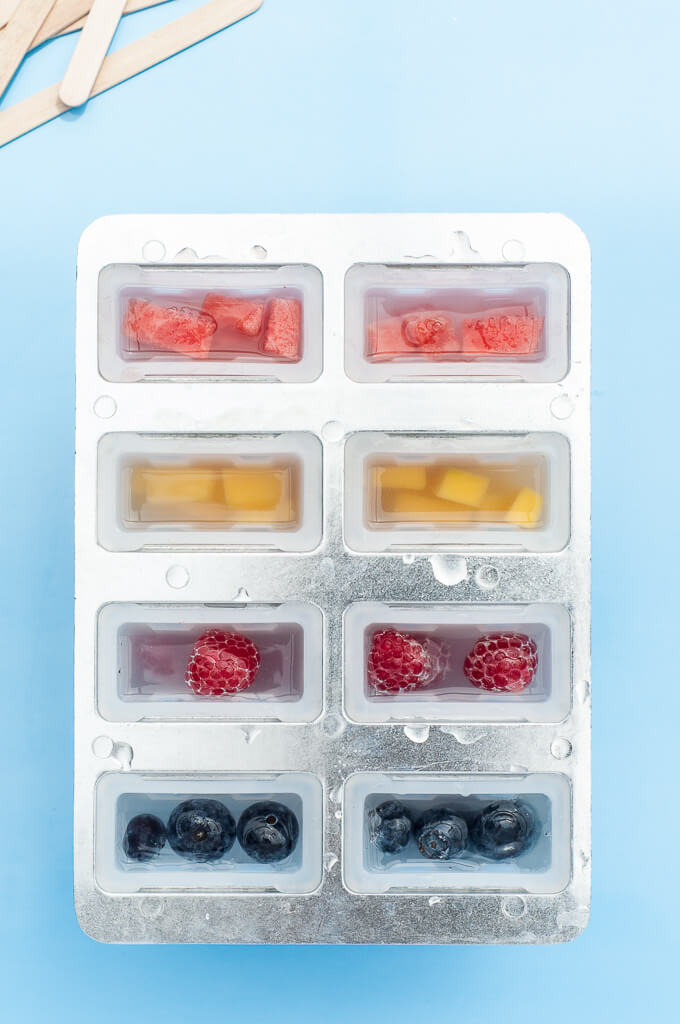 Perfect!
You can barely tell the difference ;)
Now just add the popsicle mold tops and popsicle sticks, stick it in the freezer and....
NOW you WAIT!
Ok...just long enough for it to freeze ;)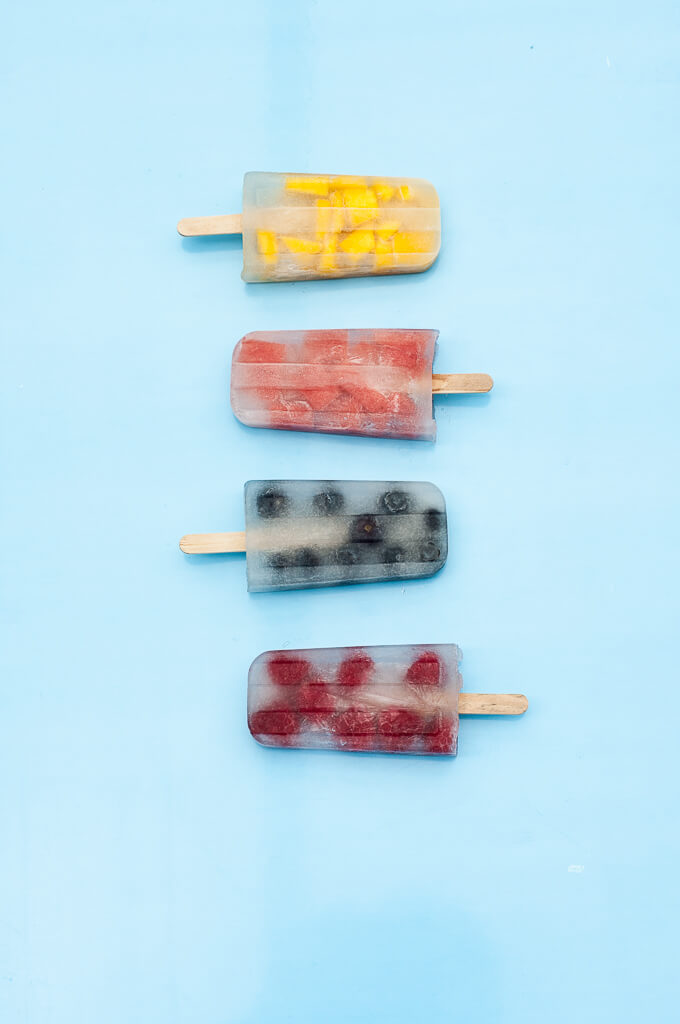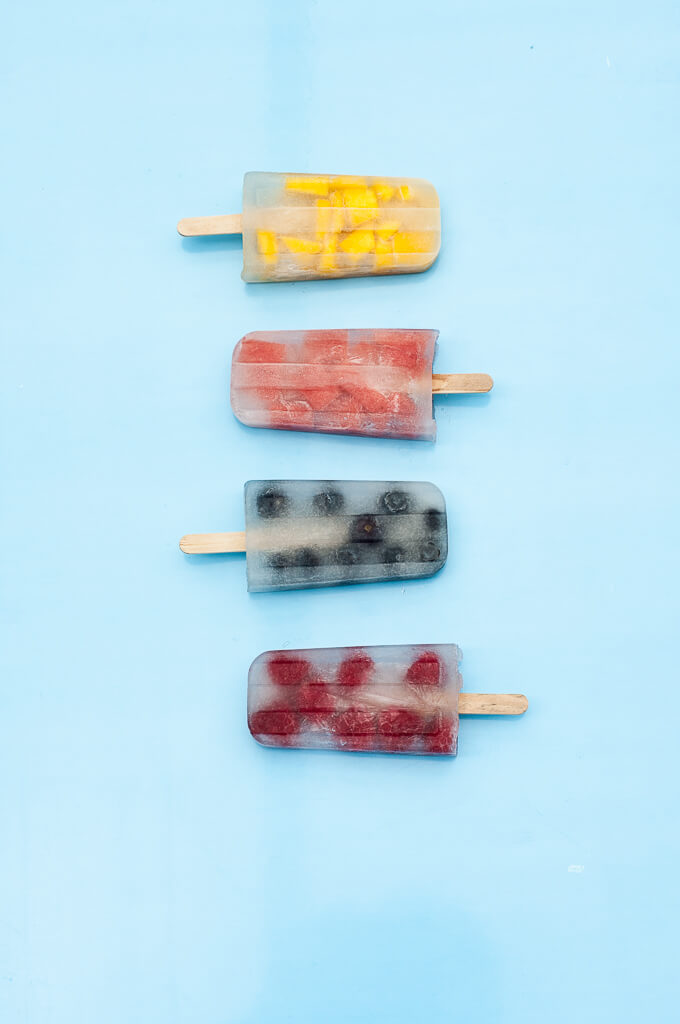 Enjoy your Coconut Water Popsicles!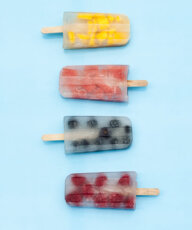 Coconut Water Popsicles
Quick, easy, healthy and refreshing Coconut Water Popsicle made without sugar and lots of fresh fruit!
Makes
8
Coconut Water Popsicles
Ingredients
13.5

fl. oz

Unsweetened Coconut Water

Unsweetened Coconut Water (see notes)

Fresh diced Fruit (Watermelon, Blueberries, Raspberries, Strawberries, Mango, Kiwi, etc.)

1

teaspoon or more

Pure Maple Syrup

if needed as a sweetener - optional
Instructions
Dice the fruit you wish to use so that it is small enough to easily fit inside your popsicle molds.

If you want your coconut water sweetened then mix it together with the maple syrup. Add maple syrup to taste. If you want unsweetened coconut water popsicles, skip this part.

Pour the coconut water into each popsicle mold, covering the fruit and leave an inch to half an inch space from the top. Put the popsicle mold cover on top and push one popsicle stick into each mold.

Freeze the popsicles for at least 3 hours or until completely frozen.

Run the popsicles mold under warm water to easily remove each popsicle from its mold.
Recipe Notes
1.) Please be aware that the nutritional info for the Coconut Water Popsicles is only for the amount of coconut water in each popsicle. Added sweeteners aren't included. I also didn't include the fruit in to the calculation either since it will vary depending on which fruit and how much is being used.2.) The amount of coconut water you will need for this recipe will depend on how much fruit you add to your popsicle molds and how big your popsicle molds are. I used these popsicle molds.
Alright, so you made your super easy Coconut Water Popsicles and now you are ready for your next adventure! Try some Very Berry Pops or Creamy Chia Raspberry Popsicles instead ;)