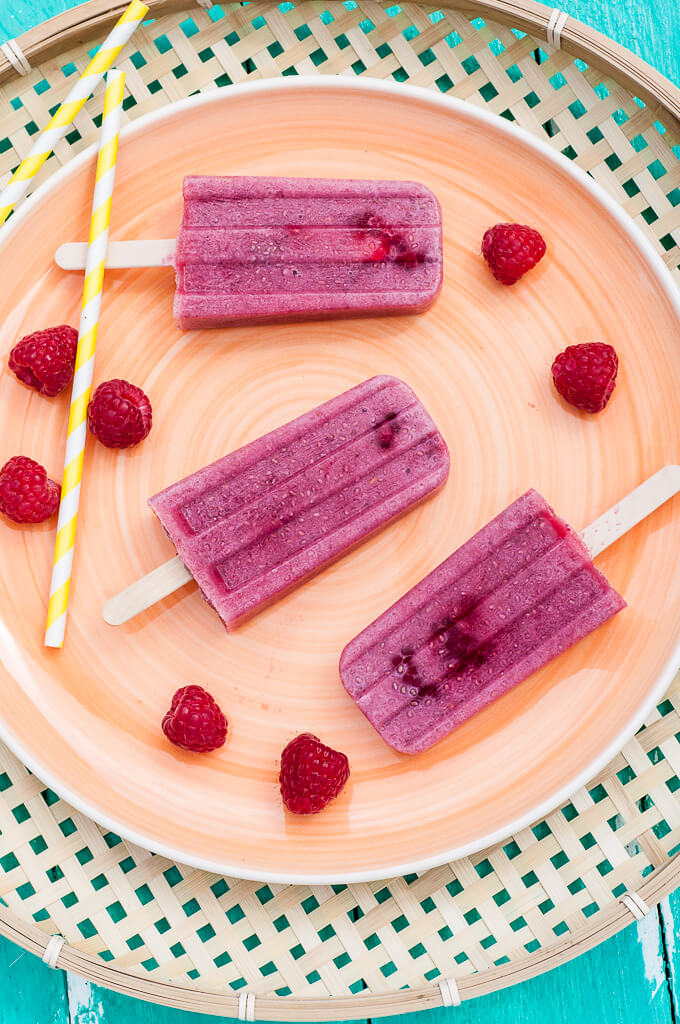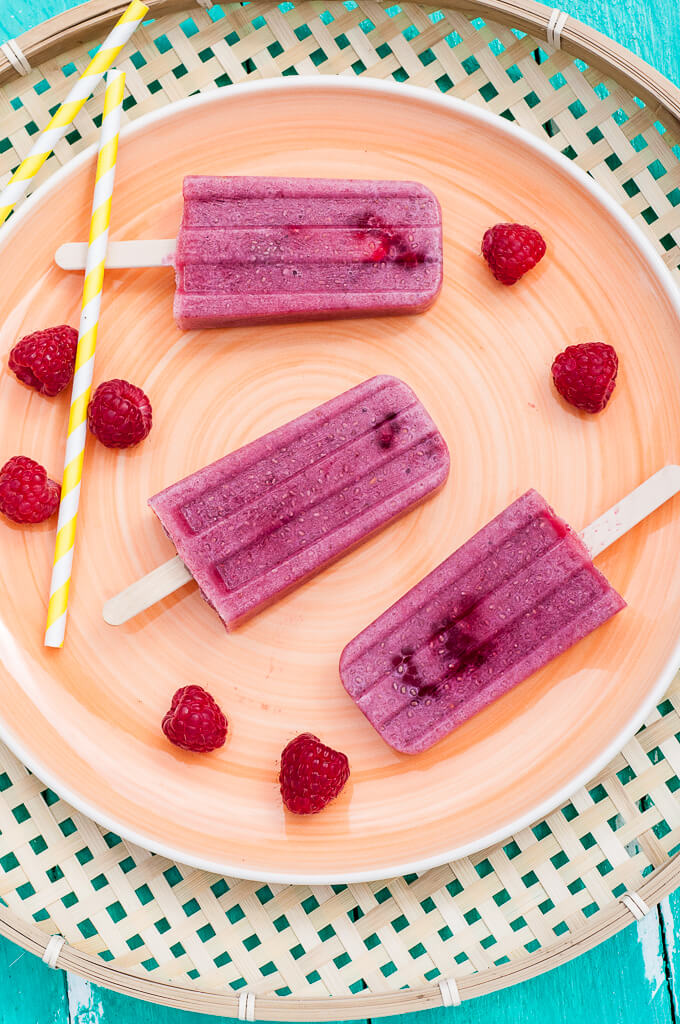 It's popsicle season! This here, my friends, is my recipe for healthy, creamy Raspberry Chia Popsicles made only with the best ingredients. Not only are they very low in calories (30 cals in 1 popsicle) but they are also the best way to get your kids to eat a healthy dose of chia seeds.
They're quick, easy to make and definitely far better than the sugar-filled popsicles you can buy at a store.
Once the temperature starts rising and my boys start wearing shorts the inevitable question, "Can we have ice cream?" always comes up. The problem is that I don't always make my own ice cream, though this Raspberry Coconut Ice Cream is definitely still a favorite.  Another big problem with ice cream is that, for toddlers, one scoop is never enough. Even worse is when I don't miraculously make two scoops that are identical in size, weight, and form. It's basically guaranteed that I get complaints from two little boys how the other brother has more. Ugh, I'm getting a headache just thinking about those fights.
The only way to get my boys to stop yelling for ice cream is to give them all of it and that is definitely not going to happen.
So that's why I've been making lots of Raspberry Chia Popsicles instead now. They are portioned out ahead of time, they're fairly large which keeps my boys busy sucking on them for quite some time aka I get a break!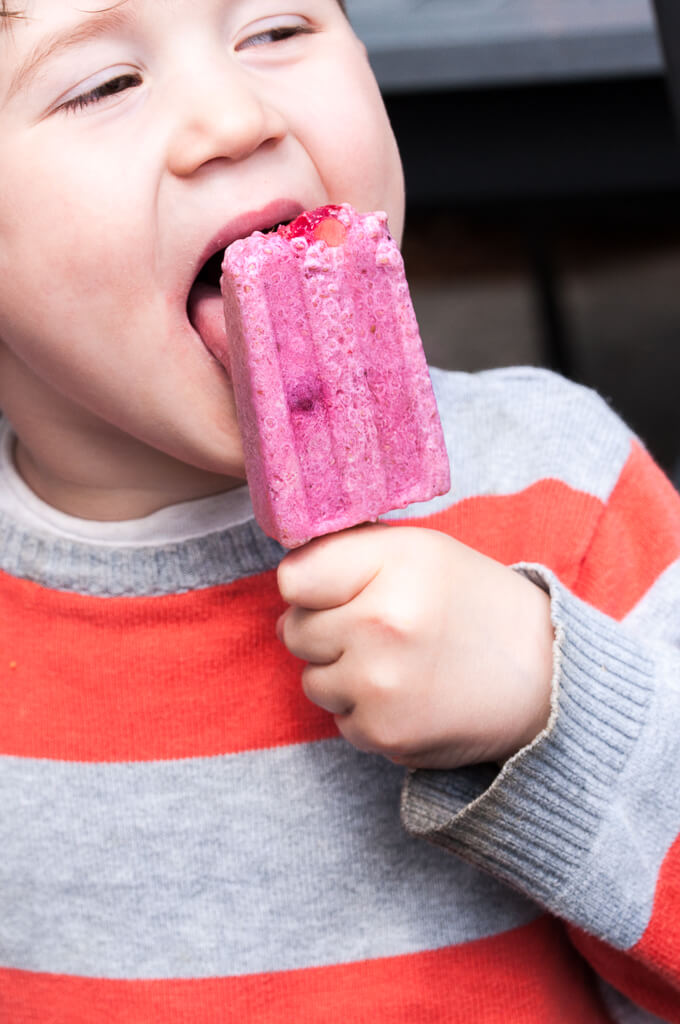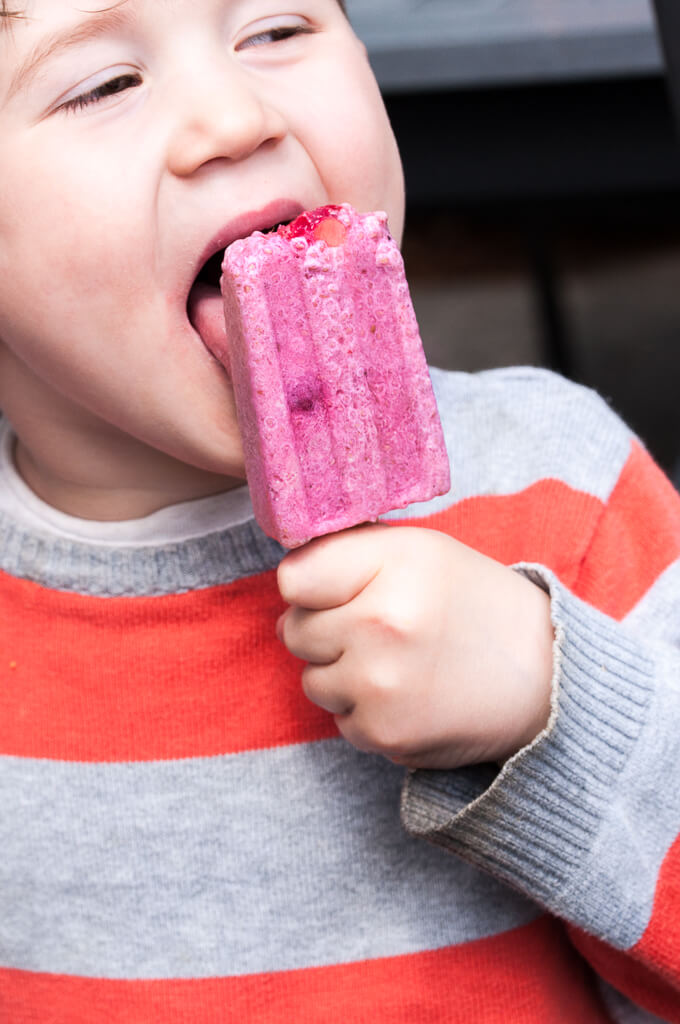 My boys didn't even mind the chia seeds in the popsicles. I was so sure they would complain about them but they didn't mind at all. I also used white chia seeds instead because I wanted them to blend in better with the popsicle. Nutritionally there is no difference between black and white chia seeds. The only difference really is just the appearance. Both white and black chia seeds are rich in omega-3's, antioxidants, protein and fiber. That doesn't even begin to describe the many benefits of chia seeds.
Which makes this recipe even more exciting. All moms know finding a recipe, that is crazy healthy and that kids love, is like finding the holy grail. No joke! You'll love these Creamy, Raspberry Chia Popsicles ;)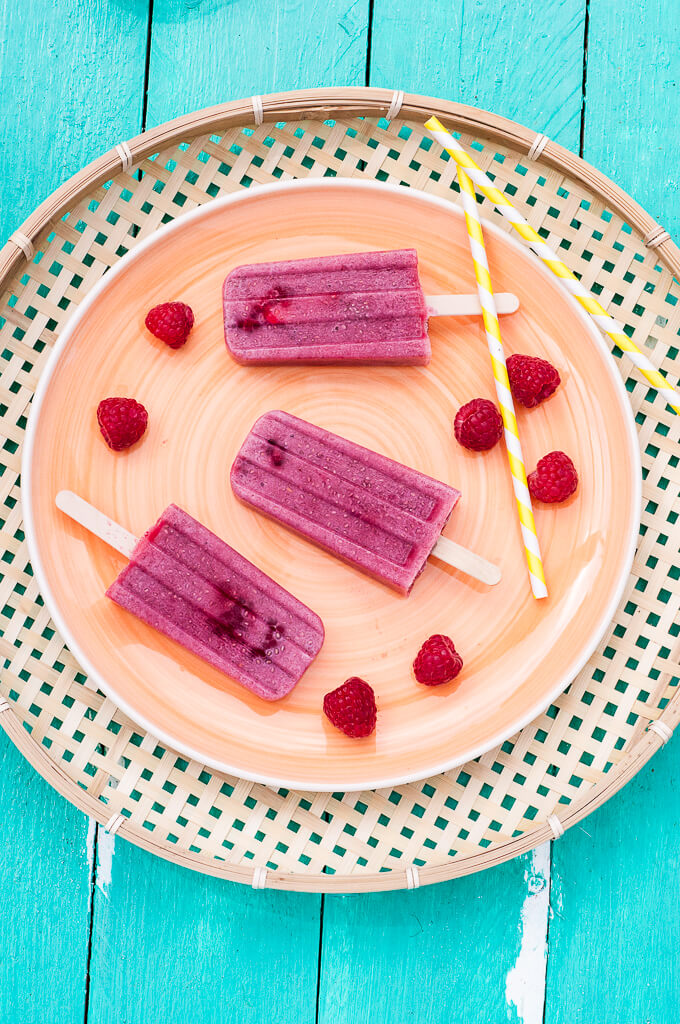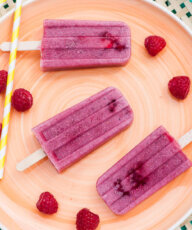 Creamy Raspberry Chia Popsicles
Healthy and easy to make popsicle recipe that can be adapted with different fruit. Perfect for kids!
Ingredients
2

Chia Eggs - made with White Chia Seeds

black will work too. (See Notes on how to make)

⅔

of a cup

100g Fresh Raspberries (roughly 24 raspberries)

1

Medjool Date

pit removed

1

cup

240 ml Unsweetened Almond Milk (Can use other plant-based milks as well. Soy, rice, oat etc.)

24

fresh Raspberries

Extra and optional!
Instructions
Prepare chia eggs (see notes on how).

Place raspberries (roughly 24 of them), medjool date, and almond milk in a blender or food processor. Blend until as smooth as possible. Strain mixture to remove seeds.

Add chia eggs to strained raspberry mixture and stir together ensuring that there are no chia seed clumps.

Optional: Add about 3 fresh raspberries to eat popsicle mold.

Fill raspberry-chia puree into popsicle molds, cover and insert popsicle sticks into each. Freeze popsicles for at least 3 hours until fully frozen.

Run the popsicle molds under room temperature water for 20 seconds to easily remove popsicles from each mold.
Recipe Notes
1.) Prepare 2 chia eggs by mixing together 2 tablespoons of chia seeds with 6 tablespoons of water in a small bowl. Let sit for at least 15 minutes or longer until a gel forms. The chia gel is your chia egg!2.) The date adds just an extra hint of sweetness to these raspberry chia popsicles. The tartness/sweetness will also depend greatly on your raspberries. If your raspberries are very sweet you could also omit the dates. If you want a little extra sweetness feel free to add some maple syrup, a couple more dates, or using sweetened almond milk.
Love these

Raspberry Chia Popsicles

but want to give some other cold treats a try? Then try some of these ;)
Raspberry Coconut Ice Cream , Strawberry Ice Cream Cake or browse through this list of Healthy Sweet Snacks for Kids & Teens (adults welcome too!)!