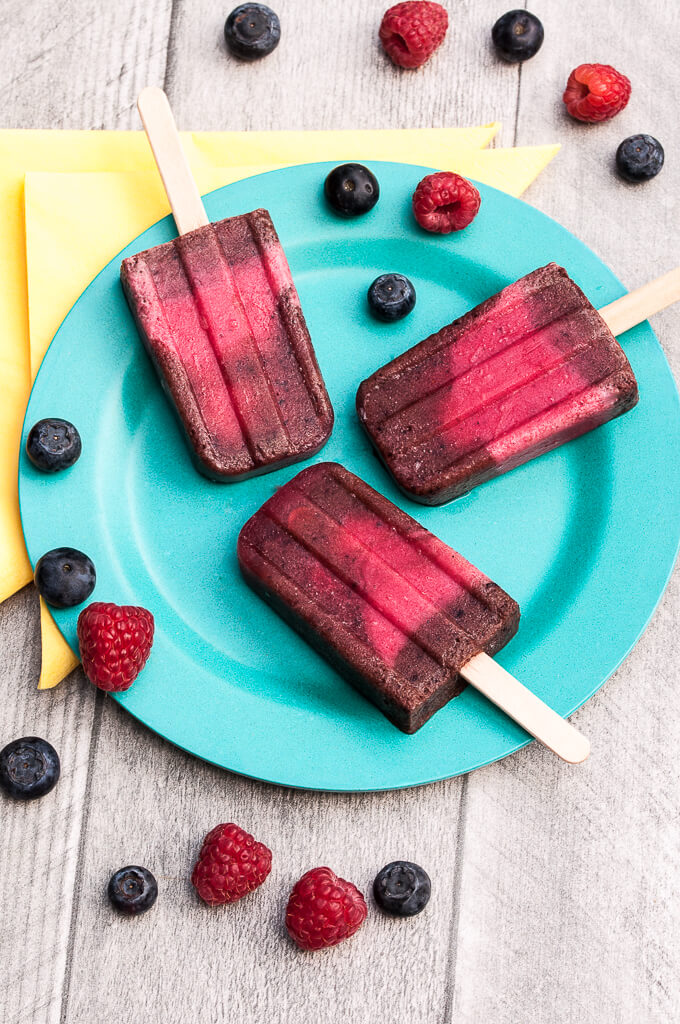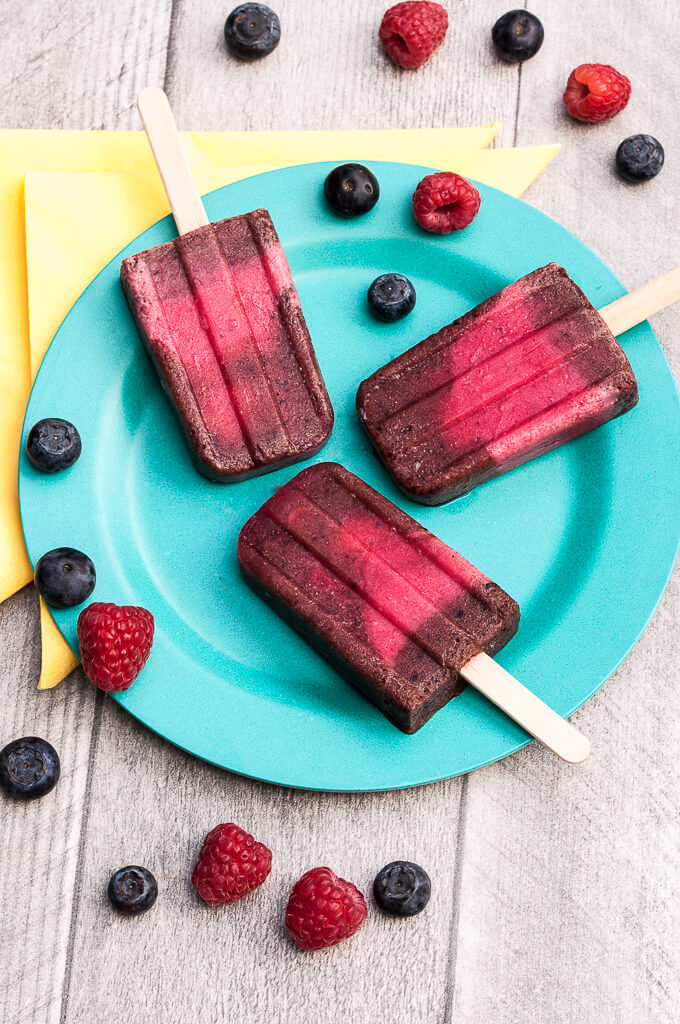 A couple of weeks ago, I posted my recipe for Creamy Raspberry Chia Popsicles. Well surprise, surprise, I've still been making popsicles left and right with my boys.
Our latest obsession are these Raspberry Blueberry Popsicles. Try saying "raspberry blueberry popsicles" ten times fast. Yeah, it's a mouthful and pretty unexciting.
Instead, my boys and I have started calling these Very Berry Pops. So much more fun to say!
They consistent of a creamy raspberry part and a water based blueberry part. I find them to be just the right balance between creamy and very refreshing. I like to alternate adding them, a couple tablespoons at a time, to each popsicle mold. This gives these Very Berry Pops an almost tie dye look.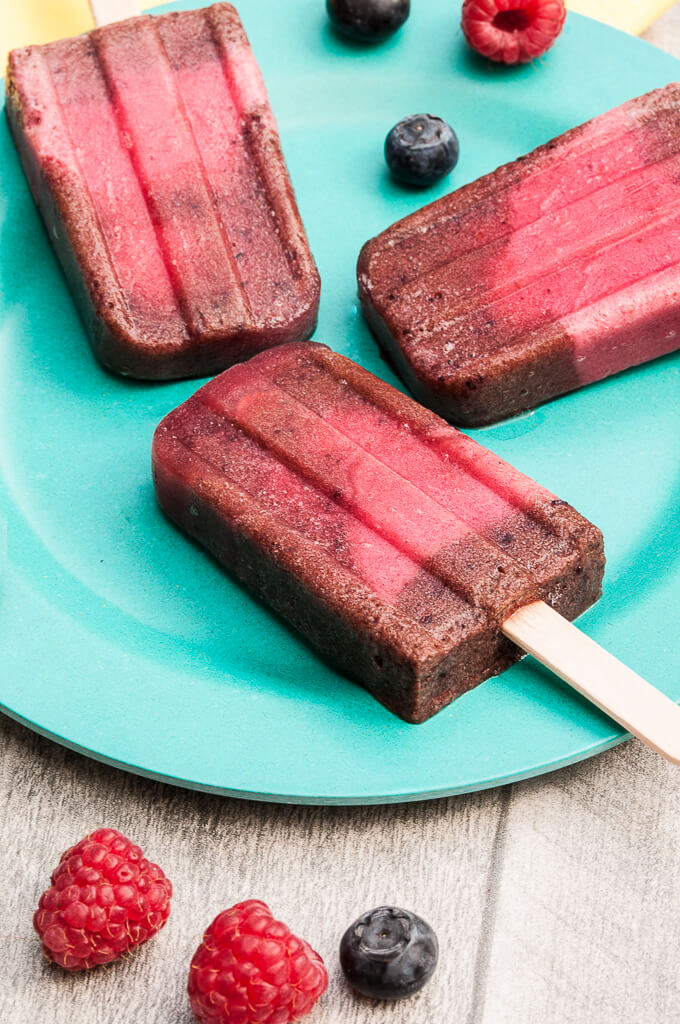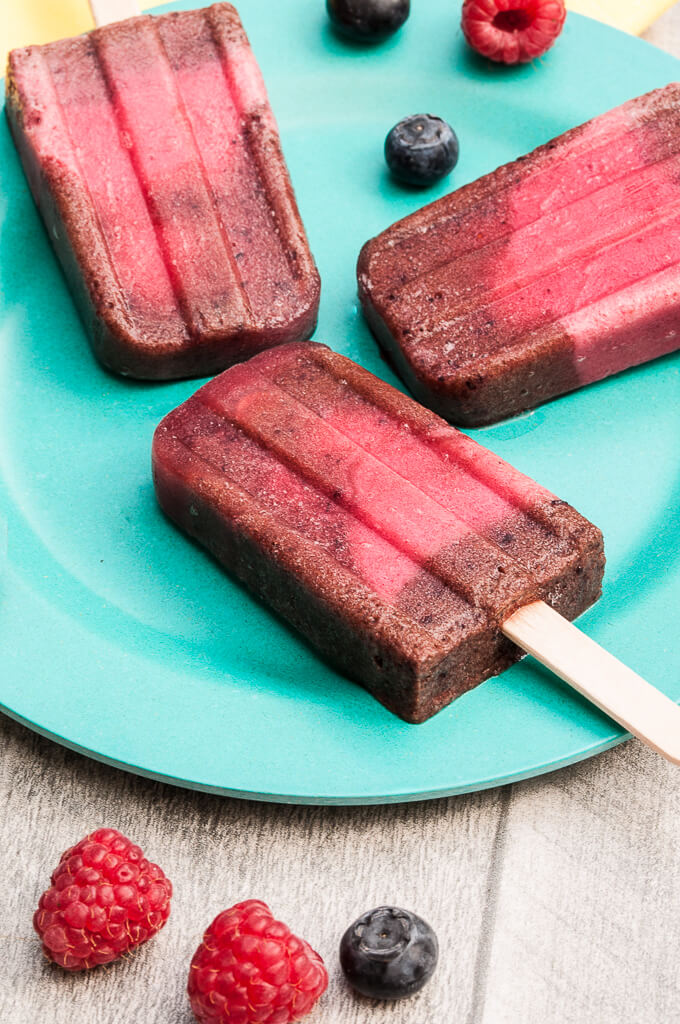 The fact that these are so easy to make, makes them taste even better ;)
My boys also love helping me make these. They get to wash all the berries, put them in the food processor and turn the food processor on. Well only my 5 year old likes to push the pulse button on my food processor. My 2 year old (He's turning 3 tomorrow. Where has the time gone?!?) runs out of the kitchen, covering his ears. I'm not quite sure why he still hasn't gotten used to the sound of it. I've been using food processors on a nearly daily basis since before he was born.
He'll get used to soon enough and learn to be dependent on food processor like his mom, I'm sure :D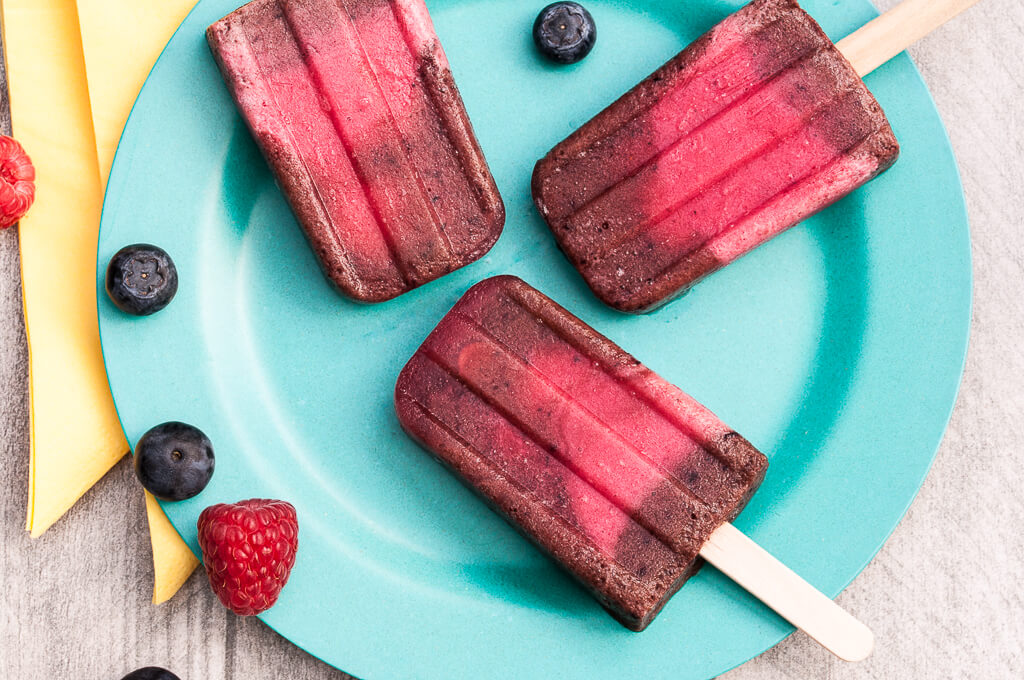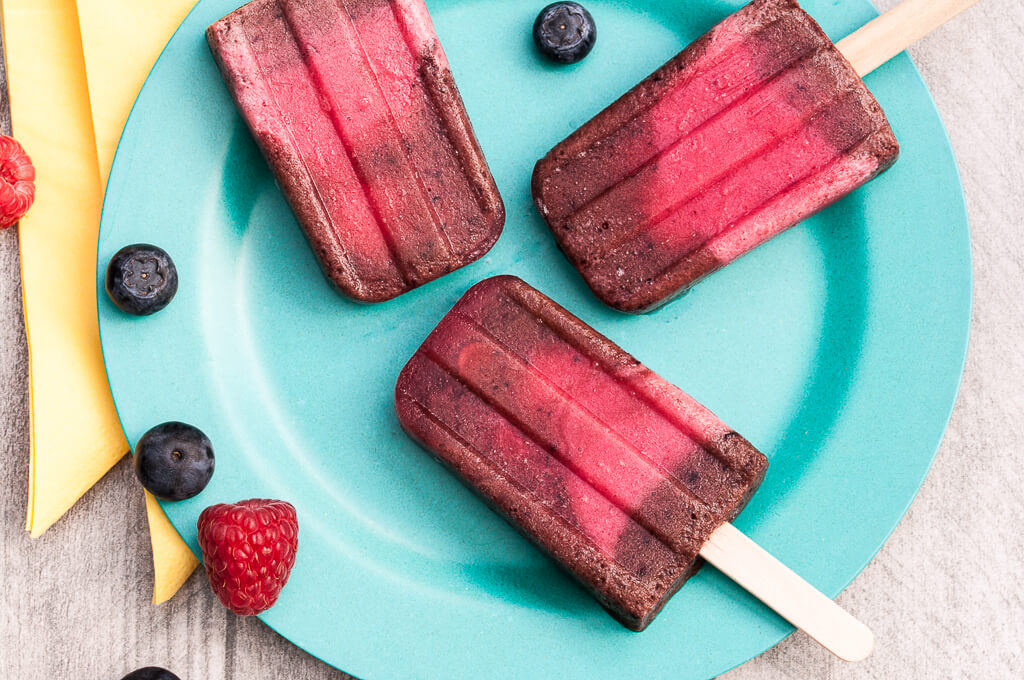 I made these popsicles with almond milk but you can make it with nearly any other plant based milk (oat, hazelnut, coconut milk, etc.) or even regular milk of you happen to not be vegan.
Using different milk isn't the only way you change these popsicles. You really use any berry you like for the different layers. A cherry-blueberry combo is also sooo sooo good. I can only recommend it. For now though, you can enjoy these Very Berry Pops ;)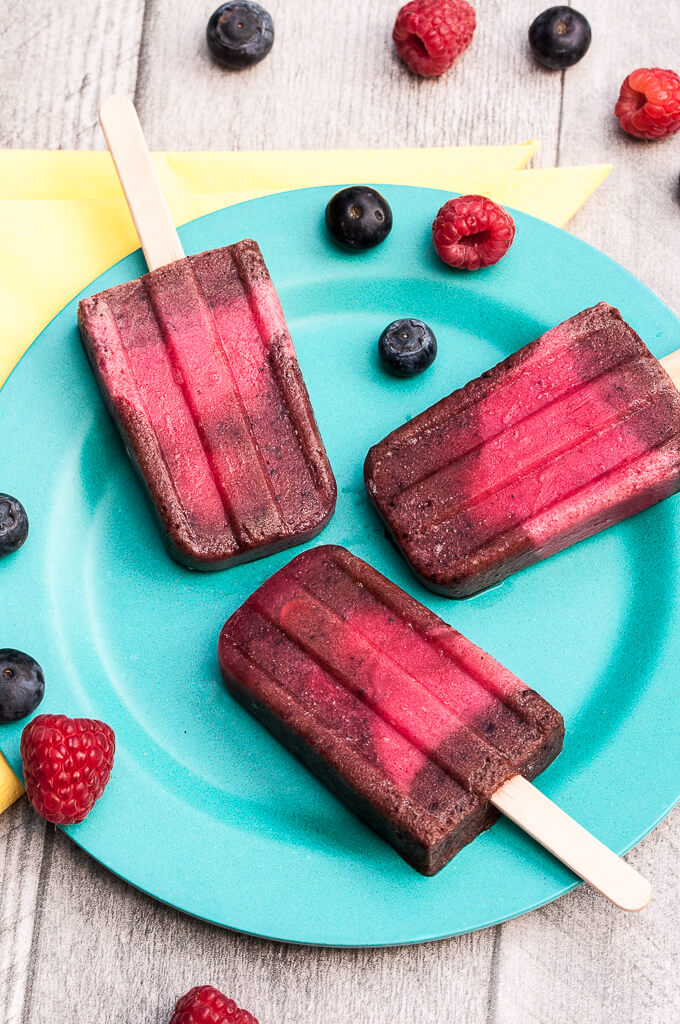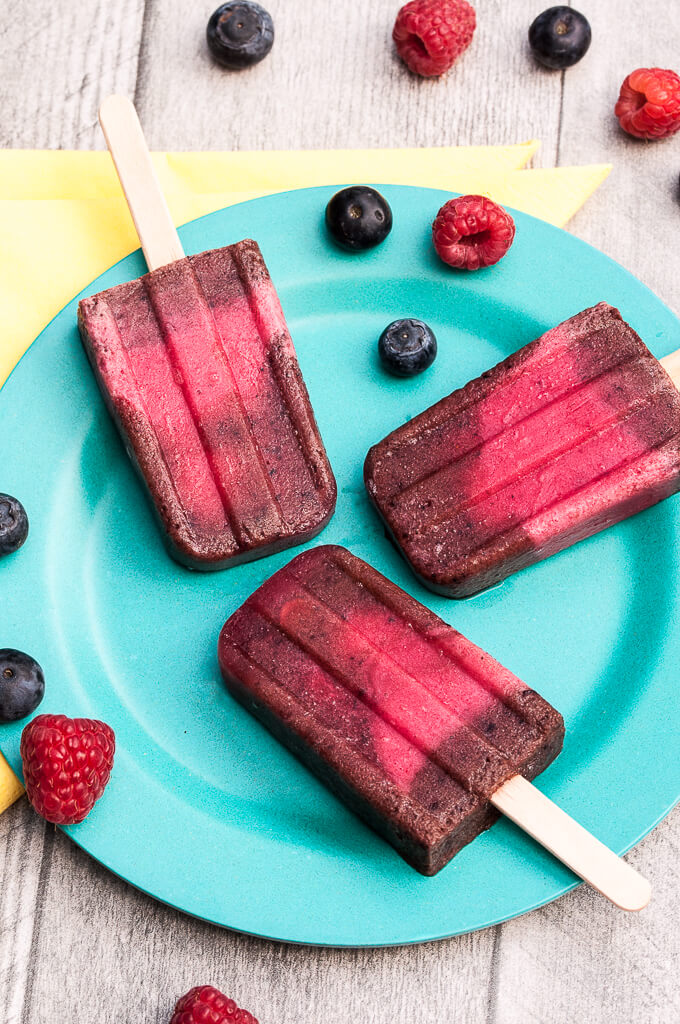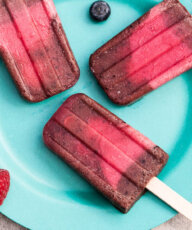 Very Berry Pops
These berry popsicles can be made with any berries you have on hand. Try making them with strawberries, blackberries, and even cherries!
Ingredients
Blueberry Layer
⅔

of a heaping cup

110g Fresh Blueberries

¼

of a cup

60ml Water
Raspberry Layer
⅔

of a cup

100g or roughly 24 raspberries Fresh Raspberries

1

Medjool Date

½

of a cup

120ml unsweetened plant-based Milk (I used almond but rice, soy, oat, and coconut work well too!)
Instructions
Puree the ingredients needed for the blueberry layer (blueberries and water) in a food processor or blender. Strain the puree to remove the blueberry skins, if desired. Set aside.

Puree all the raspberry layer ingredients (raspberries, date, and milk) in a food processor or blender. Strain to remove seeds (optional).

Fill popsicles molds by alternating adding 1 tablespoons of the blueberry puree, 2 tablespoons of the raspberry and 1 tablespoon of the blueberry puree. 4 tablespoons filled up my popsicle molds. If your popsicle molds are larger, add another layer.

Freeze popsicles for at least 3 hours or until completely frozen.

Run the popsicles molds under room temperature water for a few seconds before trying to remove them from the molds.
Recipe Notes
1.) These Very Berry Pops only use dates as a sweetener. If you like you popsicles sweeter, feel free to add some maple syrup, more dates, or other liquid sweeteners of your choice. If you berries are very sweet, you may not even need to add anything to make them sweeter. 2.) the raspberry layer is the creamier layer since it is the one pureed with milk but you can feel free to switch the blueberries with the raspberries or make both with just water or milk. The options are endless ;)
Looking for some other yummy, frozen treats to try this summer? 
Here are some of my favorites: Raspberry Chia Popsicles Popsicles, Strawberry Ice Cream Cake and Instant Raspberry Coconut Ice Cream ;)