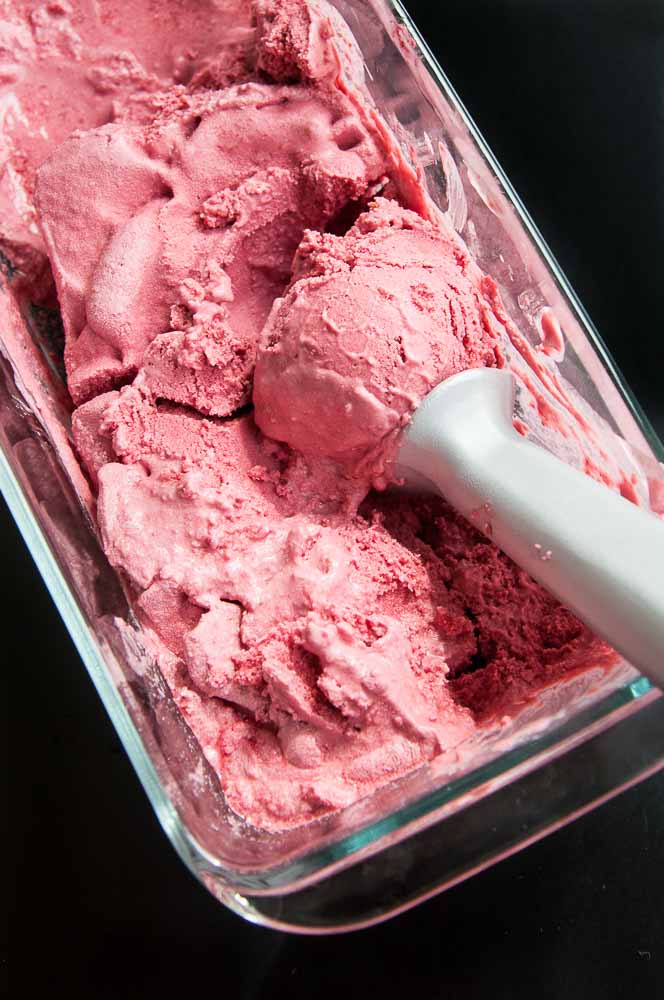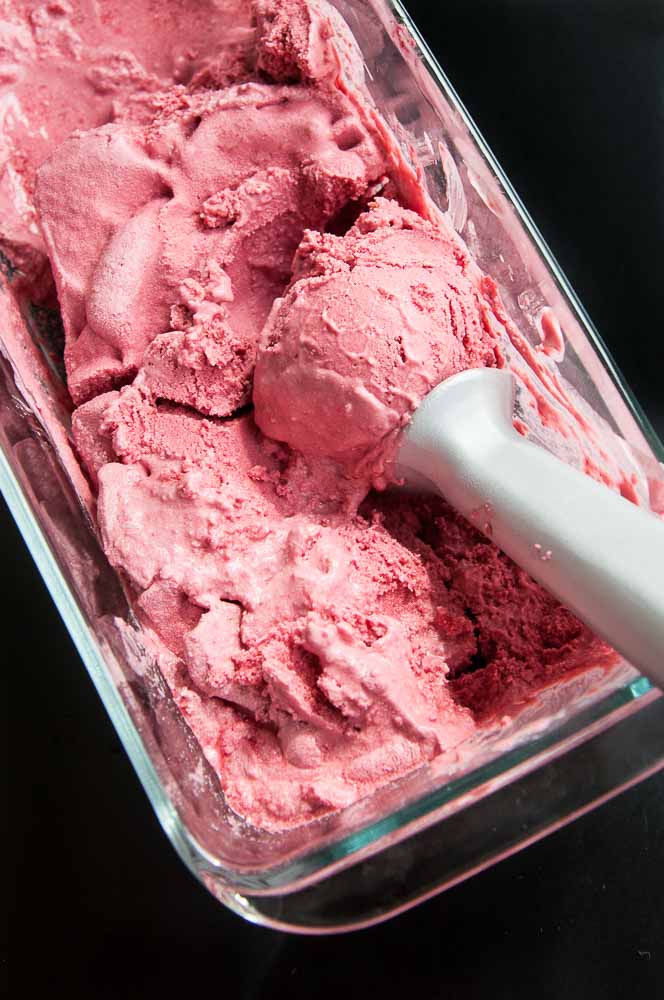 It's finally getting warmer and I am SO SO SO ready for ice cream season to finally start! I like making my own ice cream so that I know exactly which ingredients are being added to it. One of the worst parts of making your own ice cream is having to wait. Some ice cream makers need hours and hours for the ice cream to finally be done. I don't always have the patience for that and my kids definitely don't.
This is why I came up with my INSTANT Raspberry Coconut Ice Cream. No ice cream maker, no churning! We all know about the banana ice cream hack. I'm not a big banana fan so that's never really been an option for me. Plus just blending up fruit, is more of a smoothie and not deliciously creamy like I would like my ice cream to be.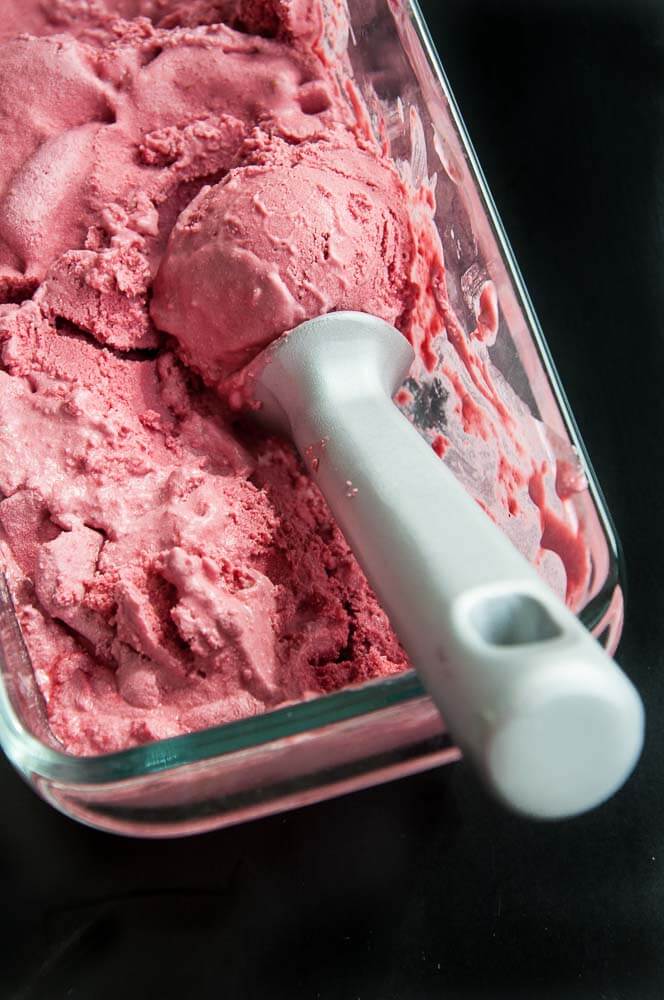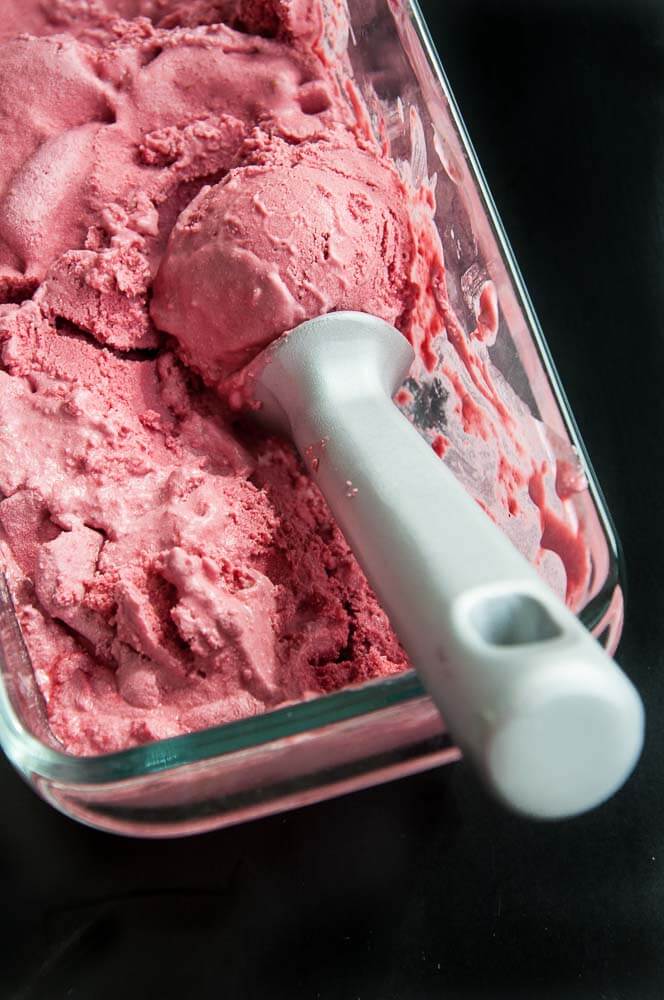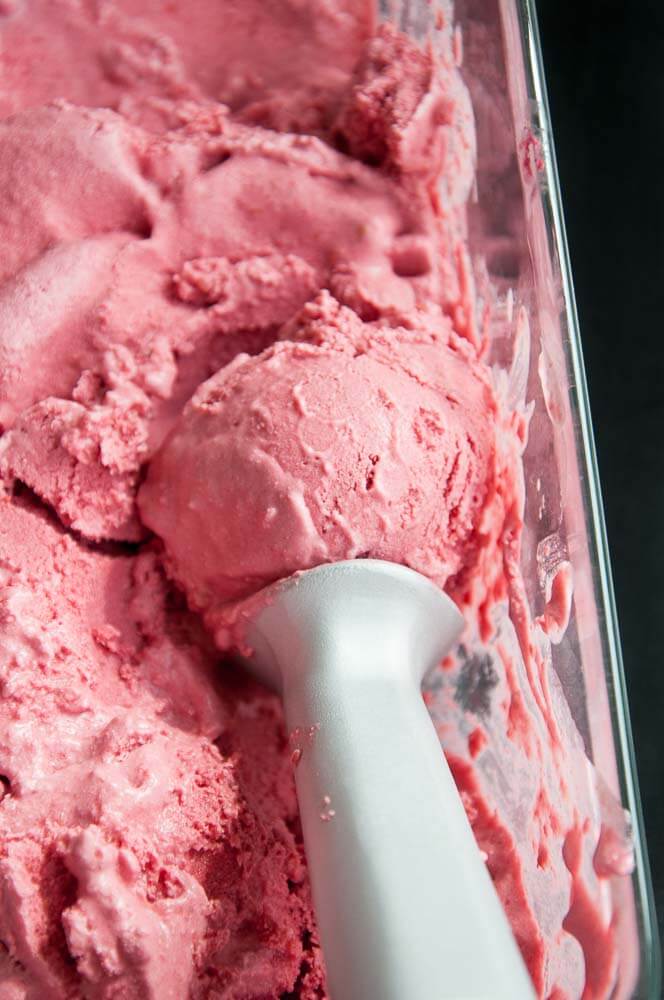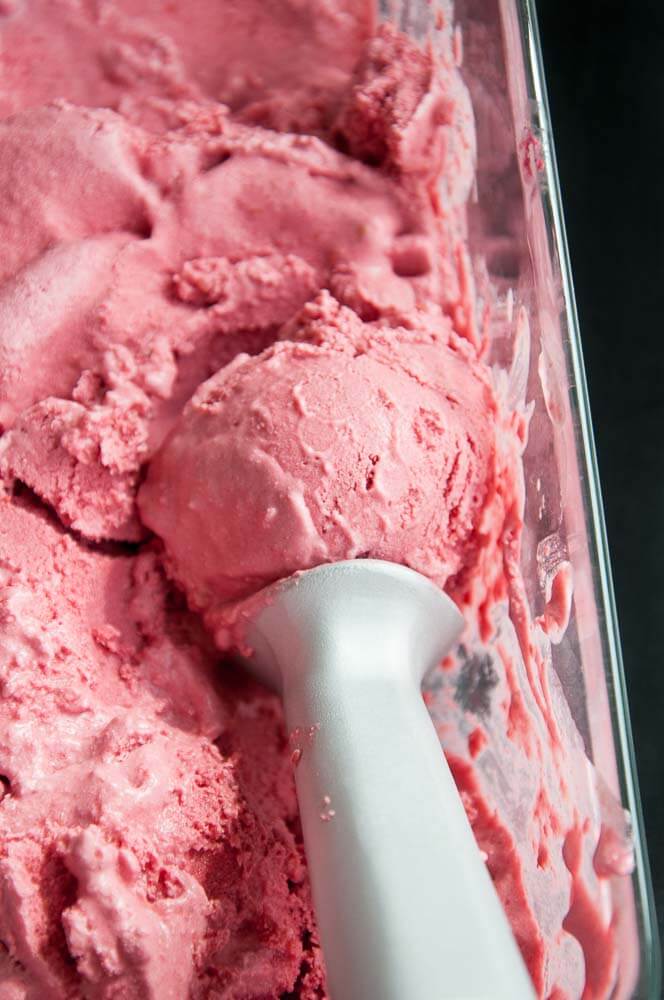 In comes my all-time favorite ingredient: Coconut Milk. I have an entire list of recipes that use coconut milk in some form. So obviously I'll use it again and again!
My raspberry coconut ice cream recipe is beyond simple. All you will need is the frozen fruit and a can of coconut milk. I used raspberries because I tend to have major raspberry cravings...don't ask! However, the awesome part is that you can really make this with whatever frozen fruit you want. Options are seriously endless!
Adding the coconut cream turns your average super healthy frozen fruit smoothie into a heavenly creamy dessert.
Depending on the tartness of your raspberries you can add some maple syrup to sweeten them up a bit. This is completely optional though.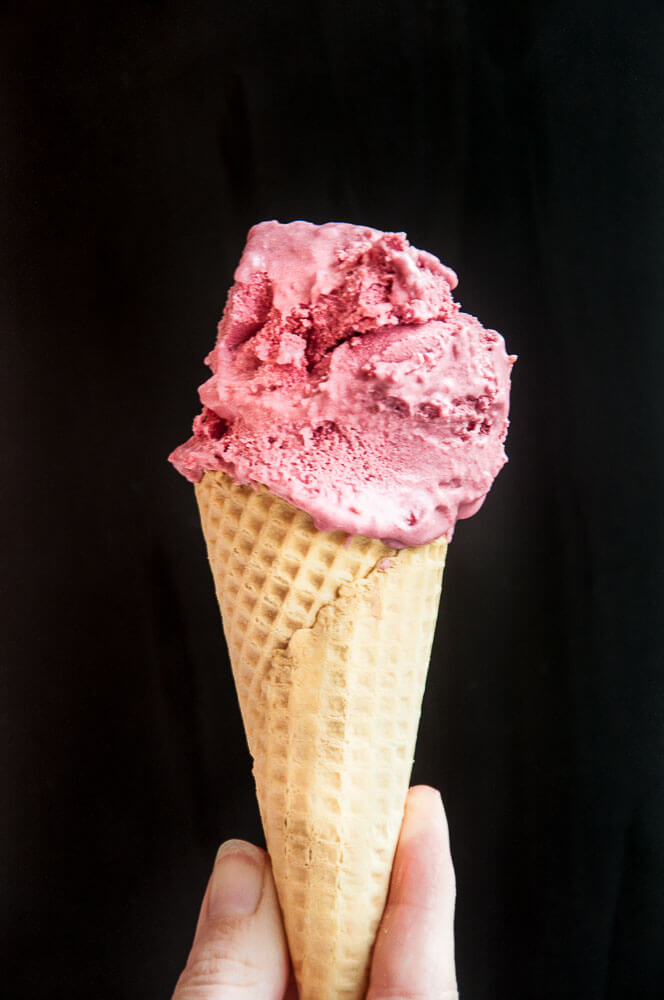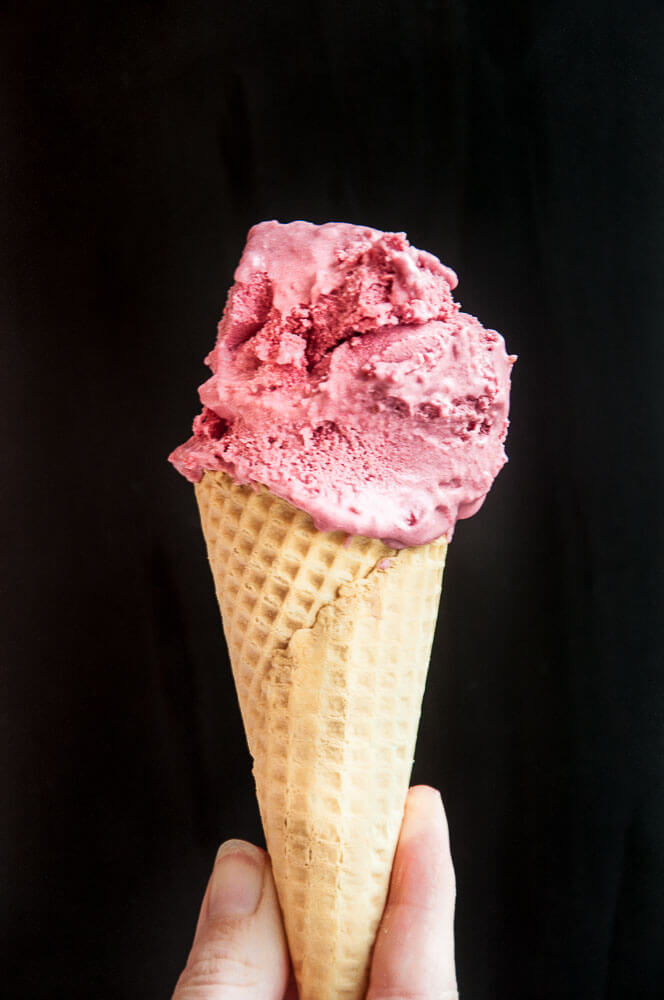 The most important part of this recipe is using a high-powered blender or food processor. You're adding frozen fruit and coconut cream into a blender, so you'll need one with enough strength to get the job done.
No worries though if your blender is having a bit of trouble you can add some coconut water to help it out. Be aware though that the more coconut water you add the softer the ice cream will be. I found if you add slightly less than ¼ of a cup you'll still be able to scoop the coconut ice cream. If you add somewhere between ¼ and ⅓ of a cup you'll still be able to eat it but it will be hard to scoop. You can then add it to the freezer for a few minutes and allow it to harden.
Try it out and let me know how you like it :) Share your creations with me on Instagram using #VeganFamilyRecipes so I can find them!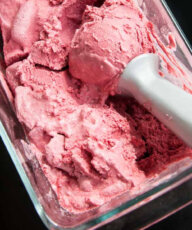 Raspberry Coconut Ice Cream
Quick and easy vegan raspberry coconut ice cream recipe that is done in an instant without an ice cream maker!
Ingredients
1 ½

cups

Raspberries

frozen, 250g

1

cup

Coconut Cream

full fat, from 1 can of coconut milk (See Notes) 200 ml

4

teaspoon

Maple Syrup

optional

⅓

cup

Coconut Water

up to, from the can of coconut milk
Instructions
Place frozen raspberries, coconut cream, and maple syrup (if desired) in a high powered blender or food processor.

Add coconut water, a tablespoon at a time, if blender has trouble blending ingredients. Do not exceed more than ⅓ of a cup Coconut Water.

Serve immediately or store in freezer for up to 2 weeks.
Recipe Notes
1) Follow these steps on how to make coconut cream. Refrigerate a can of coconut milk overnight. Carefully open the can. The coconut milk will have separated into thick white coconut cream and coconut water. Scoop out the coconut cream to use for this raspberry coconut ice cream and use the remaining water if needed. 2) It is crucial to not use more than ⅓ of a cup of coconut water. The more coconut water you add the softer your ice cream will get and you won't be able to scoop it. Try to use as little as needed. If it is a bit too soft. Place it in the freezer for a few minutes until it hardens enough to scoop. 3) The raspberry coconut ice cream tastes best when eaten right away. You can however freeze it. Place the ice cream in a dish and press parchment or wax paper onto the ice cream to prevent ice crystals from forming. There are no thickening agents or starches added to this ice cream so it won't stay soft in the freezer. Therefore, allow adequate time for the ice cream to defrost. Beware that each time this ice cream is thawed and then frozen again, it will get harder. 4) Adding maple syrup is entirely optional. This all depends on personal preference and the sweetness/tartness of the raspberries being used. Alternatively, other liquid sweeteners can be used as well.5.) Feel free to swap out the raspberries with any other frozen fruit you like :) The creamy coconut ice cream options are endless!
For other sweet treats and ice cream, check out these vegan recipes!