Sick of the same old chocolate fudge sauce on your ice cream? Most likely not. I can rarely turn down chocolate. However, I did recently figure out how to make a great balsamic reduction sauce and in doing so a great "different" ice cream topping. You can easily elevate dishes with balsamic vinegar but a balsamic reduction takes it one step further. It's a thick and almost creamy sauce that I like to add to savory as well as sweet dishes.
So how do you make a balsamic reduction glaze? You need to obviously start with good balsamic vinegar. By good, I don't mean a $3 bottle. You really need a high quality balsamic vinegar. Real balsamic vinegar can be really expensive anywhere from $50 to $600+ Even if I had all the money in the world, I'm pretty sure I could never bring myself to buy a $600 bottle of vinegar. $50 seems like a lot too, which is why I stick to my $9.99 bottle of balsamic vinegar from Wine Country Kitchens.  It's by far the best tasting and reasonably priced balsamic vinegar I have found.
Now to give this $9.99 bottle of vinegar the taste of a $100 bottle of balsamic vinegar we need to reduce it. By heating it over the stove it thickens and becomes sweet. The sugar gives it a subtle caramelized taste that is absolutely delicious.  This recipe is super simple and a much better version (and cheaper) than those balsamic glazes you can buy at the store. This balsamic reduction glaze recipe also doesn't have any added food coloring or preservatives like the store bought ones!
I've been adding this balsamic glaze to everything lately from ice cream to salads to tempeh. Oh and let's not forget how this can make any soup taste 10x better! It is really versatile and can even be stored in the fridge for several weeks.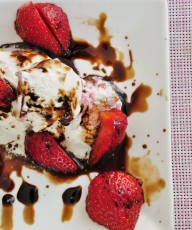 Ice Cream with Strawberries and Balsamic Reduction Glaze
mkes ⅓ cup Balsamic Reduction Glaze
Ingredients
½

cup

Vegan Vanilla Ice Cream

2

large Strawberries

quartered

1

cup

Balsamic Vinegar

3

tablespoons

Raw cane Sugar
Instructions
Caramelize sugar in a dry and small stock pot over low-medium heat.

Add balsamic vinegar and simmer over lowest heat setting until reduced to ⅓ the amount of liquid (about 15 minutes).

Remove balsamic reduction glaze from heat and fill into a glass container. Allow to cool.

Place ice cream on a dish.

Top ice cream with strawberries and drizzle with balsamic reduction glaze.
Recipe Notes
1) The glaze will thicken once it is cooled. If it gets too hard, add a bit of water to it. If it is too thin, return it to the stock pot and cook for a few more minutes. 2) Allow it to cool with no lid on the container or bottle. Once it has cooled store covered.3) Caramelized sugar may get hard when you add the vinegar to it. This is OK. It will dissolve into the vinegar again. 4) Be careful not to burn the vinegar or it will taste horrid and have your kitchen smelling for days. Don't be tempted to turn up the heat to make it reduce faster. It is extremely important that it is over low heat. 5) The time it will take to reduce the balsamic vinegar will vary depending on the size of the pot or pan you are using.
If you want to make your own ice cream I can recommend this Almond Coconut Ice Cream. It pairs really well with the strawberries and balsamic reduction as well :)