Print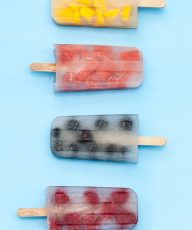 Coconut Water Popsicles
Quick, easy, healthy and refreshing Coconut Water Popsicle made without sugar and lots of fresh fruit!
Makes
8
Coconut Water Popsicles
13.5

fl. oz

Unsweetened Coconut Water

Unsweetened Coconut Water (see notes)

Fresh diced Fruit (Watermelon, Blueberries, Raspberries, Strawberries, Mango, Kiwi, etc.)

1

teaspoon or more

Pure Maple Syrup

if needed as a sweetener - optional
Dice the fruit you wish to use so that it is small enough to easily fit inside your popsicle molds.

Place as much or as little fruit in each

popsicle mold

.

If you want your coconut water sweetened then mix it together with the maple syrup. Add maple syrup to taste. If you want unsweetened coconut water popsicles, skip this part.

Pour the coconut water into each popsicle mold, covering the fruit and leave an inch to half an inch space from the top. Put the popsicle mold cover on top and push one popsicle stick into each mold.

Freeze the popsicles for at least 3 hours or until completely frozen.

Run the popsicles mold under warm water to easily remove each popsicle from its mold.
1.) Please be aware that the nutritional info for the Coconut Water Popsicles is only for the amount of coconut water in each popsicle. Added sweeteners aren't included. I also didn't include the fruit in to the calculation either since it will vary depending on which fruit and how much is being used.2.) The amount of coconut water you will need for this recipe will depend on how much fruit you add to your popsicle molds and how big your popsicle molds are. I used these popsicle molds.
Nutrition Facts
Coconut Water Popsicles
Amount Per Serving (1 Popsicles (no sweetener - see notes))
Calories 9
% Daily Value*
Carbohydrates 2g1%
* Percent Daily Values are based on a 2000 calorie diet.