There are so many talented bloggers around the world and it would be a shame to not introduce my readers to those as well. I'll be starting a few round up posts that will feature one seasonal produce. Up first for fall: Pumpkin
Before we get to all the delicious gluten free and vegan pumpkin recipes, let's cover why we should all be adding pumpkin to our recipes:
Eyes: Pumpkins contain a lot of beta-carotene which is what makes them orange. Beta-carotene is essential for your eye health. Pumpkins also contain two antioxidants (lutein and zeaxanthin) which are thought to help prevent cataracts and slow down retinal degeneration (causes blindness).
Skin: Pumpkin seeds are very high in Zinc which protects your cell membranes, supports skin renewal, and retains collagen. Pumpkin flesh even makes for a great face mask! The vitamin E in pumpkin also helps protect your skin against sun damage.
Cancer Prevention: Beta Carotene is not only good for your eye sight but is also supposed to help lower your risk of cancer, especially colon, gastric, and lung. Pumpkin seeds contain lignans and alpha linoleic acid which are supposed to shield against breast cancer.
Weight loss: Low in calories and high in fiber. Fiber helps with your digestion, helps you lose weight, prevents heart disease, and lowers your bad cholesterol.
These are just a few of the staggering number of health benefits of pumpkin. They're truly amazing and we should definitely start taking them off our porch (maybe just a few) and adding them to our plates. If the fact that pumpkins are crazy nutritious haven't got you delving into them then I'm sure these amazing vegan pumpkin recipes will have you yearning for it.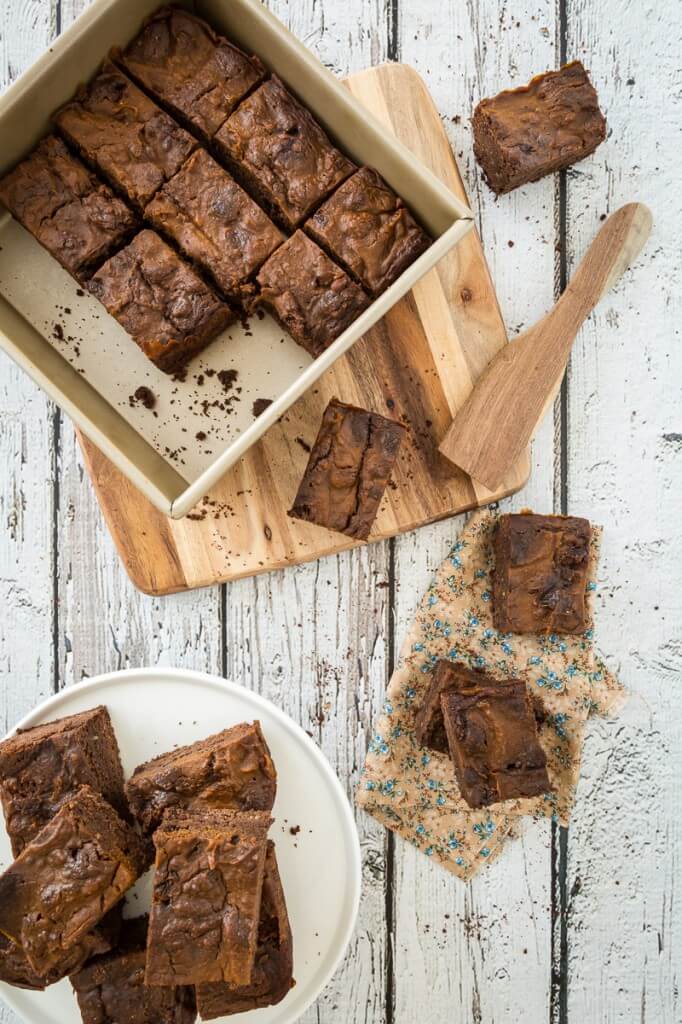 Pumpkin Swirl Brownies from Kristy at Keepin' It Kind
Fudgy and dense brownies while still moist. Sound like the perfect brownies to me :)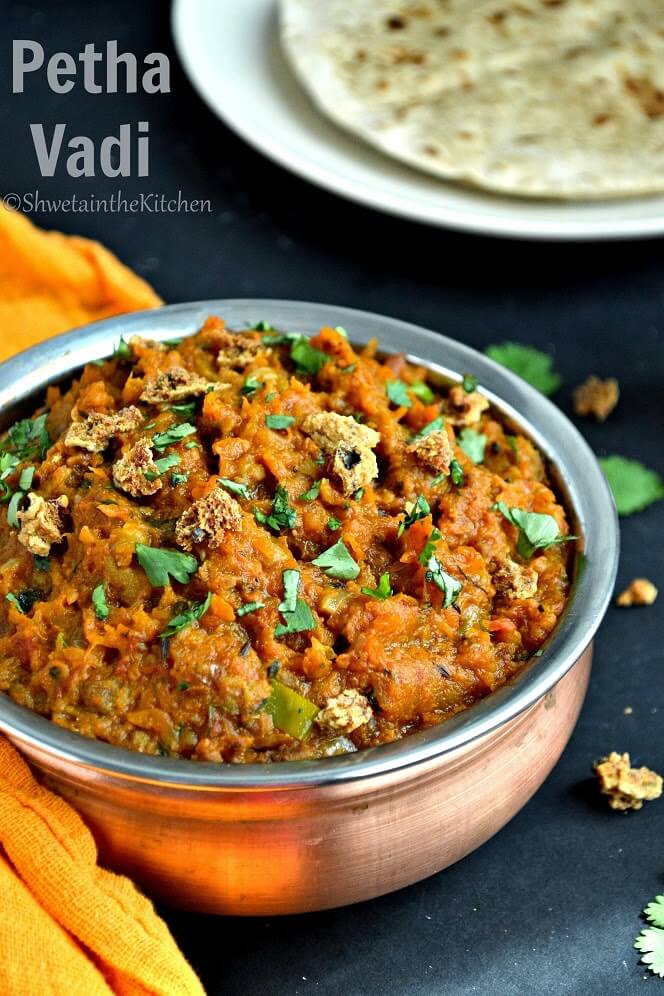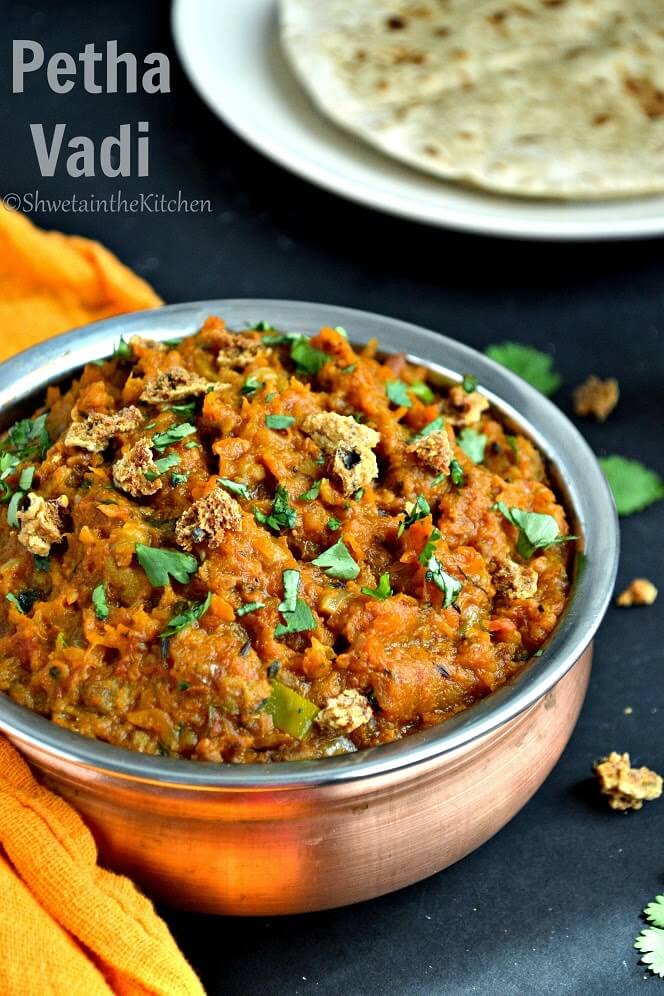 Sweet and Spicy Pumpkin Petha Vadi from Shweta at Shweta In The Kitchen
I always have such cravings for good Indian food and this Petha (Pumpkin) Vadi (sun dried spiced lentils) is perfect. Vegan, gluten free, and only clean healthy ingredients.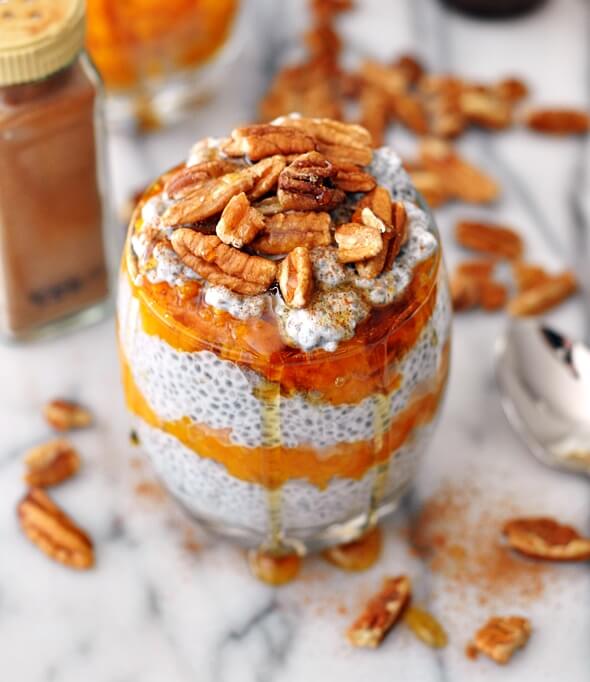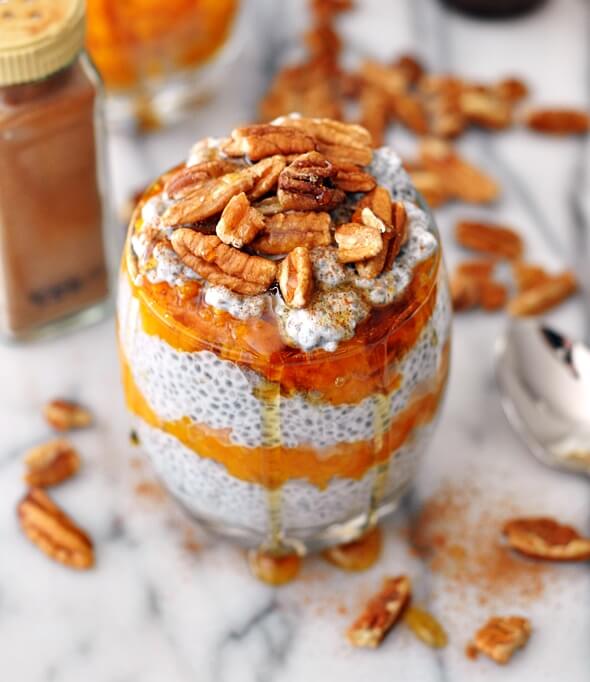 Pumpkin Pie Chia Seeds Pudding Parfait from Emily at Fuss Free Cooking
I'm still mesmerized by the look of this vegan pudding parfait. With only 8 ingredients (one being water) this might be the easiest pumpkin recipe you can make.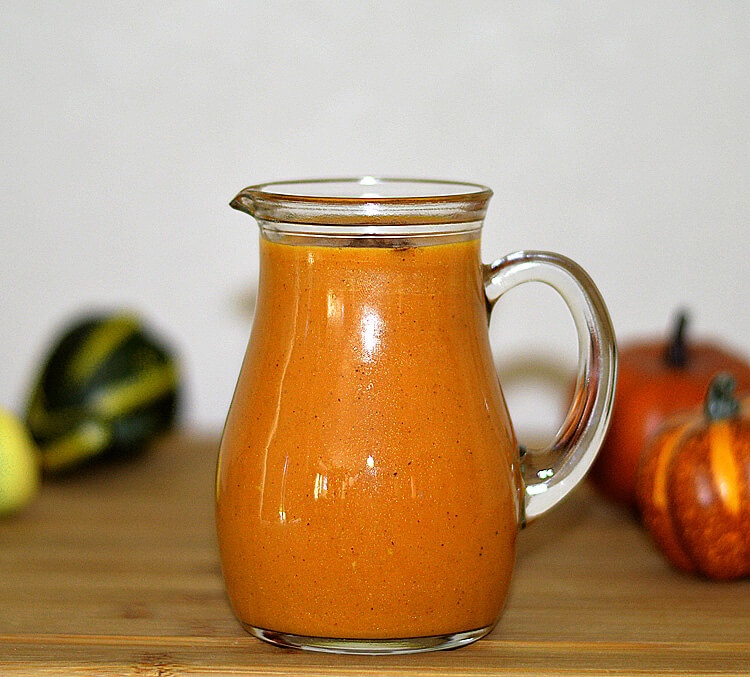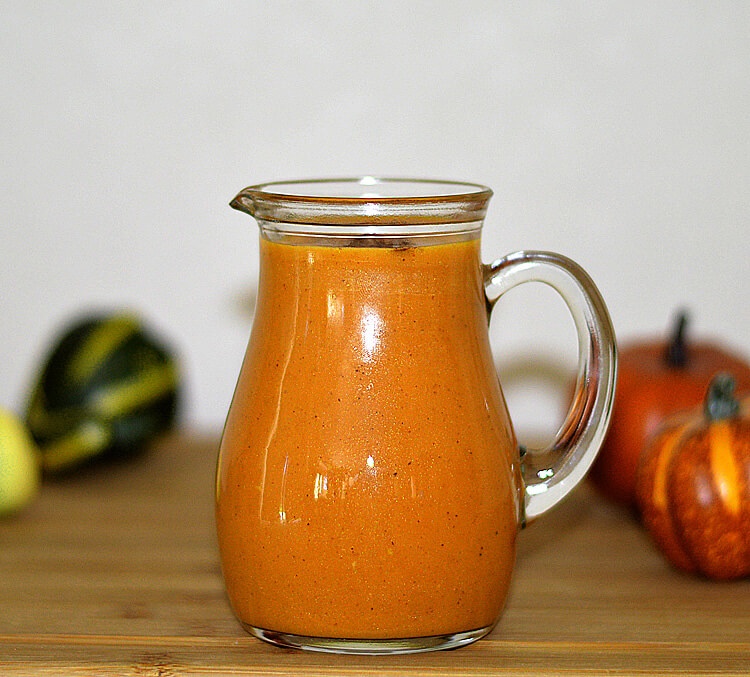 Pumpkin Vinaigrette from Aimee at The Veg Life
This pumpkin salad dressing screams thanksgiving to me. With hints of cinnamon and ginger, it's sure to impress everyone.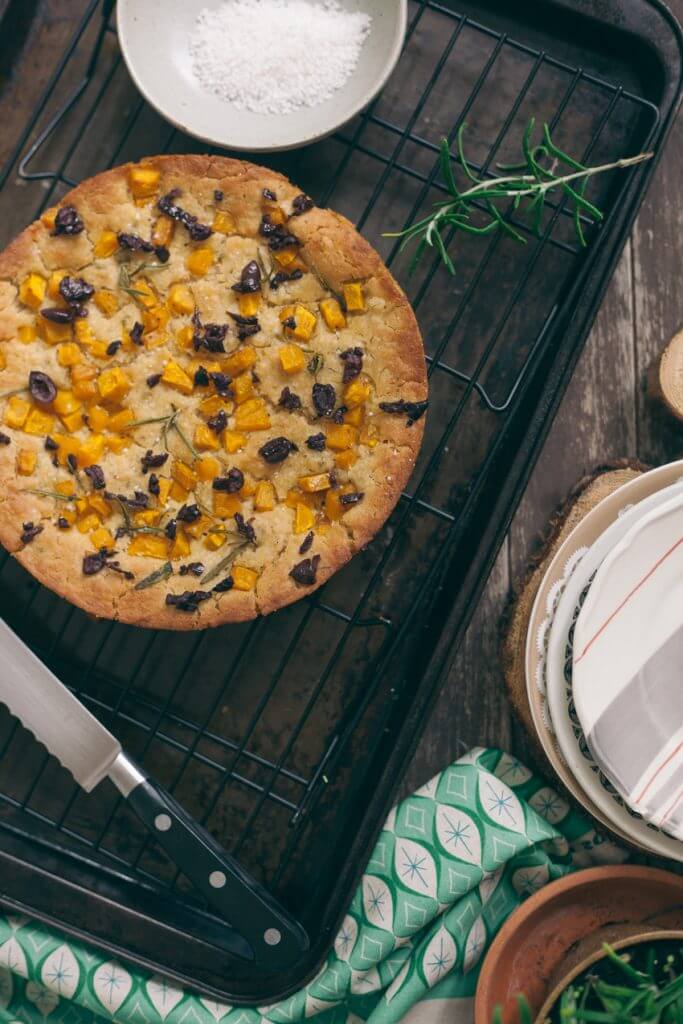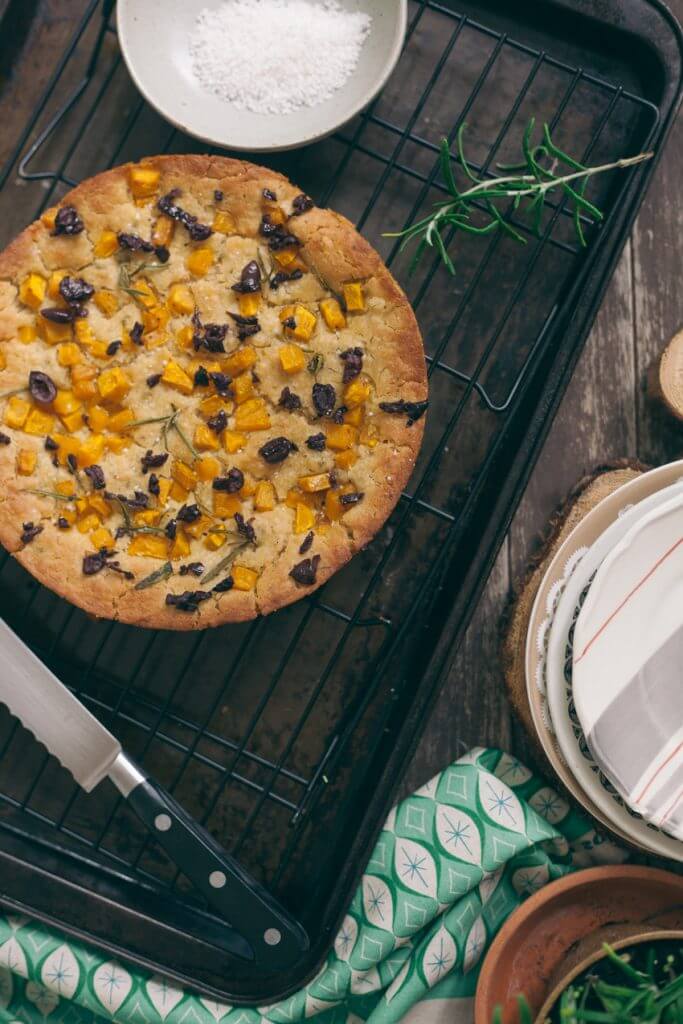 Rosemary and Roasted Pumpkin Focaccia from Kris at Baked - The Blog
Focaccia is one of my favorite breads but Kris' recipe takes it to a whole other level. It's topped with fresh pumpkin, kalamata olives, and sprigs of fresh rosemary. Moist, chewy, flavorful, and surprisingly gluten free!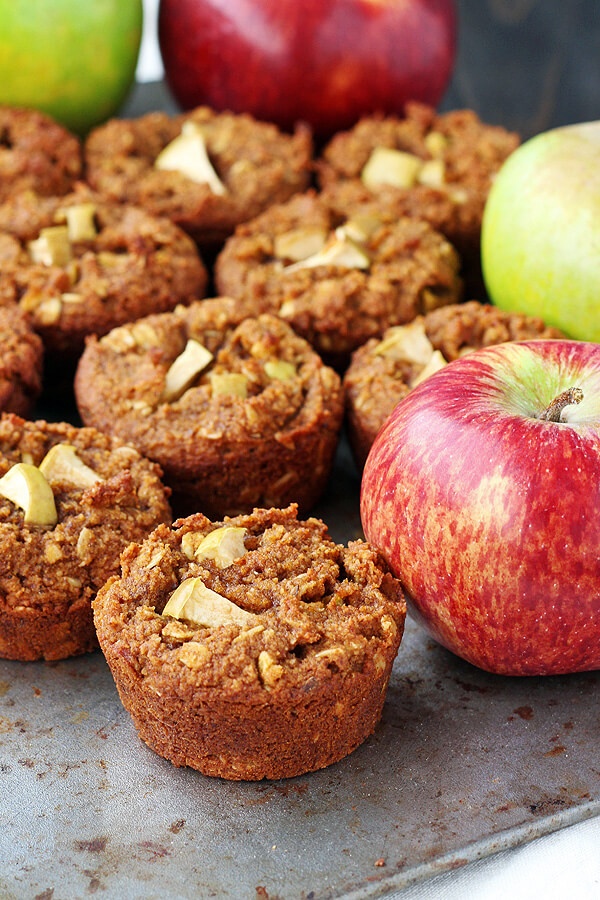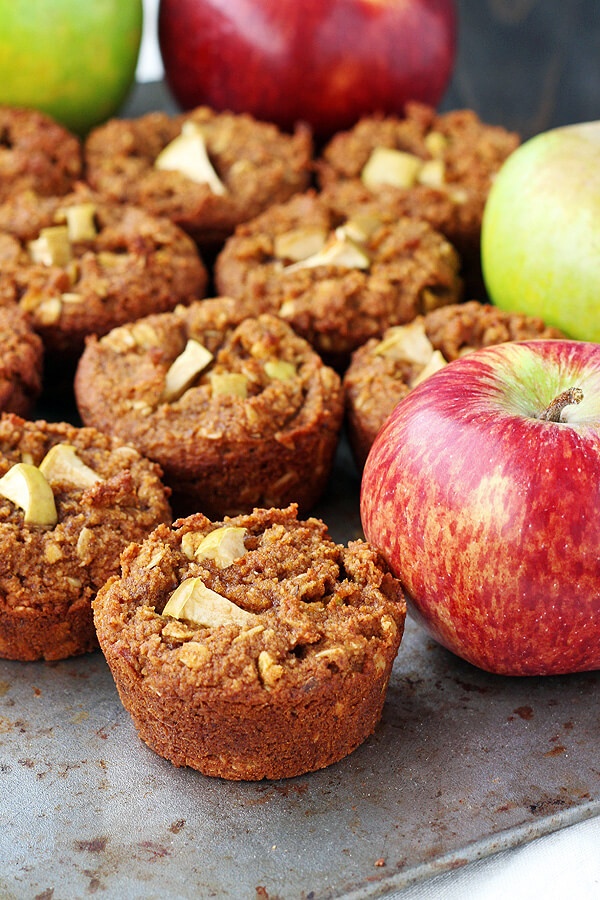 Pumpkin Apple Muffins from Tia at Tia's Kitchen
No recipe round up would be complete without some delicious muffins. Made with flax seeds, fresh apples and pumpkin this is one healthy treat we can enjoy all season long.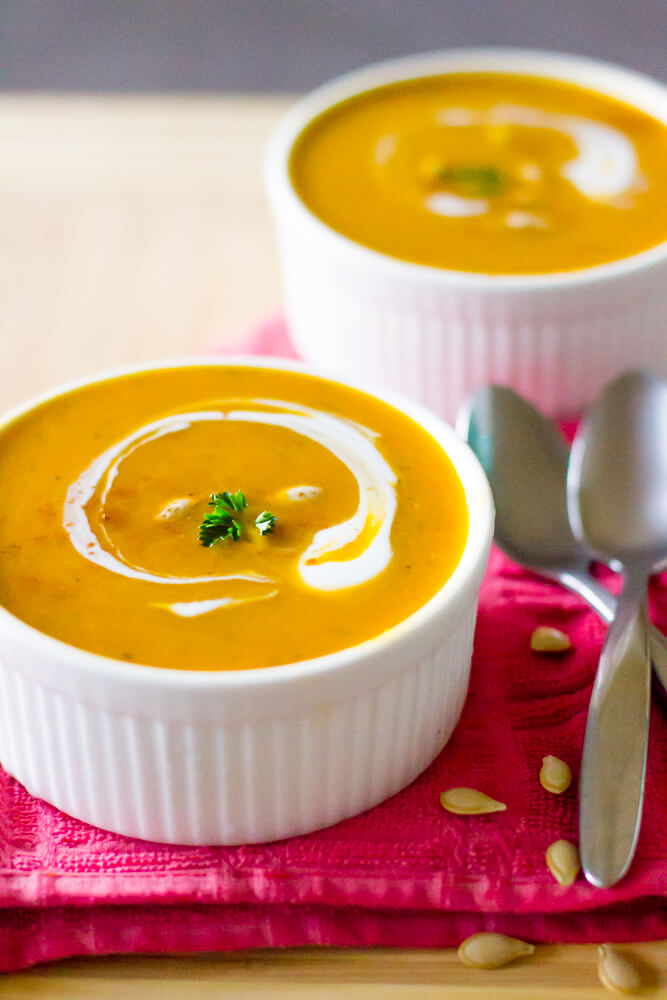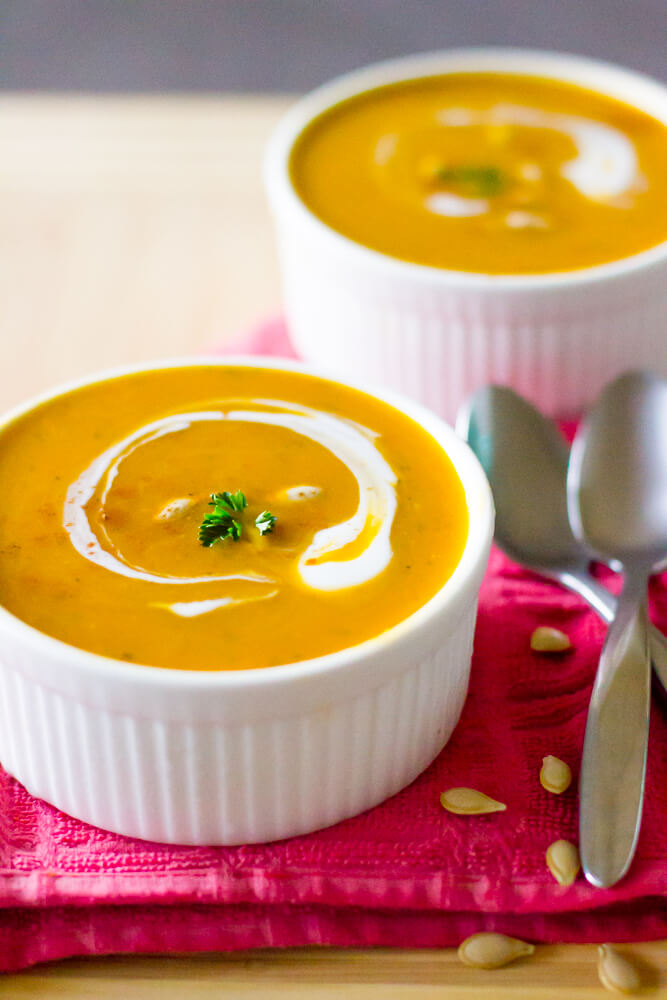 Creamy Pumpkin Soup by Jessica from Jessica In The Kitchen
This pumpkin soup only takes 35 minutes to make and is deliciously creamy, thanks to coconut milk.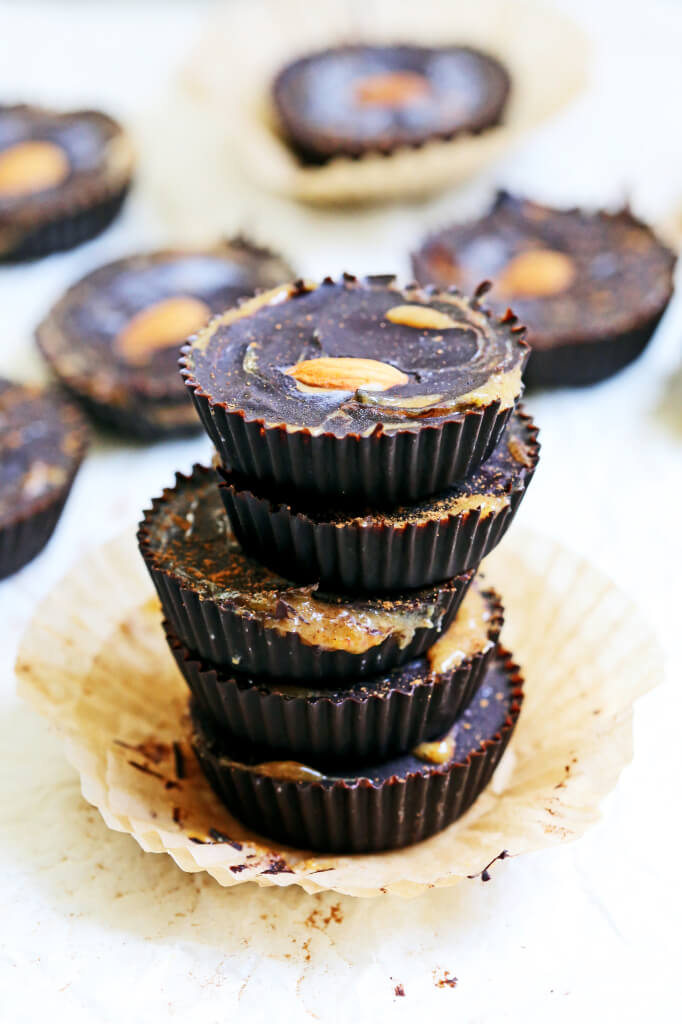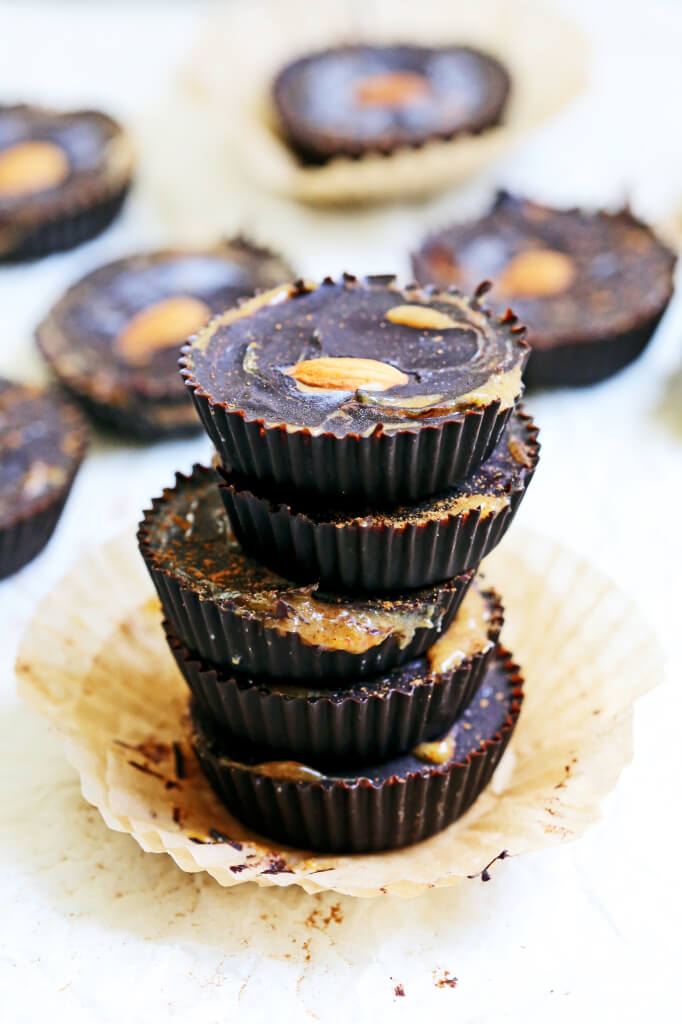 Pumpkin Caramel Almond Butter Cups from Allison at Yummy Beet
I think the picture already has us drooling over these almond butter cups. Definitely a recipe that makes eating pumpkin easy :)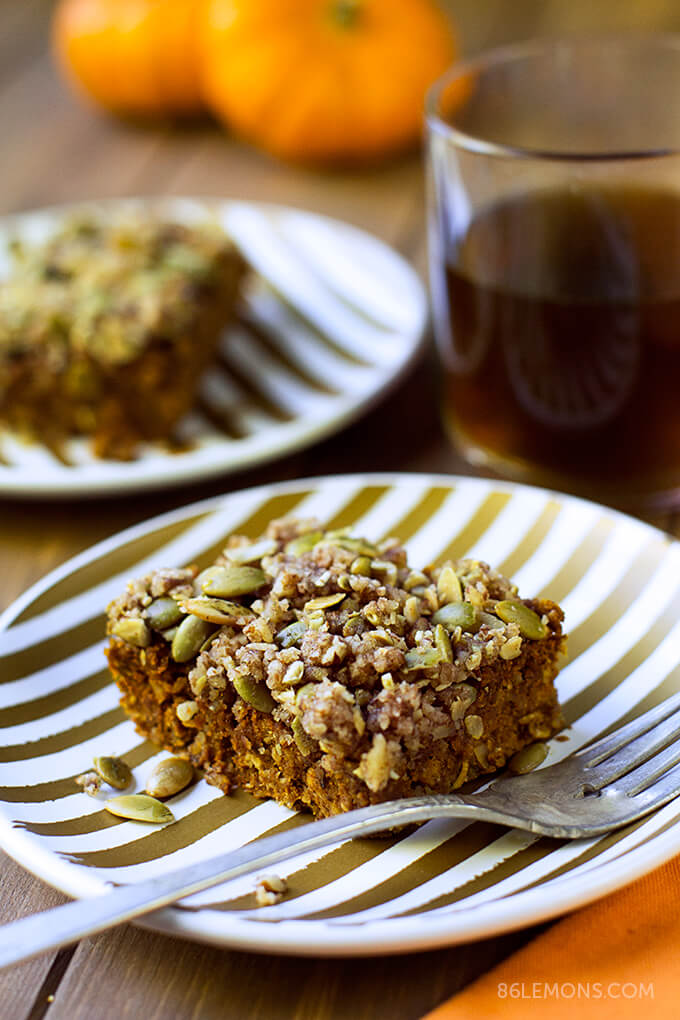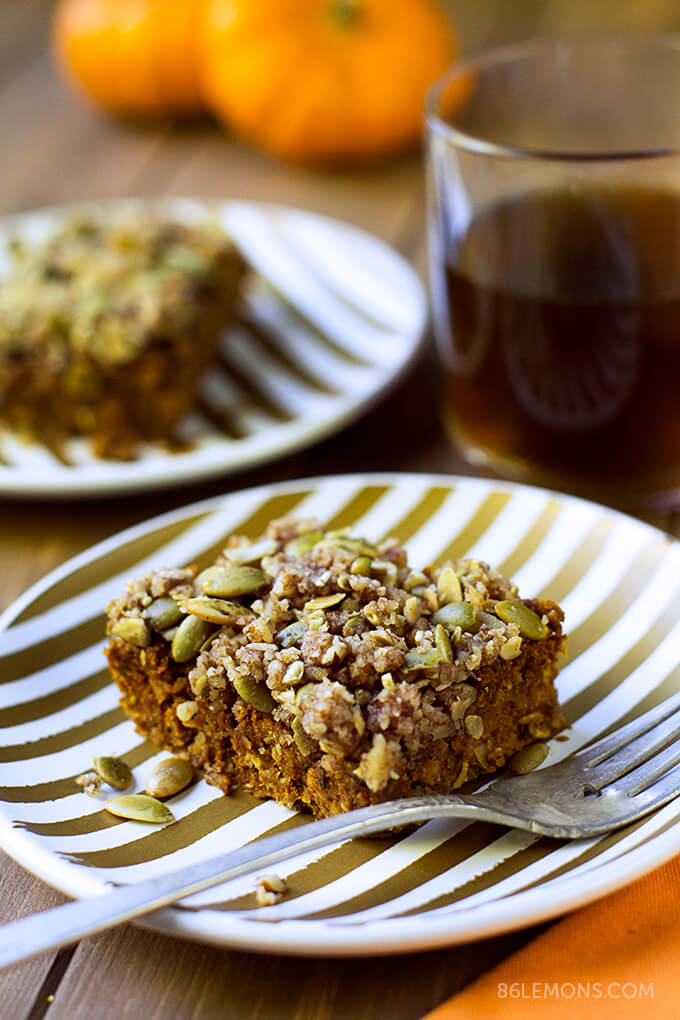 Pumpkin Pecan Cake from Livvy at 86 Lemons
Livvy calls this a cross between carrot and coffee cake. It's super moist with a pumpkin seed-pecan crumb topping.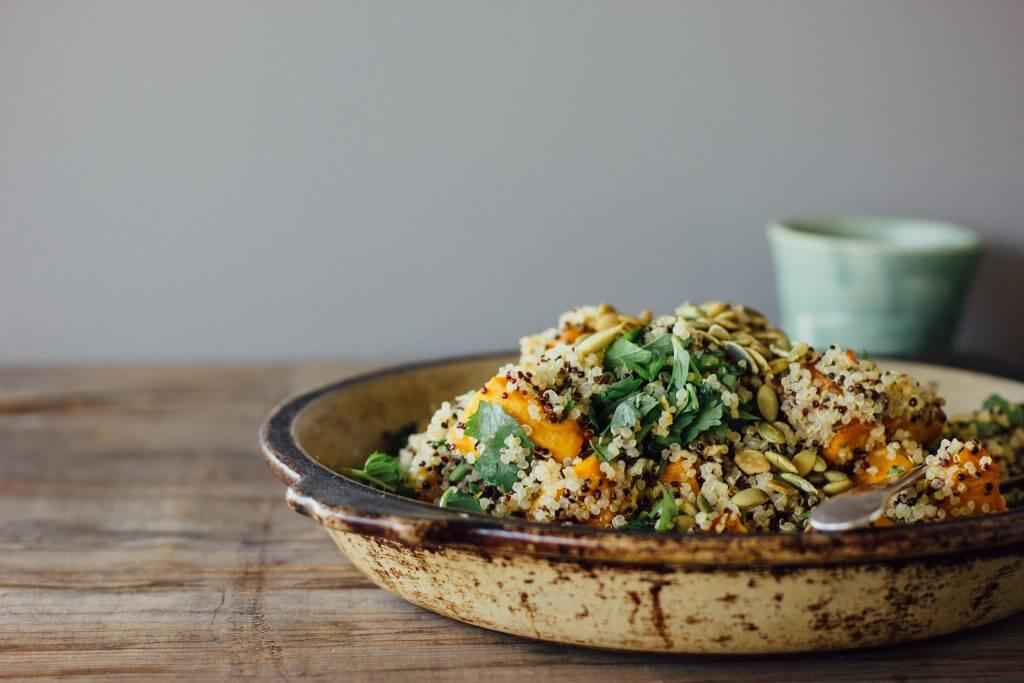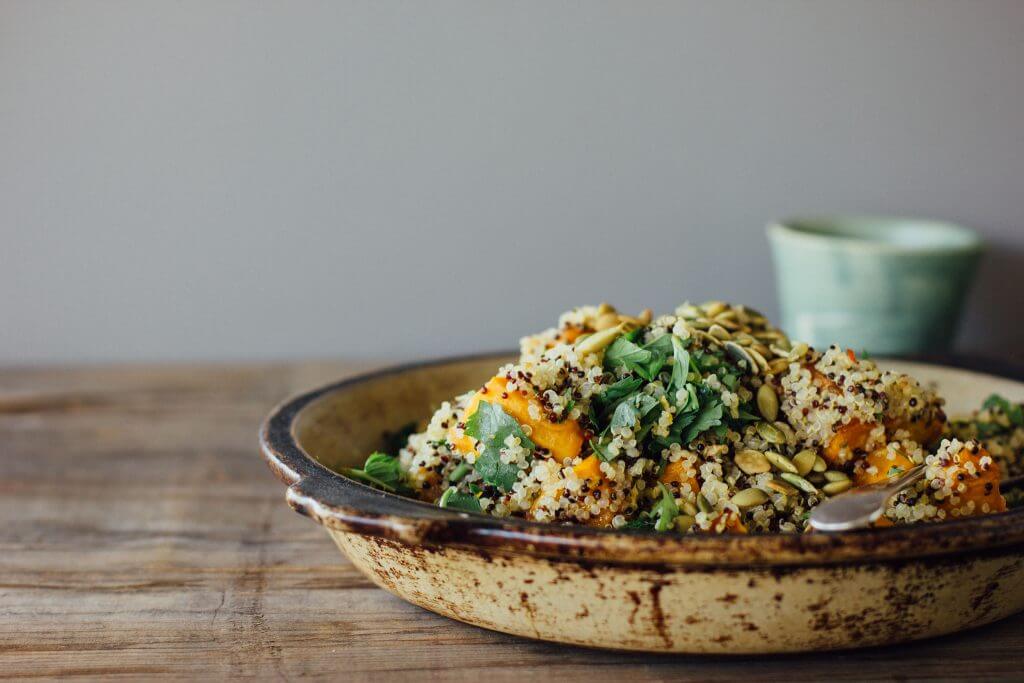 Ginger Roasted Pumpkin and Quinoa Salad from Emma at My Darling Lemon Thyme
The clean and simple ingredients of this flavorful salad are really refreshing. Enjoy it warm or cold!
If you aren't wiping the drool off your face after seeing these vegan pumpkin recipes then I can't help you anymore :D When I was searching for these recipes it was by complete accident that they all happened to be gluten free as well. Which isn't bad since more people have the ability to enjoy these delicious treats then.
Be sure to visit these amazing blogs, try the recipes, and leave comments :)