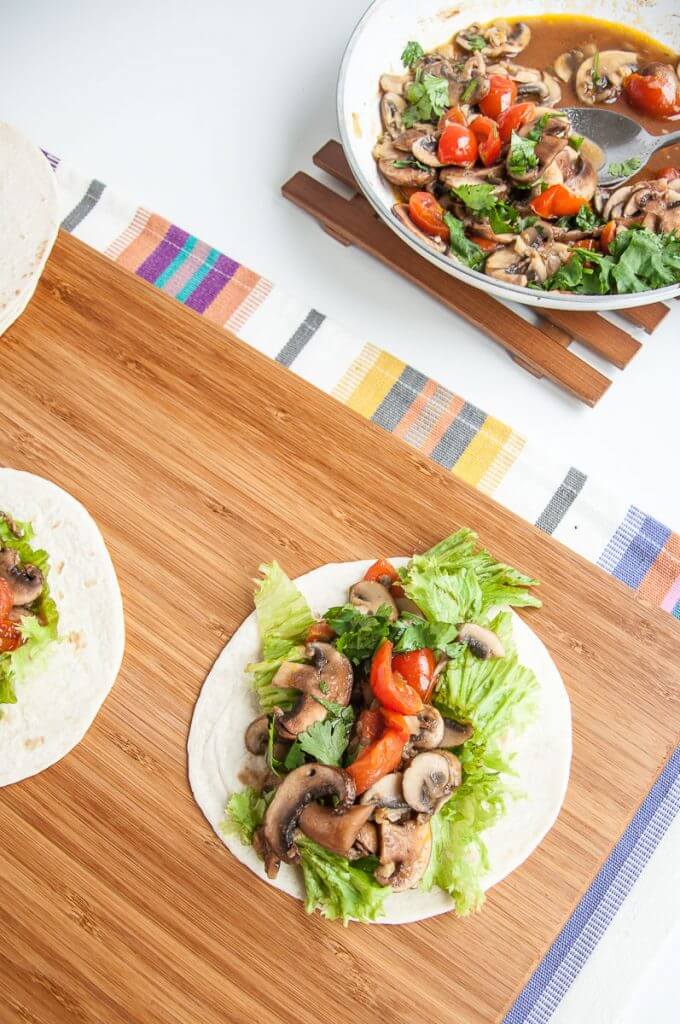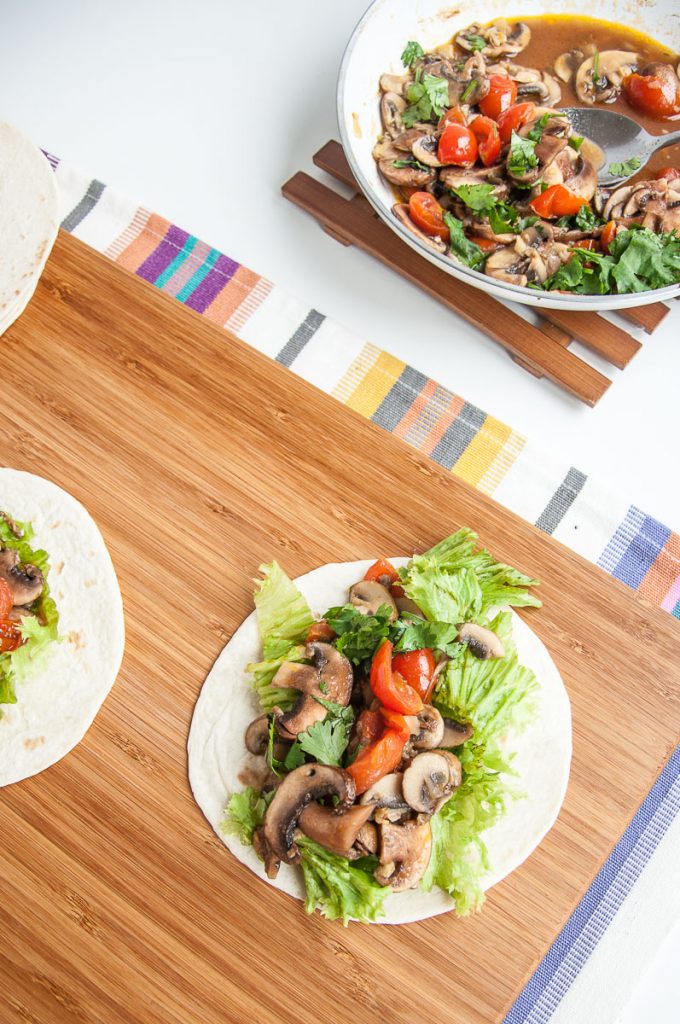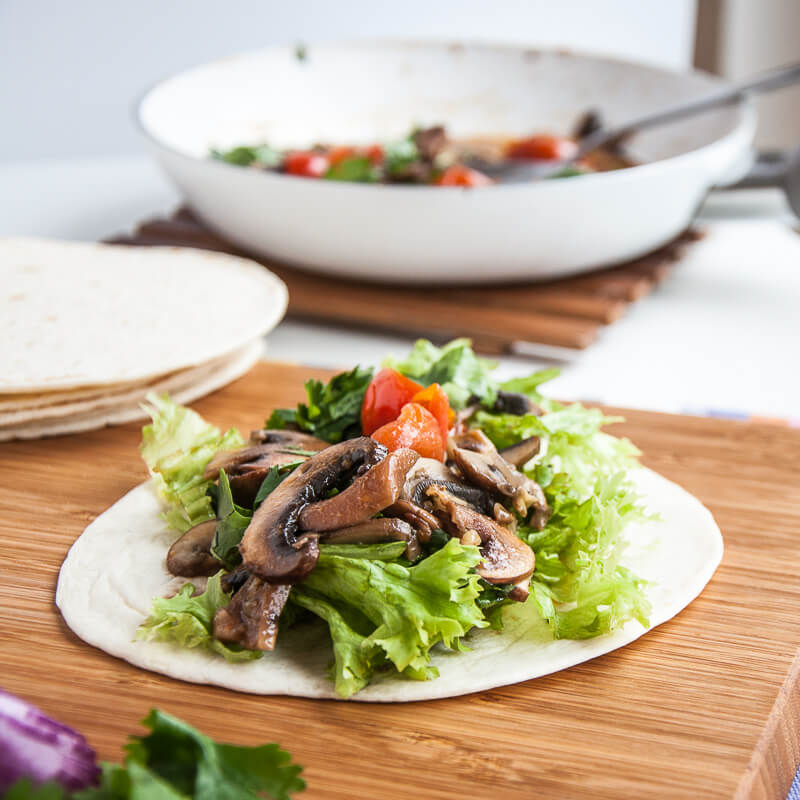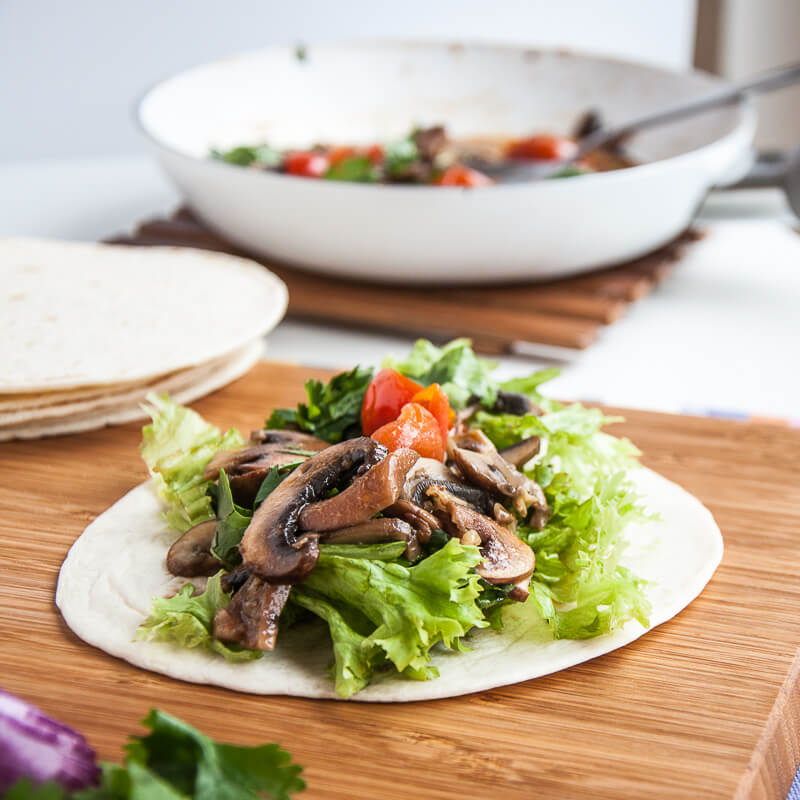 Most people are in full on pumpkin and sweet potato mode right now. Which is good. They're delicious! However, I think a lot of people also tend to forget that autumn is when mushrooms are in their prime. You can usually get them all year around but they do tend to be fresh and more flavorful in the fall.
I'm not telling you to swap your pumpkin latte for a mushroom latte...yeah yuck! It would just be a pity to completely overlook this scrumptious fungus. Yes, I realized that scrumptious isn't usually what most people think of when they hear the word fungus ;) Oh well, I did it.
My favorite way to make mushrooms is to just quickly saute them. The great thing about mushrooms is that you really don't have to over complicate them. They taste great the way they are and you really don't need a huge ingredient list to make flavorful.
It's what makes them one of my favorite side dishes. I usually just make them with a splash of oil, salt and garlic. Simple, tasty and it definitely gets the job done ;)
I often cringe when I see a taco recipes that has 20+ ingredients. The whole concept of a taco is to just layer several simple ingredients on top of each other to form one tasty taco.
That taco needs to then be shoved into your mouth within 4 humongous bites QUICKLY before it all falls out the other side. You know what I'm taking about! #tacoproblems <-- Em...I had to check but that's a completely real hashtag! There are real people with VERY REAL taco problems! Not a joking matter.
Moving on.
For these tacos though I wanted to add some tomatoes, cumin and cilantro as well to add another burst of flavor. I'm a sucker for cilantro so I kind of went overboard with it but you can also just add a little if you like :)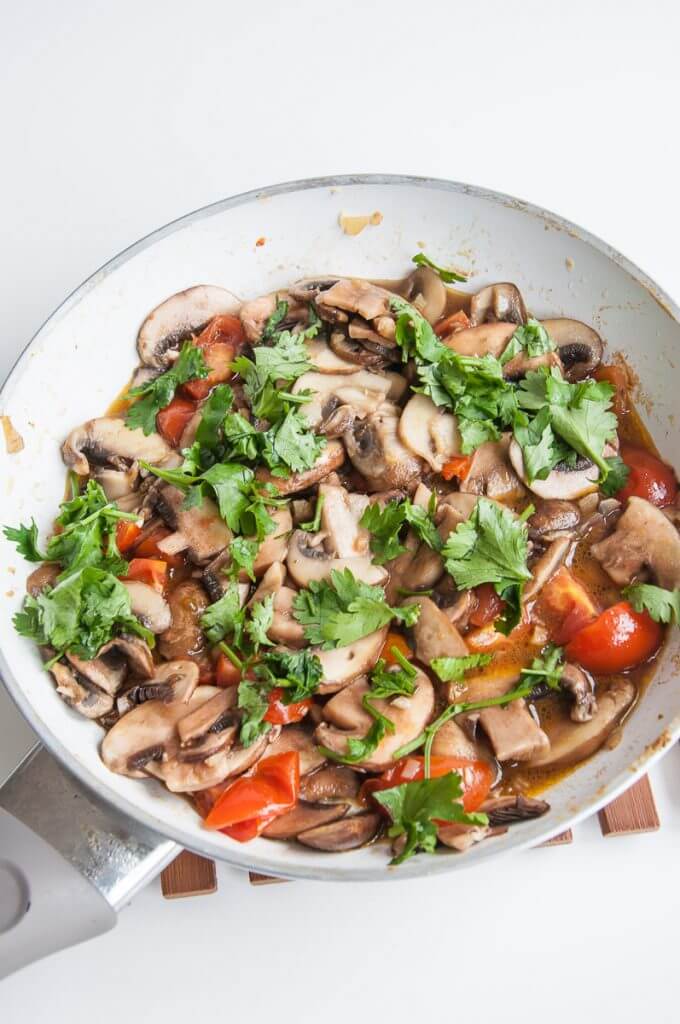 Make sure you don't just use the cilantro leaves. Those cilantro stems have lots of delicious flavor too! So once your done with you're mushroom assemble your tacos and get to it!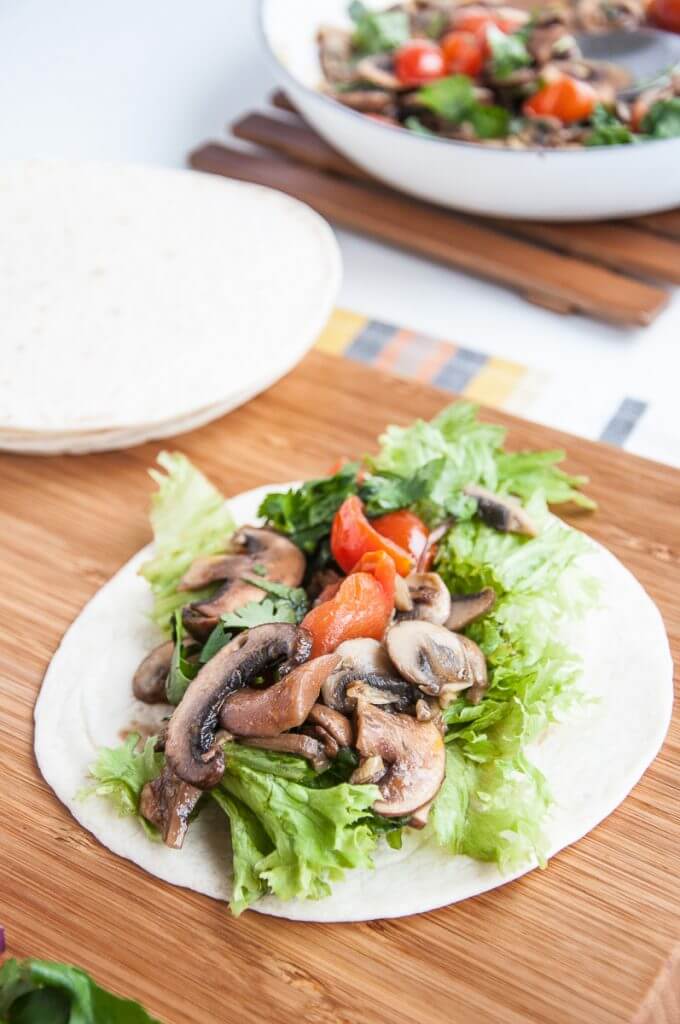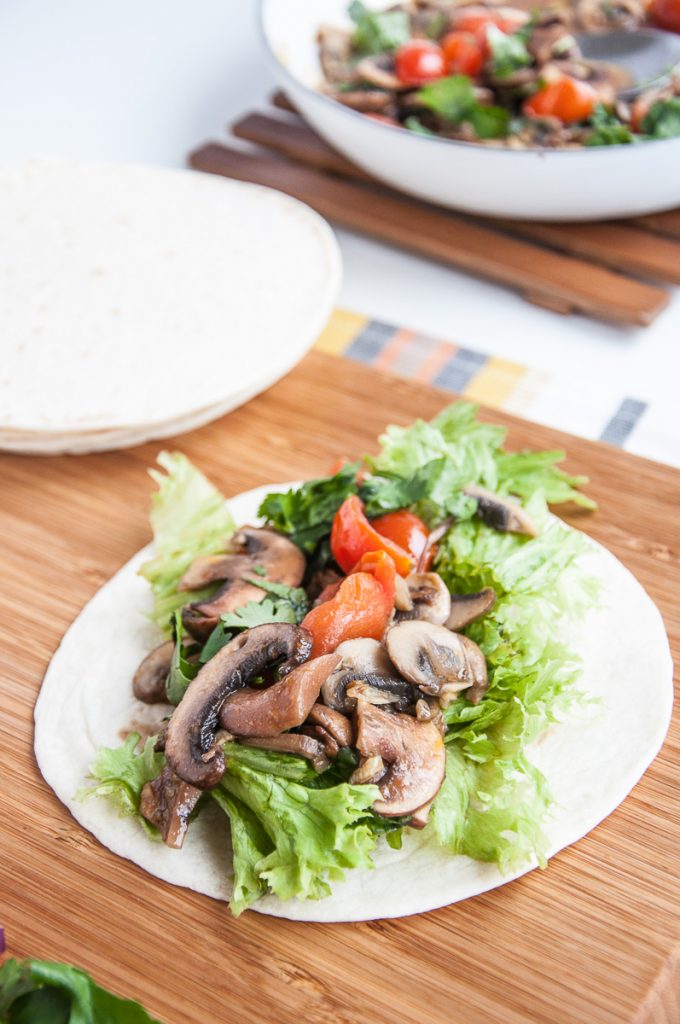 Oh no! Did you seriously forget the guacamole?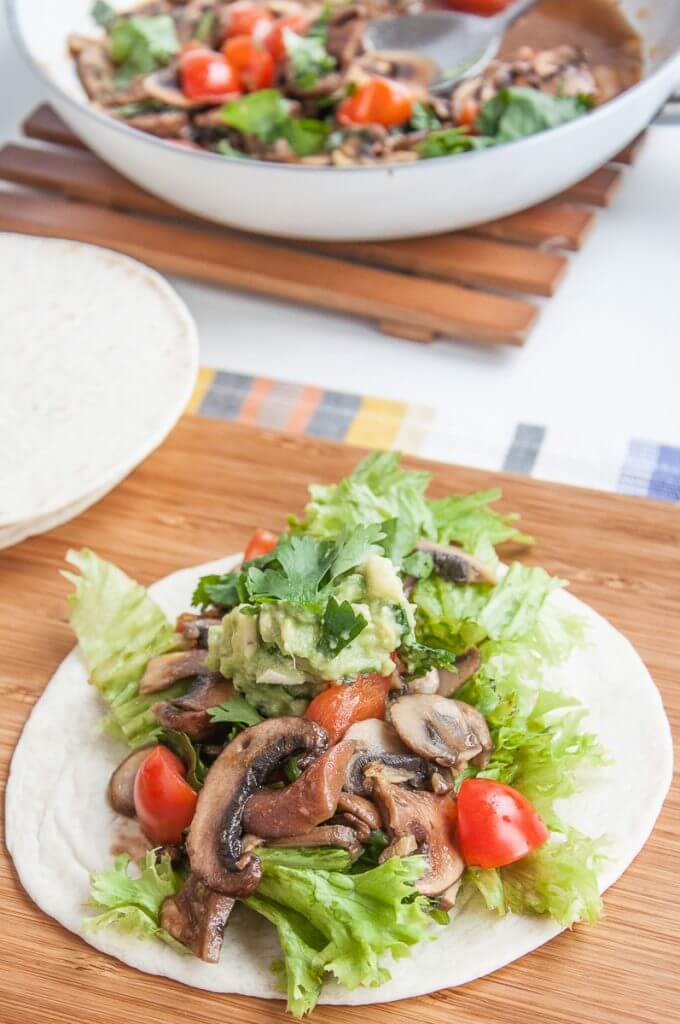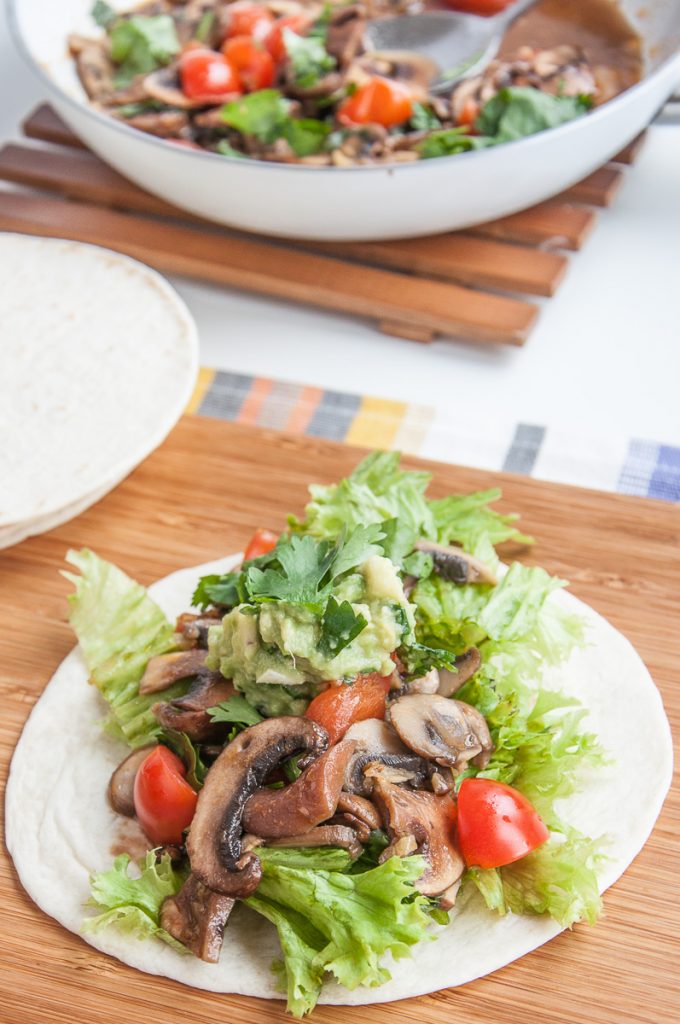 Much better ;) Now dig in and eat as many as you want!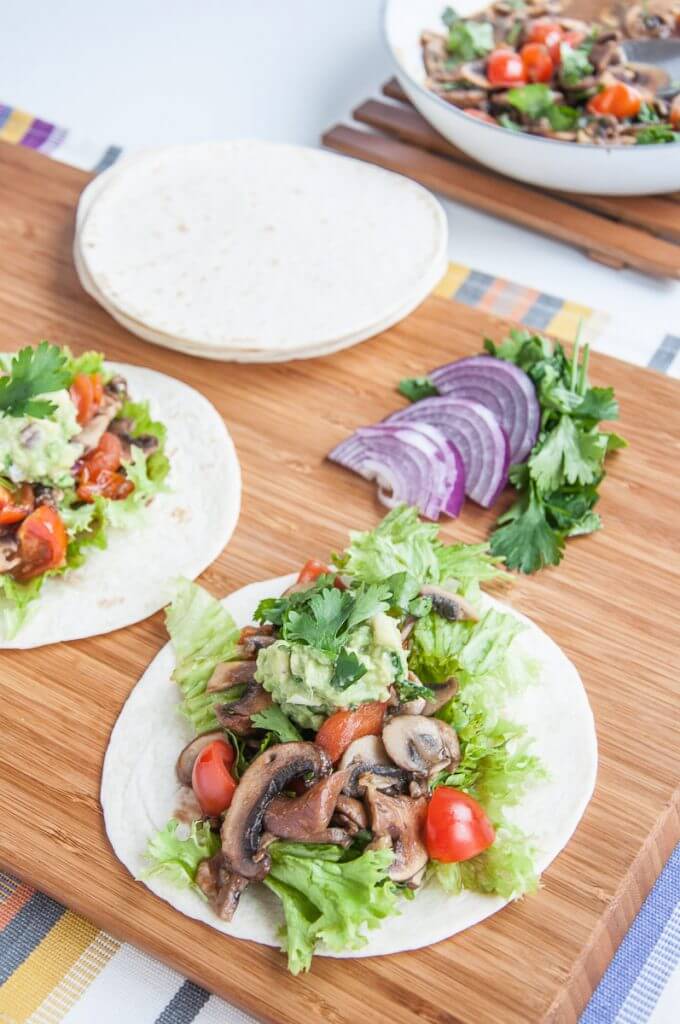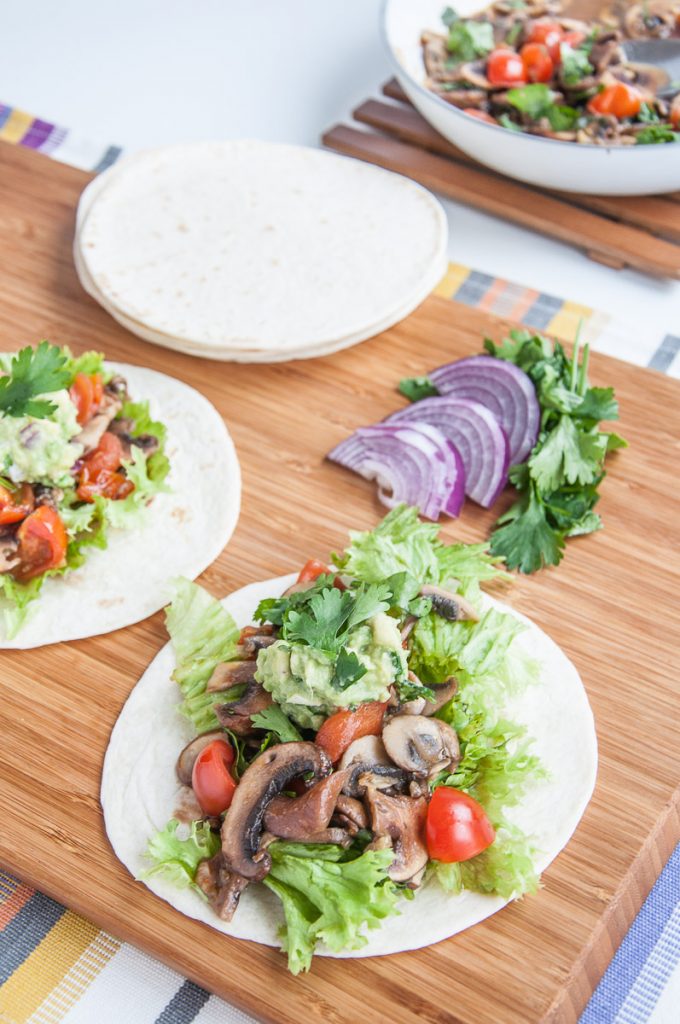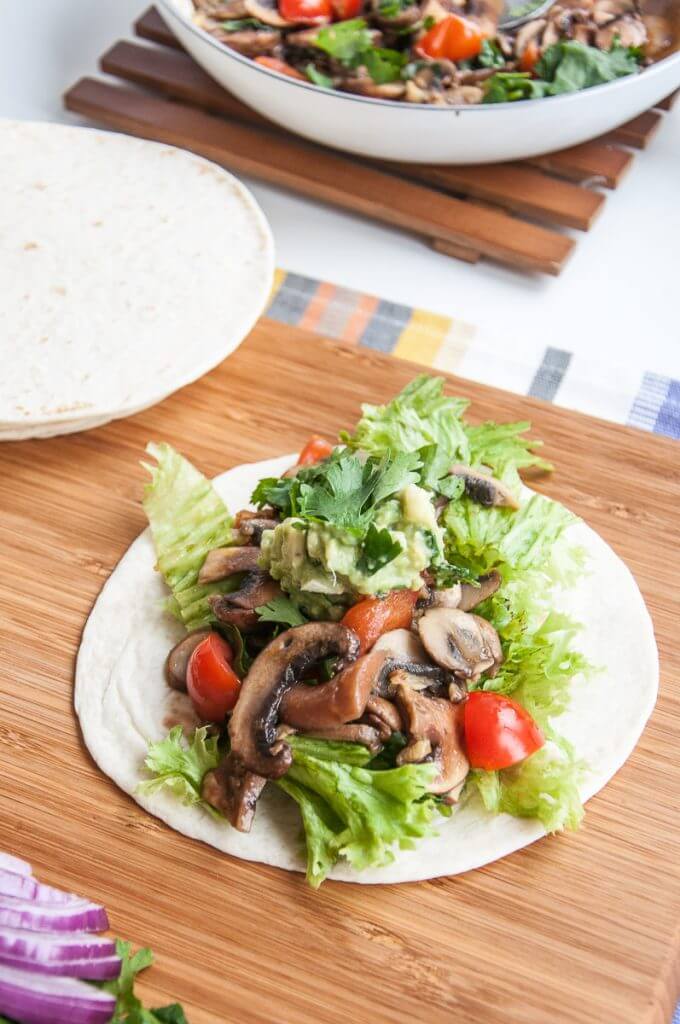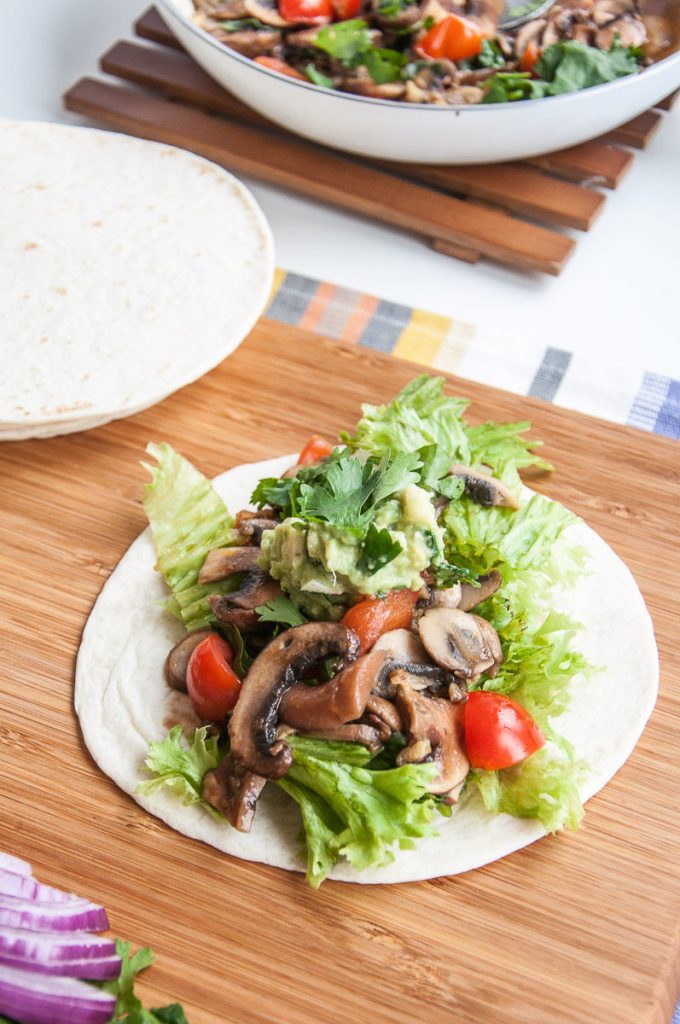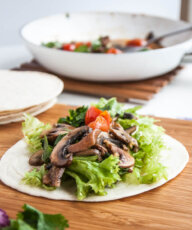 Healthy Vegan Mushroom Tacos
A quick and satisfying mushroom taco recipe. Healthy and can easily be made with other mushrooms of choice as well!
Ingredients
1

tablespoon

Olive Oil

2

Cloves

of Garlic

minced

¼

of a teaspoon Salt

200

g

roughly 10 brown or Cremini Mushrooms (brushed and sliced)

12

Cherry Tomatoes

quartered

½

of a teaspoon ground Cumin

handful of fresh Cilantro

roughly chopped

¼

of a head of lettuce

washed and chopped

1

small Red Onion

diced

8

Tortillas or hard shell tacos of choice

gluten-free if desired or needed

¼

of a cup Classic Guacamole

VFR's Taco Sauce

optional
Instructions
Prepare guacamole (see notes) and

taco sauce

first.

Add olive oil to a large fry pan and heat over medium heat. Add garlic and salt and sautee over low-medium heat until garlic becomes fragrant. (about 2-3 minutes) Then add sliced mushroom, tomatoes, and cumin to fry pan and cook until mushrooms are browned and soft. (about 6-8 minutes) Add chopped cilantro to the mushrooms and cook for 1 more minute. Remove pan from heat.

While mushrooms are cooking chop lettuce and dice the red onion. Heat taco shells or tortillas in oven.

Assemble tacos and enjoy!
Recipe Notes
1.) Make your favorite guacamole for these mushroom tacos. If you don't have a go to recipe just take 1 avocado and smash it with a fork. Add a small handful of chopped cilantro, 2 teaspoons fresh lime juice, and salt to taste. Mix together and add it to the mushroom tacos :)
In case you are in a horrible situation where you aren't able to jump to the kitchen and make these right away...have a laugh at this :)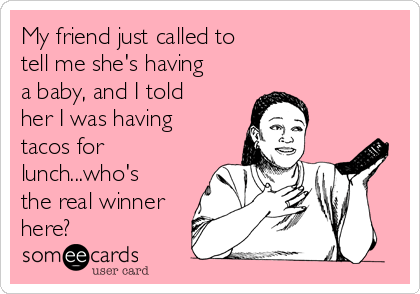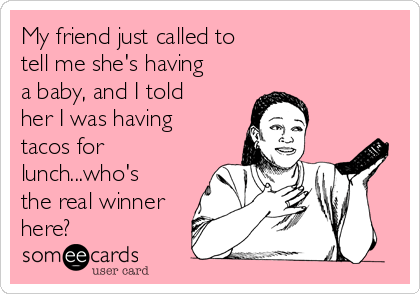 Want something else? Try these Veggie Tacos, Spicy Chipotle Pizza, or Mexican Stuffed Mushrooms!